In this newsletter
I hope you've all had a fantastic start to Term 2. This newsletter has a great message from Ian about how to get the best out of SDL (student directed learning).  There are also plenty of reminders about upcoming events like stage challenge, open nights, Matariki, ski trips and astronomy camp.  Brent has included some important NCEA information too.
Upcoming Events
Term 2, Week 3: Starting Monday 15 May 2017
Tuesday 16 May: 7-9pm Open Night, Unlimited Campus
Wednesday 17 May: EFS trip to Lincoln, Unlimited Campus
Wednesday 17 May, 8.15am-8.45am: Breakfast Club, Kitchen, Unlimited Campus
Wednesday 17 May, 11.45am-12.30pm: Kapahaka, Unlimited Campus, DW2
Thursday 18 May, 7.00pm-late: Stage Challenge, Horncastle Arena
Term 2, Week 4: Starting Monday 22 May 2017
Monday 22 May-Friday 26 May: Dental Van, Discovery Campus
Tuesday 23 May, 5.30pm-8.30pm: BOT Meeting, P12, Unlimited Campus
Wednesday 24 May, 8.15am-8.45am: Breakfast Club, Kitchen, Unlimited Campus
Wednesday 24 May, 11.45am-12.30pm: Kapahaka, Unlimited Campus, DW2
Friday 26 May 9am-11am: Circus Challenge visiting, Phoenix Community, Discovery Campus
Sunday 28 May: Newsletter Published
Messages
Message from Steven
Metro Schools Release / Property update
Very, very late on Friday, I was contacted by the Minister's office asking me to fact check an upcoming media release.  Metro Schools is the Government's latest education idea to help with (Auckland's) growing inner city population. They have referenced us an example of a metro school.  It's great to see that our school is being positively connected to the CBD and education.  Discovery 1 and Unlimited Paenga Tawhiti spent about a decade being true city based schools. While we are still just short of 7 terms away from being back in a CBD location, we continue to do our best to put our philosophy in action at our suburban locations.
You can read the full release here
Community and Homebase
As I've no doubt mentioned several times, I have a homebase this year.  This also means that I'm part of the Mana Community.  Richard McCance organised 3 former Unlimited Paenga Tawhiti students to come and speak with the community on Thursday night.  Huirau, Zoe and Keiran are all trained teachers now and shared their experiences of being students at the school.  I was amazed at the positive impact their homebase LAs, teaching LAs, the freedom to control their learning and the CBD location had on each of them as students.  It was an incredibly humbling experience hearing from Zoe and Keiran in particular, as both had been members of my homebase in 2009, Zoe as a Y12 and Keiran as a Y10. Both of them commented repetitively of the impact the homebase LA / student relationship had on their schooling, and on their teaching style.  All three of them commented on how important building strong relationships with their students as real people is a vital component of their practice.
The Community Leaders are working extremely hard to provide interesting and relevant opportunities for students and families.  If you're reluctant to come along to a community evening, my advice would be that the couple of hours out of your each school term is genuinely worth it. It's a great way to meet others, hear stories and keep up to date with what is happening at Ao Tawhiti Unlimited Discovery.
Stage Challenge
Duncan has this in his message too, so I'll keep it short.  Stage Challenge – Thursday 18 May, 7.00pm-late: Stage Challenge, Horncastle Arena.  Tickets available here.  It's already looking great, so come along and support our amazing stage challenge students as they work towards presenting their learning to Christchurch.
Open Night
We have two open nights coming up.  The first is this Tuesday from 7pm-9pm, with the second on Monday 29 May.  If you have any friends or family that would like to come along and talk to our students, parents and LAs about what it's like to be a student at Ao Tawhiti Unlimited Discovery, invite them to the Unlimited Campus.  Also if you'd like to attend and share your experiences as a parent, we'd love to see you to.  Just make contact with either Ian or Duncan so they can support you with participating.
Steven Mustor – Director
Message from Ian
I had a great chat today with our Year 4-8 Community about the value/purpose of SDL (Self Directed Time) time and the types of Inquiries/Projects that seem to have high interest and high impact.
It was great opportunity to chat about the value of time and the impact that wasting it has on their opportunity to learn. We did some simple maths around if they were late back to Homebase by 6 minutes after morning Tea and Lunch each day, that amounts to one hour per week, which amounts to ten hours per term, which amounts to 40 hours per week, which amounts to nearly 2 weeks of the school year. It's really easy to throw out the statement " Oh it's only 5 minutes" but it all adds up. If we remove that time from their SDL time and their opportunity to follow their own passions it has a major impact across the year.
Liam Paulsen, who was our very first Discovery 1 students in 2001 and then carried on through Unlimited, came to talk to the kids about the impact that he sees that SDL has had on his adult life. His ability to communicate with adults, to plan short and long term goals, to manage his time, to prioritise his learning goals all stems from being given the opportunity to practise this as a student at both Discovery 1 and Unlimited. He explained that this has had a really positive effect on his ability to function as an adult, both in his work and personal life. I know this is a long way off for some of these kids but it's good for them to see the "Why" and know that what we are asking them to do will have a positive impact on their lives.
Liam left us with a story about a coffee table he had made as an Inquiry at Discovery. He talked about how he never saw it as a chore, it was something that he wanted to work on, to put time into, to struggle through the tough moments, to work and rework. He ultimately created something that didn't exist before he started, it had an impact on his family and he still refers back to the learning that occurred during that project/inquiry. In a sense it was life changing for him.
I guess my challenge to the kids today was to create projects/inquiries that are life changing for them or others, projects that they want to get up for in the morning, projects that they'll remember when they're 44 like me. Inquiry should go beyond researching and writing it down, it should challenge kids to have an impact on their world somehow, to make a change and to create something they remember. There are only so many Panda Posters you can create.
As parents I'd like to challenge you to ask those questions of your kids, particularly when you're planning your next IEM. Is this going to excite them? Is it going to have an impact? Does it move beyond researching? Does it ask them to do something other than reading and writing? Does it get them to take a risk and sit outside their comfort zone? Is it going to be something they'll be proud of and remember when they're an adult?
Ian Hayes – Deputy Director
Message from Duncan
Term two
Term two is now well underway. It was great to see so many families in over the first couple of days supporting at the IEMs. As a parent, HBLA and senior leader in the school I'm fortunate to experience the IEM from multiple perspectives. As a parent I find incredibly reassuring that there is someone who knows and notices my child and is committed to supporting them work towards an education is the meaningful and effective.
As a homebase learning advisor I'm incredibly appreciative of the commitment families make to priortise these meetings in their schedule. The knowledge and insight that you bring to the conversation has a huge positive impact in supporting my understanding of the student and as result building programs and setting goals that matter.
As a  leader in the school I'm really proud the IEM holds such a pivotal place in our culture. I genuinely believe it's the key mechanism to that enables us to live our special character. The meetings are genuine partnership that places the students learning at the centre. It gives us our best opportunity to personalise the learning journey and engage students in learning driven from their passions whilst meeting their needs.
Stage challenge
Coming up next week (Thursday May 18) is stage challenge. Stage challenge is national dance competition. The Canterbury event is hosted at Horncastle Arena and starts at 7:00pm. Every year I'm amazed at the quality of the performances, by all schools. It's a fantastic event and well worth getting along to if you can.
Last week I had the privilege of seeing a rehearsal from our students. I really enjoyed it. Clearly there has been a massive effort and dedication by all involved to get it to the place it was at. I can't wait to see it performed on the night.
Mana community night
The community my homebase are in had a community evening this week. We invited three former students, Huirau Emery, Zoe Donald, Kieran Denton, in to share their reflections on school and what they are up to now. All 3 of them have gone on to careers in education. What struck me from each of their stories was their openness to speak about the challenges of the teenage years and the importance of the relationships at school that helped them navigate that period of their lives. They were articulate, inspiring and tremendous advocates for our school.   I'm sure there reflections and perspectives were really valuable for those who were able to attend.
Duncan Woods – Deputy Director
Schoolwide Notices
NCEA Fees 2017
If your son/daughter is in Year 10 (or above) and sitting any NCEA internal assessments or external exams, you will be charged a $76.70 fee. This fee is collected by schools on behalf of NZQA and covers entry into NZ Qualifications for this current year. The fee is generated on our Kamar system as soon as your son/daughter enters an NCEA standard. You can view information about the fee here:
Edith Goesmann – Marketing Manager
Ski/board Fridays
With only a month to go before scheduled field openings, it's time to check your gear and get ready for winter. The plan this year is to head up to Mt Hutt on alternate Fridays, starting on 23rd June. Trips are open to all Ao Tawhiti students (younger students may need additional supervision) and this year we will be requiring payment in advance. Support may be available for students that would otherwise be unable to attend due to cost.
We have several staff keen to come skiing for one or more days (surprise!) but are also likely to need the assistance of parents – no previous experience of skiing/ boarding is needed, but ability/ experience driving a manual gearbox vehicle on ski-field access roads is a definite advantage.
More information and consent forms will be available via the office or website at the start of June.
Matt Parkes – Community Leader
Matariki 2017
Our community celebration for Matariki will be held at the Discovery campus on Friday, June 16th from 4:00-8:00pm
Matariki is the Maori new year, celebrating the re-appearance of the Matariki star cluster (also known as the Pleiades) on the horizon.  Many cultures around the world mark the rising of this star cluster as a time to harvest and celebrate the past year.
Matariki has been incredibly well-supported in the past and each year it gets bigger and better.
At our past community celebrations we've had the Kapa Haka group perform, a range of workshops offered making candles, kites, lanterns and other star-themed activities.  We've also had star biscuit decorating, flax weaving, face painting, stargazing with telescopes and more.  If you have an idea of something you would like to offer or something you would like to see at Matariki or ways you can help support please fill in the Google doc below.  We'd love to have more senior students and their families involved and are open to any ideas you may have.
https://docs.google.com/forms/d/e/1FAIpQLSeXrpYi-QF7af_d1UuUxYaF8H0cidqaYmDhAEzC31fOO6hShg/viewform?usp=sf_link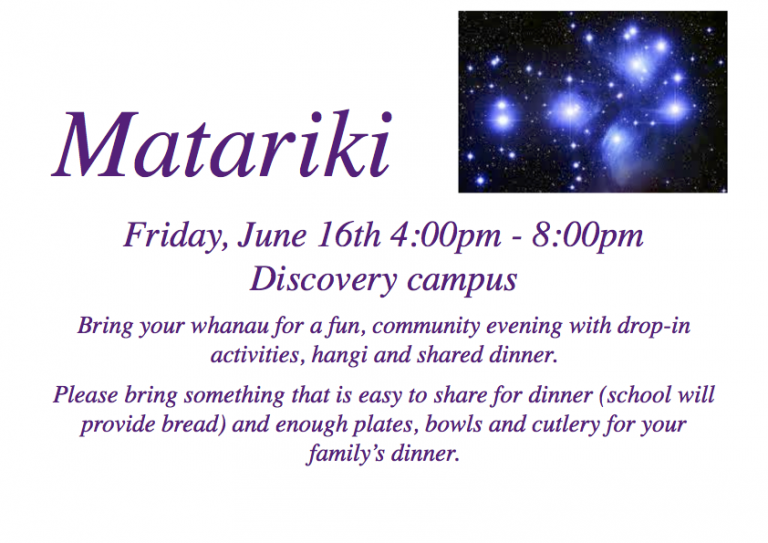 Emma Woods – Parent
From the counsellor
Quotable quote – "Courage is fear walking"
Mike Flavell – Counsellor
1-6 News
1-3 Community Update
Nadine Walmisley – Community Leader
7-13 News
Kay's Community News
Impact Projects
This term we have begun Impacts Projects. This is project / inquiry based learning with 4 key principles.
Student Ownership and Agency, a project that is based on students passions or interests. It is student driven and student lead.

Learning Beyond the Classroom, a project that takes you beyond the limits of the school.

A quality Outcome, a project that produces excellent quality outcomes / product.

Participating and Contributing, a project that impacts beyond you as an individual. One that leaves a positive mark on the world. 
Other Notices
Dyspraxia Fun Groups
The Dyspraxia Support Group holds fun groups for children aged between 5 to 13 years of age on Saturday afternoons during term time.  The groups participate in a programme put together and delivered by a team of enthusiastic supervisors.
If you have a child or know a child with Developmental Dyspraxia/DCD who would be interested in attending, please contact Sue on 358 3249 or email dyspraxia.centre@xtra.co.nz.