In this newsletter
Our first newsletter of the year is packed full of snippets from our first couple of weeks at school.  There are lots of pictures from the Community Day at the start of the year as well as invitations to several events that are coming up in the next 2 weeks.
Upcoming Events
Term 1, Week 4: Starting Monday 20 February 2017
Monday 20 February – Wednesday 22 February: Libby/Gina HB Camp, Wainui
Monday 20 February, 7am: Breakfast Club, Unlimited Campus, Kitchen
Monday 20 February, 12pm-2.30pm: HB Phoenix, Art Gallery Trip
Tuesday 21 February, 5.30pm-8.30pm: BOT Meeting, Unlimited Campus, P12
Wednesday 22 February, 1.30pm-2.30pm: Kapa Haka, Unlimited Campus, DW2
Wednesday 22 February, 10am-11am: Crash Bash, Unlimited Campus, Jack Mann
Wednesday 22 February, 3.15pm-5pm: Opening of La Découverte, Discovery Campus
Thursday 23 February – Thursday 2 March: 78OUT Expedition, Abel Tasman
Thursday 23 February 9am-11am: Junior Swimming, Starfish Swim School
Thursday 23 February 12.30pm-3pm: 4-8 Swimming, Halswell Pool
Thursday 23 February – 5.30pm: Kay's Community Evening, Unlimited Campus
Sunday Feb 26th from 1pm-3.30pm: Working Bee – Discovery Campus
Term 1, Week 5: Starting Monday 27 February 2017
Monday 27 February, 7am: Breakfast Club, Unlimited Campus, Kitchen
Tuesday 28 February, 4.30pm-6.30pm: Phoenix Community Meeting and Shared dinner, Discovery Campus
Wednesday 1 March, 1.30pm-2.30pm: Kapa Haka, Unlimited Campus, DW2
Thursday 23 February – Thursday 2 March: 78OUT Expedition, Abel Tasman
Thursday 2 March 9am-11am: Junior Swimming, Starfish Swim School
Thursday 2 March 12.30pm-3pm: 4-8 Swimming, Halswell Pool
Sunday 5 March: Newsletter Published
Messages
Message from Steven
Start of Year
I hope that all of you have had a great start to the year.  Ao Tawhiti Unlimited Discovery is an amazing place to be a part of. Already we've had a huge variety of exciting and interesting events for our students and families to be a part of.  It was a fantastic start to the year with Mihi Whakatau, community days, IEMs (quickly followed by a well earned long weekend!) and then into our learning programmes.  It sets the tone for the place we aim to be.  A place where learning is planned for by the individual around their passions, their interests and their needs, and supported by the entire community.  Learning is not passive.  We are not a place where learning will just be fed to you.  We value your voice and work hard to create a programme that reflects your unique set of circumstances.
I'd like to thank all of you who took the time to come to be involved with any of the events that have occurred so far this year.  I genuinely appreciate the effort you all make as students, LAs and parents.
Property Update
The property roadshow continues.  We are still all on track for our Term 1 2019.  We hit an important milestone on 1 February with the MOE and the architects presenting their designs to the community.  I was extremely appreciative to the families that took the time to come along on the first evening of the school year to see what's the building will look like, the ideas that underpin its design and to ask really cool questions about the design.
The major point I took from the meeting is how much work will need to do as a community to truly be a Y1-13 inner city school.  It will be almost 8 years when we return to the city.  That's a long time and there is so much that we need to relearn if we are to use the city as a resource again.  Being based in Halswell and Ilam is so far removed from what our learning environments looks liked pre-2011.  More open learning environments, no green space on site, multi levels, no car parking and students of all ages on one site may seem like challenges right now.  I am one of the lucky ones that remember the benefits that the city offered us and the intelligent and supportive ways we tackled some of the limitations.
As always I'll keep feeding through property related info as it comes. The next likely event will be a blessing of the site at a date to be confirmed.
Pick up and Drop off
Each year I get a reminder from the University of Canterbury about pick up and drop off of students at the Unlimited Campus.  They are always concerned about the volume of traffic that uses the ring road that runs behind the Wairarapa Block and are concerned about the potential impact this may have on the safety of pedestrians and cyclists using the road.
The car parks outside the Wairarapa Block or in the Uni Carparks are not for our use.  Several are owned by the Language School that is located next to us, with the others monitored by the University.  As many people already know, the University security is quick to clamp cars that do not have a permit.  If you are dropping your child off, I would encourage you to do so on either Parkstone Ave or Solway Ave.
Added to this is a reminder that neither campus is open until 8.30am.  This means that LAs may not be available to supervise your child before this time.  From a health and safety perspective, I cannot ensure the safety of your child until 8.30am as most rooms will be locked. This becomes even more of an issue in winter as the mornings get darker and colder.
We appreciate that for many of you it may be a challenge to have your child arrive after 8.30am, and I would encourage you to contact your homebase LA to see if there is anything we can do to support you.
Reception changes
As many of you will be aware we are undergoing changes at reception at both campuses.  I am working with the admin staff and Senior Leadership to establish how we will manage these areas at each campus.  Currently the Discovery Campus has Jacinta working at reception until 10am each morning.  The Unlimited Campus reception is open from 11am. I hope to have our final arrangements ready by the next newsletter.
If you have queries about your financial account with the school, you should contact Jill (accounts@aotawhiti.school.nz).  Jill's office is based in the Otakaro Annex at the Unlimited Campus.
I would greatly appreciate your understanding while we establish how we can best manage this important aspect of the school.
Communication / Using the Website
Many of you will be new to our community.  I'd like to point out a few ways that you can stay up to date with what's going on at the school
The school website has a newsfeed here. Any community messages, homebase messages, newsletters or messages from the BOT can be found there.
The school's calendar can also be found on the website here.  We do our absolute best to keep this as up to date as possible.
We also post most of our newsfeed items on both Facebook / Twitter.  Follow us there and you should get the news updates to your facebook and twitter feeds.
Finally there are the LMS and the Portal.  The LMS contains notes from your child's 1:1 meetings and IEMs, as well as goals, their timetable and reporting from the various courses they take.  The Portal allows you to check on your child's attendance, NCEA progress, your financial account and so on.  Contact your HBLA if you're unsure how to access these.
At a schoolwide level we try to not email messages very often. The major reason for this is that the website contains all the info.  Having it in one place ensures that you cannot lose the information. This is not to say that we do not use email at all.  Homebase LAs are extremely likely to contact you this was. At a schoolwide level we really want our community to use the website to stay up to date.
Steven Mustor – Director
Message from Ian
Welcome back to school!
It's been a crazy start to the year so far. So much going on already. Lots of trips out, plenty of new community members to welcome in, exciting news about our new site.
I hope that everyone is safe and sound this week through another trying to time with the fires. I know that some of the children have been a little worried about the events of the week. It's been amazing to watch things unfold from the playground.
Next Wednesday after school we are officially opening our French bilingual programme. We are lucky enough to have the French ambassador to New Zealand be able to attend the event. Everyone is welcome to attend, we would love to see you there.
Yesterday I emailed out PINs information, so please check to see if you got the email. PINs is a great opportunity for our children to experience new and exciting learning opportunities. so we'd love to have as many offers from the community as possible.
Well, that's about it from me. Stay safe this weekend!
Ian Hayes – Deputy Director
Message from Duncan
Welcome
Welcome to 2017. The start of the year has been full of the usual busyness as we welcome  students and families back. IEMs, community days, setting up programs of learning, writing off site learning agreements etc have kept us on our toes and ensured the year has started with a bang!
I hope you are feeling like you are underway now and that 2017 is looming as an exciting, challenging and successful year!
IEMs/1:1
Over the past few years we have been slowly introducing across the school the LMS. The LMS is a fantastic tool for students to set goals and monitor their progress. As of this year we have moved all communities into the LMS. That means IEMs, 1:1 meetings, reporting and student goals are all now documented in the LMS. Students can post to the LMS at anytime and I would encourage them to do so. Photo's, video, music can all be added and is a great way for students to share the progress they are making. It's particularly useful for capturing an off site learning or self directed learning.
Athletics Day
Yesterday was the Unlimited campus athletics day. This year I found myself working the discus and javelin. I really enjoyed getting to meet with all the students who entered these events. They were all positive, engaged and enjoying a great day. A huge thanks to Kelsey for her work in putting the day together. It's a massive event to coordinate and the fact it ran so well is testament to the effectiveness of the work done to pull it all together.
So again welcome to 2017 I hope you all have a great year!
Duncan Woods – Deputy Director
Schoolwide Notices
After School Programme in French
We are pleased to announce that the French speaking after school program 'Le Club de Français' started on Wed 1 Feb and will be run by the Alliance Française de Christchurch (275 Cashel Street) for kids aged between 4.5 and 12. It runs between 3.45-5.45pm every school day. Students of Ao Tawhiti Unlimited Discovery can take the school bus that will drop them off there directly. The program is open to children that go to any primary school but with priority given to the students of the bilingual program La Découverte. Details and the enrolment form are on the Alliance Française website (link below). Places are limited so enrol now! Bonne fin de semaine.
http://www.afchristchurch.org.nz/learn-french/children/le-club-de-francais/
Florian Maisonneuve – Learning Advisor
Working Bee – Discovery Campus, Sunday Feb 26th from 1pm-3.30pm
We'll do a general tidy and clear away the summer growth.  Please bring a plate for afternoon tea.  After the working bee we hope to watch the short documentary, Play Again, which highlights the importance of nature-based play.  It might provide some inspiration for a discussion afterwards…  Working bees are always a great way to be involved in the school if you usually work during the week  and are a chance to come together and meet others in the community.
We've put together the below survey as a way to get a better understanding of what the community values in the outdoor space and also as a way of engaging community and enlisting more support in the maintenance of the garden.  At present, other than the lawn moving, most of the care taking of the garden/playground is done by parent volunteers.  Our main focus so far has been to turn the empty paddock into an environment where are children can learn about edibles, observe the life cycle of butterflies and other insects, have a space where they are free to pick flowers, manipulate loose parts for their play and generally provide a space that could work as an outside classroom.  Although the maintenance has become easier as the years have gone by and the plants have become more established, we are keen to get more parents on board to help with some of the small regular jobs.  We would really appreciate your input on the below survey and also hope to see you at the upcoming working bee.
Thanks, Claire and Emma
https://docs.google.com/forms/d/e/1FAIpQLSdrOHRkwt0xjNBOo3oT3P6rAfDzX9I0tIQfZ-TzMTNl3XWdDw/viewform
Promotional Ao Tawhiti Unlimited Discovery Video Competition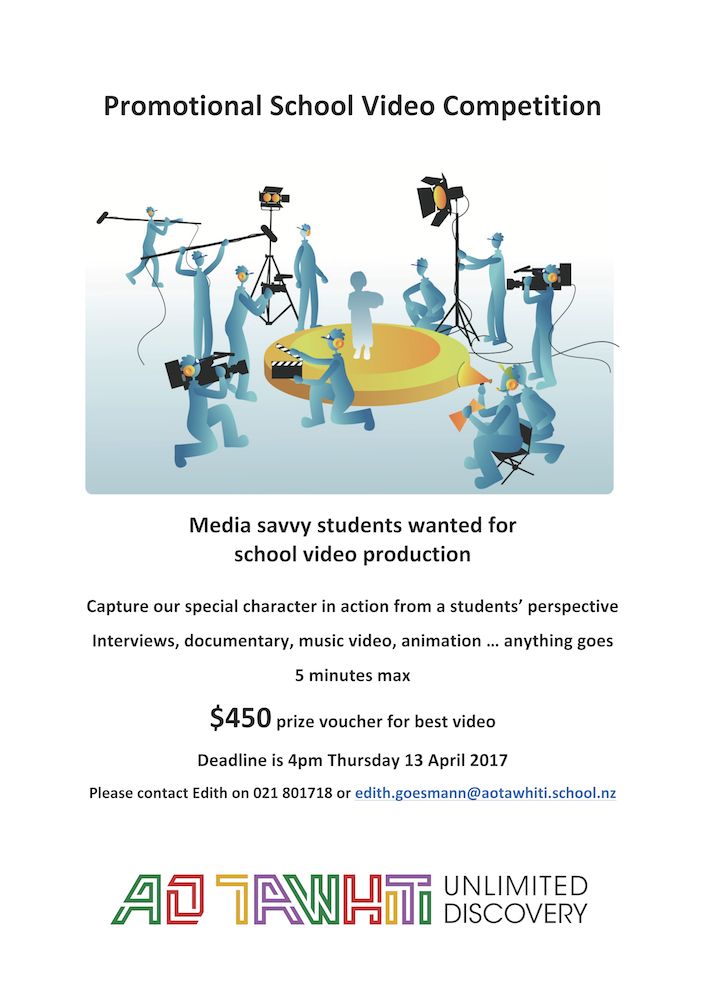 Edith Goesmann – Marketing Manager
Ao Tawhiti Whānau Hui:  Tuesday 7th March from 6pm in P3, Unlimited Campus.
Kia ora koutou whānau
The school year has got off to a good start with Community days, IEMs, Olympics Day completed, and classes underway.
Kapa Haka began on Wednesday 15th February and is set to to continue each Wednesday afternoon from 1.30-2.30pm in room DW2 in the Jack Mann complex. This is a large studio set up for performance so is ideal for kapa haka. We are very grateful to our kapa haka tutors, Norm and Maka, for bringing their expertise into our school. If you would like to come down and support the group, or join in, it would be great to see you there.
Karla Paul, who has been the Whānau representative on the Board of Trustees is no longer able to fill the position due to other commitments. Tēnā rawa atu koe, Karla. Thank you for the fine contribution you have made on behalf of the whānau.
Consequently, we are looking for someone who can represent the Ao Tawhiti whānau on the Board and advocate on behalf of our tamariki and rangatahi. This comes at a very important time for the school, and the Board, as the rebuilding of our school moves into important planning and design phases. It is a good time to ensure that the needs and perspectives of our Māori students, their whānau, and the tangata whenua are represented in the design  and function of the rebuild.
We are reaching an exciting time in the life and culture of the school. Te Ao Tawhiti whānau is a representative group of Ao Tawhiti parents of Māori students, and of parents and students interested in being involved in supporting te Ao Māori at Ao Tawhiti. Everyone is welcome to come, to participate and support the development of whanaungatanga within our school community.
We look forward to seeing you all on Tuesday 7th March
Ngā mihi nui
Marlene Te'evale-Hunt – Kaiako Māori; Peter Brailsford – Community Leader 
HPV School based vaccination
The HPV School based vaccination programme will once again be delivered in our school.
This year this free vaccine is being offered to year 8 boys and girls.
The aim of the programme is not to force vaccination on people but to offer options for our busy families who wish to participate in the vaccination programme at the venue of their choice.  While these vaccinations are primarily being offered through the schools they are still available at the GP.
The school is having their 1st  vaccination on 15 March with the second and final vaccination in September.
If you wish your child to participate in the school based programme please read, fill out and sign the consent form that has been posted home to you. Take to the school office as soon as possible.
Please consider returning the consent form even if you choose to opt off the programme as the school goes into a draw to win  free sports equipment dependent on numbers of signed consents, yes or no, returned.
If you have any questions regarding this programme please contact our Public Health Nurse
Frances Ryan – Public Health Nurse
1-3 News
Kiwi Core Values
Nadine Walmisley – Community Leader
1-3 Community Day
Nadine Walmisley – Community Leader
4-6 News
Phoenix Newsletter – 17/2/17
Kia ora Phoenix whanau, before we start talking about the nuts and bolts of our wonderful and incredibly busy start to the year, we wanted to say that our hearts are with families affected by the fire. If you or your family need support please let us know and we can see what we can tee up within our community or with our school counsellor. We are very aware for some adults and for some kids the fire, the news and the unknown are very evocative of the earthquakes. If we can help please let us know.
The first two weeks of our time at school has been focused on our important Core Values and how they make possible all of the learning we want to be able to do at Ao Tawhiti. The LA's have worked with each of the four HB's to focus on a core value and how we can express this in the HB space in our relationships and in our learning.
The kids have created time capsules with their intentions to express kaha this year, what they want to let go and what what they will embrace next as learners. They have created webs of whanaungatanga to show how they are all interdependent, both as people and as learners trying to use the same small space. They have had discussions about respect and workshops outside acting out how important aroha is to everything we do. They have  looked at why trust needs to be strong, both from them to LA's and from La's to the kids to make learning happen. Especially if we want to really embrace growth mindset learning where it's ok to make mistakes and the expectation is that learning  will be stretching.
Below are some photos from the kids workshops on building strong trust (bridges of pasta for a monster . The rules were a certain length and certain width and only so many strands a could be employed. Hopefully you can see your child's creation on their seesaw account.)
28 Feb Tuesday Phoenix Community meeting and shared dinner
This worked so well last year let's give it a go again.
We want to have a hb meeting at 4.30pm to 5.15 and then a shared kai together. Please RSVP if you can make this event.
We want to chat about ideas for camp, Community learning this term and give everyone the chance to meet and chat.
(We are happy to have the kids from Community Phoenix on site from 3-4 if this helps families make this event. Younger siblings might be another kettle of fish and this needs to be discussed with your LA as their needs are somewhat different.)
Upcoming Festival on the 22nd March!!
Isabella R is creating a fab Potato Festival!!
Get chatting with the kids as to ideas they could run to support  this event. More details will follow shortly as to the plan for the day.
Bethany has created some great cakes at home with a mammoth marrow she lugged home from the garden at school.
If you could help the gardeners at all this year, pulling weeds for an  hour even would be awesome then please email Claire at claire.odonnell@discovery1.school.nz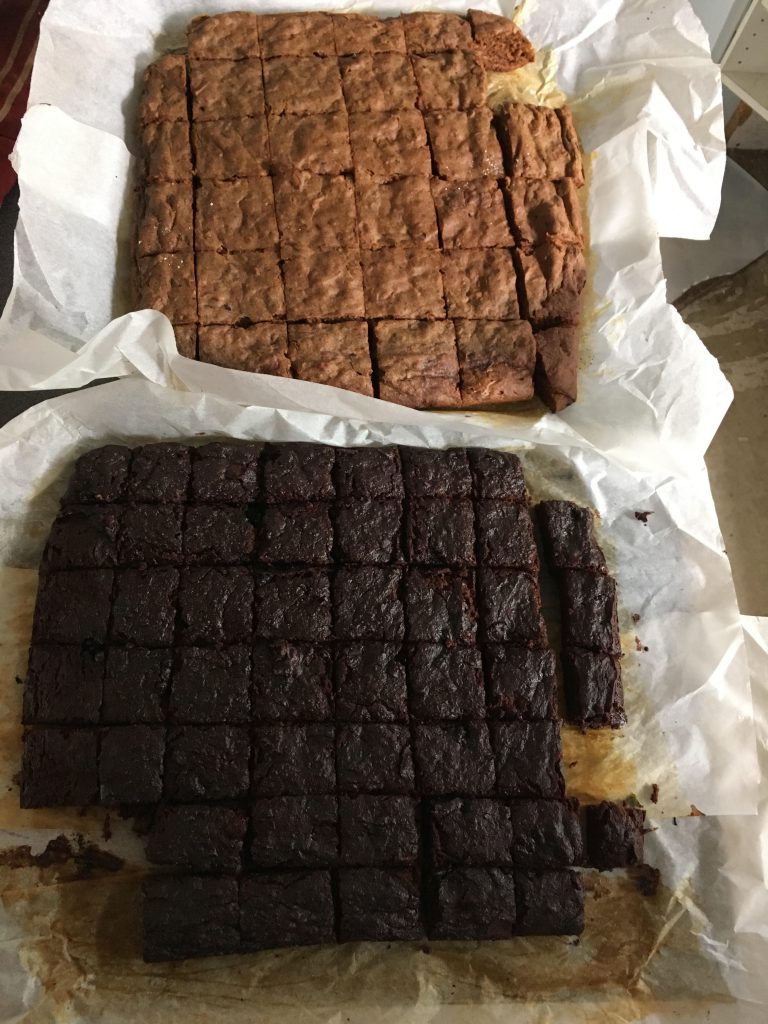 Wonder
One  a quick note does anyone own a copy of the book 'Wonder' I could borrow to read to the Community?  Ours has walked …..
Swimming
Swimming and using the library as a hub every Thursday has been awesome. Last week was everything we could want, kids working respectfully in the library and making decisions as to whether they swam, worked, returned to swimming etc . The juggling and decision making that is such an important part of a self directed learner.
Our tutors who come all the way from Jelly Park are working out well and the kids are bouncing through their first two weeks.
The library will also we be running workshops for our kids on the Thursday 9th & 16th March. 1.30-2.30pm .
A big thankyou to Andrew Dean who has yet again made our life better, this time by building new tote tray holders and this massive ipad station that ensures everyone has a cubby hole that keeps their screen and charger safe. We are the envy of the campus!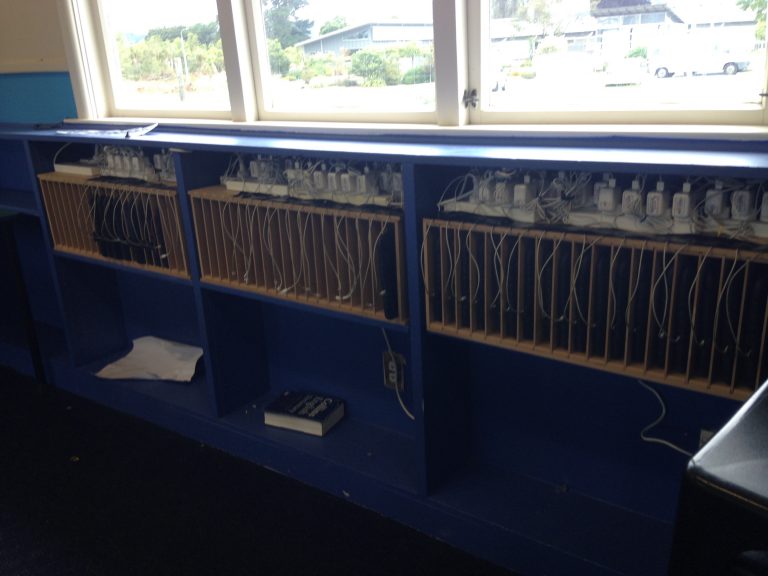 Summer Sport
Check out Dean's email yesterday to see if your child wants your permission and support to do Summer sports!
Art Gallery trip  on Monday, if your child is on this trip – (and you would know they signed up for this as you would have received an email last week)
Please reply to the online link you were sent 🙂
Heathcote River Trip this Thursday morning.
Keep a look out for a possible nature trip on next Thursday morning to the Heathcote River that Regina Dean is organising, more details to come shortly!
On this note, we as LA's and on behalf of our kids want to say a very  big thank you to you wonderful parents who put in so much time, energy, and your hearts into building opportunities for your child and for their peers. For our kids being part of this learning community can be life changing. I have seen some amazing things this term already. I've seen personal  growth that is just fabulous. We all have our off days, or as we call them in the community- our brainfarts. The important thing for us and our kids is we learn from them and embrace the idea that trying new things, making mistakes in learning or in social settings is  part of being in a community. It's the changes that we make from this learning that makes all the difference We learn together and from each other and it is one of our strongest core values and part of our Special Character. It's what recharges us.
Remember folks that your LA's are your best port for call for things, and they are just a text or email away. The more communication between home and school the better!
Please text or email us and the office if your child is late or away on a school day to help stay on top of the role taking in the morning.
OK time to get this newsletter on the road. I'm sure I'll think of three more things to add as I send it.
Again stay safe families, give your kids a hug from us and we will see you all soon in the HB space.
Ka kite ano,
Melva GIll, Community Leader
7-10 News
Kay's Community update
Our community has got off to a fabulous start and we are building a strong sense of identity. Yesterday you could see heaps of yellow running and jumping around the athletics track and field. We were incredible happy with our community's level of participation and lots of students had a great day as a result.
Today we spent time in our individual HB's and many plans are being made for HB time on Friday mornings. Mega Air is always a popular request as well as cooking and sports. These sessions are often times our students look forward to and have good memories of.
We have a couple of community events coming up. These are as follows:
Kay's Community Evening Thursday 23rd Feb – from 5.30pm
All parents and students are invited to an information / get together evening for our community. Bring along your own dinner and spend the first 30 minutes chatting and meeting others.
We are putting together some ideas for an agenda so if you have any suggestions or request please email me.
Kay's Community Camp
LA's are currently looking for the best local location for us to go for a one night community building camp. We are looking for a night in March. Last year we went away week one and it was a great opportunity for everyone to get to find out about each other and challenge themselves. However, it was really hard to organise it so early. That is why we have decided to wait until March. Hopefully we will have a venue and date in the next couple of days. We would love it if some parents / families could join us, It is a great way to meet other parents / families in the community. We will do our best to keep costs low and we have some fundraising money from last year to throw in the pot. We are looking at  a cost of between $30 and $40 a student.
Community Day Photos
Kay Hayes – Community Leader
Trust Exercise
Jacinta Buist – Director's PA
11 – 13 News
Matt's Community Update
A laggardly southerly front, which arrived and left a couple hours later than Metservice had predicted, meant that we had a slightly cold and damp start to our community day. Fortunately the front blew through as promised, and the rest of the day was a great opportunity for students to work together, get to know each other a little better and have some fun in Bottle Lake Forest Park. Congratulations to Richard's Homebase, who demonstrated the most teamwork of the day and so won our inaugural HB Challenge trophy.
The trophy was awarded on Wednesday during our first full community meeting of the year, where we also discussed the need for a new community name ("Matt's Community is SO last year…) our plans for HB/ community time this term, starting a community game of assassins ("death by clothes peg") and some of our aims for the year ahead.
All students should now have their timetable set up and underway, including plans in place for any Self Directed Learning, off-site learning and 1-1 times agreed with their HBLAs.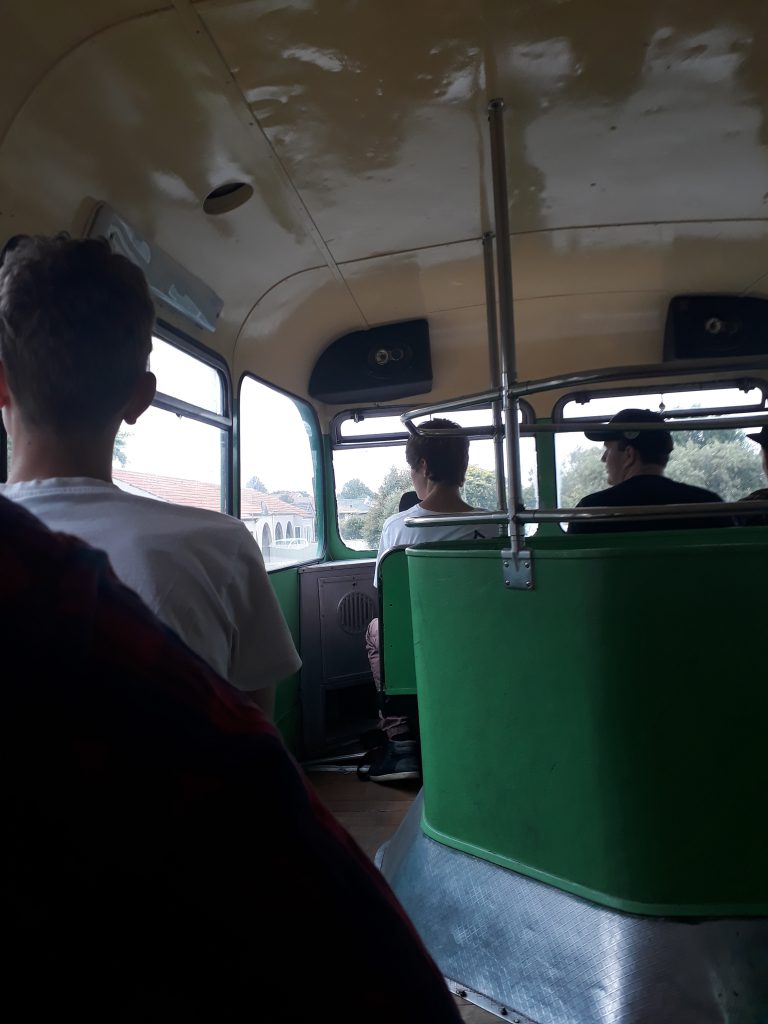 Bus ride – by Josh McAllum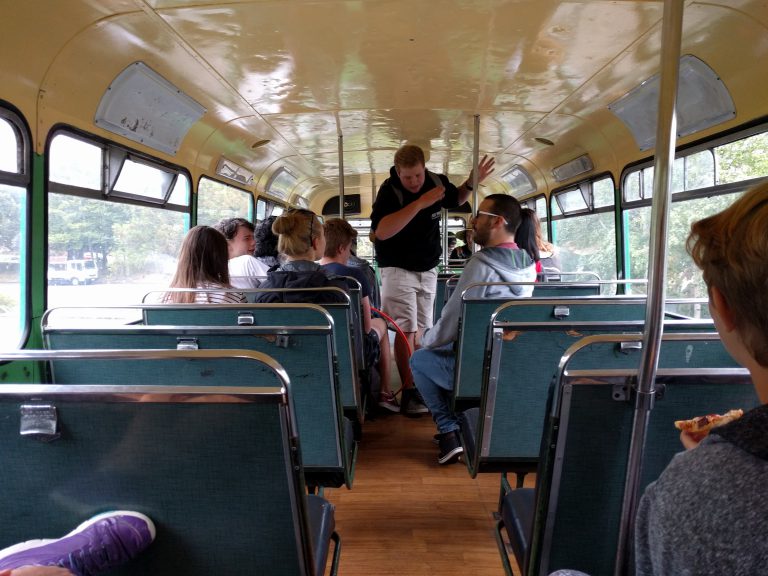 Gareth graduated already, but keeps coming back…. by Kitty Jamison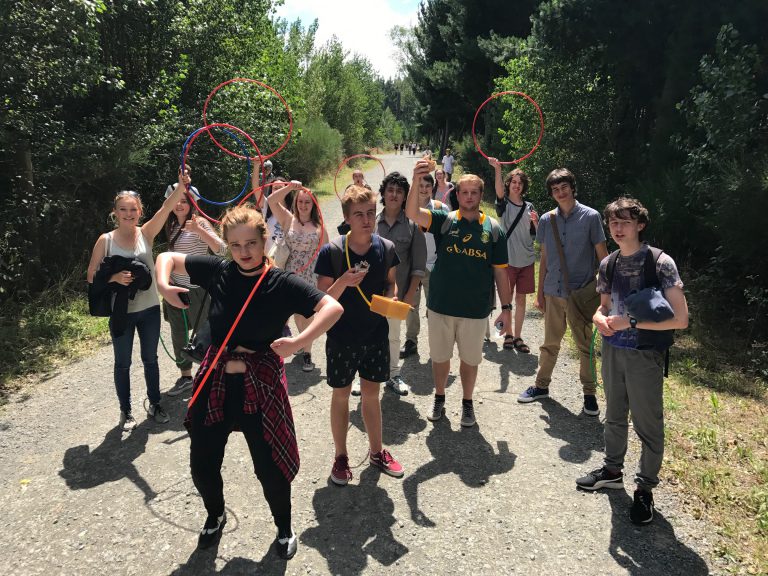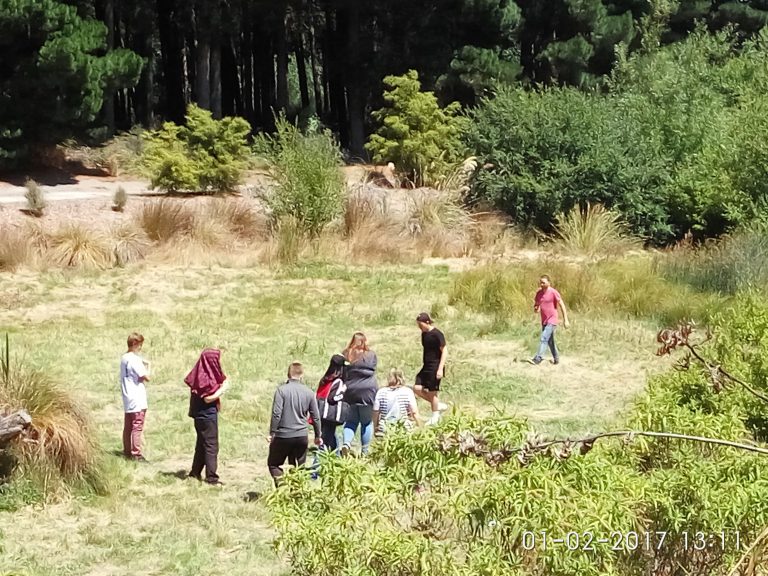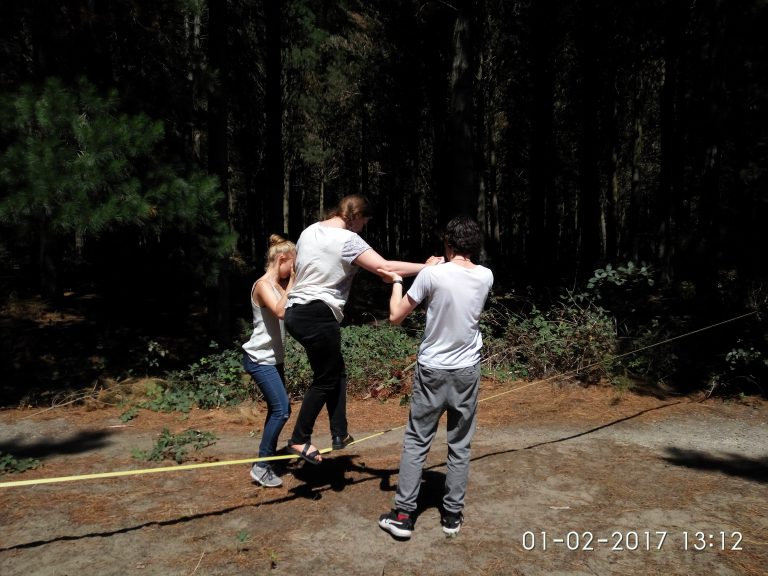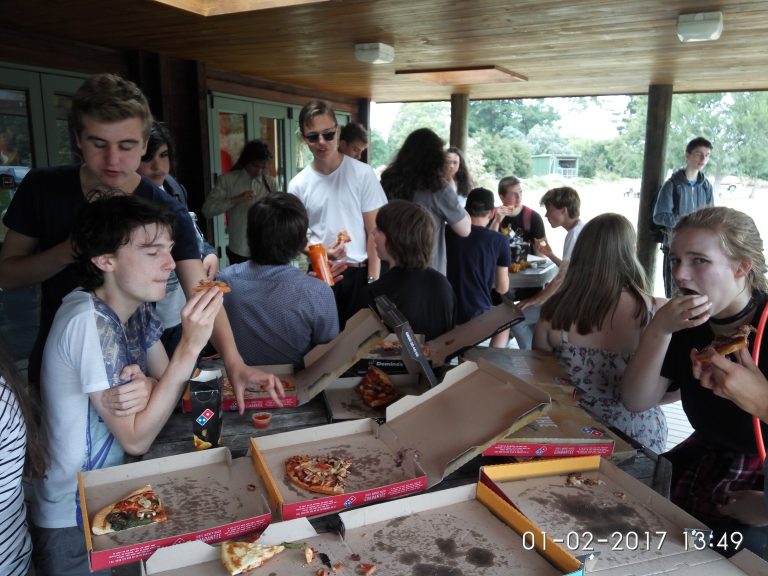 Matt Parkes – Community Leader
Other Notices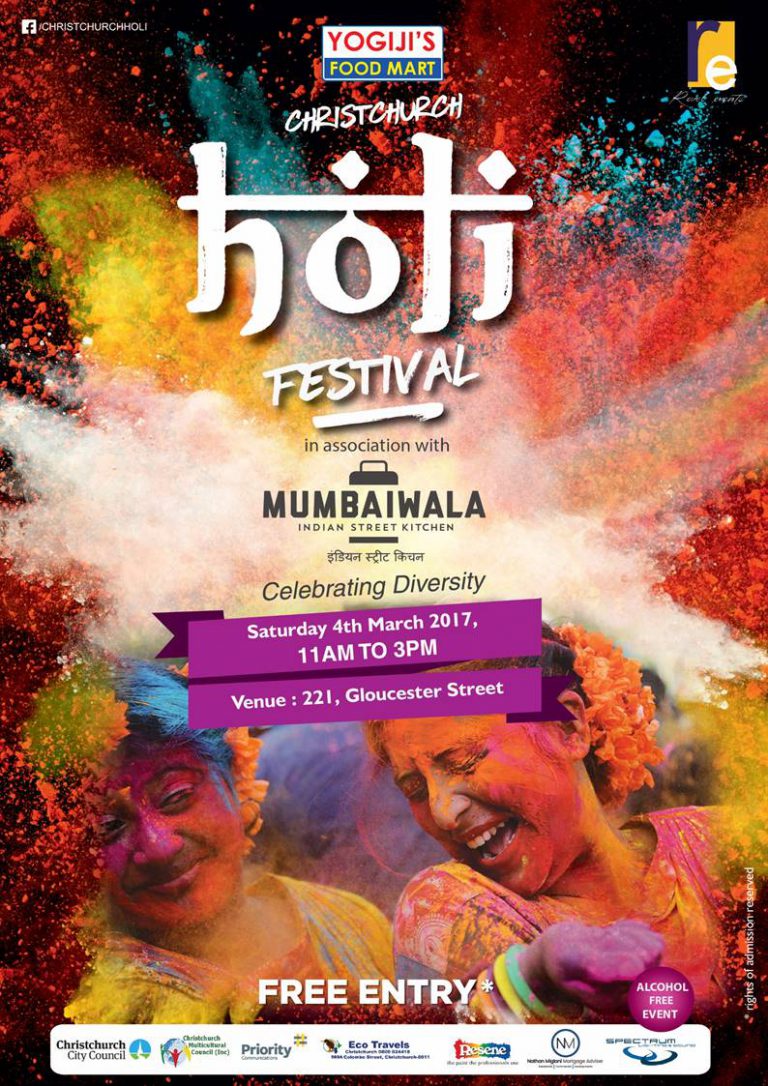 TimberNook – Nature based child development programmes 0-13yrs
TimberNook programmes are now offered locally! Amazing outdoor experiences in natural settings – mainly at Cracroft Guide Centre (151 Cashmere Road). Limited places for preschool playgroup & Forest Kindy, Going Wild afterschool and weekend clubs, a range of school holiday programmes, special events & birthday parties. For range of programmes contact Kim.Tenebaum@timbernook.com, 027 9340409, fb TimberNook Christchurch South or visit http://www.timbernook.com.
The Halswell Skate and Recreation Parks
Concept designs for Halswell Domain and Knights Stream Park consultation is now open for submissions
Please visit  https://yourvoice.ccc.govt.nz/halswellskate for more information and to make a submission.
I have also attached the public information leaflet for your information.
Kind regards
Halswell-Skate-Leaflet-Jan-2017-A3 [pdf]
Dane Moir