In this newsletter
Upcoming Events
Term 4 – Week 7: Monday 21 November – Sunday 27 November
Monday 21 November – Friday 24 November: Spirit Week
Monday 21 November – Tuesday 22 November: 1-3 Swimming, Discovery Campus
Wednesday 23 November – Friday 25 November: PINS, Discovery Campus
Thursday 24 November: Public Health Nurse, Discovery Campus
Friday 25 November: Disco, Discovery Campus
Friday 25 November: 2016 Sports Celebration, Unlimited Campus, 4-6pm
Term 4 – Week 8: Monday 28 November – Sunday 4 December
Tuesday 29 November – Friday 2 December: 1-3 Swimming, Discovery Campus
Thursday 1 December: Talent Quest, Unlimited Campus, 9.30-11.30am
Friday 2 December: Celebration of Learning, Discovery Campus
Sunday 4 December: Newsletter published
Messages
BOT Key Messages
School Donations
The finance committee would like to encourage everyone to consider paying their school donations for 2016.  Donations are important way for us to provide additional opportunities for the students. The school's roll is a little lower than this time last year which means in general we have less money.
Gateway
The BOT had the fabulous opportunity to hear from Robyn Sutherland about Gateway at Ao Tawhiti Unlimited Discovery. This year she has worked with 35 students on individual work placements and has also worked with 29 different employers. It was very exciting to hear about how successful our students have been and how valued their contributions are. We are very lucky to have 27 students funded by TEC and they all seek out diverse opportunities and pathways. Robyn has built up so many connections with the wider community that are so valuable to our school and our students have represented Ao Tawhiti so fabulously.
New School Designs
The Design Review Panel are meeting on 22nd November. This is exciting for us as it means we are getting closer to some initial designs. Hopefully this means that when we come back together as a school next year we can start the process of discussing how we could use the spaces and how we could fit them out. It has seemed like a such a long time coming but it is exciting seeing and hearing about how it is coming together.
Kay Hayes – Staff Trustee
Director's Message
Earthquakes (and Tsunami warnings)
It seems like whenever we feel the ground shaking below us, we are plunged back to 2010-2011. This earthquake has had a major impact on many communities and I hope that the lessons learned from our experiences here in Christchurch help make their road to recovery a lot faster than ours.
Thank you so much for being supportive of my decision to close the school this Monday.  Many of my staff (and I'm sure my students and parents), myself included, had been evacuated from their houses in the early hours of the morning, and I know from my own experience, just how difficult it would have been to provide a safe environment for our students that day.
It's timely to remind you that we will always try to communicate a school closure on the website first. This immediately updates our twitter and facebook feeds.  If in doubt, I would strongly encourage you to check the website newsfeed.  Sending out texts is not as fast or easy to do.  We do endeavour to do both, but the website will be first.
Appointments
Over the last two weeks I've had the pleasure of interviewing for two positions.  Braden Faavae was appointed to lead one of our 7-10 Communities.  Braden is returning to Ao Tawhiti Unlimited Discovery after a year in Nelson.  I'm really looking forward to seeing how Braden and all of the other LAs, students and parents who will make up his community, make learning happen 2017.
On Thursday we also had a presentation for a LA to work with some of our students enrolled for 2017.  This appointment will allow our students to learn in our style of curriculum delivery in French for a part of their week.  Marie-Eve Therrien has a wealth of teaching experience and a huge commitment to bi-lingual education.  She will work with our students 3 days a week, as part of the 1-3 Community.  This project is right at the beginning.  Marie-Eve will be working closely with Nadine and Ian to ensure that this does not become a school within a school – the focus is on allowing students to be central in directing their own learning, but in French!  In time I'm sure that this will benefit us in ways that we've not even considered.
Good luck Braden and Marie-Eve.
We still have potentially 2 more appointments to make this year.  These appointments will ensure that Emma's and Sarah's courses for 2017 are adequately staffed.
Homebase Selections
Duncan and Ian have been hard at work in the background preparing for homebase selection for next year.  This Thursday they will put out the forms for homebase.  The process will give you just over a week to fill out the form.  So, in total you've got just on two weeks from today to think, talk and decide.
I would strongly encourage you to start thinking about the kind of relationship that works best for your learning.  The relationship between student and Learning Advisor is a vital one in ensuring that you get the support to create, follow and reflect on your learning goals.  If you are transitioning to the new campus, use the next couple of weeks to get to know some of the LAs.  They are all amazing, supportive and eager to get to know you.
The communities and homebase LAs for next year are as follows
1-3 Community: Y1 – Nadine; Y2-4 Gina; Y2-4 Libby
4-6 Community: Y4-6 Melva; Y4-6 Mel; Y4-6 Dean; Y6-7 Ian
7-10 Community (based in S4, S5, S6): Braden; Marlene; Ino; Jared
7-10 Community (based in the incubator): Kay; Steve; Kate; George
11-13 Community (based in S1, S2, S3, Otakaro): Matt P; Derek; Brent S; Richard P
11-13 Community (based in P6, P12, P11, Otakaro): Richard M; Louise; Nathan; Duncan; Steven
11-13 Community (based in P3, P4, P7, P8): Pete; Allan; Holly; Brent B
Duncan and Ian will be in touch soon with all the info you will need to make your choice for next year.
End of Year
We are getting closer and closer to the end of the year and there are two things I'd really like you to consider.
The first is to ensure that you check that you are up to date with all the curriculum contributions, charges, camp costs etc that you may have incurred this year.
The second is to please let us know as early as possible if you do not intend to return to Ao Tawhiti Unlimited Discovery for 2017.  We are in the process of finalising our new enrolments for 2017 and would love to know exactly how many places we can currently offer.  You can contact either office, or Duncan or Ian directly.
Signage
We're back in town … kind of.  Edith arranged for the "back in 2019" signs to go up on the fence around the site last week.  If you're heading down St Asaph or at the bus exchange go and have a look.  It's nice to think that in about two years there will be more than just a fence and signs on that site.  I can't wait.
Steven Mustor – Director
Message from Duncan
4.2
It's hard to believe that we are in to the final half term for the year! As our NCEA students turn the focus of the end of the year to exams our year 7-10s engage in the exciting range of opportunities that 4.2 brings. In addition to all the usual courses we see things like football, Junior production, Psychology, and Legal studies get offered at a level accessible to the younger students on the Unlimited Campus.
4.2 also offers our year 6 students who are coming over to the Unlimited Campus in 2017 a chance to experience a taste of what life is like here. I've enjoyed getting to meet a few of these students.  Seeing them start to find their way around and engage in courses is exciting to see.
IGntite/Graduation
Unfortunately I missed getting a message together for the last newsletter. So I have not yet mentioned the fantastic night that graduation and IGnite were. Every year it is a stunning experience to see our leavers one by one cross the stage and hear their learning advisor share the story of their time with us. Each leaver having succeeded in a unique way and having clear idea of where to next. It is humbling experience to see these young people into our school and grow up before our eyes. Watching them grab hold of the things that matter to them and building the confidence to step in adulthood is a wonderful thing to get to witness.
In addition to graduation we enjoyed second iteration of IGnite. It's pretty amazing to see the range of talents inside our community and have an opportunity for it to be shared. I was lucky enough to be able to pop into most workshops and get a glimpse of each of the sessions. From wax food wrap to non-violent communication to an introduction to Spanish the sessions were varied great to see.
IGite finished with our keynote speaker, Tom Matthews, sharing his insight and expertise in Positive Psychology and and the impact that applying it to not only education but our daily lives can have. Tom was able to help us understand the impact of intentionally focusing on the positive things in life and our roll inside making it happen. I for one took a lot out of Tom's presentation and I'm looking forward to learning more. Already I'm thinking about the possibilities of integrating some of this work into  what we do everyday at school.
Homebase Selection
As Steven has already mentioned we are getting ready to begin our homebase selection process for 2017. Traditionally, Unlimited ran this process at the beginning of a new year. Last year being the first time that we ran the process at the end of year. There a definite pro's and con's to each approach. At the start of the year we are firm in our staffing plan and student numbers. However, it can create a feeling of being in limbo as we establish homebases and communities for the coming year. When we establish the homebase at this time of year we are able to get the year underway in established communities and from there move into IEMs to quickly set up the learning programs for the year.
Junior Production
A great example of our special character is always on display at this time of year. The Junior production is a completely student driven project. It is wonderful to see a team of students come together and work so hard on putting such a challenging piece of work together. It's not always easy but the degree of persevereance and etermnation that those involved demonstrate is outstanding. This years performance dates are yet to finalised but it is looking likely to be on December 8 and 9. So pencil the dates into your calendar and get ready to see this years junior production: Mulan.
John Ratey
Over the years I've had a real interest on the impact that well-being can have on learning. I often find myself being drawn to research of theories that attempt to link things we do to be healthy and how these things impact life at school. Recently of been looking at John Ratey's work and how the timing of exercise can support learning progress. This TED talk here is a brief summary of his thinking that some of you might be interested in. https://www.youtube.com/watch?v=hBSVZdTQmDs
Duncan Woods – Deputy Director 
Message from Ian
Well, 17 days of school left! That year has just blown by and we're now in the crazy end of the term. There's heaps on in the next few weeks…
PINS this coming Wednesday, Thursday and Friday…
Homebase Selection info comes out this Thursday…
Swimming for the Junior community over the next couple of weeks…
Monday week 8, reports will come home for those children that are due one.
Discovery End of Year Celebration at the Halswell Library on Friday the 2nd of December…
Camp at Waipara Boys Brigade on the 5th, 6th and 7th of December…
Year 6 Celebration on Monday the 12th at the Discovery Campus…
Picnic in the Park and last day of the year on Tuesday the 13th of December.
Wow, that's a lot to get through in 17 days! If in there you feel like you need to book an IEM with your current Learning Advisor please do this individually. We never run IEMs in the last term as a whole school, but if you feel like you need to have one please contact your LA and work out a suitable time for this over the next few weeks.
Thanks to those of you came along to the screening of "Most Likely to Succeed". I found it to be thought provoking and challenging. I hope that all the kids who come through our school get to experience an education like the ones we met in the film.  It reminded me of the challenge both Unlimited and Discovery were set in the early 2000s, to push the boundaries and to challenge the system for the benefit of our kids. I think we do an excellent job of this.
I think sometimes we sit in this place and start to take for granted what we have available for the kids and  the experiences that are possible for them. Over the last few weeks I have had the pleasure of running a massive amount of interviews for new families to the school. Talking to these families gives me a privileged opportunity to hear from them how amazing they have found their 3 days visits, they talk about the quality of education that is occurring, the focus of our kids on their own learning and the amazing community feel that they experience while here. That community feel that these people discuss is only present because of the amazing effort everyone involved goes to…so thanks to all of the kids, parents and staff who have made these visits memorable for our visitors! We can't run a school without a roll and the fact that everyone I have interviewed wants to be part of this school goes a long way to making sure we have a healthy and strong roll. Enrolling families is based on them understanding our Special Character, and hopefully living it out, the community members that are here during these visits definitely make it clear what it is to be an Ao Tawhiti community member and how important our Special Character is to us…thanks!
As Steven has mentioned in the newsletter, keep an eye out for the Homebase selection info that is coming out on Thursday.
Over the last couple of months we have been working with the FRENZ community. The FRENZ community is a national group of French speakers. The group itself is committed to fostering and continuing the development of the French language and culture. We were approached by FRENZ to see if we could make it possible for local Christchurch French Speakers to get a bilingual education for their children. They approached Ao Tawhiti as their first choice, they loved the look of what we offered our children and felt that our school was the best option to partner with. Now that it appears that we have enough children enrolling in this programme we feel like we can make it happen. These children and families will be a seamless part of our community, they have had to interview just like every family here and have had to commit to our Special Character first and foremost, the French Language programme is a bonus for these families. We are still in the early stages of how the programme will look for these children, essentially it should be 60% of the week delivered in French and the rest in English. At this stage the children will be part of exisiting homebases for the 40% of English. Talking to many of these families during interviews they are extremely excited about this opportunity and have been made to feel very welcome by the whole community. This is not a French school inside our school, this is a group of children who are part of our communities heading out to get the same learning they would be receiving in homebases but delivered in French.
Annual Picnic at the Botanical Gardens # 10am – 2pm # Tuesday the 13th of December 2016.
On the last day of term, Tuesday the 13th of December 2016, we are intending on having our annual picnic at the playground/paddling pool in the Botanical Gardens. This will begin at 10am and finish at 2pm. Please can you arrange to have your child picked up by 2pm from the park. We will have a staff member walking from the Bus Exchange at 10am to the park and then returning to the Bus Exchange by 2pm. Your child will need to bring food and drinks, suitable clothing for the day, sunscreen and possibly togs and towel if they want to paddle.
Your child will need to sign in and sign out with their LA at the park. If the weather is looking shaky, we will make a final call at 8.00am about whether the day at the Park is on or not.
If we do cancel the picnic we will email out, put it on the school website and put it on Facebook. This means school will be open as usual at the Discovery site. If we do cancel the bus will be available at 8.35 am for the kids to come to school as usual for the day, 9-3.
Please contact your LA if you aren't coming for the day.
Any questions on the day give Ian (021996643), Nadine (0273847671) or Melva (0275471223) a call.
Ok, tighten your seat belts for the last few weeks it's going to be a crazy ride!!!
Thanks
Ian Hayes – Deputy Director
Notices
2016 Sport Celebration
Friday 25th November, 4-6pm
The kitchen for nibbles and awards
Invite for all to celebrate those involved in sport in 2016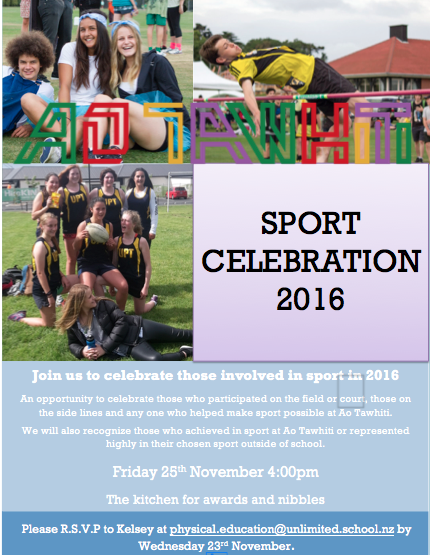 Kelsey Berryman- Sports Coordinator
Hello from Miriam at Olive Academy Thurrock UK
I have been thinking of you all recently as I hear the news and read about the earthquakes. It feels strange not to be sharing the experience with you, but also a relief as it must have been distressing and scary. I can share some things though as Olive Academy is operating in an old school building whilst a new school is being built for us in Tilbury. We were to move in next February but the date has just slipped a bit! At least building has started!
Best wishes to the Ao Tawhiti community and I hope you are enjoying 4.2 activities!
Also congratulations on the new logo – it looks great!
Miriam – Science Teacher (again!)
Disco Fever hits Discovery Site… next Friday!
Next Friday is your opportunity to get out your dancing shoes and join us for a disco in HB Phoenix at the Discovery site. We are raising money to help us pay for activities on camp and are looking forward to getting down and having a ball… come join us!
Where: HB Phoenix, Discovery Site
When: Friday 25 November 
Time: 3:30 – 6:30 pm
Gold Coin Entry, a selection of snacks will be available for sale
Mel Fisk – Learning Advisor
1-6 News
Creating Birdfeeders
Nadine Walmisley – Community Leader
Phoenix Community News
Kia ora from the Phoenix Community, wow there has been so much happening this term it has been tough to find the time to write about it!
Included in this newsletter from us are photos of the kids trip on the Fox 11 in Lyttelton Harbour. The kids had a total blast and came back absolutely buzzing with wind blown faces and 'gabbling' about the experience. Our sea legs- Captain Libby was the LA on deck (literally) and she loved spending time with our tamariki too.  We are very lucky that Cansail covers most of this trip and leaves us with a small amount that the hb will cover so that children in Christchurch can have this unique experience. Thanks to parents who got up at the crack of dawn to ensure everyone was down at the docks by 9am!
FERRYMEAD TRIP
We have also been to Ferrymead and Mel will add more details about this trip.
Crikey they all look a bit grim in the photo….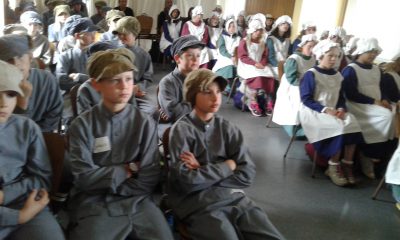 Thanks to parents who helped make this possible!
PS can anyone who is passing Ferrymead  please pop in and pick up a blue hoodie someone left behind on the day. They have emailed to say it is in their lost property.
SOCCER workshops in the afternoon.
Also in this newsletter are photos of kids enjoying the soccer workshops from NZ soccer that have been running. The feedback from the team was that our guys were wonderful to work with too. This opportunity was provided by a new parent from the junior school so we are feeling very lucky.
Motukarara Fireworks
A humongous thank you to everyone who made the Motukarara Fireworks such a success! Your support of the kids was very heart warming and I know for lots of our tamariki it was a real growth maker for them.  Thanks to Clare who took over the herculean task of organising our small human tornadoes and their adults, it's a tough job!  Families your fundraising has raised an immense amount of money which we have to spend this year. We will cover everyone's activity cost at camp, have an activity day in Christchurch that the kids will decide on this week, and we will still have a substantial amount left over.
This time last year Andrew and I secured (spent up large) on  a significant amount of Arduino and a Robot that he has has worked tirelessly creating throughout the entire year with every child. At the end of term 3, Andrew and the kids  moved beyond Arduino and began building the programmable, moveable, dancing robot.  It has been a major undertaking by Andrew to commit to ensure every child has had a turn at this work throughout the year in small workshops of one or two people and we are incredibly lucky he has done this in the midst of working and being on the  BOT.
Now due to his community event allowing us the mercilessly fundraise we have the chance in the next week to buy something that might fuel learning opportunities for the next year, what are your suggestions? I can't guarantee we will buy them but I'd love to see your thinking. We have asked the kids too, and most of what they want will easily be met by working with them next year on their big project ideas. So think big, (not huge but big) maybe something around the $1000 mark for us to add to the thinking melting pot.
Pizza readers…
Pizza wheels need to be redeemed for pizza by Sunday 4 December 🙂
HB selection 2017
HB selection will happen  very soon for 2017.  While in our community kids learning needs are shared amongst all of us as a team, the LA selection is where you can put forward a request for who you would like to do your iems with and follow up on your child's needs beyond the immediate day to day learning things. More information from the office will follow shortly.
Reports
Reports are on their way home this Monday the 28th. It has been interesting to gather the information about the kid's year and see how they have tackled different areas in ways that are truly unique to themselves. Remember you can 'tee up' an iem after the reports if you want to chat things through with your LA and they are happy to do so.
The important thing to remember is that for  most years, i.e year 4, year 5, year 6 the National Standards expectation is that they will have moved an entire level between their mid year results and their end of year results. Also keep in mind as we said earlier in the year reports are a moment in time on the kid's learning journey. Each pathway is unique to that child and their gains are unique to their learning journey.  Having said that after a week of crunching data I am super proud of our kids. Now to use their super powers to fuel even more self directed learning next year!
CAMP FORMS
These have become the bane of our lives. There are still many many forms to be filled in. It takes an LA most of an entire afternoon to go through the lists each time and collate and double check who has and who hasn't filled in which form.
We need a form for adults on camp, a volunteer one and a medical for every adult on camp.
For kids we need a medical form for every child, and if kayaking a swim permission from.
I will sit down for all of Wednesday afternoon with Nadine again and go through the lists and send out emails.  If you receive this email please fill in the online form again that we request.
We are getting down to the wire, which means we are in the difficult permission of not being able to put our paperwork into the Board of Trustees to go on camp.
Picnic at the Gardens
Yay our tradition of meeting at the Botanical Gardens for our last day together is planned for Tuesday 13th December. An online form from the office will come out shortly to let us know to expect you there. The school at McMahon drive will be closed that day as everyone, weather permitting will be at swimming pool in the Botanical Gardens.
Swimming 2017
After much complaining by the kids we have tried to secure another option for swimming next year. The council, just this once has agreed to do swimming lessons for us once a week at  Halswell outdoor pool in their new facilities. Fingers crossed every time is blazing beautiful sun, but sounds like a really lovely thing to look forward too in the summer !!
Big thanks to Clare for all the fabulous photos, she has almost  become our official photographer!!
Crikey it must be time to end this beast of a newsletter.
Remember to check your child's seesaw and post them feedback, it makes the world of difference!
We would love to see your smiley faces in the hb so pop in for a bit or the day you are always very welcome.
Fingers crossed all the photos attach!
Ka kite ano
Melva Gill – Community Leader
Disco Fever hits Discovery Site… next Friday!
Next Friday is your opportunity to get out your dancing shoes and join us for a disco in HB Phoenix at the Discovery site. We are raising money to help us pay for activities on camp and are looking forward to getting down and having a ball… come join us!
Where: HB Phoenix, Discovery Site
When: Friday 25 November 
Time: 3:30 – 6:30 pm
Gold Coin Entry, a selection of snacks will be available for sale
Mel Fisk – Learning Advisor
HB Phoenix Trip to Ferrymead Heritage Park
Mel Fisk – Learning Advisor
7-10 News
7-10 Update
Some of the individual or group projects underway in community time: set design for the Junior production; learning to play guitar; developing a website logo; practicing dance routines. We have also had workshops for our Y9&10 students outlining some of the opportunities available to them next year and our Y7&8 students spent a day with Life Education trust covering a number of Health topics.
Planning for our community day on Monday 12th December is progressing, with students investigating possible activities in the Ferrymead area. Students will need to chose one activity for the morning and one for the afternoon, with the whole community coming together for a shared lunch.
Matt Parkes – Community Leader
Junior Dance
Over the last couple of months student in dance have been working towards a dance elements booklet comprising of various dance activities including learning a Samoan Sasa, taking still images and performing a chance dance. They are now working towards a site dance based around the weather seasons. Watch this space for more details.
Sarah Marshall – Learning Advisor
Kay's Community
Orana park – parent support needed
As you know our end of year community day is happening on Monday 12th December. In the morning we are visiting Orana Park. We are looking for a couple of adults to come with us as Orana Park ask that all students under the age of 14 be accompanied by an adult as they walk around the place.  Kate will be sending home a notice really soon with all this information and a request for parent support.
Sarah Baby Shower
We thought it would be nice to make a fuss and celebrate Sarah going on maternity leave at the end of the year. We are planning a baby shower / fun morning on Monday 5th December 9.00 -10.30.
Everyone is welcome to join us.
Kay Hayes – Community Leader
Evolocity FESTT
Next weekend on Sunday 27th November as part of Evolocity FESTT (Festival of engineering, sustainability and transportation technologies) we have two teams entered into the national secondary schools Electric Vehicle Competitions.  From 10am and throughout the morning our teams will be competing against students from schools around New Zealand.  It would be great to see some of our Ao Tawhiti community along to support! and the FESTT event looks to be an interesting day out for the family as well – see the flyer below and the following link for more information: http://evolocity.co.nz/evolocity-festt-an-exciting-action-packed-day-nov-27/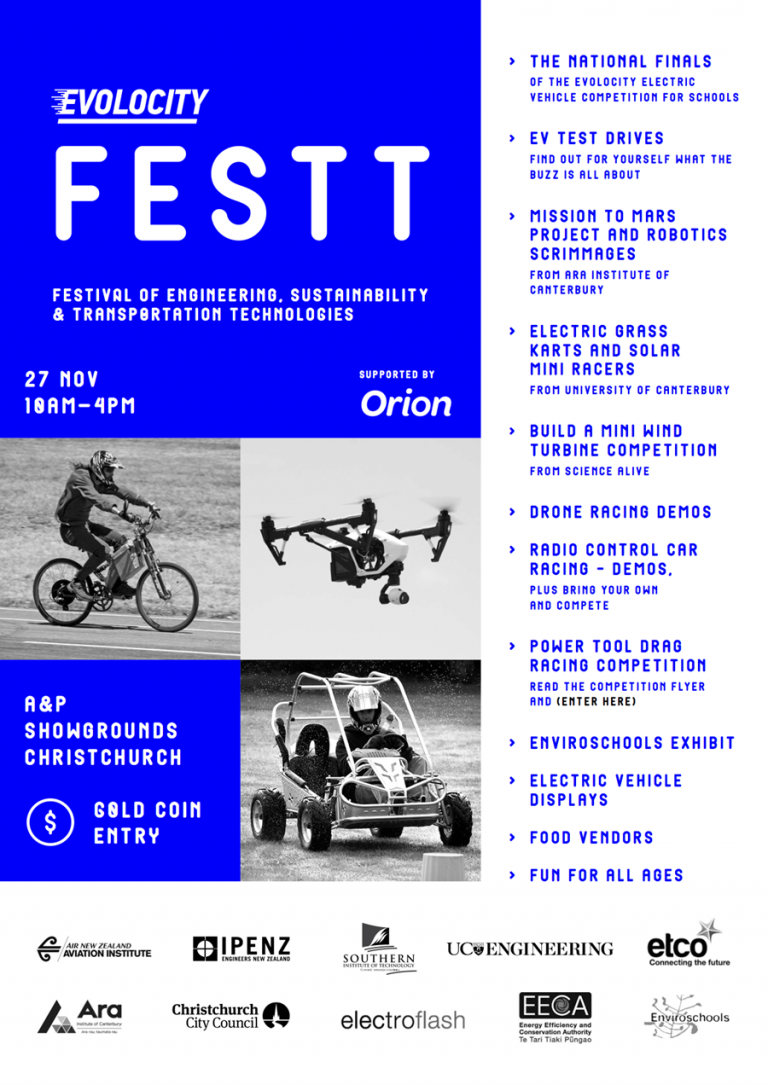 Jared Gallagher – Learning Advisor
KOHKNOWCO LAB UPDATES: HOW FAR CAN WE GO?
KOHKNOWCO LIKE HOME: LIFE IN THE LAB
This week in Kohknowco Lab, I made individual folders for each student.  I have been moving around the class, taking notes and gathering evidence of what each student is doing during each session.  This information goes into a Google Doc that will be shared with each students' parent/s or caregivers, and HBLAs.  We thought this will be a good opportunity for us to share progress with parents and give them a better idea about how time is spent during class time – productive, or not so productive.  It is also interesting for the students to look at their progress and reflect.
We have always enjoyed close relationships with parents and feel it is important to our class culture to do more to nurture those relationships, be transparent, and work on these partnerships to ensure all students can be successful, and of course, success can also be learning from failure.
We will also be working on templates over the holidays, to help students design and manage their projects and give some examples of project ideas to get new students started.
A sampler of work from Kohknowco Lab: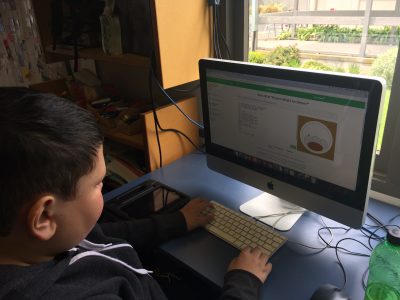 Malua making great progress with JS on Kahn Academy.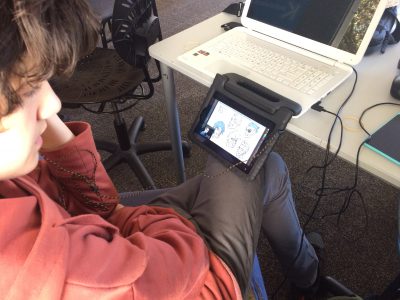 Toby watching some Drawing Tutorials.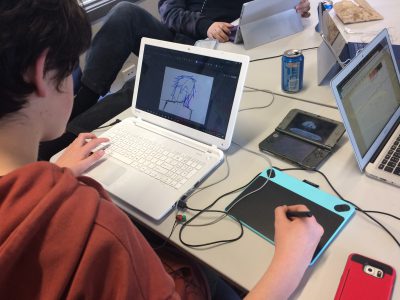 Toby putting what he has learned into practice.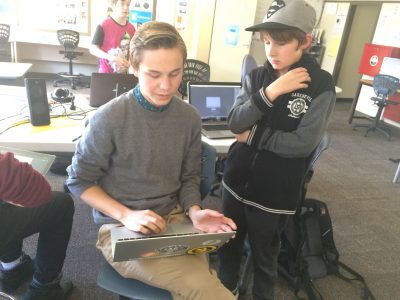 Eiko showing Jayden (from the Discovery Campus) his graphic design work.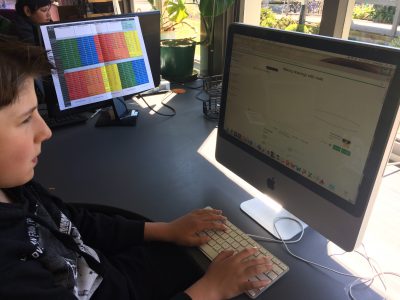 Jayden completing his first JS tutorial in Kahn Academy.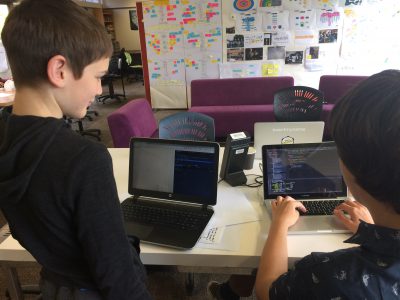 Kaleb and Asher troubleshooting Kaleb's code to create a canvas maker for the Developster site.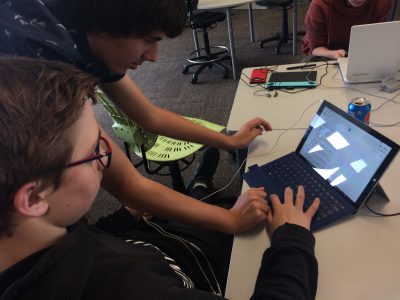 Asher teaching Jesper about Switch Statements for the bot Jesper is working on.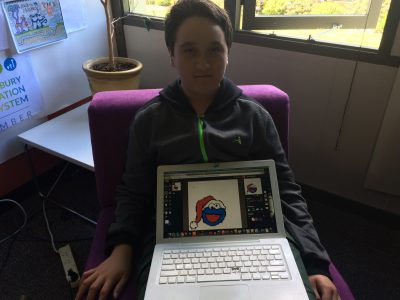 Jarrad's first Sprite in PiskelApp.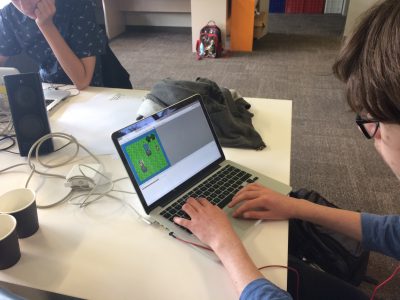 Crispin's latest progress with the game he is making using the Phaser framework:  Now the square turns red to let you know you can't move in that area.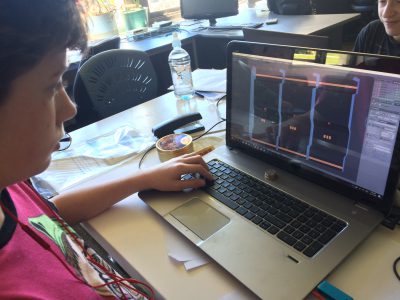 Jamie making arcade machines in Blender to go in his Dream Bedroom model.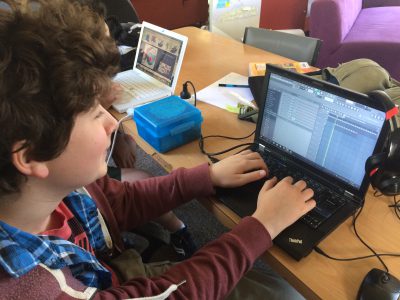 Thomas working on a dance track in FL Studio.
FOLLOW:  @kohknowcolab  @developsterteam  @renea
E V E N T S
CHCH HACKER CON ::
Crispin Hitchings-Anstice, Ashlin Inwood, and Asher Foster, attended ChCh Hacker Con recently, thanks to event co-organizer and Kohknowco Lab Mentor, Kevin Alcock.  The boys thoroughly enjoyed the sessions and said they learned a lot.  Crispin said a highlight was "Hacks for Mr. Robot".
Thanks again, Kevin!  We really appreciate support from our Mentors to allow us to have these cool experiences.
THE GREAT SOUTHERN UN-CONFERENCE ::
The Great Southern UnConference was a South Island version of Kiwi Foo.  It was organized by Stephen Judd of Catalyst IT.  The conference is an invite only event, with participants coming from a variety of sectors and locations.  I attended some really interesting sessions about Data Science, Machine Learning, Algorithms, and Human Relationships.  There was a lot of discussion around data quality and privacy issues.
I caught up with Professor Paul Millar, Head of the School of Humanities and Creative Arts at UC.  He is doing some very interesting things with his department and I was particularly interested in the direction in which the School of Music is heading. They will have a base at the Arts Centre in town and are interested in forming a relationship with Ao Tawhiti as we look at heading back to town.
V I S I T O R S
TOM McBREARTY // McBREARTY & ASSOCIATES ::
Tom met with Asher Foster and Eiko Olykan to talk about developing the new Laser Strike website.  Asher and Eiko will be working on this project during the break, as a holiday job.
RAPHAEL NOLDEN // ENTREPRENEUR, Organizer of STARTUP WEEKEND CHCH, LECTURER at UC ::
I met Raphael at the Christchurch Startup Meetup at Vodafone a few weeks back and found out he was looking for math teachers to trial some software he is developing.  Ino invited Raphael in so we took the opportunity to talk Raphael through our Kohknowco Model.  Raphael went to a Steiner school and is very interested in different learning models.  He has offered to help with some process development for the Developster product.
GARRY MOORE ::
Tom McBrearty introduced us to ex-Mayor, Garry Moore who co-runs The Tuesday Club.  The Tuesday Club is frequent gathering of people doing cool stuff, sharing it, talking about it, and taking action.  Eiko, Asher, and I, will do a talk in the New Year.  Eiko made Garry a nice cup of Peppermint tea. 🙂
Renea Mackie – Kohknowco Lab
11-13 News
This Could Be You
Planning for the new 7 Biology Field trip for 2017 is ramping up.  New sites have been selected and accommodation secured in a lodge which sits dead centre of an amazingly intact forest.  A number of new Forest Ecology survey methods have been developed which will look at new diverse interrelated elements of the forest like the Bellbird-Mistletoe-Possum cycle and the Honey Dew insect system.  Here is just a taster of what the year could bring.
Biology Brent
Dance Update – Outstanding Feet
In October we had a very talented group of choreographers and dancers take part in Outstanding Feet. This is a performance evening for students to take part in as an addition to Stage Challenge without the competition side.
This year we had our two dance ambassadors choreographed a a piece each for Outstanding Feet. Well done to these ambassadors; Madi and Sophie and the dancers Imogen, Lily and Mitarina. I am very proud of you all.
Sarah Marshall – Learning Advisor
Other Notices