In this newsletter
This fortnight's newsletter has a fantastic parent reflection from Kristen Kinney on her participation in the 78OUT Abel Tasman trip.  There are also requests for support from students and parents.  Don't forget about the upcoming PINS, COLs, community nights and the Whanau Hui events, as well as the start of 1.2 at the Unlimited Campus
Upcoming Events
Term 1, Week 6: Starting Monday 6 March 2017
Monday 6 March, 7am: Breakfast Club, Unlimited Campus, Kitchen
Tuesday 7 March, 6pm-8.30pm: Whanau Hui, Unlimited Campus, P3
Wednesday 8 March, 11.45am-12.30pm: Kapahaka, Unlimited Campus, DW2
Thursday 9 March – Thursday 2 March: 78OUT Expedition, Abel Tasman
Thursday 9 March 12.30pm-3pm: 4-8 Swimming, Halswell Pool
Friday 10 March 10.30am-11.30am: Discovery Campus CoLs, Discovery Campus
Friday 10 March 11am-12pm: Library Visits Discovery, Discovery Campus, Wharenui
Term 1, Week 7: Starting Monday 13 March 2017
Monday 13 March: Term 1.2 Begins, Unlimited Campus
Monday 13 March, 7am: Breakfast Club, Unlimited Campus, Kitchen
Monday 13 March, 12pm-2.30pm: HB Phoenix, Art Gallery Trip
Monday 13 March – Wednesday 15 March: Senior bio field trip (provisional)
Wednesday 15 March – Friday 17 March: PINs – Discovery Campus, Discovery Campus
Wednesday 15 March: Year 8 HPV Dose 1, Unlimited Campus
Wednesday 15 March, 11.45am-12.30pm: Kapahaka, Unlimited Campus, DW2
Thursday 16 March 12.30pm-3pm: 4-8 Swimming, Halswell Pool
Thursday 16 March – 5.30pm-8.30pm: Kaha Community Evening, Unlimited Campus
Sunday 19 March: Newsletter Published
Messages
Message from Steven
Opening of La Découverte
I really enjoyed being part of the opening of La Découverte.  It was genuinely exciting to see the faces of our the children starting off on this exciting adventure.
The event brought together so much of what is good about our philosophy of education.  Parents, children, learning advisors, external partnerships, international and national guests all coming together to start something innovative and student centred.
Special thank yous go out to Marie-Eve and Sonia.  Marie-Eve is working incredibly hard to provide personalised programmes in French that meet the needs of our special character, for the 6 students in her homebase. I know that she is learning as much as the children are. Sonia's passion to see bi-lingual education offered also needs to be recognised.  She is committed to seeing this work at our school, in a way that reflects our school, and has put in a huge number of hours in supporting the current and future families who are committed to La Découverte at Ao Tawhiti Unlimited DIscovery.
I would encourage all of you to get involved with what is happening for the students involved with La Découverte.  Just turning up to the events connected with it alone will ensure that you get really well fed, and just maybe improve your French a little.
Photos by the wonderful Tanya Michils
Property Update
The design team and the Ministry are hard at work preparing the final documentation to be submitted to council for consent. Here's the latest picture of the building, taken from Mollet Street.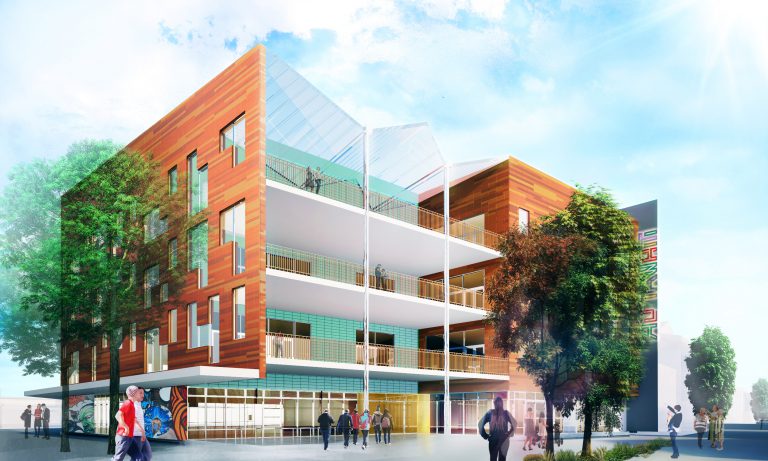 Learning is a partnership: Getting involved as a parent
A key component of our special character is the partnership between students, parents and learning advisors. This partnership is embedded in our philosophy as we believe that it improves the learning outcomes for our students.
Coming into school can at times feel really challenging.  I understand that we all live increasingly busy lives. I understand that our own schooling experiences can often make us feel uneasy coming into school a school as an adult.  I also understand that our current facilities are not as conducive to parents as what we had 6 years ago.
Despite all of these challenges, I want to encourage you to get involved in whatever way you can. PINS and workshops are one way you can share you expertise with our students.  You could also be a mentor for a student – and that doesn't have to be in person, it could just be via email.  Many of our NCEA level students are starting to think about the workforce or tertiary study and having someone with experience in the areas there are interesting in is immensely valuable.  IEMs are another place we expect you to be involved.  Your voice is valued.  The knowledge you have of your child is vital in helping learning advisors create the best programme with you and your child.  There is of course also the helping hand involvement that supports our students in getting out and about or working in class.  Remember that just because your child doesn't want you to work with them at school, doesn't mean there isn't a need for you elsewhere.  You could support your child with at offsite learning activity.
We are trying to improve how we communicate with, connect to, and support our parents.  If you are eager to get involved but are unsure how, start by contacting your child's homebase LA or Community Leader.
Culturally Responsive Practice PLD
Last week we started working on incorporating culturally responsive practices into our everyday ways of being.  We looked at some of the ways we are already incorporating some of the key pedagogies associated with Cultural Responsiveness (Manaakitanga, Whanaungatanga, Ako, Tino Rangatiratanga and Tangata Whenuatanga), and where we can continue to improve.  Our hope is that through engaging with this professional learning we can increase our awareness and understanding of cultural responsiveness in relation to Māori students, parents, whānau and community, and to strengthen Māori student achievement.
Steven Mustor – Director
Message from Duncan
Secondary Incubator
On Monday 4 of us participated in a Secondary Incubator Professional development project. The purpose of the incubator is to bring a number of Christchurch schools together who are trying to develop innovations or projects inside their schools. Each school has their own unique inquiry and uses the day as an opportunity to work as a school team on the inquiry, to share ideas and learn from other schools and be mentored by a number of consultants who are supporting the project.
The focus for our group started with the notion of developing student leadership inside a year 1-13 school. Specifically we are looking at how we might shift perceptions from leadership being positional to the dispositions of effective leaders.
Our belief is that when students, develop skills such as critical thinking, problem solving, and evidence based reflection, alongside understandings of building relationships and working with others, they develop dispositions that are good for both leading and learning. With these skills they become genuine partners with teachers, for the mutual benefit of both. Both parties being enabled to develop understandings of the impact they have on learners and learning.
Interestingly, as we broke this down across the day it became evident to us that these concepts are strongly embedded inside the values and principles of the Ao Tawhiti special character. It's an exciting project to be involved with and I look forward to sharing with you how it advances during the year.
1.2
Next week is the last week of 1.1. Descriptors are appearing in the LMS and will be there by Monday. Students should be reading through these and making decisions about the courses that will support them to work towards their IEM goals.
Attendance
Student success is strongly linked to attendance this has been demonstrated repeatedly in education research and from our own school data. As it's early in the year now is the time to be vigilant about establishing good routines. History tells us that those who let their attendance slip early in the year can quickly fall behind in class, which contributes towards a cycle of  continuing non-attendance.
To put attendance rates in perspective the following breakdown paints an interesting picture:
For a student with an 80% attendance rate they miss 1 day of school per week, which equates to approximately 2 school weeks per term, and 2 months per year. In this context it becomes easy to see why achieving goals can become difficult.
The school portal provides information on student attendance and if you have any concerns please raise them with the HBLA.
Duncan Woods – Deputy Director
Schoolwide Notices
Notes from the Counsellor's desk
All of us are well aware that we have a lot more stress around in the lives of our children and that many of them seem to have a shorter happiness fuse than prior to the earthquakes.
One thing we can do as parents and caregivers to help minimise stress is to make things as predictable as possible. Have routines.  Have your children involved in those routines. And persevere with the routines.
I often say to students that we cannot change the things that have happened to us but we can change what we do next. We have choice about what we do next.
Get your young person to make a poster with their own words of hope.
Mike Flavell – Counsellor
Important message for Year 11s who are new to Ao Tawhiti this year
Did you achieve any credits at your school last year while in Year 10? If so, please contact your previous school's Principal's Nominee and ask them to email the following information to brent.silby@unlimited.school.nz
Standard Number
Details
Version
Date
Result
Provider Code.
We need this because year 10 results are usually held on school systems awaiting transfer to NZQA when the student enters year 11. If your previous school does not send your results to us, you may miss out on those credits.
Brent Silby – Principal's Nominee
Working Bee – Discovery Campus, Sunday March 26th from 1pm-3.30pm
We'll do a general tidy and clear away the summer growth.  Please bring a plate for afternoon tea.  After the working bee we hope to watch the short documentary, Play Again, which highlights the importance of nature-based play.  It might provide some inspiration for a discussion afterwards…  Working bees are always a great way to be involved in the school if you usually work during the week  and are a chance to come together and meet others in the community.
We've put together the below survey as a way to get a better understanding of what the community values in the outdoor space and also as a way of engaging community and enlisting more support in the maintenance of the garden.  At present, other than the lawn moving, most of the care taking of the garden/playground is done by parent volunteers.  Our main focus so far has been to turn the empty paddock into an environment where are children can learn about edibles, observe the life cycle of butterflies and other insects, have a space where they are free to pick flowers, manipulate loose parts for their play and generally provide a space that could work as an outside classroom.  Although the maintenance has become easier as the years have gone by and the plants have become more established, we are keen to get more parents on board to help with some of the small regular jobs.  We would really appreciate your input on the below survey and also hope to see you at the upcoming working bee.
Thanks, Claire and Emma
https://docs.google.com/forms/d/e/1FAIpQLSdrOHRkwt0xjNBOo3oT3P6rAfDzX9I0tIQfZ-TzMTNl3XWdDw/viewform
REMINDER: AO TAWHITI WHĀNAU HUI: TUESDAY 7TH MARCH FROM 6PM IN P3, UNLIMITED CAMPUS.
Te Ao Tawhiti whānau is a representative group of Ao Tawhiti parents of Māori students, and of parents and students interested in being involved in supporting te Ao Māori at Ao Tawhiti. Everyone is welcome to come, to participate and support the development of whanaungatanga within our school community.
We look forward to seeing you all on Tuesday 7th March at 6pm for kai and korero.
Ngā mihi nui
Marlene Te'evale-Hunt – Kaiako Māori; Peter Brailsford – Community Leader 
Kapahaka – Change of time
Circumstances have meant Kapahaka with the tutors is now from 11.45am to 12.30 on Wednesday in DW2 (in Jack Mann building).  You miss 30 minutes less class and lose only 15 minutes of lunch.  So over all some advantages.
Ino Kelderman – Learning Advisor
1-3 News
4-6 News
7-10 News
Carpooling?
Is anyone keen to carpool from New Brighton to the Unlimited campus? Let me know if you are interested by emailing me at spring.unltd@gmail.com
Michelle Whittaker – Parent
Kay's Community update
Kay's Community Newsletter 3rd March 2017
This week has been another big week. The learning has been awesome to see and watch. We have a fantastic bunch of kids and many of them are fully engaged in their workshops. Most workshops are student led at this point with LA's just supporting when needed. We have coding, sewing, my food box, writing, cafe, careers and tennis. It looks like several of these have grown to be more like project based learning and so they will continue on for a while yet. 
Camp Food
Steve is hoping to get some support from a small group of parents to organise the food for our upcoming overnight camp. A group of students has already met to decide on a menu, but now we need to decide on quantities, make our order and the collect it at the time. If you are able to support with this please contact Steve – steve.hunt@aotawhiti.school.nz
Headlice
Sorry guys but we seem to have headlice around at the moment. Just a heads up to have a quick check. I'll attach the advice from our health nurse to this email as well.
Camp Health Forms
A quick apology from Kate but the back page of the Health Form wasn't printed. New ones are being sent home but if you have completed them already you will need to complete the second page as well. Also any adult attending camp for part or all of it needs to complete one. LA's will send them home to those who have indicated they are coming. Adults staying over will need to pay $30 as well. We may need to charge extra's for food if the budget doesn't cover everyone.
Descriptors and 1.2 choices
The plan is that LA;s will have their descriptors on the schedule by Monday. To view these go to the website and look down the tab learn and click on schedule. Follow the first link on the bottom of the page. You will need to change the filters to 2017 and 1.2. LA's will work with their students to chose courses for 1.2 next week.
Community COLs – Term 1 Friday 24th March 9.15am
We are doing some thinking about this for terms 2,3 and 4. We are looking at the idea of having themed showcase such as The Arts. If you have any ideas about how we could do things a bit differently please send me an email. This term we have book in Friday 24th March (week 8) from 9.15. Anyone is welcome to come along and see what students have been doing.
Kay Hayes – Community Leader
11 – 13 News
Student Space Camp
Conor Henderson (year 11) has been accepted to participate in Nasa's Space Camp. This amazing opportunity requires significant fund raising. Conor has therefore decided to offer his services to the community. If you have any odd jobs around the home, Conor will gladly work for you.
Perhaps your
backyard needs tidying
car needs to be washed
dog need to be walked
Conor can help you out. Any job will be considered, and donations will be most gratefully received. The Space Camp is too good an opportunity to miss. So Conor will work, work, work!
If you have any jobs available, please contact Conor via his Homebase LA, brent.silby@aotawhiti.school.nz
This will be one small step for a student, one giant leap for Ao Tawhiti student kind.
Brent Silby – Learning Advisor
78OUT: Abel Tasman Trip Photos
Pete Brailsford – Community Leader
78OUT: "I have just been on the most epic trip"
There were 24 students and adults shoved in vans filled to the brim with bodies. Trailers packed with huge packs, kayaks everywhere. This is the Oxford School/Ao Tawhiti Unlimited Discovery School Outdoor Education Eight Day expedition. We were also given maps, lollies and questions to find out about people we don't know. Our vans warmed up with laughter and we found out that even those that we didn't know were pretty cool too.
At the carpark near Lake Rotoiti it becomes very clear how much gear we need for our 4-day tramp. There are cookers/tents/ porridge/lanterns/toilet paper/hand sanitizer and all the paraphernalia you need when you are taking away this many students. We are all looking at this stuff thinking "my pack is already heavy enough". Every student pitches in until all the gear is gone.
We start on our short uphill walk to bushline hut. Thank goodness there are some big strong students to go ahead of us to save beds and pitch tents.
I am wishing I was fitter, had done some more training and put less in my pack. I am sure I am not the only one to think this. We make our presence in the hut known. We only have to share it with one retired teacher who was in awe of how amazing our students were and a young German tourist who was wishing he was part of our group. The students are all in groups. Everyone has a turn at cooking a meal for their group. One student dropped her cooked meal all over the floor. Rice everywhere. There were a few mishaps and some gourmet meals. The food that was prepared but not eaten went into a compost pot to be taken back out. Every student talked about the environment and how we need to look after this special place in Aoteroa.
At the end of the day we sit around talking about things we could do better with hut etiquette; What we may not need to take next time. A student struggled with a very big pack. It became clear why after looking at the contents in his pack – he was named supermarket! I was in awe of how he got this pack up the hill.
We had student speeches in the evenings and mornings. We learnt about what type of cookers there are, how to use a compass, in-depth knowledge of first aid, how to make sure your water is safe, how DOC was formed, the history of the Abel Tasman national park, just to name a few. Pedro began the mornings with a short Karakia. We were off to Robert Ridge on our way to Lake Angelus. A lot of students can't believe the beauty of where they are walking on the mountains with the views down below. We checked out vegetable sheep and other fauna which is not found at home.
The fast, strong students who make it to the hut to Lake Angelus first decide to walk back up to carry down our packs for us. I can't believe my luck when young Ben takes the load off my back. Looking down at Lake Angelus a fantastic view alongside with a lot of yelling and laughter, students splash as they jump into a cool lake. This is a large hut that we share with a tourist group. Card games are played and lots of happy contented students. There is talk of where they would like to sleep. Some sleep in the bunk room, some on the veranda, others in tents where they saw the most amazing shooting star (which was on the news). We split up half the group, half went to Spare Grass Hut and the other half went to Cold Water Hut. There was a shared pot luck dinner, hairdressing, lots of laughter and all the students sleep on the deck. Cold Water Hut had bribery and eel biting and all students sleeping outside and not to mention some scoring a bacon buttie.
There was the final walk out to the car park and then we get ready for the next adventure. We enjoyed a nice hot shower, a barbecue and a bed with a pillow.
We kayak the Abel Tasman, watch beautiful sunrises, see the seals. We are all jumbled up working as a well-oiled machine. We have pudding competitions, sleep on the beach and learn how to roll our kayaks. Life couldn't get much better. We make sails with our paddles and tarpaulins.
We kayak through arches, and up to a swing bridge. Coming down some had a real adventure with their kayaks tipping over. As we near the end we slow down not wanting this to finish.
Our last night is at Murchison with pizza for tea. We have a wonderful slide show and find more hidden talents in students' photography. We spot the finger; all the students sleep on the deck and find their technology. We did the good, bad and the ugly game. Toilets, sandflies and blood were mentioned as bad and ugly. Every-one thought everything was amazing.
We had perfect weather and tides every day.
I know our world is going to be fine with these amazing students. We are so lucky to have learning advisors, Pedro, and Mr. Cooper with so much passion that they want to share the gift of the outdoors not to mention the organizing.
Thank-you to Ao Tawhiti for letting me go on the most amazing ride. I feel like the luckiest mum to have been a part of this adventure where every-one where everyone had the best attitude possible.
Kristin Kinney – Parent
Other Notices
Southern Cross Irish Dance School.pdf
Nutrition Room: What to feed my child.pdf
Action Sports: Indoor Cricket.pdf
Halswell Community Market
Sunday 26th 12-3pm
26 Nash Road
With 50 stalls booked, and fabulous entertainment, games and competitions for the kids – young and old. Spring Free tramps will be there showcasing their new design.  Come enjoy some lunch while browsing the stalls or just sit back and relax in the award winning gardens of SJOG.  This Sunday, love to see you there.