In this newsletter
Upcoming Events
Term 4 – Week 5: Monday 7 November – Sunday 13 November
Monday 7 November: 4.2 begins, Unlimited Campus
Monday 7 November: NCEA Study Leave Begins, Unlimited Campus
Monday 7 November: Sailing, HB Phoenix, Discovery Campus
Wednesday 9 November: NCEA Exams Begin, Unlimited Campus
Wednesday 9 November: Tour, Discovery Campus
Thursday 10 November: Tour, Unlimited Campus, 11am
Thursday 10 November: Y7-10 Community Leader Presentations, Unlimited Campus, 1pm
Friday 11 November: SCHOOL CLOSED, Canterbury Anniversary Day
Term 4 – Week 4: Monday 31 October – Sunday 6 November
Monday 14 November – Wednesday 16 November: Discovery Life Education visiting, Discovery Campus
Tuesday 15 November: BOT Meeting, Unlimited Campus, 5.30pm
Wednesday 16 November: NCEA Exams Begin, Unlimited Campus
Wednesday 16 November: Tour, Discovery Campus
Thursday 17 November: Y1-3 Community Picnic, Cass Bay
Thursday 17 November: Tour, Unlimited Campus, 11am
Sunday 20 November: Newsletter published
Messages
Director's Message
IGnite
Last Friday afternoon kicked off with an opportunity for our community to take up the opportunity to attend and participate in one of the several workshops offered through IGnite. While the crowds weren't exactly overwhelming, it was really awesome to see several families sitting down in the quad at the Unlimited Campus, sharing food, stories and a spot of football.  A huge thank you to Duncan for all of the work he put into getting the presenters organised.  I'm sure that next year we'll find a way to get a few more of our families in, as it is an excellent concept.
Graduation
Immediately after IGnite the staff and students from the Unlimited Campus, switched into slightly more formal mode.  Graduation is always an amazing event.  Hearing the 50 plus real stories of our graduating students is incredibly humbling and inspiring, as well as the best advert for how being central in directing your learning actually looks.
Josiah and Patrice delivered excellent speeches, with Josiah highlighting the importance of the event, the occasion and this period of a student's life, whereas Patrice focused on the journey he and many others had at our school.  It's always daunting sharing a podium with our students as they are such effective speakers – both Patrice and Josiah were extremely funny and impressive to listen to. I focused on our current graduates, the year they've had, and thanked them for all they have done for us.  We also had great performances from some of our resident musicians and dancers.  The real stars of course are the graduates.  I just love watching them as their homebase LA reads out their citation.  You can tell when that relationship is strong and how much it means to those students to have attended Ao Tawhiti Unlimited Discovery.  With any luck, our attempts to record the event may yield some footage so keep an eye out on the website.
Property
I've had an interesting couple of weeks on the property front.  The design team are currently working on a preliminary design of the building and the rough fit out for each floor.  This preliminary design is then presented to the Design Review Panel (DRP) where it is evaluated, checked and costed.  Once this meeting has occurred (it's schedule for the end of November), we should have something to see on paper and share with you all.  The next phase of design is where there will be many opportunities to get your input.  Everything still seems to be moving along at the right pace to ensure we are in our building for the start of the 2019 school year.
Marketing / Branding
As you'll know doubt have noticed we have rolled out the new logo.  It's been interesting talking to several of the graduates about it, as all of their hoodies and certificates featured the new design.  Almost everyone has said they were a little unsure about it at first but having seen how it's being used different for different purposes, the consensus seems to be that it's a good reflection of who we are.
Brent Silby, our resident neon enthusiast, has clearly taken a shine to it.  I've had almost daily requests from Brent to make sure that the neon sign from UPT days is honoured in the new building's branding / facade.  Check out one of his creations using the branding – it's his email signature.  He's also created a retro "Simon" game with it and is keen to challenge the students to see what kind of games they could build using it.

Brent you have way too much time on your hands!
Community Leader 7-10 Presentations and Interviews
Next Thursday (10 November) afternoon from 1pm, two fantastic hopeful Community Leaders will present their awesomeness to the community.  We would love to have you come along and watch their presentations and offer some thoughts on what the interview panel could ask them.
A 7-10 Community Leader has a huge role is setting the tone of the community, making sure that all the students in that community feel connected and are able to contribute to Ao Tawhiti Unlimited Discovery.
Cup Day
Just a reminder that this coming Friday is anniversary day.  No school … nice.
Steven Mustor – Director
Notices
Wanted: Small Petrol Motors
We are on the scrounge for 5 or 6 petrol powered weedeaters, chainsaws or similar that are no longer needed – if you have one lying around (does not need to be working) we would greatly appreciate it to be donated for our Motors and Machines course.  If you can help out please drop to P14 at the unlimited campus or contact Jared.
Jared Gallagher – Learning Advisor
External Exams
NCEA exams commence Wednesday this week. Please ensure that you arrive at least 20 minutes prior to each of your exams. If you have been provided extra time (a special assessment condition), please arrive 40 minutes prior to the start of your exam so we can start you 30 minutes early at the back of the room.
We wish you all the best for your exams. Please make the most of the study leave to prepare for each of your exams.
Brent Silby – NZQA Principal's Nominee
1-6 News
Nadine Walmisley – Community Leader
7-10 News
Kay Community News Week 5
East Frame Public Space Activity
This week we will be offering students the opportunity to create part of a giant piece of art to be used on fencing around the East Frame. The East Frame is right next to our new location. We have been approach by Otakaro Limited about this opportunity and it has to be completed by both November. Because of the short time frame and the spread of students who could be interested, we have decided to offer this as a CCC workshop. This means Kate can co-ordinate everything. This should be an exciting project for some.
Visit to Albany Senior School and Hobsonville Point Secondary School.
Last week I visited a couple of schools in Auckland. I wanted to have a look at what they were doing with personalised learning and student led learning. It was great to see some similarities and some differences. Both of these school have fantastic new buildings which, was also super exciting to see. I can't wait for our building now. I was particularly impressed with Albany Seniors Impact Projects. If you are interested then you can google these. They have a lot of information out there.
Breakfast and Celebration of Learning (COL) (8.12.16)
We have decided to have a breakfast get together before our COL. We will be provided the food and everyone is welcome. Hopefully some parents can come for breakfast and or the COL before they head to work. Having the COL during school time means more students can contribute. Breakfast is likely to be from about 8.00am and COL starting around 9.15.
Kay Hayes – Community Leader
7- 10s – Matt
Planning is now well underway for our end-of-year community event on Monday 12th December (the penultimate day of the school year). Options are likely to include paintball, mini-golf and a barbecue/ picnic. We hope to run the day at zero cost to students – watch this space!
Students have continued to work on individual projects during morning sessions. A number of them have recently discovered a love of rocketry following on from a 34Science class. We also have some good growth in the community gardens.
Last week Brent's HB organised a community Halloween party during lunch.
Matt Parkes – Community Leader
A spooky Kinda a thing
"Matt's Community" engaged in a pagan based ritual of celebrating Halloween in style.  This was initially the brainchild of Jaylee Bell who employed a number of others to plan and implement this successful event.  There was a competition for Best Dressed and Short Spooky Story.  All were enthralled by the storytellers and once the LA votes were passed prizes were for 1st 2nd and 3rd.  These were Movie tickets and kindly donated by the community.  Food was a mix of Community bought and student/staff offerings, most were of a scary design but none more scary, it would seem them, the humble Salad Kahl Flower Salad which Brent bought.  This was the verdict since it was avoided like the plague.  Such a great event and a credit to Jaylee and her teams great planning!! hopefully more to come in 4.2!!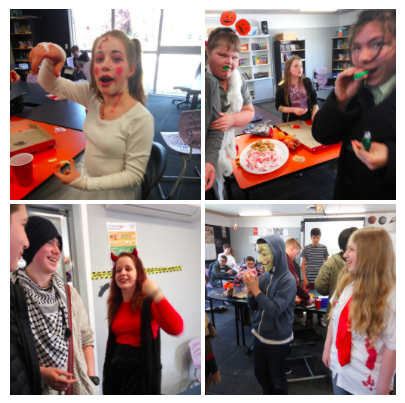 Brent Barrett – Learning Advisor
KOHKNOWCO LAB UPDATES: HOW FAR CAN WE GO?
KOHKNOWCO LIKE HOME: LIFE IN THE LAB
This week in Kohknowco Lab, we're doing a quick update!  We will write a longer article for the next newsletter.
Hannah Watkinson from UC Centre for Entrepreneurship, published a cool article in the UCE Newsletter about Kohknowco Lab and Developster:
Blog – Kohknowco | UC Centre for Entrepreneurship
FOLLOW:  @kohknowcolab  @developsterteam  @renea
E V E N T S
KIWI LANDING PAD // SALES & MARKETING JAM ::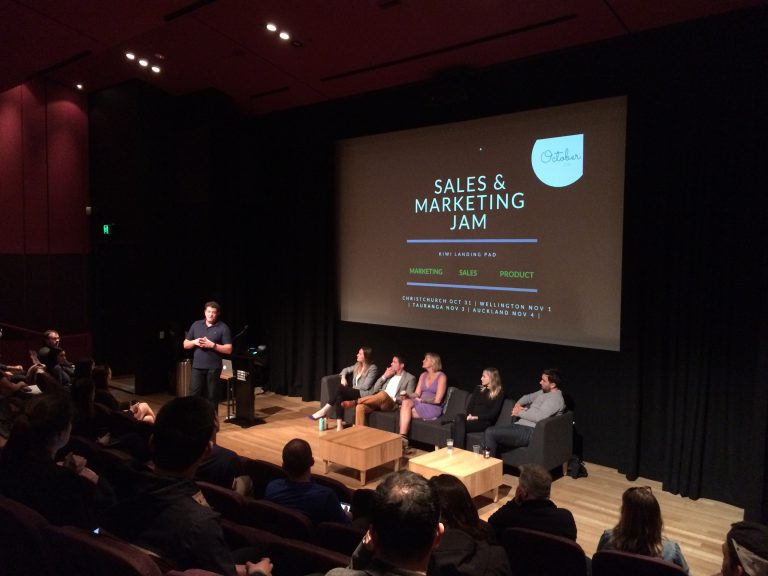 We attended our 3rd Kiwi Landing Pad  NZ Sales and Marketing Jam this week.  We caught up with our beloved Marketing Mentor, Savannah Peterson once again, as well as KLP NZ SMJ co-organizer, Sian Simpson, and homes.co.nz co-founder and CEO of KLP, John Holt.  Eiko pitched Developster in front of the crowd and we helped to get #NZSMJ trending at number 1 in New Zealand with our incessant Tweeting of tips from the panel.
Pictured Above:  Eiko pitching Developster
The boys have found they are able to relate more and more to the content of the NZSMJ as they are progressing with their own startup.  The learning isn't always obvious until they begin to reflect on the process and realize how far they have come and all the experiences they can now quite clearly identify with in the startup growth phases.
Input from mentors at the NZSMJ, business and startup communities in Wellington, Auckland, and Christchurch, have certainly helped to shape the Developster product and point it in an exciting direction.  It reminds us that getting out of the classroom and venturing into the wider community to interact with, and learn from a variety of people, makes for a much richer educational experience.
FOLLOW:  @kiwilandingpad @bizdojo @iwantmyname @GeniusNet @justadandak @where_is_anna @SavIsSavvy
RENEA MACKIE – Kohknowco Lab
34 Science – ROCKETS
The 34 science class have been working on developing bottle-rockets this term. A great variety of rocket designs and fuel mixes have been trialled, with varying levels of success… Fortunately the end of the 4.1 and the finale of the course was 4th November, so we could blame Guy Fawkes for some of our more explosive fuel mixes!
A group of students will be extending their investigation/ experimentation in rocket science by competing in the national rocket contest next week.
Matt Parkes – Community Leader
11-13 News
Long distance Waka ama Champs, Tauranga
Syd Waipouri travelled to Tauranga to compete in the Long Distance Waka ama Championship during the holidays.  Syd was paddling in an Open Mens team. He also competed in a single waka ama. His success builds on taking several trophies at Mapua during Term 3 and competitions at Kaiteriteri at the beginning of the year. Syd has been an active waka ama competitor for more than three years and trains regularly on Lyttelton Harbour. Whakamihi, Syd. Well done.
Pete Brailsford – Community Leader
George Humphreys – Artist
Hi there my name is George Humphreys and I am a emerging artist graduating  from UPT this year. I have been making paintings and prints about local landscapes, plants and birdlife. This week I will have artwork hung up for sale in the upt admin foyer. Have look here or come in and buy someone an artwork for christmas or for a gift of any kind. Should you would like more information or to buy my work, a commission please don't hesitate to contact me via my website or through the art department.
George Humphreys – Student
Miranda Cassidy: NZ youth ambassador for World Vision
Congratulations goes to Miranda Cassidy who has been selected through a very rigorous application process as a NZ youth ambassador for World Vision.  She first became aware of this when she was organising a refugee awareness night as a fundraiser for the 48 hr. famine. She organized a youth ambassador to speak at this fundraiser.
The application involved initially submitting a CV and a cover letter about why she cares about refugees.  She was shortlisted from this process then had a Skype interview to qualify for the camp the final part of the selection process. From participation in camp Miranda was selected from all applicants in NZ to be one of four ambassadors for World Vision 2017.
Next year Miranda will go overseas and experience and work at a refugee camp in Jordan.  When back in New Zealand she will talk to youth groups, at Easter camp and to schools about her experience on the trip and gain more recognition and support to increase involvement in the 40hr famine.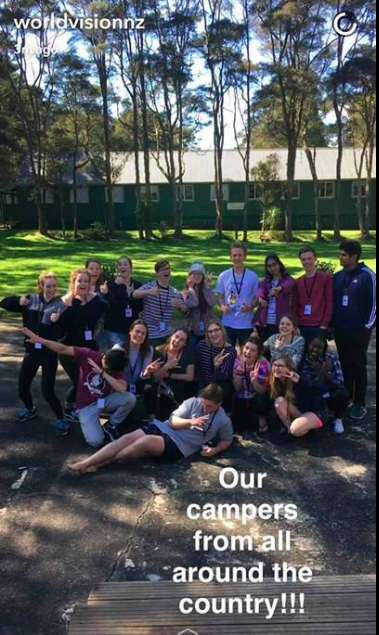 Emma Barrett – Community Leader
Gateway Happenings
A work placement and training  in Radio Broadcasting has given Gabriel Buttling the confidence to interview his Learning Advisor Richard!
Alicia Boyes and Hannah Dent have been training and working as Kidsline Counsellors. They are studying towards the National Certificate in Youth Work which is assessed by the ITO CareerForce
Gateway: Matt Theatre Royal
Matt Stopford's Gateway work placement at The Isaac Theatre Royal…"has made me realise how passionate the people who work behind the scene in a theatre are. I am inspired to continue pursuing my dream of working in theatre knowing that I don't have to be an actor, that there are other jobs that are just as important and fulfilling. I helped set up The Gloucester Room and Theatre for upcoming events, worked as an usher and trained in Height and Safety. A big thank you to Freya and her team especially Nick who taught me how the lighting tablet and sound system worked.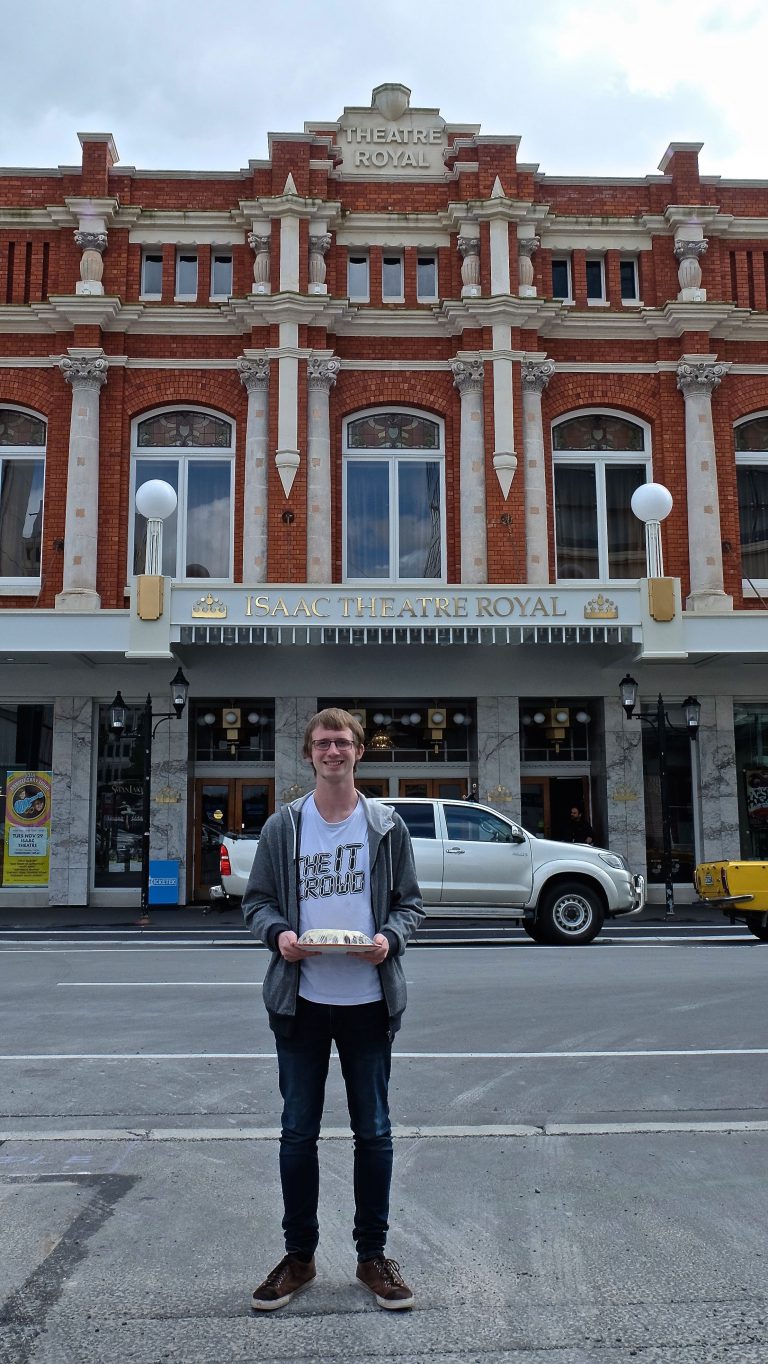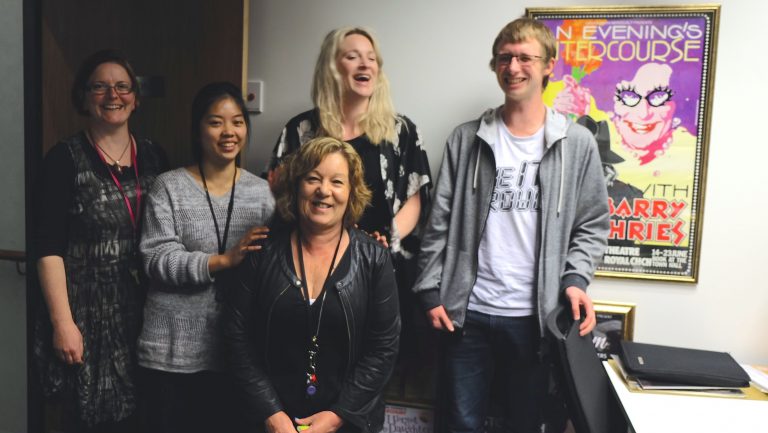 Monique Spence
Monique is photographed enjoying a laugh with her National Certificate in Youth Work assessor, Andy Balcar. Monique has worked as a leader in YMCA Holiday programmes for several years rising through the ranks of leadership roles.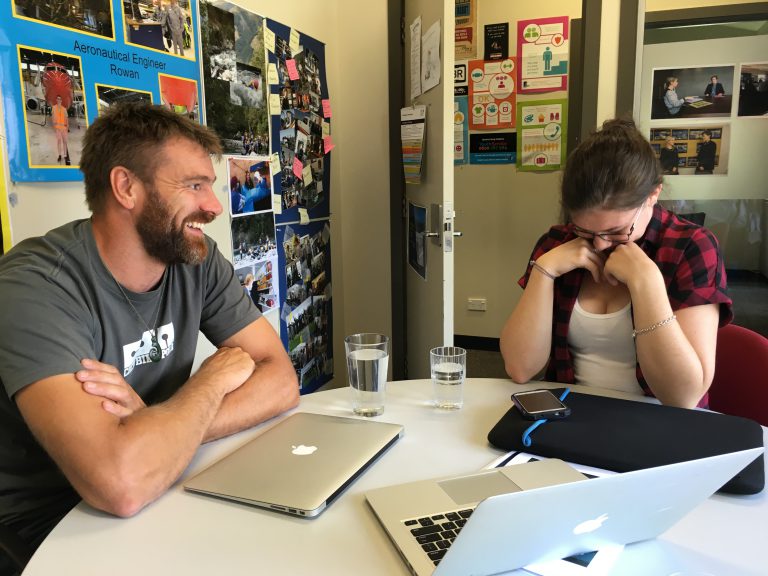 Robyn Sutherland – Gateway Coordinator 
Music Evening
Great evening showcasing much of Ao Tawhiti Unlimited Discovery's musical talent last Wednesday evening.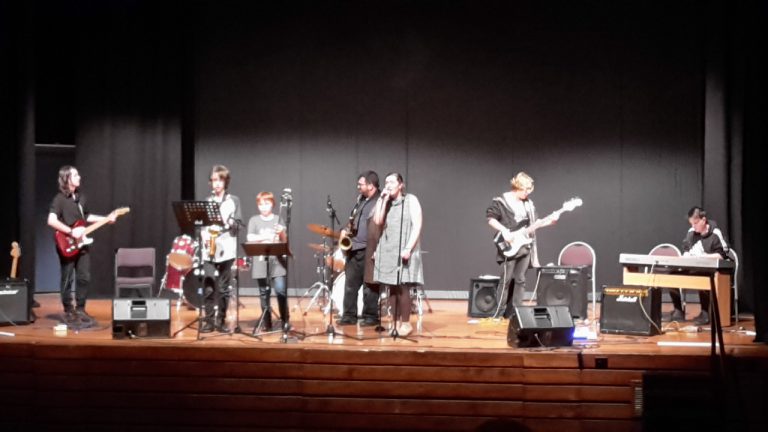 Emma Barrett – Community Leader
Touch
Well done to the girls touch team completing their final game of the season with a win against Villa.  Unfortunately the boys team opposition defaulted but came to support the girls team.  Thanks to Kelsey who has been working with the students teaching them tactics and building their skills over the season.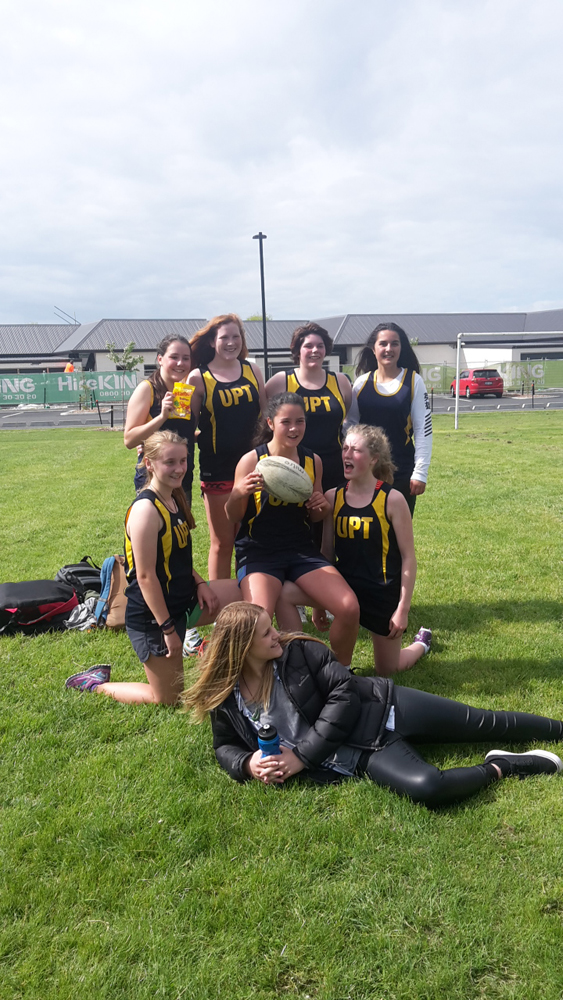 Emma Barrett – Community Leader
"Funding for Forgues"
I started playing Ice Hockey when I was 6 years old.  Over the years since then, I have played for the Canterbury team for my age group every year. When I was 14 I was the MVP for the U16 Canterbury team, the caption of a Canterbury team that went to Vancouver and I had my first year in the Canterbury under 20 team. At the start of this year I went to South Africa for the New Zealand under 18 team. Our team got gold in the tournament various NZ and Canterbury teams.
This year I have been selected for the U20 Ice Hockey team.  This team is competing in the International Ice Hockey Federation division 3 in Dunedin early 2017.  Other teams that are competing China, Iceland, Israel, Turkey, Bulgaria, Chinese Tapai, and South Africa.  NZ is currently placed third in this pool of countries.
As part of training we go away on two camps, one of them is in Auckland and the other in Dunedin.  With this achievement and being a smaller sport the commitment costs are rather expensive.  But does provide an awesome opportunity for businesses to be able to support and get recognition at that tournament in way of advertising.
Would love to have your support in buying a raffle which if you win gets your business advertised in all our team gear.
If you can or are interested in finding out more about his please email leon.forgues@unlimited.school.nz or ring Leon on 027 234 2450
Leon Forgues – Student
Other Notices
MIND OVER MANNER workshop : Realising the Potential Of Differently Wired Minds
WHERE    THE GYM , ARTS CENTRE , CHRISTCHURCH      
WHEN      TUESDAY NOVEMBER 15th  2016           7 – 9.30 pm
The Over Responder : MIND OVER MANNER will look at how this impacts on  the  family dynamic and the relationship between school and home.
HOW MUCH: 
Parents , Families , Volunteers  and Professionals  – OPTIONAL KOHA
Please RSVP: to Susan Haldane , sue@mindovermanner.co.nz   0276658084 (txt only)
For more information please visit the MIND OVER MANNER website: