Learning at Alert level 2
The move to Alert level 2 means that year 11 – 13 students are now able to attend school.
The information on this page is designed to:
Outline what learning will look like while we remain at ALERT LEVEL 2.
Outline and provide information specific to NCEA
Provide answers to FAQ that students and their families may have that are specific to learning at year 11 – 13.
Provide tips & tricks to support students with their learning.
The timetable
To support learning at alert level two we have constructed a timetable and scheduled Learning Advisors to be available at specified times. The timetable is organised as follows:
Learning begins at 9am and finishes at 3pm
Each day begins and ends with opportunities for learners to get one to one support. In the morning will be the scheduled 1:1 with the HBLA. In the afternoon there will opportunities for mentoring with class LAs
There will be three colour blocks per day. Each block will last for 75 minutes
Friday is a day for self-directed learning. Again focusing on classwork and NCEA work should be prioritised. If appropriate OSL could be negotiated with the HBLA
Below is a link that will take you to the timetable. On the timetable you will be able to identify the class that you have in each colour block and follow a link or access a code that will take you directly to the learning material for that particular class.
Please note that for most students they will access learning in the class. The links to online learning are for students who are required to be in isolation, or as reference material for students who are at school.
The timetable link is to a 'view only' spreadsheet. Please note that at the bottom of the spreadsheet you will find a TAB that will allow you to see the timetable for the specified day.
CLICK THIS LINK TO ACCESS THE TIMETABLE
NCEA
NCEA Qualification Requirements
The Image below provides a breakdown of the requirements for each of the NCEA levels.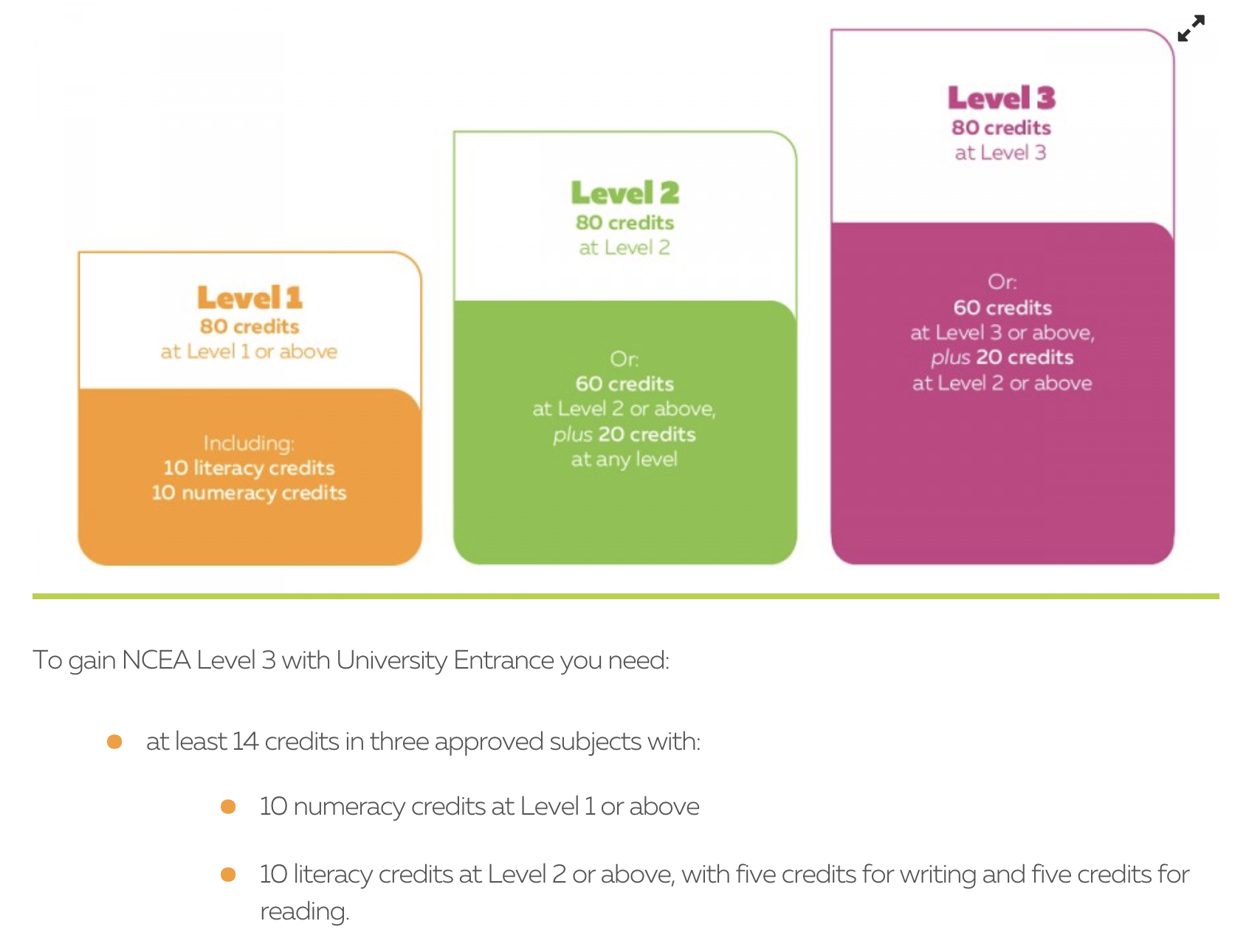 NCEA: Assessment opportunities
One of the pressures that can build for students is uncertainty about what assessment opportunities there are and when they will occur. The link below will take you to a document where every NCEA class we offer has information regarding the assessment opportunities that will be available for the remainder of the year.
The document will include:
The subject/class
Assessments available
Credits available for each assessment
An indication of completion dates for the assessment
If it is an Internal or External assessment
CLICK THIS LINK TO ACCESS INFORMATION REGARDING 2020 NCEA ASSESSMENT OPPORTUNITIES
The image below provides details of the 2020 External Exam schedule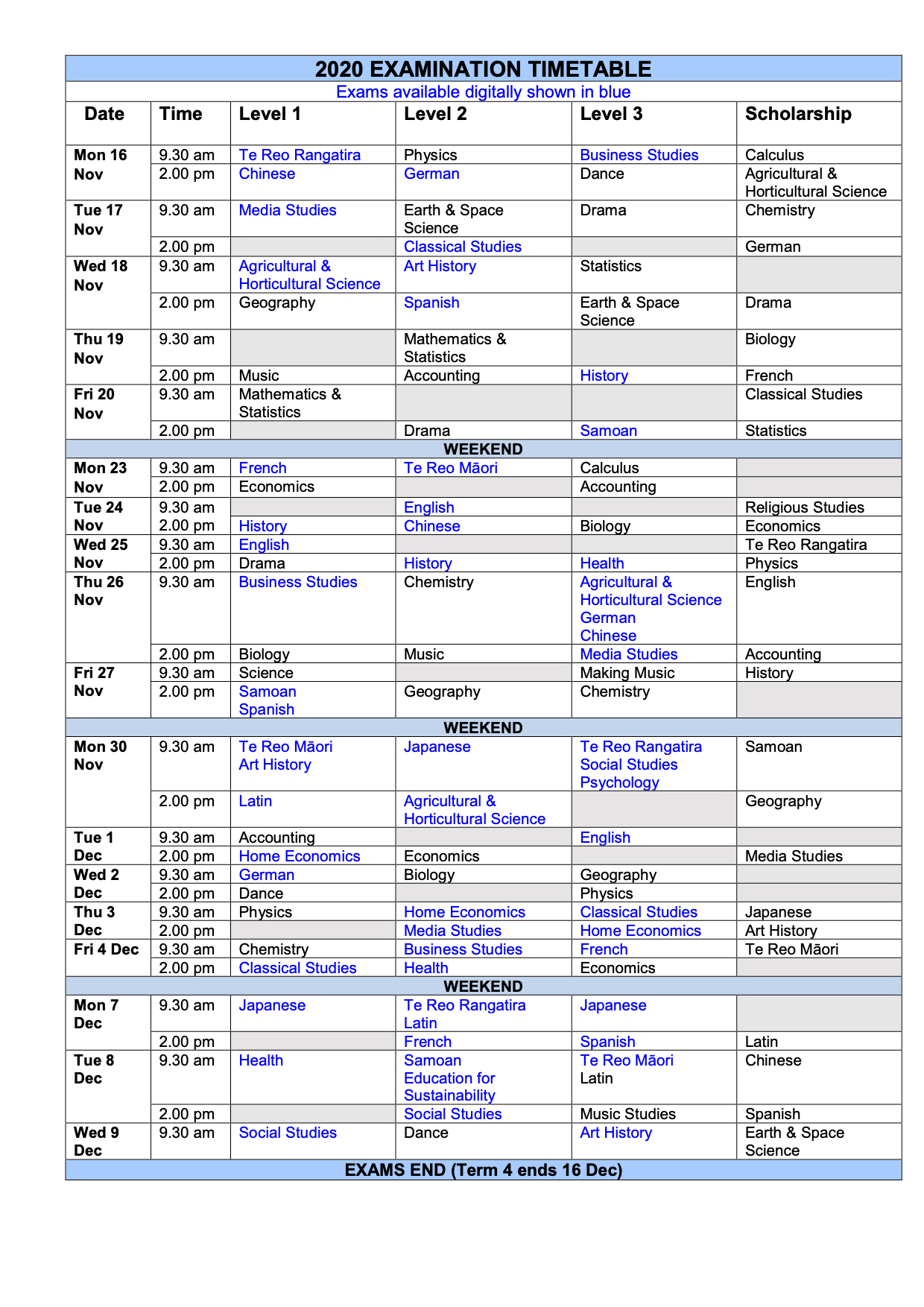 NCEA Frequently asked Questions
The link below will take you to a document that we have prepared that will hopefully answer many of the questions you have about NCEA. If you don't find the answer to a question you have then please contact your (your child's) HBLA. They should be able to support you with this.
For further information on NCEA policies and procedures please refer to the Ao Tawhiti Unlimited Discovery Student and Parent NCEA handbook.
Tips & tricks for staying on top of your learning
Have a routine. Make sure you get good sleep. Don't stay up too late.
Use SDL times to complete course work and/or focus on NCEA assessment work.
If you are unsure of something make a note of it. Make sure you ask your class LA for advice when needed.
Stay in touch with your HBLA. Keep up your 1:1s. They are essential for helping you plan and structure your learning.
Organise your study space. Make sure you can work (as much as possible) in a distraction-free space and that you have all the resources you need for learning nearby.
Take breaks as needed. Refreshment can do wonders to help you make progress.
Look after your well-being. Eat well, stay hydrated, exercise and sleep well. These are all things that will help your learning.
ASK FOR HELP if/when you need it.
Useful links