As a result of the extraordinary times we find ourselves in, learning is looking a little different right now. While we are expecting that the majority of students will be back onsite from Monday ( 18.5.20), we recognise that a few students may still be learning from home for a variety of reasons.
The information on this page is designed to support those students:
THE TIMETABLE
To support learning at Alert Level 2 we have constructed a timetable and scheduled Learning Advisors to be available and online at specified times. The timetable is organised as follows:
Learning begins at 9am and finishes at 3pm
1:1s occur at the start of the day.
Mentoring of students doing Distance Learning for their classes occurs at 2.30 – contact class LA to book a meeting.
There will be three colour blocks per day. Each block will last for 75 minutes
Friday is a day for L2L .
The link below will take you to the timetable. On the timetable you will be able to identify the class that you have in each colour block and follow a link or access a code that will take you directly to the learning material for that particular class.
The timetable (spreadsheet) is split into separate days. Each day has a tab at the bottom of the spreadsheet. You will need to select the correct day to see the relevant information for that day. We are trying to limit the amount of information you receive, this timetable should be a "one stop shop" for finding all the relevant information you require.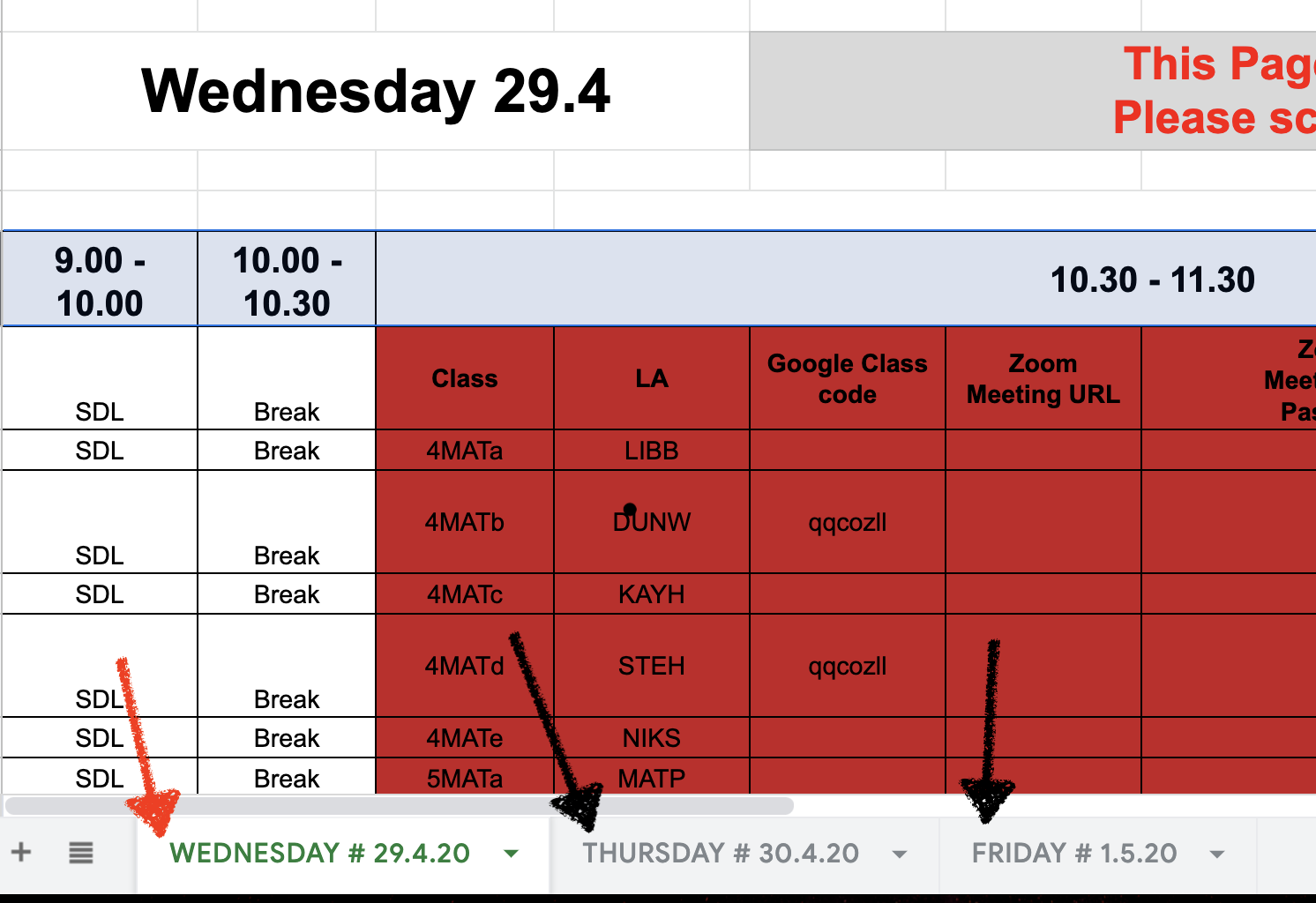 TIPS 'N' TRICKS FOR STAYING ON TOP OF YOUR DISTANCE LEARNING
Have a routine. Get up by 8:30am each day and be ready to start learning by 9am. Make sure you get good sleep. Don't stay up too late.
Focus on 4 – 6 hours learning/day (Monday to Friday). As much as possible stick to the timetable.
Check in with your class LAs and work on the material set during the timetabled lessons
If you are unsure of something make a note of it. Make sure you ask your class LA for advice when needed.
Stay in touch with your HBLA. Keep up your 1:1s they are essential for helping you plan and structure your learning.
Organise your study space. Make sure you can work (as much as possible) in a distraction free space and that you have all the resources you need for learning near by.
Take breaks as needed. Refreshment can do wonders to help you make progress.
Look after your well-being. Eat well, stay hydrated, exercise and sleep well. These are all things that will help your learning.
ASK FOR HELP if/when you need it.
Learning at Home…
We provided a link at the start of the lockdown to multiple useful Online Learning resources that could be used beyond the classes on offer. Here's that link again…
https://docs.google.com/document/d/1faxkijQnz33v_oi6kFv6fCGRcn9ZUaTexC4nFbfPaOE/edit?usp=sharing