Director's Message
Y1-3 and Y4-6 Learning Advisor presentations
This Wednesday, 17 December at 10am, five candidates will present for the two part time vacancies at the Discovery campus. Ordinarily we would not run a full presentation for one year, part time positions.  However with the school organised in communities, these potential learning advisors are more than simply relievers filling in while the real learning advisor is away.  They will be active participants in either Melva's or Paula's community.  The presentations will be held in the Wharenui between 10am and 12 midday on Wednesday 17 December.  I would strongly encourage parents and students to come along, participate in the presentations, and provide feedback to support the interviews that will follow.
School Holidays / Return dates
School holidays provide a great chance to recharge.  All of us have worked incredibly hard this year, planning for and achieving our personal goals and ambitions.
If you can find a spare hour or two during the break (maybe after you've spent time with family for Christmas and then celebrated the New Year), start thinking about what you want to achieve personally in 2015.  Your learning at Ao Tawhiti Unlimited Discovery can be whatever you want it to be, as long as you have a passion or an interest, and the desire, or plan, to make it happen.
The learning advisors, students and parents of our community are a wonderfully supportive bunch of people, who can help you as long as they know what it is that you want to do or achieve.  The community is a valuable resource and the more information they have, they better they can support you.
With that in mind, it's useful to know that the first day for students next year will be 4 February 2015.  More detailed information about the look of the first week will come in mid to late January.  For now take time to relax, reflect on the year and start thinking about what you can do to make 2015 a successful year for your and your learning.
Steven Mustor
Director
Graduation
Arabella Jarman became Ao Tawhiti Unlimited Discovery"s first Dux at graduation on Friday 12 December. The University of Canterbury's Dux Scholarship will pay for Arabella to study sciences and participate in a leadership programme there in 2015.

Congratulations also go to Stephan Hoffmann, Proxime Accessit, who gained a University of Canterbury Emerging Leaders Scholarship and will continue his study towards a Business degree.

We wish our graduates, current, and future students best wishes and happy holidays!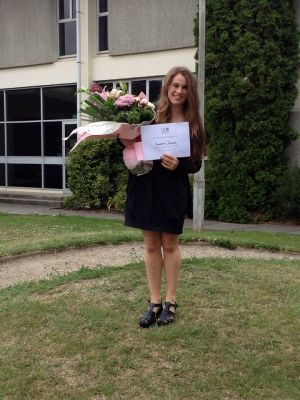 Edible Garden
Did you know Christchurch is on a mission to become "the best edible garden city in the world"?
At the Edible Canterbury Expo on 1 November the Christchurch City Council released its Food Resilience Policy and Action Plan.
Here, on the Unlimited Campus at Ao Tawhiti Unlimited Discovery, we have an amazing opportunity to actively be a part of this mission. Yay!
Thanks to the amazing efforts of Louise, Diana, Kieran and Elizabeth we have some productive garden plots underway at the Dovedale Community Garden. Currently we have tomatoes, zucchini, basil, rocket, kale, radishes, cucumber, beans, parsnips, carrots, rhubarb, spring onions and rogue potatoes growing – many will be ready to harvest over the holidays and/or towards the start of term 2015. The hard work of clearing the pathways and preparing our plots has been done. Now we really need your support to keep this project alive.
I've been happy to be the contact person for the community garden but will not be at school next year so need someone to take on this role. If you would like to do this please email me at 
tracey.mills@aotawhiti.school.nz
. It would be great to see our community embrace this awesome opportunity to grow, harvest and eat our own kai. Happy gardening. Kindest regards, Tracey
UC Sustainability Office – link to edible campus/food foraging at UC map and community garden homepage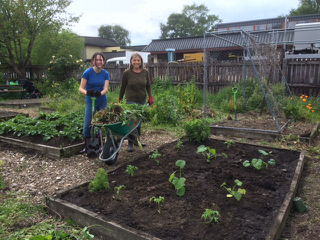 Knitting blankets
A huge thanks to everyone who contributed to the baby blanket knitting. These squares are very much appreciated and so successful, we'll continue with this initiative next year too.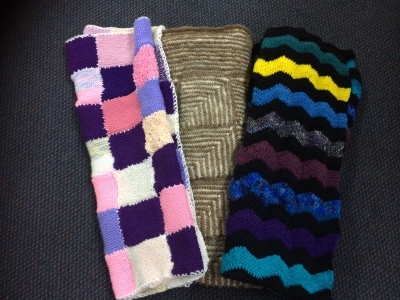 IDEC 2015
In April 2015 the International Democratic Education Conference will return to New Zealand. Since 2002 some students, parents, and staff from D1 and UPT have participated in many of these conferences both in NZ and around the world.
There are many myths and misunderstandings about democratic education. Find our more for yourself, these conferences are unique in terms of education conferences in that they encourage active participation from students, parents and educational professionals. Keen to know more? Check out 
www.idec2015.org
Tough Kid Challenge
On Tuesday, 11 of Melva's homebase went to Riccarton Racecourse for the annual Tough Kid Challenge. They had a world of fun, getting extremely wet, muddy and tired in the process. Congratulations to all those that ran the race and thank-you to Karen. Kelly, Jonelle and Emma for helping with transport. What a great afternoon.
Bus route changes
Please be aware that there are some changes to the bus routes from 8 December 2014
http://www.metroinfo.co.nz/CHCHPreview/
Student Job Search
Student Job Search is a service created to help students find jobs and gain experience. Our services are free to students who are enrolled into Tertiary Education or are planning to study at a Tertiary Institute in 2015.
Please use the link to learn more about the service https://www.dropbox.com/sh/8r500xgcgk356ps/AACoS8-XFw2cB0w_ht1K7APza?dl=0
Trampoline Holiday programme
Christchurch School of Gymnastics 18 Watts Rd Sockburn
Monday 19 – Friday 23 January.
Session times 9.30-10.30am 3-5 yrs, 10.30-11.30am 5-8 yrs and 11.30-12.30 9 yrs +.
Cost 10 per session or 5 sessions for $40
Come and revisit old skills or learn new. Clean white socks and drink bottle required.
Bookings essential ph 3434950 email gymoffice@inet.net.nz