---
Upcoming Events
Term 3, Week 9: Starting Monday 16 September 2019
Wednesday 18 September, 8.15am: Breakfast Club
Thursday 19 September, 7pm: Major Production
Friday 20 September, 1pm and 7pm : Major Production
Term 3, Week 10: Starting Monday 23 September 2019
Tuesday 24 September, 5:30pm: Board of Trustees Meeting
Wednesday 25 September, 8.15am: Breakfast Club
Thursday/Friday 26/27 September: IEM Dats
Friday September: Last day of Term 3
---
Messages
Message from Duncan
As we head into week 9 we are closing in on the end of another term. It's hard to believe that term 3 is almost behind us and that term 4, the last of the year is almost here!
Graduation
A reminder that this amazing event is scheduled for November 1. We are very close to confirming the venue. By the next newsletter I should be able to let you know. What I can say, is that it's a stunning CBD location!

Any students who intend to graduate please complete this form (if you haven't already) that I emailed to you a couple of weeks ago.
PINS
Term 4.2 PINS will be here before you know it! As 4.1 is only 3 weeks long we are needing to get going on preparation for 4.2. Please check out this link for all relevant information.
Formal
On Friday last week I got along to the Formal. It was a great night. Our students did themselves proud. It was fantastic seeing them there, dressed up, enjoying a wonderful evening.
The amazing thing about formal is the degree of leadership our students take in putting the night together. From concept to execution they play a huge role in making the event a massive success.
Alongside that are the number of staff who volunteer time to support. It really is inspiring to be part of community where so many contribute to making wonderful things happen. Thanks so much to everyone who supported.
Attendance
As part of out attendance process we send a txt message to parents in the morning if their child has not been signed in. One thing that would really help us not send a txt when a student is at school would be for those who are late or on SDL (year 7-13 students) to sign in on the IPADS at reception. By doing this we can cross reference with KAMAR before the text is sent.
Major Production
This week see our senior students performing in the major production. There's detailed information below. It is massive undertaking to put on a performance of this scale. I know the staff and students involved have been working tirelessly to make it a show to remember. I'd really encourage you to grab a ticket and come along to what will surely be a night of great entertainment.
Duncan Woods
Message from Niki
It is hard to believe there are only 2 weeks left of this term & that we have been in the city for almost 6 months already.

Lost property
Thanks for your continued support with the lost property on level 4. This week I thought there were only a few small items taken to the clothing bins, at least that is what it looked like on Thursday afternoon when I left school. However, on arriving to school on Friday morning, I was met with a double line of lost clothes! Half of our kids must be freezing, as it is mostly top layers that they take off when they get warm. Keep that vivid handy for naming clothing, lunch boxes & water bottles as there were a number of these that were also unclaimed last week.

Chocolate Fundraising
Last year Claire Cameron ran a Whittaker's chocolate fundraiser with parents on the Discovery campus. Parents bought boxes of 36 bars for $72 and sold individual bars for $2 per bar. We'd like to open this up to our Y1-14 parents this year, so if anyone is keen to purchase a box to on sell, please contact Claire (fluffie.claire@yahoo.nz) or Jill our finance administrator. You will be given a box and asked to deposit $72 into our school account. It is such an easy fundraiser, and each box sold makes the school $38.

Yoga
We are keen to find a yoga teacher who can come & take classes for staff/ students/ parents in one of our spaces. This could be before school, at lunchtime (although briefly as we only have 45 minutes for lunch) or after school. If anyone knows of a yoga teacher who would be interested, please contact sarah.marshall@aotawhiti.school.nz with availability and a quote.

Show tickets
It's that time of year again. If you'd like to take your tamariki to the A&P show in mid-November, please get in touch with our finance administrator, Jill Legg, accounts@aotawhiti.school.nz and she will help organise tickets. The close off date for tickets is this coming Wednesday, 18 September.

Cambridge Home Morning Tea
A huge thanks to Rameez, Tara and the crew from Cambridge Homes for shouting the Y1-6 tamariki a fantastic morning tea on Wednesday. This was made possible by the wonderful parents who voted for our kids. Huge thanks must also go to Kate & Jo for shopping. Claire, Aime, Dave, Julie, Lindsay, Jillene, Katie, Asher, Lisa and Rachael for setting up, replenishing, pouring the drinks, tidying, washing & supporting this event. The kids are lucky to have parents who vouch for them in the wider community & we are grateful to Cambridge Homes for running initiatives that celebrate our tamariki & Kura.
IEM supervision
Supervision (for Y1-6 students only) is available during IEMs on Thursday 26 and Friday 27 September. It will be carried out in the cafe on level 4 by our wonderful Learning Support staff Clare and Zoe on Thursday, and a range of other Learning Support staff and student teachers on Friday.
If your child requires supervision over these 2 days, please complete this form.
If you're able to cater for your child offsite, you don't need to do anything!
We are aware of the need to keep numbers to a minimum. Space is at a premium because all learning spaces and breakout spaces will be used by LAs running IEMs. We would appreciate it if you could run LAH during the IEM days OR offer to support the need for supervision by running trips using school as a base.
Niki Stephenson – Deputy Director
Schoolwide Notices
Major Production
Ao Tawhiti Senior Drama Class presents
'Love & Information' a Play by Caryl Churchill:
"Caryl Churchill's new play has 57 scenes and employs 16 actors to play more than 100 characters. Too much information?
But one of the many points made by this exhilarating theatrical kaleidoscope is that we live in a world where information bombardment is in danger of leading to atrophy of memory, erosion of privacy and decay of feeling. (The Guardian)"
Come and support year 9 – 13 Learners tread the boards, at Level 1 Ao Tawhiti Performance Space (on the stairs).
"The greatest living English playwright and, in my opinion, the most important English-language playwright since Williams." – Tony Kushner
Warning:
Mature Themes: such as Adultery, Mental Health, Animal Cruelty.
Location:
Ao Tawhiti School, Level 1 Performance Space
5 Mollett Street, Christchurch. 8011
Times:
7pm Thursday 19 September
7pm Friday 20 September
NB: A Matinee performance is available ONLY for Ao Tawhiti Learners years 7-13 on Friday 20 September 1pm.
Warning: This performance is not appropriate for Year 0-6 Learners.
Mature Themes: such as Adultery, Mental Health, Animal Cruelty.
Tickets:
DOOR SALES available too, on the night. Bring CASH unless you want to book through the website above, which charges a nominal fee.
Prices:
Adults $10
Students $5
Warning:
Mature Themes, such as Adultery, Mental Health, Animal Cruelty.
Someone sneezes. Someone can't get a signal. Someone shares a secret. Someone won't answer the door. Someone put an elephant on the stairs. Someone's not ready to talk. Someone is her brother's mother. Someone hates irrational numbers. Someone told the police. Someone got a message from the traffic light. Someone's never felt like this before.
Thai Dinner & Theatre package:
Emily's negotiated with Golden Lotus a discount for a meal.
When Staff, Learners, Families of Ao Tawhiti & Theatre-goers go BEFORE the show 'Love & Information' next Thursday OR Friday night you get 10% off your meal + a complimentary non-alcoholic drink from Golden Lotus in the Yard (Thai cuisine).
Yum!
Thanks Golden Lotus.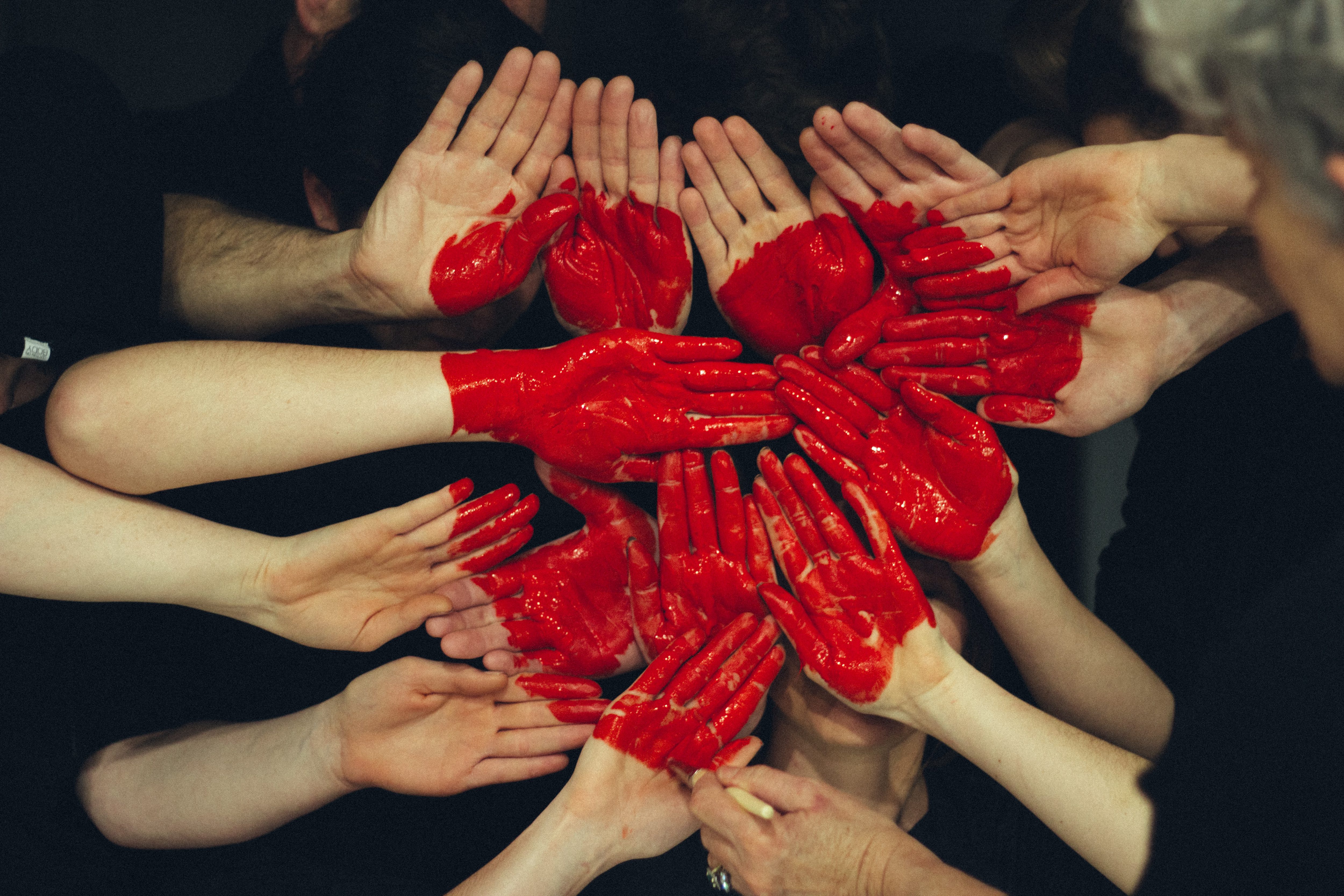 Bake Sale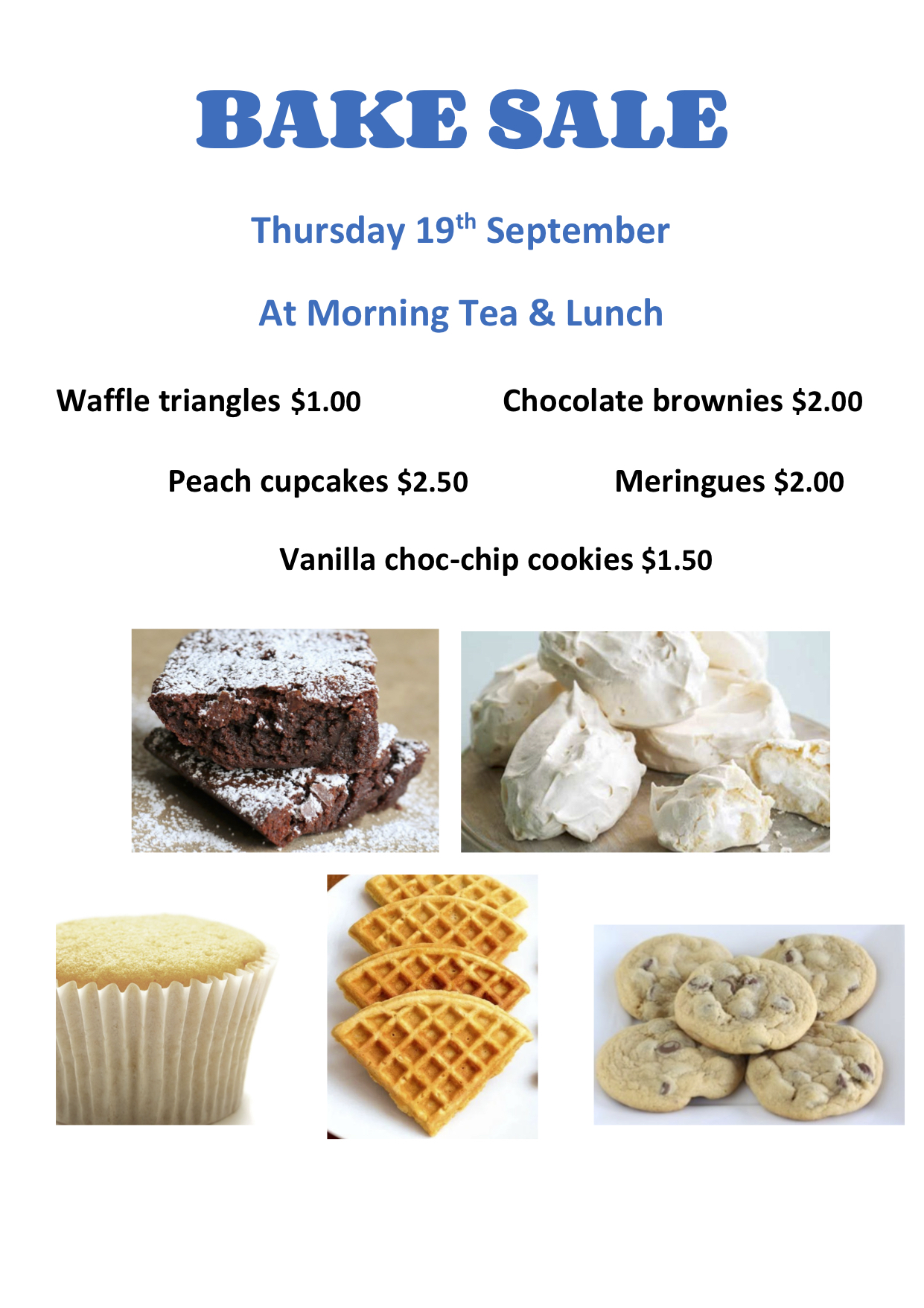 1-6 News
Pekeapeka Community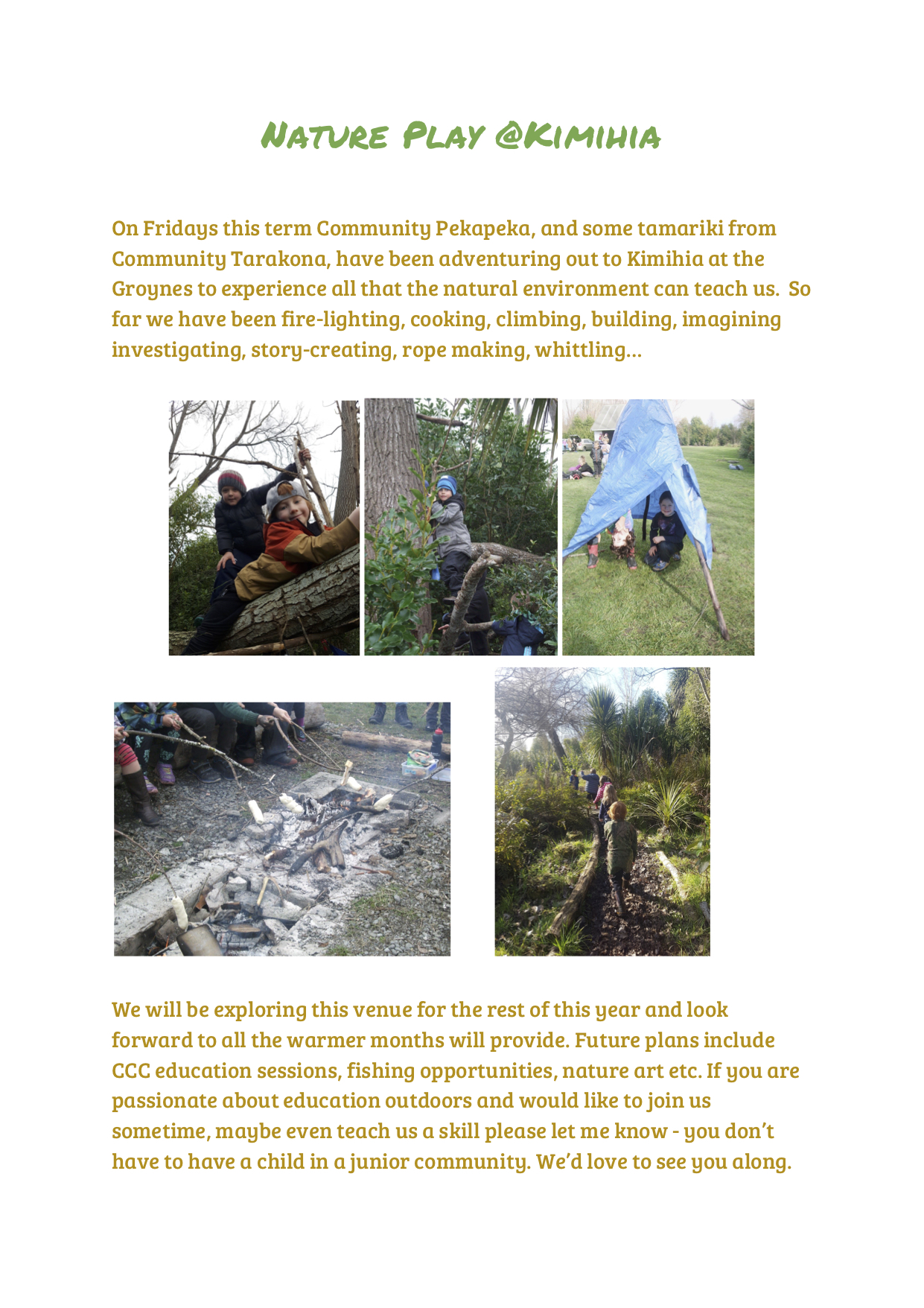 Tarākona Community
Kia ora Tarākona Community, we are starting the countdown to the end of term now with students creating presentations of their inquiries for sharing back next week. We have penciled some times in for these, Monday 2pm, Tues, Wed 2.20 pm, Thursday at 11 am. At this time we don't have a schedule of when students are presenting due to giving the tamariki time to finish off etc over the next few days. Some students will share in small groups and not to their whole HB if this makes them feel more comfortable. If you would like to be present at your child's presentation can you flick your LA a quick email and they can attempt to move times around for you.

Sexuality Education: As you would have seen from Mel Fisk's email, we have sexuality education this year. In our community, this is a chance for tamariki to learn about the changes they go through as they become adolescents, to discuss friendships and healthy relationships. There will be a chance for parents and caregivers to chat about this program and have more detail provided next Tuesday 17th at 3.15pm on the 4th floor. It's always a great unit to work through with the kids as it brings up some really rich conversations and thinking.

Camp forms: On Thursday we had only 40 of the 60 forms we needed completed and had to ring people to confirm accommodation. From this point on we are charged 25% of any changes made in accommodation and from the 23rd Sept it will 50%. Then the fortnight before camp this rises to the full 100%. We assume now after following up with people on Thursday that all accommodation is finalised barring unforeseen events. Please fill these health forms in over the weekend so we can continue with the planning for camp that is getting ever closer.
Health form- child, (for every child on camp)
Health form -Adult (for every adult going on camp)

Seesaw and Learning: The great learning continues every day in the Community, we have some awesome photos and thoughts about this coming through your child's seesaw each day. Please check these out and have those discussions around what your child needs to be on track for this coming week. Those conversations around what is planned for SDL are invaluable and make a huge difference to how your child's individual pathway develops. The kids had a great day Thursday getting out and about and using some of PBL opportunities that were created with Kate and Niki. Thank you to the parents who were able to give up time to support this.
Sport with the senior students: We have been working with year 11,12 and 13 students in their PE program each Wednesday as they learn how to coach and teach different sport games. It has been interesting to see people develop skills over the weeks and our kids were great at supporting this opportunity.
IEMS: IEMs link for signing up iems code apnpb. Please sign up if you haven't already.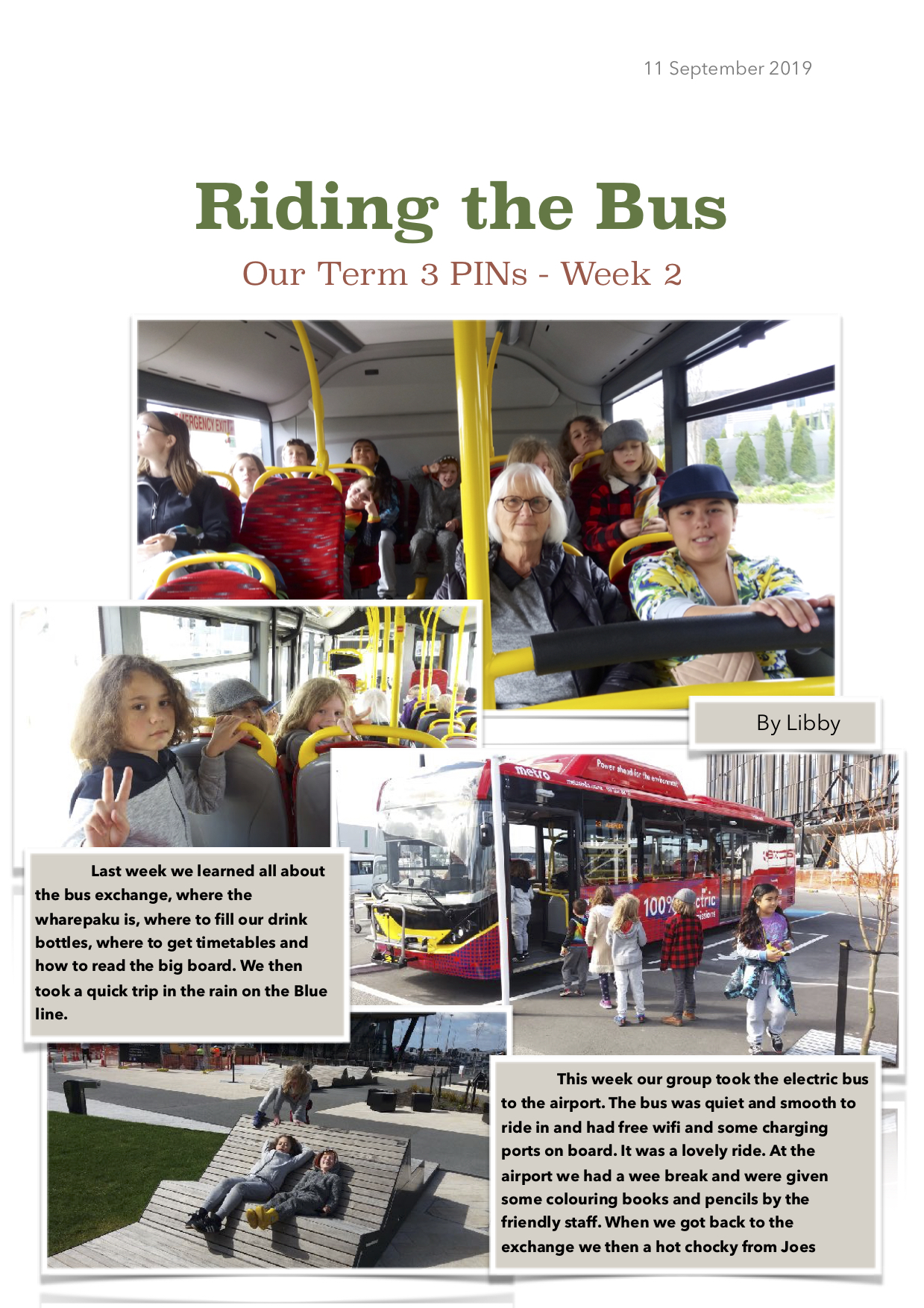 Thanks! Thank you to parents who have come to support us helping kids enjoy the sun this week outside during morning tea. If you would like to help in the coming weeks follow this link Parent support for morning tea and lunch please.
Thank you for any and all the time you can give us to support learning in the HB. I know things have changed for many families with the new location but we both appreciate and need your smiley faces as often as possible, not just to support trips but to be in your learning community to help us keep those many and diverse pathways ticking along for all our children. We look forward to seeing you very soon, and we are always an email away to chat,ka kite ano.
Melva Gill – Community Leader
7-13 News
Term 7-10 Family Night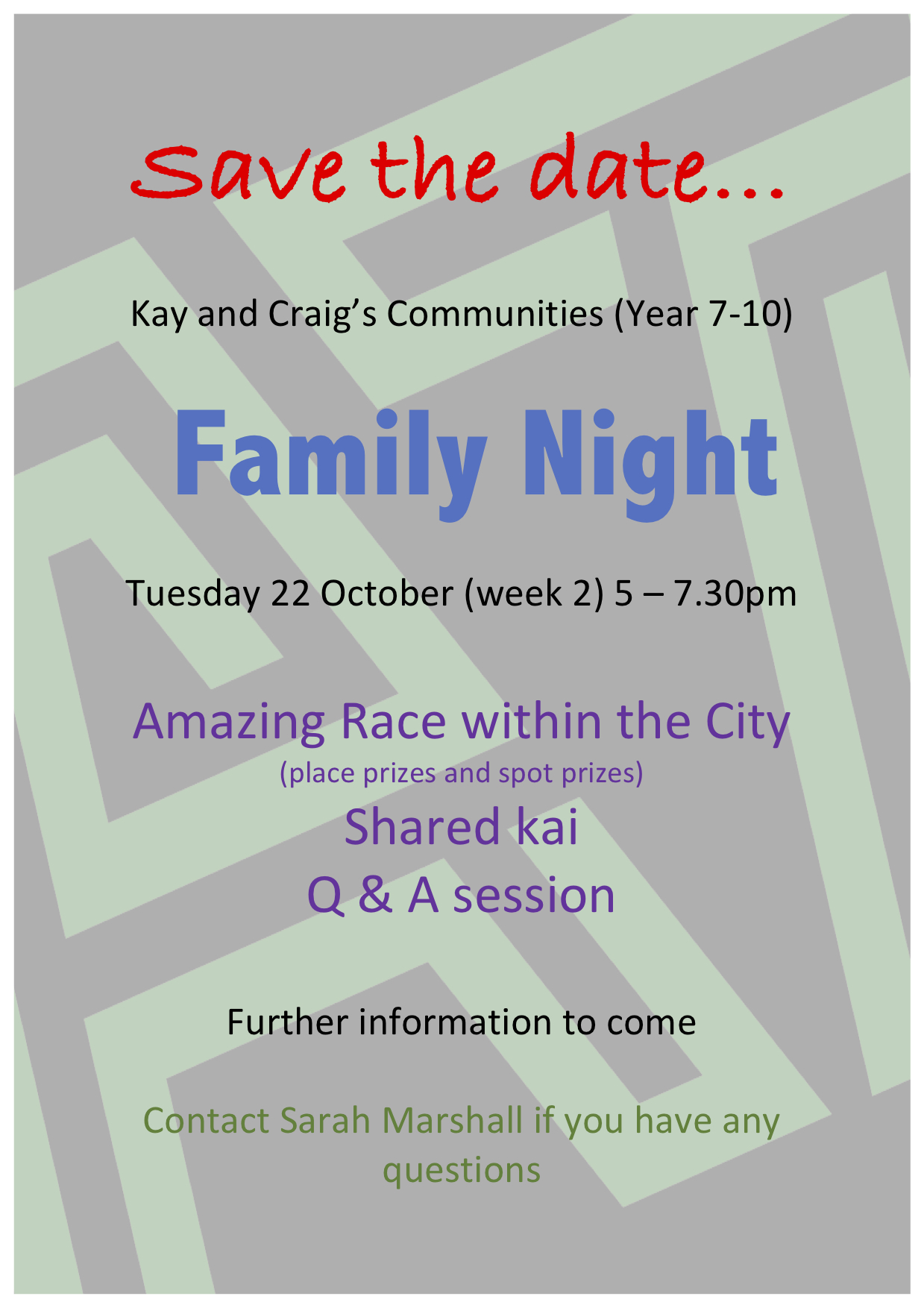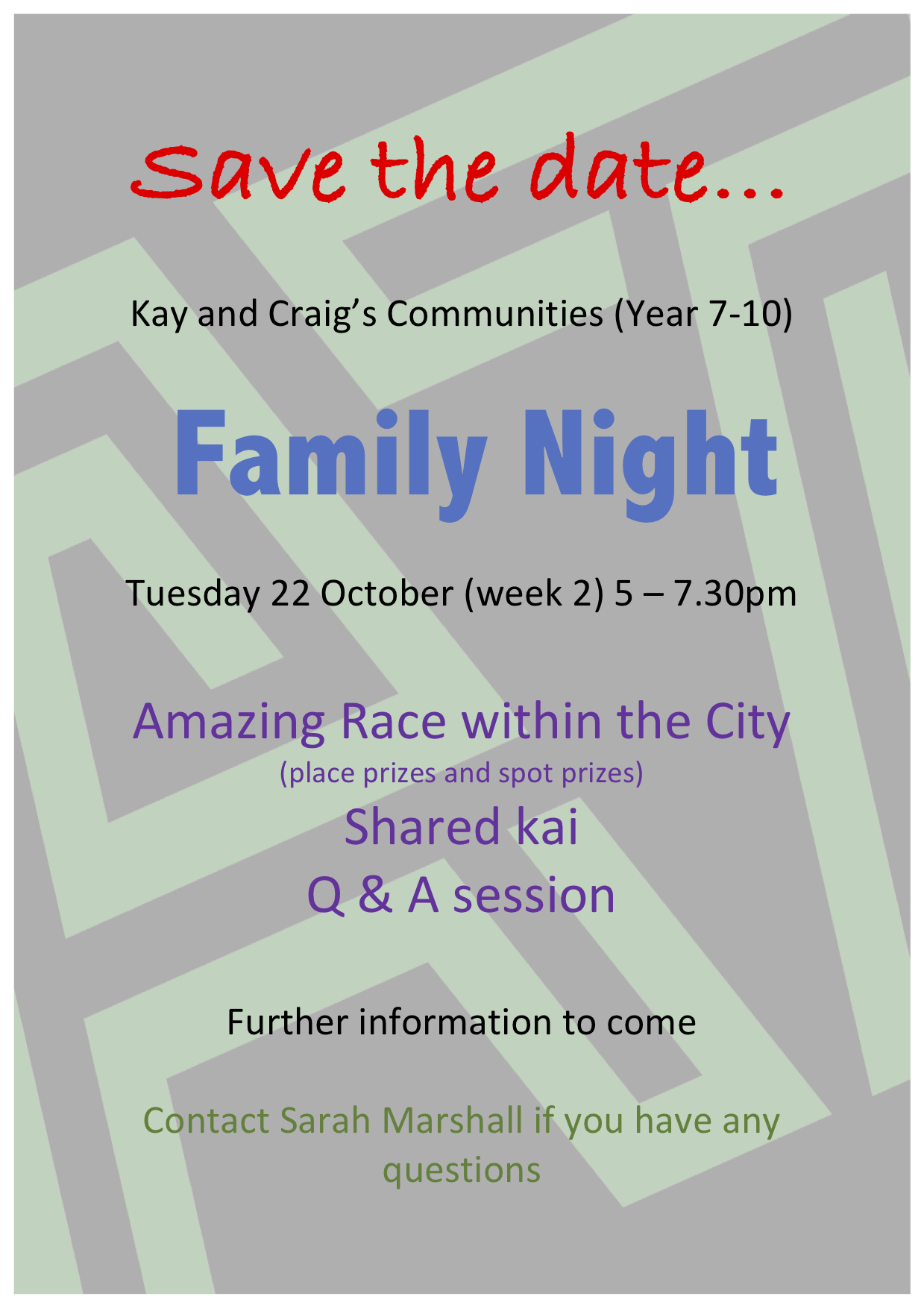 Other Notices
Yoga for All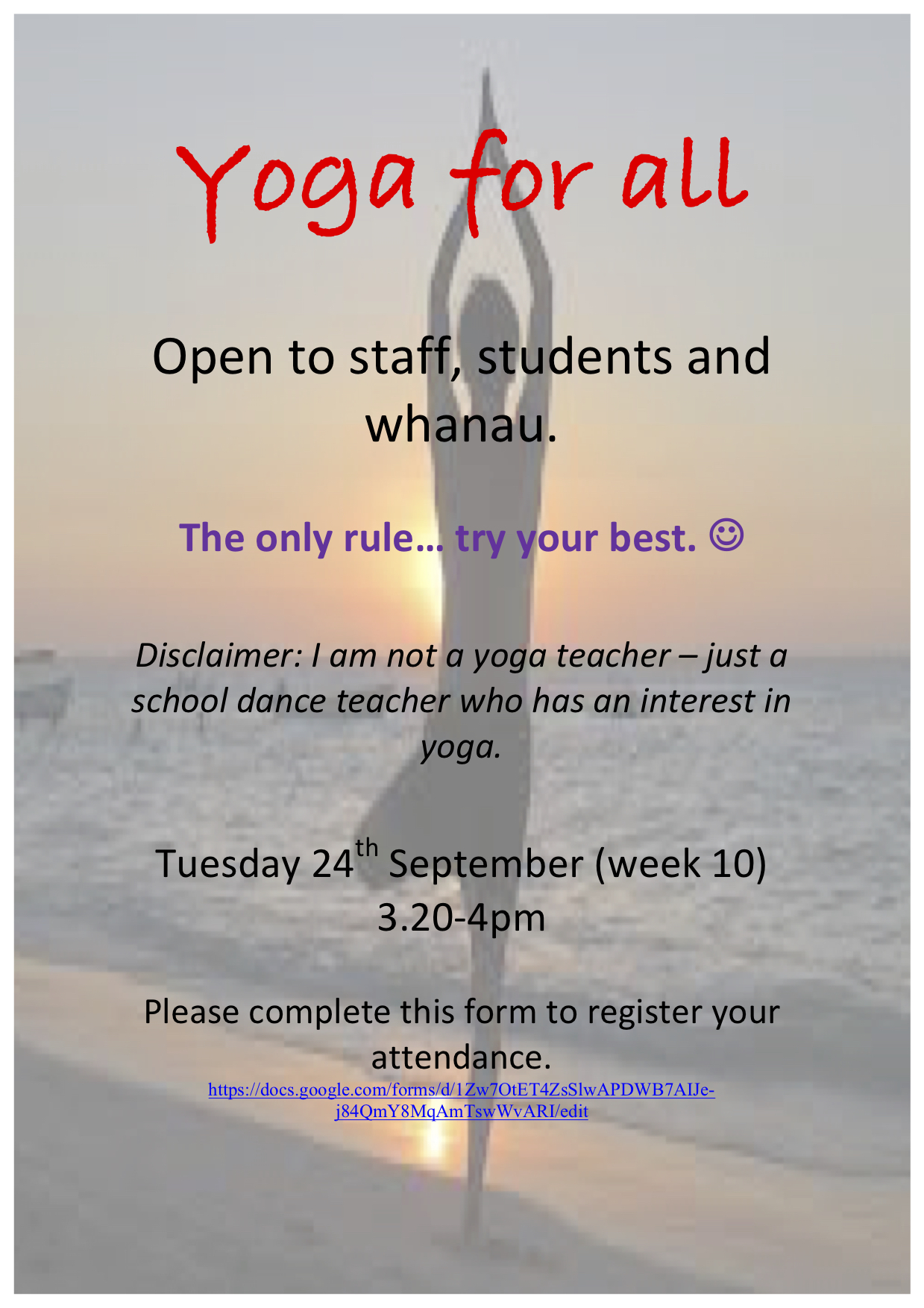 Starfish Swim school
What a perfect time to refresh some water safety and swimming skills just in time for summer!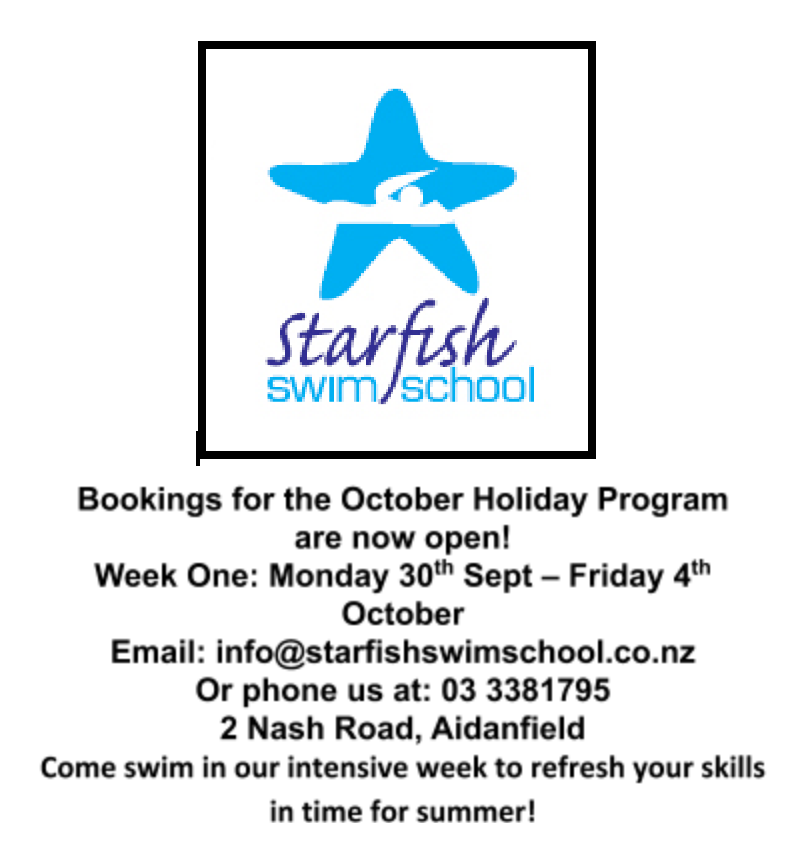 An offer from ASB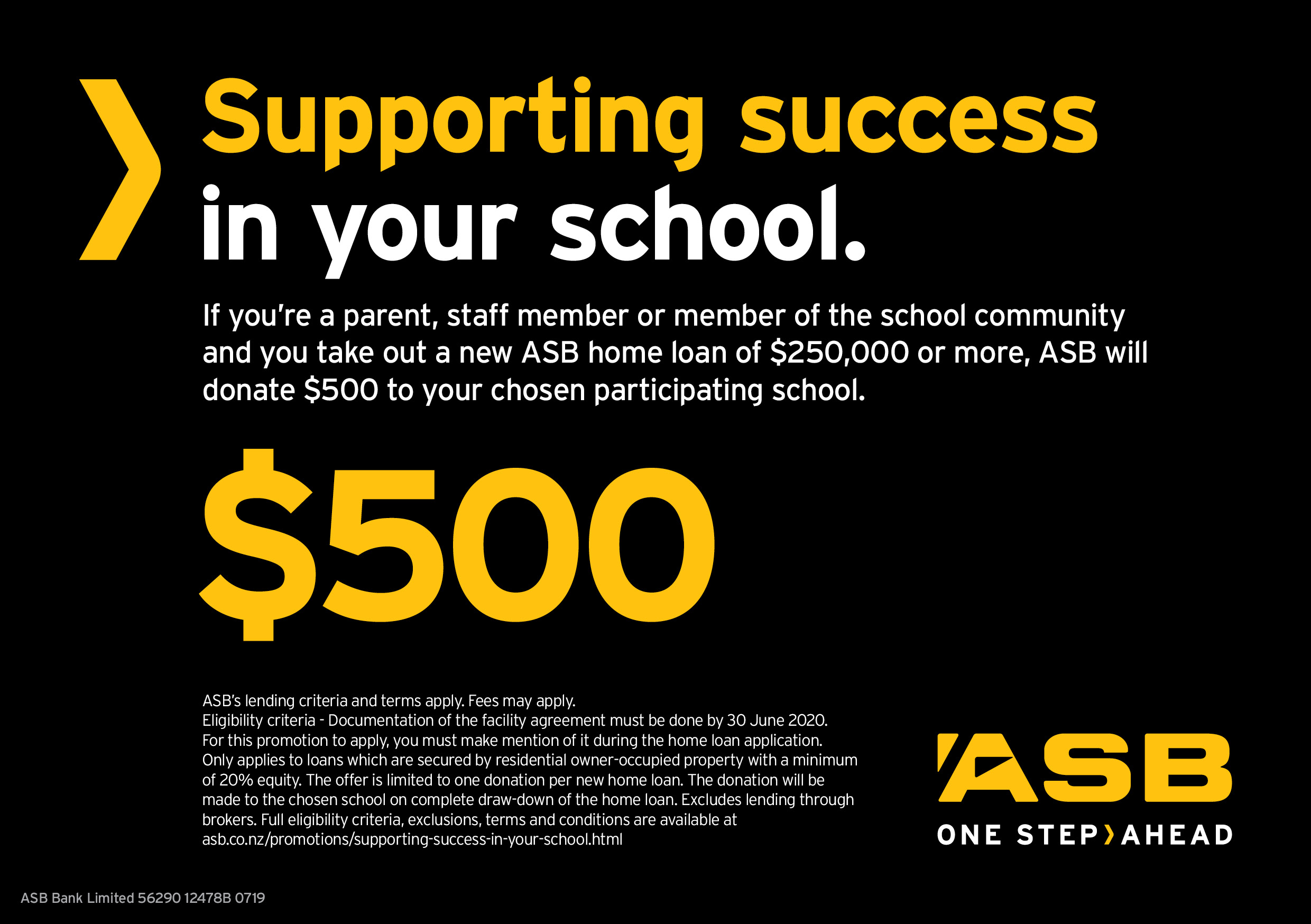 Marzipan
It's almost time for our CHRISTCHURCH HOLIDAY WORKSHOP!
The Marrzipan Holiday Workshop runs from 10am-4pm Monday 7th – Friday 11th October at Marshlands School. Students will devise their own play from scratch, create characters, direct each other, design the set, bring in costumes and get to perform to family and friends at the end of the final day!
Past workshops have been a great hit! As well as having fun, the children develop confidence and public speaking ability, in a fun, relaxed environment.
For more information check out our website! Spaces are limited to 16 per group so get in quick!W: marrzipandrama.co.nz E:workshops@marrzipandrama.co.nz T: 0275217352
"Ao Tawhiti Open Christchurch event, organised by Te Pūtahi 7 Sept 2019. Photo: Peanut Productions"
Here's a few photo's from the recent open day.