Mon 8 Dec Community walk, Port Hill walk – Discovery campus   Wed 10 Dec Year 8 Celebration – Discovery campus, Community games – Discovery campus  Fri 12 Dec Last day of term 4, Picnic, Botanic gardens – Discovery campus, Graduation ceremony – Unlimited campus
Board of Trustee Update
BoT – 2 Key Messages
Charter Consultation and Workshop
The Board of Trustees would once again like to thank all of the students, parents, and staff who took the time to provide feedback on the current charter.  On Sunday we met to discuss the information provided by the community, conducted our own review and developed a plan for constructing next year's charter.  We intend to have a first draft available for the community on 9 February 2015, as this will allow us two weeks to gain your feedback again and make any alterations that may be needed.
Elmarie's Resignation
Elmarie Els has made the difficult decision to resign from her Director's PA / Board of Trustee's Secretary position from mid January 2015. Elmarie has been an outstanding member of our staff and an ardent advocate for both Discovery 1 and Ao Tawhiti Unlimited Discovery. Her hard work, professionalism and supportive nature will be strongly missed.
Director's Message
Property Update
This week we met with the two consortiums bidding to build our new building in the CBD.  This was the first opportunity for them ask questions about the school and continue to refine their bids.  While I would love to share with you the thoughts and ideas that were presented, I am currently unable to do so.  What I can say is that the process was genuinely interesting to be involved with.  It is interesting to see the how various elements like curriculum, students, community, staff, costs, returns and the city, come together to create a place where students can be central to directing their own learning.  I have another of these meetings next week, and then the final bids will tabled, evaluated and a winner selected.  The awesome thing about that last part is that with that decision will come an announcement of a site and hopefully this will provide the community with clarity and confidence that our return to the CBD is no longer just a possibility but a reality that you can actually see.
Reminders: Graduation – 12 December 9am-12pm, Jack Mann Auditorium / Y 8 Celebration / Community Picnic / Hoodies and Magazines
This year's graduation will follow a very similar format to the previous graduations held at Unlimited Paenga Tawhiti.  The purpose of the event is to celebrate the achievements of the students who have completed their schooling. To make the morning a true celebration of their learning we would like to encourage as many parents and students to attend. As always, there will be presentations, citations and performances. It's always a fantastic event that highlights the amazing achievements of our students.
Next Friday also has of course, the Discovery campus community picnic.  This event runs from 10am-2pm to allow the community to attend both the graduation and the picnic should they wish.
The Year 8's at Discovery 1 have traditionally had a leavers celebration.  With the merger of course they do not leave the school, they instead move to the Unlimited campus.  This year we have tried to create a balance between the traditions of the old school with the realities of the new school.  The Year 8 celebration is a chance for us to celebrate all that the students have achieved across their time at Discovery 1 and now Ao Tawhiti Unlimited Discovery.
I know I put this in last week …. but in case you missed last week's newsletter. You can get a hoodie or a copy of the magazine from the school offices.  The magazine provides you with a little snapshot of 2014.  The magazine cost $10.  The hoodies are $30.
Message from Ian
Well, one week to go and it's getting crazy around here. We have the Bellbird walk all day next Monday, the Year 8 Celebration starting at 10am in the HRC gym on Wednesday. Our Year 6, 7 & 8's are still attending Unlimited on Thursday. The final day Picnic on Friday from 10am until 2pm. So heaps on and not a lot of time available.
Regarding the Bellbird walk…at this stage we do not have a massive amount of support/transport for this trip but we would still like to make it happen. So we are going to organise this at the last minute on Monday morning with the parents we have in front of us. It will mean that some kids will be staying here at school with some of the LA's and children whose parents are on the trip will have priority. We have to have a ratio of 1 adult to 5 kids on the track and we need to stick to this.
Don't forget to get your items into the Year 8 kites. We will be taking these down these at 3pm on Tuesday to be able to go through them and make sure everything in them is appropriate.
We realise that this is an unusual year for our Year 6 & 7 kids. They are finishing on this site and moving to the Unlimited Campus for 2015. We would like to recognise this on Wednesday afternoon from about 2pm. We intend to have a couple of people speaking and a bit of a sausage sizzle.
I've had a few questions about the start of next year…what's happening and when…
# Individual; Education Meetings are happening on Wednesday the 4th and Thursday the 5th of February. There will be no onsite supervision for children these days. Expect to get a link in the holidays to make these book.
# Waitangi Day is Friday the 6th of February, school will be closed for this day.
# School starts on Monday the 9th of February…9am.
# Community Camp @ Glenroy Lodge – Thursday the 26th of February & Friday the 27th of February.
Seeing as this is my last newsletter piece for the year, I wanted to say a massive thanks to everyone. We have had a tremendous increase in support around the campus from parents and whanau and it is sincerely recognised. This place is as amazing as the people in it and the more of us we can get in here, the richer the experience is for our kids.
I wanted to say thanks to everyone who has given me their support over the year. It's been a pretty full on year getting my head around this new job and I really appreciate everyone's patience.
Finally, I hope you all have an safe and happy Christmas, that you all get time to relax and enjoy your families and that your kids refill their batteries.
Kay and I would like to announce the birth of the newest addition to the Hayes family. We welcomed Charlie Alan William Hayes into this world. He made a very speedy arrival on Monday 24 November at 5:38am and weighing in at 6.2 ounces.
We would like to thank everyone for the good wishes and beautiful gifts.
Ian Hayes
Deputy Director, Discovery campus
Unlimited Campus News
South Island Junior Volleyball Tournament
Last week 9 students travelled to Invercargill for a week of volleyball. The girls had a fabulous time learning new skills, techniques and just having fun.
I huge thanks to Bee, Kath and Dalene for their support during the week. The girls look forward to what next year has in store.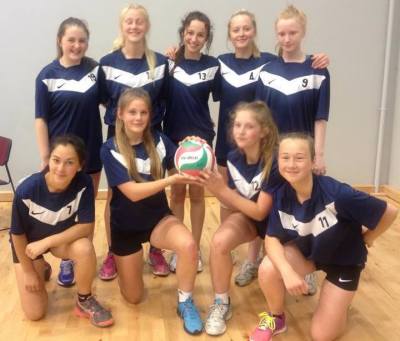 4.2 Activities
On Thursday, 4 December, Miriam took some enthusiastic students to Caste Hills for Cave Stream walk. They had a fantastic time, Thanks Miriam.
Invitation to The changing face of our city
The Interagency Network For Refugees and Migrants (INFoRM), with the support of the Christchurch City Council and Human Rights Commission, would like to extend an invitation to attend a significant community discussion
Join us along with Mayor Lianne Dalziel, Dame Susan Devoy and a host of local commentators for a stimulating evening discussing
 The changing face of our city
This conversation will bring together ethnic communities, organisations, businesses, local and central government staff and elected members to collectively explore issues of diversity and race relations in Christchurch
The meeting will take place at: Council Function Room, Christchurch City Council Civic Offices, 53 Hereford Street, on Thursday, 11th December, from 5.30pm to 8.00pm.
Light refreshments will be provided
If you cannot attend please pass the invitation on to someone else in your organisation, community or network.
Please RSVP to conversation@ccc.govt.nz by 5.00pm, 5th December 2014.
We look forward to seeing you and thank you for your support of this event.
Bus route changes
Please be aware that there are some changes to the bus routes from 8 December 2014
http://www.metroinfo.co.nz/CHCHPreview/
Student Job Search
Student Job Search is a service created to help students find jobs and gain experience. Our services are free to students who are enrolled into Tertiary Education or are planning to study at a Tertiary Institute in 2015.
Please use the link to learn more about the service https://www.dropbox.com/sh/8r500xgcgk356ps/AACoS8-XFw2cB0w_ht1K7APza?dl=0
Trampoline Holiday programme
Christchurch School of Gymnastics 18 Watts Rd Sockburn
Monday 19 – Friday 23 January.
Session times 9.30-10.30am 3-5 yrs, 10.30-11.30am 5-8 yrs and 11.30-12.30 9 yrs +.
Cost 10 per session or 5 sessions for $40
Come and revisit old skills or learn new. Clean white socks and drink bottle required.
Bookings essential ph 3434950 email gymoffice@inet.net.nz
Discovery Campus News
Community Lists for 2015
Please use the link to access the Community Lists
Reading Eggs
Reading Eggs accounts will continue over the holidays until 28th of February. Early next year a notice will come out asking if you would like Reading Eggs for the year. The cost will be $23 next year. You will need to pay this in cash to your LA before your account can be created or rolled over.
Potato in a bucket competition
Bring your bucket back into school on Wednesday, 10 December.  We'll celebrate our great growing and have prizes for a variety of category.