Upcoming Events
Term 4 Week 7 (Monday 23 November – Friday 27 November)
Monday 23 November: Swimming Y1-6, Discovery Campus
Monday 23 November: Mandarin, Discovery Campus
Monday 23 November: 9-11am Mindfulness, Discovery Campus
Tuesday 24 November: Swimming Y1-6, Discovery Campus
Tuesday 24 November: Music with Mary, Discovery Campus
Tuesday 24 November: Unlimited Campus Tour, Unlimited Campus
Wednesday 25 November – Friday 27 November: PINS, Discovery Campus
Wednesday 25 November: Discovery Campus Coffee Morning 9am, Shared Space
Thursday 26 November: Unlimited Campus Coffee Morning 8.45am, Steven's Office
Friday 27 December: Robin Hood Production 12.30pm, DW1
Friday 27 December: Robin Hood Production 7.00pm, DW1
Term 4 Week 8 (Monday 30 November – Friday 4 November)
Monday 30 November: Swimming Y1-6, Discovery Campus
Monday 30 November: Mandarin, Discovery Campus
Monday 30 November: 9-11am Mindfulness, Discovery Campus
Tuesday 1 December: Swimming Y1-6, Discovery Campus
Tuesday 1 December: Music with Mary, Discovery Campus
Tuesday 1 December: Unlimited Campus Tour, Unlimited Campus
Wednesday 2 December: Discovery Campus Coffee Morning 9am, Shared Space
Thursday 3 December: Unlimited Campus Coffee Morning 8.45am, Steven's Office
Three Key Messages from BOT Meeting 16/11/2015
Property Update
We'd like to acknowledge that things have gone quiet since the announcement of our site. This is due to the fact that nothing has changed since the announcement.  The Ministry and the developer are still working through the final aspects of the lease.  This means that there will be no design work until this process is completed.  We realise that many of you are eager to get involved and we want to assure you that we will let you know how you can get involved, as soon as the design phase begins.
Counselling at Ao Tawhiti Unlimited Discovery
Miriam and Rod presented to us on their role at Ao Tawhiti Unlimited Discovery.  There presentation highlighted the important role relationships play in ensuring our students are able to successfully develop their own individual learning pathway.  We are incredibly fortunate to have excellent guidance services on both campuses, and it was great to see the value students place in these services.
Budget
Another important aspect we discussed, was the budget for 2016.  We are working closely with staff, the charter and the feedback we received through our consultation process, to develop a budget that reflects the rather unique needs of our school.
Ao Tawhiti Unlimited Discovery – Board of Trustees
Message from Steven
Graduation – Wednesday 16 December 9am-12pm, Aurora Centre
This year's graduation will follow a very similar format to last year's graduations.  Unfortunately we were not able to secure the Jack Mann for this year's graduation but we have however secured the Aurora Centre at Burnside.  The purpose of the event is to celebrate the achievements of the students who have completed their schooling. To make the morning a true celebration of their learning we would like to encourage as many parents and students to attend. As always, there will be presentations, citations and performances. It's always a fantastic event that highlights the amazing achievements of of our students.
Info Evenings
Thank you so much for coming along to the two information evenings that we ran last week.  It was good to have so many parents, students and learning advisors, listen to us further explain the structures we will use next year.  I honestly appreciate the willingness you all have to share your thoughts, support and concerns.
Steven Mustor – Director
Message from Ian
It's been a pretty quiet week on the Discovery Campus this week. All of our Year 4-6 children were away on camp in Akaroa during Wednesday, Thursday and Friday…I'm sure they've had a great time and I guess we'll all get an update next week in the Newsletter from Melva.
Over the last few weeks we've been able to tap into the Yoga knowledge and skills of Ariana Farr, one of our Year 8 students on the Unlimited Campus. She's been coming over to teach some of the Year 1-3 children the basic skills of Yoga and spend some time in the week developing a bank of new skills that they can apply across the rest of the week. It's been great seeing the Unlimited students having a real influence on some of the children on the Discovery Campus and seeing these children really respond to having the opportunity.  During the year we have also had some of the senior students coming over to run and support Kapa Haka and a group of students come and running football workshops. Hopefully in 2016 we can get some more of these types of learning opportunities happening.
A massive thanks needs to go to CORE Education who offered their services to help Homebase Phoenix to paint their learning spaces. Seven CORE staff members, a passionate group of parents, a bunch of kids and our Phoenix staff all worked tirelessly last week to rejuvenate the space the are currently working in. It was a massive day for everyone involved but when you walk through the space now it was definitely worth the time and effort. Well done everyone!
Next Wednesday, Thursday and Friday is our Term 4 PINs Episode. Thanks to all of the people who have put their hands up to either run a PINs workshop or support someone who is running one. We really appreciate the effort and there are some great opportunities available for the children. A big thanks to Larissa and Sally for helping to put this all together.
I sent out the 2016 Homebase Selection information this week. This needs to be returned by 3pm, Friday the 27th.
A couple of dates for your Calendar….
Year 1-6 2015 Final Celebration of Learning # Friday 4th of December – Te Hapua – Halswell Centre
4.30pm Exhibition opens.
6pm Formal presentations.
Year 6 "Moving Sites" Celebration # 12pm, 9th of December
Annual Picnic at the Botanical Gardens # 10am – 2pm # Wednesday the 16th of December #
Ian Hayes – Deputy Director
Notices
Junior News – Week 5
Another busy week in the Junior Community
In Mindfullness this week we have looked at neuroplasticity with the kids. This is the idea that you can train and retrain your brain. We have been looking at using Mindfulness to change patterns in our brain. We are making Mind Jars over the next few days as a physical representation / reminder for kids.This might spark some interesting conversations at home.
We have all been recovering from our fantastic camp. I just wanted to say a huge thank you to ALL of the people who made camp happen. To Nadine, Libby, Jason and Gina for all their work all year on it. Also to all the parents who helped organise activities, risk management, food and more. I am scared to name you in case I miss anyone but hopefully you know who you are. Another great camp with a really positive feel. Great camps always make me think about the memories that are being created and how these kids will look back on these things in their lives.
Unfortunately this week trip was cancelled due to weather but the Junior Community (yr1-3) has one final trip coming up. We are going to Spencer Park for the day on Wednesday 16th November. The plan includes having BBQ burgers created by a Healthy Food group and playing fun games designed by a Physical Activities group. We are chartering a bus from school.
Junior News – Week 6
Week six seems to be flying by as does the term. LA's and students have been exploring lots to do with the Health theme and we have started to see students move to the 'create' part of their projects. Staff have this year been a Learning Framework for inquiry that involves 'Collect, Connect and Create'. It is always exciting to see things culminate and see what can be produced. This week we had a group feed the whole Junior Community which was brilliant.
Spencer Park Trip
This was the last of our planned Community Trips. We had such fun hiring a bus and making an adventure of it. The weather held up and the day was just great. Kids had so much fun just hanging out as a large group and playing on the fabulous playground their. A group of kids from HB Kea had planned the food. They had carried out some research on how to make burgers as healthy as you could and then collectively designed one. We even looked at natural flavours like herbs from our garden versus E additives and flavours. Then this week we went to New World to buy all the ingredients and spent an hour or so chopping, chopping and mixing. The end result was really rewarding for the LA's and students. So many people gave positive feedback about the flavours and we even got asked for the recipe!!
Kay Hayes – Community Leader
Penguin Trip
Today we walked on this track which was this long walk and we had to go up heaps of steep steps. And then when we got there we had to go down this small grass path and there was a predator-proof fence which was this wire mesh with a cavey bit going over the top of it so the predators couldn't get in and we went through this little gate which was made out of metal as well. Then I was the second person to go down the ladder and I thought the ladder was made of metal but it was made of wood. And the leader went in front. I think his name was Kenny. The ladder was really steep. And once we got down the ladder there was this pathway and we had to walk over all these rocks and there were nesting boxes in the rocks by where we were walking and some of them had penguins in them. The penguins were white-flippered penguins which are like little blues but they are their own species and we got to see a little penguin chick!
And then we saw this cutie cutie cutie little chick which was 2 days old. And he had to bring out the adults first because otherwise they would see and they would get angry and try to peck you and what Chris did he pulled one of them out by its beak and put it in the bag. And he got out the cutie, cutie ones which were only 2 days old. They were black and their flippers were really TINY – the size of a cheerio sausage. The first chick was about 15 – 20 days old – probably 17 days old because that's in the middle. We all got to stroke it and I got to stroke it and Mummy got to hold that one.
And one of the penguin chicks – not the 2 day old ones – pooed on his shoe – it just pooed – it splatted onto his shoe.
After they are about 10 or so days old they are left on their own – and the adults both go out fishing and take it in turns to come back with food. Once a day.
Only one egg has not hatched this year.
He got two eggs out – and they were quite clean for a penguin egg – they were a bit green from the poo. When they pooed they pooed out of their burrows so they didn't get their burrows dirty.
I was worried that the smell of humans would put the penguins off their eggs. On the way back I thought I saw a whale.
Pippa Marshall – Student
UPT Digital Updates
The Kohknowco Digital Innovation Framework

B
eing so immersed in the evolution of UPT Digital and IT HOTHOUSE, it was difficult for me to figure out how it might be re-designed into a more comprehensive, flexible format, and it was difficult to find the time needed to do it.
Over the Christmas holidays,  I worked with Jake Carter, a software developer at Rosetta Technologies, and Keorattana Luangrathrajasombat, Design Director at iPowow, both in Sydney.    We wanted to pull together all the concepts from IT HOTHOUSE and package it into an easy-to-follow process.  We came up with the idea of the Kohknowco Creative Forest.  Since then, we've had a far more positive response from visitors as we talk them through, with more schools interested in using the Kohknowco Framework.
We have released Kohknowco as an open source, free framework, with an aim to build a supportive, collaborative community around it.  I've just got the website up and will be getting it more sorted over the next few weeks.  Kero is working on the proper illustrations and we will be writing stories to give context.  The most significant addition to the model are the pre-start-up processes we've been working on over the past 12 months, mostly with industry input.
FYI, we're using OpenShift by RedHat.  OpenShift has a great free cloud layer that includes DBs and custom domains.  It's an excellent tool for pre-start-ups!  We are using it for UPT Digital projects: 
www.openshift.com
Kohknowco Joins the Canterbury Innovation Eco-System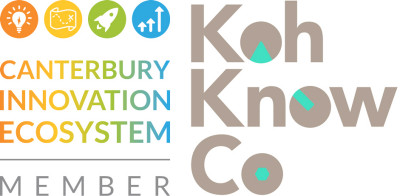 Doing our bit to promote Ao Tawhiti Unlimited Discovery School as a pioneer in education :D.
VISITORS
Monday
Kevin Park, ChCh Xone Manager from Vodafone, came to visit our space to learn about Kohknowco and the projects we've been working on in UPT Digital.  We're excited to be building this relationship with Vodafone and look forward to collaborating in their cool new space that will be opening in the Innovation Precinct early next year.  Spaces like Xone will be important for our young entrepreneurs, particularly when it comes to needing to test their applications on multiple platforms and devices, and having access to cellular networks.
Tuesday
Crispin's Dad, Jamie Anstice, came in to UPT Digital to teach us about software architecture.  Jamie manages UC's system.  We learned about different structures and what type of structures might suit us best for the projects we're working on.  After we'd identified the best fit for us, Jamie helped us to identify the next steps and Asher organized the tasks into lists on Trello.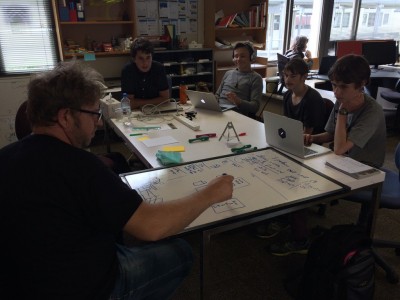 Shane Morrow, DP at Riccarton High School, and Lawrence Allpress, Leader of the Upper Riccarton Cluster of schools, came to visit to learn more about the Kohknowco Learning Framework.  We're looking forward to collaborating with them in the future.
OUTINGS
Wednesday
We attended the Akina Foundation's
"How to start a social enterprise"
interactive workshop at UC.  Asher Foster and Sam Miller came along to find out what social enterprises are all about and why they are different to more traditional, strictly for-profit businesses.  During the workshop, we started filling out a Lean Canvas for the Developster business model which really helped us take a much broader look at who are customers might be and how we can create a short, clear message about our purpose. 
Renea Mackie – UPT DIGITAL
A Few Credits Short of your Goal?
If you got close, but didn't quite achieve NCEA Level 2, the Ministry of Education can help. Funding has been provided for Christchurch students to attend a short summer school at Hagley College.
You can complete those last NCEA Level 2 credits FOR FREE!
For more information, contact Hagley College on 379 3090 to enrol from 13th January.
Brent Silby – Principal's Nominee
Visual Art
Students are working on their individual projects for 4.2 . People have been choosing from a variety of media eg. paint, print – dry points, ceramics – slip casting, hand building and wheel work with great results this week.
Holly Ramsay – Learning Advisor
Learning Support – Special Assessment Conditions – Change of Application Date to year before assessments.
It is particularly important that you let us know of any diagnosed learning problems such as Dyspraxia, Dyslexia or other Specific Learning Difficulties and any diagnosed behavioural difficulties such as ADHD or Asperger's. We can then put strategies in place to make your son or daughter's school experience as positive as possible.
This is particularly important in preparation for NCEA examinations as students with diagnosed learning disabilities may be entitled to Special Assessment conditions such as reader/writer assistance, computer use or extra time.
However, normally students need to be tested to qualify for this assistance and this process takes some time. NZQA have bought forward the date by which Special Assessment Conditions must be applied for.
Special Assessment Conditions must now be applied for in term 4 of the year before they will be doing any NCEA assessments. For a student starting assessments in Year 11, applications for SACs need to be made in term 4 of Year 10. Each application does involve a considerable amount of time so reasonable notice is appreciated.
For students who already have special assessment conditions, we will automatically review these and reapply for the following year.
If your son or daughter is new to the school or they have had an educational assessment within the last year and you haven't yet contacted me, I would appreciate it if you could make contact as soon as possible on 
paula.green@aotawhiti.school.nz
. Alternatively if you have any concerns and think that special assessment conditions may be appropriate for your son or daughter please contact me.
Paula Green – SENCO
Mail out to families
Over the next week, all families should receive in the post an envelope from us containing a student contact detail check, fee statement for any unpaid amounts,  and for years 9 and 10 a letter from Paula Green about Special Assessment Conditions leading up to NCEA exams.  If you have any contact details to update, please either return the letter to school or email office@aotawhiti.school.nz.  Many thanks for checking these.
Jacinta Buist – Executive Officer
Canterbury Ballet School end of year production
Kia ora koutou katoa,
Many of you may be aware that we have a number of students from our Ao Tawhiti community who are also enrolled with the Canterbury Ballet School. This year's end of year production will be a take on Alice in Wonderland and the classic Swan Lake. It would be great to have interested students, staff, whanau attend this event. The dates for the show are December 7, 8, 9 at the beautifully restored Isaac Theatre Royal. If you would like a discounted ticket ($10) I have a number that I need to sell. Please email me if you are interested.
For more information:
Richard McCance – Learning Advisor
Rockets and Robots
On Wednesday some of our year 6 – 9 students attended the Double Day STEM (Science, Technology, Engineering and Maths) looking at some of the opportunities and challenges that will face students over the next decade as they start to think about future careers. At the same time Florian and Matt were at CPIT for a Science Teachers' day, where some very similar messages were shared.
One of the outcomes from the day is that Matt is hoping to coordinate a group of students and staff with an interest in Rockets and Robots next year. There are a number of really exciting opportunities and partnerships available, so anyone from our school community with an interest or any experience or contacts in these areas please contact Matt at
matt.parkes@aotawhiti.school.nz
Matt Parkes – Community Leader
Junior Production – ROBIN HOOD
For the past term we have been working on this show and having fun doing it. It's been a great learning experience and the whole cast and crew would love to have you come and support our show.
It is a gold coin entry at the door and it is being held in DW1 (Drama Workshop 1) just across the foyer of the theatre in the Jack Mann Auditorium on the 27th of November.
https://www.facebook.com/events/553582741462215/
Matinee Show – 12:30pm
Night Show – 7:00pm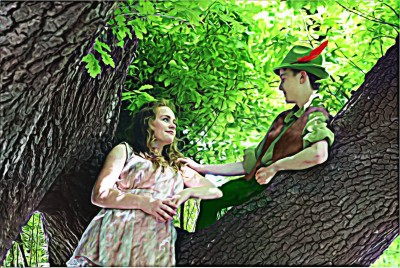 Marlene Teevale-Hunt – Learning Advisor
Y7-9 Community Update
It is great to see students really engaging in the wide range of classes available in 4.2 – even if it means that at times the Ao Tawhiti block feels a little deserted!
Braden has been working with Ella and Grace to organise an end of year disco. It will be held at White Elephant (442 Tuam St) on Thursday 10th December. There are a limited number of tickets remaining for students in years 6 – 10 – available from the Unlimited office for $2 each.
Steve has been working with students and LAs to pull together a some great options for the final Monday and Tuesday of the year. We need confirmation of numbers asap from families joining us for dinner on Monday evening, and also from those planning to stay at Spencer Park overnight. Details regarding activity options will be shared next week, so that students can make choices and bookings can be made.
The off-site adventures group travelled to Banks Peninsular this week to find out about a Little Blue penguin conservation project, and had the opportunity to get up-close and personal with Little Blue penguin chicks: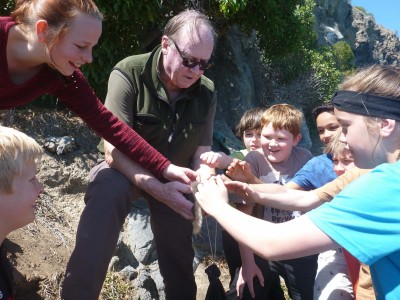 Matt Parkes – Learning Advisor
Other Notices
SUMMER RENTAL at Peterborough Co-operative Community
2 bed unit available to rent from Dec 12- Jan 27. Reasonable rent. Lovely neighbours.
Very quiet street. A short walk from the Margaret Mahy PG,Hagley and the CBD.
We're heading back to Ireland for the hols. Contact me on 022 303 4435, Mae (Senan's Mam)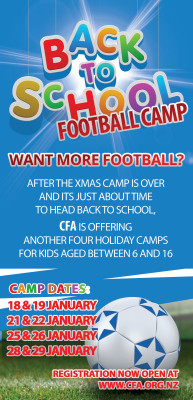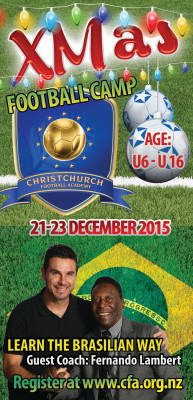 December 2015 and January 2016 Holiday Programme fun!
The Christmas school holidays are approaching fast….  Sport Canterbury have action packed programmes with exciting activities and awesome excursions!
Pre-Christmas programme bookings are open now and January programme bookings open Monday, 30 November.
Active Kids is an exciting structured programme of sport, physical activity and play for primary school aged children. The programmes are safe and affordable; there are a number of programme/venue options to suit you and your children's needs.
Visit our website for full details:        http://www.sportcanterbury.org.nz/new-zealand/holiday-programmes/