Upcoming Events
Term 4 Week 5 (Monday 9 November – Thursday 12 November)
Monday 9 November: Mandarin, Discovery Campus
Tuesday 10 November: 9-11am Mindfulness, Discovery Campus
Tuesday 10 November: 11am-12pm HPP, Discovery Campus
Tuesday 10 November: Music with Mary, Discovery Campus
Wednesday 11 November: Discovery Campus Tour, Discovery Campus
Wednesday 11 November: Discovery Campus Coffee Morning 9am, Shared Space
Wednesday 11 November: Y1-6 2016 Info meeting, 3.30pm-4.30pm Discovery Campus, Wharenui
Wednesday 11 November: Y7-13 2016 Info meeting, 6.30pm-7.30pm Unlimited Campus, P7
Thursday 12 November: Unlimited Campus Coffee Morning 8.45am, Steven's Office
Thursday 12 November: Athletics, Discovery Campus
Thursday 12 November: Homebase selection sent to students
Friday 13 November: Canterbury Anniversary Day [School Closed]
Term 4 Week 6 (Monday 16 November – Friday 20 November)
Monday 16 November: 11am-12pm HPP, Discovery Campus
Monday 16 November: Board of Trustees Meeting, 5.30pm, Unlimited Campus
Monday 16 November: Mandarin, Discovery Campus
Tuesday 17 November: 9-11am Mindfulness, Discovery Campus
Tuesday 17 November: 11am-12pm HPP, Discovery Campus
Tuesday 17 November: Music with Mary, Discovery Campus
Tuesday 17 November: Unlimited Campus Tour, Unlimited Campus
Wednesday 18 November: Discovery Campus Coffee Morning 9am, Shared Space
Wednesday 18 November – Friday 20 November: Phoenix Camp
Wednesday 18 November: Discovery Campus Coffee Morning 9am, Shared Space
Thursday 19 November: Unlimited Campus Coffee Morning 8.45am, Steven's Office
Message from Steven
Info meetings next Wednesday afternoon / evening
As promised I've organised 2 meetings to allow parents and students to discuss the structures mentioned in last week's newsletter.  The meetings will be held next Wednesday at each site.  You are welcome to attend both meetings or just go for the one that suits you best. If you cannot make the Y1-6 meeting but can make the Y7-13 meeting (or vice versa), please feel free to come along and I'll make time to discuss the structures further.
Y1-6 meeting – Discovery Campus – Wednesday 11 November 3.30pm, Wharenui (Discovery Campus)
Y7-13 meeting – Unlimited Campus – Wednesday 11 November 6.30pm, P8 (Unlimited Campus)
Steven Mustor – Director
Message from Ian
I had the pleasure this week of being able to spend some time out at the Year 1-3 camp at the Waipara Boys Brigade camp ground. It was a fantastic atmosphere, really relaxed and bubbling with kid's excitement, great support from parents and staff. What was great to see was the level of independence that so many of the kids had…just off doing there thing (whatever that might be). Having the space to explore and interact with so many other. There was also a visible sense of community, so many of our senior kids being on camp, they were helping out the wee guys, creating games and activities and just being a really positive influence around the camp site. A massive thanks to Nadine and her support team for making this happen for the kids and their families. Organising a camp is a huge task and it takes a great deal of time and energy to get everything off the ground…thanks again everyone involved!
PINs selection info was emailed out to you all on Wednesday. It was intended to go out on Tuesday before camp and I realise this is not ideal that it didn't get sent until Wednesday. However with not having enough workshops available to offer by the closing date last week it slowed the whole process down somewhat. Apologies if this has caused any problems for you. The final date for getting these selections in is still next Monday (9th), so plenty of time to get onto it still.
Finally, a big congratulations to Charlotte. She was super excited yesterday to hear that her daughter had finally gone into labour. Then very proud later in the evening to send through a photo of her new grandson. I was slightly concerned for her daughter to hear that he was 9.99kg, less concerned when Charlotte corrected her text with 9.99lbs. Congratulations Charlotte!
Have a great weekend!
Ian Hayes – Deputy Director
Message from Duncan
Exams
For the past week our students sitting NCEA exams have been on study leave. Exams begin next week and once again these will be held in S5. By now students should have good study routines in place and be focusing on making sure they have covered all the material they are likely to encounter. A few nerves are to be expected and taking measures such as ensuring a good nights sleep, a decent breakfast and arriving on time with all the equipment required are just a few strategies to ease some of these.
Junior Production
Rehearsals are well underway for our Junior production of Robin Hood. This is looking to be a fantastic production that is very much student driven. Performances are occurring on November 27 and will be in the Jack Mann buildings DW1 studio. Admission is a gold coin donation.
Homebase Selection
Today we begin the process of creating our 2016 homebases for our year 7 to 13 students. Homebase is a critical component of what we do hear at Ao Tawhiti Unlimited Discovery. As we move towards being back in the city and as the merger process evolves there are some continued structural changes to homebase.  In 2016 we will have communities made up of year 7-10 students and year 11-13 students.
Below are links to 2 forms. Please select the form relevant to your year level and complete it by next Friday, November 13. While we endeavour to match all students with their preferred LA this is not always possible. At this stage we have 1 staffing position still to appoint for 2016. This will be listed as an Unknown LA. If you think that being in a particular community is important for you then listing this as a potential option might be worth considering.
To ensure that we can have homebases established before the end of this year we will be sticking to the November 13 deadline. Students who do not complete their selection before this time will likely find their options reduced.
To assist you in making your decision have a read through of the HBLA profiles below. These are ordered by Community:

Year 7 – 10 Community.
Kay Hayes (Community Leader)
Sarah Burnett
Hi everyone. My name is Sarah Burnett and I am a learning advisor at the Unlimited campus.
My passions are; dance and performing arts, sport and physical education and learning about the human body. I am also very interested in the outdoors.
I am a firm believer that everyone should set goals throughout their life and within my homebase it is no exception.  I enjoy supporting my students to set and monitor their own goals whether they are class, SDL or well-being based. Seeing success and a sense of achievement throughout this process is always an exciting part of my job.
Next year I will be teaching in the areas of Dance, Physical Education and Health.
Jared Gallagher
Steve Hunt
Hi I'm Steve Hunt! I'm looking forward to a great year in a Year 7-10 Community in 2016. I'm wanting to spend our Homebase time focusing on learning to learn and getting us skilled up for how to turn our passions and interests into great learning. I also enjoy offering classes around numeracy and literacy as well as P.E., Circus, Visual Art and probably a bunch of other things!
In my spare time I coach the New Zealand Men's Canoe Polo team and play a variety of sports especially tennis. I live on a small block of land in Kirwee with a few farm yard pets including horses and a donkey! I also like hanging out with my wife and daughter (11yrs) as well as cooking and reading. I hope you have a great 2016 at Ao Tawhiti.
Unknown HBLA
Year 7 – 10 Community.
Community Leader is yet to be appointed
Brent Barrett
I am entering my second exciting year as a Homebase LA.  I live for Biology especially birds and marine mammals.  I spent years travelling the world helping to save endangered species.  I have more stories to tell than minutes in the day.  I want you to join a really cool conservation based Homebase with me.  I also enjoy wildlife photography, speaking Spanish, and reading really old books as well as Mountain biking, cycle touring and rock climbing.
Matt Parkes
Marlene Teevale-Hunt
Nathan Woods
Thank you for considering me as your HBLA. As a HBLA I am here to support you to accomplish your goals. I enjoy working with students who are ready to challenge themselves, take risks, and learn from their mistakes. The subjects I teach and have a special interest in include English, Psychology, Media Studies, and Japanese. I also enjoy talking about philosophy.
Zack Williams
I am very enthusiastic about the wonders of science, chemistry in particular. I am very keen to support learners in developing their own path to pursue their passions. My homebase will be a place for us to celebrate each other's successes and flourish into confident, independent students and responsible members of the school community.
Year 11 – 13 Community
Emma Barrett (Community Leader)
Matt Davis
Allan Henderson
Derek Thatcher
Year 11 – 13 Community
Peter Brailsford (Community Leader)
Beks Frew
Why could you choose Beks as your HBLA for 2016?
– Achieving your dreams through your goal setting and planning, of course!
–  If you would like someone who is vibrant, positive, caring and friendly and goes the extra mile to support you.
What does Beks teach?
She has taught health, geography, social studies, physical education and numeracy during her 3 years at Ao Tawhiti Unlimited Discovery.
George Mackenzie
Subjects: English, Business Studies
Located in S2.
Interests include: travel, film, art, kayaking and social enterprise.
A homebase is about the students and my role is to help them enjoy school and to do well. Ideally a homebase is run by the students.
Holly Ramsay
As a a Homebase Learning Advisor I bring: expectation that you will have integrity and compassion. I will offer you unconditionally the same. I expect you to be able to communicate with me regualrly about where you are and what you want to do. I genuinely want to build a great understanding and trust between us. I will support you to achieve at your own level and to your highest standard. I want to get to know your passions and interests. If you are around me and others in Homebase I expect you to be kind, polite and considerate. As a subject Learning Advisor I bring; an organised safe and fun learning environment and 20 years experience of teaching art in New Zealand schools to the learners own level of excellence. I believe the process of making is good for everyone and combines all the other  learning areas.The arts can offer you a vibrant, paid, interesting and rewarding career pathway. Being an artist is like running a small business and I will help you develop the skills for this if you want to. You will become an organised  problem solver through making project based art. Me: I have a diploma in visual communication and bachelor of design. Ive worked in industry as an advertising art director, an illustrator and graphic artist.  As an artist I currently paint, draw and work in ceramics. Ive also been a tattoo artist, worked on murals and street art.
Richard Pitts
Reasons to Choose Richard P as an HBLA
You want to set concrete goals (personal goals as well as NCEA credits), and have these tracked visually in the Homebase for all to see
You value cleanliness, neatness and quietness in the Homebase
You want to pursue creative pathways (Film making? Recording music? Writing songs? Photography?) alongside other like-minded students
You are willing to geek out occasionally (D&D? Board games? Lord of the Rings?)
Reasons NOT to Choose Richard P as an HBLA
You're easily offended by honest, critical observations of your learning
You have little interest in socialising with others outside your immediate friendship group
You have little interest in keeping Richard up to date with the progress towards your goals
You're just going through the motions, and not willing to push yourself towards your potential
Year 11 – 13 Community
Richard McCance (Community Leader)
Apart from my interests in History and Languages, I enjoy supporting students with their learning in areas like Film Studies, World Cultures, Political Theory and current events. I work best with students who have a clear idea of what they wish to achieve and who are capable of taking responsibility for their own learning. I am particularly interested in advising students on the application of their learning to wider, "real world" contexts.
Ino Kelderman
My name is Ino Kelderman and I've lived in Christchurch for 30 years.  I am married and we have 4 daughters.
I was born in the Netherlands and stay involved in Dutch culture.   I'm a member of New Zealand's only Dutch language Drama club.
I've been at this school since 2005 and I teach all levels of secondary Maths and a bit of Science.  Occasionally I get to teach some Maori as well.  I'd love to see Kapahaka grow in the school.
My sport has been Judo and Jujitsu for most of my life and although the body is falling apart I still enjoy a fight.
Educational Philosophy?  Don't be afraid to face challenges. School is the best and safest place to make mistakes. So give it a go so you can find your strengths and weaknesses.  Then develop what you need for your future.
Florian Maisonneuve
"I am a learning advisor passionate about Astronomy, but I also like to be challenged and be put outside of my comfort zone sometimes. I always want to be learning something new. As a Homebase LA, I will support you in your learning by suggesting quiet study times, intense sessions of revision and team work."
BRENT SILBY aka DJ MAESTRO B
I am active in three distinct fields:
1. I teach Philosophy and am currently working towards my PhD in the field of Philosophy of Mind. Over the years I have published several papers in a range of Philosophy journals.
2. I am a nightclub DJ. I am a resident DJ at Mashina lounge (nightclub at the Casino) performing most weekends under my alias Maestro B. I also produce a weekly mixshow on 105.7 PulzarFM.
3. Videogame design. I work for local game developer Cerebral Fix as a designer and programmer of arcade-style HTML5 games.
These three areas of activity keep me wonderfully busy furthering my knowledge while also creating music and games for people to enjoy.
For year 7 – 10 students follow this link to make your HBLA selection.
https://docs.google.com/a/unlimited.school.nz/forms/d/1ylo0PSkbrVN5byig0THa7g8Od7XteiPhlCe0NKSGtf8/viewform
For year 11 – 13 students follow this link to make your HBLA selection.
https://docs.google.com/a/unlimited.school.nz/forms/d/1lKnZqxMlBl-JLjW6ytUP2oJyirqkUf3MZO2L4-DNo7Q/viewform
Notices
Jean Cronje and Toby Spanton Gateway Aviation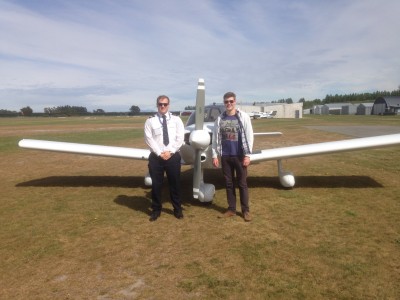 Toby Spanton is photographed with his Flying Instructor Jean Cronje. Jean started his aviation career through Gateway at AoTawhiti.
Toby flew solo last year. He is studying for his private pilot's licence and enrolling in the International Air Academy in 2016 on his pathway to flying International jets.
Robyn Sutherland  – Gateway Coordinator
Additional info for Gateway Aviation
Congratulations to Christian Schonfeld an ex AoTawhiti Aviation Gateway student who has been accepted into the International Air Academy to begin his pathway to flying International jets. The future…" This is your captain Christian Schonfeld speaking and alongside me is my co-captain Toby Spanton, we wish you a great journey to Los Angeles. We are expecting a smooth flight with no weather bombs.We also have on board Captain Jean Cronje who will be flying you on to London"
Well done Toby, Christian and Jean. We wish you well.
Robyn Sutherland  – Gateway Coordinator
NCEA UNPAID FEES 2015
Student payment information FAQ
How can I pay my fees?
2015 fee payments can be made:
online through the student login (with either a valid Visa or MasterCard), or
manually (i.e. through completion of a manual form and payment by direct credit, cheque, NZ Post money order or manual credit card).
Manual fee payments require that you send a completed individual candidate payment form to NZQA. The form includes details on how to make payment and can be found on the NZQA website at: www.nzqa.govt.nz/pay-your-fees. Post your completed form to: NZQA, Accounts Receivable, PO Box
160, Wellington 6140.
Note that financial assistance applications need to have been processed by your school before an online payment is made, in order to display the correct fee amount to pay in your NZQA learner login.
Am I entitled to financial assistance towards my fees and how can I apply?
Financial assistance includes payment for New Zealand Scholarship entry and is available for those students who meet the financial assistance criteria based on income, benefit or multiple-candidate applications from one family.
To apply for financial assistance, the "fee-payer", which is usually your parent or guardian, must complete one application form for all members of your family for whom financial assistance is being sought. Application forms are available online or from your school. Once completed, your form must be handed in to your school for processing. For further information about financial assistance, or to obtain an online copy of the application form see: www.nzqa.govt.nz/financialassistance.
Can I still sit my exams and see my results with outstanding fees?
Yes – you can sit your exams and see your 2015 results from your student login. However, results for 2015 with unpaid fees will not show on your Record of Achievement or be used to award qualifications such as NCEA Level 1, Level 2 and Level 3.
Outstanding fees for previous years
When you log in to the student login, you are alerted to any outstanding fees for previous years.
You can make payment of these outstanding fees using any one of the payment methods described above. Outstanding fees from previous years will have the same effect on your Record of Achievement and qualifications as unpaid fees for 2015. You will not be able to get your NCEA certificates until you pay.
Will my results be available to New Zealand universities if I have unpaid fees?
Yes – NZQA does not withhold your results from New Zealand universities due to unpaid fees.
Brent Silby – Principal's Nominee
Visual Art News
A big thanks you to all the visual arts community, family and friends those completing their senior folios. The beginning of term four is always fraught with the finishing of a years study, time speeds past and we are done. To those doing a level one, two or three folio this year a huge 'well done' to you. Thanks for making this year so enjoyable in the art space. A wee note: Could you try and remember to come and collect residual work and do a tidy other wise its in the bin by the Tuesday of next week.
Images attached to this folios about to be collected for moderation in Wellington and examples of some of this years fine works by level three students completing NCEA folios in printmaking Laura Faulkner and Logan McGregor, painting George Humphries, design Christina Perring and Lewis Hohan. Good luck to these people as they will get their marks and folios back in early January of 2016 and see you at graduation.
House keeping:
If anyone has old rags, news papers, takeaway containers, ice cream containers. These will gratefully received anytime in P5 – Ao Tawhiti Art Space.
Holly Ramsay – Learning Advisor
BOXWARS 2016
Students have been busy forming teams, debating and agreeing Timelines, Rules of Engagement and Victory Conditions and have now started design and construction:
Jared Gallagher – Learning Advisor
Discovery Campus Athletics Day
Next Thursday 12th November, starting at 1.20pm Discovery campus will hold its first Athletics Day!
Events will be:
Short Sprint
Long Sprint
Shot Put/ Beanbag Put
Discus/Quoit Throw
Long Jump
High Jump
Students will move from event station to event station in their age group to take part in the different events.  For this I need lots of parent help to manage the different events, rotate with the students and help record our tamariki results.
Love to see as many there in support of your children. Cross Country was a success and I hope to make this the same.
Dean Crawford – Learning Advisor
EFS
Education for Sustainability students are "In Action".  Which means we are using all of our skills from this year to look for ways to improve life around the school, our community and our homes.  We have our eyes fixed solidly on the future being a better place for all to live.  Recently we collected data on the amount of rubbish on the roads between the school and the supermarket with a focus on what could be recycled and what is not biodegradable.  We have turned this research into an action plan for improving our options for rubbish separation and recycling in the campus area.  This includes ideas for signage and bin design and we are happy to share this with anyone interested including other schools.  Its exiting to see a result from all our study this year.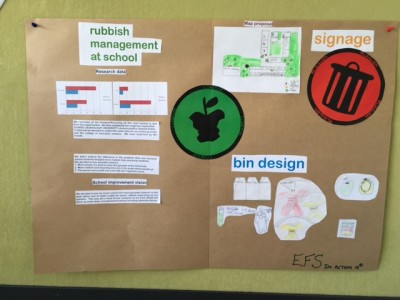 Brent Barrett – Learning Advisor
UPT DIGITAL
Visit to EPIC Innovation and the Pop-Up Lab
Last week, a group from UPT Digital went to EPIC for a tour around the tech companies.  We caught up with one of our old friends, Ben Reid, of Memia Consultants.  Ben gave a quick lesson in how to scale up your start-up company rapidly, through Venture Capital investment, or on a much smaller scale at a slower pace.  Definitely food for thought!  We've arranged to go back for a visit to present some of our monetisation strategies to Ben, for feedback.

It was useful for us to find out which development tools each company used, and why.  We noticed the work environments were very quiet compared to ours, but apart from that, our UPT Digital space was similar.  We're planning another visit to catch up with a few people we missed.
Next, we went to catch up with Bridget McKendry and Carl Pavletich at the Pop-Up Lab.  Bridget showed us around their awesome space and shared a lot of creative ideas about how we could make cool furniture for our innovation space.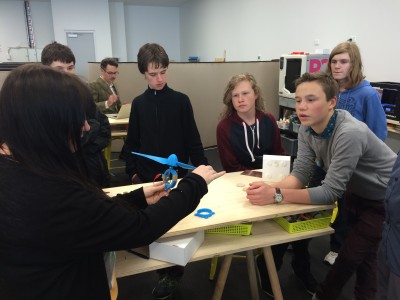 Lightning Lab CHCH Demo Day Event
On Thursday, our space turned into the Green Room for the Lightning Lab CHCH start-up teams.  It was cool to hang out with about 40 tech entrepreneurs as they prepared to pitch to potential investors.
Asher Foster, Eiko Olykan and Kaleb O'Donnell, came along to the event to meet people and watch the pitches.  It was a great opportunity for the boys to see what the delivery, content, and design of a 5 minute pitch is like.  We gathered some more business cards for our wall as well!  Eiko said it was inspiring to be around the tech entrepreneurs, which reminded me of how important it is to connect with the wider community.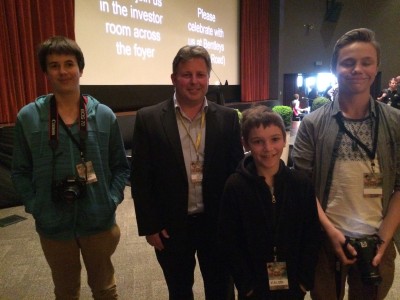 Renea Mackie, UPT DIGITAL
7-9 update
It has been great to get positive feedback from students and LAs regarding student engagement with the 4.2 programme. The extra range of interesting classes and workshops has resulted in higher levels of motivation, and some excellent conversations about learning.
Parents visiting the community have also commented positively on the environment. We are encouraged by this, and feeling excited about the future for the communities of learners for next year, as largely the new structures will enable these choices to carry on.
Matt Parkes – Community Leader
Junior Community News Week 5 (5th November 2015)
Cross Country
Cross country was a great success for lots of our guys. So many gave it a go even though it was tough going for them. We had a number of children who ran it to win which was fabulous and a number of children who ran it to participate which is equally fabulous. It is nice to see the juniors willing to take on a challenge and believe in themselves. I saw kids running hand in hand, others cheering them on. Some stopping and waiting for friends to catch up or to tie someone else shoe laces. For me it is special when we get to see the power of some of our Core Values.
Camp
The biggest part of our week this week was spent on camp. We had a large number of our children and parents at Waipara Riverside Park. The weather was a bit shaky the first day but this didn't slow the children down. Building community is a big part of the camp and we had opportunities for kids and parents to work together. Lots of little workshops sprang up and of course the shared dinners and lunches.  There were also ample opportunities for kids to have fun and challenge themselves. Kids did the Flying Fox, Bike Track, Rope Swing, Confidence Course, dry mud slide and thanks to the sunnier day on Thursday, the Waterslide too.
Kay Hayes – Community Leader