School Holidays – Saturday 9 July – Sunday 24 July
Term 3, Week 1 (Monday 25 July – Friday 29 July)
Monday 25 July – First day of Term 3 – Discovery Campus
Monday 25 July – IEMs – Unlimited Campus
Tuesday 26 July – IEMs – Unlimited Campus
Wednesday 27 July – Term 3.1 Begins – Unlimited Campus
Wednesday 27 July – Tour, Discovery Campus
Friday 29 July –
Term 3, Week 2 (Monday 1 August – Friday 5 August)
Friday 6 August – Newsletter published
Message from Steven
Holidays
It's been a phenomenally busy term at Ao Tawhiti Unlimited Discovery.  There's been celebrations, trips, cool courses and new learnings.  Make sure that you take some time across the next couple of week to enjoy yourself, as well as spending some quality time with your family and friends.  Thank you so much to my fantastic students and my wonderful team of LAs for all of your hard work in Term 2.  Thank you also to the fantastic group of parents and whanau that continue to support us.  I hope that everyone comes back from a restful, adventuring holiday ready to keep smashing out awesome learning that follows your passions.
Photo Comp – Last chance
Competition closes on Monday 11 July.  I've had some fantastic entries already, but there's always room for a few more.  Check out last fortnight's newsletter for details.
Steven Mustor – Director
Message from Duncan
Formal
Last Friday evening Mashina Lounge was the venue for our school formal. This fantastic evening was organised entirely by a small group of our senior students. Their attention to detail and skilled planning ensured that everyone had a great night!
Details
Just a reminder if any of your details (phone, address, student health information) change then please notify the office as soon as possible. When planning trips, notifying home of sickness, sending emails it allows us to be better prepared if the information we have is accurate and up-to-date.
Driving
It's come to my attention lately that a number of students are driving themself to school. In this situation we have some health and safety requirements that we need to manage. Please ensure that if your student is bringing a vehicle to school they have completed the appropriate paper work and are aware of the expectations we have.
IEM Days
These are scheduled for the first two days of term: Monday July 25 and Tuesday July 26. The IEM booking calendar is now available on the website and can be located under the "what's on" tab on the website.
End of Term
Well we have made it the half-way point of the year. Thanks go out to all those in our community who work so very hard to make this school such a wonderful place to be. I wish you all a happy and relaxing holiday and look forward to seeing you all next term.
Duncan Woods – Deputy Director
4-6 News
Early Humans Presentation
Luca Parret has been working hard on an inquiry about early humans and hominins. Here is his David Attenborough inspired documentary that he wrote the script for.
Take a look at this video on YouTube: https://youtu.be/ihdT-RU0xrQ
Melva Gill – Community Leader
7-10 News
Students restore takahē enclosure
An area of Willowbank's takahē enclosure has been restored and revitalized thanks to the work of some of our Year 10 students.
Harriet Matthews, Grace Schischka, Fern Robinson, and Faith Peters alongside the University of Canterbury Student Volunteer Army (SVA) and other local Year 10s, took on a restoration project as part of the SVA's UCan volunteer programme and in the space of a few hours transformed the enclosure. The UCan programme encourages local secondary students to become leaders in their communities through volunteering while being mentored by SVA members.
Despite a chilly start to the day, around 35 Year 10 students from Christchurch schools arrived eager to get to work. The group soon got to work clearing the areas before planting young native trees and grasses.
Bonnie Mae and Daniel Stack, the SVA's In-Schools Mentors, were impressed with how the students were keen to get stuck in despite the cold frosty weather on the day. "We noticed that they got through the work very quickly due to them working so cooperatively both within and across schools."
At the end of the morning's work, the students were treated to lunch by the SVA as well as the opportunity to see one of Willowbank's kiwi up close.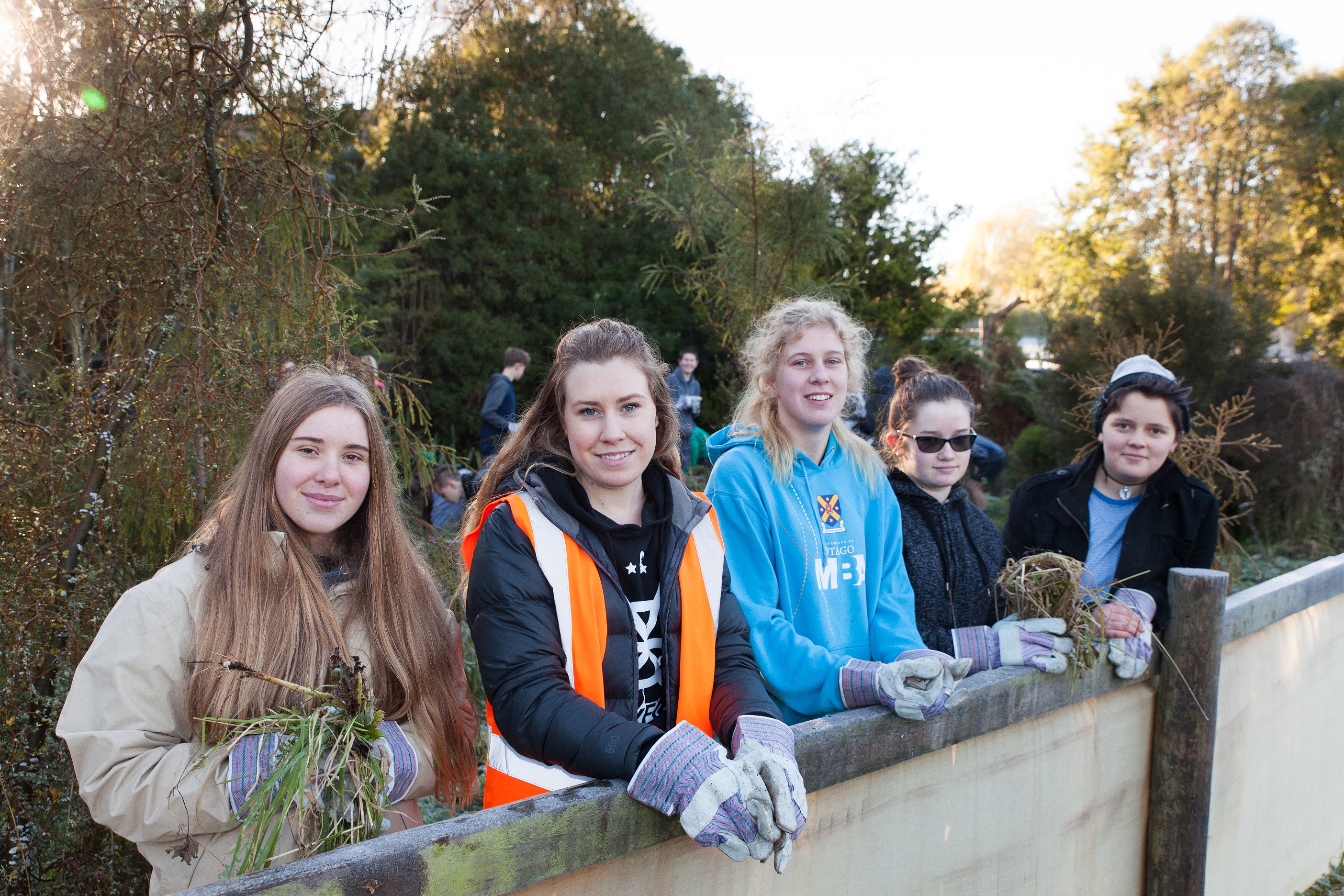 Jarrod – University of Canterbury
Collect, Connect and Create with Photography
Year 7 – 10 students from Kay's community have been meeting regularly to work on a collect, connect create photography project. We have connected with professional photographer Peter Walker who has helped guide us to become great photographers. This photo shows us preparing for our upcoming Photo Exhibition.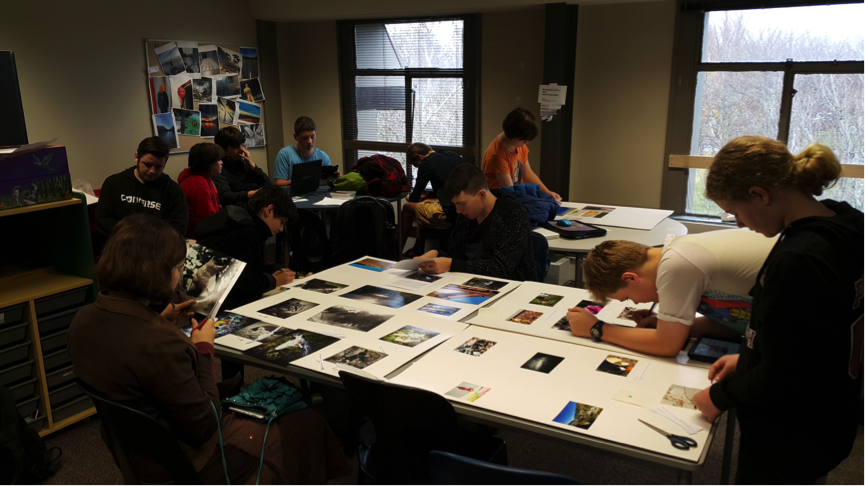 Steve Hunt – Learning Advisor
Kay's Community Update
Kay Hayes – Community Leader
11-13 News
Senior Rebuild Conference a huge success
On Thursday students in the 11-13 communities held a conference to discuss and share ideas for the rebuild of our school.  Joined by a group of Year 7-10 students they heard from some fantastic speakers, including architects with the ministry, a landscape architect, a board member who has been involved in the property team from just after the earthquake.  They also had a pre-record video presentation from a speaker with Architecture for Humanity, a group that has worked previously with our school including fundraising a substantial sum of money to support our rebuild.  The afternoon was spent with the students sharing their ideas about their wants and needs for the new school.  The students became so engaged with the process that sessions ran over time and discussion continued well after the finish of the conference. It is exciting to see such energy and enthusiasm being generated by our students and the strength that this will give our rebuild process. The discussion from the day have been captured and begins the journey to provide information and ideas to the architects and Ministry of Education about what our students need and want from their new school.
Emma, Richard & Pete – Community Leaders
Boyle Opportunities
Boyle River – Outdoor Education Centre
Robyn Sutherland – Gateway Coordinator
Dance Update
Hi guys – we have had a bit going on with dance this term so I though I would give you all a wee bit of an update. It was soo great to come back from leave and see how hard the students have been working.
Stage Challenge – during week 3 our team competed in the annual event at Horncastle Area. They were first to rehearse and last to perform – so she was a long one.  Well done to the team, when I returned and saw the video it was clearly evident you had refined the stage performance very well. Thank-you to Errol, Marlene and Mel for your help on the day and a special thank-you to Kate for stepping up and supporting the students in my absence. Lastly – I would like to say how very proud I am of my student leaders, Madi and Josiah! 🙂
Hagley Dance Company visit – last week these guys came in and ran a workshop with some of our dance students. It was very cool to see their students teaching our students some new skills and for them to learn more about our school.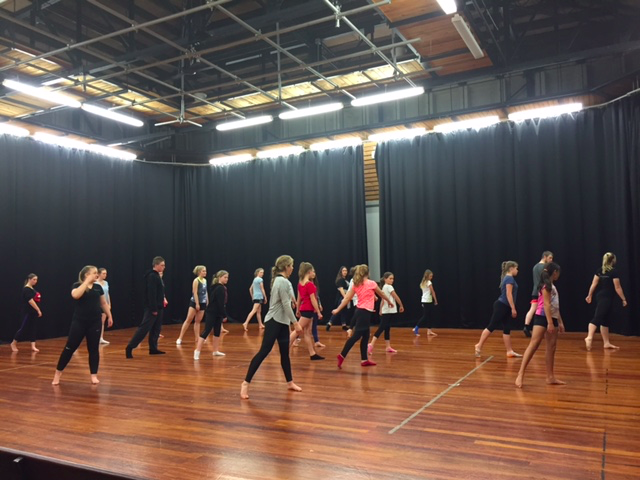 Zion Dance – we currently have Matilda from Zion coming in to work with our seniors to put together a hip hop routine ready for showcase next term. It is looking very cool!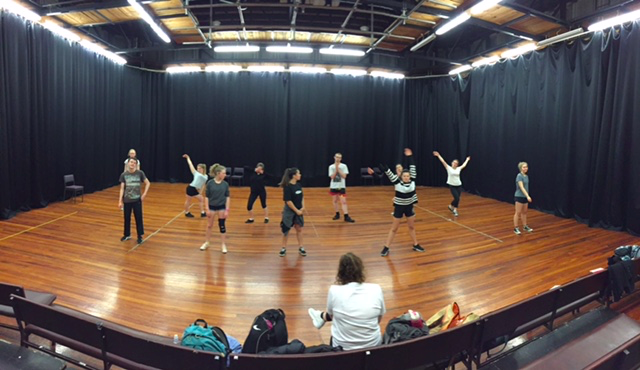 Dance Showcase Term 3 – keep an eye out for info regarding this. We will be showcasing student performance and choreography skills from year 7-13.
Sarah Burnett – Learning Advisor
Update on art for end of term 2
The art space ends the term buzzing.
It's been a very busy term with our Christchurch City Council Foyer Exhibition fro term 2 complete a great success. The next exhibition will be in September so watch this space for more updates next term. The focus for the second exhibition will be the work of senior art students with those doing an inquiry making this their big final blast. Work will be for sale and commissions by negotiation will be very welcome.
The potting wheel has been spinning with Gap student from America Joshua Wolfmann turning out pots with great gusto. We will miss Josh as he returns home this weekend but promises to keep in touch.
The slip casting women – Ana O'Donnell, Holly Palmer and Kate Reynolds have been making a range of products that can reproduced. They have nailed it finally with many experiments to prove this. See Photos of their lovely planters.
Level two artist Sophie Brown is making some amazing drawings using her experience with dance and body movement. It will be great to see what she does for the September exhibition.
Have a great break everyone from all of us in the art space see you need term.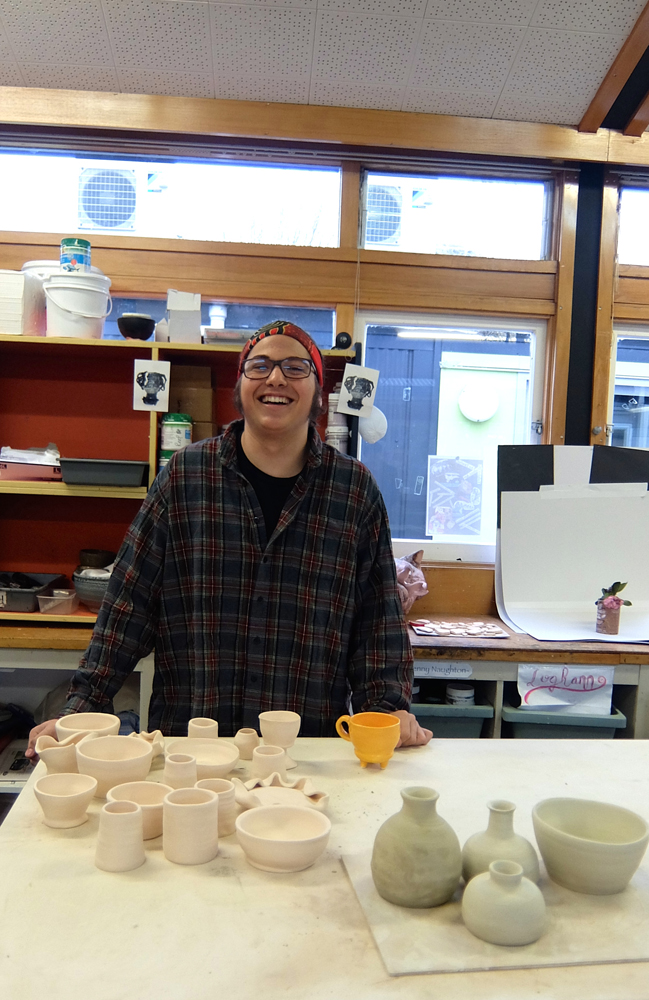 Holly Ramsay – Learning Advisor
University of Canterbury Open Day and Vision College Open Days Thurs 14 July
see: http://www.canterbury.ac.nz/future-students/campus-tours-and-future-student-events/uc-open-day/timetable/
and http://visioncollege.ac.nz/about/campuses/christchurch/
Kirsty McMillan – Careers Advisor
Gateway Update
Ruby McNab has achieved her OutdoorPHEC Award (Pre-Hospital Emergency Care). Ruby now has the skills to deal with injured people in remote areas until emergency services arrive. Ruby trained alongside outdoor instructors for a week and stayed at Craigieburn.
Ruby has just spent a week at Methven and Mount Hutt Skifield with NZSIA (NZ Snowsport Instructors Alliance) where she achieved Level 1 Snowboard Instructor status.  This is an international qualification.  Next step for Ruby is  a work placement with the Ski Patrol at Mount Hutt Skifield.
Kianna Austin Paterson is studying Animal Care and working at Willowbank Wildlife Reserve. Kianna is photographed with her employer and favourite animals the Lemurs.. Kianna is to be commended for being given the high trust task of helping to look after the Lemurs.
Robyn Sutherland – Gateway Coordinator
Physics Update
On Friday, July 1st, the level 2 Physics class spent a day at the University of Canterbury to study radioactivity. We explored the discoveries of Ernest Rutherford and other scientists, we handled radioactive material and measured their decay rate and finally we had fun with superconductors and liquid nitrogen.
Below: Lily Bohr, Casey Rutherford, Sarah Thomson and Leon Dalton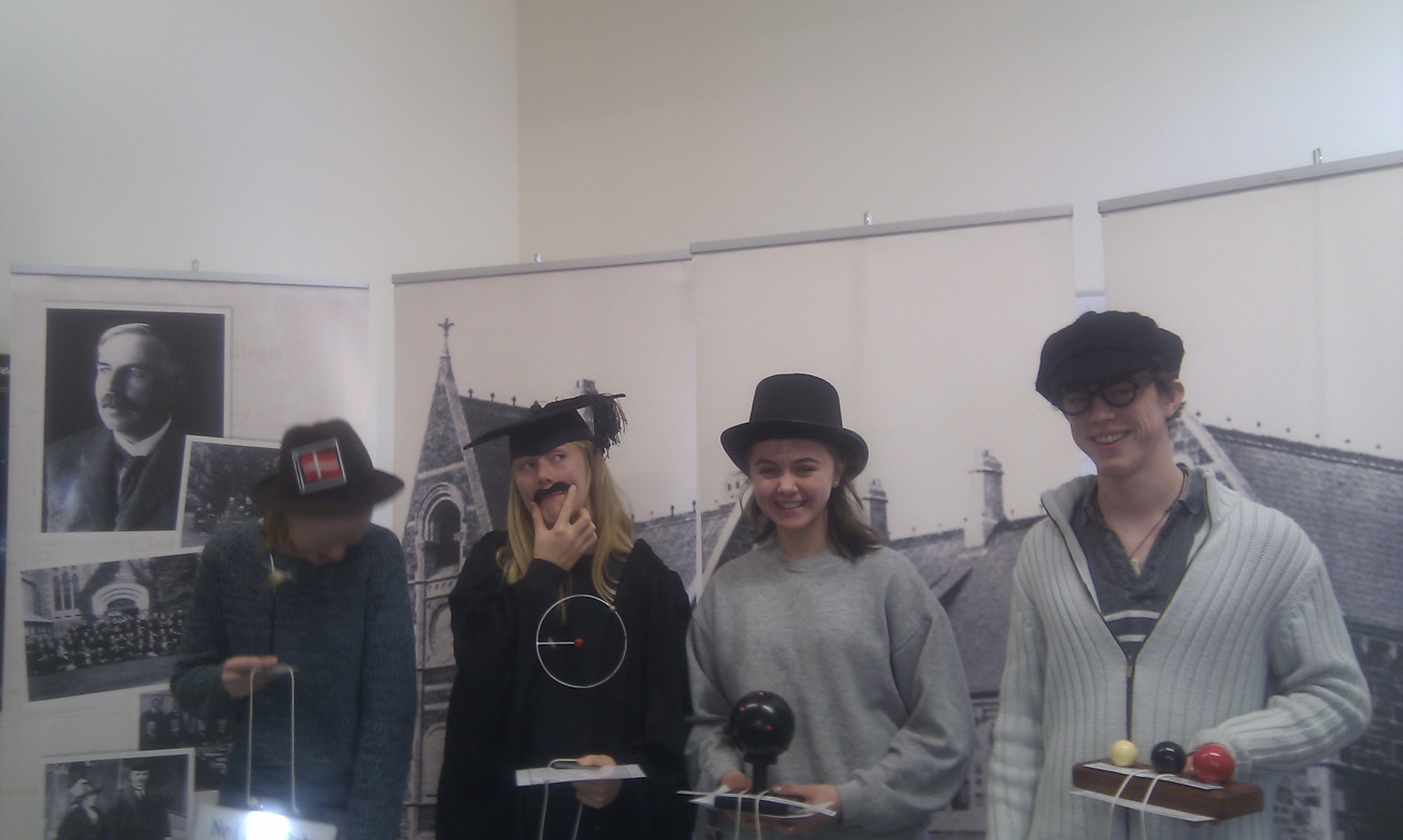 Below: Thomas, Alex and Rowan, three dedicated scientists being gold foil for an experiment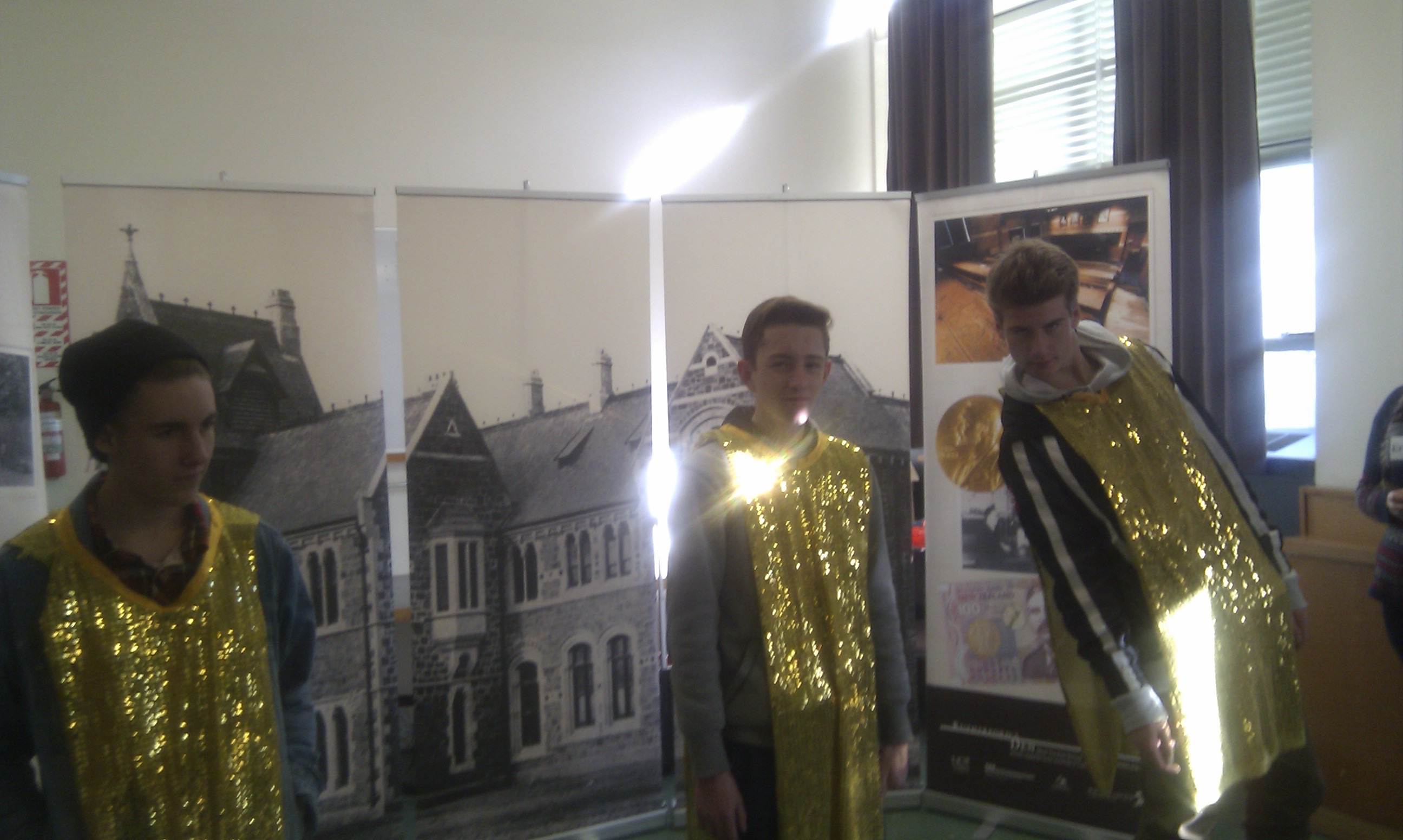 Below: Rowan taking a picture of a magnet floating in mid-air above a superconductor cooled with liquid nitrogen.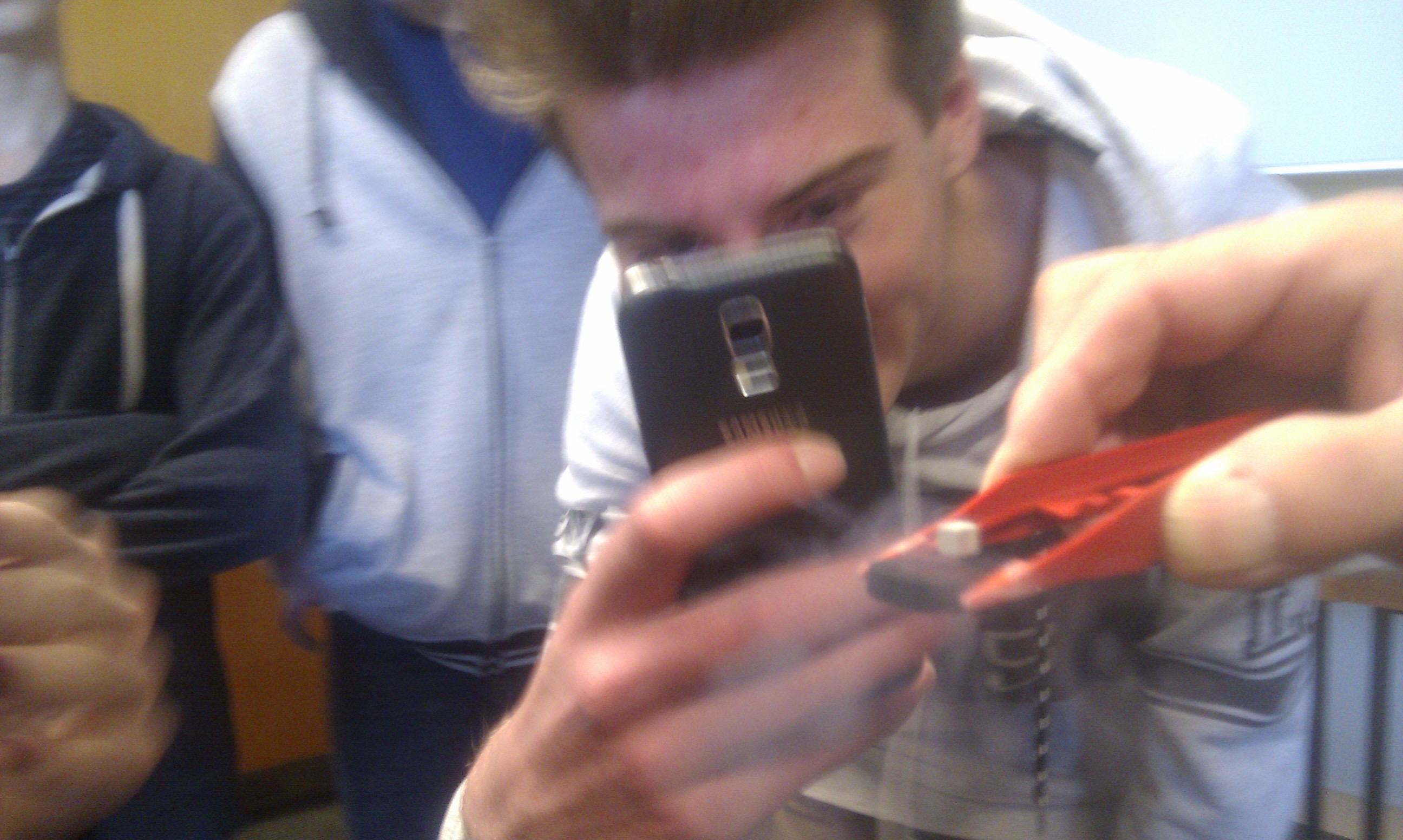 And a last one for the road: Casey and her Rutherfordian moustache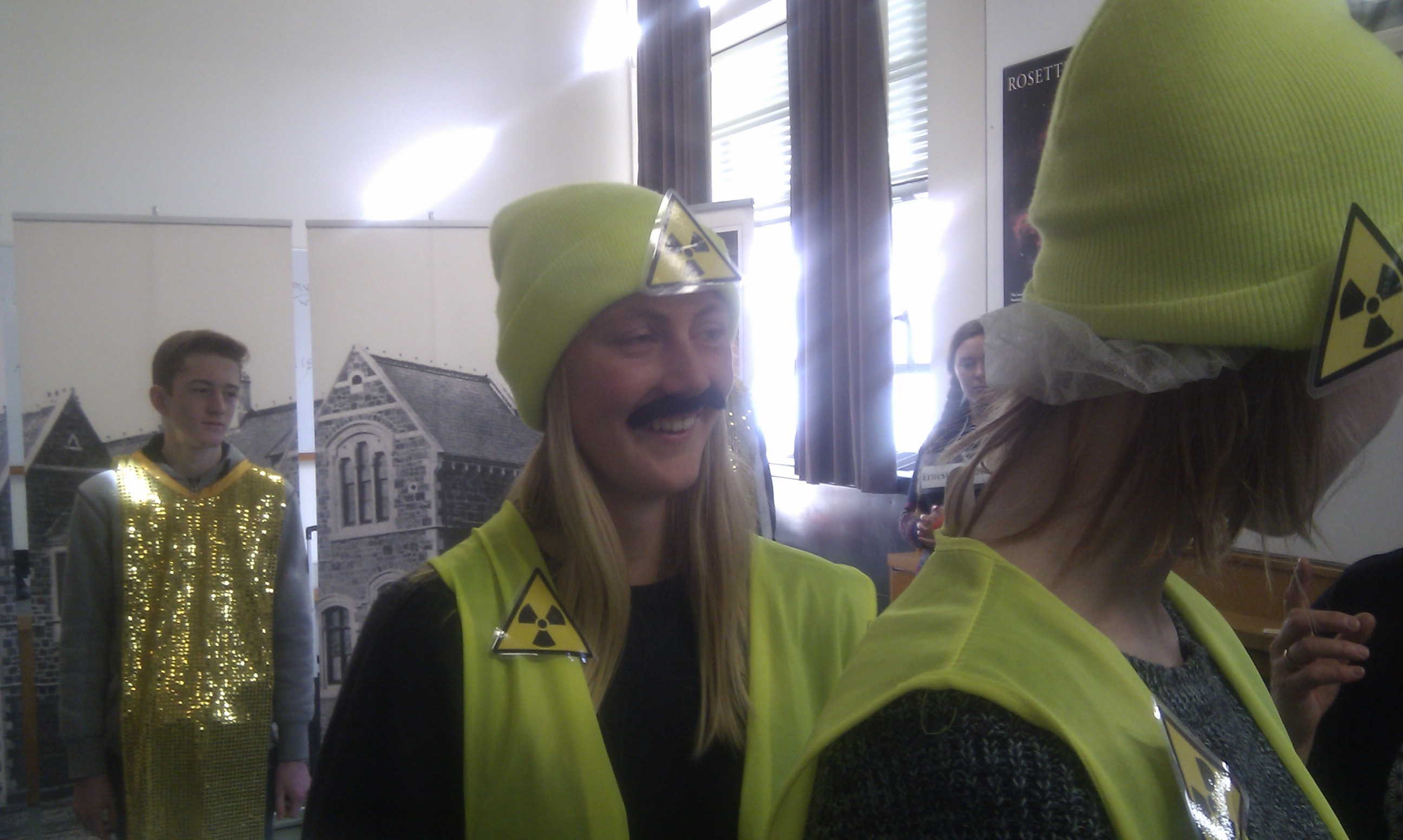 Florian Maisonneuve – Learning Advisor
English / Media Update
In Purple English/Media, the following students achieved with either Merit or Excellence on their 'Create a Visual Text' assignments at Level One NCEA.
The task involved representing an idea from a film (The Matrix) visually, as a kind of album cover. Some of these folks may end up being graphic designers or storyboard artists in the future… watch this space!
Richard Pitts – Learning Advisor
On the grill: Joshua Wolfman, departing exchange student from Vermont, USA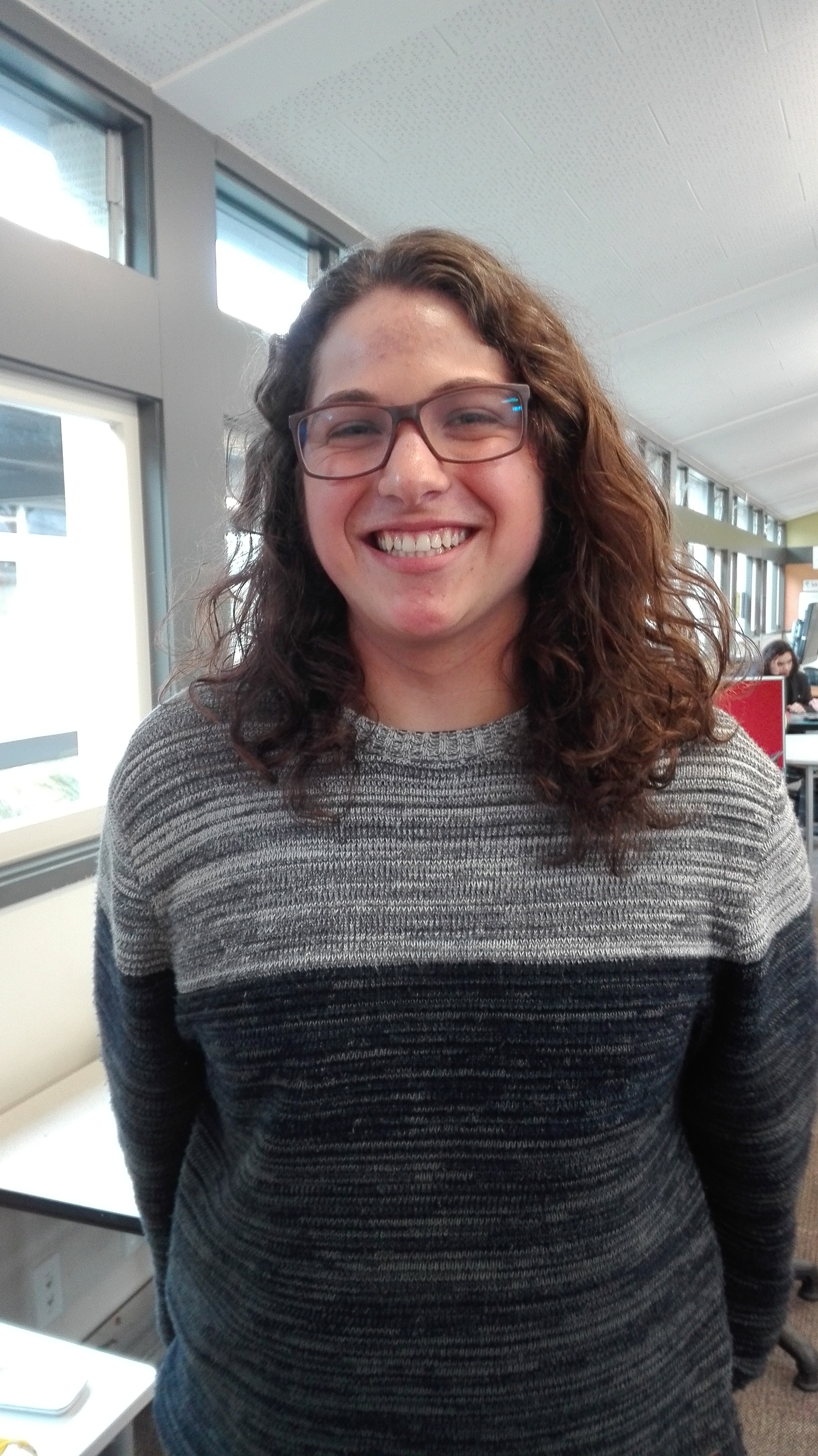 Tell us about Vermont…
I live in Brattleboro, a small town near swimming holes and ski fields.
Best things about Ao Tawhiti?
FREEDOM! Everyone can be themselves.
Fav NZ foods?
Pineapple Lumps, Bluebird Green Onion chips, Marmite
Advice for students considering doing an overseas exchange?
Just do it!
Best Kiwi sayings?
Sweet as, I reckon, and Maaaaate!
How has being here influenced/changed you?
I've gained more art skills, am more aware of the of future study and what I want to become.
Interview by Kirsty McMillan; Photo by Lily Allen
Awesome Article in The Press
Lauren Humphreys show the world how she uses Gateway to support her learning
http://www.stuff.co.nz/the-press/christchurch-life/81266470/christchurch-teen-keen-to-beat-the-boys-and-join-the-air-force.html
Tekapo Astronomy Camp
The annual astronomy trip, a favourite amongst our senior science students, saw 25 students in Tekapo from Monday to Wednesday.
Our caravan of two vans and two cars arrived in Tekapo at 1pm Monday, and we promptly set out on a hike to the summit of Mount John, which granted us breath-taking views of the lake and surrounding snow-capped peaks. Once at the summit, we received a fabulous tour of the observatory's MOA and One-Metre McLellan telescopes, then completed a scavenger hunt around the summit. After a fantastic dinner that our students put together themselves, we spent the evening stargazing on the shores of the lake stargazing, identifying constellations, getting close-up views of Jupiter, Saturn, and Mars with Florian's telescope, and keeping an eye out for shooting stars.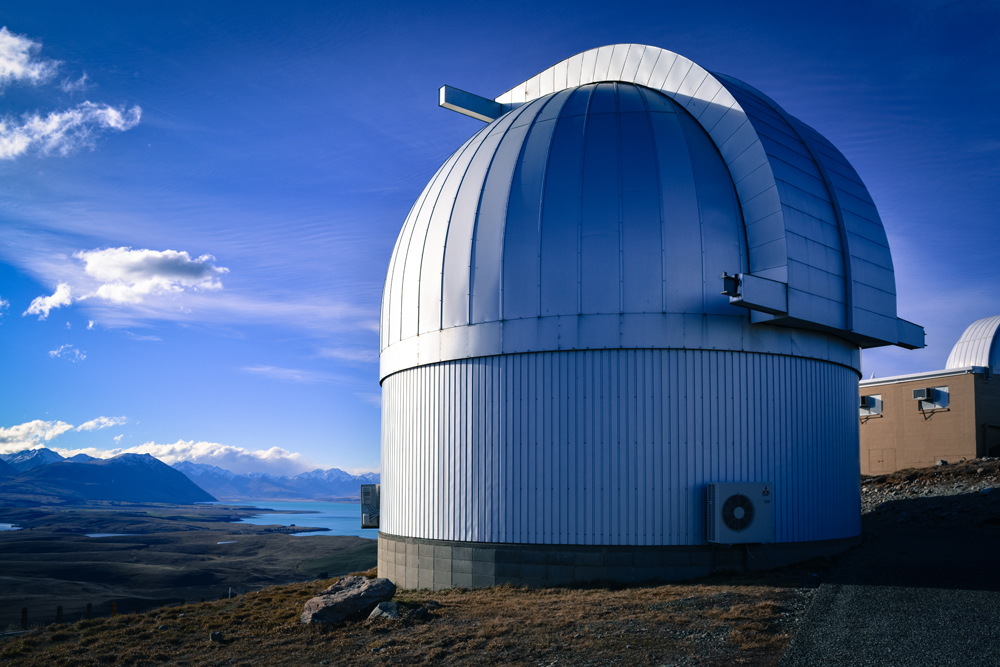 On Tuesday, we got an early start with a tour of the Tekapo A hydroelectric power station, which got our brains going as we discussed the concepts of electricity and magnetism. In the afternoon, we went on a stunning hike around a peninsula, then students used the remaining time to go ice skating or to the hot pools before dinner.
We then promptly sped up the road to the observatory to take advantage of the great weather, and we were treated to magnificent views of several celestial objects through the One-Meter telescope. We saw a dying star (Eta Carina), an open cluster where stars are being born (the jewel-box), galaxies such as M83 (a barred spiral galaxy) and the Sombrero galaxy, and Saturn with its rings. Thanks to Alan for giving us this marvellous opportunity!
We made a stop at the Church of the Good Shepherd on Wednesday morning before we sped home. This was a fantastic trip, with fantastic weather. We would also like to say a huge thank you to parents Peter and Roy for all of their assistance on this trip!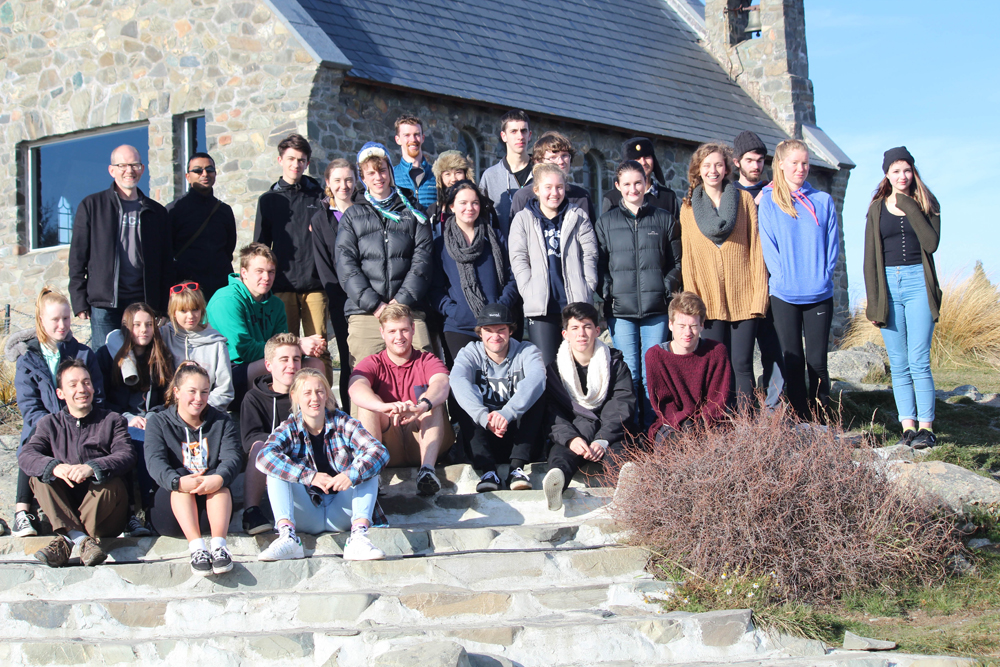 Zack Williams – Learning Advisor
Level 3 PE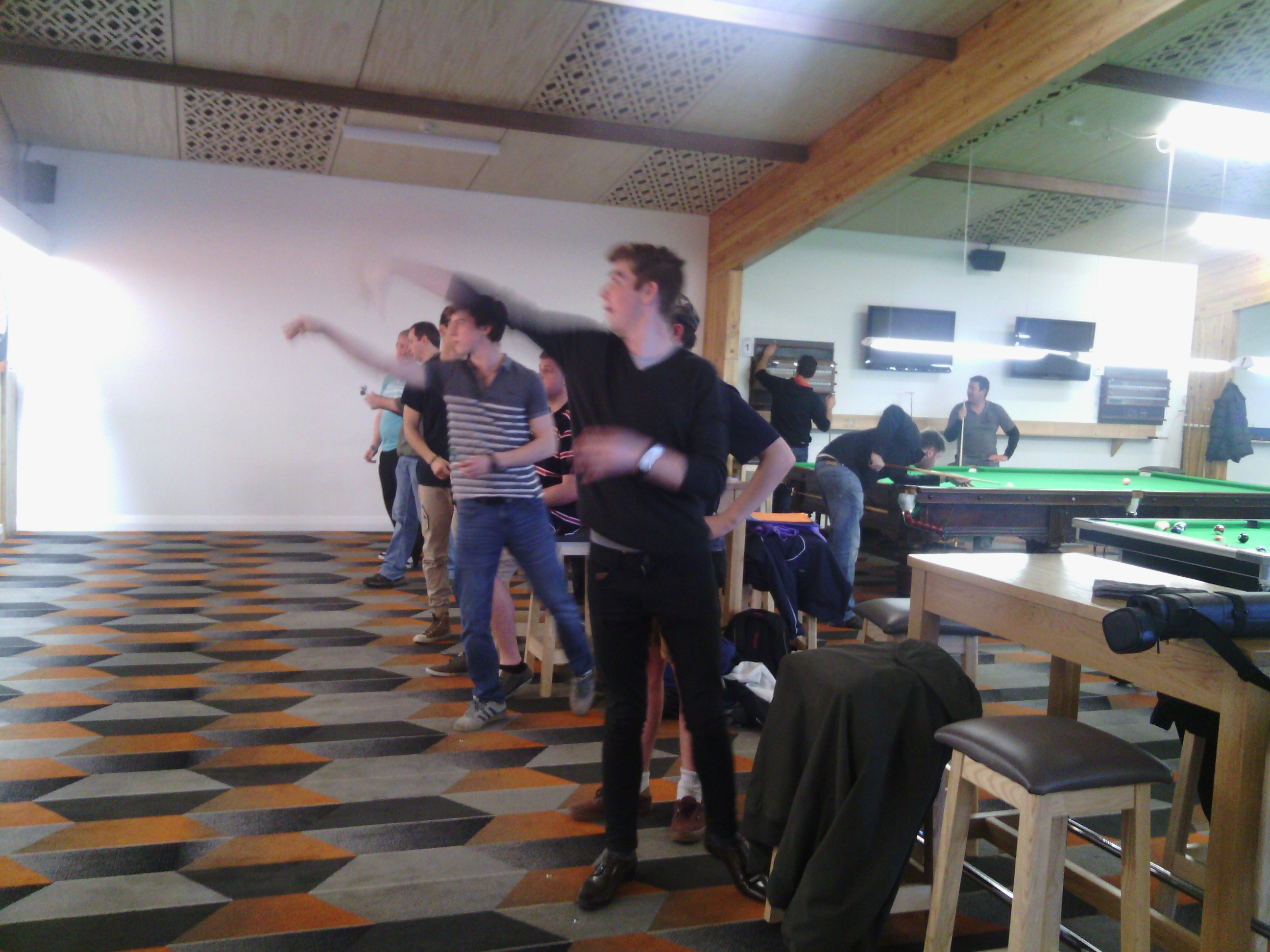 Level Three students were at Papanui Club on Thursday trialing out various physical activities through the ages.  Part of this experience goes to their write up where they have to critically analyze their physical activity experience to date and create strategies for lifelong well being.
Emma Barrett – Community Leader
Other Notices