---
Upcoming Events
Term 4, Week 5: Starting Monday 11 November 2019
Monday 11 November – Thursday 14 November, 8.30am – 5.30pm: NCEA Exams, Science Labs, Floor 2.
Tuesday 12 November – Thursday 14 November: Pekapeka Camp
Wednesday 13 November, 8.15am: Breakfast Club
Friday 15 November: Canterbury Anniversary Day [School Closed]
Term 4, Week 6: Starting Monday 18 November 2019
Monday 18 November – Friday 22 November, 8.30am – 5.30pm: NCEA Exams, Science Labs, Floor 2.
Tuesday 19 November: New LA presentations
Wednesday 20 November, 8.15am: Breakfast Club
---
Messages
Message from Steven
Sorry for being a little late with the newsletter. I wanted to make sure that we had all the best stories that capture the past two weeks. Hopefully it was worth the wait!
Graduation
Another year, another amazing set of stories from our Learning Advisors for our graduates, at a new and very cool location. The Piano was an excellent venue to celebrate the phenomenal journey taken by each of our graduating students. It felt like we were back in the city where we belong. Thanks as always goes to Duncan for making sure that the show ran smoothly. I was also really grateful for the work Kay and Clint did behind the scenes to make sure that the evening was a success.
Students arriving early / staying late
We are still finding it extremely challenging to get students to leave school at the end of the day. This is a problem for us more so now than usual due to NCEA exams being held in the afternoon. Can you please speak with your child about leaving immediately once they have finished their learning.
Appointments / presentations update
This week applications for several positions in the school close. We anticipate presentations for the Learning Advisor, Community Leader and Senior Leader positions to happen on Tuesday 19 November. I will message the entire community on the website and facebook with an update once these details have been confirmed.
Start of Year info for 2020
Next year we are looking at starting the year in a slightly different way. In order to support new students with selecting their homebase LA, we've decided to have a "meet the LA / speed dating" day just prior to IEMs. We hope that this will allow families the chance to make a more informed choice. For existing families, homebase selection will happen at the end of this year. If something happens over the holidays and you wish to make a change, you will still be able to. The timeline for the start of year looks like this.
Friday 31 January – Homebase selection day [School open]
Saturday 1 February – Homebases finalised
Monday 3 February – Teacher only day [School closed]
Tuesday 4 February – IEMs (for existing students) [School open]
Wednesday 5 February – IEMs (for new students) [School open]
Thursday 6 February – Waitangi Day
Friday 7 February – Teacher only day [School closed]
Monday 10 February – 1.1 begins [School open]
We have tried hard to keep our start of year administration days to a minimum and work around the rather troublesome placement of Waitangi Day which falls on a Thursday in 2020.
More info about the start of next year will be shared towards the end of the year and again in the last week of January 2020.
Steven Mustor
Message from Duncan
Graduation
Last Friday we held our graduation. For the first time in many years we were in a new venue. It was a stunning evening hosted at the Piano. It simply amazes me each year to hear the stories one by one of each of our graduates as they come to the stage with their LA. The path they have taken and the journey before them highlights all that is wonderful about our school. There is evidence in graduation that we are a school that is relationally strong and sets students on a myriad of diverse and personally relevant pathways.
It's a team effort pulling together graduation and many people contribute in many ways to make it a great event. Particular acknowledgements need to go Marlena and the papa haka team, Archie and Laouena for great performances, to Kay for her behind the scenes efforts, Kirsty for proof reading the citations, Derek for preparation of citations and leaving certificates, and Clint for his work in leading the haka.
Exams
On Friday exams got underway. For the next few weeks these will be taking place on level 2. As much as possible we are asking people to stay off the second floor during this time. If you do need to be on there please be mindful that exams are in progress and that we need to keep the noise down.
Homebase Selection 2020
I've had a few inquiries about 2020 HBLA selection. At this stage we are waiting until we have completed our current appointment process before proceeding. With so many positions advertised we felt it best to let that process complete before establishing communities and homebases. The intention is to begin the process this year for existing students and complete it early next year for new students (or current students who have a change of mind over summer).
Duncan Woods
Message from Niki
Ngā mihi ki a koutou ngā whānau,
Last week I spent 4 very full days interviewing families who want their tamariki to come to our school. One emerging theme from this year was a desire for parents to have their children seen and catered for as individuals. There seems to be a belief that mainstream schools continue to operate the way they did when we were students – apart from the huge barn-like spaces and enormous groups which are seen to be detrimental to the education of their children. While we have large spaces to work in, larger classes than people think and a nice balance of calm and chaos, perhaps what we do differently to mainstream is treat students as the people they are.
This next part is a little tricky to write without sounding like I'm preaching, but I feel strongly enough about it to have a go. During the interviews, a number of parents told me in front of their child about his/ her anxiety. This concerns me greatly. Our tamariki listen to what we say and they become that story. I'm not saying there isn't anxiety in certain situations, I'm saying we need to be mindful about how we talk about our children in their hearing. Labeling the occasion and not the child, means 'anxious' does not become a badge the child wears, and we should help them develop strategies to manage situations. Here are a couple of articles if you're keen to know more, and as ever, I'm always happy to talk.
Lots to be grateful for
It was a heavy week, work-load wise, and I am hugely grateful to many people for their support.
To the level 4 LAs and Learning Support Staff – thank you for getting on with a particularly crazy week in my absence.
To my SLT team for your encouragement when I had used my quota of words for the day and had several hours of interviews ahead of me.
To our tamariki and parents, for always making me smile.
A special thank you to Sarah Marshall for organising a staff Secret Special Someone last week, I hope everyone had fun.
And finally, thank you to my SSS; I was thoroughly spoiled with treats, coffees, a magazine, and then on Thursday I was surprised with a delicious meal which frankly saved me! By then I had interviewed somewhere in the region of 60 tamariki and not having to cook that night was a lifesaver! To top all of that on Friday, my SSS made a cake for my whānau to share over the weekend. I am very grateful to whoever my person was – thank you! (I might be digging into said yummy cake as I write, and yes, I'm sharing it…)
Community Pekapeka camp
Good luck to everyone going on the Y0-3 camp this week. I hope the weather will be good to you and everyone gets enough sleep! A huge thanks to Nadine, Suze, Mel and Gina for organising a great camp, and to Jill for sorting the money. Everything that goes on behind the scenes makes our camps a huge success, and I know you're all going to have a wonderful time.
It will be quiet on level 4 (great for those sitting exams)!
Enjoy a short week, hard to believe we are almost at the end of the year.
Niki Stephenson
Notices
News
Floor 4 News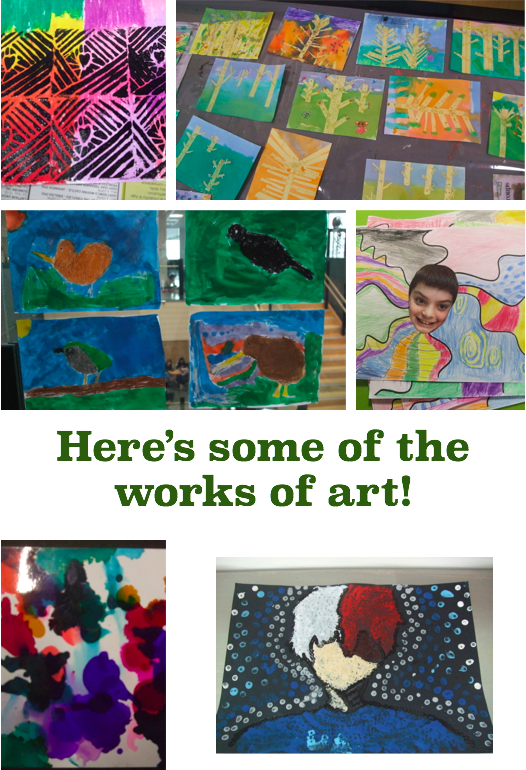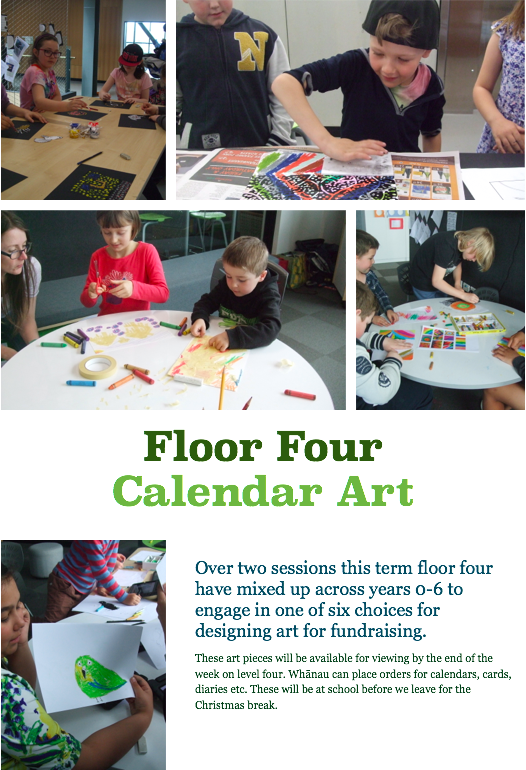 Nadine Walmisley
Junior School Tabloid Sports!
Students from Steve's Sports Academy Homebase have been learning about event management and last week they coordinated a tabloid sports day for the junior school. It was a beautiful day at Hagley Park, and due to all their hard work in the planning stages, everything went off without a hitch! Our junior school students enjoyed competing in a variety of games and their enthusiasm was great reward for the organisors. A big 'thanks' goes out to all the parents that came along in support and made for such a memorable occasion. We are hoping that we have started something that we can continue each year and maybe even add to!
Steve Hunt
Yr 7-10 communities news
We are now one week into the 4.2 timetable and it is exciting to see how quickly the majority of students have settled in to the new format and the opportunities that it provides. The mornings on Mondays, Tuesdays, Thursdays and Fridays now have student selected courses focused around developing numeracy and literacy skills. These are 45 minute classes which have had a positive response from both students and LA's. Wednesday morning is dedicated to developing tools for learning – this is about developing our ability to be awesome self directed learners.
The middle block in the day offers two home base times, an hour dedicated to wellbeing and two inspire sessions over the week. Finally, afternoons are dedicated to PINs and Projects. The projects range from film projects, A drama production, designing houses, forming a rock band and developing the level three climbing wall and more. It has also been great to involve yr 4 – 6s in this also.
This week is a short week with Show day on Friday and a number of students have elected to join a school trip to the A & P show on Thursday. If your student wants to join in on this trip, it is not too late as there are about 25 tickets left. The sign up form is here: https://docs.google.com/forms/d/e/1FAIpQLSeFtdbtrOWUI_5rSpDvIb5mU-CWh8pXLJCJhu73Zm7PLObTQw/viewform?usp=sf_link
In a couple of weeks we have Rekindle coming in to work with students to make some sustainable christmas decorations for a city Christmas Market. Local Businesses are paying for the workshop facilitators and we have the opportunity for up to 90 students to be involved.
Kay & Craig
Leon Forgues – Ao Tawhiti Unlimited Discovery Alumni
I had the pleasure of visiting an exhibition at the Architecture School at Ara. Leon, an ex-student, was exhibiting his work as part of students' final project for the Bachelor of Architectural Studies. Leon's design was impressive and he was one of four students who were awarded a prize. It was great to see Leon's enthusiasm and the skills he has developed as part of his journey from Ao Tawhiti. The variety of work on display reminded me of the many pathways that are available to students that are not always immediately obvious. I look forward to hearing about the next phase of Leon's journey.
Paula Green
Dance Fun
Some dance fun on the last day before exam leave. Photography by Harriet Body.
Sarah Marshall
Music Festival
Congratulations to Adele Matthews, who this week performed in the Town Hall for four nights with the regional Representative Choir for the Canterbury Schools Music Festival.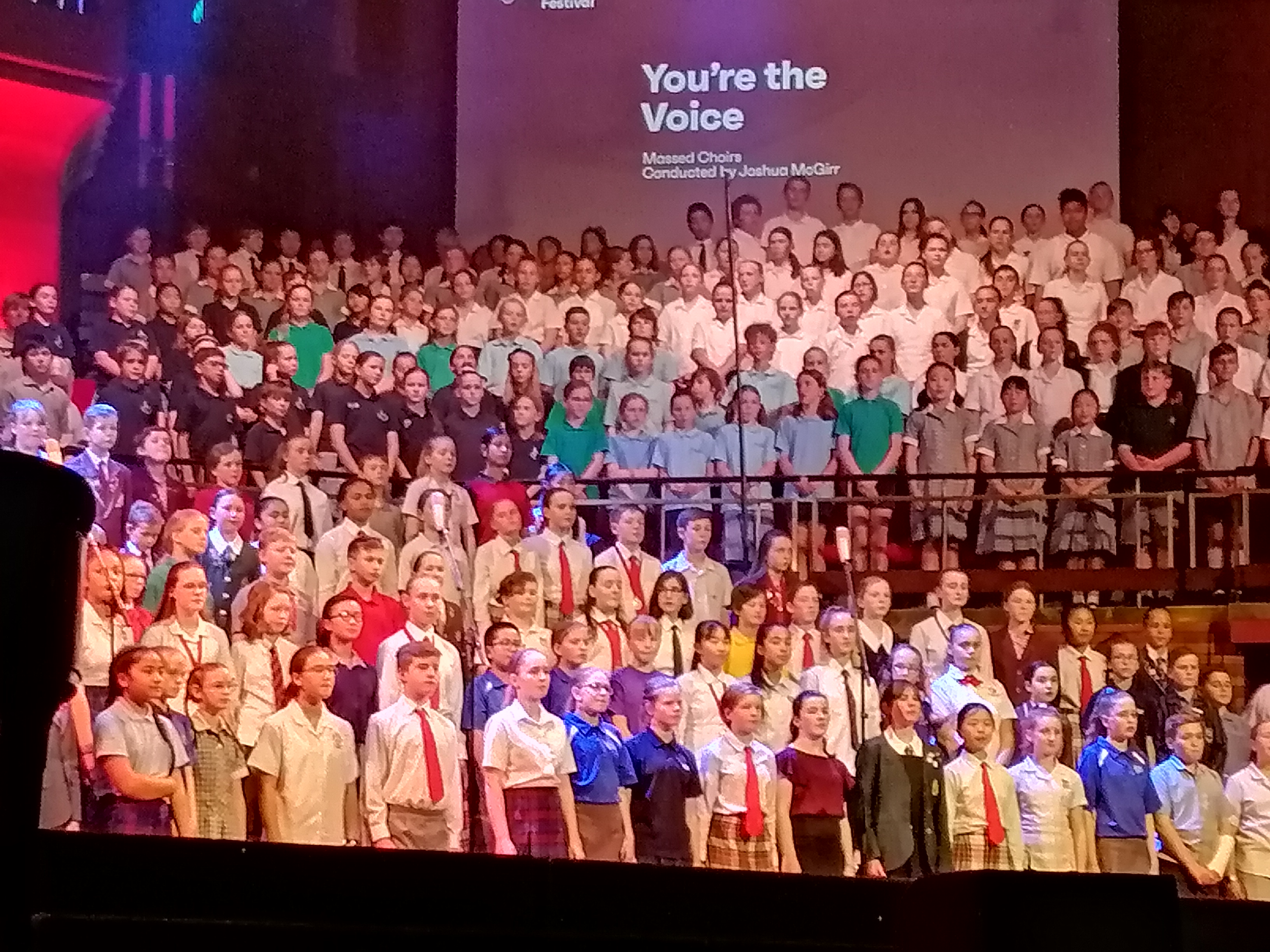 Matt Parkes
Fair Go
Rangimarie Te'evale-Hunt will be on Fair Go tonight (Monday 11 November 7:30pm TVNZ1) as she is one of the secondary schools' winners of the Consumer Heroes. She enjoyed her day spent with Fair Go reporter Hannah and cameraman Pete in our school. Even meeting a representative from Schindler's Lifts.
Her issue was trying to get Te Reo Māori in one of the elevators but pretty much getting nowhere after contacting government departments, a member of parliament and the company who made and maintains our school's lifts, Schindlers Lifts. So when the opportunity was advertised on Fair Go the decision to enter was made.
Marlene Te'evale-Hunt
Sports Coordinator News
Hey Team,
Term 4 has seen us with three teams representing our school at the year 7-13 level, an indoor netball team, a futsal team & our school's first ever competitive softball team. Super cool! As always, these teams would not be possible without the support of our staff, parents & our awesome community.
So, a massive shout-out must go to the Sydenham Kereru Softball Club for kindly donating us some playing kit. Also, thank you to Steve Hunt, Karen Grant & John Hopkins for your support with the softball team, greatly appreciated. Although we were unable to chalk up a win on the scoreboard, I feel like the team has been a huge success. Job well done by all!
Year 7-13 Sports Prize Giving
School Sport Prize Giving will be held on Friday 6th December in the kitchen/cafe area on the 4th floor at school, starting at 4pm finishing around 5-5:30pm
We'll have a potluck dinner & BBQ, so please bring a plate of food for people to share. Could you please let me know in advance if your planning to attend so that we know how many people to cater for?
If there are any students who have represented Canterbury or high honours in their chosen sport this year, could you please let me know, as we would like to acknowledge their success at our prize giving.
Community members, parents & staff: if you have coached, managed or supported (transported etc) one of teams or an individual, we would love to have you along too.
Noho Ora mai
Clint Williams – Sports Coordinator
Otago Polytech's Change Jam
On Friday 25 October a dozen Ao Tawhiti students gathered to learn how to change the world with Otago Polytechnic's Bachelor of Leadership for Change Lecturer, Ray O'Brien. Ray flew up to facilitate a workshop focusing on problem-solving real world challenges.We worked in groups to identify world issues ranging from toxic masculinity to climate change and then honed in on ways we could influence positive change.We will continue working through this in 2020.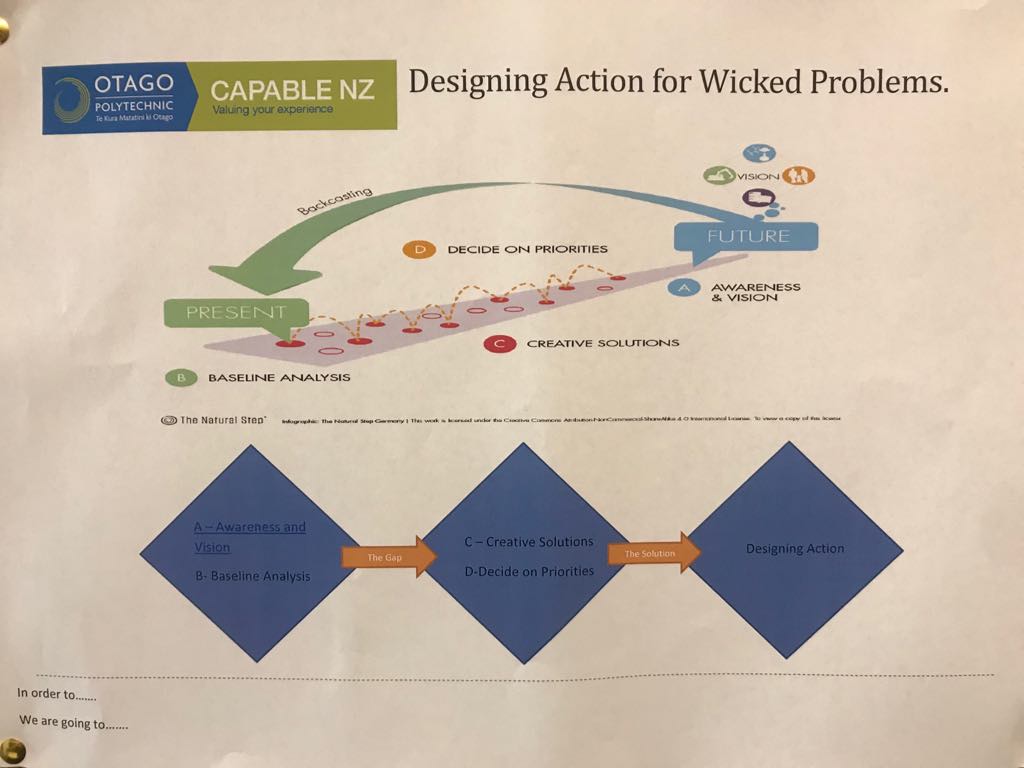 Kirsty McMillan
Out and About in Town
Gina Harrison
Bows, Books and Bag Sale
Isabel
Aroha 2019: Nature, our classroom.
I became more inspired to offer a nature-based learning program through several readings I have been doing this year. In previous years I co-led excursions such as Challenge Zone, which gave me more confidence that a concept like Aroha could work.
Bill Plotkin's 'Nature and the Human Soul' places tremendous emphasis on nature experiences as spaces to 'encounter' soul, to reconnect with our true 'self'. Plotkin's analysis of modernity condemns trends such as consumerism as promoting egotistical traits, harmful toward human development, and degrading toward eco-systems. He has used, and continues to use, nature as a means to assist individuals to return to soul, to transcend ego-ism, and to seek a more just and sustainable world as a consequence.
I have no formal training in Plotkin's theories, but I felt the gist or 'Geist' could be applied from Ao Tawhiti's new site here in town. The proximity of the bus exchange allows access to the wagon wheel of Christchurch's natural places. Initially I imagined we would set reasonably auspicious lengths, thinking students would like to challenge themselves. In terms of curriculum I saw potential in health/well-being as well as the social science curriculum. I leaned on hauora as a model. Plotkin's work on the impact of nature, reflects the 'spirit' of much of what I read into indigenous knowledge such as Wanganui Iwi saying: 'Ko au te awa, te awa ko au'.
I have also been reading and connecting with educators who are part of the Uderschole or Outdoor school movement in Scandinavia. The movement seeks to embed whole days out and about in cities such as Copenhagen, utilising urban and green spaces to provide learning experiences in nature. I have been liaising with Matt P Stevenson, a New Zealander who is researching in Denmark, discussing recent findings in neurological science that supports the conclusions that around 40 minutes of time outside provides numerous benefit for health and well-being.
How it works
Aroha is an opt-in course. We head out for walks of between 1-4 hours, usually on Wednesdays. These walks take us to beaches, hills, along rivers and into forests. The walks have turned our inauspiciously low-key. We go at a pace that the slower members sustain without over-exertion.
How Student Voice Shapes Aroha
Student voice has considerable impact. Students indicate walks they would like to do. They tell me they want to go tramping; learn bushcraft, some want to create their own forest, help develop bird corridors. For some others it is a chance to let off steam, get fit, and spend time outdoors with friends. Not all who have taken Aroha have enjoyed it, but of the core group, they love it.
Next Steps
I want to support the student voices, trying to get some bushcraft and survival skills for some, for others the goal of planting their own forest, the bird corridors through the city.
Matt sends me links to the blog he writes for. I have attached some of the links below.
https://www.childrenandnature.org/2018/09/26/balancing-screen-time-with-green-time-attention-retention-theory-helps-explain-why-nature-play-helps-learning/
Braden Faavae
Other Notices
Come and spend time at Bush Farm School.