In this newsletter
Upcoming Events
Term 4 – Week 3: Tuesday 25 October – Sunday 30 October
Thursday 27 October: Discovery Clothing Swap, Discovery Campus
Thursday 27 October, 6.30pm: Most Likely to Succeed Screening, Jack Mann Auditorium, Unlimited Campus
Term 4 – Week 4: Monday 31 October – Sunday 6 November
Wednesday 2 November: HB Phoenix Trip to Ferrymead
Thursday 3 November: HBPhoenix Art Gallery
Friday 4 November, 3.30pm-7pm: IGnite, Unlimited Campus
Friday 4 November, 7pm: Graduation, Jack Mann Auditorium, Unlimited Campus
Sunday 6 November: Newsletter published
Messages
BoT September Update
Preliminary designs for our new school are well underway and I'm very excited to see Steven's vision for the school becoming concrete (so to speak). I'm impressed with our design team; for their skill and expertise in modern school design, for their consultation with esteemed educational advisers to inform their design decisions, and especially for the way they are listening and responding to what our specific needs are and bringing precisely that to fruition. I'm pleased to see that early indications are that we will get exactly what we need in our new school. Have a look at Australian-based Hayball Architects' website to see some of the cool educational (and other) buildings they've been instrumental in creating in the past; I'm sure ours will be just as amazing.
Design seems to be a bit of a focus at this time, as we're also pleased to have the Ao Tawhiti Unlimited Discovery branding in it's final stages. The design has been shown to groups of staff and students and the response has been overwhelmingly positive. As soon as the branding package is complete, which shouldn't be too far away, we will share it with the whole community and we feel confident that you'll love it too. We are really looking forward to being able to actively promote the school to the wider public, which will begin with some large signs mounted on the fence around the CBD site. We're pleased that the Ministry have offered to sort these signs for us and we'll get them up as soon as we can.
The Ministry have also offered to do a blessing on our new site/buildings at some time in the future and we are exploring the best options for this. We are also considering having a celebration in honour of securing the site/building so keep a look-out for further developments with these two events.
In the meantime, while we remain on split sites, the Ministry are trying to address this and are going to purchase us a new van to better assist our travel between sites and further afield. While this is a step in the right direction, it does not remove the logistical challenges of being on two sites and we continue to work hard to ensure that we, as a school, can live out our special character. Thanks to everyone, students, staff and whanau, who work with us to do this; it's what makes us uniquely Ao Tawhiti.
Suze Keys – Board of Trustees Chairperson
October BOT Trustee Report
Policy review
Under a Triennial Policy Review Plan the Board continues to carry out regular reviews to ensure that the policies that govern the school are current and fit for purpose. In October and November we are reviewing the Employer Responsibility Policy and we have recently carried out a survey of all staff to determine their views on aspects of employment policy at the school. In October we reviewed the Finance and Property Management Policy which outlines the way the Board monitors and controls school expenditure, and ensures that annual accounts are prepared and audited as required by law. In November the Board will review the Governance Processes Policy which covers the situation where the Board sets up committees to help carry out its responsibilities such as staff appointments, internal audits and student disciplinary situations. The Education Act 1989, section 66 gives the Board the authority to delegate any of its powers to special sub-committees to cover these issues as they arise.
Speech "The       Māori    Dream" by Bonnie Paul
At the October Board of Trustees meeting Bonnie Paul gave a powerful and enlightening speech outlining challenges and opportunities for Maori in education and in making the "Maori Dream" a reality.  Following the speech Bonnie read out feedback from friends, whanau and people from a wide age range on good things and not so good things about being Māori. You can read the full text of Bonnie's presentation here.
End of Year Gifts for Staff
With the end of the year approaching the Board is currently discussing ways of expressing appreciation to staff for the hard work they have undertaken and continue to undertake in 2016.
Members of the Ao Tawhiti Unlimited Discovery Community are welcome to attend Board of Trustees meetings which are held at the Dovedale Campus on the third Tuesday of each month at 5.30pm. The next meeting is on Tuesday 15 November.
John Schischka – Parent Trustee
Director's Message
Thanks to the school holidays, it's been just over 5 weeks since the last newsletter and as you can see there's heaps that's happened.
I'm trying a slightly modified format for this newsletter in the hope that it's a little easier to find the information you're after.  The newsletter is part information, part magazine.  The feedback I get is that there's really great stuff in there, but that it's really long.  Just as a reminder, if you're looking for dates, use the calendar on the website. If you're looking for news, you can use the news page on the website.  It often has info specific to a community, homebase or learning advisor.  You should also be able to use facebook or twitter – most of the posts made to the website will create a post on social media.
I've spent a great deal of time in meetings across the last month attending meetings around property.  The MoE is working with the design team and several other organisations to organise the initial drawings of what our building will look like, preparing for the demolition of the building on the site, and working out how they will manage the health and safety aspects of the current and future work on the site.  This Friday there is another meeting where we will hopefully get to see what the plan for the building will look like. From here the design team will continue to work with students, staff and the wide community to ensure that the building and its fitout meets our needs.
I'm also working with the MoE on Otakaro.  No surprises that the plans to redevelop the first floor (which is currently offices) into an open learning environment hit a considerable delay and snag. It was supposed to be finished by the start of Term 4, but due to considerable costs associated with building consent and the space still not able to have a sink, I've decided to leave the spaces as offices.  This means that from next year, the 7-10 communities will both be based in the main part of the Unlimited Campus.  Otakaro will be used as offices and as a classroom.  This means another shift for our students and staff.  I'd like to think it's our last, but nothing that involves the University of Canterbury and the MoE seems to have a high degree of certainty associated with it.
The Senior Leadership team has also been busy working on the make up of communities for 2017.  Once this work is finished we will be able to share with you homebase selection info for 2017 and what courses are likely to be offered.
Two things that we do know for 2017 are that Emma Barrett and Sarah Marshall will be taking a some time away from us next year to undertake some very cool new learning.  Emma has decided to take a year off while she tries out being HOD of PE at another school.  The role is for a year and I'm looking forward to having her back with us leading a community and guiding our students in their PE learning.  Emma's role has already been advertised so keep an eye out for information regarding presentations in the next couple of weeks.  Sarah is taking next year off to have her first child.  I will start looking very soon for a learning advisor able to keep up her excellent dance programmes and of course her homebase.  Good luck with the new challenges Emma and Sarah and see you back in here in 2018.
Ian and I have also been working with FRENZ to see if we can support some of our students with learning for part of their week in French.  It's a great example of how our special character can be used to create personalised learning opportunities within our existing structures.
It's a very busy couple of weeks in front of us.  IGnite is on (see Duncan's post), our leavers will graduate, Ian has arranged a film screening of Most Likely to Succeed, and our students taking NCEA have only a couple of weeks before they head away on exam leave.
Steven Mustor – Director
Message from Ian
Well that's Week 2 finished. It's unbelievable to think we only have another 7 to go. The weather seemed to decide to play the game and give us something a little more appropriate for Term 4, at least for part of the week.
During the holidays the Senior Leadership team attended the ULearn Conference in Rotorua. It was a great opportunity to get away together and be able to chat about where we are going as a school and to be able to listen to some amazing people. The Conference was themed around three key aspects of leading and learning; Collaborate, Innovate and Connect.
As with any conference you generally have to sit through many hours of dribble to pick up a few gems. For me I guess the following 4 people got me thinking about what we do and why…
Larry Rosenstock – Larry discussed the power of Integration of disciplines (curriculum) and the embedding of these into real world contexts. His group of schools, High Tech High, are the subject of the movie Most Likely to Succeed that we are screening in Week 3.
Check out this short video… https://www.youtube.com/watch?v=a036N5N5Hlk
Derek Wenmoth and Michael Fullen – Both of these guys spoke about Deep Learning. The ongoing research around it and the power of it in the classroom and beyond. They are both part of a programme call the "New Pedagogies for Deep Learning" it's well worth a look. They talked about the importance of the 6 C's within education and the programmes we deliver – Collaboration, Creativity, Critical Thinking, Character Education, Communication and Citizenship.
Karen Spencer spoke as the last Keynote on Friday morning. She had some great ideas to share, one that really stood out for me was the idea of different perspectives and the need to consider these when making decisions, I think we always do, but it's always great to get that reminder of the importance of it. I loved this cartoon she used to express this idea.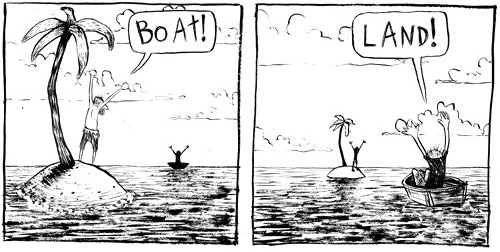 I guess what I took away from the conference was that we are on the right path as a school. We always have been. Both Discovery 1 and Unlimited Paenga Tawhiti and now Ao Tawhiti have been living these conference messages for a long time now. It's never going to be perfect, but our Special Character gives us absolute licence to make sure that we get as close to living them out as possible.
Hopefully we'll see you at the Most Likely to Succeed screening on the 27th of October (6.30pm for tea and coffee in S5 on the Unlimited Campus and then 7pm in the Jack Mann for the movie).
Have a great weekend…
Ian Hayes – Deputy Director
Message from Duncan
Term 4
It is hard to believe but term 4 has come around again. It's a busy time of year on the Unlimited Campus. The early weeks are dominated by the final push towards exams for our senior students. Any remaining internal assessments are being finished off and revision programs are in place in preparation for the externals.
Administratively things are also busy. We are  finishing of our 2017 enrolment process, establishing next year's staffing and community commitments, preparing for homebase selection and planning the learning programs that will be on offer. Not to mention the upcoming IGnite and Graduation!
Exams
On the topic of exams, it is now imperative that study plans are in place. Setting aside time and sticking to it should be part of all students who have exams schedule. It is essential that attendance in class is good and making use of mentoring time is highly advisable. The last day of term for senior students is Friday November 4. After that date students are only required at school when they are sitting an exam.
For those students who under year 11 and who are sitting exams study leave is allowed for two days prior to the exam. Otherwise they are required to be at school and participating in the 4.2 program.
Graduation
Graduation is scheduled for the evening of November 4. It will begin at 7:30pm in the Jack Mann theatre. Graduation is always a stunning night. It is amazing as one by one our leavers are acknowledged and their story of their time at Ao Tawhiti is shared and celebrated.
IGnite
Prior to graduation is our whole school community event IGnite. We would love to see as many of you as possible join us. IGnite will begin at 3:30pm with a series of workshops offered by our students, parents and staff. At 5:30 we will break and meet in the quad for a BYO picnic. At 6:15pm our Keynote will take place in Jack Mann. Keep an eye out for a detailed schedule of events later this week.
We are still looking for more presenters, so please email Duncan ASAP if you have something you'd like to offer.
Duncan Woods – Deputy Director
Notices
Final date for internal assessment submission
As in previous years, we have set the deadline for Internal assessments as the last day of block 4.1. This ensures we have sufficient time for marking and internal moderation before the school's final sync with NZQA on 1st December.
Students, please ensure you have completed any outstanding NCEA internal assessments before the end of 4.1.
External exam timetable
The NCEA External Exams commence on Wednesday 9th November. NCEA classes, therefore, conclude on Friday 4th November. Year 11, 12, 13 students are on study leave during the NCEA exam period. No NCEA classes run during this time and senior students should only be on campus to sit exams.
Year 10s who are sitting an NCEA exam are entitled to 2 study days prior to their exam.
The full NCEA exam timetable will be provided to students in a pre-exam meeting next week and can also be accessed here:
http://www.nzqa.govt.nz/qualifications-standards/qualifications/ncea/ncea-exams-and-portfolios/external/national-secondary-examinations-timetable/
If you have any questions, please contact Brent Silby.
Brent Silby – Director's NZQA Nominee
University Philosophy course at Ao Tawhiti in 2017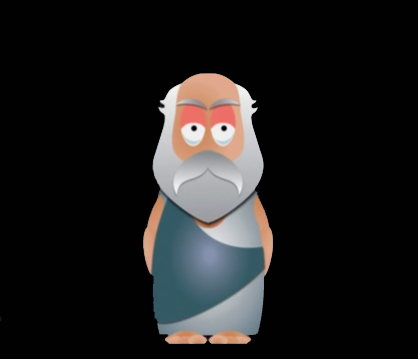 Since 2012, Ao Tawhiti has offered a University level Philosophy course. Course materials are supplied by the university and run in classes at Ao Tawhiti Unlimited campus. All assessments are marked at the university and students earn points towards their degree. It is a great opportunity who want a head-start into university level study while being supported in the school setting. The best thing: there is no cost to the student. So, effectively, you are getting a free university course.
No prior experience in other Philosophy courses is necessary (though it helps).
Any students who are interested in giving this a go next year, please contact Brent Silby as soon as possible.
Brent Silby – Learning Advisor
Special Assessment Conditions
NZQA have moved the date forward for applying for Special Assessment Conditions. We now start applying in the year before the student is sitting their NZQA assessments. If your son or daughter will be sitting NZQA assessments for the first time next year and you think needs special assessment conditions such as a reader/ writer or computer could you please contact me as soon as possible at paula.green@aotawhiti.unlimited.school.nz
If your son or daughter has used them this year I will automatically apply for them for next year.
Any questions please don't hesitate to ask
Paula Green – SENCO
2017 After School Club / Carpooling
We have a number of children starting at Ao Tawhiti Unlimited Discovery next year in the bilingual French/English programme 'La Découverte'. Some parents are interested in organizing an after school club (in French or English or both) as well as carpooling from areas such as Ilam, Lincoln, Northwood, Kaiapo, Linwood, Richmond, New Brighton etc. If anyone is interested in either carpooling or the after school club please email francaisachch@gmail.com and advise what suburb you live in or are prepared to car pool from/to and then we can get the parents together to discuss and organise.
Ian Hayes
Fundraising
We are running a raffle at the fireworks display in Motukarara on November 5. We are hoping to fundraise for our HB Phoenix camp so we can take part in activities such as archery and abseiling. Please can you consider donating some small gifts such as chocolate or beauty products, for our raffle basket. We will be really grateful with whatever you donate, because if we don't ge enough prizes we can't run our raffle. If you have any donations, please give them to Lulu, Molly or Tessa.
Thanks,
Lulu Tessa and Molly – Students
Te Ao Tawhiti Whānau hui
The Ao Tawhiti whānau hui met on Thursday 22nd September  with eight present and two apologies.
Karla updated the whānau on Board activities and the role of the Whānau representation. A report from the senior student conference at the end of  Term Two was tabled by Ino summarising the discussion of the Māori tikanga break-out group. The students were very keen for careful thought and discussion regarding tikanga to be including in all the phases of the new school development. Pete shared progress on his research on school engagement with whānau. There was discussion about scheduling of noho marae and whānau hui. There was a hope that there might be more regular meeting of whānau, perhaps with social and consultative agendas at different meetings.
Waiho i te toipoto, kaua i te toiroa
Pete Brailsford – Community Leader
7-10 News
Newsletter from Week 1 Term 4
Life Education Bus (17.11.16)
Coming up in Term 4 our year 7 + 8 students will be working with Life Education. The Life Ed Bus will be parked at the Discovery Campus and we will spend the whole day there. This will be happening on Thursday 17th November (week 6). Our year 9 + 10 students will remain on the Unlimited Campus and we are planning some Health Education for them also.
A+P Show (10.11.16)
Students from Kay's community have the option of going to the A+P Show on Thursday 10th November. We have 25 tickets available on a first in first served basis. We will leave from the Discovery campus and walk across the fields. This means students could use the free bus to and from the Discovery campus that day. We will also have a van leaving from the Unlimited campus. We have two tickets available for parent helpers on a first in first served basis. Two LA's will be going for the day as well. Tickets cost $5 each which will be added to your students account. Parents helpers tickets will be free. A permission slip was sent home last Friday.
Celebration of Learning (COL) (8.12.16)
We are planning on having our last community COL on Thursday 8th December from 9.30 – 10.30. Hopefully we will be able to use the dance studio DW2 for this. 
Evolocity
Congratulations to Mario, Macka and Noah who represented Ao Tawhiti at the Canterbury regional Evolocity electric vehicle event on Saturday.  Known as the "Bika Boyz" these guys have developed an electric bike "The Pink Panther' at school during term 3 and on Saturday they won four categories including the overall performance category for two wheel vehicles – well done guys!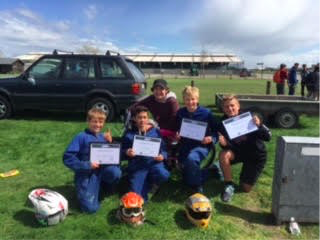 Kay Hayes – Community Leader
KOHKNOWCO LAB UPDATES: HOW FAR CAN WE GO?
KOHKNOWCO LIKE HOME: LIFE IN THE LAB
This week in Kohknowco Lab, we Skyped with Merryn and Keryn from Core Education.  Core is working with Ministry of Awesome on an exciting new project to create Tech Incubators in schools.  They're looking at using professional industry mentors, encouraging peer mentoring, and using Startup and Design Thinking Methodologies.  Sound familiar?  We shared our framework with Core at the end of last year, so it's great to see the kind of stuff we do is finally hitting the mainstream! Core is currently talking with Developster to see if they can use the Developster platform for the digital aspect of the project.
PICS FROM THE LAB ::
Laouena's latest artwork:
Saul's artwork: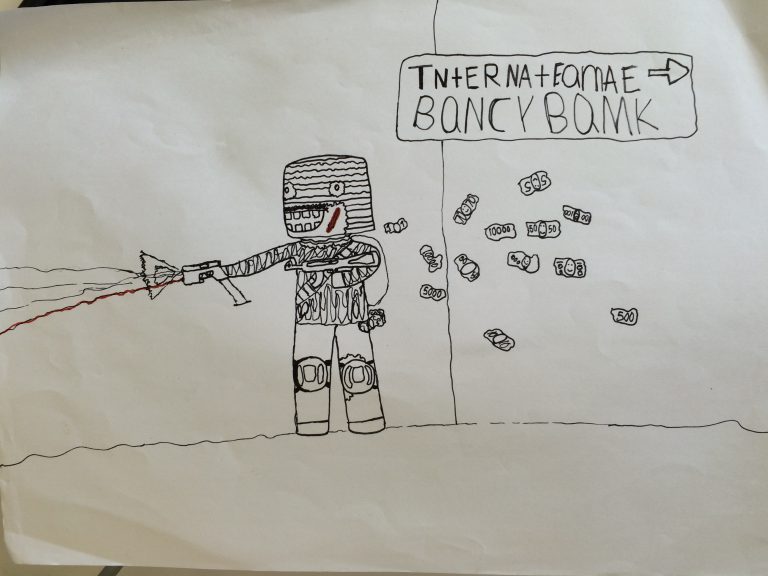 Silas and Solomon trading skills, peer mentoring in Kohknowco Lab: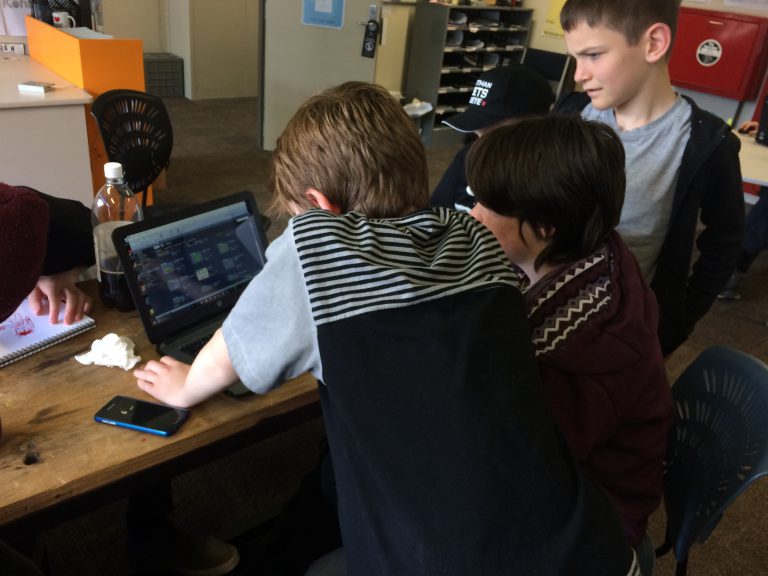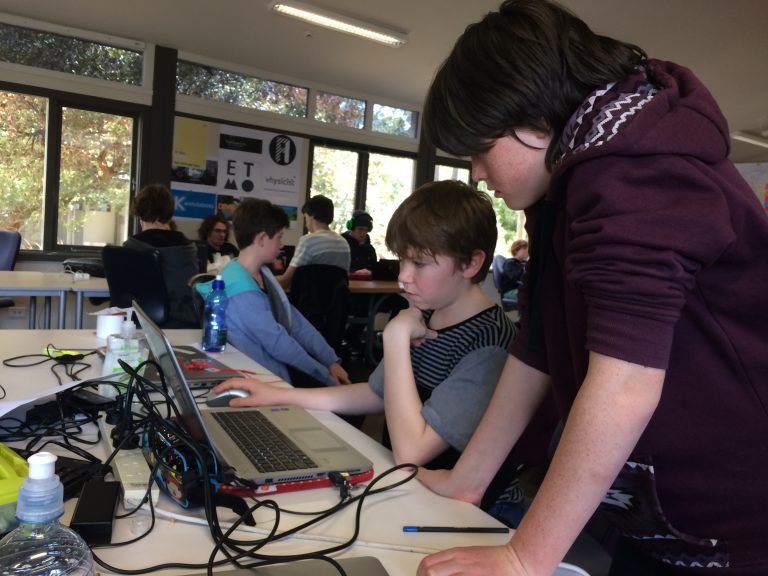 Ewan learning Lua:
Jaylee presenting her photos: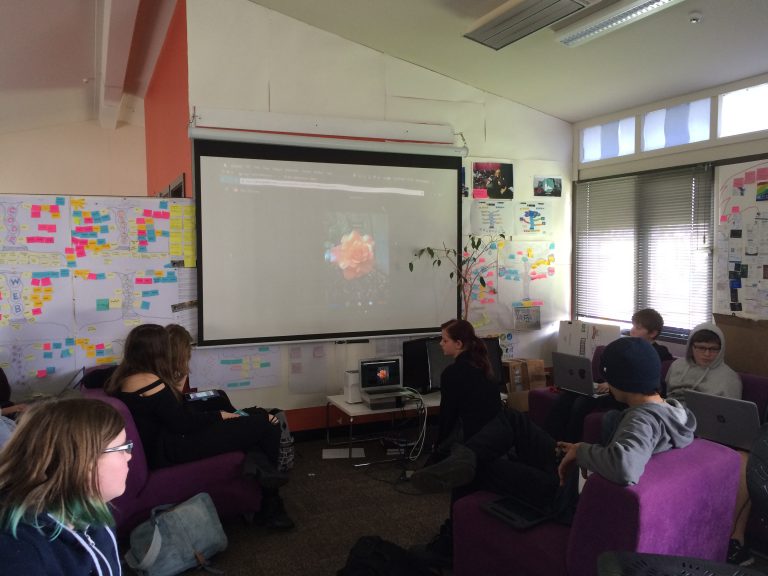 Anne Marie presenting her artwork: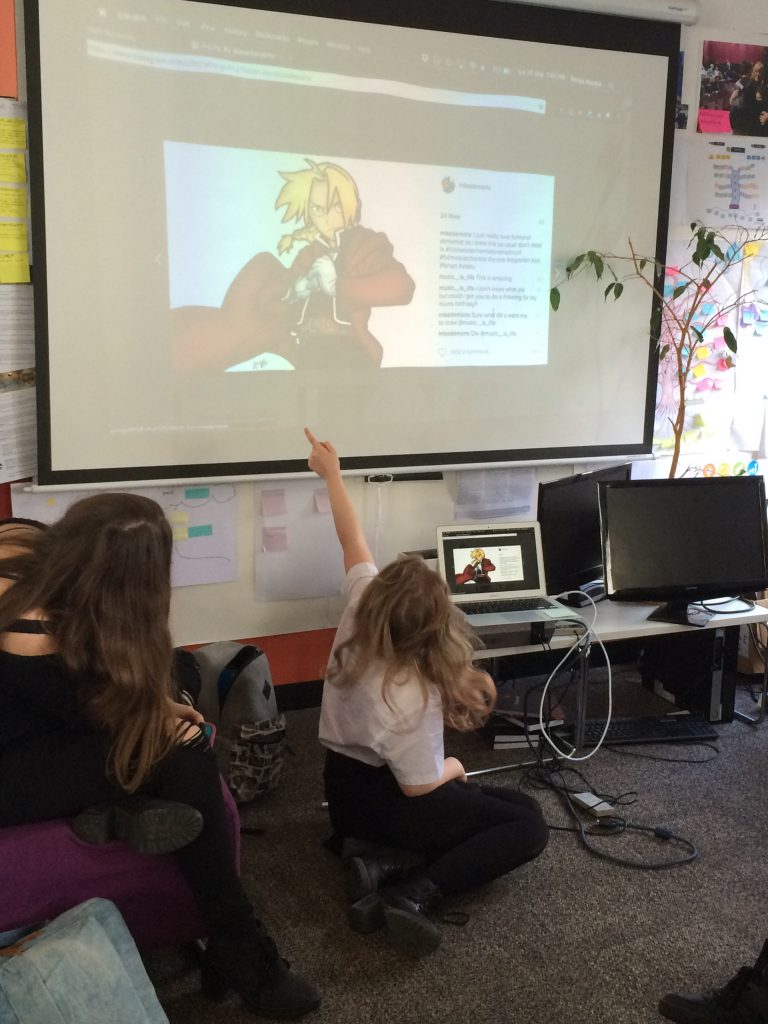 Georgia presenting her artwork: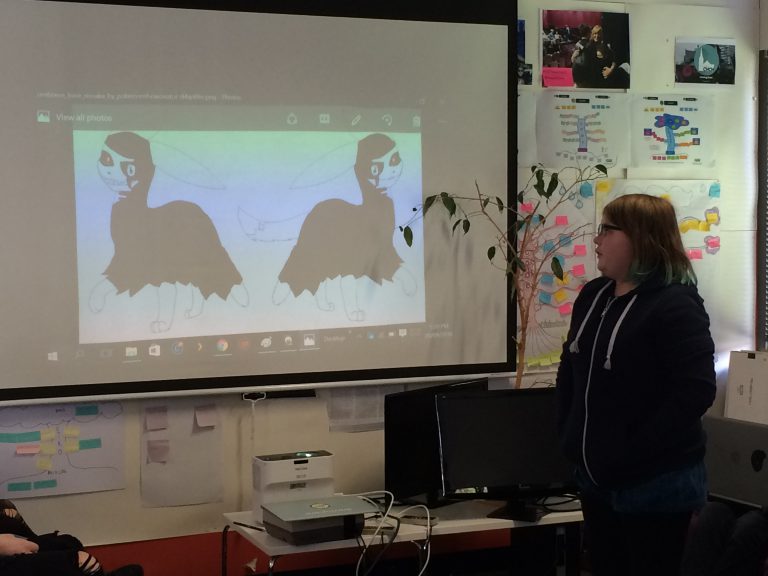 Josh presenting his artwork: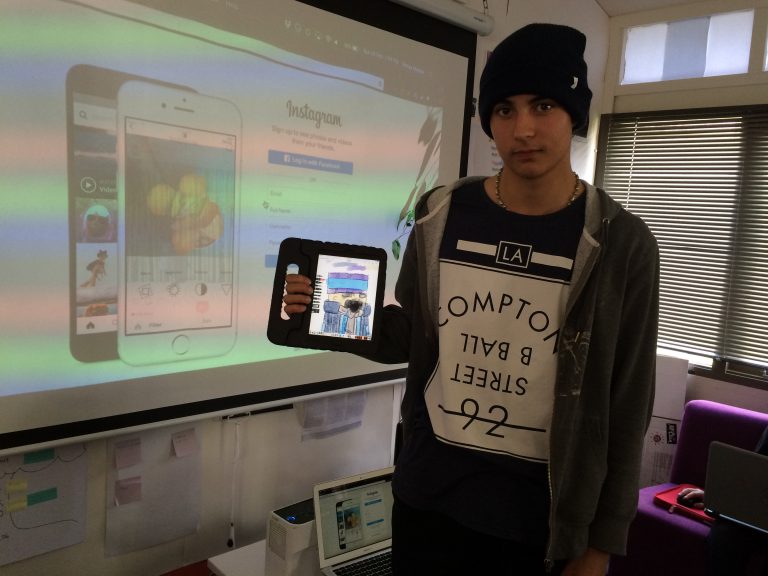 Toby presenting the work he is doing on a team game: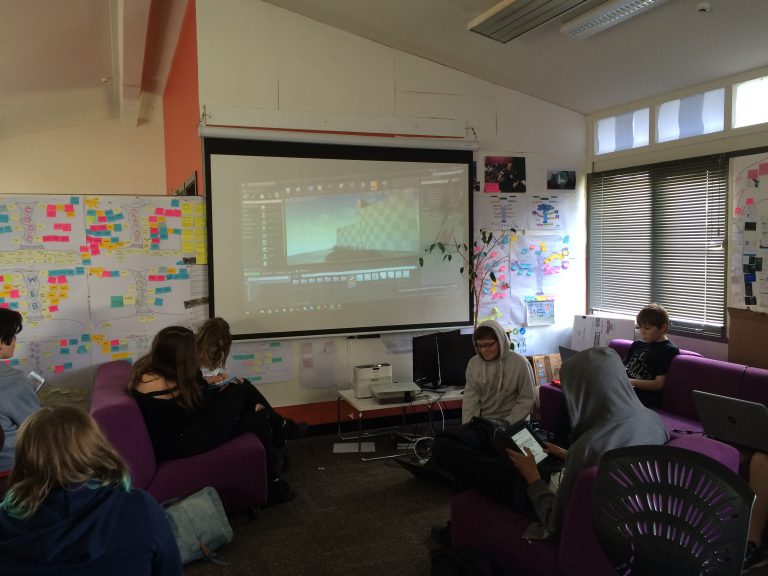 Peter presenting his game: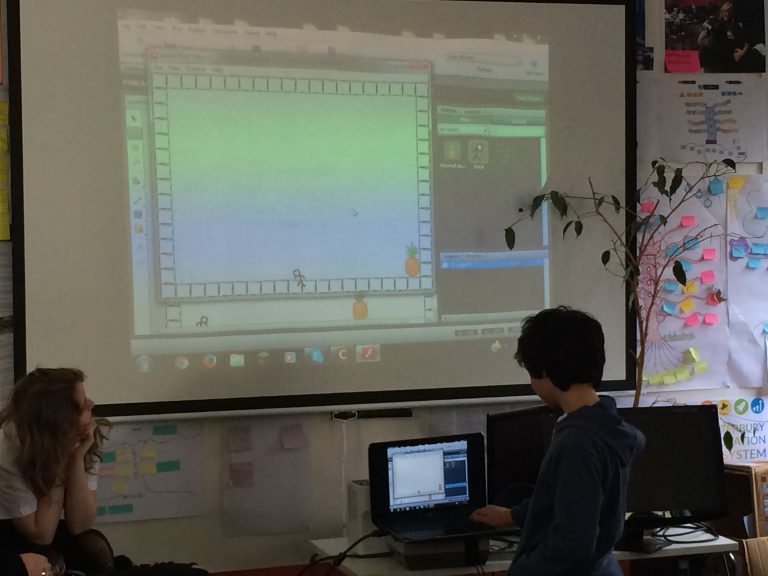 FOLLOW:  @kohknowcolab  @developsterteam  @renea
E V E N T S
Coming up!  KIWI LANDING PAD // SALES & MARKETING JAM ::
The Developster Team will be attending their 3rd Sales & Marketing Jam on October 31st!  This is one of our favorite events and a great opportunity to catch up with Sian Simpson, John Holt, and Developster Marketing Mentor, Savannah Peterson!  For those of you creating businesses aimed at a global market, we highly recommend this event!
FOLLOW:  @kiwilandingpad
Coming up!  CHCon // CHRISTCHURCH HACKER CONFERENCE ::
Big thanks to long time Kohknowco Lab mentor, Kevin Alcock, of Katipo Information Security, for tickets to CHCon for Ashlin Inwood, Crispin Hitchings-Anstice, and Asher Foster!  Kevin was a sponsor for our class trip to Wellington in 2011!
FOLLOW:  @kevinnz
I N   T H E   C O M M U N I T Y
SHARING PROJECT STORIES // BIZDOJO, CHCH ::
More than a desk BIZDOJO Community and space where you and your business can grow Find a location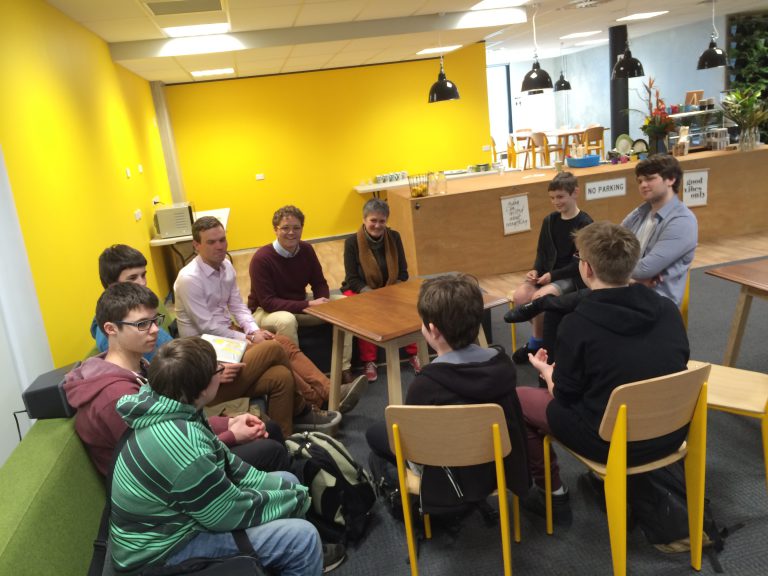 We popped into BizDojo to catch up with Kohknowco Lab Alumni, Francis Malloch-Boe and share project stories with Sam Johnson (Student Volunteer Army) and Tyler about their new, exciting project, and Huia Lambie, who is currently working on the Antarctica Project.
FOLLOW:  @bizdojo
KEVIN PARK  // INNOVATION MANAGER AT VODAFONE, CHCH ::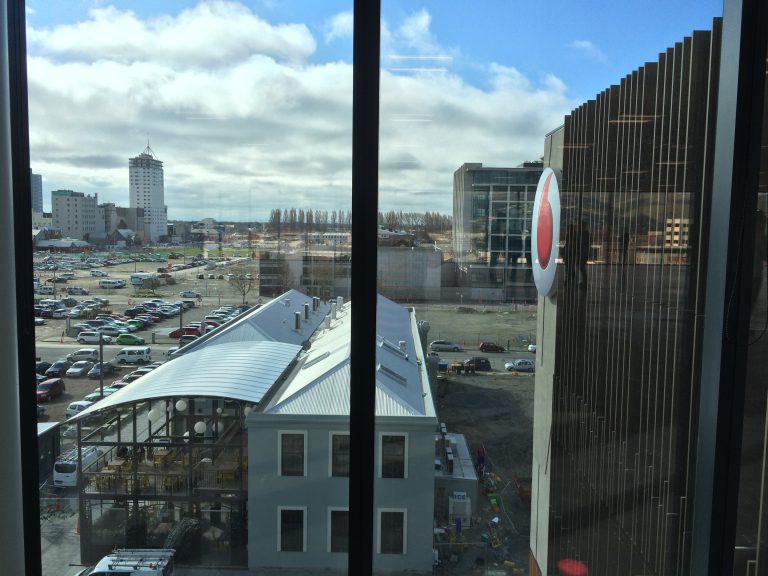 We had an amazing time at Vodafone at the end of last term, especially playing with the HoloLens!  Thanks Kevin, Ben, and Louis!  What an amazing space. We look forward to collaborating with you in the future!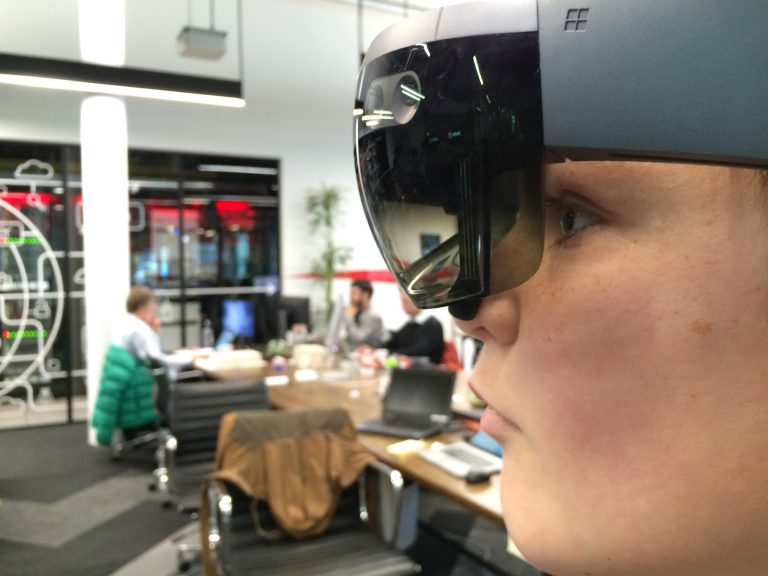 FOLLOW:  @kevinpark90 @vodafone_xone
ANNA GUENTHER  // CHIEF BUBBLE BLOWER AT PLEDGEME, WELLINGTON ::
PLEDGEME.CO.NZ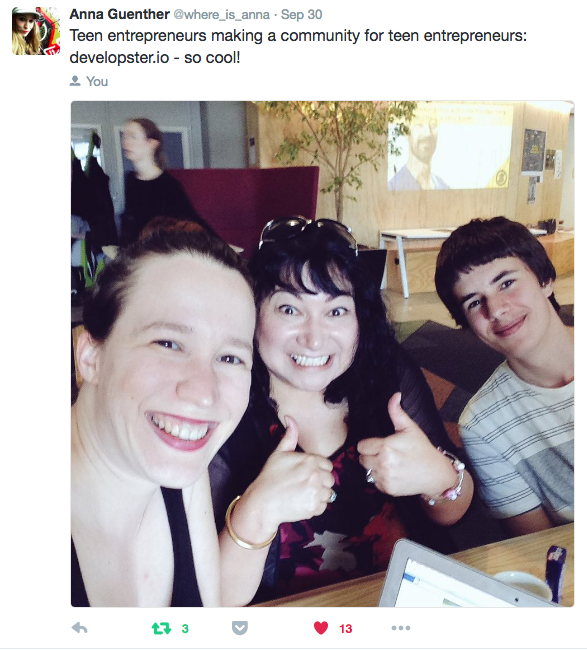 Asher Foster and I, were both in Wellington during the school holidays and were fortunate to catch up with Anna Guenther, Chief Bubble Blower at one of New Zealand's best crowdfunding platforms, PledgeMe.
FOLLOW:  @where_is_anna
DK  // MANAGER AT BIZDOJO, WELLINGTON ::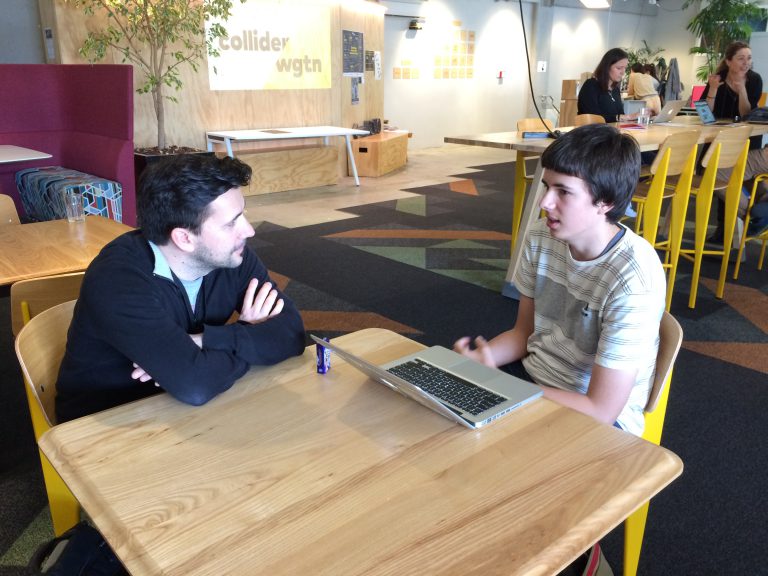 We also caught up with BizDojo Wellington Manager, DK, to talk about the startup journey and how to create flow with our Developster product. DK is an expert marketer/social media guy.  We met him back in 2011 when we were resident at the HITLab for 6 months. simple_smile
FOLLOW:  @justadandak
PAUL SPENCE & ROB RAMSAY  // CO-FOUNDER & DEVELOPER AT IWANTMYNAME, WELLINGTON ::
IWANTMYNAME.COM
Our afternoon in Wellington, was spent working from global domain name company, iwantmyname, where one of their developers, Rob Ramsay, gave Asher a few lessons on User Authentication for the Developster Build.  We first met Paul back in 2013 when he was a mentor at LifeHack in Wellington.  Paul is now a major influencer of our Developster work, drawing on his 20 Startup Weekend experiences as a mentor and judge, the curator of the NZ Startup Digest, and successful tech company co-founder.   We met Rob in 2010 and he introduced us to the team at the HITLab, where he was based at the time.
FOLLOW:  @GeniusNet @robramsaynz @iwantmyname
FINLAY CAMPBELL & TOM SUMMERFIELD // DEFANI ONE, NSW, AU ::
DEFANIONE.COM
We Skyped with our pals, Finlay and Tom in the holidays!  The boys are 14 year old self taught coders and musicians from Albury, NSW.  They have built a music streaming platform for young people to upload and share their original music.  These guys are super motivated, super talented, and super inspiring!  Go check it out and spread the word!
FOLLOW: @defanione
V I S I T O R S
TONY PALMER // TV PRODUCER ::
Tony popped in to visit us again this week.  Tony was the producer of our Seven Sharp article back in 2013.  He works on different various TV projects so it's always interesting catching up and getting his perspective on things.
RENEA MACKIE – Kohknowco Lab
11-13 News
Waikirikiri Wanderings
A couple of weeks ago, eight good, keen geography students headed out to the Waikirikiri/Selwyn River to investigate the health of two popular swimming spots: Coes Ford and Glentunnel.  Expertly assisted by the Lincoln University Waterwatch scientists, students enjoyed getting "hands on" and gathering the data themselves as part of their NCEA Research Assessment.
Students undertook several chemical tests in addition to measuring the water flow and scrutinising the aquatic life.  At Coes Ford, the high levels of nutrients such as phosphates and nitrates and the poor invertebrate collection (compared to previous years) was concerning to scientist and student alike.
Our students were complimented on their focus and on being "a joy to work with" by the Waterwatch team.  In turn, we were grateful for having all the equipment and expertise at our disposal.  Back at school we are busy writing up our findings and reflecting on how our research fits into the current debates on water quality in Aotearoa New Zealand.  A good day out.
Kate Armour – Learning Advisor
Gateway News
Reuben and Matt thanking Christchurch Rotary Club
Thanks to generous sponsorship from the Christchurch Rotary Club, Matt Stopford and Rueben Kinney attended a week long Leadership Camp at The Boyle River Outdoor Education Centre Lewis Pass. The Club invited Reuben and Matt to speak about their experience at a lunch at The Canterbury Club
Josh Cathro
Passionate about photography, technical production and youth work,Josh's work placement was with GoodTime Music Academy in Wellington.
"The trip was important for me because I got to connect with some awesome people and work behind the scene on the Wellington Superstar Talent Quest. I got a real feel for live technical production and photography as an employee. Different aspects that my job included: organisation, packing in and packing out the theatre, office work,working as the main photographer for the event and loading thebMUsic Bus that goes out to schools. I intend to develop my photography brand, attend university in Australia and connect with GoodTime Music Academy in the future".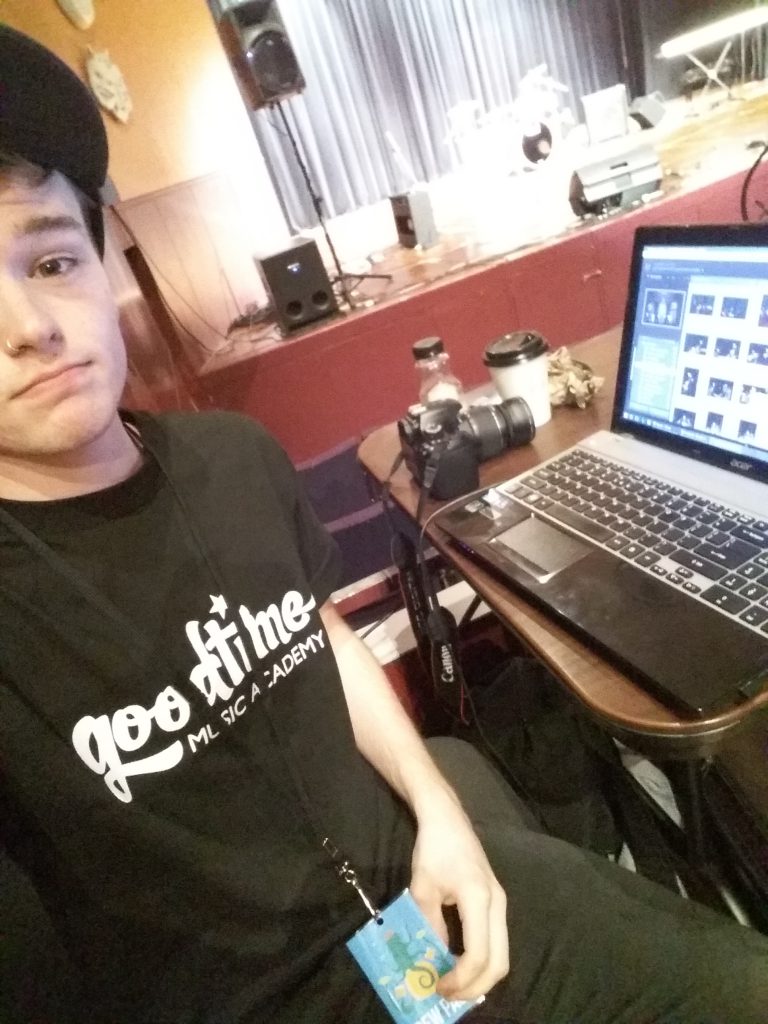 Lily's work placement was with Bodyfx in Auckland
"Being amongst so many different types of Body Art and meeting so many different artists was mind boggling. I learnt what it's like to be an employee/employer in this field. The work doesn't happen when you want but when people employ you for events such as parties, celebrations and film productions. Body artists have to have amazing people skills to interact with clients. I learnt that I have to have wide range of body art skills to meet clients needs. I'm also learning tutoring skills and looking forward to offering a face painting/special effects workshop at school.
Petra Hatherley
Petra had a wide ranging work placement with photographers in Central Otago to experience the  working life of a photographer. Martin Hill an internationally acclaimed designer/environmental photographer shared his philosophy and workflow with Petra who likes to photograph abstract environmental photos. Christopher Thompson shared his workflow and how he runs his gallery, Petra experienced how a cooperative gallery operates with Eric Schusser who also shared his workflow and applying for grants and awards. Annemarie HopeCross taught Petra how to make photographs in the style of the early photographers. Petra got to work in Annemarie's lab as a photographer to create cyanotypes.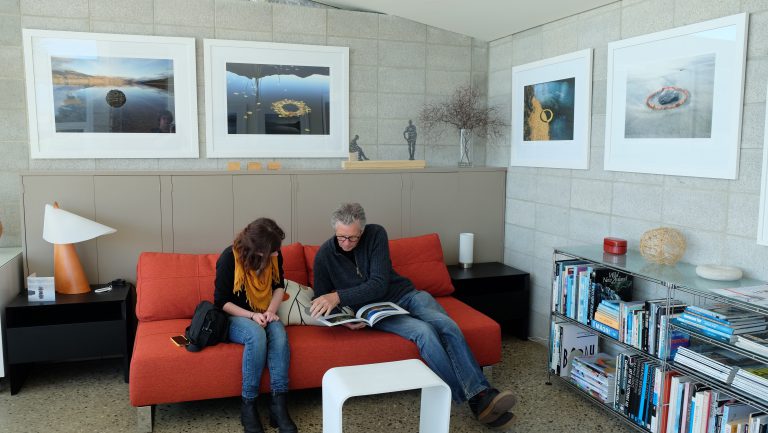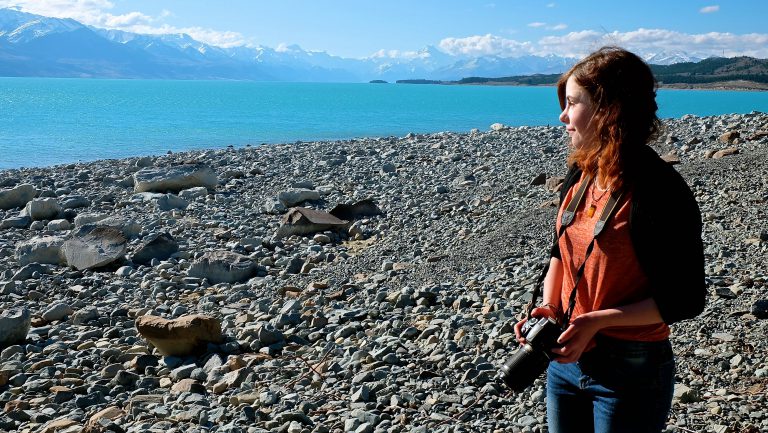 Gateway Dragomira Webster Piritahi Marae Waiheke Island
Dragomira Webster had an inspirational work placement  working and living on Piritahi Marae Waiheke Island. Immersion in and assessment by ServiceIQ in Maori Tourism has supported Dragomira's aspirational goals as an artist/author.
"This cultural tourism experience gave me a lot of new experiences like collecting cockles form the sea and cooking them. Mostly I'm grateful for the inspiration for my art work. I am creating bilingual comics which are heavily inspired by maori culture. Puera, a nationally recognised artist who lives and works on Waiheke Island has had a significant influence on me. Being in  his magical workspace and shop has given me ideas for my next steps. As an artist it has been hugely motivational on how to be self-employed." Dragomira
Robyn Sutherland – Gateway Coordinator
Students doing well with art
Kate Reynolds, Holly Palmer and Ana O'Donnell have been making slip cast porcelain art works since last year in the art space. Its been hard work with lots of trial and error and finally they have been able to have their work accepted by a local retail outlet in the central city HAPA.
Big well done for them and here is the link to HAPAs Face book page and some great feedback and promotion from HAPA for them
https://www.facebook.com/HapaNZ/posts/1276847615661266
They have also booked a stall in a local market to have their work on sale for  christmas.
Awesome work people
Holly Ramsay – Learning Advisor
Petra Hatherley – Student
Living the principles of sustainability
Next year will see a big change in the Level 2 Biology curriculum.  I am going to drastically redesign the field trip which has historically been conducted in the Temple Basin region.
One of the primary impetus is a desire to be more answerable to our actions in delicate ecosystems.  For many years most schools have had a program of learning that takes place in this alpine region.  This has many draw cards which aren't unique only to that area, namely easy walking track, mountain views and summit access.  A key element that is hard to replicate is a summer program in a ski lodge which caters for the students for a flat fee.  "So why change?" you may be thinking.  The answer is that my career as a conservation officer for DOC has given me a particular view of our wild places.  I was concerned at the amount of trampling this habitat sustained with just 30 students collecting data over three days.  To my horror I realised that this vegetation degradation is dished out by the shoes of thousands of students every summer.  Since we teach and preach the importance of sustainable activities here in level 1 EFS, I want to be inline with this by making clear, transparent and conscientious choices for our field programs.  It will be difficult to conduct planning trips, self-cater trips and write new tasks around the assessment standard.  However, it will become part of a new permanent program for our Biology class, one we may be able to share with other schools to encourage them to consider the effect of their actions on our delicate ecosystems.  The plan is to utilise the Environmental Education Centre in the foothills of the Craigieburn ranges, above that I will locate a number of research sites which will yield good data sets.  This will allow us to use them in rotation each year so that they can have a number of years untouched to recover from any light trampling that occurs.  I am personally excited about this challenge and hope that it will signal to other biology teachers another more ecologically sound approach to science field trips.
Brent Barrett – Learning Advisor
Lettuce Eat
Special thanks to the team from "Lettuce Eat" who served our hungry staff a delicious three course meal today for lunch. Dan Robinson, Sean Walsh, Finn Jackson and Huia Jackson designed and cooked the menu as part of a Business Studies assessment while Imogen Mackintosh and Erin Hughes were the servers. Appetisers include a choice of pumpkin soup or a greek salad, followed by lasagne for the main course and topped off by a cheese cake as dessert. Four stars!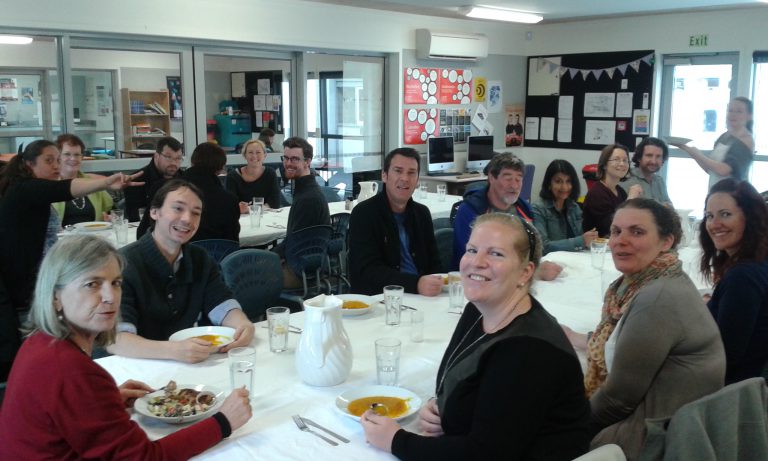 Richard McCance – Community Leader
Other Notices
Piano / Keyboard Term 1 2017
My name is Elly and I've been teaching piano/keyboard on the discovery Campus this year.  I'm taking bookings now for Term 1 2017.
Term 1 Piano intake! Book now!
Years 1-3: Monday
Years 4-6 Wednesday
Email: ellyrydge@gmail.com or Phone: 027 244 0327