---
Upcoming Events
Term 4, Week 3: Starting Monday 28 October 2019
Monday 28 October, 11am: Labour Day [School Closed]
Wednesday 30 October, 8.15am: Breakfast Club
Thursday 31 October: Y7-8 Attitude Presentation
Thursday 31 October, 3-5pm: Halloween Party
Friday 1 November, 7pm-9pm: Graduation, The Piano, 156 Armagh Street
Term 4, Week 4: Starting Monday 4 November 2019
Tuesday 5 November, 5.30pm: BoT Meeting, Level 1 Meeting Room
Wednesday 6 November, 8.15am: Breakfast Club
Thursday 7 November: NCEA External Exams Begin
---
Messages
Message from Steven
Graduation
This Friday we celebrate the awesome students who are about to finish their time at Ao Tawhiti and begin the next chapter in their journey. Graduation is always an amazing event. I feel that it captures everything that makes us Ao Tawhiti. As this is the last "school week" for many of these graduates (NCEA exams are almost upon us), take time to thank the graduates for all that they have brought to Ao Tawhiti over the years. There are more details about graduation in Duncan's message below.
Students arriving early / staying late
My termly reminder to families that we are only open from 8am. We have an ever increasing number of students standing outside the door from about 7.35am. We cannot provide supervision for your child until 8am.
We are also increasingly finding that students are very reluctant to leave (it's a nice problem to have as it shows that the students love being here). We provide supervision until 4pm for Y7-13 students who are still engaged with learning. Y1-6 students need to be picked up before 3.30pm. There are often staff meetings and professional development meetings on after school and we would appreciate it if you could talk with your child about leaving school promptly once they have finished their learning for the day.
Appointments / presentations
We expect to have several vacancies advertised for Learning Advisors this week. These vacancies will ensure that we are able to deliver our programmes of learning for our increased roll in 2020. As with all appointments you can contribute through coming along to the presentations made by the shortlisted candidates. Keep an eye out on the website and facebook for info on how you can contribute. Presentations are likely to be held in week 5 or 6.
Steven Mustor
Message from Ian
Well the year is screaming to a finish. We have one more week with our Year 11, 12 and 13s and then they leave us for study and eventually external exams. I'm sure we're all wishing them the best of luck and hope that all of the work that has gone in pays off! Good luck!
The rest of us have 33 days of school to go. It's always a really busy time of year with changes to the timetable and wrapping up final pieces of work.
At Year 7-10 the following information lets you know how we finish off 2019…
11th, 12th and 13th of December
This year will finish the same as last year.
Wednesday the 11th of December – Last day of classes.
Thursday the 12th of December – Community organised day
Friday the 13th of December – Last day Picnic at the Botanic Gardens playground.
13th December – Picnic at the Park
As usual we will finish the year with our "Picnic at the Park". This has been a tradition since Discovery 1 started heading down to the Playground in the Botanic Gardens in 2001. It was always a great way to end the year. All parents and whanau are welcome and it's a great moment to catch up on the year and wish each other well for the holidays. As Ao Tawhiti we continued this tradition and have been heading to the park on the last day of the year since our merger. We would love to see as many of our students who are heading away on Study Leave soon to come on down and join us on this day also.
We will meet at the Playground in the Botanic Gardens from 9am and the day will finish at 1pm. Please arrange to have your son/daughter picked up by 1pm. This event is weather dependent so we will publicise any potential cancellations in the morning of the 13th. If the event is cancelled it will be school as usual at the school site.
https://goo.gl/maps/eSv8LnypYGgmzi689
We will have a staff member walking from the Bus Exchange at 9am to the park and then returning to the Bus Exchange by 1pm.
Your child will need to sign in and sign out with their LA at the park.
Ian Hayes
Message from Niki
Welcome to term 4
Can you believe it? What a fast year, and with only a 9-week term ahead of us it is sure not to slow down any. I hope you all had a lovely break with your tamariki. I always love to see how much they have grown over the holiday, and how much more mature they are and those growing senses of humour.
As you know, there are to be some changes this term. We will start off with 'business as usual' for the first 3 weeks (including an exciting camp for Community Tarākona this week), then our timetable will change to give some of the Y4-6 students and LAs opportunities to work with LAs and students in the Y7-10 community. More information will be made available closer to the time, but if you have any burning questions, please come and see me or get in touch.
Summer Sport
Some of our children have chosen to play sport this coming term and we need the support of families in our community to make this happen.
We start playing sport in week 1 on the 18th October (with a bye on 25 October) and go through till Dec 6th. The children need support to walk to and from Hagley Park on Friday afternoons. They will leave school at 12pm and return by 2.30pm.
If you know you have time that you could support our tamariki please fill in the blue links below and add your name and phone number so we can contact you.
Students will need Friday week 1.
Futsal Futsal roster to fill in
Water bottle, hats, uniform, SHIN PADS
Touch Rugby Touch Rugby roster to fill in
Water bottle, hats, uniform, mouthguards
Do you know of anyone who might be keen to help coach in either sport during the week too? If so please contact Debz or Libby with any ideas.
Thanks for helping our kids follow their sport passion as we all know it means a great deal to them.
Van
Thank you so much to one of our awesome parents Mel Opie for organising with Todd from Dynamite Signage Solutions (78 Coleridge St) to have our school name put on to the van. I dropped it off on Monday morning looking plain & anonymous, & collected it at 3.00 the same day looking all spiffy & fab. I couldn't stop smiling on the drive back to school! Here it is in its inaugural journey to Dunedin for the Y4-6 camp. So cool to see the van flying the Ao Tawhiti colours!
Tabloid Sports
On Wednesday 30 October, Steve Hunt's HB have organised for us to play Tabloid Sports at Hagley Park. Students will leave school at 10.30, walk to the park, play the sports, have lunch with Steve's HB and walk back to school for the end of the day. We'd love to have as many parents as possible come and support the tamariki. The weather looks ok – bring a picnic and your biggest voices for cheering.
Our kids out & about
This week not only have we had the Y4-6 kids away in Dunedin having the time of their lives, the Y 1-3s have been out & about too. I am so proud of our tamariki! Everywhere they go, they get really positive feedback from the facilitators & members of the general public too. Thanks to all of the LAs for their leadership around our high expectations for our tamariki, it is cool to see the students we work with shine in the wider community.
Niki Stephenson
Message from Duncan
Graduation
Friday November 1 is graduation! This event is one of the absolute highlights of the year. Graduation is our chance to farewell our leavers, hear each of their stories and wish them well on their next step.
This year we're thrilled to announce that graduation will take place at the Piano. We're set for a 7pm start.

Graduates are required to be there by 6:30pm and are to meet with Steven and Duncan. We will have someone there to show you where to meet.
The Piano: 156 Armagh Street, 7pm November 1.
Exams
This weeks is the final week of school for our year 11 – 13 students. As of next week they are on exam leave: the first exams begin on Friday, November 8. A copy of the exam timetable can be found here.
For students younger than year 11 who are sitting exams the study leave entitlement is the 2 days prior to the exam. Otherwise they are expected to be at school and participating in the 4.2 program.
Duncan Woods
Notices
Food For Graduation
Next Friday our amazing graduates will be celebrating at the Piano. This is a lovely venue and after the Graduation we are able to mix and mingle in their bar area. It will be really nice for families and students to spend some time chatting together maybe for the last time.
Therefore we thought it might be nice for the rest of the school to provide some food for them. We are looking for families to make and donate "a plate" of finger food that could be carried around and shared by all.
The "plate" can be brought to school anytime on Friday 1st November. As usual can you please label the food especially if it contains any allergens.
Many thanks
Kay Hayes
Halloween Party for Year 5 to 10 – Thursday 31st October, 3pm to 5pm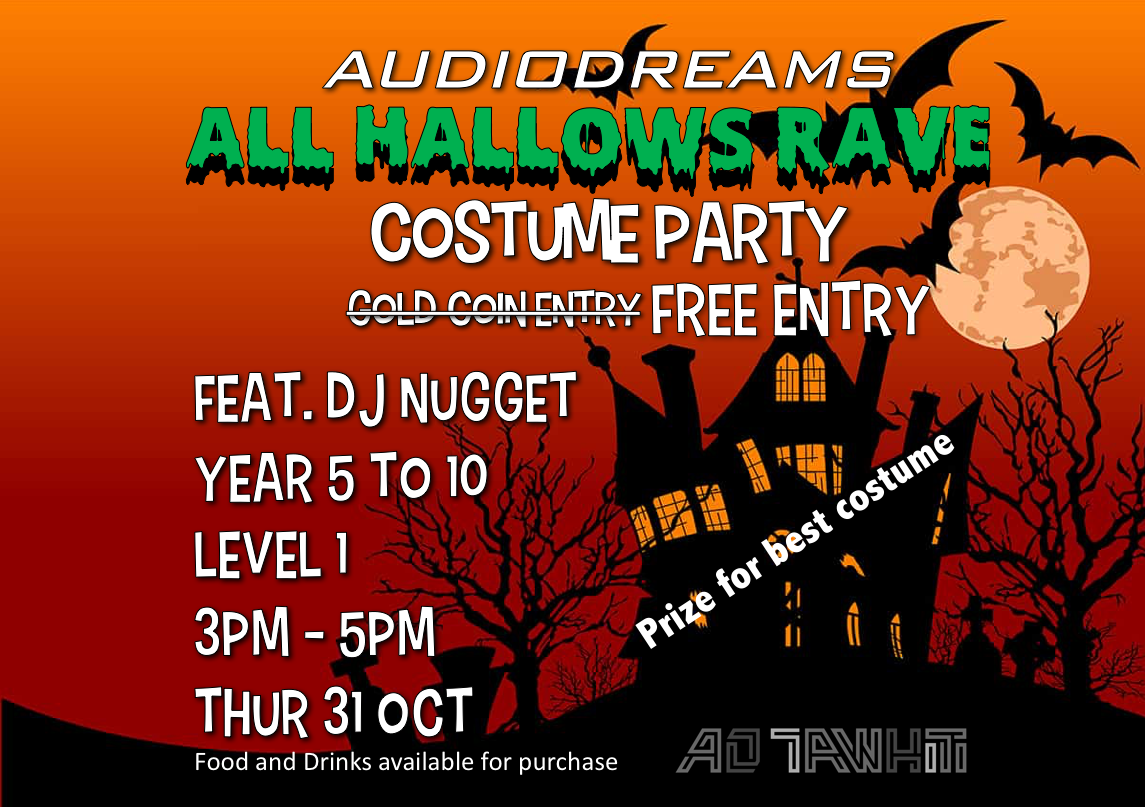 Year 9 student Flynn (aka DJ Nugget) will be performing music and selling drinks and food to celebrate Halloween and raise money for new DJ equipment.
FREE ENTRY
It will be great to see lots of people come along in costume to socialize after school and support Flynn.
For more information: brent.silby@aotawhiti.school.nz
Brent Silby
Camp 2020
We would like to get some information from parents about camps for Year 7-10 students. If you have a moment could you please complete this quick survey. Thank you.
Mia Williams and Millie Hayes
Music Mary
Music Mary has a few free spaces for guitar and ukulele this term. Group classes are $10 per session and private classes are $15. If you are interested, please email Mary. marydunne@xtra.co.nz
Tomato Plant Sale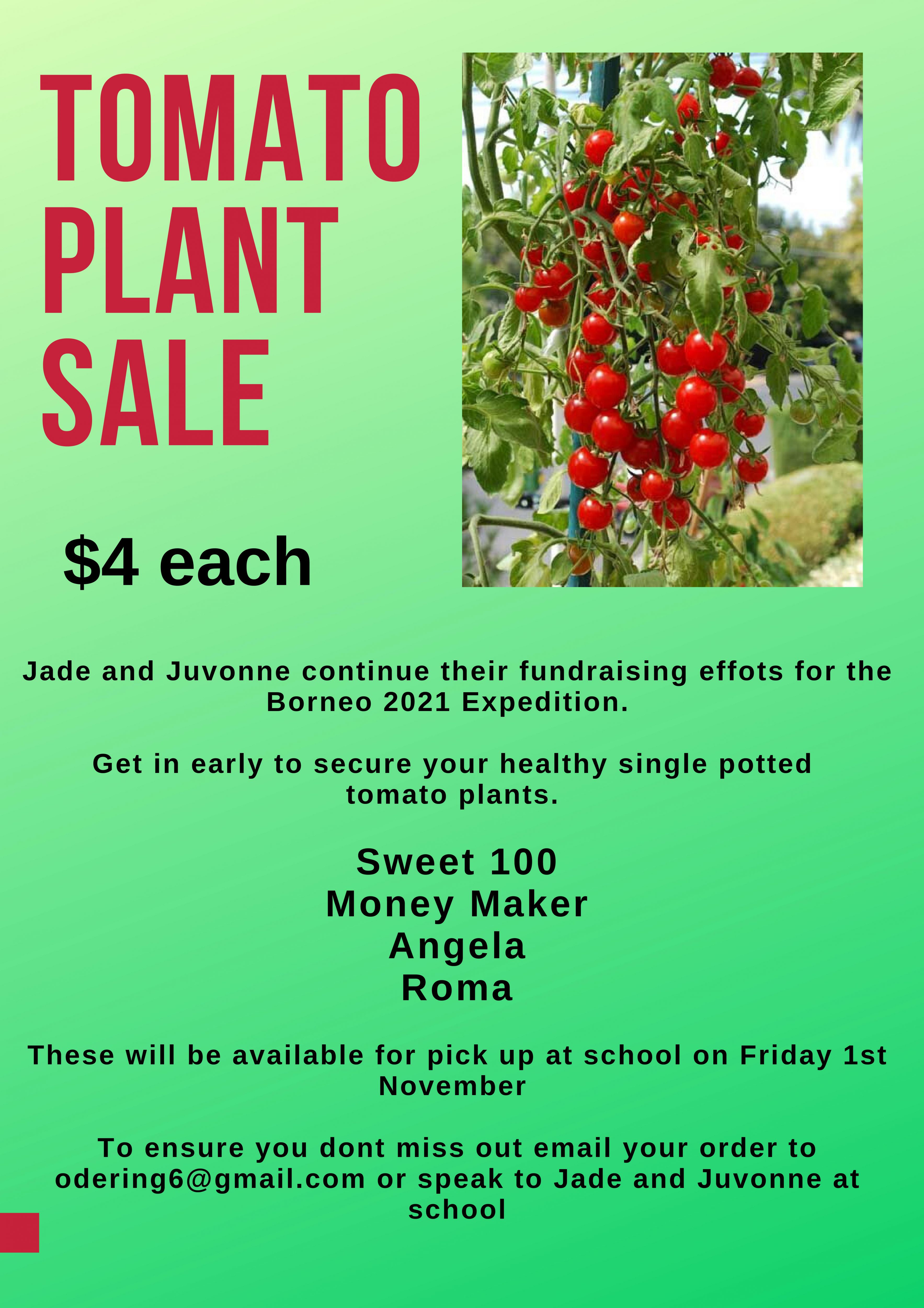 Jade and Juvonne
Bike Stand Help
I am Evan and I am making a bike maintenance stand at school for students, stafft and whanua, that bike to school. They can use it if they have any bike issues or need to do some maintenance. I have a basic design for the bike stand and I need someone to build it as I am not much of a builder. If anyone could help I would really appreciate it. If you are interested in building it you can email me at: evan.ritchie@aotawhiti.school.nz
Thanks
Evan Ritchie
News
Tarakona Camp Dunedin 2019
Libby Boyd
Ine – Football News
Christchurch United Football Club wishes to inform you that
Ngereine Maro was a key part of the winning U14 Academy Team at the
South Island Tournament in Dunedin. We wish to congratulate Ine on this achievement.
Matt Carruthers – Christchurch United
Arion Farm – Community Pekapeka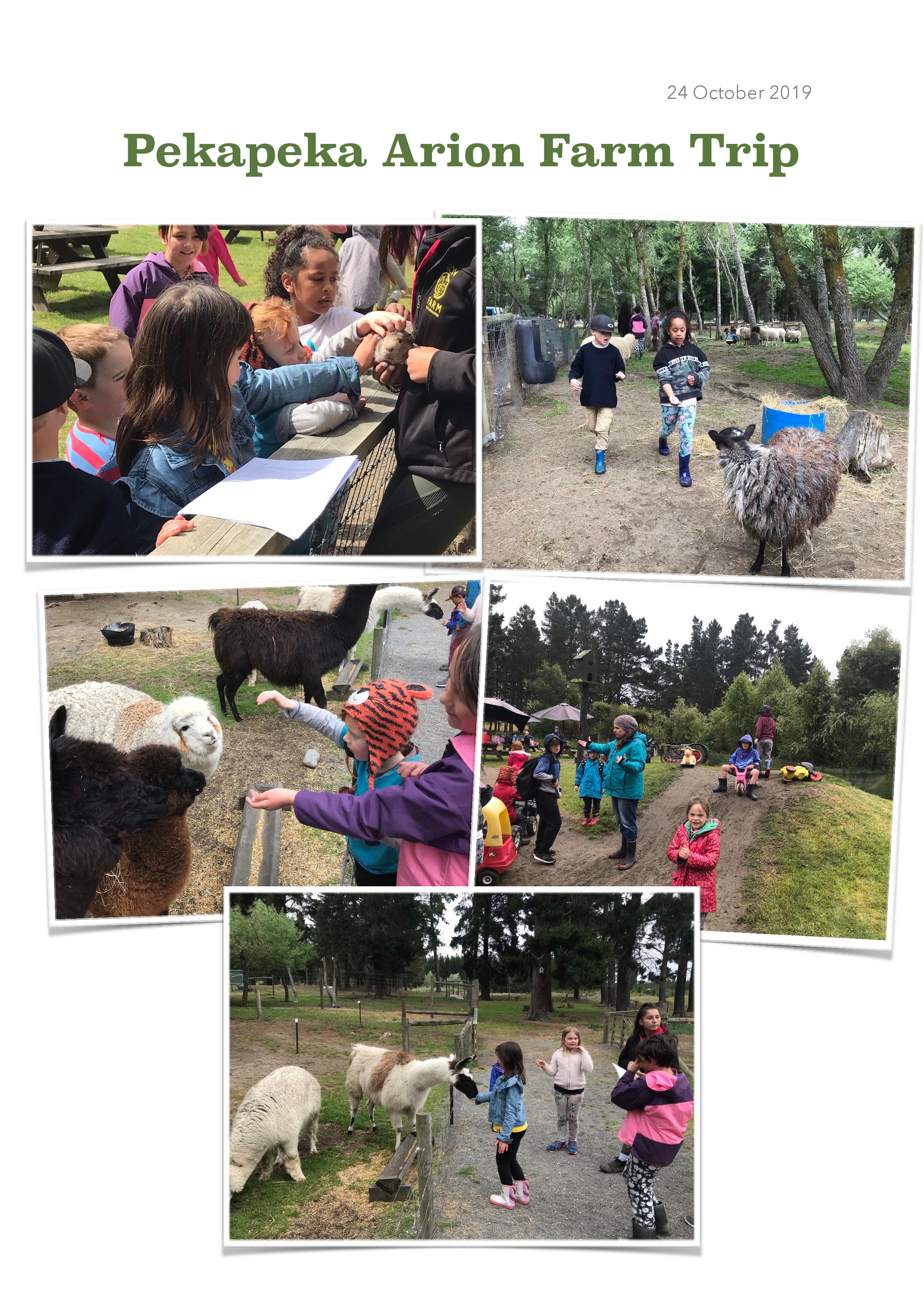 On Thursday 24th October Community Pekapeka went to Arion Farm. Some of us have been learning about farm animals and creating a model farm as part of our writing experience. We wanted to learn about the different animals that live on a farm and how people take care of them. In the morning Angus' Grandad came to get us on a bus, he is a bus driver and took the day off to drive us to Arion Farm – thanks so much Tim. When we got to Arion Farm we had morning tea and played on all the cool farm equipment. The tractor and quad bike were super cool. We saw cows, sheep, kune kune pigs, pigs, guinea pigs, goats, ponies, lamas, alpacas, donkeys, peacocks, a possum and really big turkey! There were lots of baby animals like lambs, kids and ducklings. There was a really cute docile lamb that had arthritis! At lunch time it started to rain and got really cold so we had our lunch and bundled back on the bus to school. We had a really cool day at Arion Farm and learnt heaps about all the animals.
Gina Thompson
Do A University Philosophy Course While At Ao Tawhiti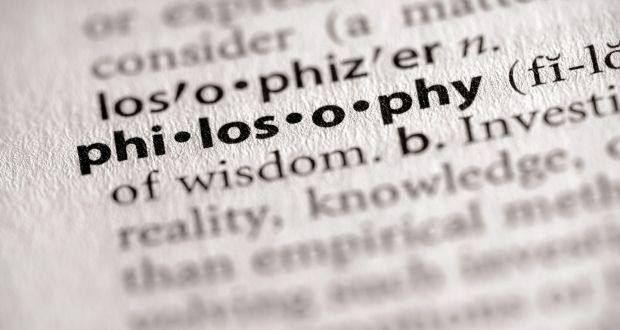 Ao Tawhiti offers university level courses in Philosophy. These are run through the University of Canterbury, but taught at Ao Tawhiti in a tutorial style format. Students are also supplied an online resource to work through. Students who pass a course earn points towards their undergraduate degree. Historically our students have achieved stunning results in these courses.
In 2020 we are offering Phil110 – Science: Good, Bad, Bogus and Phil139 – Ethics, Politics, Justice. There is also the potential for us to offer stage two course, Phil235 – Cyberspace, Cyborgs, and the Meaning of Life (for students who have already completed a stage one course).
Students interested in taking any of these courses, please contact Brent Silby (brent.silby@aotawhiti.school.nz) so that I can provide more information.
These courses are funded through the STAR funding programme.
Brent Silby
Level 3 Update
This term we have been focussing on building Self Directed Learners. In Learning to Lead time we have designed a 3 week timetable where students can personailse their learning and design learning that suits them.
Students have been completing unfinished work, especially AT Projects, studying for classes or exams or creating a Self Directed Learning plan.
Also on Wednesday we have run a floor wide Student Led Workshops PINs. We currently have over 20 workshops being run by students for students.
We have been focussing on building Homebase, and Happori support. This means we have grouped Homebases together into Hapoori / mentor groups for L2L time. These are groups of 3 Homebases and students connect with and get support for the same LA's everyday. It is early days yet but we are seeing some positives for both students and LA's and will probably continue this in 4.2 Homebase time.
This week Sarah and Kate organised a family night. We had about 11 teams go out on a quick amazing race despite the rain. There were prizes for the top three and shared food afterwards. I love seeing how much the students enjoy hanging out together outside of school hours. Hopefully this was the same for whanua. We ended the night with a 30 minute information session with some questions and answers.
It is crazy to think we are nearly at the end of another year but this does mean a little anxiety for some as the timetable changes in 4.2. Next week we will be doing a snapshot writing and reading test as well as helping students to choose from all the new and different classes available for 4.2.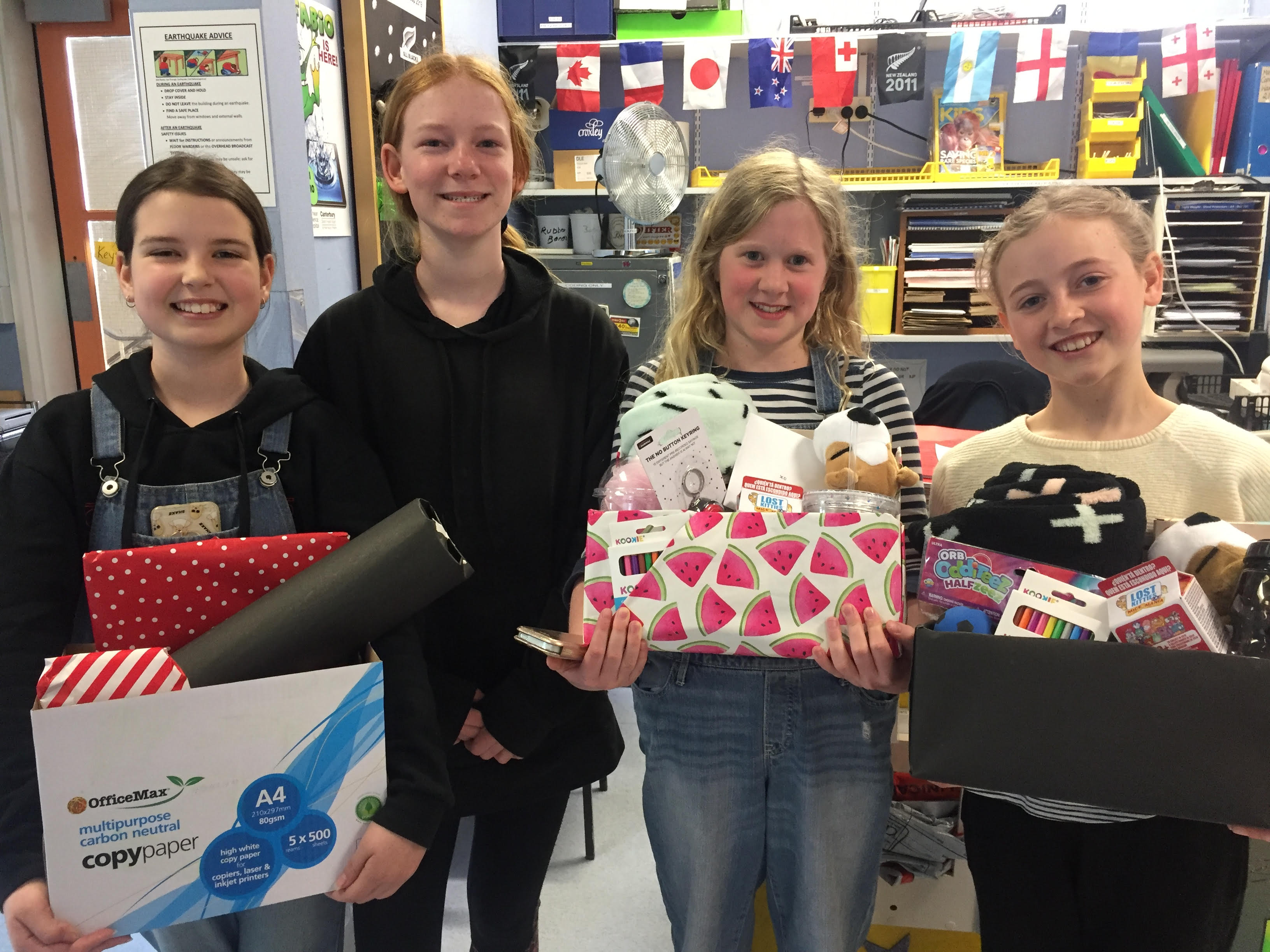 Kay Hayes
Self Directed Art
Inky
Do you want to feature on a website
A local website developer that has been very supportive of Ao Tawhiti is relaunching a social change type website and is looking for several 12-14 year old students to pose in some photographs for their website. If this sounds like you, please see Craig on Tuesday so he can give you more information and a consent form to consider with your whanau.
Craig Perry
Other Notices