In this newsletter
Matariki is less than two weeks away! There are some pictures from Steven's site visit last week and lots of updates from the CLs
Upcoming Events
Term 2, Week 6: Starting Tuesday 5 June 2018
Tuesday 5 June: Term 2.2 starts, Unlimited Campus
Wednesday 6 June 8.15am-9.00am: Breakfast Club, P13, Unlimited Campus
Term 2, Week 7: Starting Monday 11 June 2018
Wednesday 13 June, 8.15am-9.00am: Breakfast Club, P13, Unlimited Campus
Friday 15 June: Matariki, Discovery Campus
Messages
Message from Steven
Property Update – My first site visit
Last week I met with Leighs and the MOE to have my first site visit.  It was great to get closer to the action and get a sense of the size of the building.
They have almost completed putting up the steel.  There's just the central section on the east side to complete which has to wait until they are finished needing the crane on the west side.  The atrium / staircase space is going to make the building feel really spacious.  To give you an idea of the it's size, the crane fits in there with room to spare. They have poured the floor for half of the first floor.  I was able to walk around the hard materials, performance, science and art spaces as well as the kitchens / utilities areas on the ground and first floor.
The most impressive part was being able to look out the city (even if it was just from the first floor). You can see just how close we are to the bus exchange and get a sense of how amazing the view from the third floor balcony will be. The balconies by the way looked massive … despite the fact that they are not yet built, you definitely get a sense of the amount of outside space these will allow.  Our challenge as a community is to use them effectively.
Leighs are still making good progress with the build and I was once again assured by the MOE that we will be moving in Term 2 2019.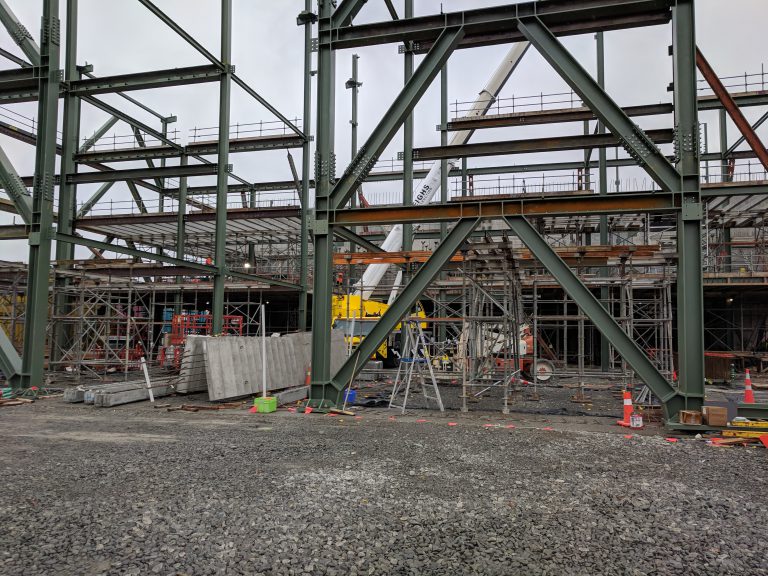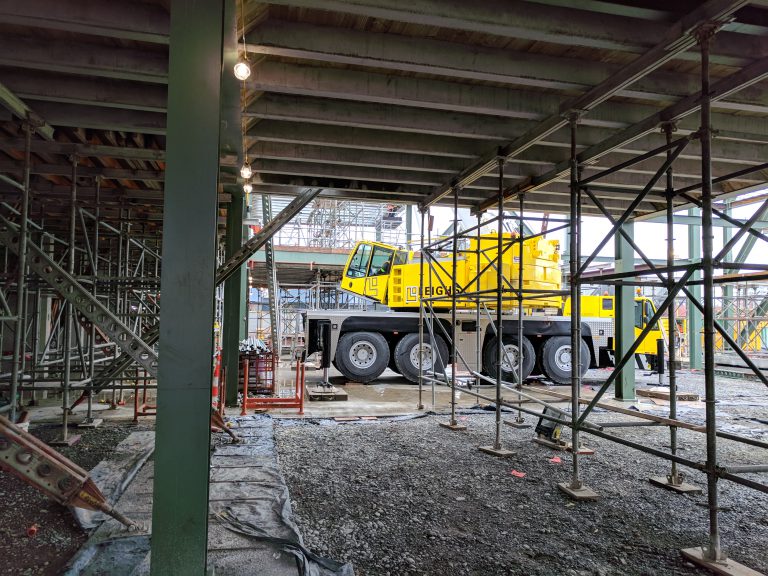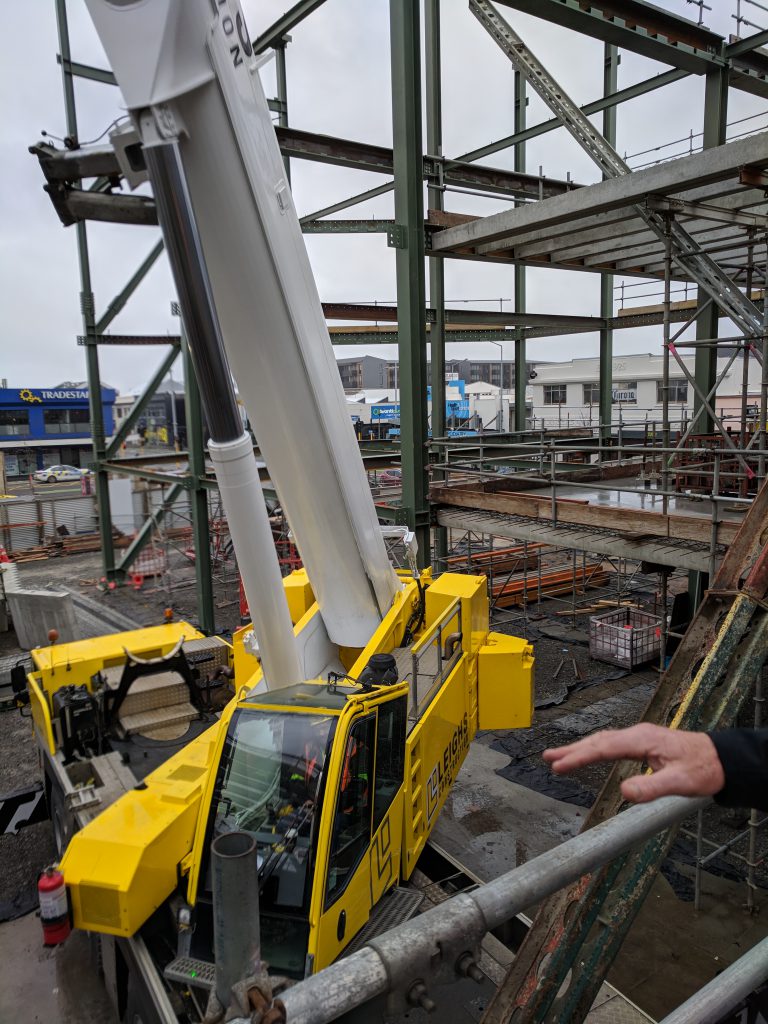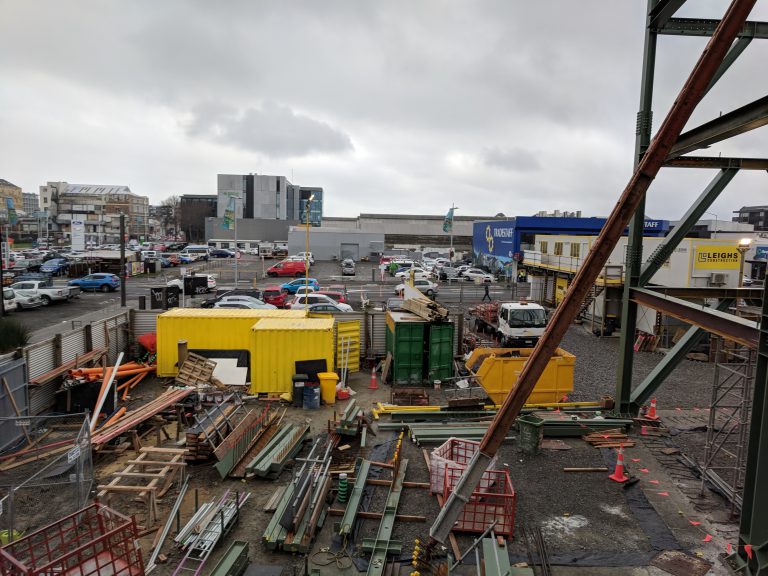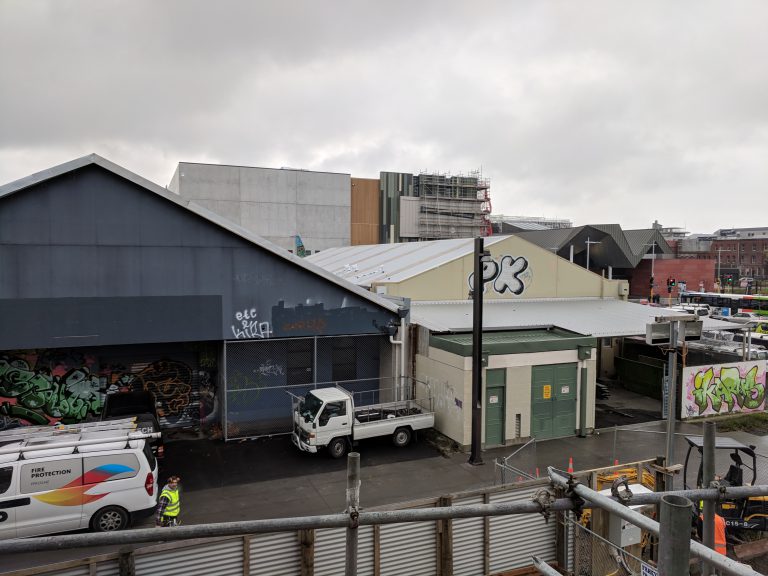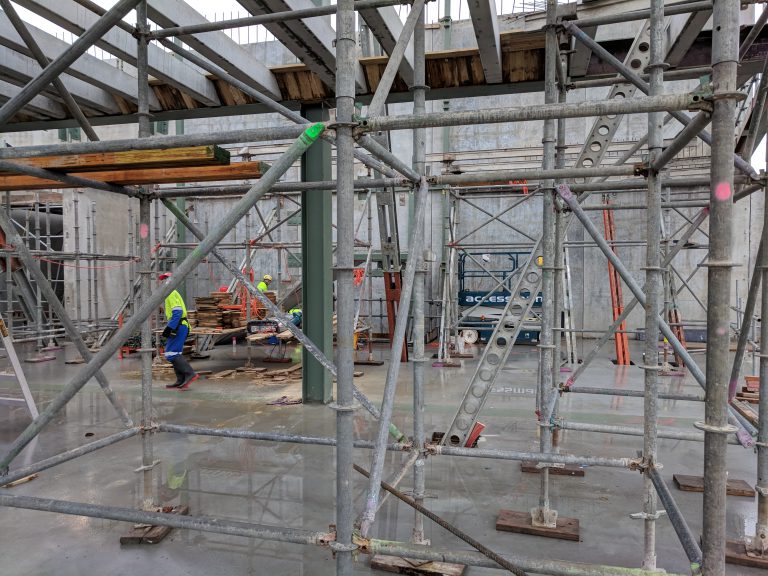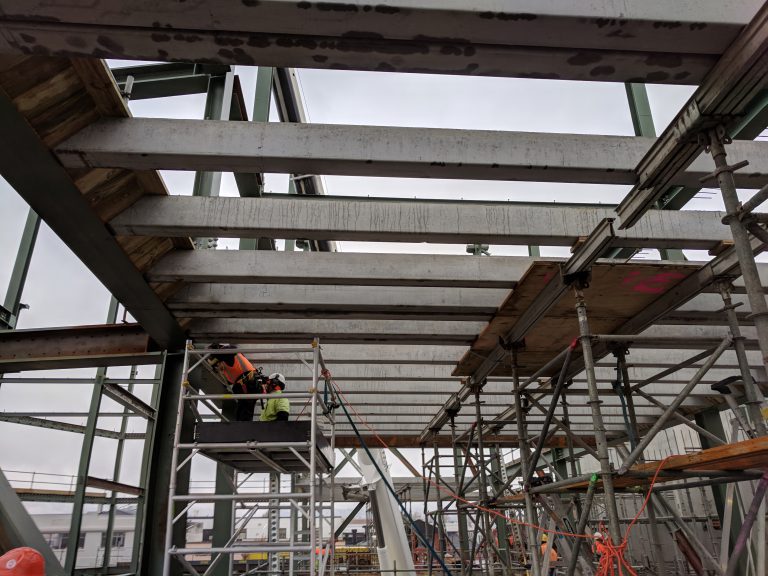 Open Night
A big thank you to all of the students at the Unlimited Campus who gave up their Tuesday evening to support me with our last open night of 2018.  There was a large turnout (more people than the previous one) and hopefully we were able to show some more families what being a part of Ao Tawhiti Unlimited Discovery is actually like.
Students arriving very early to school
I usually arrive at the Unlimited Campus at about 7.50am and am growing increasingly concerned by the number of students already sitting outside in the cold and dark.  The campus opens at 8.30am.  Can you please support us by encouraging your child to take the next bus rather than having them sitting at school unsupervised in the cold.
Matariki
Don't forget … Friday 15 June at the Discovery Campus.  There's heaps of info in this newsletter to keep you informed
Steven Mustor – Director
Message from Niki
Kia ora koutou,
We've had another busy fortnight on the Discovery campus. On Friday 25 May I attended a hui on Trauma Informed Work organised by the Child and Youth Forum. There were a range of really interesting speakers and I enjoyed listening in particular to Dr Sue Bagshaw from 298 Youth Health and how important it is to respond to children's emotions and not try to appeal to logic when they are struggling with anxiety. If anyone is interested in finding out more about the other speakers there and what Trauma Informed Work looks like, please come and see me.
I was lucky enough to pop to Hanmer Springs on Thursday to visit HB Hawk who were on camp. It was awesome to see so many families engaging in the camp, the kids having fun and our values clearly on display. I'd like to thank Gina and Libby for all of your hard work in planning and organising a really successful camp, koia kei a korua!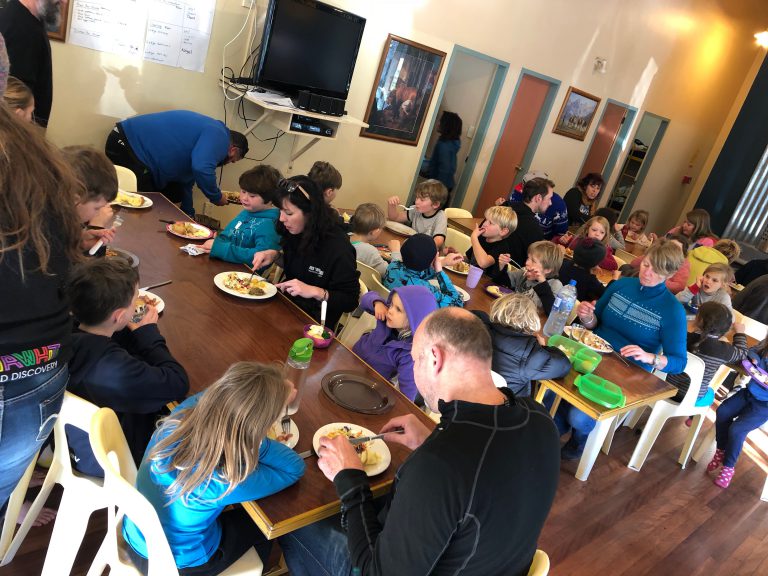 Also a big shout out to CLs and LAs who attended our second Open Night at the Unlimited campus and took time to converse with a range of families. It was a busy night! It is thrilling to see so many people interested in our school, yet frustrating that we aren't able to accept as many of them as we would like. Families we spoke to were particularly interested in SDL and knowing how IEMs inform children's learning for the term. Not for the first time, it made me realise how lucky we are to be part of Ao Tawhiti Unlimited Discovery.
Matariki
Plans are well under way for the final Matariki-at-Discovery celebration and the final countdown has begun. Emma Woods has been incredible with her organisation and I am grateful to have her on board! So far, and among many other things, she has organised soup, biscuits, workshops, written emails and booked lights. We need some clean glass jars for lanterns. There will be a box at Discovery in the Shared Space and one at Unlimited in the office from mid-week for donations.
We have quite a few workshop offers in but would love someone  to organise a lantern walk, night time treasure hunt, or 'secret' moonlight walking trail. If you are keen please email emmaphilp@hotmail.com or niki.stephenson@aotawhiti.school.nz
As we'd love to make this final Matariki celebration really memorable, we also would like some help tidying up Discovery's grounds. The bark on the playground needs to be raked from the edges and we need someone to move any dangerous rocks/ bits of wood. We also need the big logs around the sandpit to be replaced. The old wood might be able to be used in the hangi, but we need some strong volunteers to help shift them out the of the way. The sandpit could also do with a digging over and there is some pruning to be done. Rather than organise a specific working bee, if people are able to lend a momentary hand over the next couple of weeks we would be most appreciative!
We are looking forward to seeing lots of you at Matariki 2018.
EOTC
There have been a few requests for an EOTC information evening. Parents wishing to take children for Off-Site Learning need to attend such an information session where items such as Health and Safety and completing a Safety Action Plan will be addressed.
I will hold two sessions this term, Monday 18 June at 7pm and Wednesday 20 June at 9am, both in the Shared Space on the Discovery campus. If you are interested in either of these please sign up with Niki or Jacinta (niki.stephenson@aotawhiti.school.nz, office@aotawhiti.school.nz). Many thanks, enjoy the next couple of weeks.
Niki Stephenson – Deputy Director
Message from Ian
Last week Duncan and I were lucky enough to spend some time in Sydney at a conference. This is the same conference that we went to in 2014. The conference is run by Learning Environments Australasia and is focussed on creating great spaces for learners. This includes a "cradle to grave" approach, anyone who learns, and the spaces that make this an ideal experience for the learner.
The conference brings together: Architects, Interior designers, Educators, Social researchers, Politicians. All with a focus on designing and creating ideal spaces for the learners of today.
It was great to see we are definitely on the right track with our new building and the thoughts about the style of education that we want to offer in there.
https://tc.vic.edu.au/ – Templestowe College – Innovative education
https://www.youtube.com/watch?v=VxuWIXdYYyQ – Jordan Nguyen – Biomedical Engineer
https://clairemadden.com/ – Claire Madden – Social Researcher
https://pasisahlberg.com/ – Pasi Sahlberg – Finnish Education
I have added some of the interesting people/ideas that came up during the conference. Clearly they are out of context but if you have a browse through them I'm sure you'll find something interesting.
On a practical note, one of the presentations we saw included a a section on community building. One of the tools that the group presented used was a Car Pooling app. Their comment was that car pooling is an effective way for any community to strengthen it's relationships, free up time for it's members and provide an opportunity to work together. I know that over the years many community members have used car pooling.
I'd be interested to see if any of you thought this app was a good option. My understanding is that it is free. I'm sure it might take some setting up, but those of you who might use it might want to have a play with it.
Just a reminder that our last week of term has IEM days on the Wednesday the 4th and Thursday the 5th of July and a Teacher Only Day on Friday the 6th July.
I can't remember if I put the latest Time Lapse for our new building in the newsletter…if I didn't it  put it in the newsletter it does get uploaded to the website a couple of times a term and automatically shares with Facebook and Twitter.
http://aotawhiti.school.nz/new-building-latest-time-lapse/
https://www.facebook.com/aotawhiti/?ref=bookmarks
Finally, we have lost of new community members since the start of the year and some of you may have missed the news that we do have a communication app available for download…
On the App you'll find options to…
Leave an Absentee message.
Contact staff.
Access useful school links.
Find events on our calendar.
See what's happening on our News feed.
Access the Parent Portal.
See our Term Dates.
Receive Alerts from staff.
Please feel free to head to the following link to download it…
http://aotawhitiunlimited.apps.school.nz/share/
Alternatively you can find it at the AppStore on your Apple or Android device. Search "schoolappsnz" to download the App. Then search for "Ao Tawhiti Unlimited Discovery" to find our school .
You will also be asked for a password at the download stage… we will update this a couple of times a year so keep an eye out for the email…the password is currently…
mollett19
Alerts: You will initially be asked to sign up to the Alerts you might like to receive from staff. Our suggestion would be to sign up to your homebase and your community. As staff think of more things you might find useful to get an alert about, we'll add those to the list, so you may want to update this every now and again…you can find your alert subscriptions in the dropdown menu at anytime in the top right hand corner of the app.
Have a great week.
Ian Hayes – Deputy Director
Message from Duncan
A4LE
Last week myself and Ian were fortunate to attend the Association for Learning Environments conference. This conference brings together educators, designers and scientists who have an interest in education. There were some fantastic keynote speakers and we got to visit a number of newly built Sydney schools. There were a number of highlights but Jorden Nguyen stood out for me.
https://www.youtube.com/watch?v=VxuWIXdYYyQ
2.2
This weeks sees the start of 2.2. It's hard to believe that we are getting towards the mid point of another year! This is the time of year when bugs start to do their thing. If your child is unwell please keep them home until they're better anything you can do to halt the spread is most appreciated.
MOA
On Friday we got to meet Marian from the Ministry of Awesome. The MOA are a social enterprise that support entrepreneurs in the community. They have a number of free events. They could be a great organisation for some of our students to connect with.
Matariki
Our annual Matariki celebration is not far away. This event has become a highlight on the school calendar. It's scheduled for Friday evening, June 15, on the Discovery campus. It would be great to see you all there.
Duncan Woods – Deputy Director
Schoolwide Notices
Matariki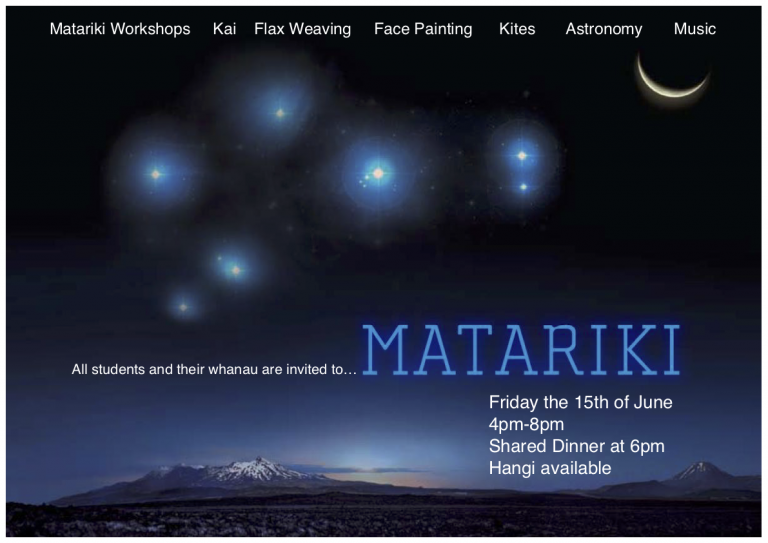 Emma Woods – Parent
1-6 News
HB Phoenix Update
Arbour day/ Big Project 6th June
We are racing towards our Arbour day planting this Wednesday. This idea grows from the kids wanting to replant the Port Hill as part of one of their Big Projects. We are stoked the Summit society is paying for a bus to get us all there but we still need folks to give us a hand please.
https://goo.gl/forms/GuPsc7JJIqgS3ax83
Please fill in the form giving permission and letting us know if you can help make this great day happen!
The Leopard coach (45 seater) is set to arrive at Ao Tawhiti (90 McMahon Drive) at 12.15pm on Wednesday, the schools are due at the site at 12.45pm.  The other schools involved are Cashmere Primary and St Martins Primary. We will be at the Latters Spur site at Victoria Park near the 19th memorial. The school van can park by the bus (follow the directions of helpers) but please can any other vehicles park at the 19th memorial – it is just a few minutes walk up to the site.
The pick up to return to school is 2.30pm. The postponement date in the event of poor weather is Thursday 7 June.
In terms of hazards and risks, they are the common sense ones you would expect:
Suitable clothing and footwear. Please dress for the weather. We'll only postpone if the weather is too wet.
Hands will get dirty and probably clothes as well.
Parts of the site are quite steep, uneven and have long grass.
The cages are a bit awkward and care needs to be taken with the bamboo stakes.
The key to success is plenty of adult help. We have a number of suitable sized spades, but please bring extras.
If you can't come can you send in a named spade to help the kids so they aren't just standing around?
Lateness
We are really struggling with kids being late in the morning this term. I know things can crop up occasionally but we really need your tamariki at school before it starts at 9am. It is really tough on your kids getting into school when all there prep time has gone and they have workshops etc that have started without them. Can families please have a think how you can tackle that to help your child make a positive and calm start to the day.
Senior Kids with Sarah Marshall
We have been lucky enough to work with a great gaggle of kids from the Ilam site with Sarah Marshall. The kids have developed learning programs in football, basketball and rippa rugby and then run session twice a week. It has been some great learning for everyone each time and the kids have enjoyed working with older mentors immensely.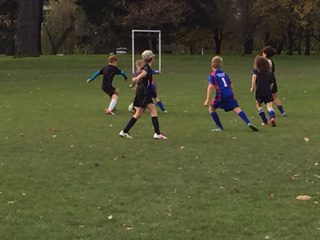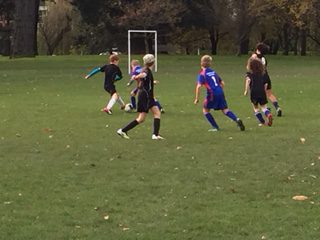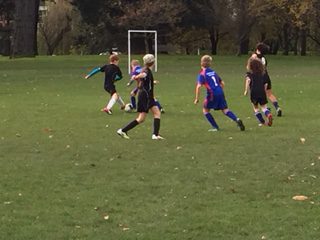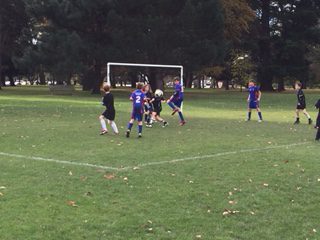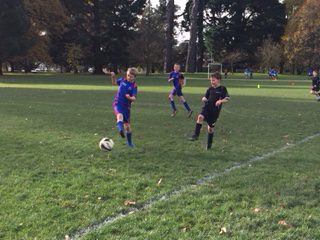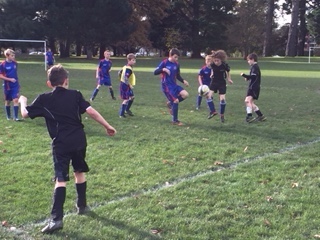 Senior kids with Steve Hunt
We have students from Steve Hunt at the Ilam site who are due next Tuesday to teach our kdis some new games in the playground. Every chance we have for tuakana-teina  (older and younger student teaching and learning) is much appreciated by the kids.
Marae Visit.
We  have been lucky enough to book a visit at the Rapaki Marae through our parent Michelle, (Mia's Mum). We have booked in Tuesday 3rd of July.
http://ngaitahu.iwi.nz/te-runanga-o-ngai-tahu/papatipu-runanga/rapaki/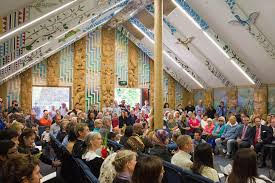 For a citizenship ceremony in 2014.
Asthma
We had the fun Sailor the Puffer Fish show from the Asthma society today with lots of good information for the kids and grown-ups.
http://www.sailorasthmashow.co.nz/
Just a quick double check if your child has asthma can you ensure they always have an inhaler in their bag and if you could flick me a quick email today to say if your child does have asthma so we know who to ensure has an inhaler. Especially when we start doing trips in the cold air. Thank you 🙂
Off site learning
Just a reminder if you are doing offsite learning and you don't let us know and provide evidence of learning in either an email or an email to say a post is made in LMS we will mark your child as absent from school.
I'm keen to support parents to log the information for offsite learning days so they can be counted as such. So if it's the paperwork that is daunting let me help you by entering it for you if you email it too me, or I'm happy to sit down one day after school and talk you through the process of how to do it yourself in LMS.
Science workshops
The science workshops around forces have been fabulous with awesome experiments and learning. The kids have run with the praxis model of hypothesis, experiment and hypothesis. The next step for us is to build in our report writing for this. The kids have loved the hands on learning in a new passion.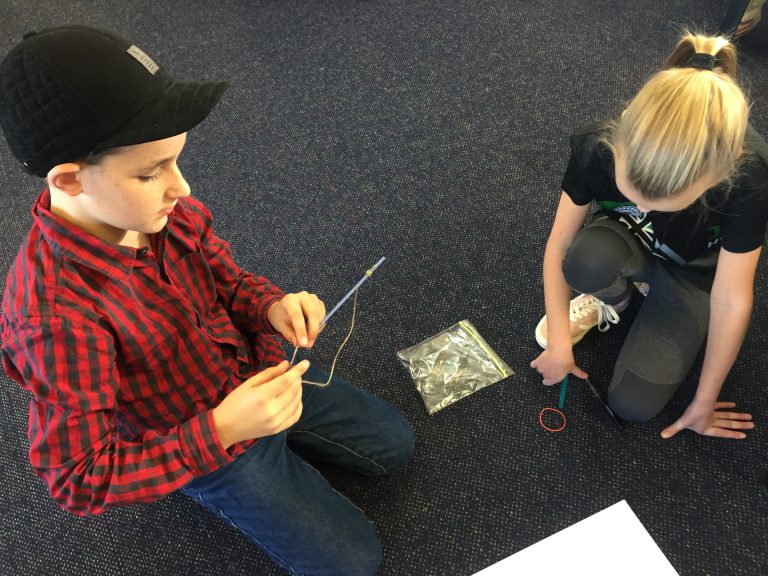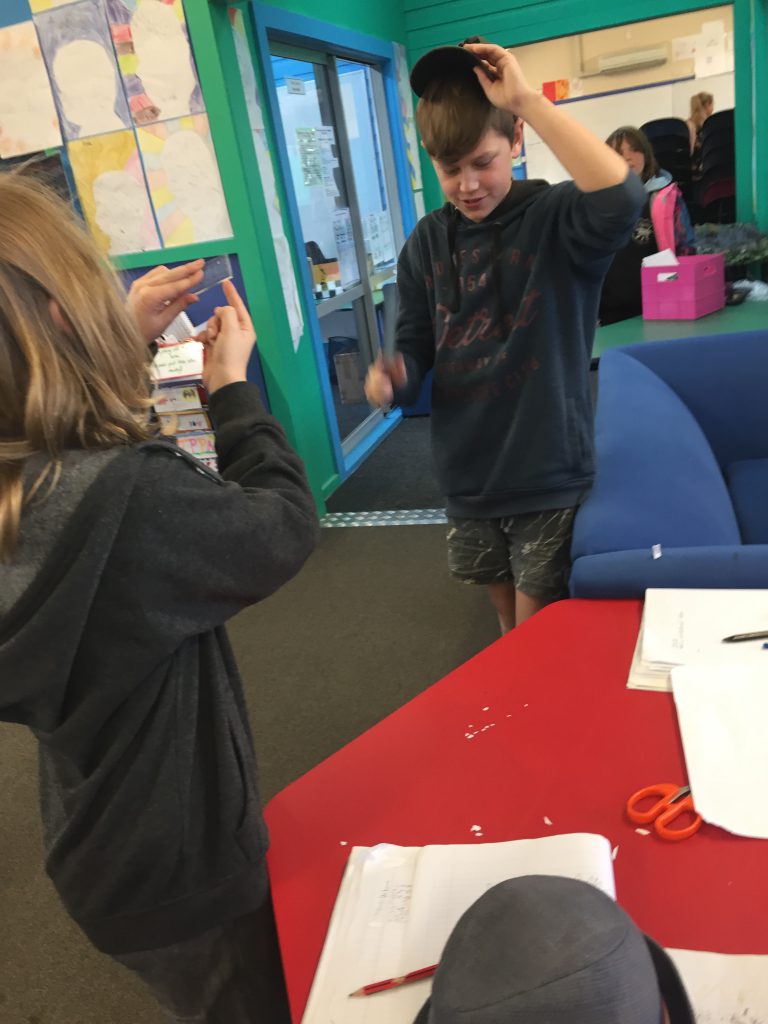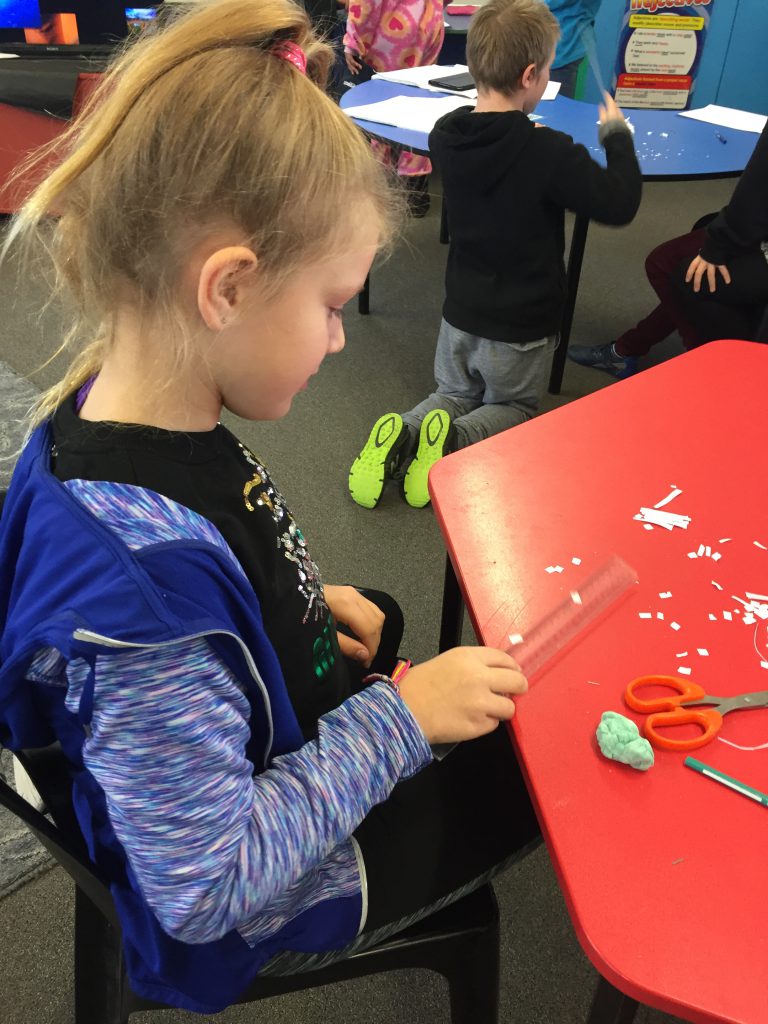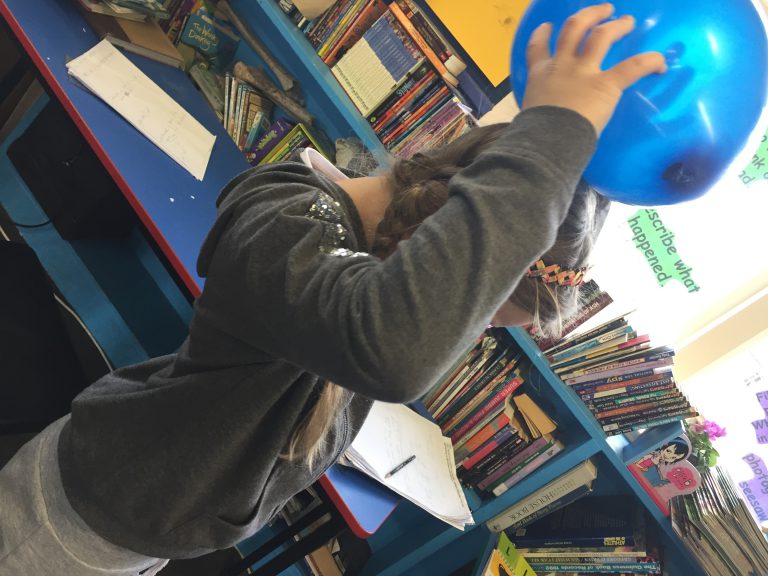 Melva Gill – Community Leader
Nature Adventure
Nadine Walmisley – Community Leader
Counselling at Discovery
On Tuesdays I am usually found at the Discovery site doing play therapy with some students, working on issues such as anxiety, anger, or friendships.  Discovery students will always have parental permission before talking to me, whereas at the Unlimited site students make their own decision to talk to me, other than on the very rare occasion they are directed to see the counsellor after a serious incident. 
On both sites I am available to discuss student issues with parents and/or LAs, including options for outside school support, and referrals into health or welfare organisations. 
Please get in touch via our website (aotawhiti.school.nz) or by phone (03 377 7773) or email miriam.denney@aotawhiti.school.nz) if you have any queries.
Miriam Denney – Counsellor
7-13 News
Visual Art Trip to COCA Gallery
We arrived promptly at COCA 19 of us all together. Senior art students found their way by bus from Ilam, four parents and myself. Peter Robinson (Associate Professor Elam Uni and International Artist) lead our group art work by art work through his beautiful and intriguing exhibition called 'Fieldwork'. He explained how the works were inspired by his childhood on an arable farm in Canterbury and holidays at Kaikoura wandering along the beach. Magnets and spilled bunches of wire, bull clips and perfectly arranged piles of metal filings. Other associations Peter worked from were The Dada 'Ready Mades' by Marcel Duchamp and  Italian1960s Arte Povera. Everyone was transfixed by the artists personal and wonderfully generous explanations as he encouraged us all to love what we do in art. He talked us though the process of how he prepares and makes an exhibition and how he wanted this one to be for the people of Canterbury. After an hour and a half Peter said goodbye to catch his pane back to Auckland. We exchanged photos and thanks. Thinking it was over for the day and then everyone decided to have a wander through the Christchurch City Art Gallery together. Lovely informative time thank you to everyone involved.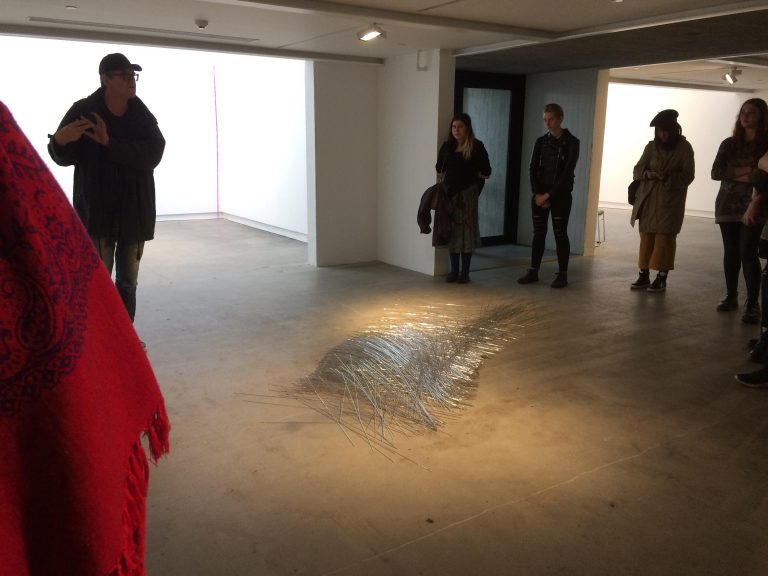 Holly Ramsay – Learning Advisor
Kay's Newsletter 1st June 2018
Community Breakfast / Pick Ribbon Breakfast
This Friday morning we took some time out to get together and chat over breakfast. We decided to make it a Pink Ribbon Breakfast and to take donations at the same time. 
It was fantastic to see many parents there as well as staff and students. Thanks to all of those who made fantastic pink treats and donated. I heard many comments from students that they really enjoyed it and that they would like us to do something like it again.
So far we have raised nearly $150 but you can still donate online if you would like to:
https://pinkribbonbreakfast.co.nz/page/aotawhitiunlimiteddiscoveryshostpage
Incubator – Naming of our rooms.
We have recently named the rooms in our community. It was confusing for our students when planning what rooms different workshops or groups would be working in, so we wanted to make things simpler. After much consideration we decided to name these rooms after inspiring ex students of our school. Here are the names that were chosen and a little about these inspiring people;
Sam Hawke – Sam is an ex Discovery 1 student who is a pro surfer. For Sam bigger is definitely better as her prefers BIG wave surfing. He is one of the first ever Kiwis to surf Teahupo o in Tahiti which is called the worlds deadliest wave!
Sam Prebble – Sam is an ex student of both Discovery 1 and Unlimited Paenga Tawhiti. He is a motion graphics artist and game designer. He has worked for Weta Digital on some amazing projects.
Stella Seyb – Stella is an ex student of Unlimited Paenga Tawhiti. She is a Doctoral Student at Indiana University, studying Management and Entrepreneurship. 
Bridget White – Bridget is an ex student of Unlimited Paenga Tawhiti / Ao Tawhiti Unlimited Discovery. She is studying biology and biochemistry at University of Canterbury. She also works with Fossil Free Aoraki on some climate change campaigns.
Oliver Sampson – Oliver is an ex student of both Discovery 1 and Unlimited Paenga Tawhiti, he is a talented musician. He graduated from Queensland Conservatorium Griffith University of Music and has had many significant roles on stage in musicals. He is also a member of the Ten Tenors.
Impact Projects
By now all students have begun the inquiry process of Collect, Connect and Create. They will all have a designated mentor  who will now be supporting them to get out there and make connections with the wider community. One of the principals of Impact Projects is to seek expert advice and support from beyond the restrictions of the classroom. Below is the list of projects happening at the moment. If you could have a look through and if you think you could help us to make connections then please email us.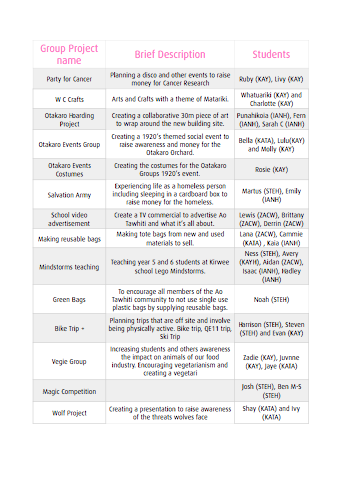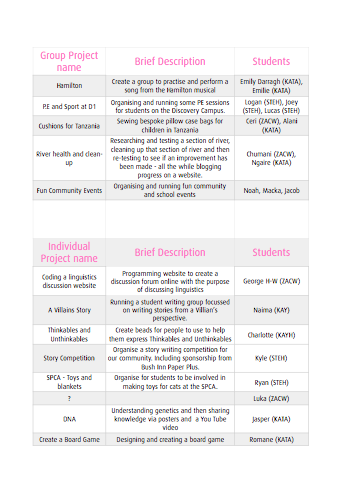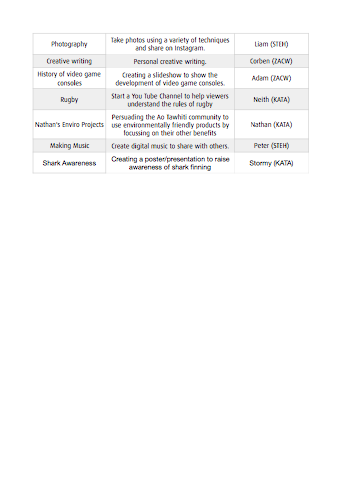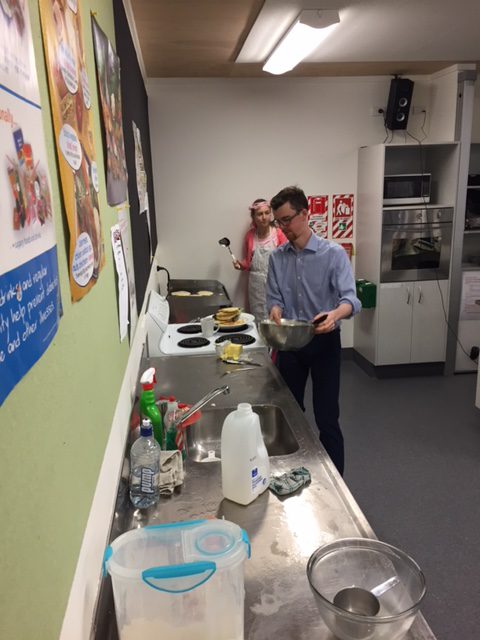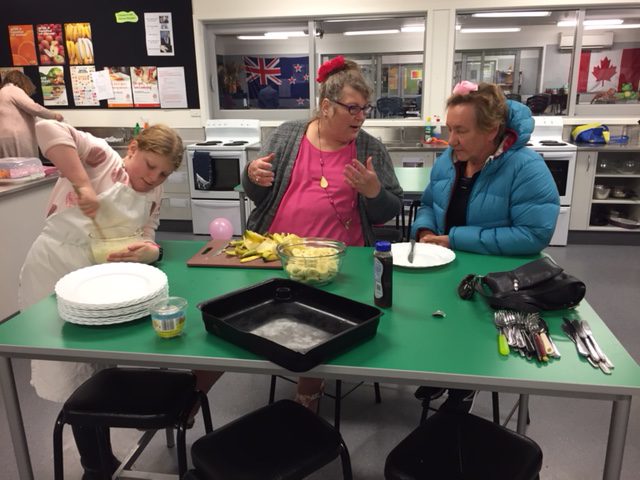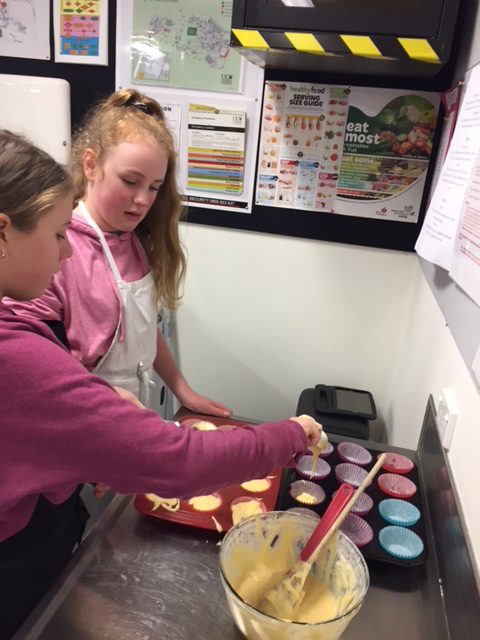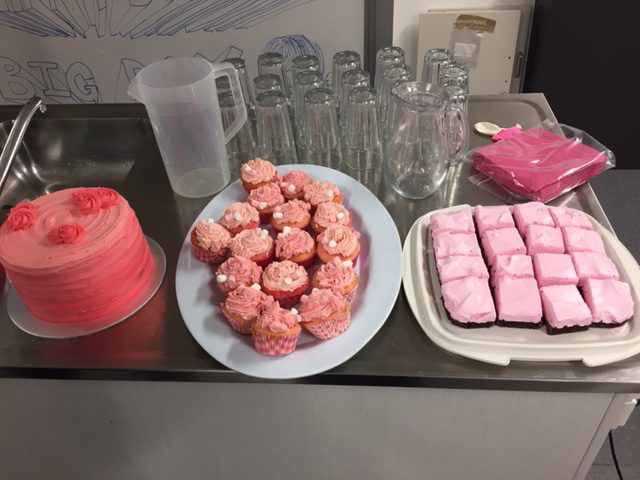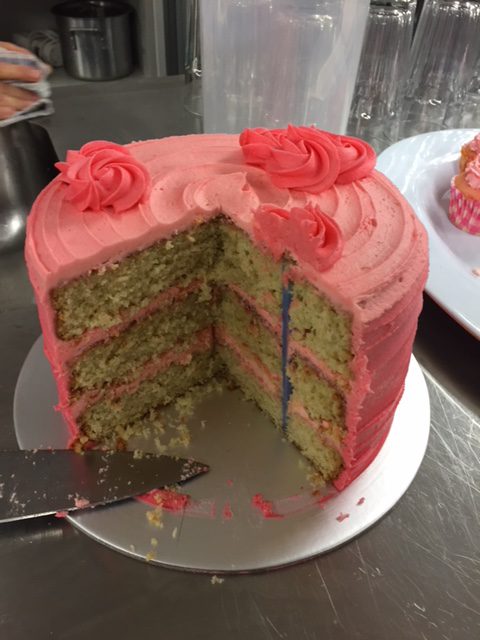 Kay Hayes – Community Leader
Other Notices
Lyttelton Rugby – Players Needed