---
Upcoming Events
Term 1, Week 6: Starting Monday 4 March 2019
Tuesday 5 March, 9am-3pm: PINS in the City Workshop, MOE Offices.
Wednesday 6 March, 8.30am: Breakfast Club, Unlimited Campus, Kitchen
Wednesday 6 March, 9am-3pm: Yr 1-6 in the City, Discovery Campus, MOE Offices
Thursday 7 March, 11.15am-12.15pm: Mates & Date Y11-13, Unlimited Campus
Thursday 7 March, 2.30pm-3.15pm: Lincoln Uni visit, Unlimited Campus, Kitchen.
Friday 8 March, 10am-12pm: Taming of the Shrew performance, Unlimited Campus.
Term 1, Week 7: Starting Monday 11 March 2019
Monday 11 March: Term 1.2 Begins, Unlimited Campus.
Wednesday 13 March, 8.30am: Breakfast Club, Unlimited Campus, Kitchen

Wednesday 13 March, 2.30pm-3.15pm: Experience Ara visit, Unlimited Campus, Kitchen.
Thursday 14 March, 11.15am-12.15pm: Mates & Date Y11-13, Unlimited Campus
---
Messages
Message from Steven
Athletics
Thanks Kelsey for all of the work you put in to making the athletics day a successful and enjoyable event. The Discovery Campu joined in this year making it the first time Ao Tawhiti Unlimited Discovery had a whole school athletics event. The feedback I heard from the students at the Discovery Campus was that they loved being part of it and are really looking forward to it next year.
Annual Plan 2019
I spent a huge amount of last week writing our annual plan for 2019. I'll publish this document to the website once I've had a chance to revise it. The plan continues to focus on the Charter goals of Learning, Relationships, Culture and Transition.
Board Meeting follow up
We had our first BOT meeting of the year last week. The BoT have reelected Evan Kidd as chair. They have also reconfirmed the various subcommittees and delegation, something that all boards do at the start of the year.
The BoT have confirmed that the first week of Term 2 will be 3 teacher only days followed by 2 IEM days. This will allow us as a staff time to familiarise themselves with the building (including evacuation procedures and health and safety). As a result of this decision I have moved the 2 IEM days from the end of term 1 to the end of the that first week. The idea here is to allow all families to see the building for the first time at the IEM (think of it like a personal tour).
The BoT also looked at how it will cover the school in my absence through Term 3, as I was granted a sabbatical in Term 3 2019 by the MOE. The BoT have agreed to a process of asking the DDs if they wish to cover me. If they do then there will be a term long vacancy at the DD level, and so on. If none of the DDs decide to take on the role, then the BoT will approach the MoE for a temporary principal to cover in my absence.
Finally there is of course an upcoming BoT election in Term 2. The 5 parent and 1 staff trustee roles on the BoT will soon ask for nominations. NZSTA have thoughtfully provided several opportunities for you to find out what being on a Board is like if you're interested you can look at their Kōrari programme. The focus on the programme is to lean more about the role of a school trustee. NZSTA says that the
… programme provides governance training for people who'd like to learn about the role of the school trustee. Sessions are being planned around the country for those who'd like to learn more about Kōrari. Registrations to Kōrari are available on the NZSTA website on the Information for parents page.

Once registered you'll have access to the:

Learning modules

Sessions and events in your region

Personal record of learning
Property update
The MoE have confirmed that 29 April 2019 will be our move in date! That's exciting because I was starting to get a bit worried.
There are of course a couple of big "buts". The first is that this is not just our opening date but our move in date as well. We will not have 2-3 weeks to move in that we had thought we'd have. I am currently working with the construction company to ensure that we have furniture and all our new items in beforehand but in terms of the stuff we're transporting from the campuses to the CBD, it will arrive on or after that move in date.
The second but, and it's a big one, is that we'll not have any access to level 4 for 4-6 weeks after our move in date. Leighs will still have work to do on the hospitality room and the gym. The impact of this is that the Discovery Campus students and staff will be based on Level 1 until the work is complete. We can all fit safely on the 3 floors but it will be a disruptive and require a second internal move once the 4th floor is finished. I've not had long to process this but will update you as things become clearer. The big positive however is that we are moving in for Term 2, albeit probably not quite as we imagined (or maybe exactly as some of you imagined)
Here's another picture of the progress taken early last week. It's starting to look a lot like the architect's images now.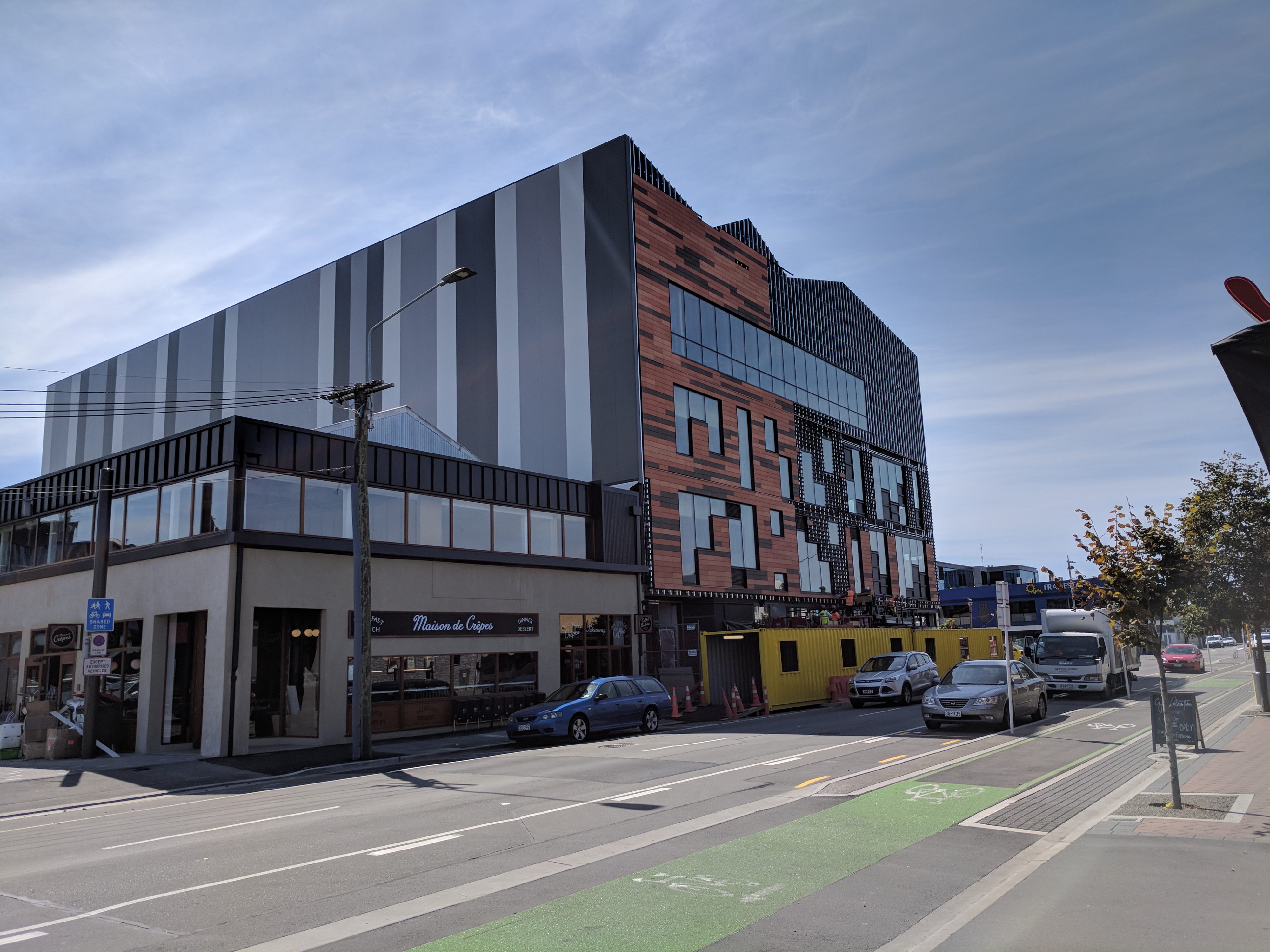 Travel to CBD info evenings
I'm running two parent evenings where we can talk about travel (think pick ups and drop offs). The council will be there, and we'll try to work with you to help you prepare for the transition from sites with parking and drop off zones to a CBD with none of that. I'm just waiting on the Council to confirm the dates but they are tentatively set for the weeks of March 18 and and April 2. I'll post an update with confirmed dates later this week
Steven Mustor – Director
Message from Ian
PINs for the Year 7-13 Unlimited Campus students
Starting on Wednesday, Week 7 we have our first round of PINs for the year on the Unlimited Campus. We have over 40 options available for our students to choose from! Thank you so much to the students, parents and staff who have put their hands up to offer one of these workshops…we can't make these things happen without your support.
Here is the information you need for the upcoming PINs workshops that begin in Week 7 on the Unlimited Campus (not to be confused with the CBD workshops happening next Tuesday in the City).
These workshops are only available for Unlimited Campus students.
The following document has all the information that you need to see what's on offer… please take note that some of them are off site and some of them have a charge. Unless the workshop leader organises something different, all charges will be added to your account.
https://docs.google.com/document/d/1Z36mxtMnTnYPAVvWhbLZZD75pfjbssZflXs823Wgxqw/edit?usp=sharing
Use the following link to select your workshops. Please identify a first choice, a second choice and a third choice. We will attempt to get you your first choice but this is not always possible. This is run on a "First come, First Served" basis, so the earlier you make your choices the more chance you have of getting into your preferred choice.
https://docs.google.com/forms/d/e/1FAIpQLSfategtG84DAkj5wWTh8YCfLRv6DW-zw97Q-7ldrGeNmH_MKA/viewform
This is the first time we have run PINs on the Unlimited Campus…there is an amazing variety of workshops and we really appreciate all those people who have put themselves out there to run a workshop. It's going to be an awesome opportunity to get involved in!
Selections are due on Monday the 4th of March. Those students no making a choice will be placed in a workshop.

1.2
You can now go onto the school website and check out the descriptors for our 1.2 Block. It is really important for the students to read the descriptors of each course so that they know what they are signing up for. As an example of this, in my PE class this term I had 3 students out of 25 who had read the descriptors and the rest were shocked to hear that we would be doing some maths and fitness work during the course. This would have been avoided if they had read the descriptor. When using the link below to all of the classes remember to set the Termdrop down menu to 1.2.
https://lms.aotawhiti.school.nz/?q=timetable&field_year_tid=5881&field_term_tid=65&term_node_tid_depth=All
Athletics
What a great day we had at Nga Puna Wai. We had a massive amount of participation and such a cool atmosphere. It was stunning to have all of the Year 1-6s present and to have a whole school event.
School Apps
Ao Tawhiti now has an App for communication. We currently have over 400 users which is fantastic!
On the App you'll find options to…
Leave an Absentee message.
Contact staff.
Access useful school links.
Find events on our calendar.
See what's happening on our News feed.
Access the Parent Portal.
See our Term Dates.
Receive Alerts (messages) from staff.
You can find it at the AppStore on your Apple or Android device. Search "schoolappsnz" to download the App. Then search for "Ao Tawhiti Unlimited Discovery" to find our school .
You will also be asked for a password at the download stage… we will update this a couple of times a year so keep an eye out for the email…the password is currently…
mollett19
Alerts/Messages
You will initially be asked to sign up to the Alerts you might like to receive from staff. Our suggestion would be to sign up to your homebase and your community. As staff think of more things you might find useful to get an alert about, we'll add those to the list, so you may want to update this every now and again…you can find your alert subscriptions in the dropdown menu at anytime in the top right hand corner of the app (you can access this at any point).
We're hoping that you'll find this a great way to stay in touch and up to date.
NB. After a recent update there is potential for those of you already using SchoolApps to have had your Notifications for SchoolApps automatically turned off. You may need to check and turn them back on.
Ian Hayes – Deputy Director
Message from Duncan
In mid 2006 and I was working at a large secondary school. I had been working in education for about 6 years at that time. Like many teachers, at that point in my career, I was questioning whether I would be in it for the long hall. I was at a good school, had great colleagues but just felt out of place somehow.
As it would happen I knew someone who was training to be a teacher. They were on a placement at Unlimited and suggested I come and have a look around as it was something quite different.
I took that opportunity up, arranged to visit and along with my then 3 year old son made my way into the city. I'd been told Blair was the guy to talk to so I made my way over the Southern Star house where he was and introduced myself.
While we were chatting there emerged another member of staff. This person wondered past dropped an "interesting" pun and carried on his way. This was the first time I met Ino Kelderman.
This week after having been part of our team for about 15 years we farewelled Ino. Ino leaves a huge gap in the fabric of our community and our loss is certainly Westland's gain. Ino's eternal optimism, relaxed manner and deep care for our students will be missed. For me, personally, I learned many lessons from a great colleague over the last 12 years.
Top 10 lessons from Ino
Maths jokes – add up, you can take away what you like from that…
Don't sweat the small stuff, stay positive, stay happy
Be careful walking into Ino's room first thing in the morning – it's likely he's getting changed!
You don't need to be that organised as a maths teacher so long as someone like Louise is close by.
Back waxing for charity is not a a great idea…
It's possible to do a different version of the Haka every time..
All food is good food and best before dates are just a guideline
It's possible to dance a whole routine exactly one step behind everyone else
Have faith in the young people you teach, they have huge potential and will get there if we give them time and keep believing in them.
Great teachers make a difference
Duncan Woods – Deputy Director
Message from Niki
Town PINs
We are very excited about our town day on Tuesday. Remember, both campuses will be closed. LAs have put on a wonderful array of workshops for students to choose from, and we are very grateful to those parents who have offered to help. It is going to be a really fun day, and will be a taster of things to come when we move into the CBD.
Classroom Release Time
LAs at Y1-6 have 2 days release from the classroom every term. This term teaching teams are taking their release day together, the idea being that as a team they can visit other schools etc, plan and have those collegial discussions that lead to growing and strengthening professional development.
Two weeks ago Kate and I ran a 'What the Ladybird Heard' by Julia Donaldson day in Community Pekapeka. There were maths, literacy, art and technology tasks on offer all connected to the story, as well as swimming fun too. It was a great day in there, and Kate and I are looking forward to running another fun day in Community Pekapeka on 21 March. We may ask for some parent help, watch this space…
Kate, Clare Marshall and I had a fab day in Community Tarākona on Thursday last week while Melva, Libby and Debz were on release. Our concept for the day was change. Clare ran some experiments on changing state, Kate built the Banks Peninsula in the sandpit, complete with active volcanoes and I ran a UDL session around metamorphosis. The kids were awesome and seemed to enjoy the challenges that were on offer. It was fantastic to see the enthusiasm the tamariki have for their learning. We are excited about another day in Community Tarākona on Thursday 28 March, thinking of a fun maths day. Again, we might ask for some parents who are interested in helping out for that day.
And a huge shout out to Claire and Zoe our wonderful Learning Support for their help during both days! We couldn't do what we do without you.

Athletics Day
Thanks so much to Kelsey and her crew for organising a fun whole school day last Wednesday. The 1-6 tamariki did themselves proud as they participated in the activities and made some new friends. Looking forward to future events as a whole school!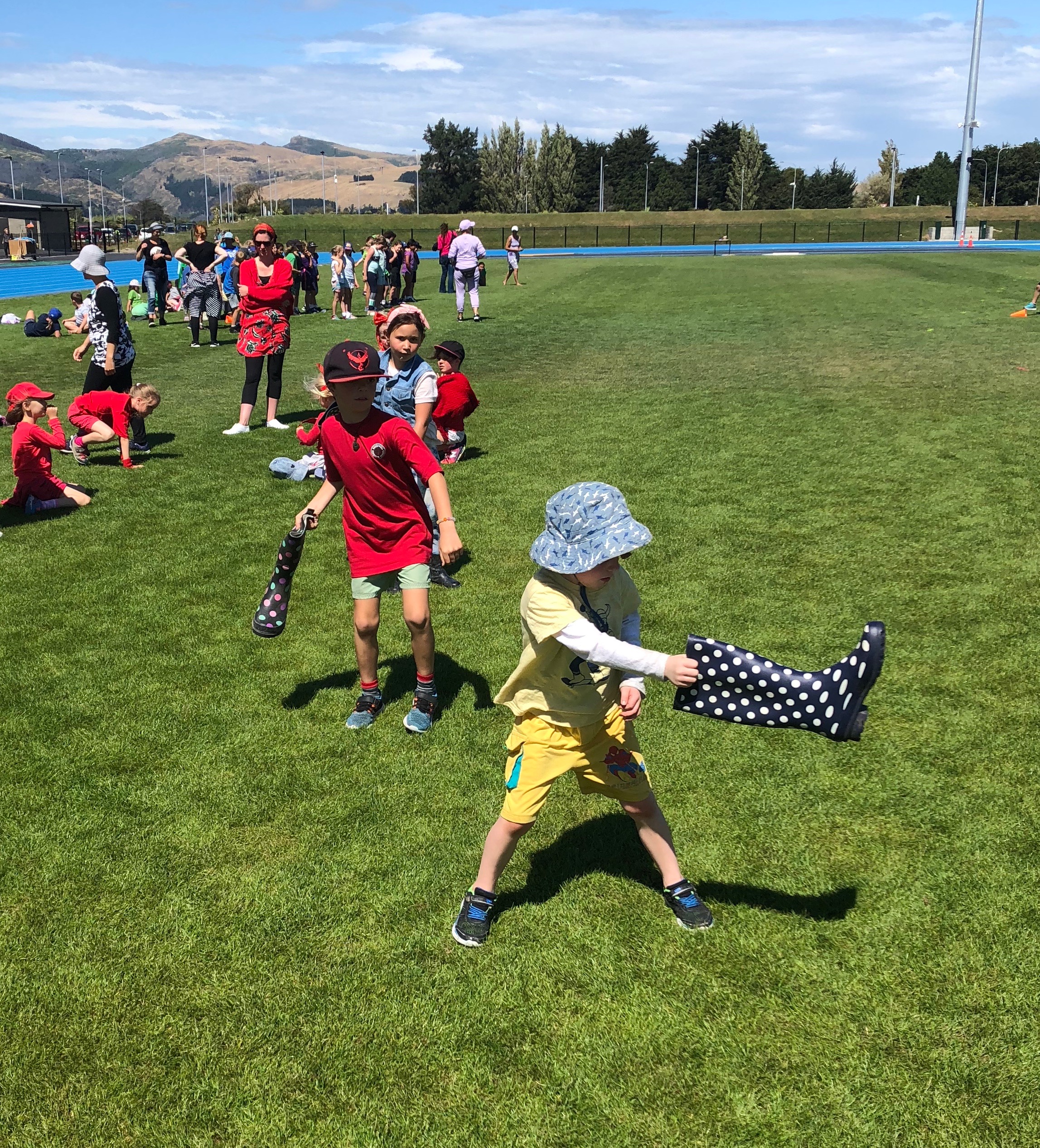 Looking after the wellbeing of our young students
It's a hoax that has been going around for some time according to my husband who is an internet moderator, but is only just becoming a thing here at Ao Tawhiti Unlimited Discovery School. The hoax involves rumours of a character called Momo talking about self harm and threatening some unpleasant consequences if kids think about switching off when it comes up on screen. It sometimes pops up in places you wouldn't expect it to, such as in the middle of Peppa Pig, but kids being kids know of it and can search for it.
Some of our younger tamariki saw this character earlier this week, and I'd like to thank Nadine and her team for making a quick intervention and resolution, and keeping our tamariki safe.
Here are a few articles if you'd like to know more:
Niki Stephenson – Deputy Director
Schoolwide Notices
Attendance or lateness
Please, if at all possible, let the office know by 8:45am any absences or lateness so we can remove you from the list to of absent texts we send. You can phone on 03 377 773, email office@aotawhiti.school.nz or use the Ao Tawhiti app to notify us.
Jacinta and Jonelle – Reception at Ao Tawhiti Unlimited
Students Driving to School
We've noticed a number of Y12-13 students driving to school and bringing other students with them. All students who wish to drive to school must contact Duncan Woods so we can ensure that you are aware of our expectations. As a parent can you please ensure that your child is aware of this requirement.
Richard McCance – Community Leader

Help! Graphic Designer Needed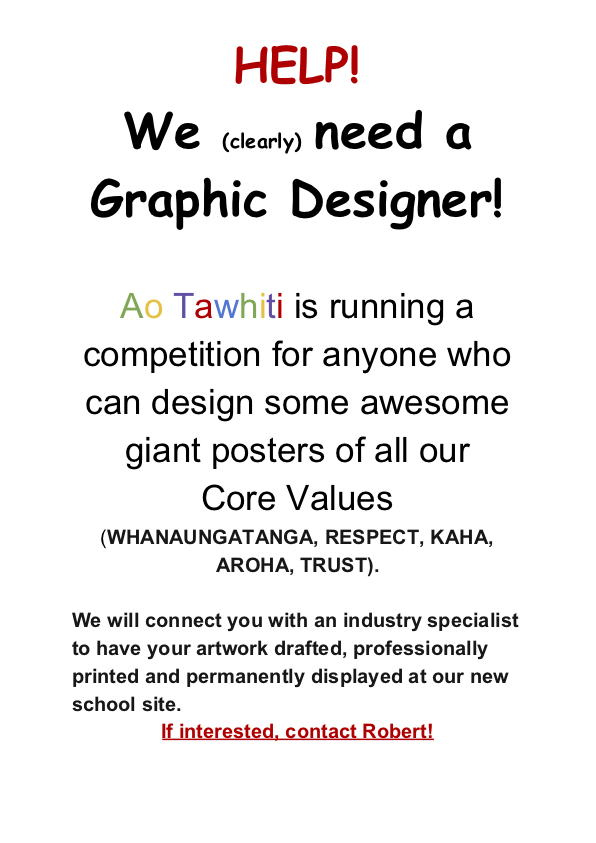 Rob Miceli – Learning Advisor
The Taming of the Shrew
An all-female performance by the Ugly Shakespeare company. Performance date: International Women's Day, Friday 8th March, 10am in DW1. All students and families welcome. Suitable for Year 7 up. https://www.newshub.co.nz/home/entertainment/2018/07/ugly-shakespeare-announces-all-female-cast-to-counter-pop-up-globe.htmlThis is a fun, partly improvised show that will last about a hour.
Laura Borrowdale – Community Leader
Athletics Day
Thank you to all those who made Ao Tawhiti Unlimited Discovery's first whole school event possible! It was amazing seeing students from years 1-13 being involved and making our first athletics day at Nga Puna Wai one to remember. A massive thank you also to the staff, family members and wider community for supporting the students throughout the day.
Some of many amazing photos from Richard P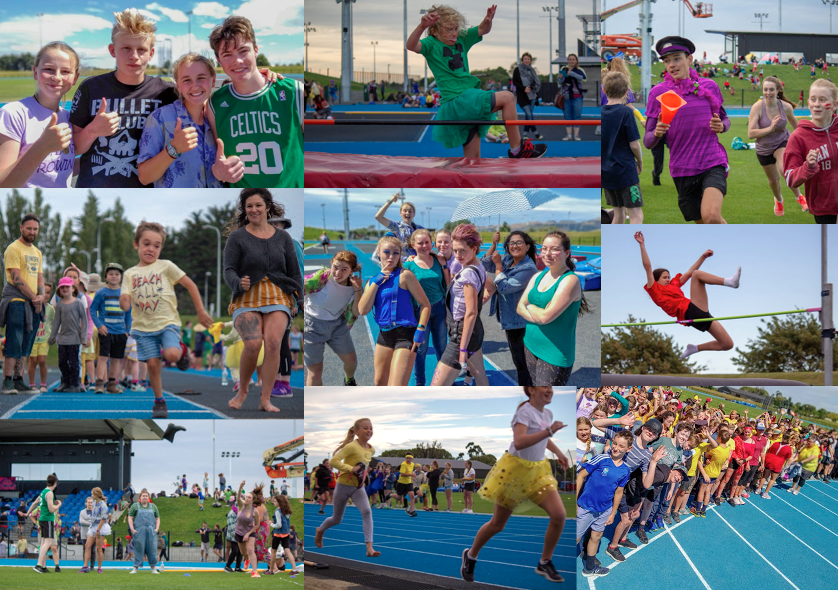 Kelsey Berryman – Sports Coordinator
Voluntary Painter Needed
Our 4HOL are looking for a Voluntary Painter to spray paint the pavement next Friday 8 March from 10am – 1pm on Mollett St (City) with us.
WHO
34 students and I have been working (these past 4 weeks) toward 'Enlivening the City' with busking, yarn bombs and stencil art (all to be revealed in 1 week – on Friday.
STENCILS
The stencils will be spray-painted onto the footpath/pavement with a product called 'Ever Dry' sourced from Dalton International.
EXPERT ADVICE
We have two points of contact who have worked with the product before, for our 'donated or voluntary painter' to communicate with, as to 'how to', and some email-able tutorials and info packs
ACETONE
Essentially it is non-toxic to plant and animal life (supposedly?) product, but it does acetone as a product, so it requires the person applying it to where a respirator, gloves, protective clothing.
NEEDING HELP
Can you help?
OR
Do you know someone who can help?
YOU WOULD BRING
We are imagining they need
the gear that enables them to spray paint.
respirator
protective clothing
gloves
patiencea heart of gold may help too. wink wink.
it would be helpful if you have your own product to clear your equipment (but if not we can source this too)
WE SUPPLY
We will supply:
ever dry paint
it required: clean up solutions
Wet Weather:
We don't have a postponement date (yet), but if it's raining or overly windy we will need to POSTPONE.
You can help?
Please forward this on to someone fit for the job, or email me back saying a hearty YES LET'S.
Thanks in advance
Emily Mowbray-Marks – Learning Advisor
1-6 News
Community Pekapeka (yrs 1-3)
Community Pekapeka have been spending Fridays at Halswell Quarry for our nature play days.
This week a whole horde of learners worked together to create a water run down the sloping dirt area that they usually slide on. The run had a waterfall and a bridge, braided sections and ponds at the bottom to collect the water.
They used sticks, stones and their hands to do some great engineering to ensure that the water was able to flow down the entire length of the run. The learners showed heaps of whanaungatanga, respect, trust and aroha to work together to co-create something that everyone was excited to be involved with.
We LAs were all very impressed and proud with what they achieved. Wananei!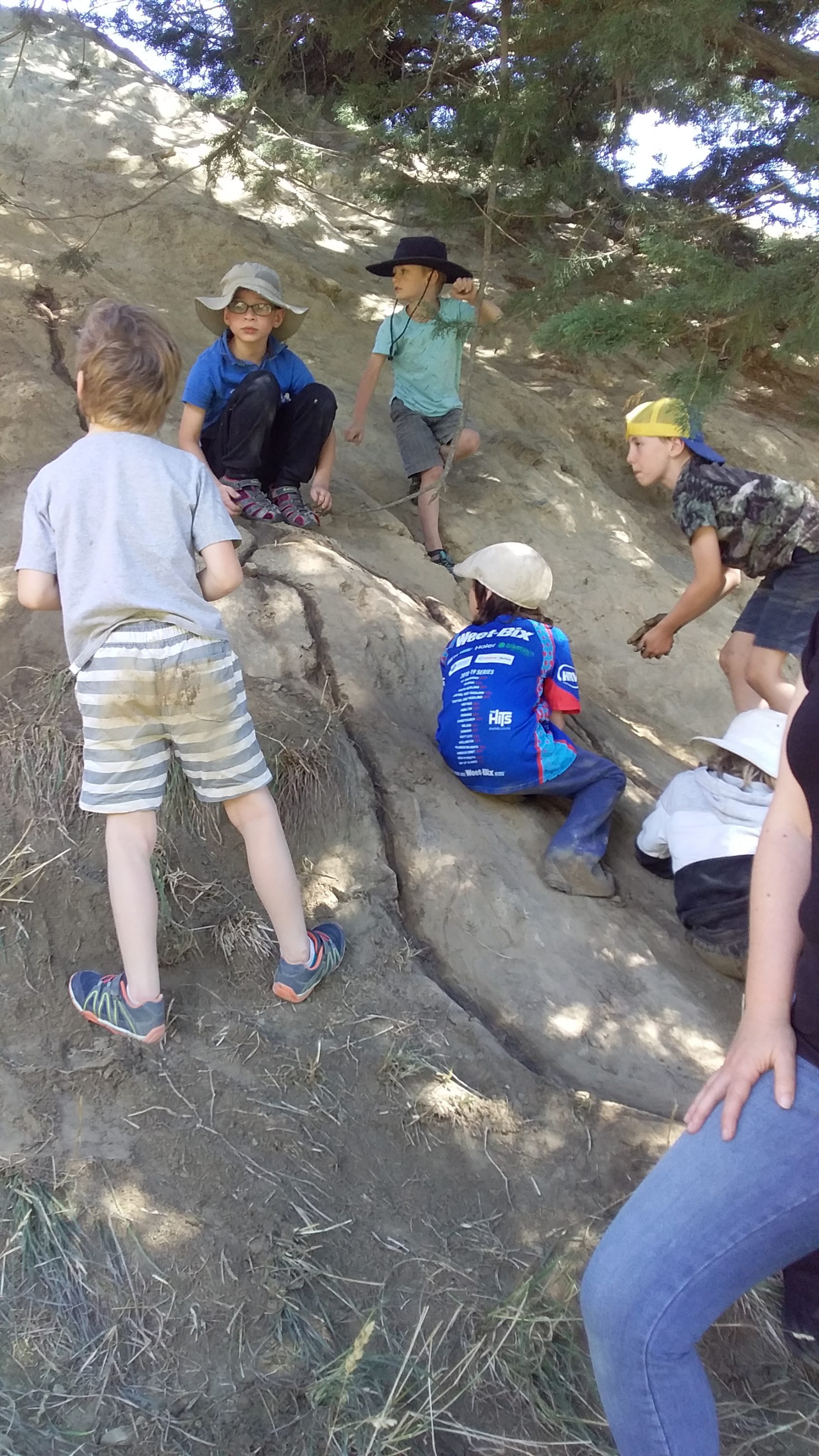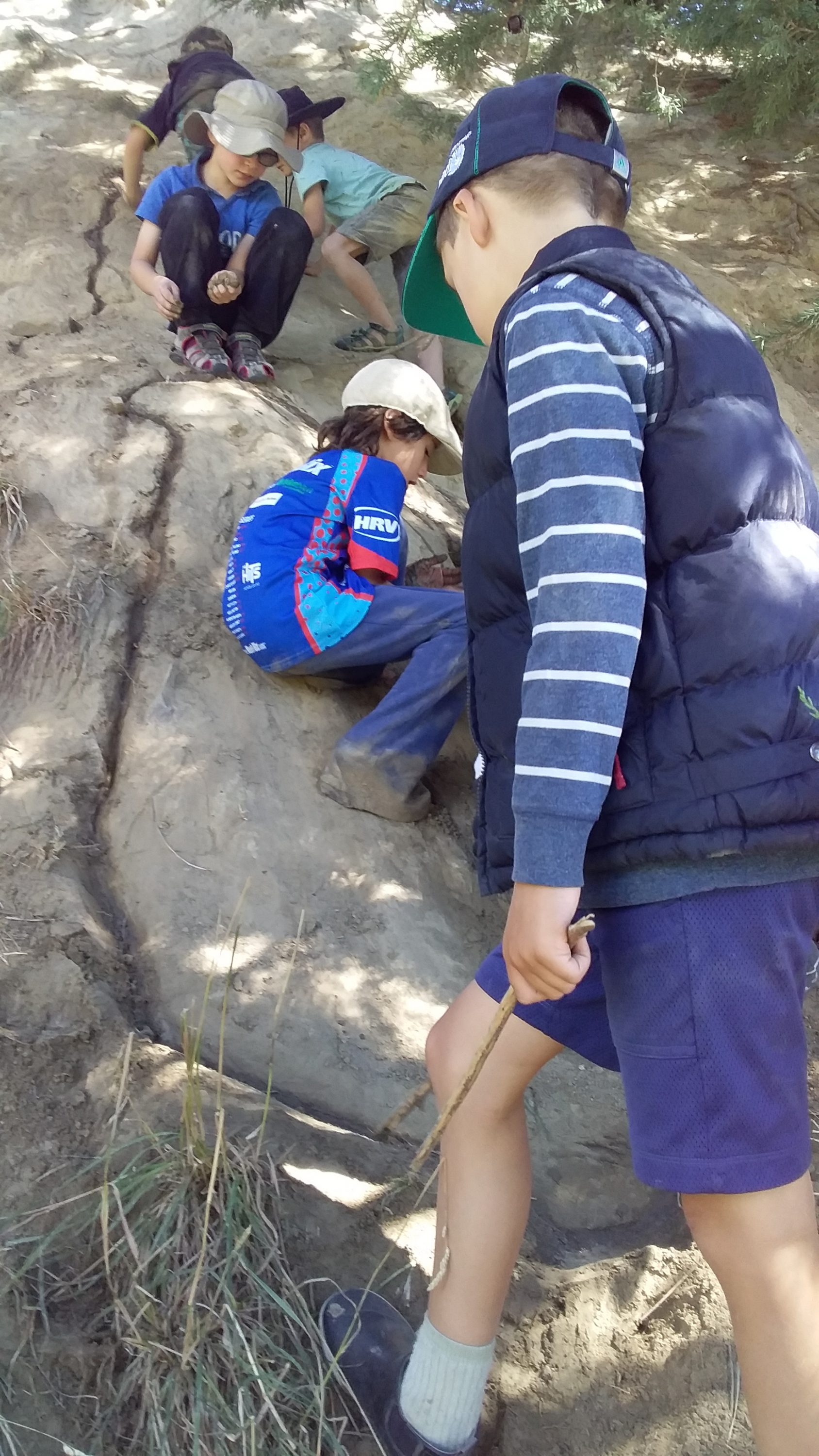 Suze Keys – Learning Advisor
Tarākona Yr 4-6 Community
Thank you for the great workshops that happened this week for kids organized by parents.
The geologist that the Miller's organized for Emma's inquiry who came in, and also met with a gaggle of keen kids. The kids enjoyed this workshop after picked the geologist brains clean. Lots of conversations about types of rocks and personal favorites afterward.

Suki organised and took a group of children to work with folk next door at the St John of God Centre. The kids loved their time and are very keen to go back next week. The kids shared books and from all the chatter when they got back they enjoyed taking the time just talk to people about their lives the most.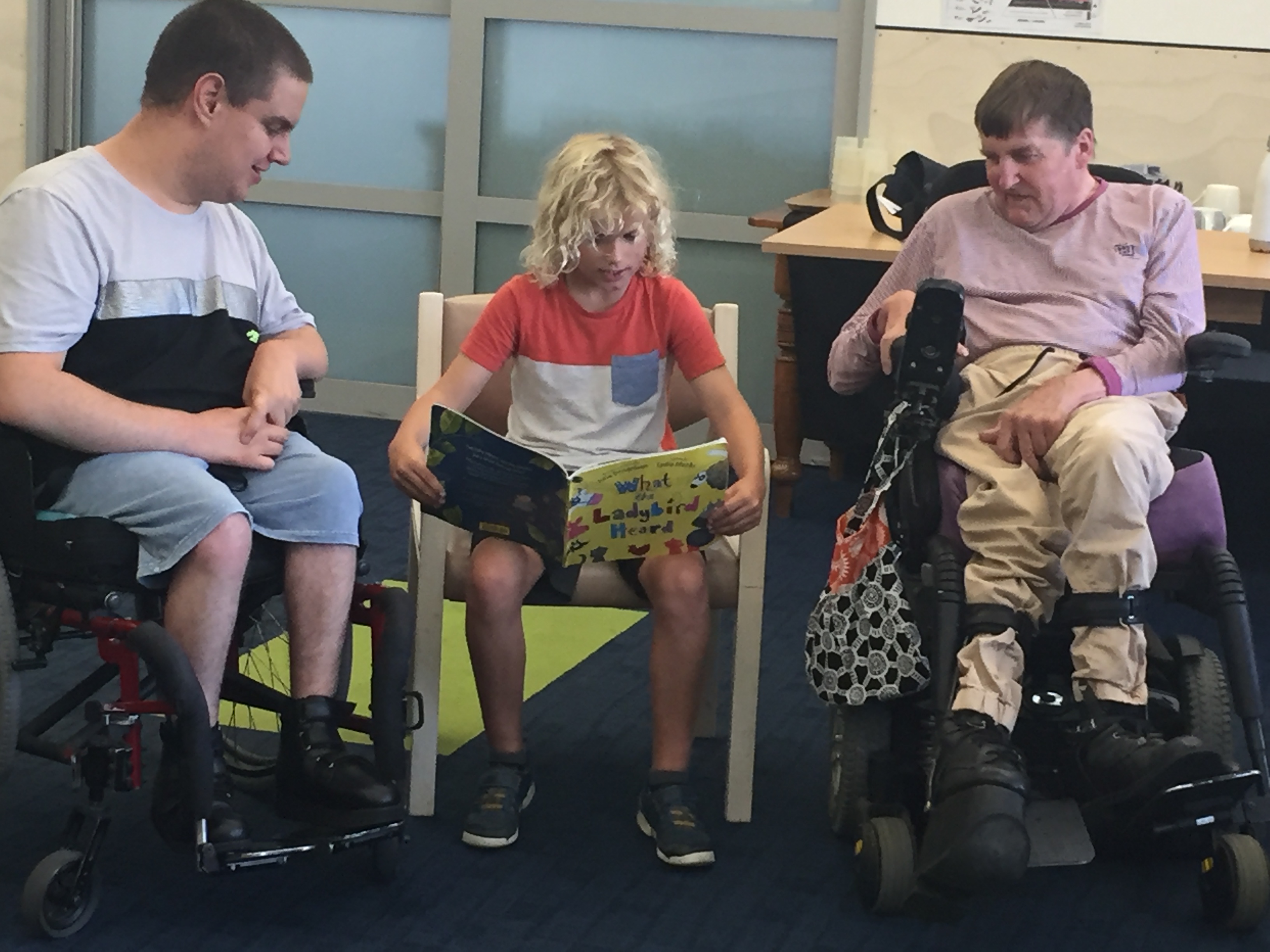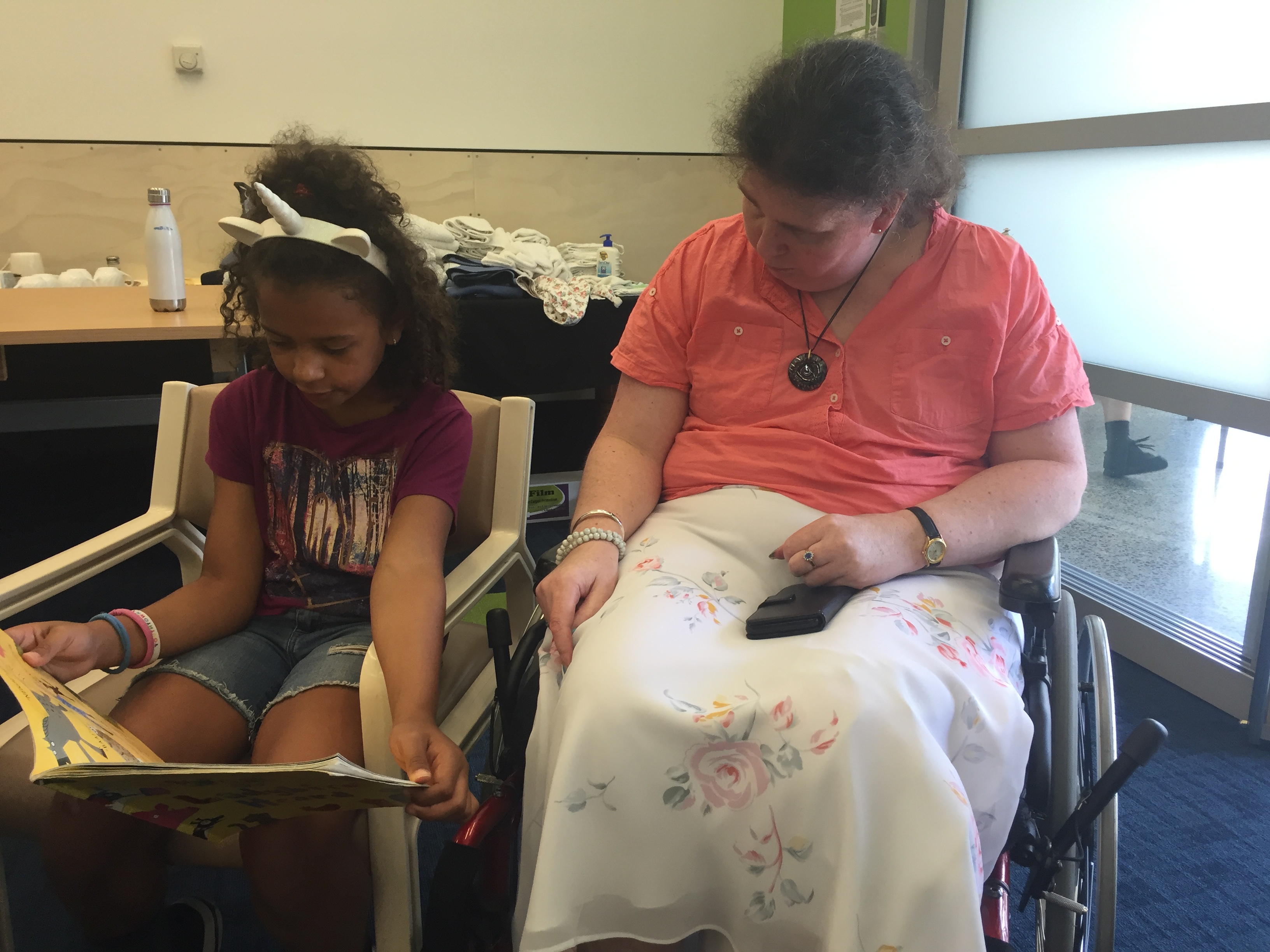 Kids were also able to create the Banks Peninsula and explode the volcanoes with another visiting geologist on Thursday. The video version was even better to watch as kids built their own learning from this experience. Check out seesaw posts for more photos and reflections to bounce conversations from at home.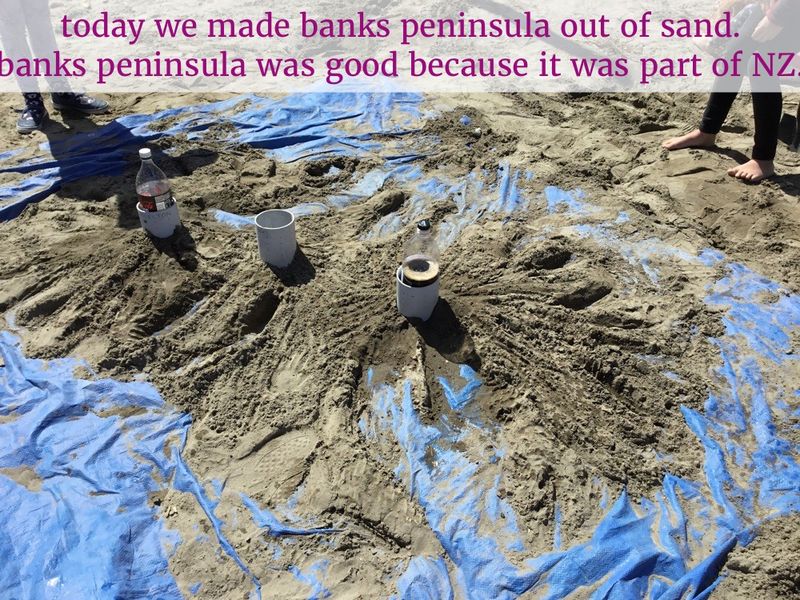 Next week is looking super busy. The short version is
Monday – Swimming
Tuesday – PINs in town, meet at MoE 48 Hereford Street
Wednesday – PINs in town, meet at MoE 48 Hereford Street
Thursday – a normal day at McMahon
Friday – Tarākona Year 4-6 Community in town : Art Gallery/ or bus exchange Meet and pick up from Art Gallery. 9am home at 3pm from Art Gallery. (Sport 12.30-3pm)
Long detailed version
Monday we are swimming again. Please add to this link if you haven't done so already if you can offer us valuable transport. I'll check it probably Sat night and go through to make lists. https://goo.gl/forms/psjD8YCmxDIU2JnR2

Tuesday is of course PINS in the city and everyone is meeting in the city for the 9am roll at Ministry of Ed building on 48 Hereford St and back to the Ministry of Education building by 3pm for hometime pick up or walk to bus exchange. No one is at the McMahon site.

Wednesday is all of our McMahon site Communities in the city. Everyone is meeting in the city for the 9 am roll at Ministry of Ed building on 48 Hereford St and back to the Ministry of Education building by 3 pm for hometime pick up or walk to bus exchange. No one is at the McMahon site. Our Community plan is to split into three groups. Group one is off to the Quake City exhibition and then lunch at Margaret Mahy at 12 pm. The other two groups are off the library and then Margaret Mahy for lunch by 12 pm. Everyone is leaving Margaret Mahy by 2.30 to meet at the Min Ed building by 3 pm.
We need a few adults for each group to make this happen. Please fill this form in if you can help us during the day, please.
If you are meeting us during the day it's helpful to meet before we leave from say the library or Quake City to help walking to Margaret Mahy or return to Min Ed building.
Thanks again for helping us make this happen for your kids!
For help for Wed. https://goo.gl/forms/4oHPekqubuzXrFb23
Friday Our Tarākona community is in the city for the day. Meet at the Art Gallery grass at 9am for drop off, or 8.25 am at the bus exchange circle of seats by the info desk for a walking bus to the Art Gallery. Fitness in front of the Gallery till 10.am then morning tea.
The Community will then split into two teams.
Team A of sports kids and a few more will do an art gallery lesson and experience with Art Gallery teachers at 10.30- 12pm Then go to sport and the Botanic gardens.
Team B will do the garden walks first and then return for lunch at 12 at the Art Gallery grass and go on to their lesson from 1.30-3pm.
Team A will head off for sports at 12.30pm and return by 3pm
The walking bus to the exchange will leave from the grass outside the Art Gallery at 3pm with returned sports kids etc and meet up with kids from the school bus dropping off there.
None of our Community will be meeting or transporting from the McMahon site. We are all meeting in the city Friday. Juniors from the Pekapeka will be onsite at McMahon Friday and not Forest school that day.
We need to know who can help us on the day, please. We need at least 6 adults. If you are helping with sport it will be from the Art Gallery this week not the bus from school.
Thanks for helping the kids and us!
Please fill this form in over the weekend so we know where to find your children on Friday 8th!! https://goo.gl/forms/oyWgB9mgnc6wjrRz1

Some great ideas generated by parents for getting out and about next term that might be good for all communities.
In our meeting, this week parents brainstormed in groups about things they would like to have in place to help transition into the new building.
Dropping into the school for short times when in town.
Using the older kids to support but they do not take the place of an adult for the safety ratios we need to maintain for trips out of the classroom.
School App – We will send out some app information for people to sign up again. .
Time bank system to support costs. If you can't be there you might be willing to contribute to someone's costs who can be there.
Have a list of jobs that parents can do – including being involved in the planning in the morning etc.
Parents would like the shared space computer to come with us so they can print EOTC etc. Check a living google doc asking for support in various places throughout the school.
Create a list of cool places in the CITY with ready made EOTCs for people to just run off fill and get signed off on the hoof.
Forest/ Beach school one day a week.
Inquiry topic of where the green spaces are by a group of learners.
A weekly planner, something visual for people to know what they can help with.
Parents/Caregivers indicate when they are available. Ownership and commitment of parental involvement and support by parents . Getting kids out into open spaces and utilizing city workers during their work hours.
Whiteboard with the activities/jobs for the day so parents can come and complete. LA's can communicate what is needed on this.
A parent in charge of HB trips. That parent can contact other parents to make sure there is a parent/caregiver with the HB to support for trips.
Some parents need to plan ahead of time and then there are those that can drop in unplanned. Seeing a list and these spaces required people can fill the space. Each event could come with a sign-up sheet – digital whiteboard – google docs.
Thanks, everyone for your support to get kids out and about and helping our special character come alive. Hope you have a lovely sunny weekend and we look forward to chatting with you this week as we travel around the city.
Ka kite ano, Melva and team.

Melva Gil – Community Leader
7-13 News
Downtown Digital: An Update
Work as usual at downtown digital, churning out digital content and keeping our Facebook and Instagram pages well informed as to what's going on at downtown digital. https://www.facebook.com/ATDowntownDigital/ https://www.instagram.com/downtown.digital/

Students have been working through all the projects given to them and could do with digital tasks so if you need digital content you can email us @downtown.digital.nz@gmail.com

(Also we will be making Downtown Digital shirts!)
Here's some of what we've been working on: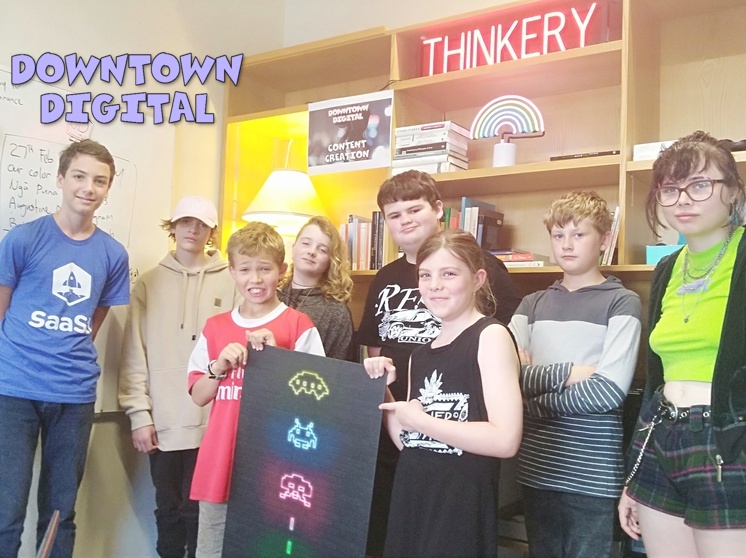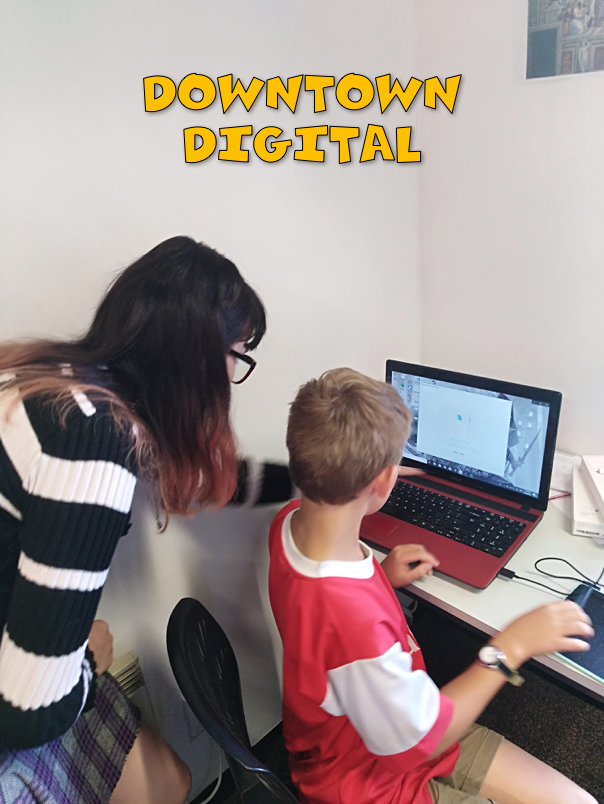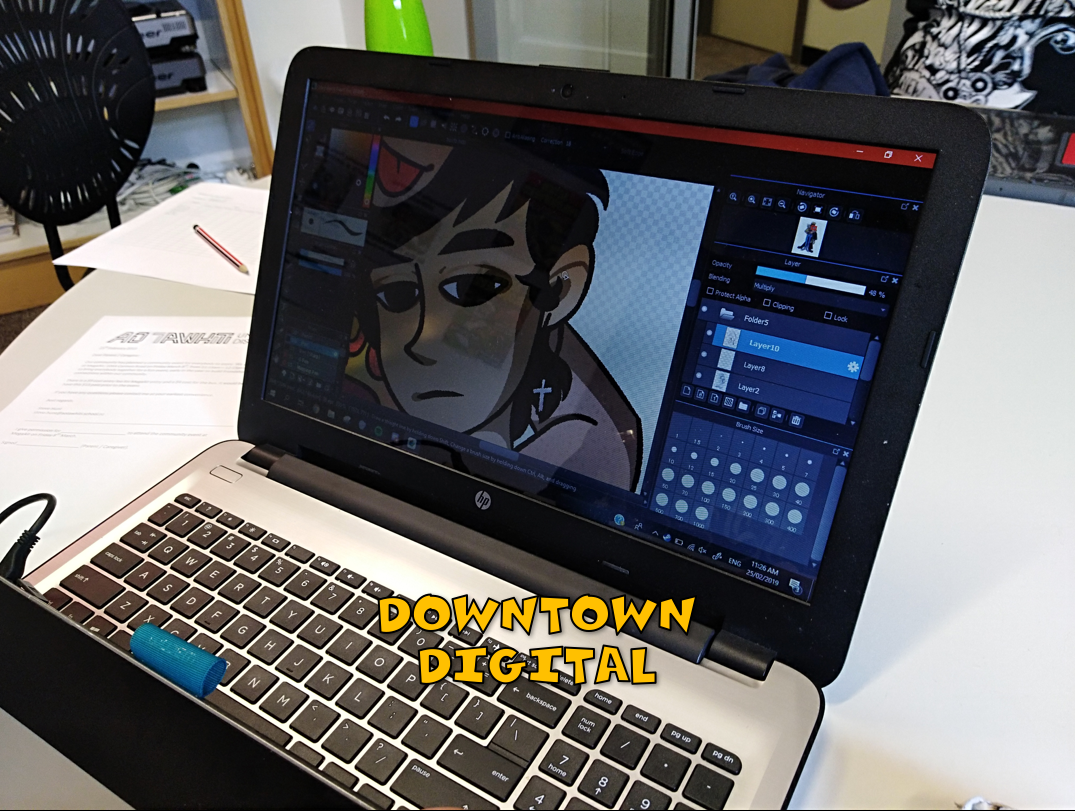 Oscar Henderson-Walshe – Student
Laura's Community Update
Our senior communities have been working on developing a strong sense of community. Athletics Day was a great example of this. It was awesome to see all our students participating and shining in their events. (Steven, pictures attached)Part of developing this culture is the Mates and Dates programme beginning in March. Establishing safe and respectful relationships in our community enables us to provide a model to our younger community and to help develop the emerging leaders amongst our seniors. One of the most exciting developments in the senior communities is the L2L programme. Both Richard and I have been thrilled by the level of engagement and sophistication in the philosophical and ethical conversations we've been having in our class in Utopias and Dystopias.
Laura Borrowdale – Community Leader
EFS Field Trip to Craigieburn
Last week 20 EfS (Education for Sustainability) students and four adult supporters headed up to Craigieburn on a glorious summer's day to investigate the beech forest. Our mission was to record the species present and look at some of the pest control work taking place. This year is predicted to be a beech mast year and therefore we'll see increases in the pest animal numbers which will ultimately impact on the mistletoes – can't say anymore at this stage as the students have to figure all this out themselves for their upcoming assessment!
A great day was had by all. Thanks to Clint for being a last minute "ring in" driver and leader, Lizzie for looking after those students who needed a bit of support, Jack for his Mr Motivator skills and Braidie for driving back as Kate struggles to drive awake after lunch! Next block we head closer to home as we get into the Otakaro/Avon River. Watch this space.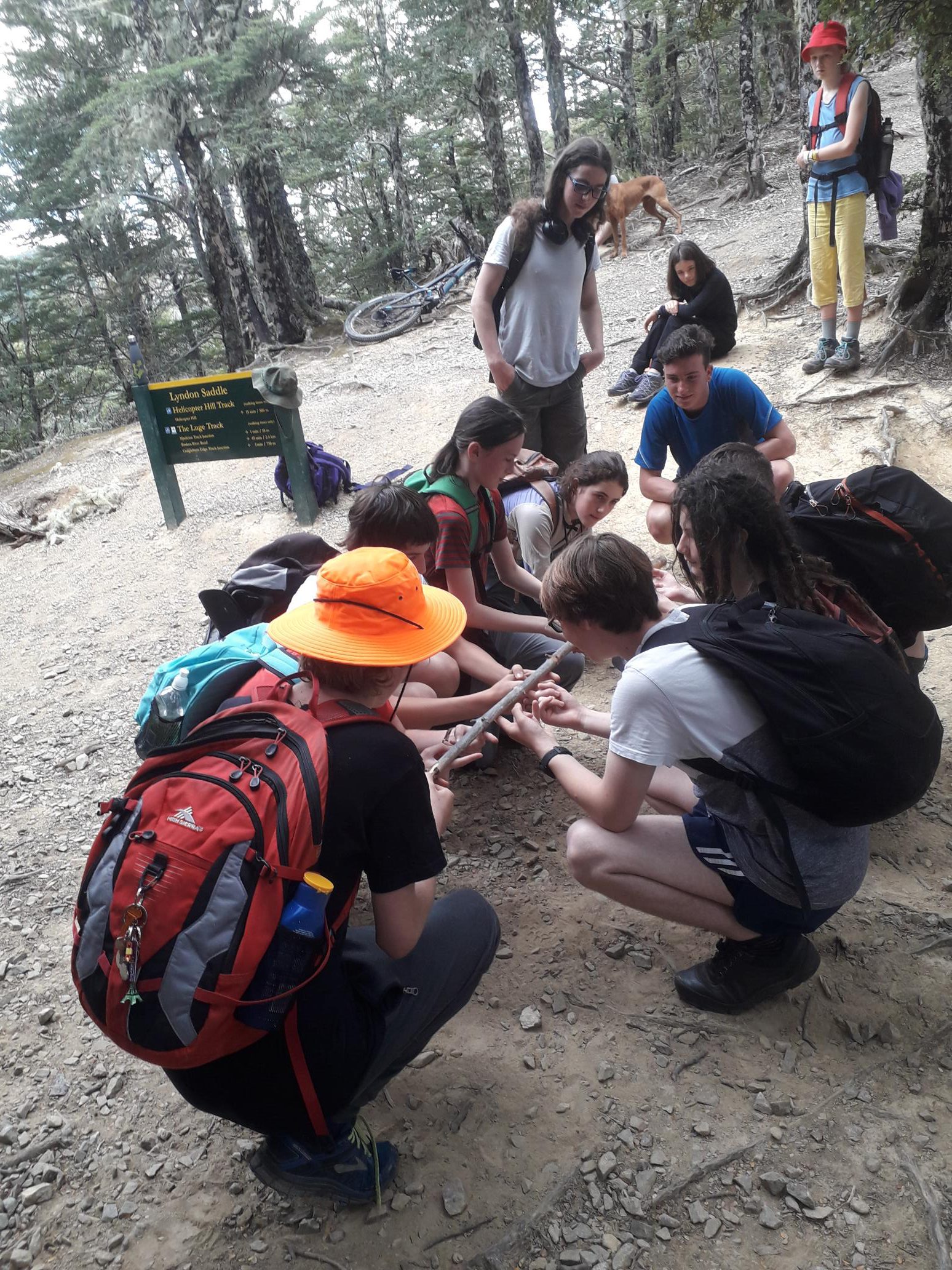 Kate Armour – Learning Advisor
MATES AND DATES
I am pleased to announce that we will be running the 'Mates and Dates' programme for all year 9 – 13 students over the next couple of terms. The 'Mates and Dates' programme has been developed by ACC to promote safe, healthy and respectful relationships among students, within the Health and PE area of the NZ Curriculum. 'Mates and Dates' focuses on the social and emotional aspects of having relationships. It teaches young people how to have relationships based on respect, negotiation and consent. It will be relevant to all students, because the skills taught can be used in all relationships from friendships, to whanau to dating. 'Mates and Dates' is designed to not only increase knowledge and awareness of dating violence, but to change attitudes and behaviours, so that students can keep themselves and others safe.
'Mates and Dates' is facilitated by trainers from 'Kidpower'* who have been trained and assessed by ACC for this programme; there will be a male and a female trainer in each class, and an LA will be present to support.
Year 11-13 students will attend the programme this Term (well before NCEA exam pressures), starting on Thursday 7th March during Community time, from 11.15am to 12.15pm over 5 weeks. Year 9-10 students will attend during Term 2 or 3 once we have settled into the new building. The programme is run in Year groups, yes year groups! Although this is not our usual way, it is important that age appropriate material can be introduced and discussed, and new concepts/issues added each year level.
I am very keen for students to do this programme to help them learn additional safety skills, but also to develop our culture of care in school. 'Mates & Dates' has been well researched, so we know it's safe and has positive impacts for young people'.**
If you would like more information about this programme, please contact Miriam, or discuss with your HBLA. If you are uncomfortable with your student attending the programme, or a specific topic, please complete the 'opt-out' form below.
Miriam Denney – Counsellor
Laura, our trainee counsellor
Welcome back to Laura, our trainee counsellor, returning to the counselling room on Tuesdays from March 12th.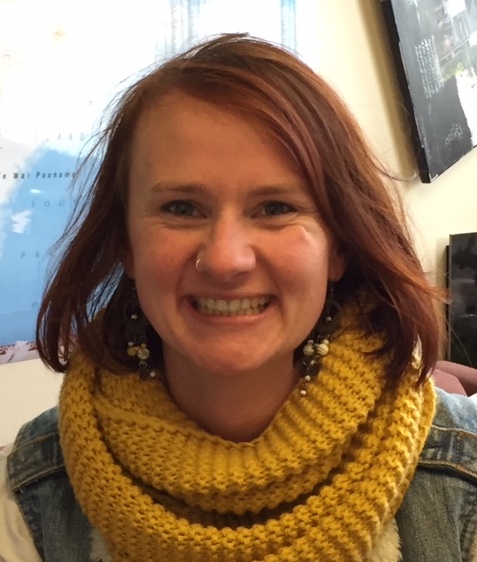 Miriam Denney – Counsellor
Other Notices
MCDONALDS YOUTH DUATHLON ORGANISED BY GARDEN CITY ROTARY

Registrations open now.
The 2019 McDonald's Duathlon to be held at Hagley Park on Sunday, 7 April 2019. This event is run by volunteers from Garden City Rotary Club.
Entries are open to 7 -15 year olds and the duathlon includes a run, bike and run. Entrants can look forward to receiving a Competition Medal, Gift Pack of sponsors' products and a competition T-shirt.

7 – 10 Years – Run 1km, Cycle 4km, Run 500m
11 – 15 Years – Run 2km, Cycle 8km, Run 1km
This community event is held by Garden City Rotary Club. To enter go to www.gardencityrotary.org.nz