In this newsletter
A holiday newsletter!  It has some important information about the upcoming paid union meetings that have an impact at both campuses.  Also, there's a reminder to book an IEM for Monday or Tuesday if your child attends the Unlimited Campus.
Upcoming Events
Term 2, Week 1: Starting Monday 1 May 2017
Monday 1 May: Term 2 Begins
Monday 1 May: IEMs at Unlimited Campus
Tuesday 2 May: IEMs at Unlimited Campus
Wednesday 3 May: Term 2.1 begins, Unlimited Campus
Wednesday 5 April, 11.45am-12.30pm: Kapahaka, Unlimited Campus, DW2
Term 2, Week 2: Starting Monday 8 May 2017
Monday 8 May: No classes at Unlimited Campus from 1pm [PPTA PUM], 1pm-3pm – SUPERVISION ONLY, Unlimited Campus
Tuesday 9 May: Late start (10.15am) at Discovery Campus [NZEI PUM], 9am-10.15am – SUPERVISION ONLY, Discovery Campus
Wednesday 10 May, 8.15am-8.45am: Breakfast Club, Kitchen, Unlimited Campus
Thursday 11 May, 6pm-8pm: Mana Community Evening, P11, Unlimited Campus
Friday 12 May, 10am-11am: Mini Beasts Museum, Phoenix Community, Discovery Campus
Friday 12 May: Pastoral Care Swapper Day, Discovery Campus
Sunday 14 May: Newsletter Published
Messages
Message from Steven
Site Blessing – 6 April 2017
It feels like a long time since the site blessing.  It was certainly an interesting event to attend, with the worst weather you could possibly imagine.
It was really cool to be able to stand on the site of our future building.  Hopefully next time I'm standing there the place won't be as bare as it was that day (nor quite as wet!).
Standing on the place where we will take back our place in the city was a great reminder of what an amazing location we will occupy.  It'll be an amazing spot for our students, our parents and our staff to come each day from 2019. 
The other great thing about the day was that there was a representation from all parts of our school.  This is a great reminder of one of the important aspects of getting us back to the central city; our new building will allow our community to be finally be one school.  The building that will gradually take shape on the site over the next year and a half, will have spaces that are intentionally designed for how we deliver personalised student driven learning.
As Nikki Kaye "turned the soil" and the site was blessed, I was reminded that this milestone would not have happened without a huge amount of work from the former Board of Trustee members and the Directors from both Discovery 1 and Unlimited Paenga Tawhiti. They worked incredibly hard to make sure that we stayed open to continue our dream. I'd also like to personally thank the Merger Board and foundation Board of Ao Tawhiti Unlimited Discovery for their tireless efforts in 2013 and 2014 and 15.  Bee Nicholls also need a huge thank you from us for the number of hours she spent in meetings.  That work wasn't wasted, as her efforts, drive and support have ensured that the site we stood on for the blessing, will be a place where students are central in directing their own learning.
Property Update
I've spent the holidays in half a dozen property meetings, finalising exciting elements for the specialist spaces like where the electrical plugs will go!  The design team and the MOE also met with me and I'm happy to announce that we are still on timeline (which was in the last newsletter).
IEMs
Remember to book in an IEM if you have a child at the Unlimited Campus.  IEMS are a vital component of our special character.  They are the key way to develop a personalised learning plan for your child.
Steven Mustor – Director
Schoolwide Notices
No classes will run at the Unlimited Campus on Monday 8 May from 1pm
On Monday 8 May at 1:30pm most of the learning advisors from the Unlimited Campus will be attending a paid union meeting at Middleton Grange.
PPTA, the union representing secondary teachers, have called the meeting to discuss matters related to the Area School Teachers' Collective Agreement.
We will remain open at the Unlimited campus for supervision of those students remaining at school, with however a considerably reduced number of staff. If you are able to help us by collecting your child by 1:00pm that would be greatly appreciated.
Steven Mustor – Director
Late start (10.15am) at the Discovery Campus on Tuesday 9 May
On Tuesday 9 May from 9am-10.15am most of the learning advisors from the Discovery Campus will be attending a paid union meeting.  The meeting is being held at the Discovery Campus.
NZEI, the union representing primary teachers, have called the meeting to discuss matters related to the Area School Teachers' Collective Agreement.
We will remain open at the Discovery campus for supervision of those students unable to start late, with however a considerably reduced number of staff. If you are able to help us by bringing your child to school at 10.15am, that would be greatly appreciated.
Steven Mustor – Director
Open Nights 2017
We will be holding two Open Nights for prospective students and their families during the month of May. It would be great if you could encourage any family you know who may be interested in joining our school to come to one of our Open Nights or take a tour.
Please see below for details. This advertisement appeared in The Press last week.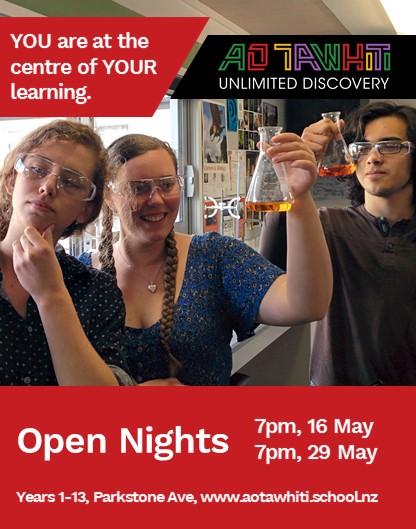 Edith Goesmann – Marketing Manager
From the Counsellor
At the staff development day last week I heard about the background to this relatively new focus on wellbeing and mindfulness – focusing on what's working for our students as against focusing on what's wrong with students and their behaviour. I like that.
Looking at what our students are doing wrong can easily lead us to a deficit way of thinking. But worse than that is that we as parents and staff can start looking for what's wrong as against affirming what our children are doing well and getting better at doing. The new focus is on our children's strengths.
What was one thing you saw your child do really well over the holidays? And did you tell them that? The idea is simple. We just need to put it into practice. Daily.
Mike Flavell – Counsellor
1-6 News
Pastoral Care Swapper Day!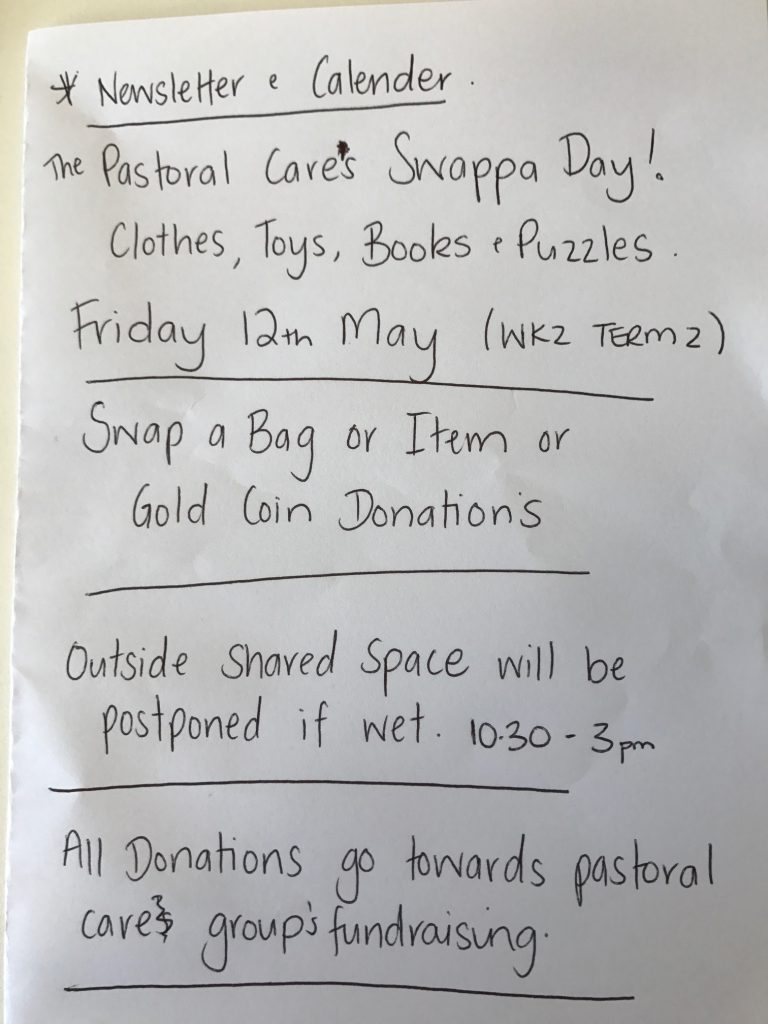 Jess McCarthy – Parent
7-13 News
Breakfast Club 2017
When: Starting Term Two, Week 2, Wed 10 May, 8.15-8.45am
Where: Kitchen, P13
What's on offer: A range of breakfast options including pancakes, coffee, and cereals
Cost: Free
All welcome. A great way to start the day!
Kirsty McMillan – Careers Advisor
Mana Community Update
Kia ora whanau! We have had a great start to the year in our community so far. We've been working together to establish how best to use our Wednesday morning community times, played some games, heard from some guest speakers and shared a great morning tea on the last day of term.
Special thanks to Kirsty McMillan and Robyn Sutherland on their visit to our community to share with us their particular roles within our school. Advice on careers options and the various Gateway initiatives offer amazing opportunities for students to follow their interests and 'learn beyond the four walls' of school. We're looking forward to hearing more from our students currently working within these programs and their experiences next term.
Over the term, we've continued to build our sense of community by getting to know one another beyond the Homebase structure. We had a very interesting discussion on a name for our community and have taken the initiative set by Kaha Community and have chosen the name Mana Community (although Ako Community was such a close second that some thought we should try to incorporate the two!)
We are also looking forward to a social evening with parents at the start of term 2. More information will be provided within the IEMs but for now keep the second Thursday of the term (May 11) open for a shared meal/bring a plate evening from 6:00-8:00pm.
We look forward to an exciting and productive Term 2, but for now we are happy to have a two-week break!
Nga mihi nui Richard, Louise, Robert, Duncan and Steven.
Visual Art update
Assessment
It has been a great start to the year and end of term one. Level Twos and Threes attempting NCEA with a 100% pass rate for their first internal which is heartwarming. Well done everyone in this course. Now everyone is off on their individual inquiries watch this space for updates on how the works going.
Level ones attempting NCEA have their first summative submission for an internal drawing assessment due Tuesday the second week back from holidays. Many level ones heading off prepared with paper and paint, new brushes to make art during the holiday break.
New courses term two
For those wanting to do ceramics in Holly' Foundation class in orange beginning week one term two need to get their schedules in. Priority is given to those already enrolled in Holly's class in term one. There will be a cutoff point at 18 students due to resources. An additional opportunity to do ceramics will be in 4.2
Foundation sculpture with Ross in green -get your schedules in early for this too folks it looks to be very exciting. Read the description on the website in green for more info
Artists as entrepreneurs in yellow
There are still places for those from our wider community wanting to make art in a supportive environment. This course is open to year 13, 14, alumni and parents. We have guess speakers twice a term who are practicing artists. In term one we were lucky enough to have had Rachel Murphy and Sonia Mc Mannus. Both artists have their work in galleries throughout the New Zealand and available for sale on line. Their generous advice about how to get started and set up a website, how to approach working from home and how to approach galleries has been invaluable.
See photos: Sonia McMannus Eco Artist talking to Artists as Entrepreneurs group about her work. Examples of Sonias jewellery designs made from reclaimed materials. Catherine McGee a member of Artists as Entrepreneurs class/yellow block developing skills in porcelain slip casting.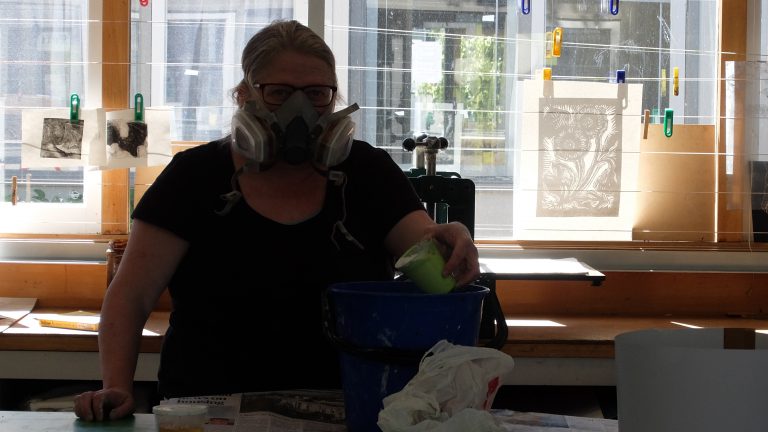 Visual Art Community Exhibition
Dates: June/July from the 26th June to the 7th July 2017
All artists from the Ao Tawhiti Unlimited Discovery communities are welcome to submit work to the art space at the Unlimited Campus Ilam by the Monday 19 June 2017.
Works to be no larger than A2. Work that is too large or content inappropriate for display with student work will not be displayed.
Holly Ramsay – Learning Advisor
Photoshoot Venue Needed
Photography student needs a workshop as a venue for a Photoshoot.
One of our talented young Photographers who is working on a project for his Level 3 Folio would like to shoot in a workshop. He preferably needs one of those man cave, Grandad type sheds full of tools, etc. Old and traditional rather than new and slick.
If any of our school whanau has such a place can you please let me know so that I can pass the details on to Liam.
Thank you Ross
ross.marwick@unlimited.school.nz  021 802 922
Ross Marwick – Learning Advisor
Other Notices
Young Writers News and Opportunities
Live in and run a Family Home for Youth