It's been a really busy couple of week. There's info regarding the Tech room and some pics of the damage.  Also a couple of us have been looking through the fence of the new site and share a few observations.
Upcoming Events
Term 1, Week 7: Starting Monday 12 March 2018
Monday 12 March: Term 1.2 begins, Unlimited Campus
Wednesday 14 March, 8.15am-9.00am: Breakfast Club, P13, Unlimited Campus
Wednesday 14 March – Friday 16 March: PINS, Discovery Campus
Term 1, Week 8: Starting Monday 19 March 2018
Monday 19 March: Blue Skies 1-6 camp, Unlimited Campus
Wednesday 21 March: COL, Discovery Campus
Wednesday 21 March, 8.15am-9.00am: Breakfast Club, P13, Unlimited Campus
Friday 22 March, 9.30am-10.30am: Crash Bash, Unlimited Campus
Sunday 24 March, 4pm: Newsletter Published
Messages
Message from Steven
Fire
In case you missed the news, early on Saturday morning we had a fire in the tech room at the Unlimited Campus.  As you can see from the pictures below, everything in the room was completely destroyed.  Fortunately for us the fire was contained extremely well by the fire safety features in the prefabs and the quick response time by the Fire Service, and has not spread any further.
Liam, Jared and Duncan did a great job yesterday working with a huge number of people to get the space assessed, cordoned off and the services all back in action to school. It was a good feeling to arrive at the scene and see how well they were managing the situation.
I do not yet know what will happen next concerning the tech room.  The MOE will assess the space on Monday to see what needs to be done to ensure that we are able to continue to run hard materials at the Unlimited Campus.  I would imagine however that there will be a considerable time before we have this room back to normal.  As you can see from the pictures I took yesterday morning, a considerable amount of work will need to be done to get the room back to its former glory.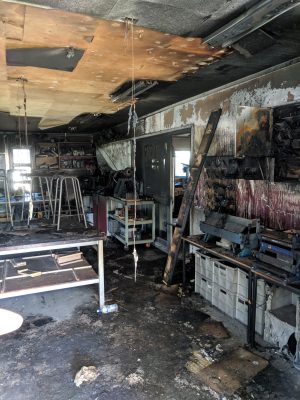 As the photos won't upload to the website … check them out here
Geelong College Middle School visitors
On Friday morning I had the pleasure of showing a couple of teachers from Australia around the Unlimited Campus.  They are on a tour of several NZ schools learning about how we do things in NZ, with the hope of bringing back some new learning opportunities for their Y7-8 learners.  I do a lot of tours … sometimes it feels like that's all I do. What made this one so cool was listening to our students talk about their passion for this place, the difference it's made to them and their very different learning programmes.  It reminded me that I'm exceptionally lucky and privileged to lead this school. My advice to all of you is to take an hour of your time to tour the campuses. Go where you haven't gone for a while and see the place with a visitor's eyes.  It's pretty inspiring really!
Upcoming appointments
There will be presentations and interviews for the Biology LA and Y7-10 community leader vacancies this week.  These are planned for Orange on Thursday and Yellow on Friday at the Unlimited Campus.  I'll send out another post with more details once I've confirmed everything with the candidates on Tuesday.
Property
Last night my family and I went to the lantern festival (with the rest of Christchurch it seemed). I made a point of wandering to the site and checking out the progress.  Foundations are appearing.  Won't be long until we start to see something resembling a structure soon.  53 weeks to go!
Steven Mustor – Director
Message from Niki
Swimming
Tamariki in HBs Tuatara and Hawk have completed a 2-week swimming course at Starfish Swimming School. I had the pleasure of walking a few kids there and back, and seeing their progress in the water. While there may have been some waiting around at times, the children listened, followed instructions and seemed to have fun. It was great to see our Core Values as we were out and about. And actually the thing I am most impressed at, is hardly any items of clothing went missing! Ka pai in showing kaitiakitanga for your personal belongings tamariki ma!
PINs
On Wednesday, Thursday and Friday this coming week we are offering our PINs workshops, a series of workshops that cater to students' Passions, Interests and Needs.
Parents, LAs and students have generously offered their time and expertise to offer opportunities for our tamariki in a plethora of arenas. We have horse riding, Skate Skool, cooking, creating, coding, Pokemon, chocolate masterclass, sport, hut making and Harry Potter fun to name but a few.
Thank you so much to everyone who has offered and to those of you who are giving up your time for us. By taking part in these workshops, our tamariki enjoy opportunities to grow, and we embed the special character of our kura.
All of the workshops are exciting, but one of the most adventurous is a 2-night tramp to Lake Daniels Coordinated by HB Hawk LAs Libby and Gina. The students taking part in this will develop many skills useful in life, such as resilience, reliability and a sense of adventure. I applaud these lucky kids going off on a pretty major adventure! Gina and Libby will be away from school on Monday as they are attending a First Aid course so we will have 2 qualified First Aiders on the tramp.
Go well you guys – Tama tu, tama ora; tama noho, tama mate kai. (He who stands lives; he who sits, perishes)
A couple of workshops still need a little help – in particular we would like a gymnast specialist or aficionado to come and help one of our HB Tuatara students run her workshop 'Gymnastics with Juno' on Wednesday afternoon. This could be an opportunity for a student from Unlimited, or a parent, relative or friend. Please let the office or Niki know if you can help.
And do come and see us as we enjoy these special days, our doors are always open.
Niki Stephenson – Deputy Director
Message from Ian
Well that's 1.1 done. I've really enjoyed my first 6 weeks here on the Unlimited Campus, it's certainly a fast paced environment with plenty going on. Thanks again to everyone who has made my transition across easier.
We had my son Archie's birthday on Wednesday and we ended up on St Asaph Street having some dinner. After dinner we went for a wander down to the new site. It's great to see more progress since I was there 2 weeks ago, there's a real sense that this thing is definitely happening now after 7 years of waiting. It was great to see all 3 of my kids really excited about what was happening on the site and they're definitely starting to build a connection to the space and what it's going to bring.  They know it's going to be their school and they know it's going to be awesome…they're super excited!
I recommend taking your students down there regularly to keep an eye on the progress and to build that sense of anticipation and ownership.
With our transition to the CBD in mind Steven has asked Niki, Duncan and I to start looking at what our curriculum should look like when we get back there. I have been tasked to look at the Year 7-10 curriculum. A couple of weeks ago I met with all the staff that deliver programmes of learning to this 7-10 level. We had a really interesting "Blue Sky Thinking" session, I asked them to think about the possibilities that learning in the CBD will offer us and start to consider ways in which we can deliver our curriculum to the students in this new environment. We came up with some great ideas and I'm really excited about the next session and the opportunities these ideas will afford our students. 
I would really like to hear any ideas you as parents might have on this for our Year 7-10 students. Suggestions about who we get involved with, where we could go, connections in the CBD, ideas for delivery in the building and outside would be really appreciated. I'm also going to meet with interested students over the next couple of terms to get their voice.  ian.h@aotawhiti.school.nz
Ok, have a great week
Ian Hayes – Deputy Director
Message from Duncan
Year 11 – 13 curriculum
Last week we held our first year 11 – 13 curriculum meeting of the year. The meeting focused on 2 critical areas. The look of learning in the senior years and how that might evolve as we move into our new building and, secondly, the qualification goals and progress of of our year 11 – 13 students.
One of the significant points of interest that emerged was that, based on recent data, almost all of our senior students have an NCEA goal of some description. In order for our learners to achieve their goals it is essential that right from the beginning of the year the keep up with any assessment work that has been set and that they are very aware of what is required throughout the year.
Experience tells us that some students can be slow to start and hold a belief that they can catch-up later in the year. Unfortunately this is often not the case. Missing early work can leave a student short of assessment tasks making it impossible for them to complete the goals they have set.
It's therefore really important that at this time of year all students are:
completing their work
know exactly what is required to achieve their goal
have a program of learning that provides enough assessment opportunity to be successful.
If you are unsure about this it is vital that you meet with the HBLA to ensure a sufficient plan is in place.
Tech room
Unfortunately, early on Saturday morning I received a call from our security firm to inform us that there had been a fire in the tech room. The fire service investigation revealed that, despite what was reported in the media, the fire was not suspicious. The tech room has received extensive damage and we imagine it may be several weeks before the space is up and running again. At this stage we are unsure what approach we will take with the courses run from that space. It might be worth exploring alternative learning opportunities with students in your homebase who were in tech classes.
A huge acknowledgement to both Liam and Jared who came in on Saturday morning to support.
Duncan Woods – Deputy Director
Schoolwide Notices
Volunteers gratefully accepted in the office 
We are in the process of scanning our hard copy files to electronic files and would love some help if you have time or inclination and have had a safety check with the school. This task is easy to learn and involves either taking out staples in preparation for scanning and/or using our copiers to scan.
Mondays 2 to 3pm at the Unlimited Campus
Fridays 2 to 3pm at the Discovery Campus
If you are interested, please email jacinta.buist@aotawhiti.school.nz
Jacinta Buist
1-6 News
Buddy Reading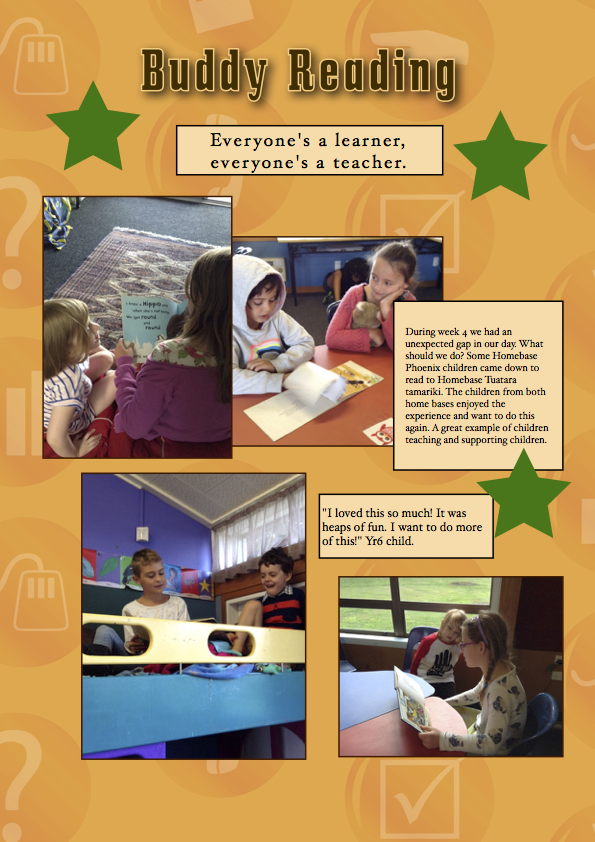 Social Event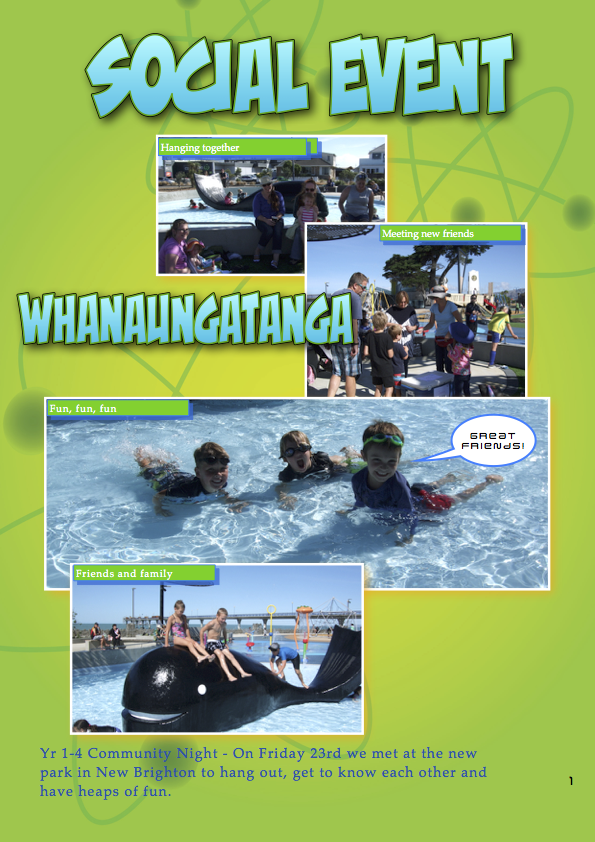 Nadine Walmisley – Community Leader  
Fundraising for HB Hawk
HB Hawk are going to Hanmer for Camp end of May.  To help with the cost I am fundraising.  Not only am I selling Juicies during the week but I am selling Hot Cross Buns.
This is where you can help…… HOT CROSS BUNS are from THE NAKED BAKER and I have it on very good authority, namely LA Mel from Phoenix, that they are awesome!!
If you would like to order any please fill in the form (copy & paste) or email me.  Every $2/ pack goes towards camp.  You have a choice of traditional or chocolate, $5.50/ pack of 6 AND they are DAIRY FREE.  It's a short campaign, so orders in and paid into school account by Friday 16th March please.
https://docs.google.com/forms/d/1vMJbtFfCqyox5FzEH5myg4XPqkSYAulWGLlc9723qYI/viewform?edit_requested=true
Thanks heaps
Claire C  fluffie.claire@yahoo.co.nz – Parent
Weeks 7/8 messages for 1-4 community
Firstly a big thank you from the teaching team to all the parents who supported getting us to swimming over the last two weeks. I'm sure it comes as a relief to think you no longer need to launder togs and towels each night too.
Life does not slow down over the next week however with our three day PINs experience. There are still a few children who have not made a PINs choice. Staff will work with the children tomorrow to ensure they have an inspiring option for the three days. Again a big thank you to all the whanau who have put their hand up to run an option for the children.
To start week 8 we have our campus community camp at Blue Skies. This means the Discovery Campus will be closed for Monday and Tuesday. We look forward to seeing as many families as possible at this camp – it's a great chance to hang out together and build new friendships. On the Monday evening I hope to run an EOTC/LMS/Seesaw training session at about 8pm. This will be dependent on good internet connections. If you have a laptop to bring along that may be good as I don't think there'll be a big screen for me to link to.
One more thing for you to be aware of…in NZ the school Easter holidays are five days long (Friday to Tuesday). Tuesday is not a public holiday but is a school holiday.
Looking forward to seeing heaps of you around over PINs and the camp,
Nadine Walmisley – Community Leader
7-13 News
Lost Property!
Does anyone recognise any of these items?????? They are in the Unlimited Office.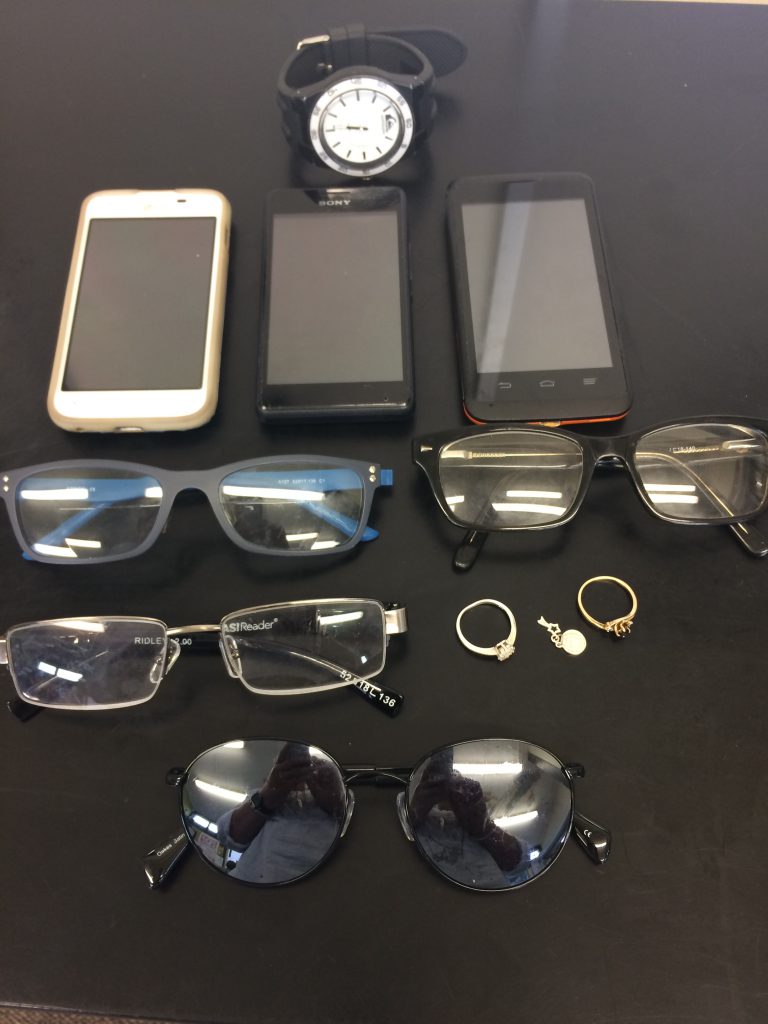 Jonelle Matthews – Unlimited Campus Office
Kay's Community Newsletter Friday 9th March
Blue Skies Camp 28th and 29th March
Please complete this form ASAP.
Mini Impact Projects
Mini Impact Projects start on Tuesday. On offer so far we have:
East Frame Art Piece – Create a piece of Art to be displayed in town
Play equipment – spend $1000
Day trip biking – organise a day out biking in Burwood Forrest
Otakaro Orchard – organise a working bee and get behind this inner city project
Lock Box Learning – design and create a learning pathway that involves cracking the code
The purpose of the mini Impact Projects are to understand the process and get ready for your own project.
This could be an opportunity for parents to run a small 3 week project. Mini Impact Projects will happen on in community time on Tuesdays and Wednesdays. At the end of the term we will give students a couple of weeks to plan for their own project.
Wednesday Morning Homebase Time
This term we have chosen to have 1.5 hrs of Homebase time all at once on a Wednesday morning. This is to give Homebases a chance to spend some time together and build a sense of belonging. Students and LA's have been busy planning and designing different activities and outings for this time. It is very likely that LA's will  need some help with transport some Wednesdays. 
Here is a quick write up from Zack's Homebase trip this week
Our homebase had a fun outing on Wednesday morning to the Avon River, where we rented kayaks and enjoyed an hour paddling up and down the river through Hagley Park. Some students were experienced kayakers, and some had never tried before, but were willing to give something new a shot, which is a fantastic attitude. It was great to see students supporting and encouraging one another out on the water. 
Cookie Time Easter Fundraiser
We have a new fundraiser running. This year we can order Cookie Time Easter Tins. They come as a set of 2 for $20 and we get $5 that. At Christmas we made nearly $1000 thanks to several people taking the fundraiser into their work.
The way it works is you take the orders and collect the money. Once you have given the school the money we will order the sets for you. All money will go through Jill – accounts@aotawhiti.school.nz – this time preferably via internet banking but if not in person to her. We can start ordering soon so you can begin taking orders.
Last orders by March 20th.
Kay Hayes – Community Leader
Abel Tasman and Nelson Lakes 2018
A couple of weeks ago, seven students, Bev and I headed out on this year's tramping and kayaking adventure to Nelson Lakes and the Abel Tasman with Oxford Area School.  The forecast was average, the start early, enthusiasm simmered.
After a long drive to St Arnaud, we hit the trail to Bush Line Hut and a mattress if you were lucky or a tent if you were completing unit standard 426.  The next day began at a pace as we enjoyed a walk along rocky Robert Ridge but ended with one of the Oxford adult helpers taking a trip to Nelson Hospital via helicopter with a head wound acquired on the ridge.   A big thank you to the students who helped carry packs, sat on the saddle relaying radio messages between Lake Angelus Hut and the injured party and generally made themselves busy and useful while we organised the rescue.  An interesting learning experience.
Part two of our trip began in gloriously sunny Motueka and Marahau but didn't last long with cyclone Gita on the horizon.  We made the most of a day kayaking in the bay before retreating to Murchison in the face of impending rain and wind.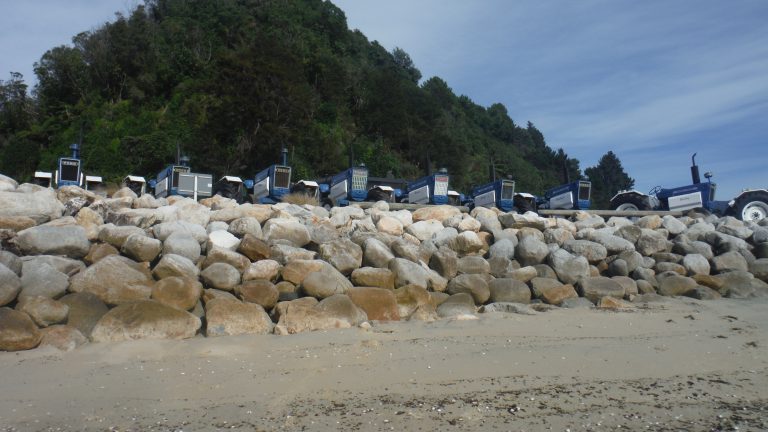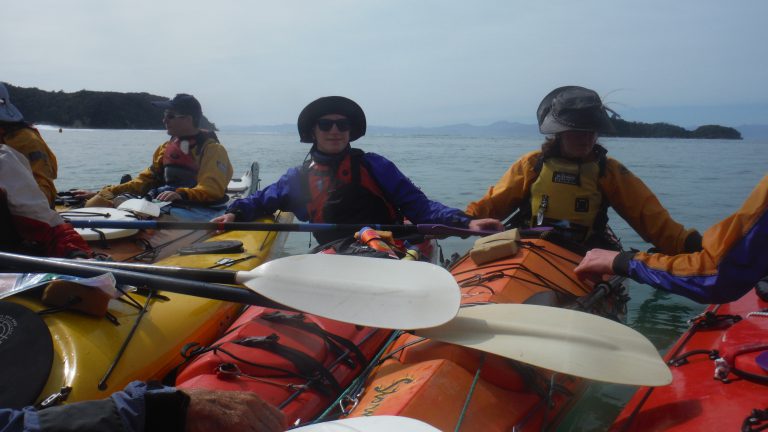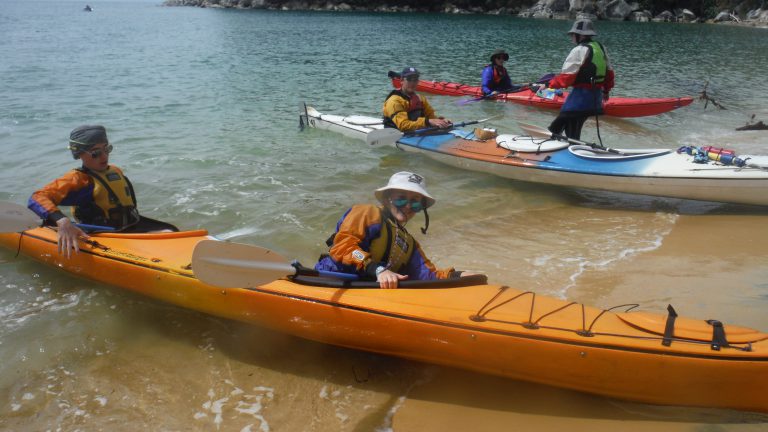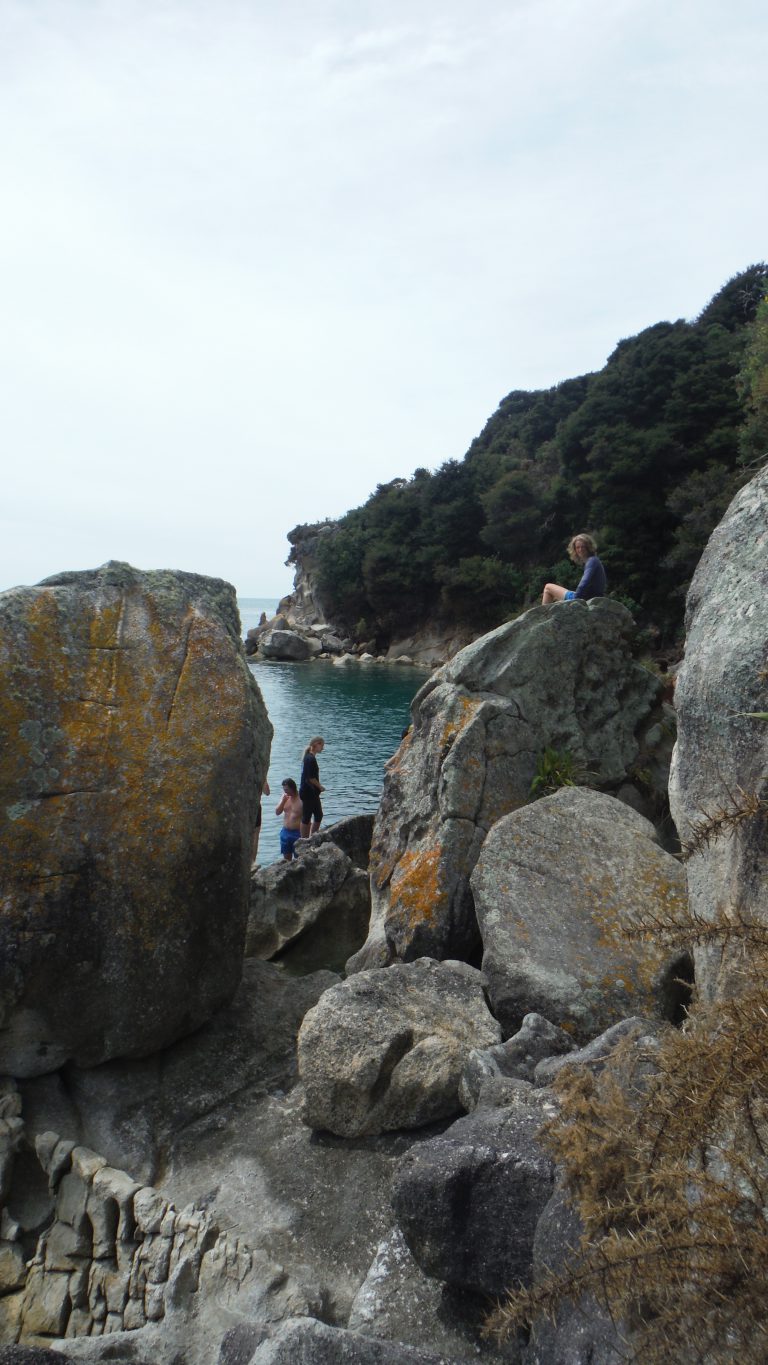 Kate Armour – Learning Advisor
Habitat
During this class students have been designing and constructing habitats for beneficial insects and other species.  Over the past 5 weeks students have researched a chosen species and designed and made habitats for solitary bees, bumble bees as well as weta hotels, worm and ant farms. Here are some images of student outcomes nearing completion.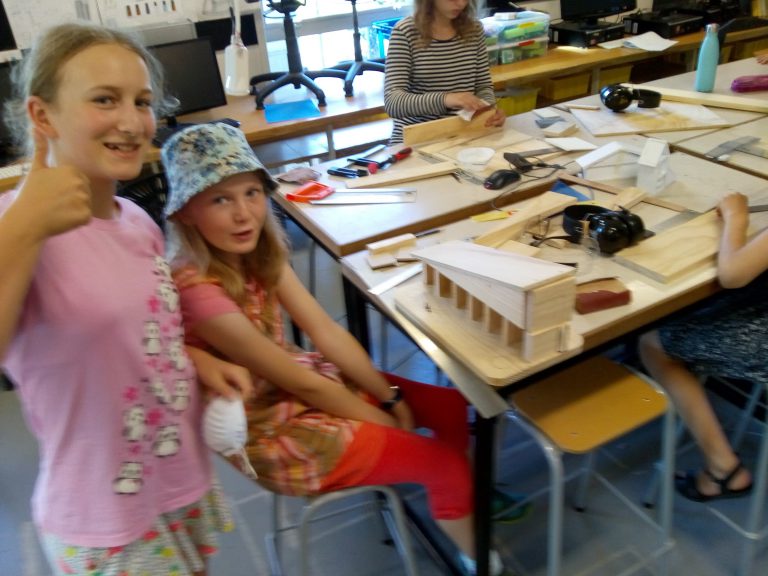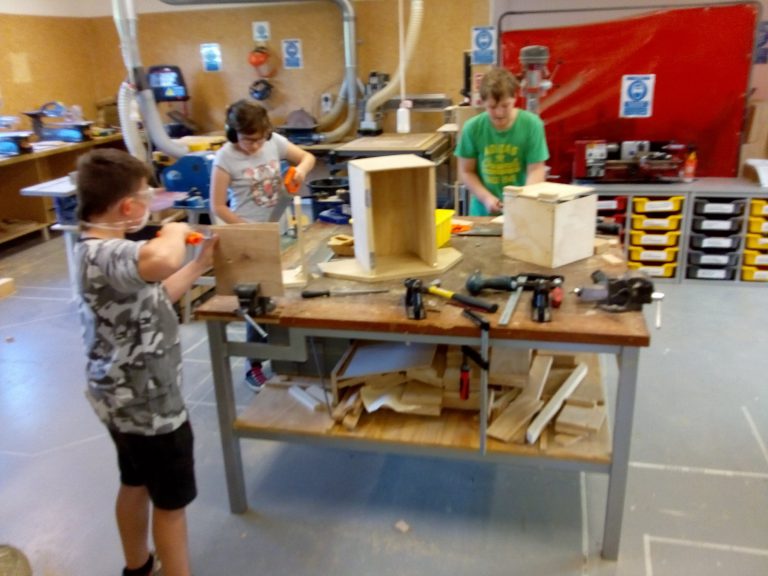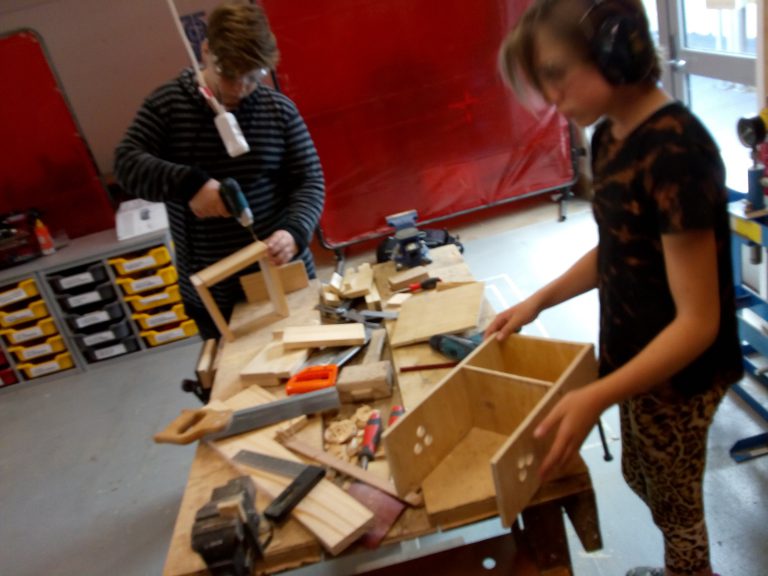 Jared Gallagher – Learning Advisor
Kaha Newsletter
Kia Ora Koutou
In the Kaha Community we have spent the mornings in Community Groups. During this time students have been involved in various activities. Sarah and her group helped organise the school athletics and are now creating their own projects that will see our community or other school groups benefit.
Jared and his tech group are working on something that is way beyond me…see details below! Ino's group for the first part of the term focused on politics and media. I have worked with a motivated group that are creating their own individual impact projects. For example, we have Jade Odering that is working on raising money for the NICU (Neonatal Intensive Care Unit) and Wiremu Hopkins who is organising a model train school group. Each student is passionate about their journey and are growing in awareness of their own progress to date. It always takes a bit of grit and determination to get to the desired goal.
This time has been a real success. It's great to see our community embracing these projects and working collaboratively.
I wish all our LAs and learners all the best with their 1.2 courses and encourage our learners to 'press in' to their experience and connect with the content, appreciate the rich and unique environment we get to be a part of at Ao Tawhiti.
Community Projects – Boh and Georgia
Our Impact Project was organising the School Olympics Day; by sorting out event lessons, doing fundraisers like a bake sale and sausage sizzle. We made $284 and this will be spent on a lunch for the winning homebase. Now we have split off into groups designing different activities. The activities people are planning are:
Softball lessons at Discovery

Sumo wrestling

Bumper balls

A pool tournament

Surf lessons

A community day out

A community camp (at the moment we are gathering ideas, more information to come)
Smart Agriculture 
Jared and a group of students have been working with Bryn Lewis developing smart monitoring systems for vegetable growing each morning from 9-10am.  Students have been learning how to write code using visual studio, and using Netduino's to control sensors and other tools for monitoring the moisture content in a vegetable plot.  We are aiming to use the sensors to help grow and monitor our vegetable plants.  Students are also designing the plant beds and planning what they can do with the vegetables and flowers to help out a selected community of people.
Nga mihi
Deborah Dunlop – Community Leader
Patrice Le Sueur – Law Scholarship
Patrice was one of our graduates last year.  in 2018 he's busy starting his studies at Otago University and "really enjoying both Dunedin and Otago Uni".
Patrice received a $5000 Homestead Bay Law Scholarship for demonstrating "academic potential for studying law".  Patrice left us with NCEA Level 3 endorsed with excellence and spent much of last year applying for scholarships and planning for how to make sure that his transition to living in Dunedin and studying at Otago went smoothly.
Great work on gaining the scholarship Patrice and I'm of course incredible excited to see one of my former homebase students living and studying in the greatest place in the world (I'm quite biased I know but Dunedin is home).
Thanks George for letting me know about Patrice's achievement.
Steven Mustor – Patrice's homebase LA last year
The Ōtākaro Project
This year we decided to try something a little different with one HomeBase. We are running a project based programme with a strong physical component. Students in the Ōtākaro Project class have spent much of the 1.1 block getting to know each other and developing confidence, teamwork and cooperation. we have all undergone some bench-mark testing and developed physical, social, curriculum and qualifications goals. It is awesome working with such a diverse group of learners and seeing the progress that we are all making.
On Monday afternoons we work on food and nutrition in the kitchen. Students are working on their own individual projects on 'Tech Tuesdays' and we are about to begin a group project building a pair of sailing Waka Ama. Wednesday is split between project based/ independent/ collaborative learning and timetabled classes. On Thursdays we aim to spend the day 'out and about' – so far we have walked the Kennedy's Bush and Latters Spur tracks, and been orienteering at Spencer Park and the Groynes. On Friday afternoon we have a team challenge, combining mental, physical and cooperative components.
Matt Parkes – Learning Advisor
Other Notices