---
Upcoming Events
Term 1, Week 8: Starting Monday 18 March 2019
Wednesday 20 March, 8.30am: Breakfast Club, Unlimited Campus, Kitchen
Thursday 21 March, 11.15am-12.15pm: Mates & Date Y11-13, Unlimited Campus
Thursday 21 March, 7pm-8pm: CBD Travel Parent Info Evening, S5, Unlimited Campus
Term 1, Week 9: Starting Monday 25 March 2019
Wednesday 27 March, 8.30am: Breakfast Club, Unlimited Campus, Kitchen
Thursday 28 March, 11.15am-12.15pm: Mates & Date Y11-13, Unlimited Campus
Friday 29 March, 1-3pm: NZEI / PPTA PUM [SUPERVISION ONLY at both Campuses]
---
Messages
Message from Duncan
I hope that you are all okay, that your loved ones are safe and that you managed to get some well deserved rest last night.
I can not even begin to find the words to express the terrible tragedy that has befallen our city. It is not something that can be easily understood or made sense of. It was frightening, unsettling, upsetting and just impossible to imagine how someone could be so consumed by hatred that they would take such extreme action.
I know that we are more than just a school. We are a community whose care and compassion stretches beyond the classroom and into our wider worlds. Events such as yesterday serve as a reminder of just what a special place Ao Tawhiti is. I thank you for your patience as we placed the school into lock down. Your support for us during this time and the trust you placed in us to look after your children was very much appreciated.
As I am sure you are aware, the staff of our school stepped up in the most amazing manner. I am so very grateful for all of their work yesterday. Their calmness under pressure to care for our students was just phenomenal. Their absolute dedication to ensuring our students was cared for and delivered home to their whanau was incredibly inspiring. Our community is certainly blessed to have people like this who care for our tamariki.
We will have all been affected in different ways, everyone in our community will have a personal connection to this tragedy. If you need some help or support please just let us know.
Again my heartfelt thanks to you all.
Alisha
As many of you will know Alisha (a Learning Advisor on the Unlimited Campus) and her family have been deeply affected. Alisha's father has was shot in the arm during the attack. As result of his wounds he had an artery rupture and required surgery. Alisha has confirmed that he is out of surgery and doing well. Our thoughts are most certainly with Alisha, her father and the family at this time.

Duncan Woods – Acting Director
Message from Steven
Thank you
There's not much to say that's not already been said about the events of Friday. Getting home on Friday evening with Hannah and Jack was an interesting combination of feeling relieved to be home with my family, and incredibly sad and angry at the events that had transpired.
I just want to say a huge thank you to all of you who took the time to understand the situation and followed the instructions from the staff. Going into lockdown is an incredibly rare event. Going into lockdown at the instruction of the Ministry of Education (who were directed to by the Police) is even rarer. I was incredibly impressed with the clarity and speed of communication from the Ministry and hope that we were able to keep you as well informed as we could.
The entire staff did an exceptional job on Friday afternoon. Jonelle and Jacinta did a great job answering your queries and putting out communications. The LAs and senior leaders did a incredible job of keeping the students safe and calm.
I do want to say a particular thank you to Nadine and the LAs in her community who did an incredible job of looking after our tamariki who had spent the day in the CBD. They did an incredible job of keeping in touch with me as well as making sure that the youngest members of Ao Tawhiti Unlimited Discovery were safe.
Tips for Supporting children and young people – MoE
The Ministry of Education has shared this document with all schools. There is some great advice in there to help you support your child.
Paid Union Meeting Reminder – 1pm Friday 29 March
Property update
The building keeps being built. I took these photos almost two weeks ago but they show the stairs going in and the skylight completed.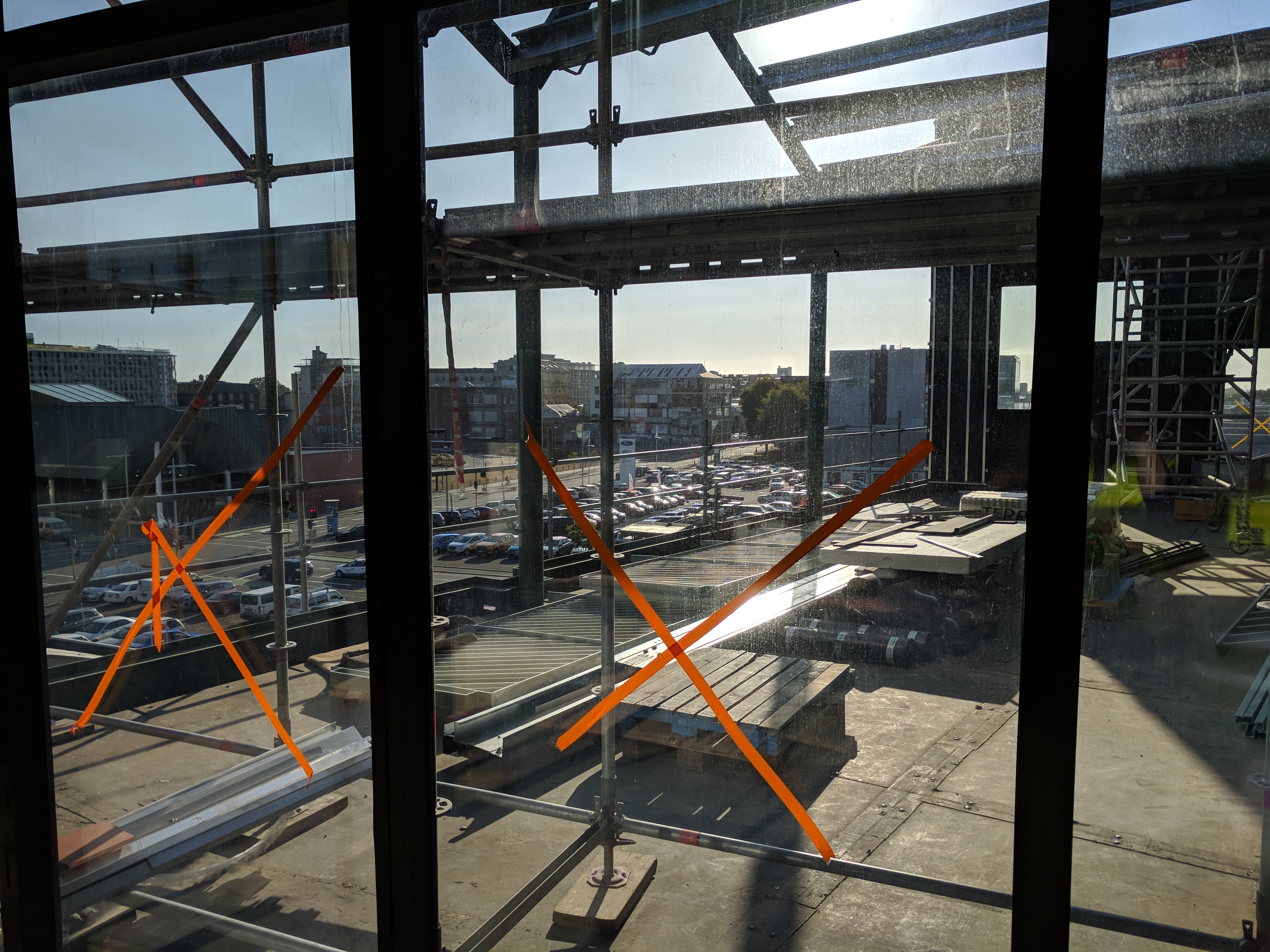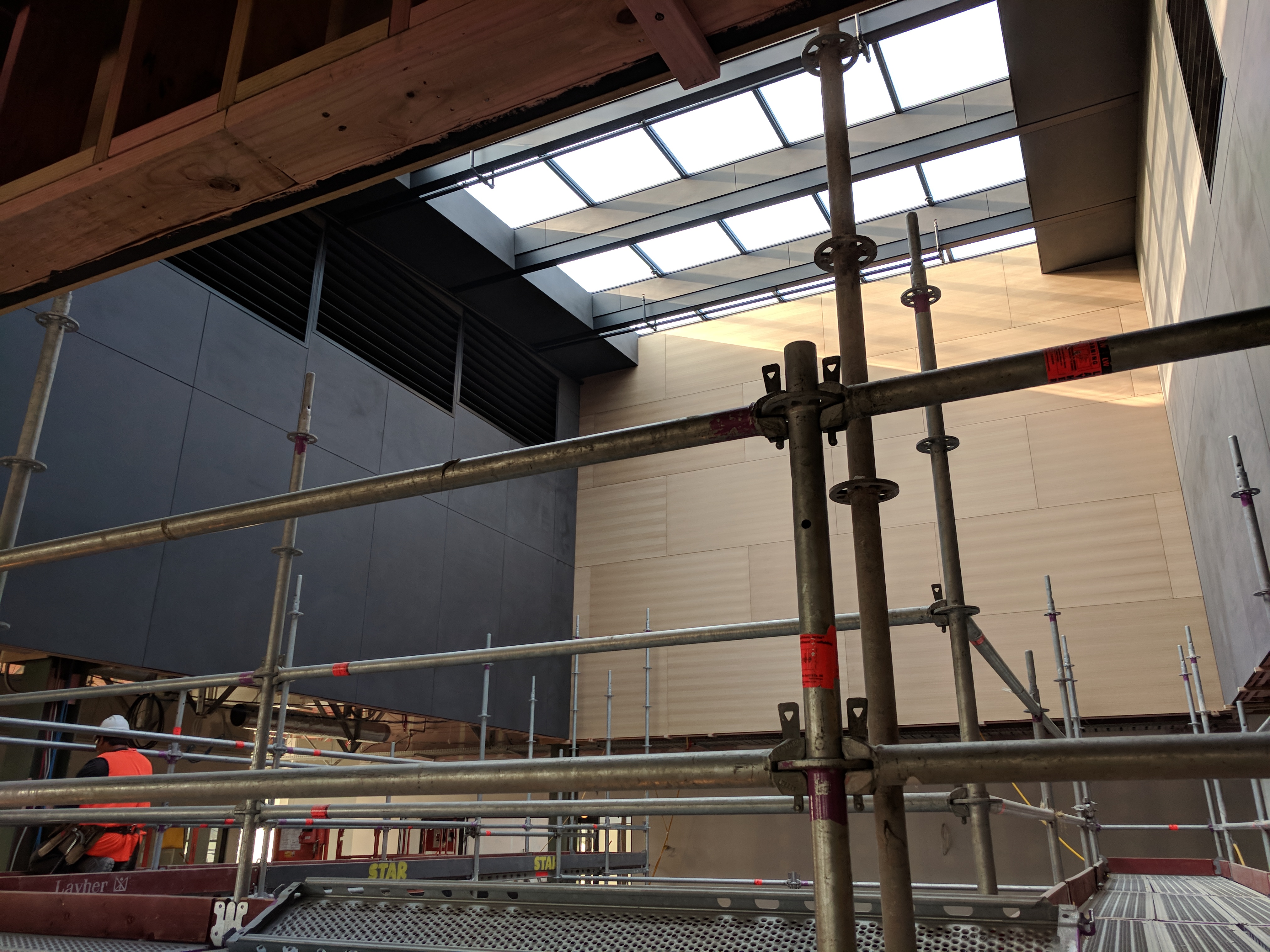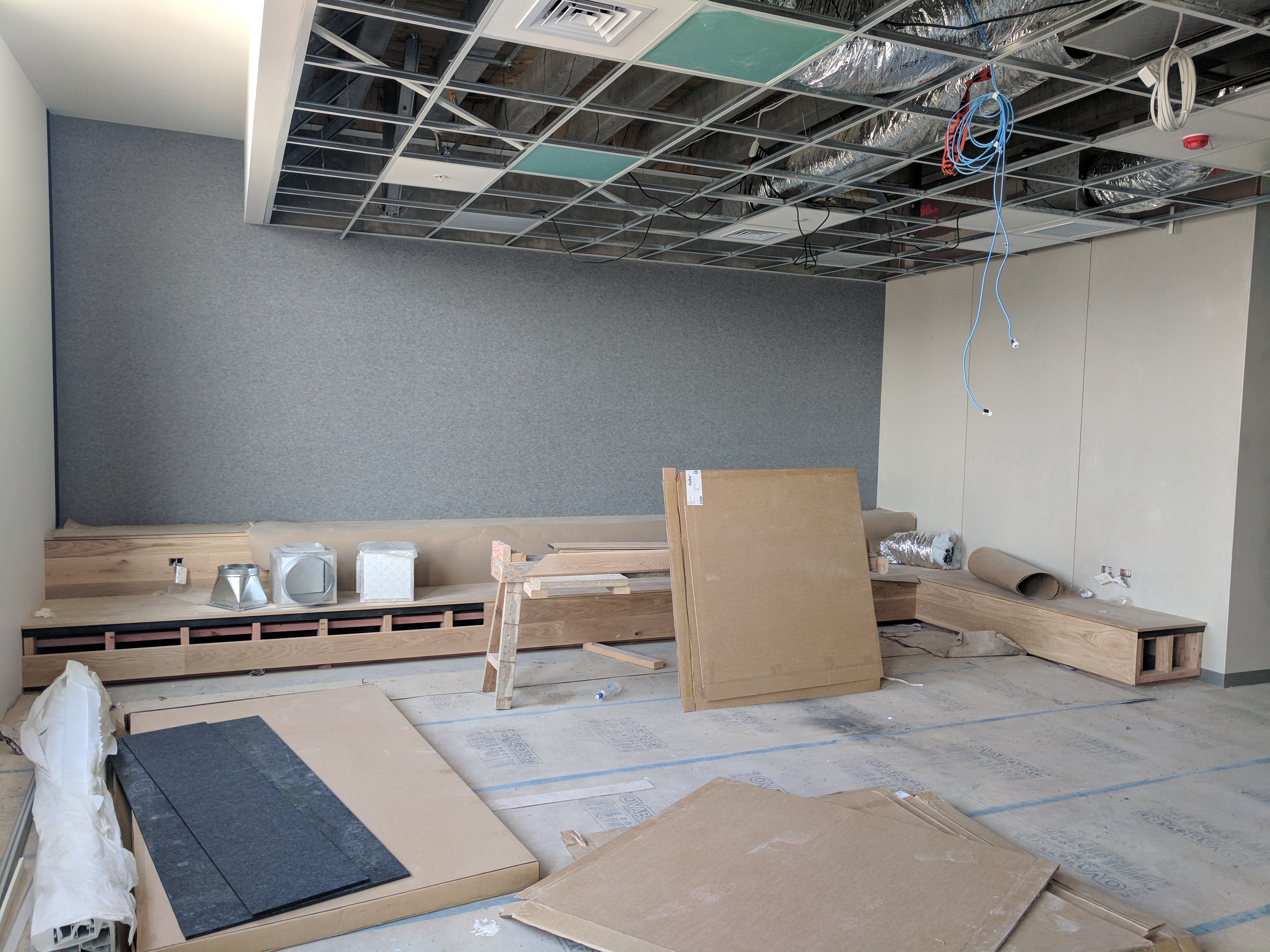 There are more photos here https://photos.app.goo.gl/C9NXuuctY1ATwEHC6
Travel to CBD info evenings – Thursday 21 March 7pm (S5 Unlimited Campus)
I've arranged with the Council two evenings for parents to talk about travel to and from the new CBD site from Term 2. The first evening is just with me. It's an opportunity for you to share your thoughts or questions so that I can then share those with the council's travel team. They will then come to the second meeting, hopefully with lots of answers!
For the first meeting, I would love to have as many parents who currently bring their child to school in a car to come, particularly if you intend to keep doing this when we move to Mollett Street. I really want to hear your ideas, concerns and thoughts so that I can try and help you develop a plan in advance of the transition.
CBD – Whole school in town
Niki did a fantastic job of making our first whole school CBD day happen. It was a colossal task and I'm extremely grateful for the organisation, leadership and support that Niki undertook to make the day such a success.
It was fantastic seeing the students from both campuses working together. I was also incredibly impressed by the number of LAs who worked with students from outside of their specialist area.
I managed to snap some shots of Rob as he established Ao Tawhiti's new Repair Cafe (check out their notice in this newsletter), as well as a short video of most of us outside the MoE.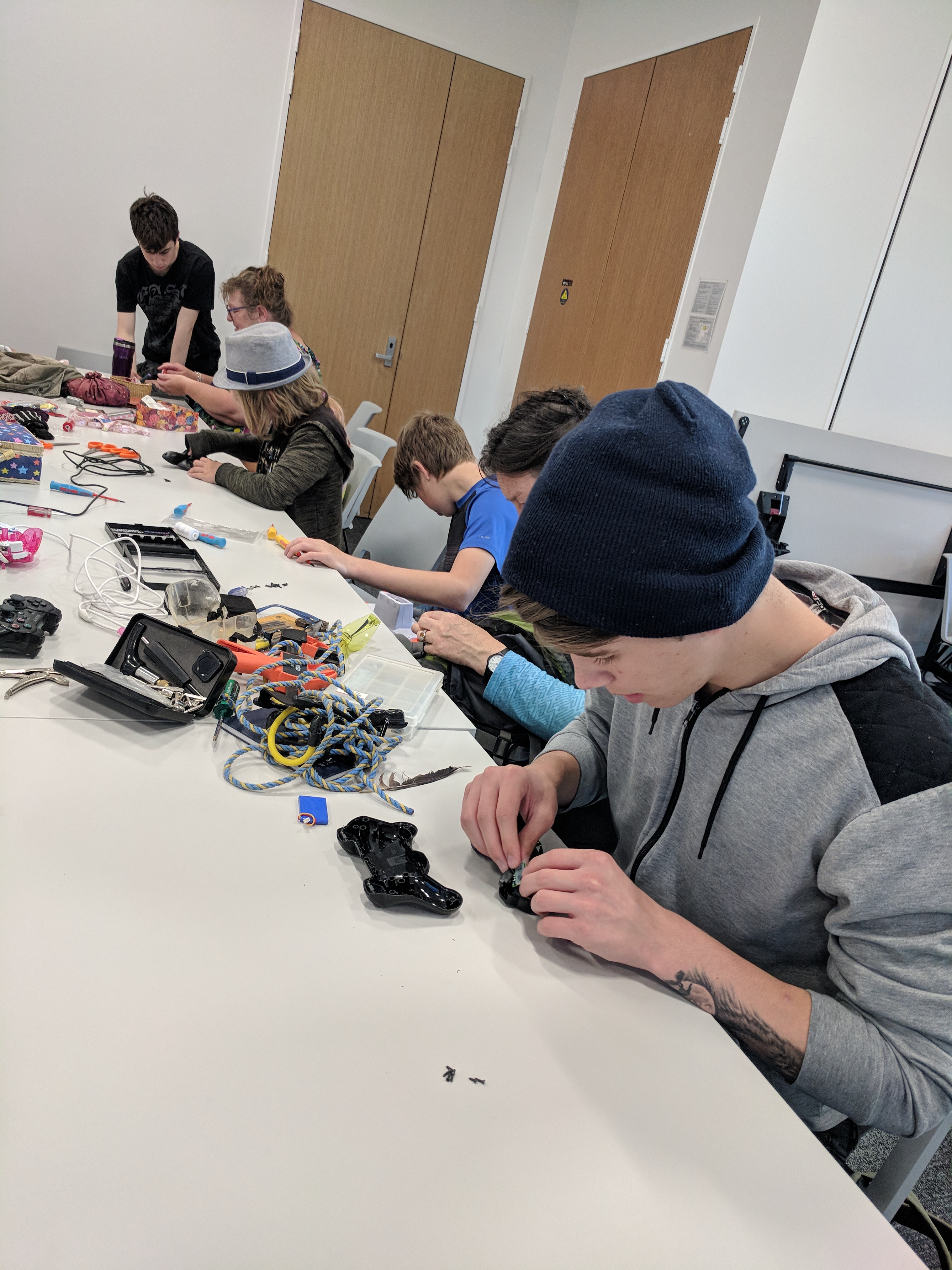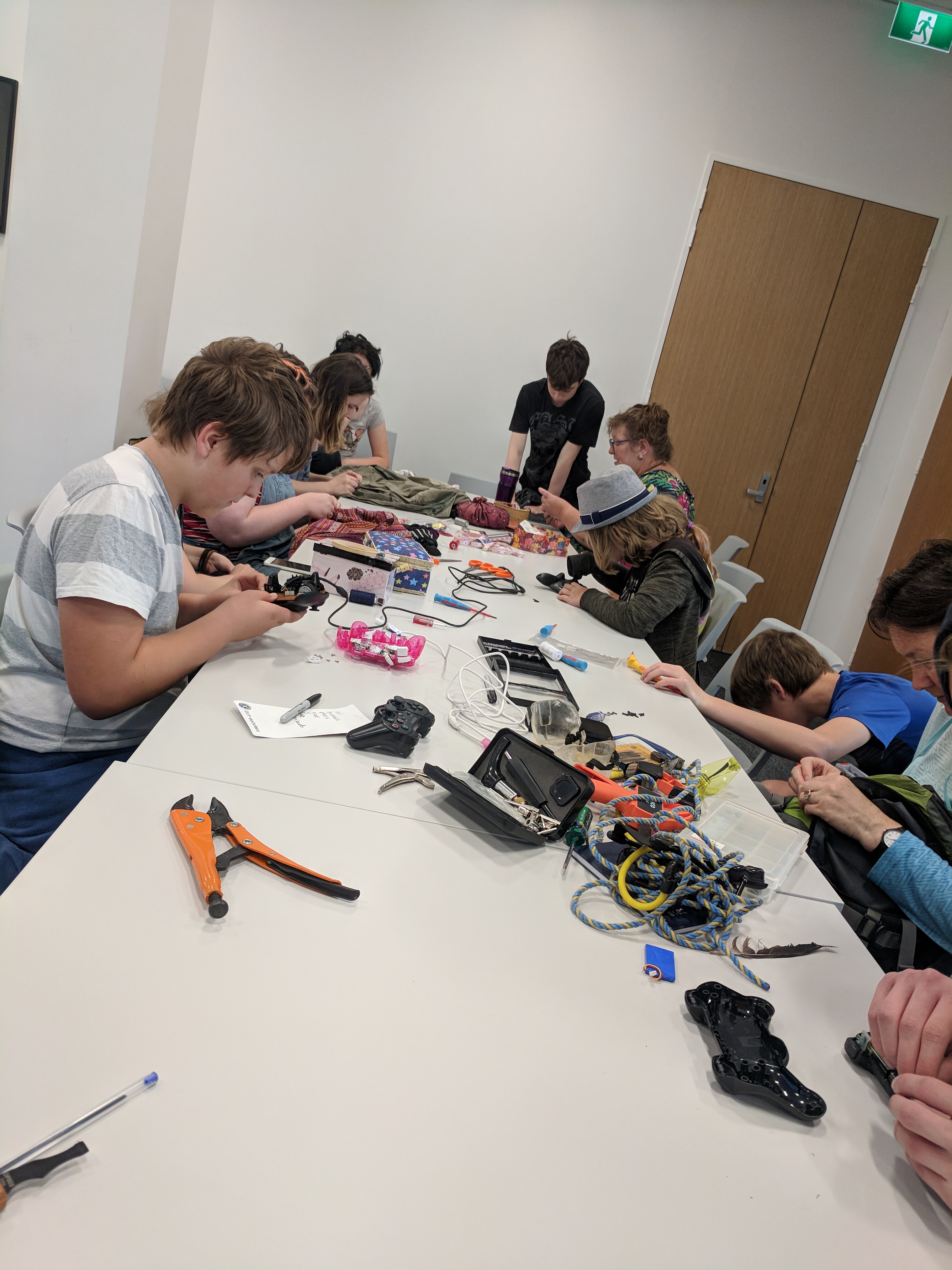 Term 2 Week 1 Reminder
The BoT have confirmed that the first week of Term 2 will be 3 teacher only days followed by 2 IEM days. This will allow us as a staff time to familiarise themselves with the building (including evacuation procedures and health and safety). As a result of this decision I have moved the 2 IEM days from the end of term 1 to the end of the that first week. The idea here is to allow all families to see the building for the first time at the IEM (think of it like a personal tour).
Trustee Election reminder
Finally there is of course an upcoming BoT election in Term 2. The 5 parent and 1 staff trustee roles on the BoT will soon ask for nominations. NZSTA have thoughtfully provided several opportunities for you to find out what being on a Board is like if you're interested you can look at their Kōrari programme. The focus on the programme is to lean more about the role of a school trustee. NZSTA says that the
… programme provides governance training for people who'd like to learn about the role of the school trustee. Sessions are being planned around the country for those who'd like to learn more about Kōrari. Registrations to Kōrari are available on the NZSTA website on the Information for parents page.

Once registered you'll have access to the:

Learning modules

Sessions and events in your region

Personal record of learning
Steven Mustor
Message from Niki
Thank you all so much for being calm and wonderful on Friday. A massive thank you to the LAs who were on board both at the Discovery campus and at the art gallery. I am so proud of you. Your professionalism, care and compassion shone through and I am privileged to be able to call you colleagues. Tino pai ngā kaiako. I hope you have had a restful weekend with loved ones and have been able to find some peace among all of the upset.
The Ministry of Education have sent this useful document about how to minimise the impact of traumatic events on our tamariki.
LAs are all on board to get routine going straight away tomorrow. They will talk about Friday's events if children bring it up, but we know that business as usual is the best way to go.
If any of you have personally affected by Friday's events and need some help, please let us know. Our parent group Te Taura are on board and ready to assist where they can, even if it is just to hang out and have coffee. If you are discussing Friday's events at school, please be mindful of our tamariki. They hear more than we think they do..!

CBD days
Thank you so much for some wonderful days in the city last week! Seems like a long time ago now….
Tuesday was our whole school day with students opting into PINs workshops run by our marvellous LAs. A huge shout out to the LAs, Learning Support staff and parents who helped on that day.
On Wednesday Y1-6 enjoyed a quieter day based at the Ministry of Education, again thanks to the Discovery campus LAs, Learning Support staff and parents who helped.
The days gave us a taste of things to come; it is going to be wonderful to return to the city and access all of the facilities on offer.
As you will be aware by now, our floor is not going to be quite ready for us moving in to the new school, yet it is important that we all move in together. We will be temporarily based on the ground floor, and are working with the 7-13 community to figure out what that will look like.
We will hold an information evening closer to the end of term to discuss what the beginning of term may look like, details to be confirmed.
Head lice
Watch out, watch out, the little critters are about, and some folk are finding it tricky to get rid of them for good. Please have a look at the info from the CDHB which outlines a robust treatment regime. There are printed copies of this in reception at the D campus, or I can email it on request.
I will meet with our new Public Health Nurse (PHN), Katie, this coming week. If you have any concerns you would like me to raise with her, please get in touch.
Momo follow up: Now that the furore has settled down… There is this useful information from netsafe (thanks for sending this to me, Debz) if you are interested.
Niki Stephenson – Deputy Director
Message from Ian
I really don't know how to even contemplate what happened on Friday, what I do know is that our staff and students were amazing in the face of such a horrific afternoon. An ex parent posted the following message on Facebook, it definitely sat comfortably with me and I hope it does for you…
Like everyone else, still reeling from what happened in Christchurch yesterday, the words to this waiata popped into my head…
E tū kahikatea
Hei whakapae ururoa
Awhi mai awhi atu
Tātou tātou e
Stand like the kahikatea tree
To brave the storms
Embrace and receive each other
We are one together
Thanks Tali, a great message for us to hold onto…
A massive thanks to everyone who in some way supported PINs on Wednesday. It was awesome to wander round and collect rolls and check in with everyone and see how it was going. There was a real sense of purpose and enthusiasm across the campus and it felt like a really successful experience.
We were just saying that at this stage we won't be running PINs again until Week 6 or 7 of Term 2, it's definitely possible for you to just run the same workshop again, particularly if yours was popular and we had to turn people away or if it's something you need to commit time to like Jazz Band or Kapa Haka. It is also a good time to roll something new out…like chess club or triathlon team or extra curricular things that happen in other schools after school. There's also going to be a bunch of new things in the CBD that we could start to get involved with. In the next couple of weeks we'll start to put requests for next term's workshops out there again…we'd love to have you involved.
We also wanted to mention that if you saw something on the list and as a parent it looked interesting, we're sure you would be welcome to drop in and use it as some personal development.

Anyway, thanks again!!!!
Ian Hayes – Deputy Director
Schoolwide Notices
Farewell Party – Wednesday 10th April Discovery Campus from 4pm
We currently have a group of students and staff working on a farewell party in the last week of term. This will include a Hangi, shared food and entertainment. All families are welcome to come along and help our students say goodbye to their long term temporary location!! Save the date.
Kay Hayes – Community Leader

Repair Cafe
Welcome to the repair cafe! We're based in the tech room (p14) during the PINs block on Wednesdays. Come on in and bring something that you need repairing!
Examples could be:
A jacket or pair of jeans you want a patch sewn onto
Bicycles or skateboards (please note: a board that has been snapped in half is beyond repair, but we could turn the board into a piece of art)
And pretty much anything else you've broken, within reason, we're not exactly professionals
Our service is free but we will be accepting donations
Zavier Mayers – Student
1-6 News
Book Club Issue 2: Out now!
http://scholastic.e-newsletter.com.au/link/id/zzzz5c89aa3253e14904Pzzzz59d2d280dd0c2338/page.html
Melva Gill – Community Leader
7-13 News
Waka Ama
A few of our students trained only two times (only once in a waka on the water) the week prior to entering the Waka Ama Secondary Regional competition on Saturday 9th of March. They came 3rd in the Junior Mixed 6s and 2nd in the Senior Mixed 12s when they were invited to team with St.Bedes. Great races and a great time was had! Looking forward to next year's competition! Thank you to Miriam and her friends at Naval Point in Lyttelton for helping to train our students. They are proud of their achievements!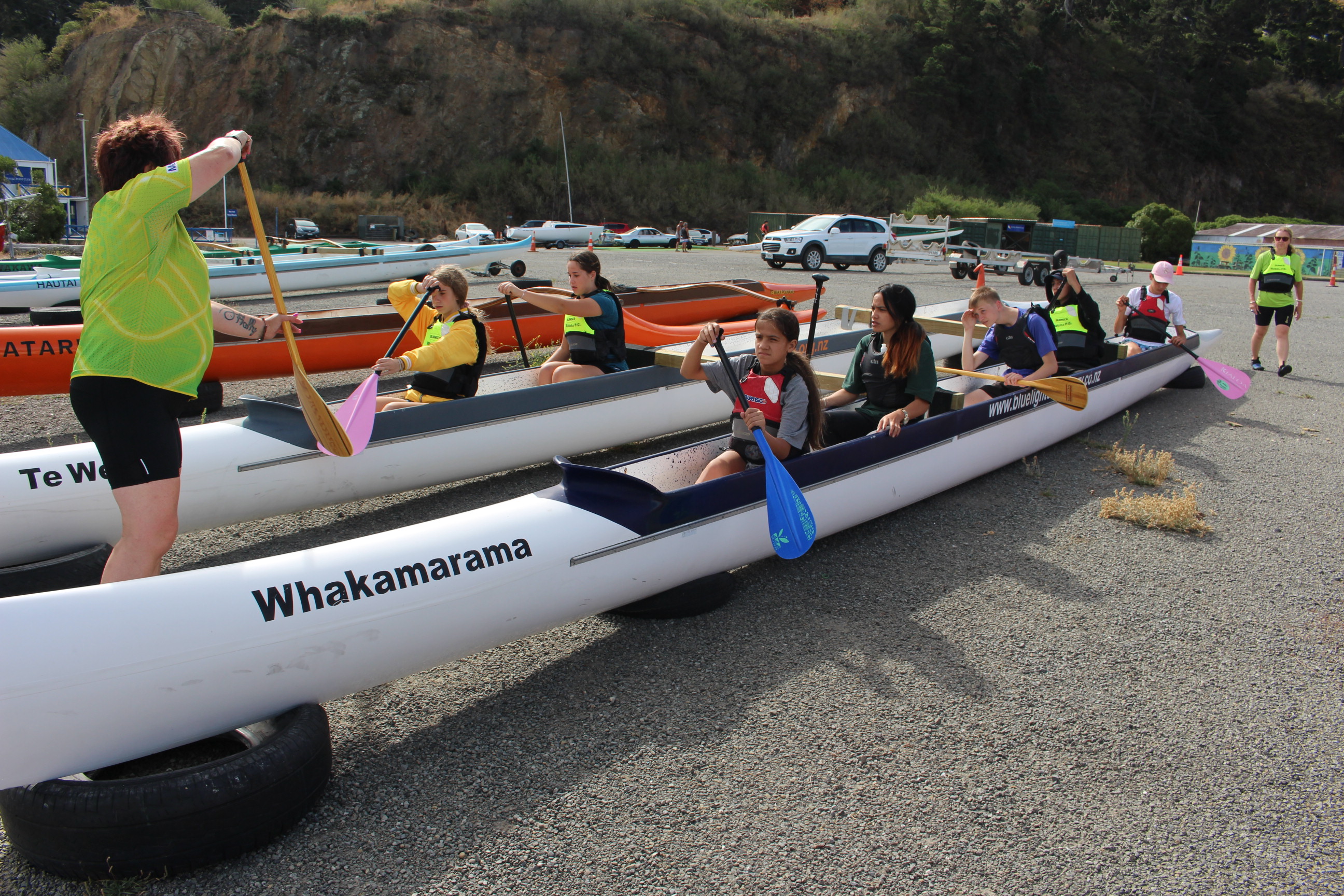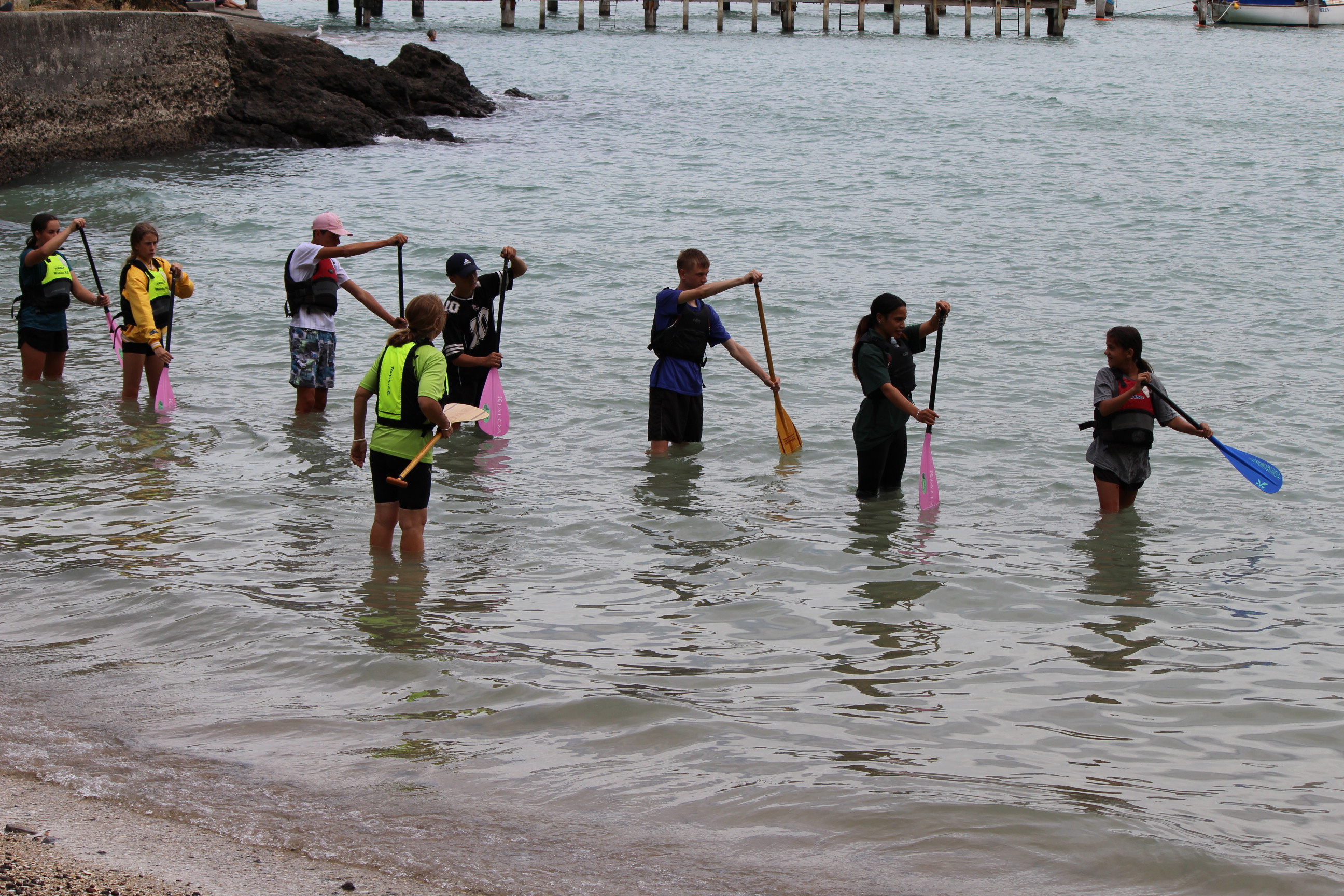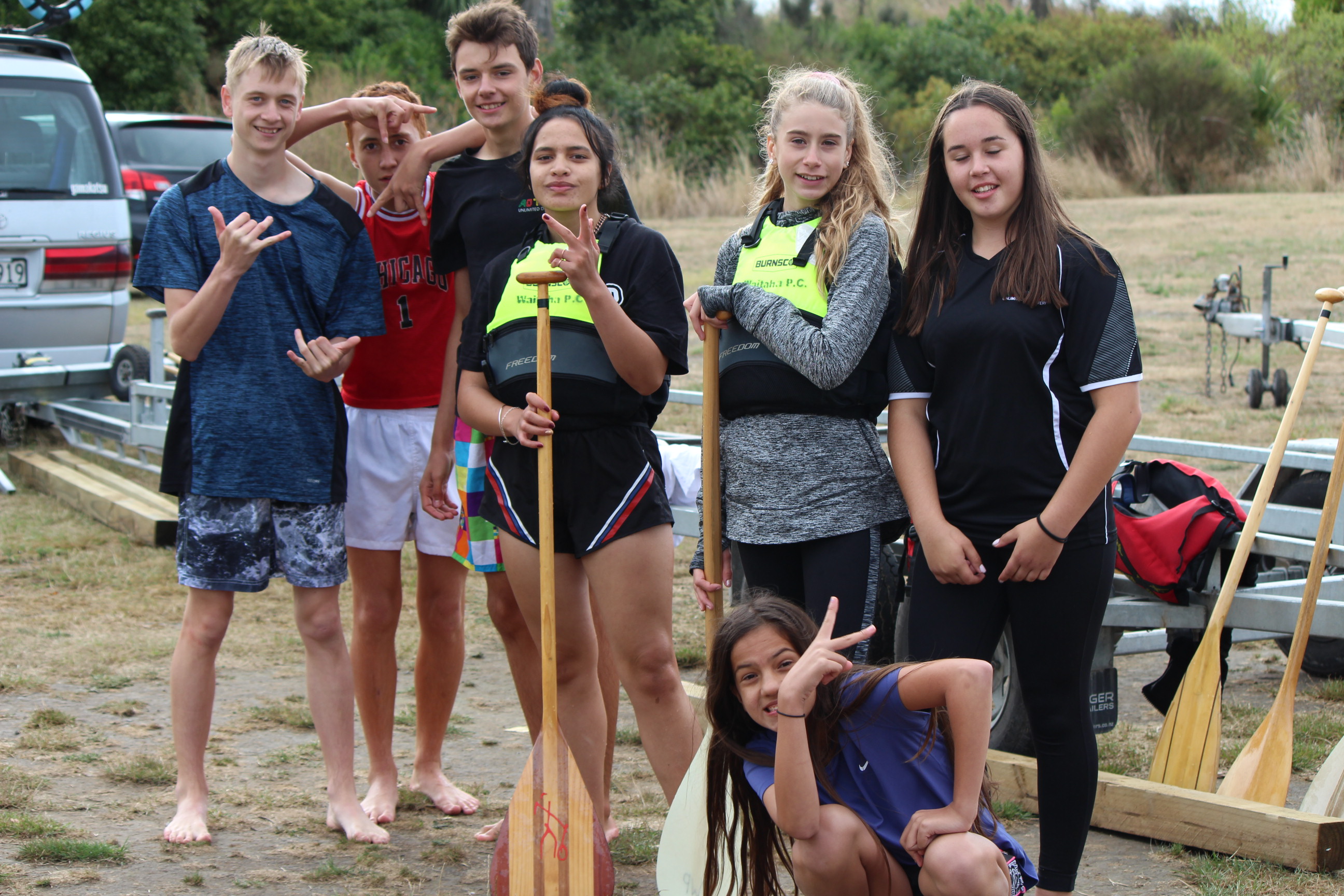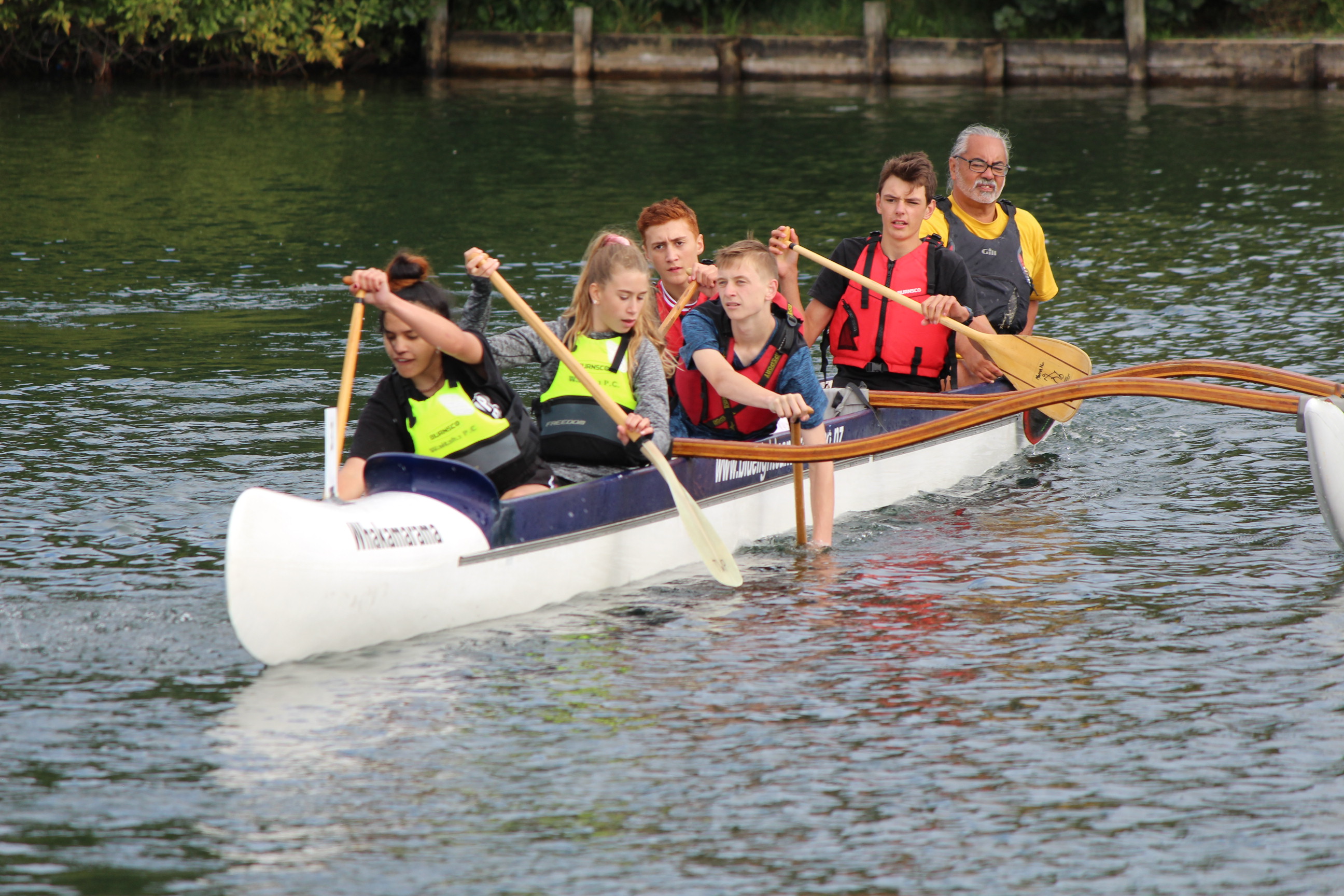 Marlene Tee'vale-Hunt – Learning Advisor
PINs CBD – Feeding Eels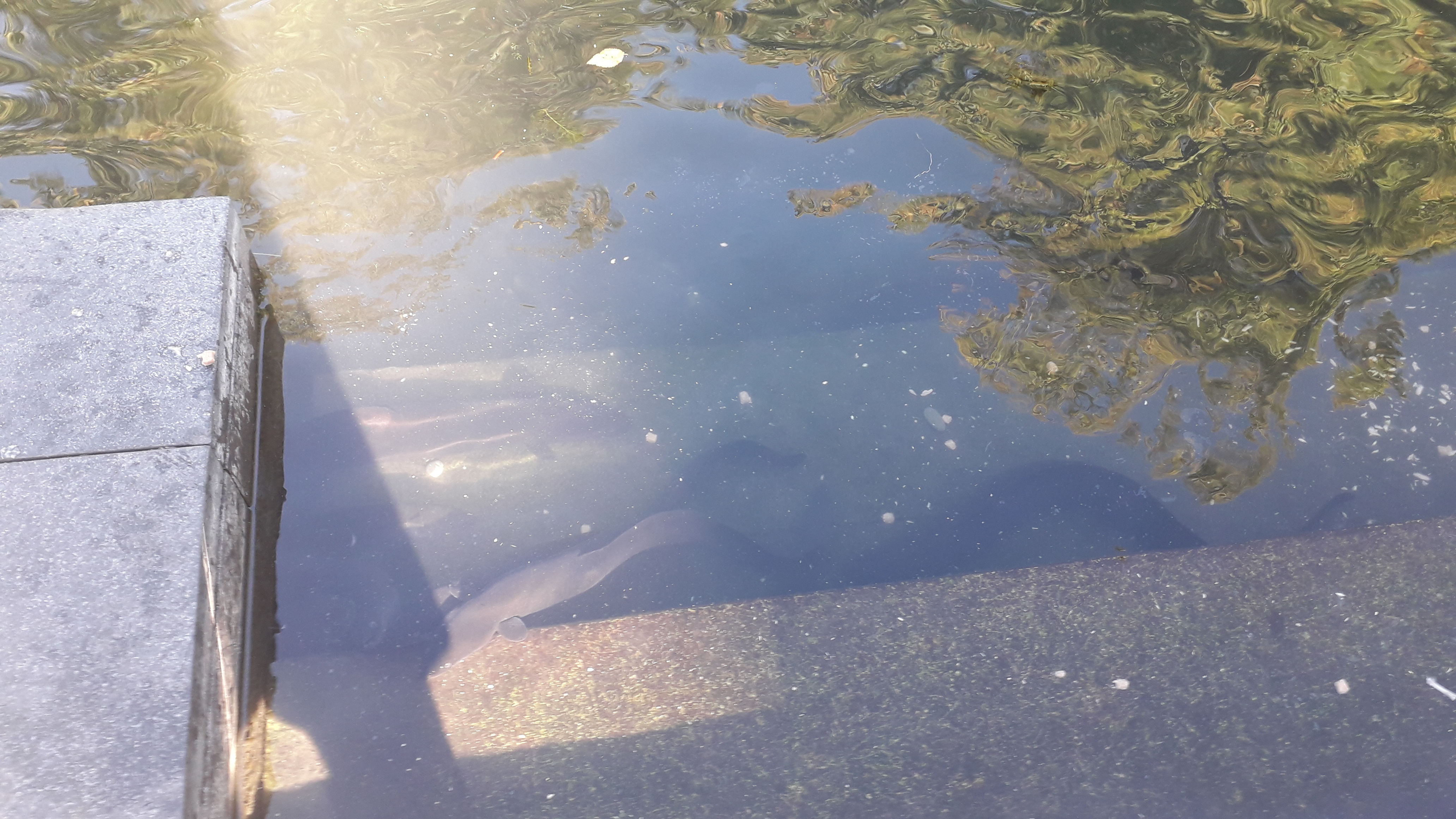 Marlene Tee'vale-Hunt – Learning Advisor
Lily – Prosillio
Lily Cooke doing an aerial at the Dovedale campus. Lily is a contemporary dance major at Canterbury Ballet and an Ao Tawhiti Prosillio student.
In term one, Lily has been choreographing a group dance about 'getting up again' when life knocks you down. She is also doing an NCEA level one PE project that involves mentoring a junior dancer.
Congratulations Lily for being accepted into the American Ballet Summer Intensive in New York in July this year.
Lily is one of several Canterbury Ballet dancers from the Prosillio program who are 'going global'. These dancers have been accepted into the world's most elite competitions and intensive dance programs. You can support them by making a small donation here: https://givealittle.co.nz/cause/nz-dancers-go-global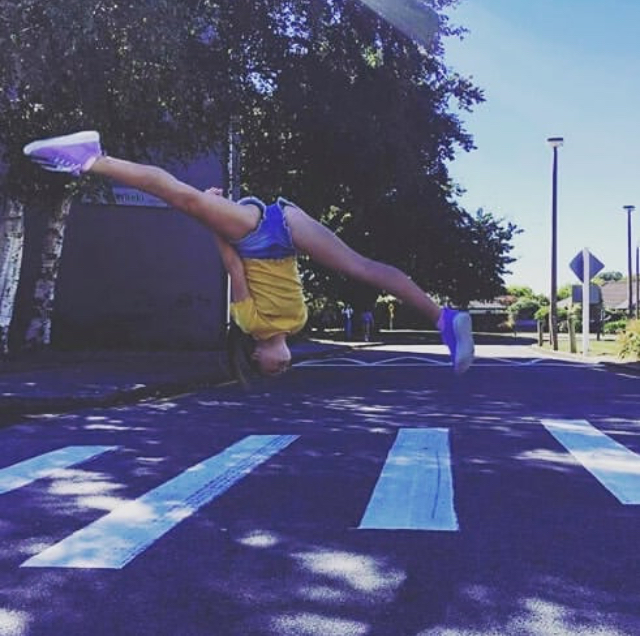 Natalie Woods – Learning Advisor
Downtown Digital Update

This week we welcomed 12 additional students into Downtown Digital. They have joined as part of the PINS programme and have jumped straight in to designing a new game using the Python programming language.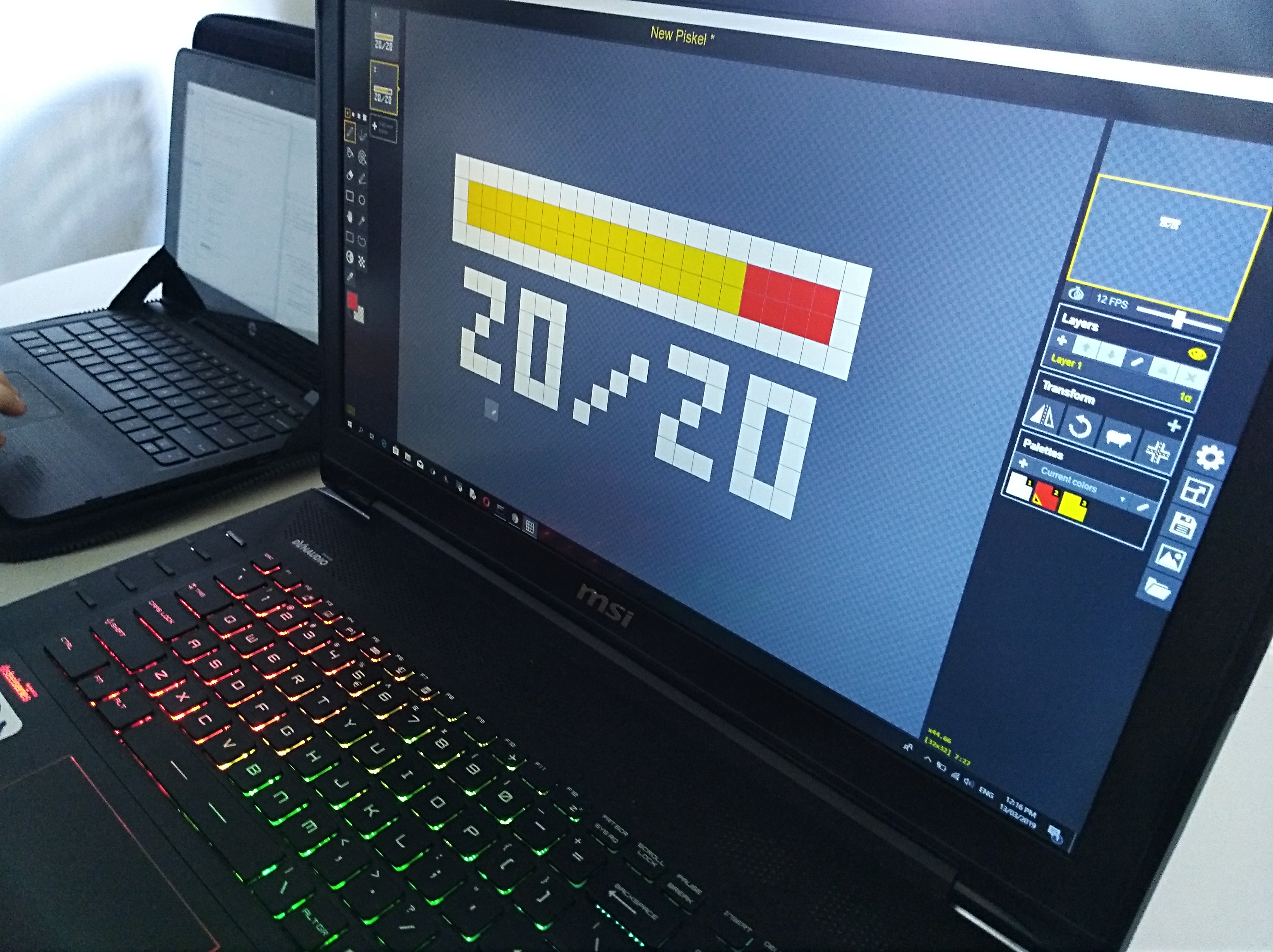 In the meantime, the original students continue to work hard on our Maze game. The design has been a team effort, with students all contributing to the look and flow of the game. Students have generated all animations and graphics, and coding is by Brent (Learning Advisor), with a view to teaching students the fundamentals of programming in Javascript.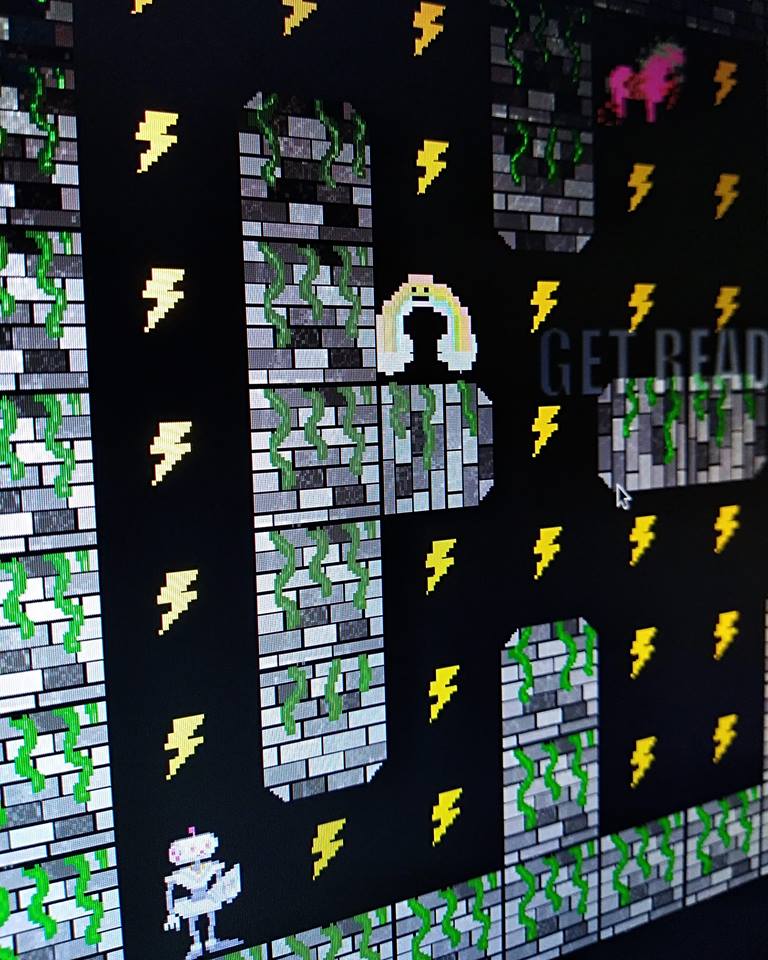 Follow us on
Call to the community
If you have a business in need of graphics or digital marketing material (maybe even a game for your website visitors), please email us at: downtown.digital.nz@gmail.com
Brent Silby – Learning Advisor
CANTERBURY SECONDARY SCHOOLS TRIATHLON

Friday 8th March was a great day for Ao Tawhiti sports. We had three students competing in the U16 girls teams section. The event was held in Sumner and was attended by a large number of schools from around Canterbury. There was a high calibre of individuals and teams competing.

Our team consisted of :
Roxy Lock: year 10 (350m swim)
Amy Huddlestone: year 10 (9km bike)
Hazel Saunders: year 9 (3km run)
All 3 of the girls represented themselves-family-school with pride. We talked about having fun and competing hard, the result of this was #silvermedal. An outstanding result and one the girls should be really proud of!

I would also like to say a big thanks to the parents who supported on the day.
Andrew, Katie and Rachel. Top communication and support from all involved.

Some interesting stats:
Your overall time, 41min 50sec
2nd out of 9 U16 girls teams.
13th placed out of 33 teams, all ages, boys and girls.
34th out of 82 times registered, all ages, boys and girls.
You beat 3 U19 girls teams.
Clint Williams – Learning Assistant
Kay's Community Newsletter
Big Day Out at Spencer Park – Tuesday 9th April
We are organising a Big Day out at Spencer Park for the whole community on Tuesday 9th April. Students from UC will be organising and running events for us. We will send out more details soon.
First Aid For All
We have an online first aid course available for students and parents. Anyone can complete the online modules for free. If you want to take it further and obtain the First Aid Certificate you need to complete a 2hr group assessment. This costs around $60 per person.
If you are interested here is some information you will need. Let me know if I can answer any questions:
The First Aid for All online learning is set up and ready to go for your team.
Please register yourself for the learning at www.firstaidforall.co.nz using A0109 as your organisation code.
Please read the Study guide which will walk you through the entire online course from start to finish, found here https://indd.adobe.com/view/819ac6be-e1a3-4e74-a558-a1292dbec68e
You must read this before and while registering and working through the online course.
For those completing the full course you will need to complete Basic Life Support, Basic First Aid and Intermediate First Aid.
Those completing the refresher need to only complete the revalidation course. You must have your current certificate validated by our admin team, please send this in via email. You must also watch the video on the Basic Life Support page.
Kay Hayes – Community Leader
Food Design
Week one – using simple ingredients to create eye catching presentation:

Flower of the Sun – Homemade hummus with vege sticks and lightly garnished with paprika.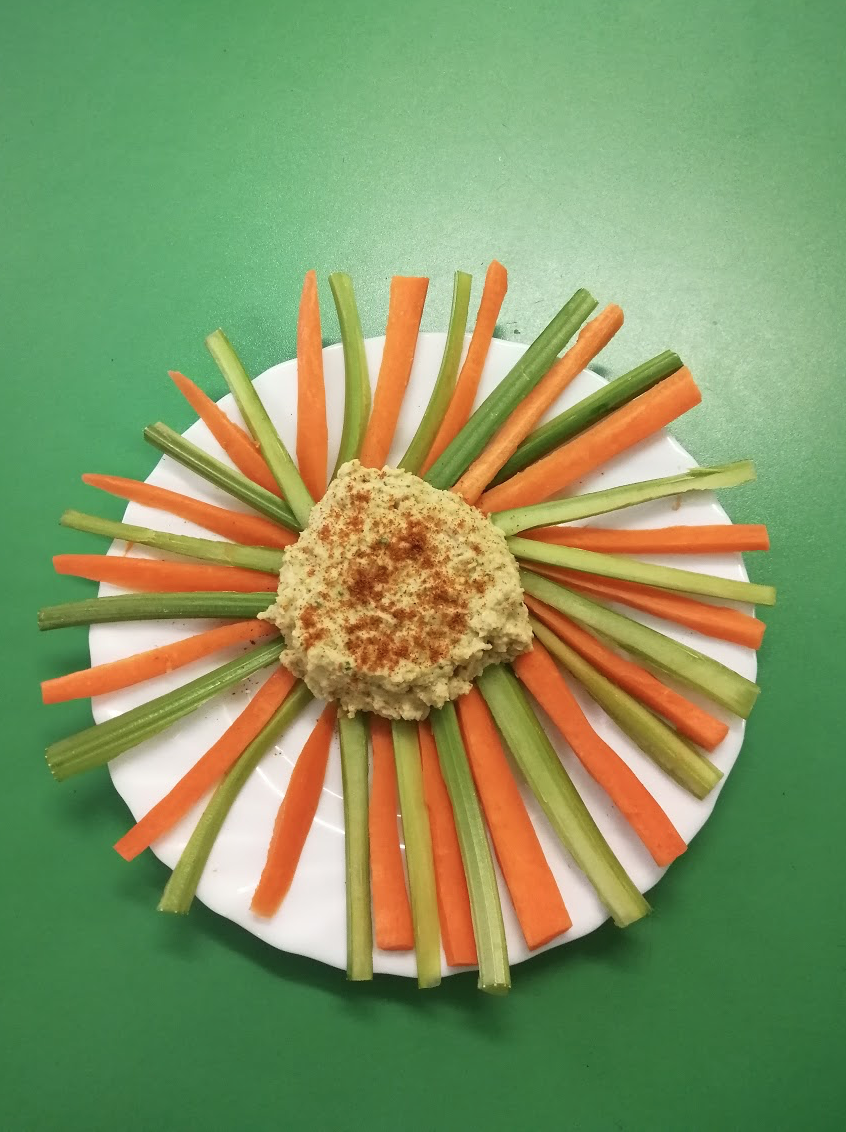 Rule of Thirds: Seared ribeye with rocket greens and seasoned mash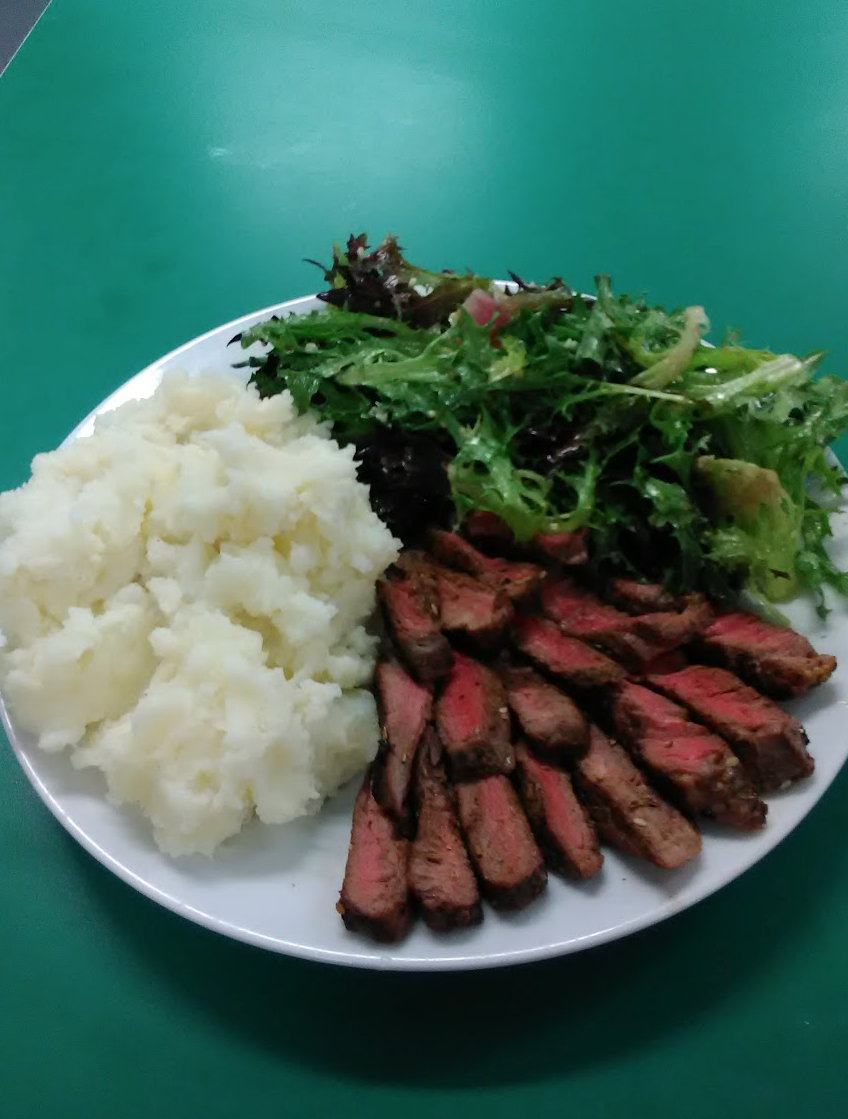 Braden Faavae – Learning Advisor
Other Notices
BushFarm School
BushFarm School is holistic education that connects children to nature as well as giving them the freedom to roam, take healthy risks and the opportunities to challenge and push their limits. Our aim is to support children to become innovators and problem-solvers who will be kaitiaki of our environment for future generations. We have a few holiday programmes on offer for April, before we take a break and return for our spring season in September. Please do check our facebook page #bushfarmschool for updates, as well as our website www.bushfarmschool.com .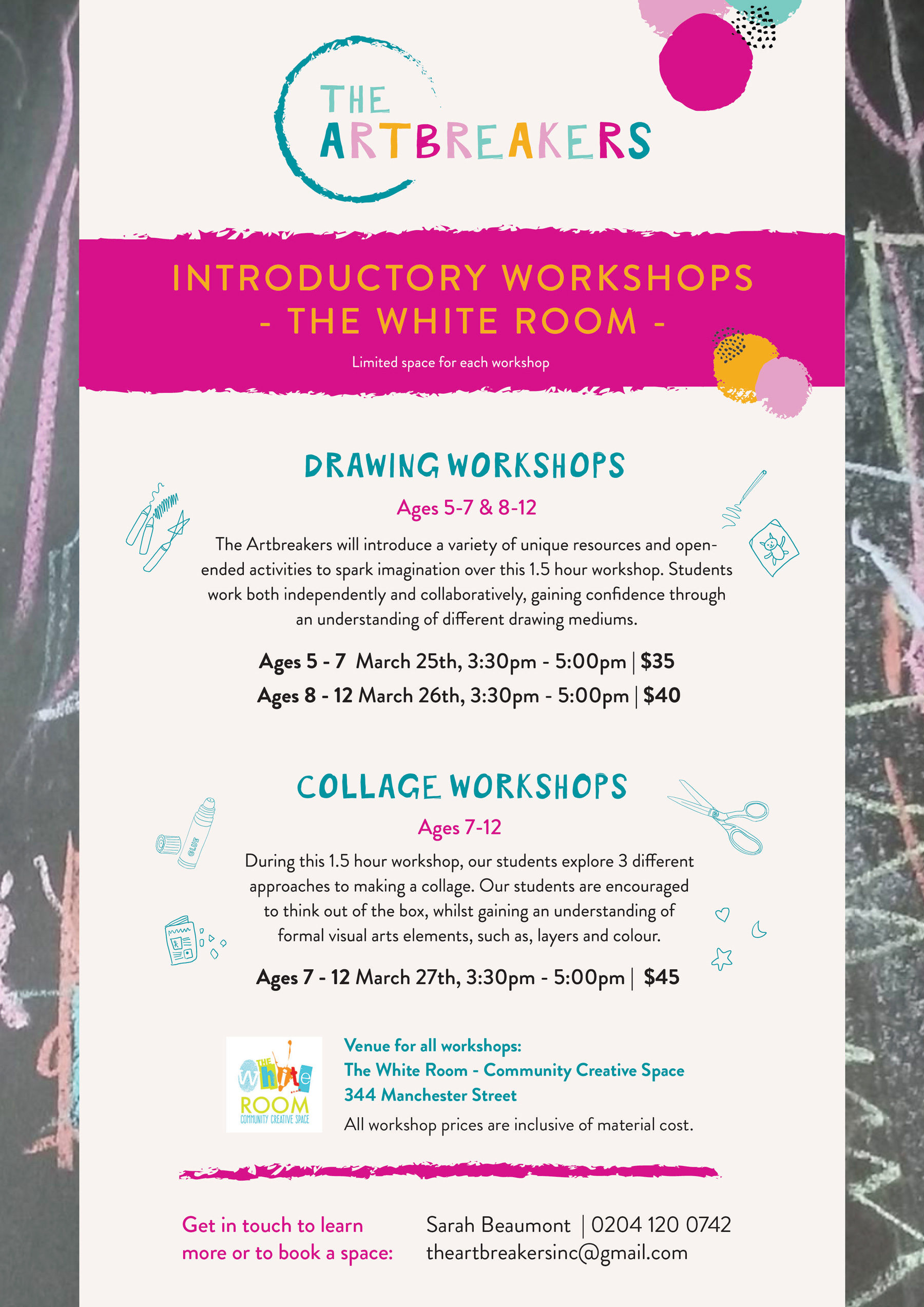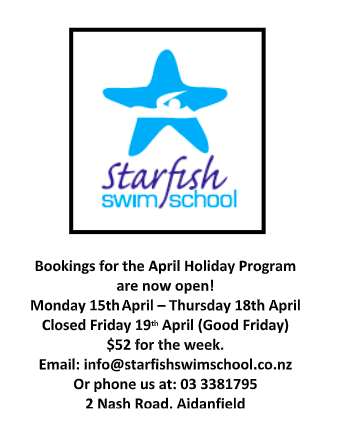 Dyspraxia Support Group Parent support talk
Christchurch-Wednesday 20 March May 7:30pm
(DSGNZ National Office, old Kendal Primary School premises, 53 Kendal Ave, Room 10) Members free, non members-gold coin donation.
"What to look for at school open nights"
This is an evening of tips and information about this time of transition between schools for a child with DCD/dyspraxia.
Call Sue 033583249 or email dyspraxia.centre@xtra.co.nz to confirm your place.
Best regards
Sue Hammett – Office Administrator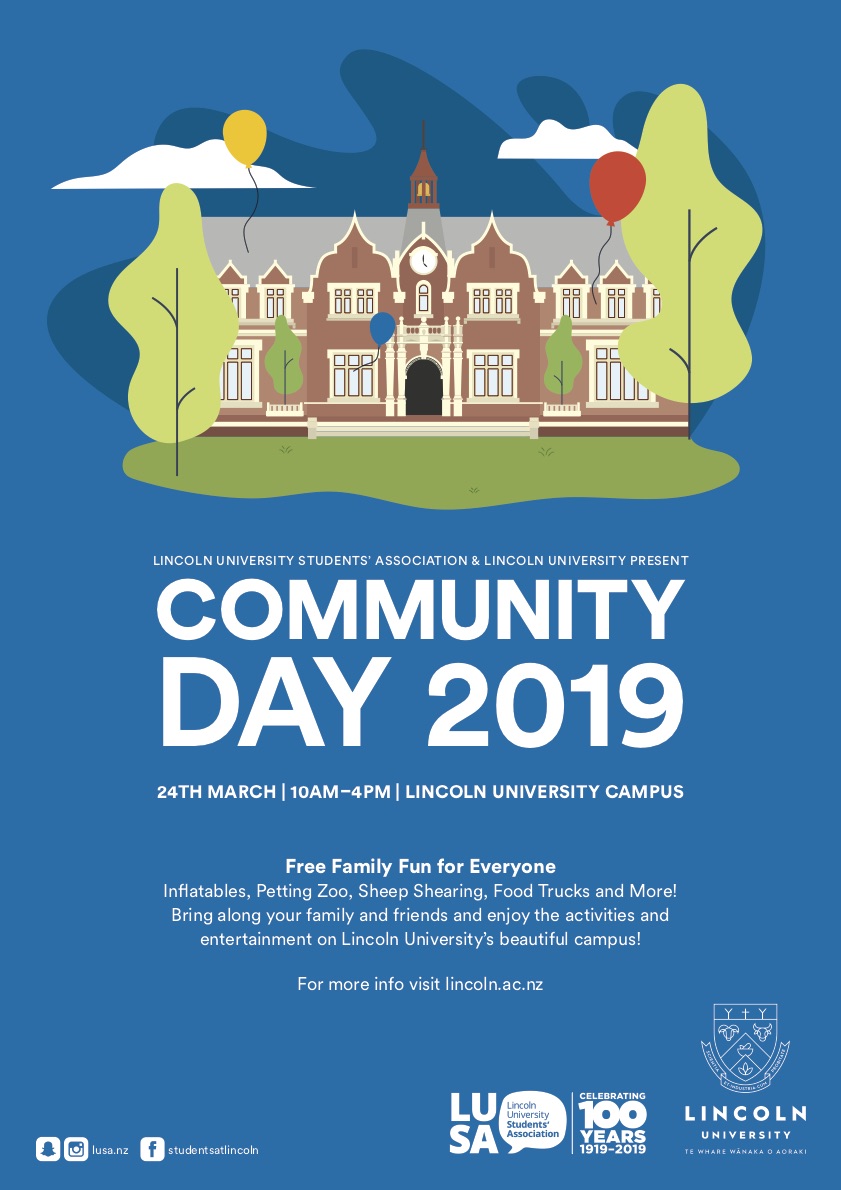 Lyttelton Rugby Club
We are looking for some new members to join our great family friendly club, all ages from 5 to 17 boys & girls.
All new members will receive a gear bag, beanie, socks, mouth guard and a jacket.
Subs are $40. for 1 child & $60. for two or more children from the same family. If paid before 18th May otherwise
$45. for 1 child & $80 for a family.
If you are interested in joining our club please contact
Linda on 0273859392 or you can register online at www.sporty.co.nz/lytteltonrugby
We would love to hear from you.