In this newsletter
This fortnight's newsletter has some important information about the upcoming site blessing. There are also some great photos from river crossing, art and the restaurant evening.  Don't forget that IEMs are coming up at the Discovery campus … as well as those well earned first set of school holidays.
Upcoming Events
Term 1, Week 10: Starting Monday 3 April 2017
Monday 3 April – Wednesday 5 April: 7BIO Craigieburn field trip
Wednesday 5 April, 9am-11am: Junior Swimming, Discovery Campus, Starfish Swim School
Wednesday 5 April, 11.45am-12.30pm: Kapahaka, Unlimited Campus, DW2
Thursday 6 April: Site Blessing, 8.45am-9.45am, 177 St Asaph Street
Thursday 6 April 12.30pm-3pm: 4-8 Swimming, Halswell Pool
Friday 7 April 9am-10am: KAHA community Celebration of Learning, Unlimited Campus, S5
Term 1, Week 11: Starting Monday 10 April 2017
Tuesday 11 April: KAHA COMMUNITY Outing, Unlimited Campus
Tuesday 11 April: IEMs, Discovery Campus
Wednesday 12 April: IEMs, Discovery Campus
Wednesday 12 April, 11.45am-12.30pm: Kapahaka, Unlimited Campus, DW2
Thursday 13 April: Teacher only day [SCHOOL CLOSED]
Friday 14 April: School Holidays Begin
Sunday 16 April: Newsletter Published
School Holidays: Friday 14 April – Sunday 30 April 2017
Messages
Message from the BOT
Term one has raced by and the holidays are just around the corner…
We have been busy on the Board completing the annual documentation for the Ministry of Education. The 2017 Charter is available on the website for you to have a look at. You'll recognise the first section which relates to our Special Character and has not changed at all. The second Strategic section has changed and contains the areas that we are interested in prioritising and developing for the year. We are focussing on four main areas; Learning, Relationships, Culture and Transition which we believe capture all the things we want to grow in the school. We are pleased to see that our Senior Leaders are already implementing changes that work towards meeting the Strategic Goals outlined in the new Charter.
With Learning as one of our main focusses, the Board are putting more of a priority on achievement. Achievement in our school looks different for every student depending on their individual learning pathway and we want all personalised goals developed at IEMs (whether NCEA/National Standards based or not) to be valued. We want to know that students are setting goals that they are working through and completing, and we are looking closely at all the achievement data that is coming from the LAs. Steve Hunt, our National Standards Leader, came and presented at our meeting earlier this week to give us the low-down on our National Standards data. We are really pleased to see that National Standards are being implemented in our school in a way that reflects the needs of our students and our special character as well as the Ministry requirements. We look forward to seeing statistics relating to all the personalised goals really soon as the data starts coming out of the IEMs in a few weeks.
Next week we have the blessing of our site. While this official event is another exciting step in our build process, unfortunately it has not been able to be quite the Ao Tawhiti Unlimited Discovery orientated celebration that we envisaged and will only have limited community representation. We have other full-community events on our agenda and plan to celebrate our fabulousness at some other time very soon.
Only seven more terms until we're in the new school!
The Ao Tawhiti Unlimited Discovery BoT
Message from Steven
Site Blessing – 6 April 2017
The Ministry of Education has confirmed that our site will be blessed and the first sod of earth will be turned on our site at 8.45am on Thursday April 6.
We have a confirmed timeline that places considerable challenges on us being able to make this a huge schoolwide event.  As the site is currently a work site, we are only able to have a limited number of people attend. Ian and I are arranging a group of students and parents to join some of our staff at the site.  If you are in the CBD that morning and would like to come, I'm sure we'll find a way to accommodate you into the event.
Effectively this is an opportunity for the Minister to formally begin the building process by "turning the soil".  This is a standard Ministry led event and lacks the flavour of our school. I do not believe that an event that is over in less than 1 hour can possibly capture the excitement of finally beginning to reestablish ourselves in the CBD.
I have discussed with the Board the importance of ensuring that our opening in 2019 as the ideal time to ensure that we are able to celebrate our place in our way.
Timeline
I've had a few people ask me about the timeline for the new build, particularly as they have seen that the Irishman pub has now been demolished.
We have just moved into Detailed Design.  Construction will begin at the end of August and is due to be completed the week before Christmas in 2018.
| | | |
| --- | --- | --- |
| Detailed design | Tue 28/03/17 | Fri 7/07/17 |
| Main Contractor Procurement | Fri 28/10/16 | Tue 19/09/17 |
| Construction | Mon 21/08/17 | Wed 19/12/18 |
| School Occupation | Wed 19/12/18 | Wed 19/12/18 |
Tours and Interviewing prospective students and families
Over the last few weeks I've run several tours at each campus. It's been awesome showing off the fantastic students we have at the school, and talk at length with new families about how we work and what our special character looks like in action.  I've enjoyed meeting families from a wide range of backgrounds, from all over Canterbury and even one family from the United States, all eager to come to an environment where their child can take more responsibility and control over their learning. Duncan and I also would like to thank the 4 students that helped us out with interviews on Friday.  Patrice, Imogen, Madi and Jack did an excellent job of providing real examples of what learning looks like for them and how it could look for anyone new to the school.
Fish and Chips
It was great to see several families enjoying the relaxed evening and family environment at Margaret Mahy Playground on Friday.  One of the important parts of our school is that we are able to get together, catch up with friends and make connections with new families.  While I was there I also was thrilled to see how easily the students from both campuses were able to have some fun.  It was a good glimpse of what's to come when we are on a single campus.
Steven Mustor – Director
Schoolwide Notices
Lost Property
Please check out the lost property at both campuses. We don't have space to hold all of these items.  Items not collected by end of term will be bagged up and donated to charity.
Liam Paulsen – Property Manager
Open Nights – Do you live on a main road?
If so, would you be prepared to have a sign advertising our 'Open Nights' on your fence during the month of May? We are looking for people right across the city and those living semi-rurally. If you can help please email edith.goesmann@aotawhiti.school.nz or phone me on 021 80 17 18.
This is what the fence signs look like: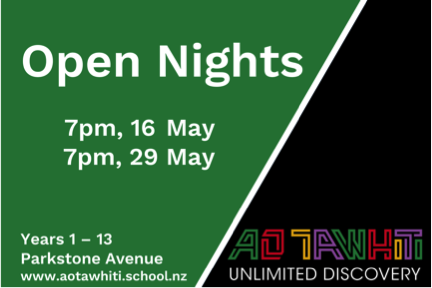 Any help will be much appreciated!
Edith Goesmann – Marketing Manager
Assistance Required
We have an increasing number of students who need assistance with reading and/or writing for assessments. If you are able to assist for a couple of hours a week every few weeks or so it would really be appreciated. The times would be either 9.00 or 10.30 or 1.15 for two hours Monday to Friday.
If you are willing to help could you please email me on paula.green@unlimited.school.nz. Training is provided. Could you please let me know the time of day and which day you would be available.
Thanks a lot
Paula Green -Learning Support Coordinator
WINTER IS COMING….
Planning is presently underway for ski/ snowboard trips starting next term. If you have any questions/ ideas, please contact matt.parkes@aotawhiti.school.nz
Matt Parkes – Community Leader
1-3 News
La Découverte update
The students from La Découverte performed their very first play in French during our celebration of learning. They presented "La Poule Maboule", which is a French version of "Henny Penny". Parents, grandparents and the children in homebase kiwi attended. It was a great success!
Marie-Eve Therrien – Learning Advisor
Back in Time PINS
Nadine Walmisley – Community Leader 
4-6 News
Kia ora whanau,  a super quick catch up this week.
Before we kick into newsy things we wanted to say a thank you for your wonderful kids. So many of our LA chats at the end of the day are about the huge growth our kids have done this term. There is always a lot to tackle in term 1, in relationships, new systems, new personal  expectations etc. The kids have built a great place to be in, where they express themselves, lead meetings, share work, make friends, try new things, work with experts outside of our hb and welcome new people  to the community.  It has been special to see that again through the eyes of people visiting recently and how cool that really is.
IEMS and Inquiry next term. 
Please ensure you have signed up for your iems, and you can do this from the AoTawhiti website if you have lost the email.
In iems this time there will be some new tools to help kids and you, create term 2 goals and plans for inquiries/projects.
Another email will pop out probably mid next week with these tools and how to use them. There will  also be  paper copies that will go home for you to chat over and work with as a family.
These changes will also be a part of the planning book we will use to help track the project/ inquiry.
One of the best things about our Special Character is it gives us the freedom and the imperative to try new ideas as learners.
WRITING
The kids are having a blast with writing and most sessions after lunch are starting with kids who are 'chomping at the bit' to share something from their story writing. We are digging into our reports next week to get these finished for the end of term and it will be great to see the understandings the kids have now put into those reports.
The writing group with Robinne are looking for competitions to be a part of and you can read their last magazine in the Community book area.
Climate Change Inquiry
Below are some photos from the recent solar oven project that grew out of Climate Change reports. We worked with Science Alive to make solar powered vehicles and this week with Robinne Weiss our scientist and writer expert on creating solar ovens. The kids worked with buddies and created their ovens, and yesterday it was sunny enough for the kids to finally use them. If you check out the kid's seesaw accounts you can see or hear their great descriptions of what they have done.  (Kids are loving comments on their planning too if you have a minute on seesaw. 🙂 )
The day finished with eating our cooked nachos and saying Happy Birthday to Mia with her fab chocolate cake.
Massive lost property pile…… 
There is a huge amount of lost property to go through folks…… We did our Community bundle yesterday which was two, piled high, washing baskets, but the pile outside the shared space is growing too.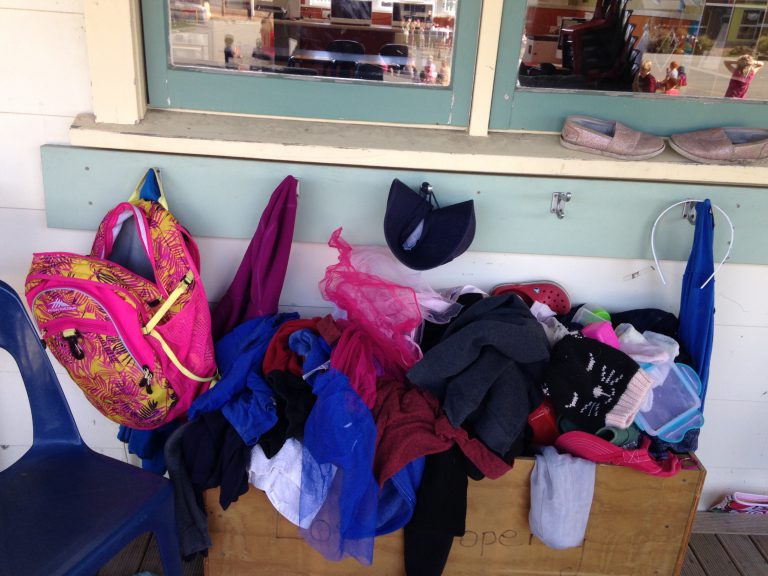 Can you do this?
We are on the lookout for a parent, ideally someone who is unable to make it into the Community during 9-3pm to create a roster for us.
We have had so much support getting 53 kids to the pool/library every week and we want to keep all of that enthusiasm and support and redirect into hb learning time.
One of the ideas we have for this was creating a roster of support for time in the hb.
This isn't time that you would be necessarily be working with your child but instead working with other kids in the hb. I know when I was a parent the first time around at our school I didn't enjoy just turning up and hoping there was something to do. Instead I wanted to have a committed time that I could come in and know that I was going to be useful. Then I could juggle my commitments and still feel like I was working towards my commitment of being a part of our learning community. This roster can also include grandparents, and other significant adults in your family.  We value you immensely in our community and your 30-60 minutes can make a big difference to what a child can run with and use to tackle their next challenge with.
Things you might help with could include …………….
or help finding a phone number for an expert,
or build in the maker space,
or listening to one reader,
helping someone edit their  work,
or devise interview questions,
or listening to a report plan being acted out,
or reading a page from the internet  and helping someone put it into their own words,
or helping someone to re focus in learning time from nattering to planned SDL,
or running a reading group,
or support kids using the green screen,
or opening email or a google docs
or film them developing a pe skill,
or help them create art for their inquiry
or running a workshop on clay,
or running a workshop on anything you can imagine 🙂
So get back to to me if you want to be the person to email parents and  create a roster from their responses, to then share with LA's each week.
Also be on the lookout for this roster email hitting your inbox soon asking for some of your time.
Alrighty, time to tackle the next thing today.
Have a fabulous weekend with your sprogs and hopefully it will become sunnier and we see you tonight at the Fish n Chip night.
Ka kite ano,
Melva Gill – Community Leader
7-10 News
Jared's Homebase Fishing Trip
Jared Gallagher – Learning Advisor
Unlimited Coffee
George Henderson-Walshe – Student
KOHKNOWCO LAB UPDATES
H O W   F A R   C A N   W E   G O   ?
K O H K N O W C O   L I K E   H O M E
L I F E   I N   T H E   L A B
This week in Kohknowco Lab: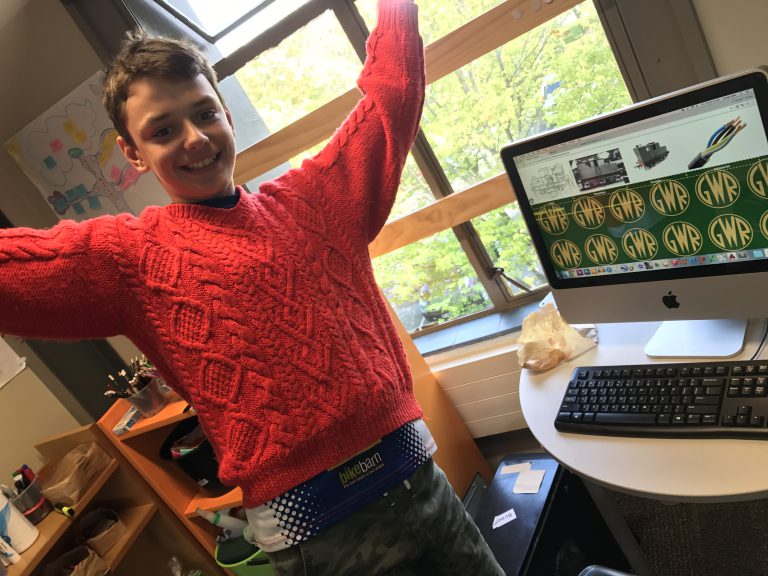 Success for Wiremu Hopkins when he figured out how to design the Header area of the first website he is writing from scratch.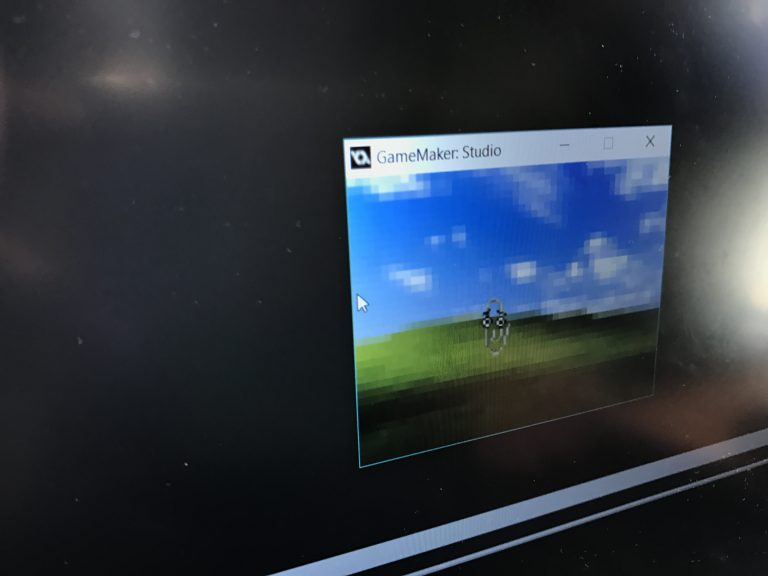 Tobiah Grant has got his Clippy character moving around in his Windows XP styled 2D game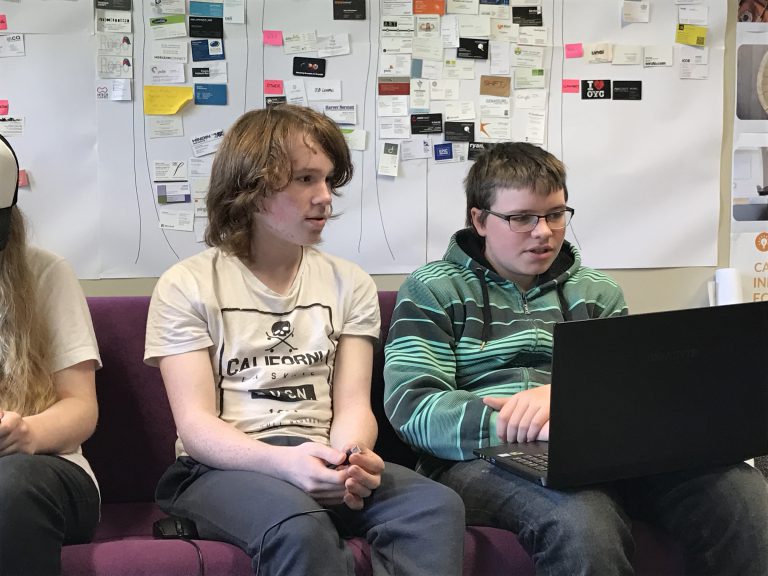 Fenris Lucas has been showing Tobiah how to use GameMaker to make the Clippy Game.
George Henderson, Lewis Meeking and Oscar Henderson designing their CardBoys brand for our Serial Box Challenge.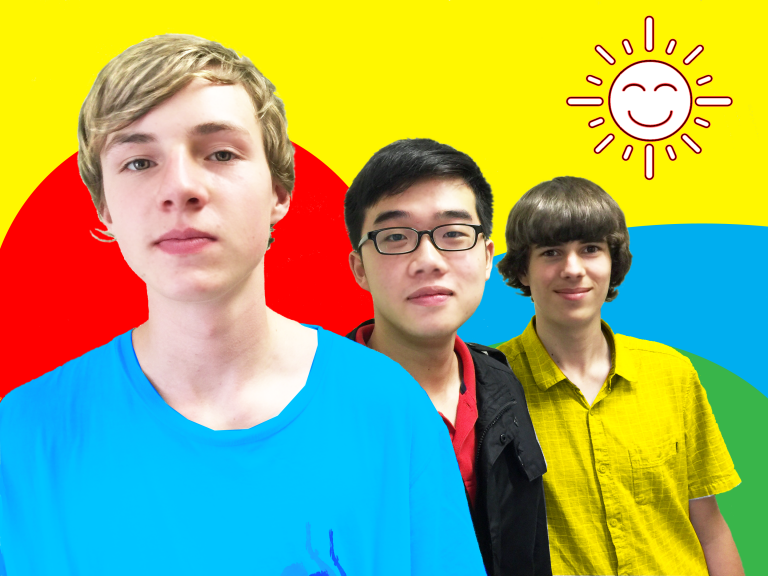 Ben Hunt, and Asher Foster team up with David Huang to work on an app for the Chinese market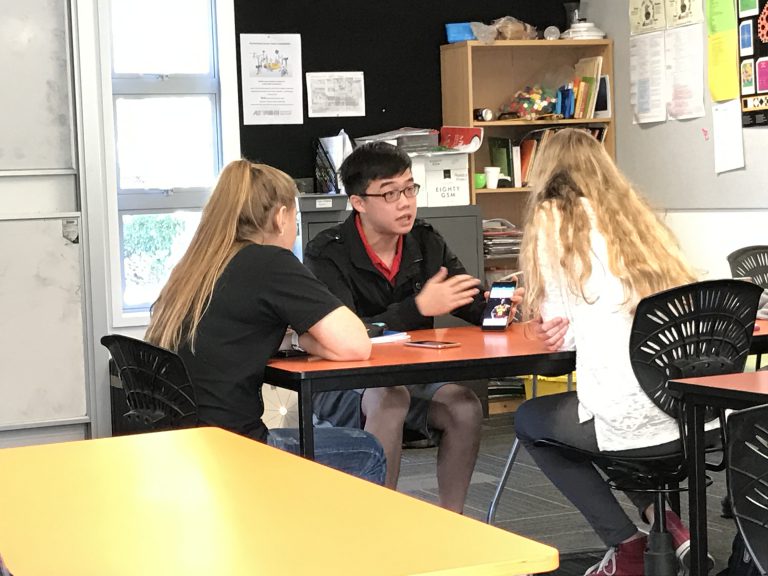 David market testing his idea with students in Ino's class.
Ben Hunt working on designs for Sunny.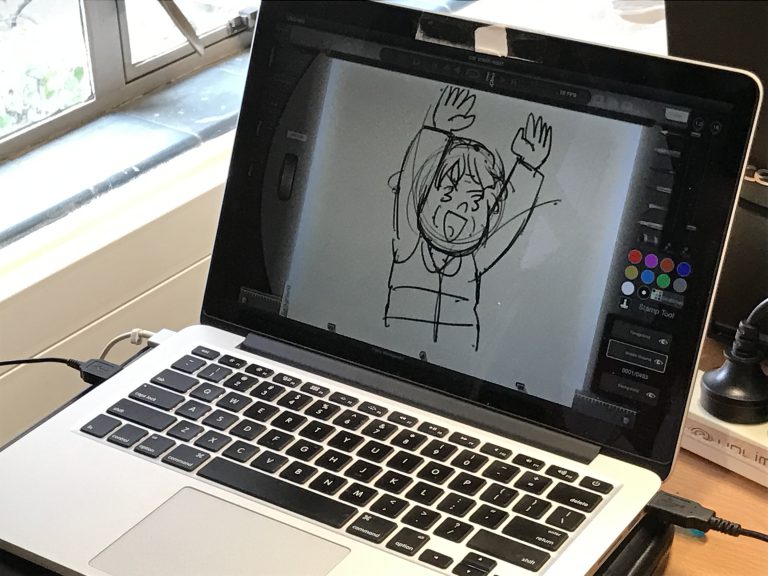 Laura Wu animating dance moves!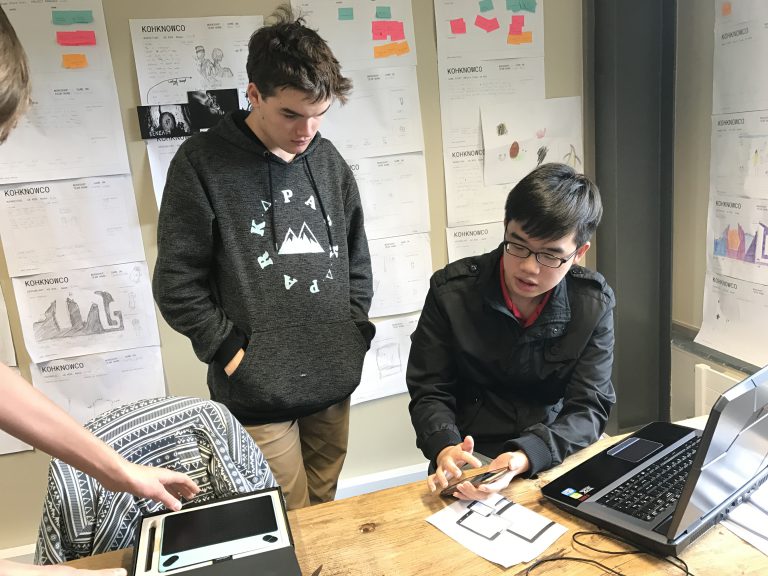 Jack Wood is working on the UI for a music app and David Huang is talking him through his UI designs.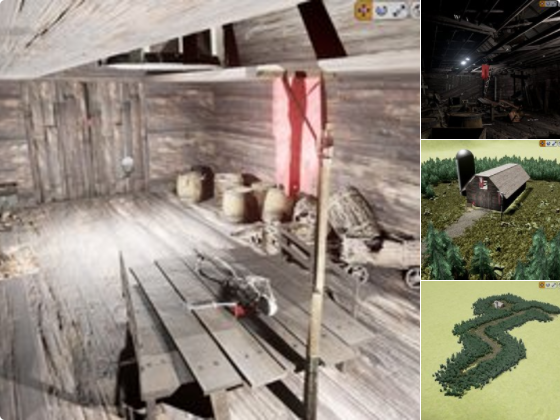 Josh Rogers has designed Levels for a game he and Saul Titheridge are working on using UnReal Engine. The boys are also planning a KickStarter Campaign.

A Tommy Gun Saul Titheridge has made in Blender.
FOLLOW:  @kohknowcolab  @renea
K O H K N O W C O   A L U M N I – W H E R E   A R E   T H E Y   N O W   ?
MATTEO HARLEY-MACKIE // Digital Music Producer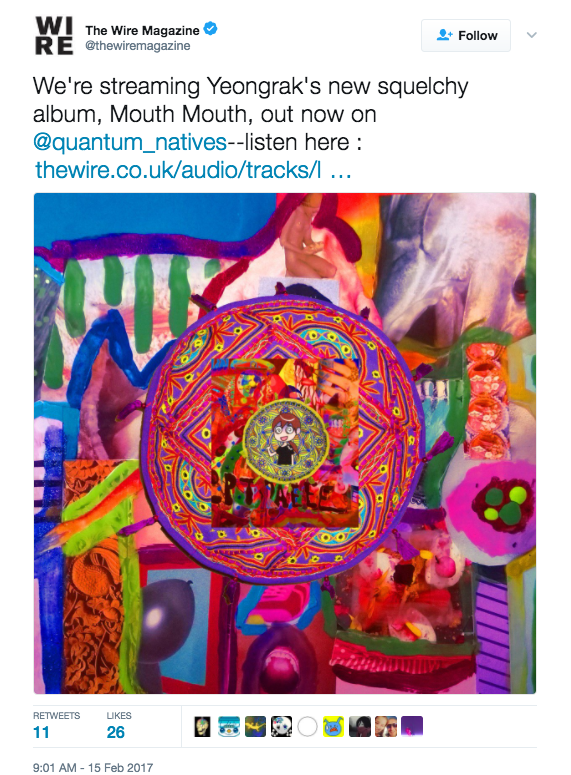 Last year ex-Kohknowco Lab student, Matteo, was the focus of a full page feature in one of Europe's biggest indie music mags – The Wire.  This year, Matteo has featured in The Wire again and they even tweeted a link to one of his new albums.
FRANCIS MALLOCH-BOE //Director at Deploy Digital//FullStack Developer at EzyVet
Francis Malloch-Boe has scored a job as a full stack developer for Auckland SaaS startup company, Ezy Vet.  Ezy Vet makes beautiful software specifically for Veterinary Clinics.
V I S I T O R S
ARTHUR WRIGHT ::
Arthur Wright has a background in Computational Physics from the University of Bath.  He recently moved to New Zealand and his working as a Chef whilst brushing up on his programming skills.  Arthur came to visit us and we are introducing him to some local industry people.
ANNA WHITE // CANTERBURY DEVELOPMENT CORPORATION ::
Anna White brought in a photographer to take some photos in Kohknowco Lab for the Canterbury Tech Stories.  Thanks to everyone for being so well behaved during the session!
Here's David and Ben telling Anna about their app: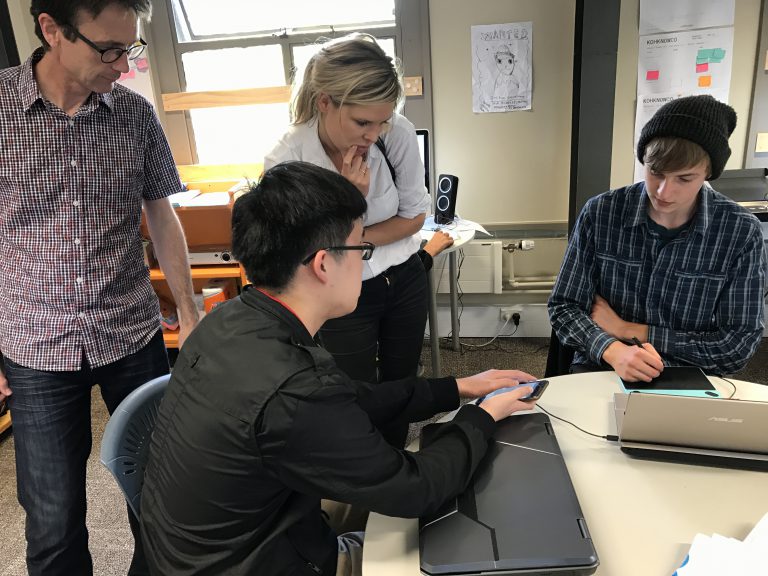 Renea Mackie – Kohknowco Lab
Kids Kitchen Chaos
On the 18th of march, a group of Prosillio students held a restaurant evening. They gave the customers a three course meal, drinks and entertainment. This event was held at the Ao Tawhiti, Unlimited Ilam campus. The restaurant club was run by project leaders Sonia Woods and Lottie Angus-Gott.
It was a stressful but exciting evening for the twenty chefs (working in groups of four or five) who were aged 8-14 years. A big thanks to our volunteer helpers from Canterbury Ballet, Brooke Trapp, Zoe Taylor, Carson Mcelreath and Reva Eady
"I was very entertained and the setup was very well done. One thing they could have worked on was having more food as it disappeared as soon as it was on the table" Said customer, Paige Pawson, a year 11 Prosillio student.
Overall the night was a great success and everyone enjoyed it.
One of the biggest challenges was, "everyone coming up to me and talking and talking and talking and asking lots of questions and thinking I knew everything" project leader Lottie Angus-Gott said. The most rewarding aspect of leading this project was, "everyone coming and saying what a great night it was and how much they enjoyed it" said Lottie.
Project leader, Sonia Woods, said one of the most challenging things about leading the project was, "Lottie telling everyone to go to Sonia when she didn't know what to say". Sonia said the most rewarding thing was, "getting all the nice feedback from everyone".
Lottie Angus-Gott and Sonia Woods – Students
11 – 13 News
Art News
Artists as Entrepreneurs Course in yellow block open to yr 13,14 and Whanau update 
Last week we had Rachel Murphy a local artist come in and share and discuss with Visual Art students how she got her business started, how to set up a website to promote and sell work on line successfully. Rachel  talked to us about how to price work for the retail and gallery markets and whats important to establishing a professional reputation. Rachel makes slip cast art works for galleries that are hand built and commercial products for retail. Everyone was transfixed with her in depth sharing and positive steps to making a living from making your won art work. Such a positive hour together. Our next artist visiting is Sonnia Mc Mannus who has developed a range of jewellery from found and recycled materials. Her work, like Rachel's, is sold nation wide and is now reaching  international markets through selling on line.
Watch this space as we will be having other artists visiting throughout the year.
NB: NCEA Business Studies credits for this course are now available.
Things to remember:
Our Ao Tawhiti Artist Community Exhibition – where all students and whanau may enter. Exhibition will be June next term and work will be exhibited at the Christchurch City Council Foyer in Hereford Street for two weeks.
Competitions:
Parkin Award – NZ drawing competition first prize $20,000.00
Holly Ramsay – Learning Advisor
KAYAKING
Several students have indicated an interest in a beginners' Kayak course later in the year. There are some fairly significant logistical challenges involved, so a minimum number of students will be needed for a course to go ahead. Anyone interested please contact matt.parkes@aotawhiti.school.nz
Matt Parkes – Community Leader
Community – Brent Barrett update
We've been doing some thinking about identity within our community this term. There is ongoing discussion as to what we should call ourselves… A small breakaway faction is intent on "Brent Barrett's Community", however the consensus at this point is leaning towards Parkes and Recreation. Many students have submitted their first NCEA assessments for the year – keep an eye on the portal/ NZQA site, credits may start appearing soon (and check with students why not if they don't!).
We've been spending some time in homebases getting to know each other. There has also been some discussion about potential HB or community trips for next term – watch this space….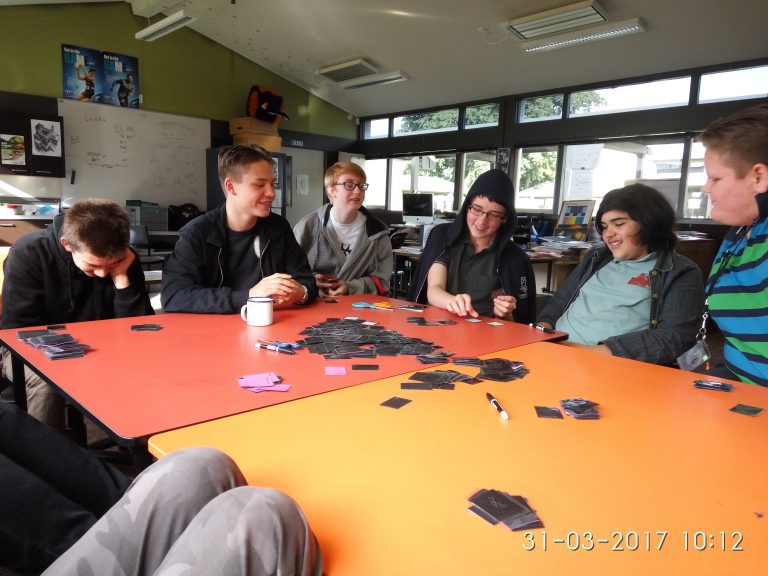 Matt Parkes – Community Leader
78OUT – River Crossing
Students have been developing their skills in crossing rivers safely. A key theme is increasing the level of challenge progressively, so that students increase their knowledge, skill and confidence while still having fun in a safe manner.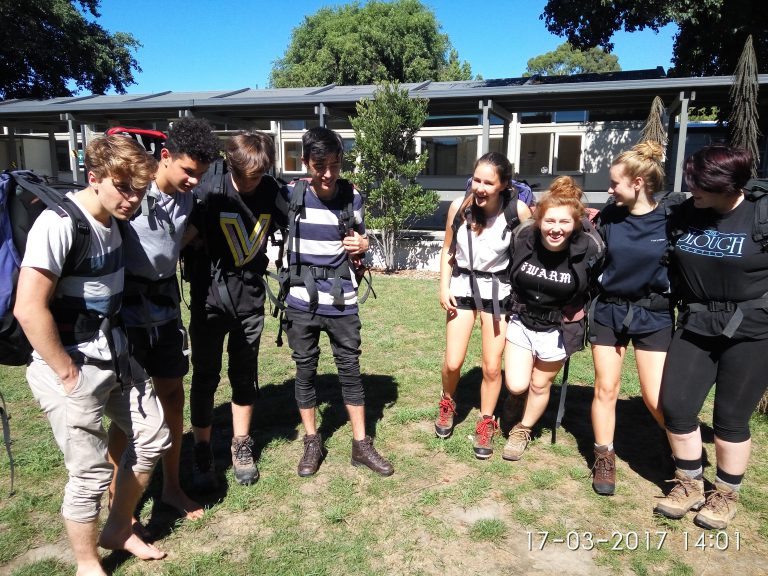 First we practice on dry land.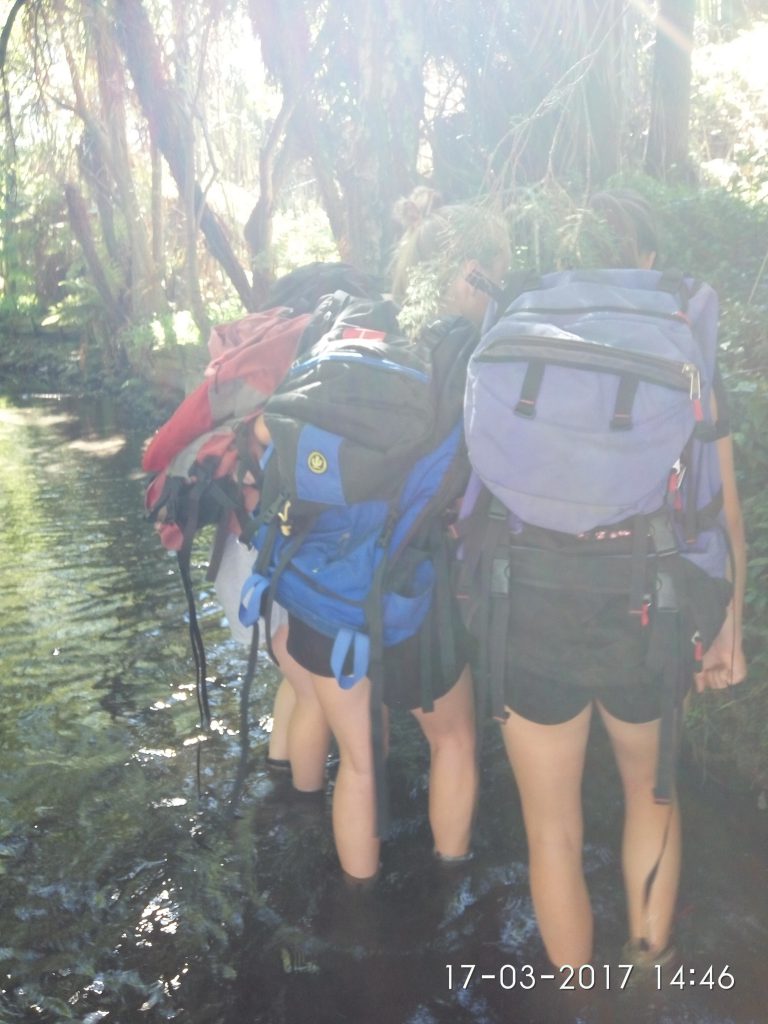 Then it's time to get wet feet.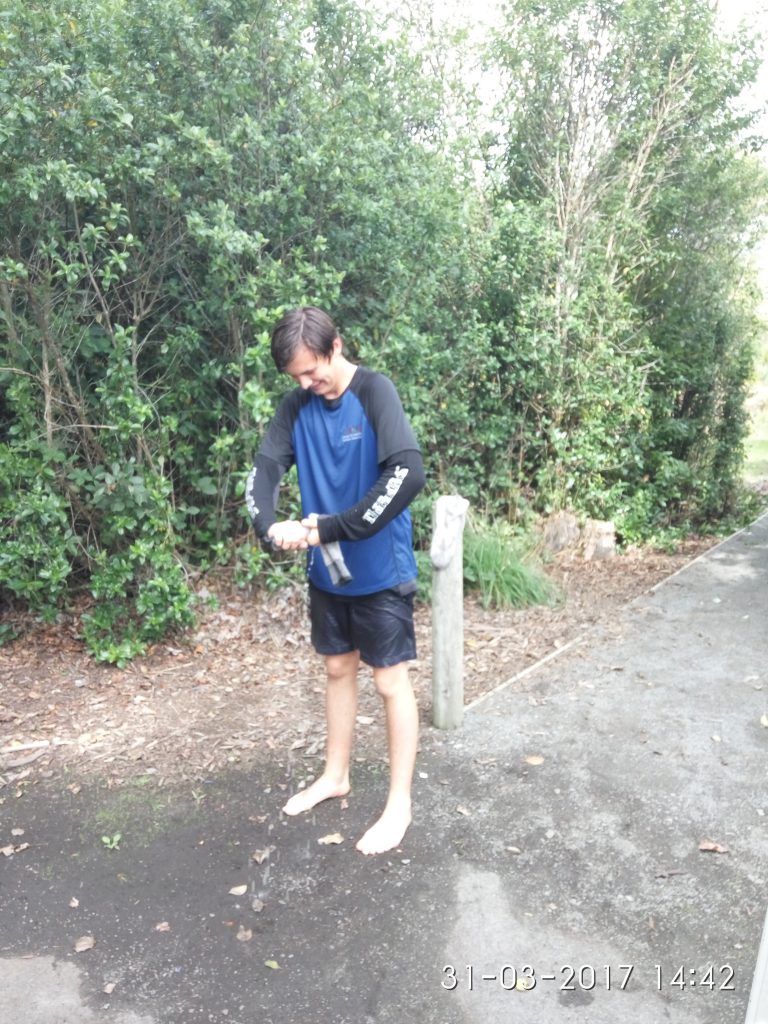 Gradually we get deeper.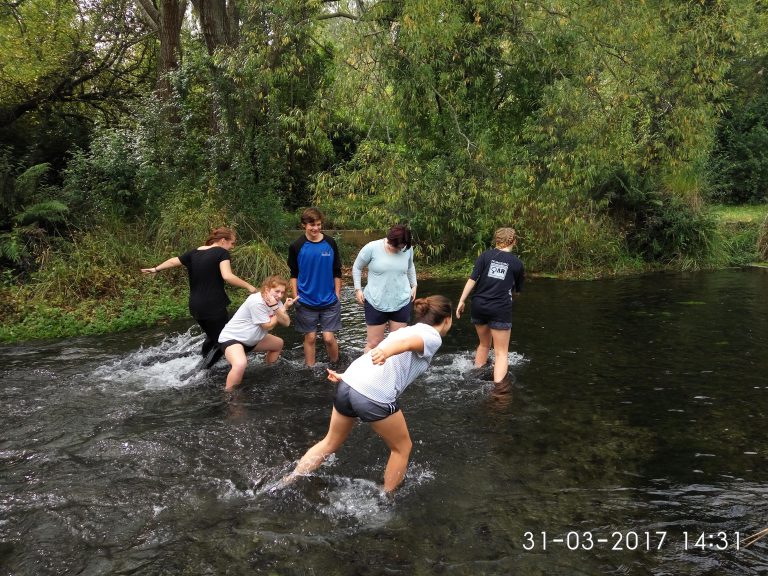 When facing a big challenge, teamwork is key!
Eight students are also planning to join the Oxford Area School Grade 3 rafting trip on the Hurunui next week.
Matt Parkes – Community Leader
BBQ Evening enjoyed by Community
Pete's,  Allan's,  Holly's and Brent's Community meet last Thursday evening for a BBQ dinner. Parents, students and staff enjoyed a relaxed and convivial opportunity basking an exceptional warm and balmy autumn evening. The connections and relationships that such evenings foster that strengthens us a school and our ability to support the learning of our students.
Nga mihi nui
Peter Brailsford – Community Leader
Spirit of New Zealand voyages
A number berths have come available on voyages during next term. The ten-day voyages have been described as transformational and inspirational,  they can be instrumental in building self-confidence and resilience in young people. If you think you might be interested, or know someone who might benefit from the experience, you contact me for further details at peter.brailsford@unlimited.school.nz
Kia kaha
Pete Brailsford – Community Leader
Other Notices
Entertainment Book – Ao Tawhiti Unlimited Discovery
Ao Tawhiti Unlimited Discovery is raising funds. Here's how you can help…
We are raising as much as we can to support our cause, and we need your help! Order your NEW 2017 | 2018 Entertainment Book or Entertainment Digital Membership now. You'll receive hundreds of valuable offers for everything you love to do, and help our fundraising at the same time!
We are raising as much as we can to support our cause, and we need your help! Order your NEW 2017 | 2018 Entertainment Book or Entertainment Digital Membership now. You'll receive hundreds of valuable offers for everything you love to do, and help our fundraising at the same time!
"The Entertainment Book is such a great way to try new restaurants. It's also a great opportunity to help community organisations. – Ali M"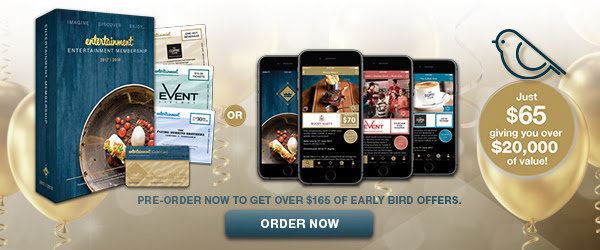 Ao Tawhiti Unlimited Discovery
Lisa Watson
0212642861
THANK YOU FOR YOUR SUPPORT!
​I
magination Yoga – 

Yoga Classes for Christchurch Kids!

School Holidays – Wonder Kids Workshops​
Monday 24th April: Yoga & Rockclimbing for 4-6 year olds
Wednesday 26th April: Yoga & Rockclimbing for ​7-11 year olds​
Thursday 27th April: Yoga & Sewing ​for ​6-12 years olds​
More info: siouxiesolar.com/upcoming-events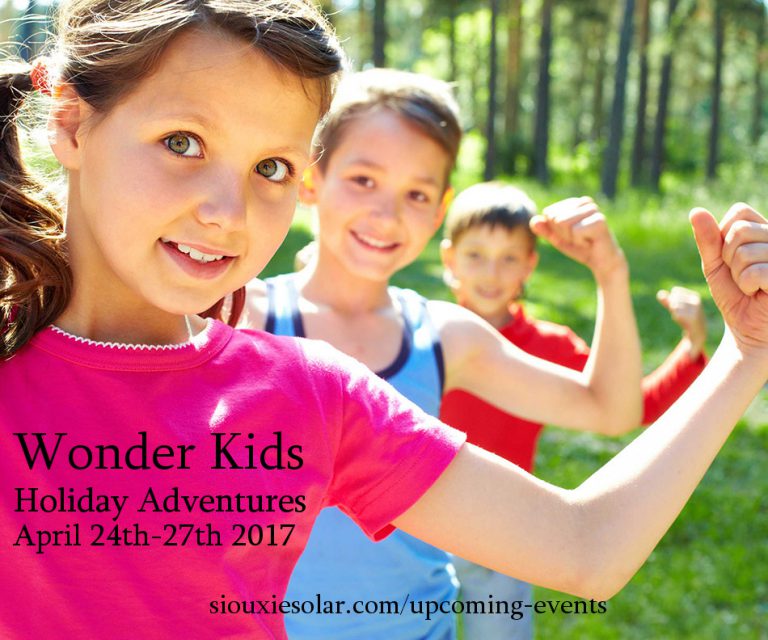 Term 2 Imagination Yoga Course (IY): The Call of The Wild!
Introduce your Child to the world of yoga, meditation and being awesome everyday.
Age Groups: 4-6 years and 7-​11 years
Dates: ​Tuesday 9th May
Saturday 1st July (8 weeks)
Focus: Animal Yoga/Movement, Nature Studies, Body Language & Self-Expression
More info: siouxiesolar.com/imaginationyoga
​Phone Lou on 0226 250 321