---
Upcoming Events
Term 2, Week 9: Starting Monday 24 June 2019
Tuesday 25 June, 11am: Official Opening by Minister of Education
Wednesday 26 June, 8.15am: Breakfast Club
Thursday 27 June: Tarākona at South Brighton Domain
Friday 28 June: Matariki
Term 2, Week 10: Starting Monday 1 July 2019
Tuesday 2 July, 5.30pm: BoT Meeting, Level 1 Meeting Room
Wednesday 3 July, 8.15am: Breakfast Club
Friday 5 July: Teacher Only Day [School Closed]
School Holidays: Saturday 6 July 2019 – Sunday 21 July 2019
Term 3, Week 1: Starting Monday 22 July 2019
Monday 22 July: Term 3 Begins
Monday 22 July: IEMs
Tuesday 23 July: IEMs
Wednesday 24 July: Term 3.1 Begins
---
Messages
Message from Steven
Official Opening
We have the Minister of Education, Chris Hipkins, coming to officially open the school on Tuesday 25 June at 11am.
If you have a spare hour in your day, feel free to come on down and participate. It will be a pretty structured affair (as most Ministry events are) with a welcome to the Minister, followed by a couple of short speeches, and tour of the building for the Minister.
This date was only given to us very recently so I appreciate that our "opening" may not be quite what some of you imagined. I actually think that our "informal opening" was pretty amazing and captured the excitement we all felt about our transition back to the CBD.
Car Parks
We've noticed an increase the in number of parents who are using the car parks located outside of the school on the laneway. These parks are designated as accessible carparking and for the school van and need to be kept clear at all times. We have no desire to have to signpost these parks preferring to rely on our community to respect that even though they may be empty, these parks are essential to some members of our community.
Sabbatical Term 3
Term 3 will be an interesting time for me as I take an Area School Principal's Sabbatical. I currently have no thorough plan for what I'll do on this break. I will be spending some time looking at other Area Schools to see how (if?) they support SDL. Mostly it's about me taking a break. For those of you who know me, you'll have a keen awareness that I've had a little bit on my plate for the last 5 and a half years. It's been extremely rewarding working through the merger and to have finally delivered us back into a building that reflects our special character and puts us firmly back on the map in the CBD. The flip side of that has been a distinct lack of personal time and even a loss of a bit of my personal identity. I'm hoping that the sabbatical provides me with a chance to just be me for awhile rather than just the "Director". Duncan will lead the school in my absence and will be ably supported by the DDs and the rest of the staff. I'll see you all in Term 4.
Steven Mustor
Message from Ian
IEMs
Next Term's IEMS are scheduled for Monday and Tuesday of Week 1…the 22nd and 23rd of July.
In an attempt to streamline our IEM booking process we have moved to a new platform…schoolinterviews.co.nz.
To use this new system follow the following link to the booking website…
https://www.schoolinterviews.co.nz/code?z=B00OpI
The whole process is pretty user friendly but I have created a guide to support your use of the process should you need some support. Use the following link to access the guide.
https://drive.google.com/file/d/1sNqSrYGhavgzDd4TnI6rfk1ZZiNkbCtT/view?usp=sharing
PLEASE NOTE…Each term you will need a new code to access the Ao Tawhiti booking system… this term's code is
Ian Hayes – Deputy Director
Message from Niki
Tēna koutou whānauNgā mihi nui ki a tatou katoa
There's lots to cover so buckle up. I'll try to be brief!
Level 4
It has been a busy couple of weeks on level 4. The LAs had a surprise shift announced one staff meeting – we are incredibly grateful to everyone who gave their time and muscles to help shift us.While it is awesome to be on level 4, it has meant that LAs have had a lot of sorting out to do as well as continue to deliver learning programmes to the tamariki. Everyone is feeling a little tired, and ready for a break to be able to process, finish sorting and embedding the awesome things we want to do up there. We all know that moving is stressful! We have moved twice, and I am very proud of how well everyone has managed the processes and kept on smiling.
There is an opportunity for parents to discuss the implications of our move this coming Wednesday on level 4 from 3.15. You're invited to bring a small plate/ drink to share (remember there are no plates or cups, please bring your own!), meet some people you haven't before and bring solutions to helping create awesome learning for us all.
Matariki
We celebrate our first matariki in the CBD this coming Friday, 28 June from 3.30. Please come and support this cool community event. There will be workshops, soup and shared finger kai, performances, a lantern walk and an opportunity to have your say about future matariki celebrations. Please note there are are no plates/ cutlery at school. Please bring your own!
Cinema
Huge thanks to those who supported our first foray as a school to Hoyts last Thursday. The students on level 4 were quite excited for the movie and it was great to see Ao Tawhiti Unlimited Discovery represented. Special thanks to Claire Cameron for having the idea and following through on making connections with the management at Hoyts. We are hoping to make this a regular event. Watch out for future opportunities.
Swingathon
Hopefully lots of you got in to the city to support the new Gap Filler swings on Manchester St over the weekend. Ellie, Oscar and I had a great time in the sun, those things are fun! The organisers were stoked that Y0-3 happened to be at the pump track on Friday afternoon while they were publicising the swings! Looking forward to playing more on this cool initiative.
Kid's Market
Wednesday 3rd July
12.15 – 1.30 pm
Ground floor
Bring cash and support our young entrepreneurs who have been busy making goods for sale. Everything from succulent teacups, rocky road to fancy pencils. Something for everyone!
Niki Stephenson – Deputy Director
Message from Duncan
Year 11 – 13 things to consider
As we get to the end of term 2 it becomes really important for our year 11 – 13 students to be very aware of the time remaining in the year to achieve any qualification goals they may have. In effect term 3 is the final term of the year. Term 4 is less than 3 weeks in duration before the end of year exams begin.
To be successful with attaining NCEA qualifications the following are useful to consider and should/could be discussed at the IEM
What is the students current progress? Are they tracking as expected or have the slipped behind?
Does the students program of learning include enough assessment opportunities at the right level to make completing the qualification goal possible?
Practice exams should be taken very seriously. Any event that could cause a student to legitimately miss the end of year exams will rely on an derived grade. This grade is most likely to be derived from the practice exams.
Does the student have good study routine and plan in place? If not this needs to be prioritised. A good starting point is purposeful study during the 2:30 – 3:15 time. Being aware of what assessments need to be completed, when they are due and how many externals are being attempted is useful information to build a strategic study plan.
Are you certain you know the requirements of the qualification? Making sure that all elements of the qualification have been accounted for is important. Numeracy, Literacy, approved subjects are all things to look out for.
Is attendance where it should be? Historical data indicates that students need a 90% attendance rate as a minimum to achieve their goals.
Practice exams are in week 6 of term 3, August 26 – 30. During this week year 11 – 13 students will only be required to be at school if they have an exam. As mentioned above these should be taken seriously and students should now have a study plan in place to be as well prepared as possible. Every year we have to submit a derived grade for 1 or 2 students.
Duncan Woods – Deputy Director
Schoolwide Notices
Matariki 2019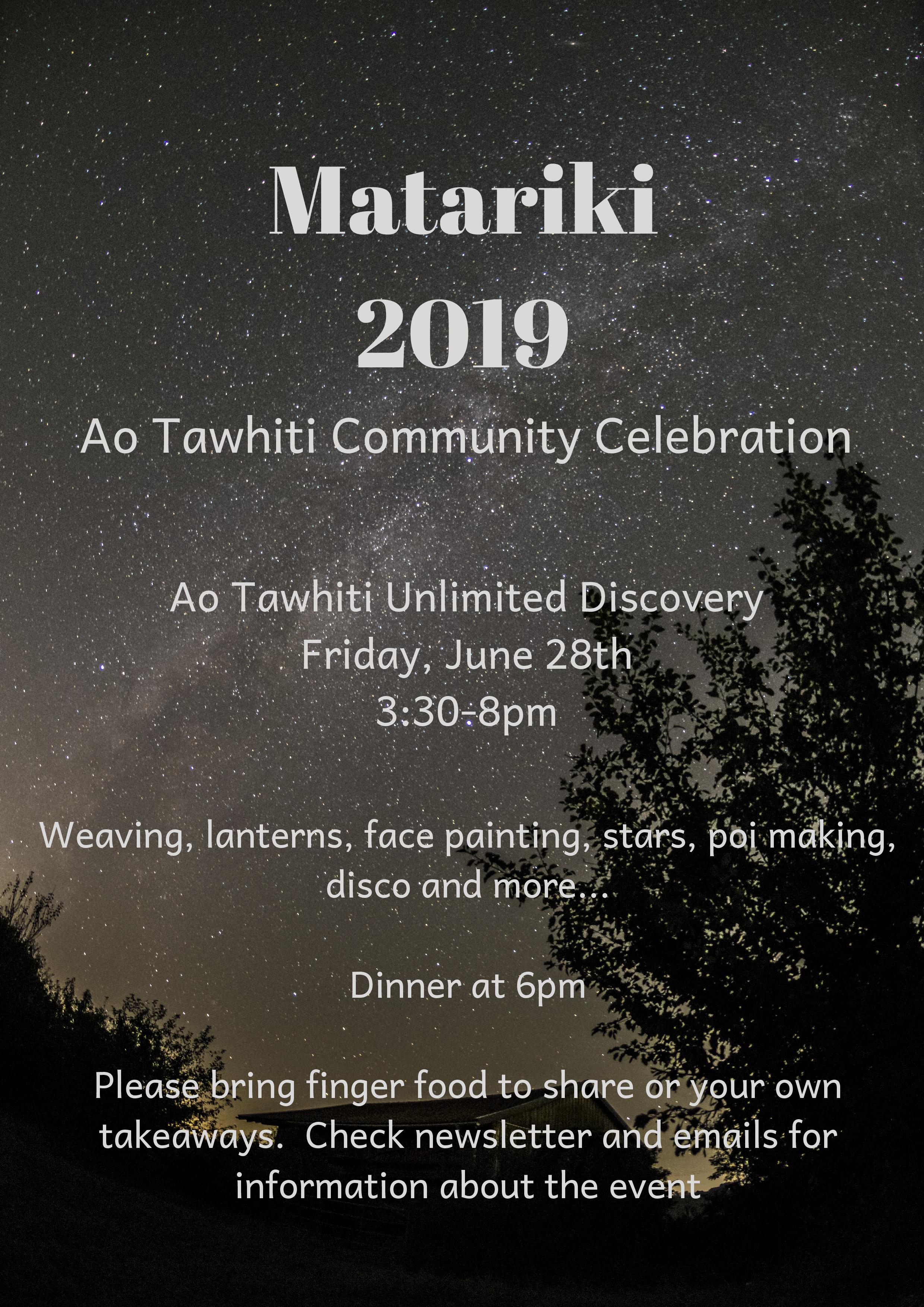 Hope to see everyone at the community Matariki celebration happening this Friday (28th) from 3:30-8pm at Ao Tawhiti.There will be harakeke weaving, face painting, lantern making, star biscuits, music, disco, a chance to create a community art piece, lantern walk and more!
Hot soup and bread is being made by members of the community for afternoon tea and will be available from 3:30-5:00. Paper cups are provided for the soup.
Shared dinner from 6pm. You're welcome to either bring a plate of finger food to share (that doesn't need heating) or takeaways for your own family, if that's easier. We ask that people wait until we have come together at 6 before you start eating. However, if your preschoolers get hungry before then, please feed them! We are keen to have this event as waste free as possible so ask that you bring the plates, cutlery, cups etc that your family will need (please take these home to wash as we don't have access to the large kitchen yet).
Matariki is a time for remembering those we've lost. Kelly will create a peaceful space for this – you are welcome to bring a photo or use the materials provided to write a note or message if there is someone you would like to acknowledge in this way.
After dinner we'll have some music – please get in touch with Emily, emily.mowbray@aotawhiti.school.nz if you would like to perform something and a lantern walk through Mollett Street.
Thank you to Liz at Distant Sea Photography for offering to photograph the celebration – so nice to have the first one in the city documented.
We'll also have space for you to contribute ideas for future events – so please add to that so we can make this celebration even more amazing!
Please keep in mind that this is an alcohol free event and that parents are responsible for the supervision of their own children (if you can't get there until later, perhaps arrange family members or another parent to supervise your child until you arrive).
Thank you to everyone who has offered help – there's 60+ people from our community contributing to this event – so great to see the enthusiasm and support!
Emma Woods – Parent
Ski Trips
We're so excited for the winter season, because it means our skiing and snowboarding trips are back! Sign up via the links embedded in the dates below for our upcoming ski/snowboard trips.
We need to confirm numbers a week in advance of the trip, so students who sign up but fail to show up will be charged $10 to their student accounts to cover non-refundable fees.
We are running trips to Mount Hutt on the following dates:
Any student, no matter their prior level of experience or skill, is welcome to sign up. Students will be required to participate in a 1.5 hour lesson at their level, whether they are a complete beginner or experienced. Students must be on-site, ready to go at least 10 minutes prior to the above departure times. We will leave Mt Hutt at approximately 4:00pm and arrive back at about 5:45pm.
Students should have with them warm clothing, including: waterproof snow jacket and snow pants, gloves/mitts, toque/beanie that fits comfortably under a helmet, and warm base layers (preferably some polypropylene or wool material; cotton layers are not recommended). They will also need eye protection, either sunglasses or ski goggles, and some sunscreen (even in winter, you can get burned). Plenty of water, food and snacks and/or money to purchase food is also recommended. Beware it is very expensive on the mountain!
The cost of the trip for students is $90, which covers the cost of a day lift pass, rental equipment, a lesson pitched at your child's skill level, plus bus transport. Payment must be made through our school's finance administrator, Jill Legg, on the first floor (accounts@aotawhiti.school.nz).
Financial assistance forms are available through Jill. For adult helpers, the adult package is $100 + transport.
Zack Williams – Learning Advisor
Quiz Night- We need you!!!
A group of enthusiastic parents are putting together a fundraising quiz night on Friday 30th August. We need you! Please help by contributing prizes for the quiz night and raffles. Raffle tickets will be sold within the school leading up to the event as well as during the evening. All funds raised will go towards the 4-6 community camp in term 3.
We would love you to be a part of this fun, lively and dynamic event. Please get in touch with our parents group with your offer by emailing Bonnie on bonnie_schaab@yahoo.co.nz, or mention it to Claire Cameron (who you may know). Please let us know before the school holidays which begin on Friday 5 July.
Any contribution will be of huge value to our fundraising group.
Thank you very much for your support,
Fundraising Quiz Night Team – Claire, Chontelle, Claire, Niki, Zoe, Bonnie
Loves me not
The 'Loves me not' workshop will be running for the first time at Ao Tawhiti, for all Year 12 students, on June 27th. The workshop will be facilitated by community police, teachers and an NGO, and will explore healthy relationships and the sometimes difficult subject of relationship abuse and consent. Please see the information presented by Nigel Latta on Youtube, and on the Sophie Elliot Foundation website: https://www.youtube.com/watch?v=c-gt7QG7GEchttp://www.sophieelliottfoundation.co.nz/loves-me-not/
As this is an important subject, students will be excused from their classes for the day, and from National Trade Academy and Ara courses. The workshop is participatory and students will discuss and agree their own standards of behaviour, and risks, in order to create their own understanding of a healthy relationship.
For more information please contact Miriam on
Miriam Denney – Counsellor
Breakfast Club
Next term Breakfast Club will be able to operate in the Cafe kitchen on the 4th floor every Wednesday morning. This term we have run a limited breakfast club from Level 1 kitchen, and this week we started to use our pancake griddle on the Level 4 kitchen. So its time to think about what Breakfast Club could be and should be for the whole school in the future!
Breakfast Clubs at Unlimited and Discovery sites have run differently in the past; students did much of the 'cooking' of pancakes at Unlimited site, with LAs doing shopping and most of the washing up and tidying afterwards, whereas parents ran the Discovery club, and students did their own washing up. At Unlimited site the intention was to have a warm welcoming social space for students before class, and the provision of food for those who might not always get breakfast, so cereals and fruit were usually provided for health, whilst students liked pancakes socially and liked to participate in making them.
I would like students to continue to be involved in running Breakfast club, as an opportunity to contribute to community, and as a way to engage across year levels. Also its a great way for parents to participate at school, to chat to each other and and as an opportunity to meet LAs. LAs would really like parents to help run Breakfast club as its hard to get the cleaning up done when classes are on on at 9am!
There are other ideas – cooking food to support families in need, running a soup kitchen at break – and more, and how to fund the activities!
So there's lots to discuss and decide – if you are interested please get in touch with Miriam. Ideally I would like to have a meeting to discuss ideas – if the last breakfast club of this term would be a good time please let me know!
Miriam Denney – Counsellor
1-6 News
Ao Tawhiti's Awesome Skate School
On Monday afternoons, a small group of tamariki have the option to join in "Skate School" – – a parent-led opportunity.
The group leaves at lunchtime to practise their skills and learn new ones at New Brighton Skate Park. We would love to be able to offer this opportunity to more children but do require parent help for transport and supervision. If you think your child would be keen and can offer help please contact me.
nadine.walmilsey@aotawhiti.school.nz
HUGE thanks to Billiejean and Ben for organising this, and to Rachael and Nick for supporting.
Special Character in Action – children at the centre of their learning, individual pathways, learning is a partnership, everyone's a teacher/ everyone's a learner.
Nadine Walmisley – Community Leader
Community Pekapeka – Scooter Track Adventures!
Mel Fisk – Learning Advisor
7-13 News
Science News
5SCI has been looking at the properties, uses and impact of plastic this term…Recommended free downloadable documentary film for the holidays:
ON JUNE 8, World Oceans Day, film-maker and photographer Chris Jordan uploaded his documentary Albatross online for free viewing. It is an exhilarating and heartbreaking film. The exhilaration lies in the intimate portrayal of the lives of Laysan albatrosses, which nest at Midway Atoll, in the Hawaiian archipelago—mere flecks of sand in the vastness of the North Pacific.The movie's heartbreak lies in its documentation of the deadly toll of ocean-borne plastic on these ocean-spanning birds.
https://www.albatrossthefilm.com/
4SCI has been investigating how to boil water in a paper cupcake case.
Matt Parkes – Learning Adviser
Matt's Homebase News
Our HB has been using some of our L2L time to get out and active around the city – including proving that you don't need wheels to have fun at the skatepark.
Matt Parkes – Learning Advisor
7-10 Floor News
Ao Tawhiti Projects update
This week staff have been working hard to facilitate the huge number of projects that students have on the go. We did a bit of a stock check through the week and so far we have nearly 80 different projects happening. I thought it might be useful for families and caregivers to have an idea of where we are going with these projects and how you can help.
I should start by saying that inquiry or project based learning is very fluid and has no set length of time so students will always be at different stages to each other. This can be challenging to facilitate but is a natural part of the process.
By now students have been asked to complete some planning paperwork and have had their ideas checked. Then they have pitched to one of the 7-10 LA's whose role is to check that the students have done sufficient ground work to progress on with the project and that they have also checked the viability of the idea.
From there students are being asked to plan weekly, giving careful consideration to what exactly each person will be working on and who will take responsibility for what. A strong message that LA's give is that individuals in a group must have clear personal goals within the project. This allows the work load to be shared but it also enables work to continue even if some people are not there.
Each group has been asked to keep a record of their evidence of learning. This might be an email script, a brainstorm, a weekly plan, a picture, or anything they have been working on. Some have a book that is a place for shared ideas to be stored that can be physically looked at by everyone involved in the project and others may be working on how this will look.
So far groups have been mentored ad hoc by all the LA's as and when they have needed it. This is changing now as we are allocating each group a specific mentor. Staff will have around 10 projects each to mentor. This is likely to look like two meetings a week. One all together and then one with each group to facilitate next steps and to help with any barriers to learning that may have arisen.
We would love to have some parent experts / mentors as well. We are very aware that our parent cohort have significant experience that we may not have and that may be very useful to our students. I have attached a link to our Google Spreadsheet that shows all the projects. Parents could help in many ways. For example:
A one off visit to support
Email correspondence
Weekly mentoring (Monday / Thursday or Friday L2L time)
Projects are a great way for students to drive their own learning and to experience successes and failures as they occur through the journey. Many students are well engaged as this is something that they have created and therefore means a lot to them It is real world and can have a real impact on someone else. However, there are many challenges along the way as things don't always go to plan or turn out as expected. Support from home can be crucial to how well projects succeed so I urge families and caregivers to show an interest and ask questions of your child. Also please please please if you can offer your support to any of our students we would love to find a way to make this happen. Just email one of us on kay.hayes@aotawhiti.school.nz or craig.perry@aotawhiti.school.nz
A.T.Projects – Groups and mentors
Kay and Craig – Community Leaders
PHILOSOPHY – The Love of Wisdom
Philosophy at Ao Tawhiti is mainly dialogue based, and as such we seldom have images to share in the newsletter. But this week we have one. We would like to share this beautifully constructed poster by Molly (year 9 philosopher). This is a representation of the distinction between moral evil and natural evil, which arose from a class discussion on the compatibility (or not) of the existence of evil and the existence of God.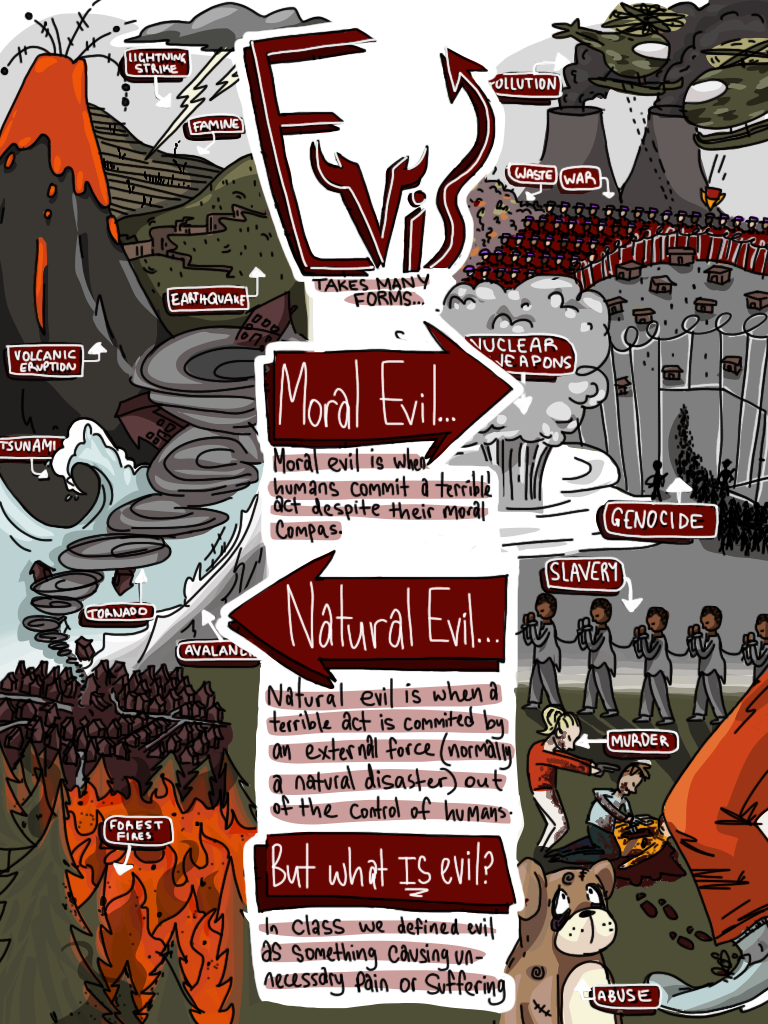 Meanwhile, university grades have started coming in for some of our philosophy students. Laouena (year 13) has received an A+(91.35%), Kyle Harwood (year 11) has A+ (90.42%), Faith (year 12) received an A with 87.92%. We eagerly await the other grades which should show up when their second essays have been marked.
Plato would be impressed — especially since he thought people shouldn't study philosophy until around the age of 40.
Brent Silby – Learning Advisor
Other Notices
Parents, Teachers, Learning Support Staff
Gina Wilson is coming to Christchurch
Do you have a concern for your child's health, learning or behaviour? Then you won't want to miss this one-day only presentation!
Gina Wilson (BHSc, B'Ed Tchng, ND, DipHerbMed) is a Naturopath specialising in health, learning and behaviour; Nutrition Consultant; and Biomedical therapist. Gina works with children to improve their overall health via nutrition, natural supplements and education.
There aren't many health professionals in NZ who have the depth of knowledge and ever-developing, up to date information in this field as Gina and we are fortunate to have her visiting Christchurch to present here for the very first time!
Gina's presentation offers practical help and covers:
The importance of the gut and its effect on the body and brain
Fussy eating and what you can do
Poor sleep, some of the reasons why
Constipation/ diarrhoea and how to address these
Suggestions of some basic supplements and why they may be needed e.g. zinc, magnesium, b- vitamins
Common nutritional deficiencies that may contribute to ASD/ADHD behaviours
Environmental toxic exposures that may contribute to ASD/ADHD behaviours
Lifestyle habits that may contribute to ASD/ADHD behaviours
How to identify underlying triggers for children's behaviour (including anxiety and low mood) and learning problems
How to address these causes so the child can thrive, concentrate, and learn with ease.
Location: St Albans School, Christchurch
Time and date: Saturday 31 August 2019 from 10am – 12noon
Cost: $25 per ticket
To register interest (or for any queries) email Kate Wood by Friday 5 July 2019
Spaces will go quickly so don't hesitate to register your interest ASAP
Art Metro