---
Upcoming Events
Term 4, Week 7: Starting Monday 25 November 2019
Monday 25 November – Thursday 29 November, 8.30am – 5.30pm: NCEA Exams, Science Labs, Floor 2.
Tuesday 26 November, 4pm-6pm: Senior Leader Presentations
Wednesday 27 November, 8.15am: Breakfast Club
Term 4, Week 8: Starting Monday 2 December 2019
Monday 2 December – Friday 6 December, 8.30am – 5.30pm: NCEA Exams, Science Labs, Floor 2.
Wednesday 4 December, 8.15am: Breakfast Club
---
Messages
Message from Steven
Appointments update
Last week the BOT was busy interviewing and appointing the many 1-13 LA vacancies. The following appointments have been made (all appointments are permanent unless stated otherwise).
CL 7-13: Sarah Marshall
7-13 LA appointments: Libby Boyd, Michelle Verkaaik, Alister Emerson, Braden Fa'avae (Fixed Term)
1-6 LA Appointments: Deb Dunlop, Kate Griffith, Dean Crawford
As you can see there are a couple of returning faces and a couple of new faces to the school as well as one LA moving from 1-6 to 7-13. Libby's move from 1-6 to 7-13 provides our Y7-8 students in particular with another LA with a strong background in both our special character and Y1-8 curriculum. Each of the LAs will write more about themselves for their HBLA bios / HBLA selection. They are likely to include their passions in these bios as well as the Learning Areas that they will teach students from 2020.
Senior Leader Presentations – Tuesday 4pm – 6pm
The Senior Leader presentations and interviews are on Tuesday after school. The presentations will run from 4-5.30 with a feedback session from staff, students and parents after that. This feedback session is to formulate questions for interview. We would love to have some 7-13 students there. Please encourage them to turn up so when can gather their questions too. The Board has made two noticeable changes from the 2017 Senior Leader appointment process. The first is that interviews will run on the same day as presentations. The second is that candidates will not speak to each group in a Q&A session. The Board made these decisions following feedback from the previous process and in an attempt to manage the process in a single evening.
Steven Mustor
Message from Duncan
Homebase Selection 2020
I've been fielding a few questions recently about HBLA selection for next year. It's been a busy few weeks as we've been working through the appointments process for new LAs in 2020. As there are a number of positions available in the 7-13 part of the school it has made the finalisation of communities and the set up for the 2020 HBLA selection difficult to advance.
With appointment process being close to completion it means that we will soon be able to get on with setting these structures in place. I'm hoping that within the next couple of weeks we'll be at a point where we can begin the HBLA process for returning students.
Please keep an eye on the website and facebook and when you see the process begin, make sure that your child completes their selections. We will have a 7-13 roll of 480 students in 2020 making it big job to get HB finalised. Students who miss the deadline will most likely end up having to be placed.
NCEA EXAMS
Exams continue until Tuesday December 3. So far they've run very smoothly. We really appreciate all your efforts in being mindful of noise on the second floor. It makes a huge difference to our learners to be able to sit an exam under great conditions. A massive thanks to Brent for all his work in setting up and managing this process.

Waimakariri Commuters
Environment Canterbury is currently consulting on improved public transport options for Waimakariri commuters, including direct buses from Rangiora & Kaiapoi and Park & Ride options, in conjunction with the opening of the Christchurch Northern Corridor motorway expansion (scheduled for mid-2020). Consultation is now open and closes on Sunday 8 December. See https://haveyoursay.ecan.govt.nz/waimakariri-park-and-ride for the details and feedback from.
Duncan Woods
Message from Niki
Kia ora whānau, ngā mihi nui ki a tātou katoa,
I am full of gratitude for many things in my life, not least my health, my family, friends and my work. As I was riding the bus to school one day last week, I experienced butterflies as the bus approached my stop – I truly am grateful for this job and all it brings, although some of you may wonder what I do all day… Among other things this week I showed some prospective families around, presented the findings of a project I was involved in when I was at Diamond Harbour School at a research conference, attended a 2-day course about leading, interviewed and was involved in appointing LAs for our growing roll, enjoyed some robust professional conversations with awesome colleagues not to mention shared a few beautiful moments with our tamariki. The variety and challenges I meet every week in this cool role are a real privilege.
Tough kids
Many thanks to all involved in Tough Kids. It was difficult for some to choose between their PINs and the challenge. I spoke to some of the participants who had a wonderful time, even if they were aching a little…
Check out this One News article (thanks, Melva) about why it is such a good thing for kids to do. Thanks to Libby and Dean for taking the students there and back safely on the bus, and a big wave to Melva who came along to support.
Y6 students moving into Y7 2020
I can't believe we are almost at that time of the year again. It seems like no time since we were farewelling the current Y7 students in the Whare Nui & I read Dr Seuss' 'Oh! The Places You'll Go!' not knowing that Melva had already read it to them and the beautiful, kind audience sat through it again!
Mark Monday 9 December around 11.00 in your diaries for this year's celebration. We will hopefully use the stairs and 'stage' area to present the tamariki with a citation and some affirmations from their classmates and follow this by an outing somewhere for lunch. Families will be welcomed to celebrate, look out for further info nearer the time.
Calendar art and photos
The kind folk at kidsartworks.com have extended their open period for purchasing calendar art. The new closing date is this coming Friday, 29 November.
The closing date for photo orders was Friday 22 November, but we can take them up until Monday at 3pm if you forgot!
Parent Helper Lunch
We'd love to say 'thank you' to all of the wonderful parents who have helped out this year. Please come along on Wednesday 4 December to enjoy a shared lunch provided for you. 11.50, Level 1.
Niki Stephenson
Notices
School charges / accounts
Just a reminder that accounts have been sent out to all families. If you have any queries please contact Jill at reception, by email (accounts@aotawhiti.school.nz) or by phone on 021 903 971.
Jill Legg
Sustainable Christmas Market
On the 6th of December, we're going to be hosting a Christmas market just outside of the school at 2:30-3:30pm. Everything is working towards a sustainable future. We'll be selling bath bombs, ornaments, shaved ice, baking and more! Make sure to keep an eye out for more information coming soon.
Charlie Manson
FOLLOW OUR SOCIAL MEDIA
Want to keep up with the day-to-day awesomeness of our school? Follow our instagram:
@ao.tawhiti.unlimited.discovery
www.instagram.com/ao.tawhiti.unlimited.discovery/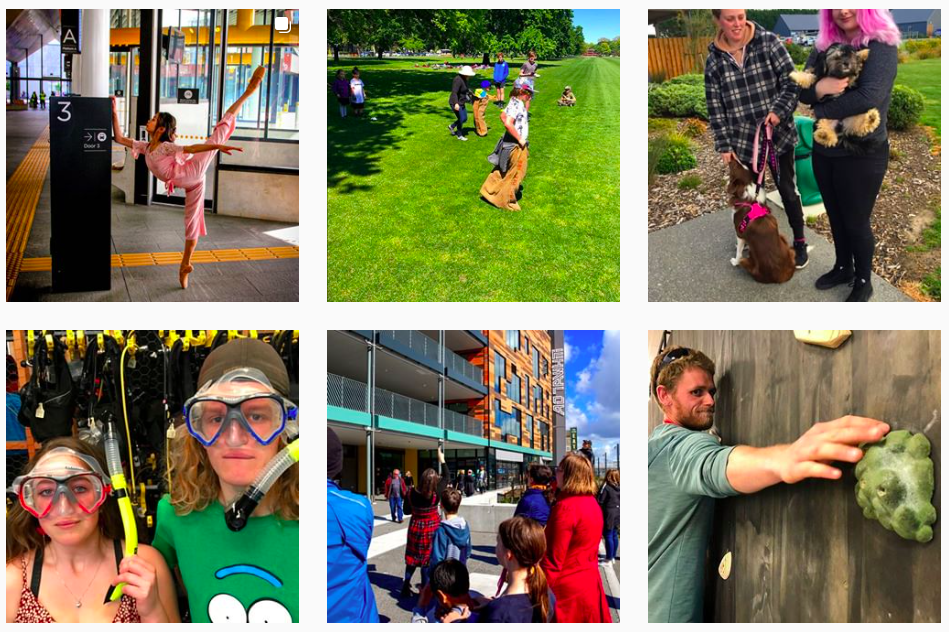 Brent Silby
News
Wellington Drama Camp 2019
At the end of Term 3, a group of Ao Tawhiti-ers travelled to our capital city, Wellington, for a 3 day Drama Camp, we were twelve young people with Emily & Kirsty.

We stayed in the heart of the action in the YHA right opposite New World (perfect for evening ice-cream extravaganzas, and morning runs for pancake ingredients – thanks Nadia Smetanina).

The YHA is basically on Wellington's waterfront making it a super flat, fun and picturesque walk to WOW. Yes, we went to 'The World of Wearable Arts.'

It was also a hop skip and jump away from Bats Theatre, a teeny-weeny theatre specialising in fringe, cutting-edge and often-times 'youth' theatre. We saw a contemporary hip-hop show, and some returned to see works 'under development' which included a comedy act by a Swedish actor or an actor pretending to be Swedish? We never did find out.

We walked, leap frog-ed, cable car-ed, bus-ed, uber-ed and super shuttled about, visiting Toi Whakaari: NZ Drama School (which included a tour of the Set, Costumes and Prop making departments), Playmarket (learning about NZ Plays) and Victoria University to sit in on a Theatre lecture followed by rehearsal.

Kia ora, great thanks to all the students, parents & staff for the fundraising and organisational efforts people put in to make this trip what it was. Special thanks to Ao Tawhiti Board of Trustees, Rotary Club and CCC Youth Development Fund for generously donating to this inspiring experiential educational event.

Some highlights may have also been eating a delicious Asian fusion meal at Monsoon Poon all together, buying novels at the mighty Unity Books, and stopping off at WETA Studios (holding Lord of the Rings' swords etc) before catching our flight home.

As a 'Teacher' a highlight for me was receiving an email from Noah with his first ever stage play attached, after reading a book by Roger Hall on 'How to write a Play' bought at Playmarket. Also, hearing another learner say they're interested in applying to Toi Whakaari for one of the design courses.

I'd better not forget to include bus-ing up the hill to Barbarian Productions and hearing about the 'Theatre for Change' Jo Randerson and Thomas Lahood make, and sharing a few hours together as Clowns.

Let's keep viewing theatre, telling and listening to stories, and bringing them to the stage as Dr Jamil Zaki author of The War for Kindness: Building Empathy in a Fractured World suggests, "Immersion in fiction, in stories, can be a powerful way to build empathy, whether it's a novel or attending plays. There's now evidence that everything from acting to reading short stories increases our empathy, including for people different from us."
A learner's account follows
My tongue becomes a braided river whenever I'm asked to describe the 2019 Drama Camp to Wellington. Ever-flowing memories but always tied between so many moments of euphoria, my story always flows in countless different directions at once. From visiting various options of further development in theatre at Toi Whakaari and Victoria University, immersing ourselves in the development of new theatre practitioners and play at BATS theatre, developing our inner clowns at Barbarian Prods Art for change, to the overwhelming excitement and 'WoW' from seeing the World of WearableArt performance and exploring the world of props at Weta Workshops.

Each of these opportunities offered a unique experience, either providing insight to potential pathways, developing our own skills and/or inspiring us with the work of others and the possibilities of the future. From raging rapids to quiet streams, we each journeyed through a process of self-reflection. Refining the future we intend to seek, challenges we aim to overcome, goals we're going to reach but, most importantly, how we will go about doing so.

Even after the trip has come to an end, the knowledge learnt and inspiration gained continues to keep the river of passion flowing. We're all so grateful for the trip as we completed a voyage we aren't ever likely to forget, and cannot express our gratitude for the kindness of others in helping us do so.
Emily Mowbray: Photos by Nadia Smetanina
Getting Outside
Since Term 2 (and after attending Nature Play Conference NZ through Professional Development – thanks Ao Tawhiti) Emily has offered a 4 Holistic class called 'Getting Outside' or GO for short.

The only pre-requisites for this class have been to be device free for the duration and to bring appropriate clothing and gear to be able to 'Get Outside' in most weathers.

The class grew from 14 – 28 Learners through Autumn, Winter, Spring and now into Summer.

Learners (alongside Parent helpers, Teacher Aides such as Lizzie, Hannah & Jess) have walked, bus-ed and ventured to green and other nature spaces mostly a 20 minute walk or bus ride away from Ao Tawhiti.

We've watched huhu grubs as big as our little fingers, paradise ducklings, mute swans do their thing.

We've planted alongside Conservation Volunteers at Jellie Park in a Waterwise, river health project.

We've learned how to, thanks to Maia Robbins, call the eels by slapping the water, how to make damper thanks to Natalie Absalom on our day trip out to Greta Valley, that hebe tea is good for tummy aches thanks to Jo Campbell, tried fresh horseradish thanks to Philippa Manning-Smith, and that Matai Common has a rain garden and what that means thanks to Vicky Southworth.

We've built huts, painted with watercolours, played football, referred to our nature books after foraging for mushrooms, buried each other in autumn leaves, harvested elderflower for cordial and drunk freshly made kawakawa tea from the Botanic Garden's 'Native' section.

I've watched us all learn about bus etiquette, team-work, encouragement e.g. supporting each other to play on the rope swing, risk-taking, kindness, resilience when we walked up Holland Avenue's track, tolerance for each other and for new experiences.

Learners, you've given our 'Getting Outside Family' aroha, whanaungatanga and kaha, I'm proud of you and proud of us.

This year culminated in a 2 day Camp at South Brighton Holiday Park. Kia ora to those who made this happen, the Parents who paid, helped organised their young people and special thanks to those who offered us extra support in way of delivering supplies and supervising swimming. An extra special thanks to Lizzie for coming on the trip too.

It was fun making smores and lighting sparklers on the beach.
It was fun cooking, eating, and cleaning up after burritos all together.
I was mighty impressed at you all putting up your tents.
It brought a smile to my dial hearing you all wanted to stay 'at least one more night'.
Here's to more adventures, more kaha, more care for one another.
Emily Mowbray: Photos by Emily & Lizzie
Fundraising for End Of Year Outing
I have an opportunity to fundraise for the end of year outing. It is a tupperware lunch box fundraiser we will get 10 percent of sales. Here is the link to the catalog.
https://tupperware.ipapercms.dk/Tupperware/Australia/ss19-lunchbox-fun-raiser-flyer/?page=1
Please email kay.hayes@aotawhiti.school.nz or naomi.maclean@aotawhiti.school.nz re ordering.
Ngā mihi nui,
Naomi
Kapahaka
Haeata teaching a Hapori group a haka.
Kay
Recycling at Ao Tawhiti Unlimited Discovery
Kia Ora
Over the past term a team of student (Coco, Layla, Cassidy and Alpha) and Sarah have been working with our cleaning company (Crest Clean) and an organisation called Recycle Kiwi.
Our aim is to get everyone using our waste and recycle stations on each floor in the correct way.
We are at a point where things are getting cross-contaminated. For the cleaning company to send the bags to the correct places – we need to do our job and ensure things are put in the correct place.
What we need from you:
PAPER: Clean paper and cardboard only
NO DRINK CARTONS OR PAPER CUPS
RECYCLING: Clean plastic bottles, tin cans and aluminum cans
NUMBERS 1 &2 ONLY
NO PLASTIC BAGS.
FOOD SCRAPS: Fruit, vegetables, tea bags and coffee grounds
RUBBISH: Everything else
If you are not sure – put it in the red
From Monday onwards the cleaners will be putting different coloured bags in the bins to start sending them to their correct places.
Coco, Layla, Cassidy, Alpha and Sarah
Working with Maison de Crepes
Steve's Homebase have been collaborating with Maison de Crepes. We were wanting a real world connection for our MasterChef challenge in our Homebase and they were looking for creative new options for their menu. This was a great collaboration as both us are actively looking for meaningful connections in our community. Sheena at Maison de Crepes was great to work with and is keen to support our school in a variety of ways, so please support her as you can.
For this challenge we divided into four teams and followed Sheena's brief of fitting her brand, taste, texture and presentation. The winning team created a deconstructed éclair waffle. A perfect mix of waffle, choux pastry, chocolate, strawberries and cream. It ticked all the boxes and will soon appear on Sheena's specialty menu! We will keep you all posted when this happens as we are sure you will want to try it! Congratulations to Lachlan, Logan, and Dylan for their winning effort and a big thank you to Sheena and her team at Maison de Crepes.
Steve Hunt
Design and branding!
Some of our students have been doing some interesting work during their project time around design and branding. They have been learning about creating a brand and then making their own designs. We have been working with Leanne from Gooses Apparel and yesterday she visited us to give us some insights and some feedback on our progress so far. Next week we are looking forward to visiting her at Gooses and seeing the process first hand in that real world context. Keep an eye out for some cool t-shirts and hoodies this group will create!
Steve Hunt
This Christmas, give the gift of Wisdom
Dialogues of a Weird Kid follows a Philosophical journey of an unusual student named Sophia. Written in dialogue form, this book harkens back to the tradition of Plato. Each chapter includes discussion questions that can bring new life to dinner time conversations.
Available at Amazon in paperback or kindle format, this will make an excellent Christmas gift.
https://www.amazon.com/Dialogues-Weird-Kid-Philosophical-classroom/dp/1794631240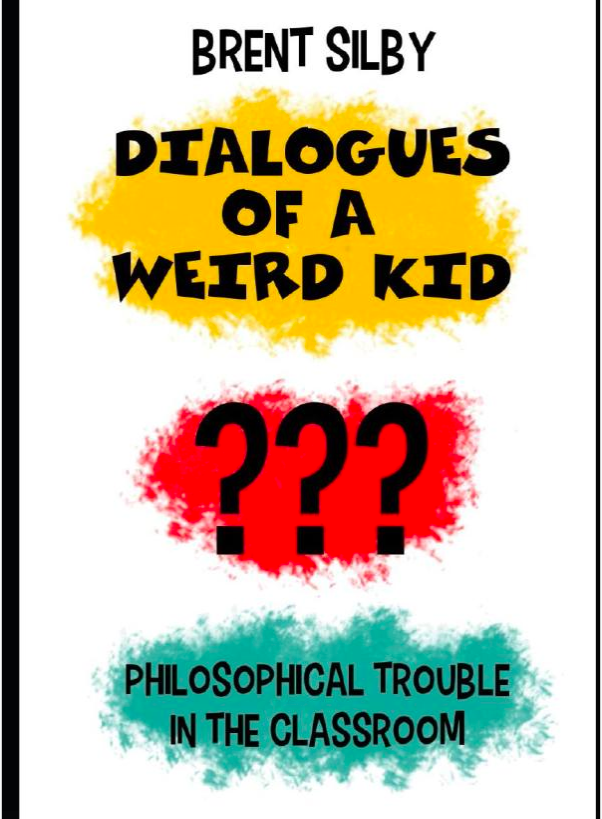 Brent Silby
Community Pekapeka camp 2019: Glenroy Lodge
Week 5 Term 4, Community headed out to Glenroy lodge for three days of community building. Children, parents and LAs slept in bunkrooms, tents or the mezzanine floor – the tenters had an interesting couple of hours on the second night as torrential rain came down.
During the days we explored the old -fashioned playground, the water slide, mini golf, tennis courts, bike riding, bubble blowing, hill climbing and sliding and local walks such as Washpen Falls.
As a community new friendships were formed as many adults who cannot be in during our school days took time off work to come and join in the fun. Children also made new friends and it was wonderful to see how the school aged children supported preschoolers, making them a part of the overall fun.
Nadine Walmisley
Sports Coordinator News
Kia ora Team,
It's been a stormy week, first with the weather & then the Staff v Student indoor netball game. On Wednesday as the thunder & lighting approached there was also a storm brewing on the netball court. The Student team brought skill, finesse, fitness, youthfulness & general awesomeness. The Staff team bought…well, they just turned up. The game was played in great spirit & everyone contributed to what was a really cool atmosphere. Netball was the winner on the day.
A heartfelt thank you to the students, I'm so proud of you as a team & it's been a real privilege to be part of the group! A huge thank you to the staff & supporters as well, greatly appreciate having you all there!
Noho ora mai
Clint Williams
The voting age should be lowered to 16
Who doesn't love the civility of a good debate? No butting in or cheap shots. Well considered arguments and a Chair Judge to decide the winner. The South School Zone has started a year 7/8 debating competition and Ao Tawhiti put forward a good, keen team with Cammie, Isaac, Logan and Whatuariki. Our first debate was last week against St Martins. The motion was "the voting age should be lowered to 16" and we were in the negative team. Unlike senior school debates, students had a couple of weeks to gather their arguments and practice: a big thank you here to Braden for his expertise and advice. Highlights? Cammie's detailed explanation (and excellent pronunciation) of adolescent dependence on the amygdala for decision making; Isaac's use of arm gestures and philosophical arguments; and Whatuariki's excellently executed final rebuttals, which won her the 'best speaker' in that debate and helped us to win. Logan was reserve for this event but will take a turn next time. The follow up debate is in a week or so. The motion? "Modern technology is lowering our intelligence." We're the affirmative.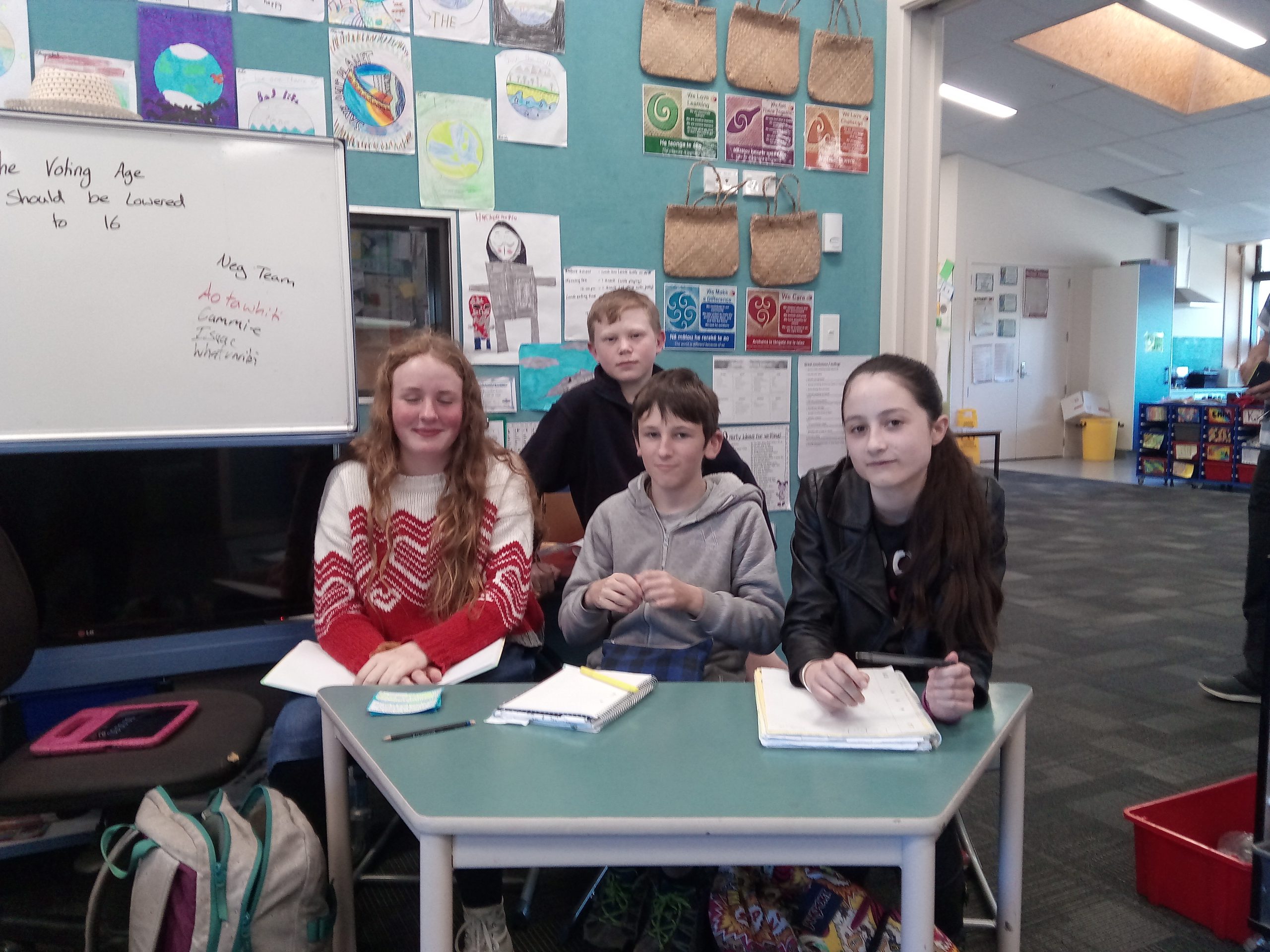 Kate Armour
Tough Kids 2019
On Wednesday the 20th November, a group of Ao Tawhiti students, Years 3 – 6, joined many other schools in the Tough Kids Challenge, run out in South New Brighton.
"The weather stayed sunny for all involved making for an enjoyable and excited group of 35 students who dared to run the Tough Kids Challenge. Obstacles, mud and water made up the course supported by the police and fire services helping Sports Canterbury to deliver an outstanding event. The highlight for me was tailing the group and watching the students support each other. Some waiting for their friends and giving encouragement along the way. Others pushed the pace catching up with all the other schools that had been released before us. It was a great afternoon with smiles and laughter…..and lots of mud." – Dean
Libby
Gateway News
Celyn Bennet has used gateway this year to continue to follow his passion for model trains. Celyn wrote an article which he has just found out will be published in the January 2020 issue of Continental Modeller
Robyn Sutherland
Love and Information: A Play Performed by Ao Tawhiti Drama 2019 Term 3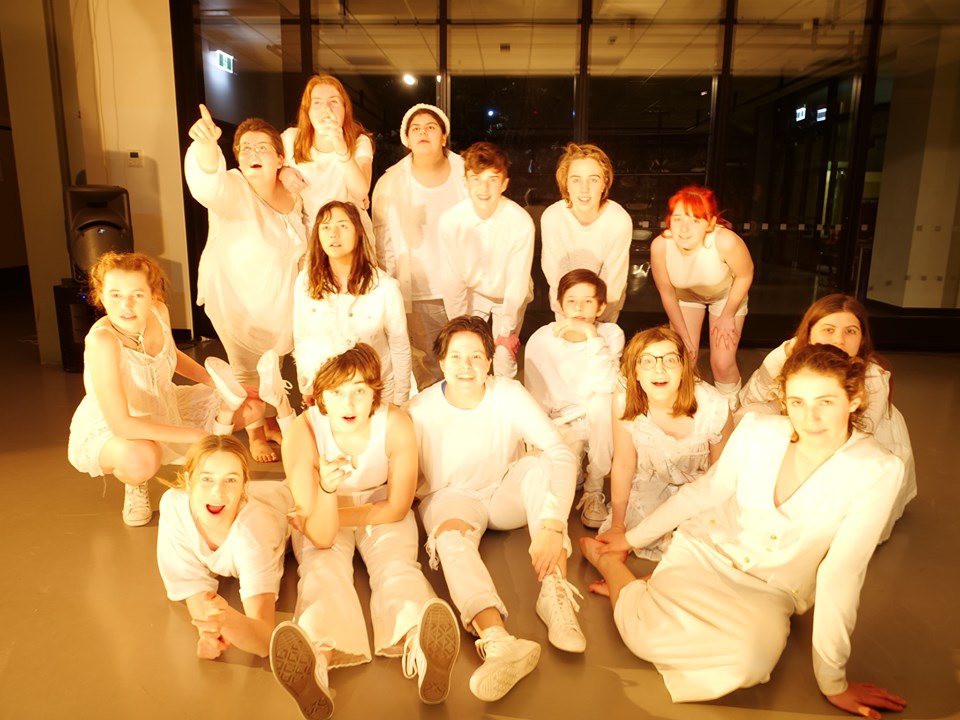 "Love and Information", a play written by Caryl Churchill was a totally new experience, not only in terms of the script, but also in terms of creation. We spent a big portion of our time in class sitting in a circle and reading each of the 57 scenes together. Then our director Emily Mowbray got us into groups, in which we practiced the scenes we had been given and then performed them to other students in the class. This worked well as a system to block our scenes. We also did some focused blocking on scenes that needed to be polished.
Our preparation process for the play was very laid back. I never once felt an extreme amount of pressure. This was why I was surprised when our play went super well. We performed 3 times and not once did we have any major flaws or problems. Maybe I shouldn't have been surprised– it makes sense that students perform better under less stress. Emily did an amazing job as a director, because she was always trying. She cares about her students. Here is a poetic quote from one of our students:
"Emily from drama sings hakuna matata."
The play was also a new experience for the audience. Many of them were probably expecting a play with a consistent storyline and characters. In our play there were over 100 characters, and none of the scenes were linked to another. We overcome this hurdle with casting actors in multiple roles and we wore white outfits for all of the characters we played. Here is a quote from a former drama student:
"Loved Love + Information tonight. A real kick up the butt for 'artistic cohesion' within unlimited's drama department – the best thing I've seen put on in my time with the school!"
Overall, "Love and Information" was an enjoyable experience thanks to the amazing cast and director. The students had a say in how we performed the scenes, and Emily was very aware not to bite off more than we could chew. I am excited to be in the next play that she directs if she's allowed to stay here at Ao Tawhiti.
Noah McKay
Other Notices
2020 Youth Expo