---
Upcoming Events
Term 2, Week 1: Starting Monday 29 April 2019
Monday 29 April: Teacher Only Day [SCHOOL CLOSED]
Tuesday 30 April: Teacher Only Day [SCHOOL CLOSED]
Wednesday 1 May: Teacher Only Day [SCHOOL CLOSED]
Thursday 2 May: IEMs
Friday 3 May: IEMs
Term 2, Week 2: Starting Monday 6 May 2019
Monday 6 May: Term 2.1 begins
Friday 10 May – Saturday 11 May: Careers Expo, Horncastle Arena
---
Messages
Message from Steven
Coming Home
It's almost here. Monday marks the moment I've been waiting for since I accepted the position of Director way back in October 2013. Our school as it was announced following the merger will finally be back in the CBD and be on one site.
While I'm exceptionally excited about this, I'm also really aware that our new premises are not 100% complete and that it will take all of us a few weeks to adjust to the many little things that won't be quite as we had expected. Please be patient as we move in, find our space and adapt to our new learnings.
Walking through the building on Friday was an awesome experience. We have an incredibly beautiful place to learn in and it couldn't be more different to what we've experienced at any point before.
Please recognise that while I know everyone is excited about coming in and finding their place, I need to carefully manage our handover from Monday. I will be spending the first three days of the term working with the staff on the procedures we need to learn, and helping them set up our new space.
The school is closed at this time. You cannot just "pop in for a look". I need this time to ensure that as a staff, we are ready to go for IEMs on Thursday and Friday. There will be movers in and out, delivery and installation of items and staff working together on establishing how they will work in our new spaces.
There will be time to look around following your IEMs and Monday of Week 2 will see the LAs working with your child to make sure that they are ale to get to know the space.
Working with Leighs
Leighs will continue to work on the building throughout the next 6 weeks or so. Their staff will be a quiet and barely noticeable presence from Week 2. They will not be working in areas with students and will not use our facilities.
It is equally important that our students do not use their facilities (which will be clearly separated off from ours.
Tours on IEM days
If you would like to take a look around the building we will be running tours at the start of every round of IEMs. We would strongly encourage you to plan to stick around after your IEM, go to reception and walk around the building with one of the DDs. We really want all of you to see the spaces, but need to be mindful that with IEMs on at the same time, we need to carefully manage the number of people moving around the building. We would appreciate it if you would not just take yourself on a tour. There will be a lot going on in that first week, and there will be lots of time to see the building in the future.
Travel info
I have worked with the council to create a travel plan and some travel information for us. You can read this information here. As it currently stands we will not have dedicated drop off zones on St Asaph, so if you intend to take your child to school by car, you will need to organise this carefully and plan accordingly. We will continue to work with you on things like walking buses, bus monitors and so on.
I will put out another message about the walking bus from the bus interchange on Wednesday next week. We just need to finalise a meeting place and a roster for staff.
Start times / Finish times
The building will be open from 8am to 4pm each day from Monday 6 May
Y1-6 classes run from 9am-3pm
Y7-13 classes run from 9am-2.30pm
With no supervision before 8am and the building locked, it is extremely important to ensure that your child does not arrive at school before 8am. We do not believe that this is a safe option for any of our students.

With more than 670 students expected to arrive at school each day (when we get to our maximum roll), we want to staggered the arrival of our students as much as possible. We therefore encourage,
Y7-13 families to have their child arrive anywhere from 8am-8.40am each day or between 9.30am and 10.30am if they have a prearranged SDL programme organised with their Learning Advisor.
Y1-6 families are encouraged to arrive at school between 8.00am and 9am each day. Please note that we expect the busiest drop off time to be 8.50am. If you can arrive earlier than this, we would appreciate it.
The school day finishes at 2.30pm for most Y7-13 students each day. We strongly encourage these students to either leave immediately or to wait until 3.30pm on their floors. This will allow the departure of the Y1-6 students at 3pm to take priority.

Y1-6 students will not be allowed to leave the building without being collected by a parent, unless they are taking the walking bus to the bus interchange.
Property update
We had the site blessed on Friday afternoon which gave me a chance to see where we're at with the site. It really is going to be a fantastic place for us to learn. It's genuinely inspiring.
There was still quite a bit of tidying up and joinery that was being finalised. Eugene (from Leighs) was looking forward to 10pm on Sunday, telling me that it'll look ready then. We are expecting as a staff to arrive on Monday to a building almost ready for our students.
Most exciting though was the signs. Check out our presence!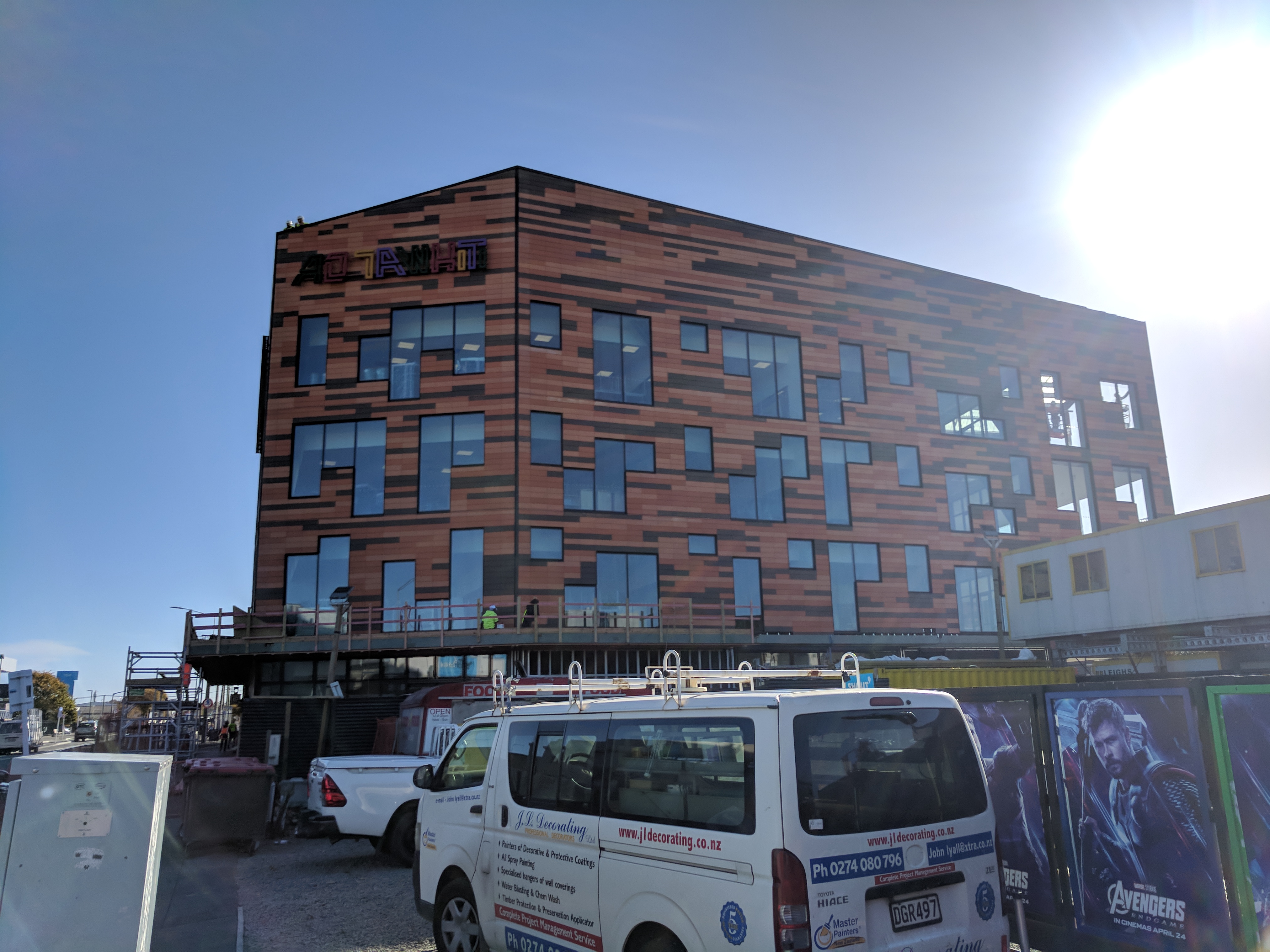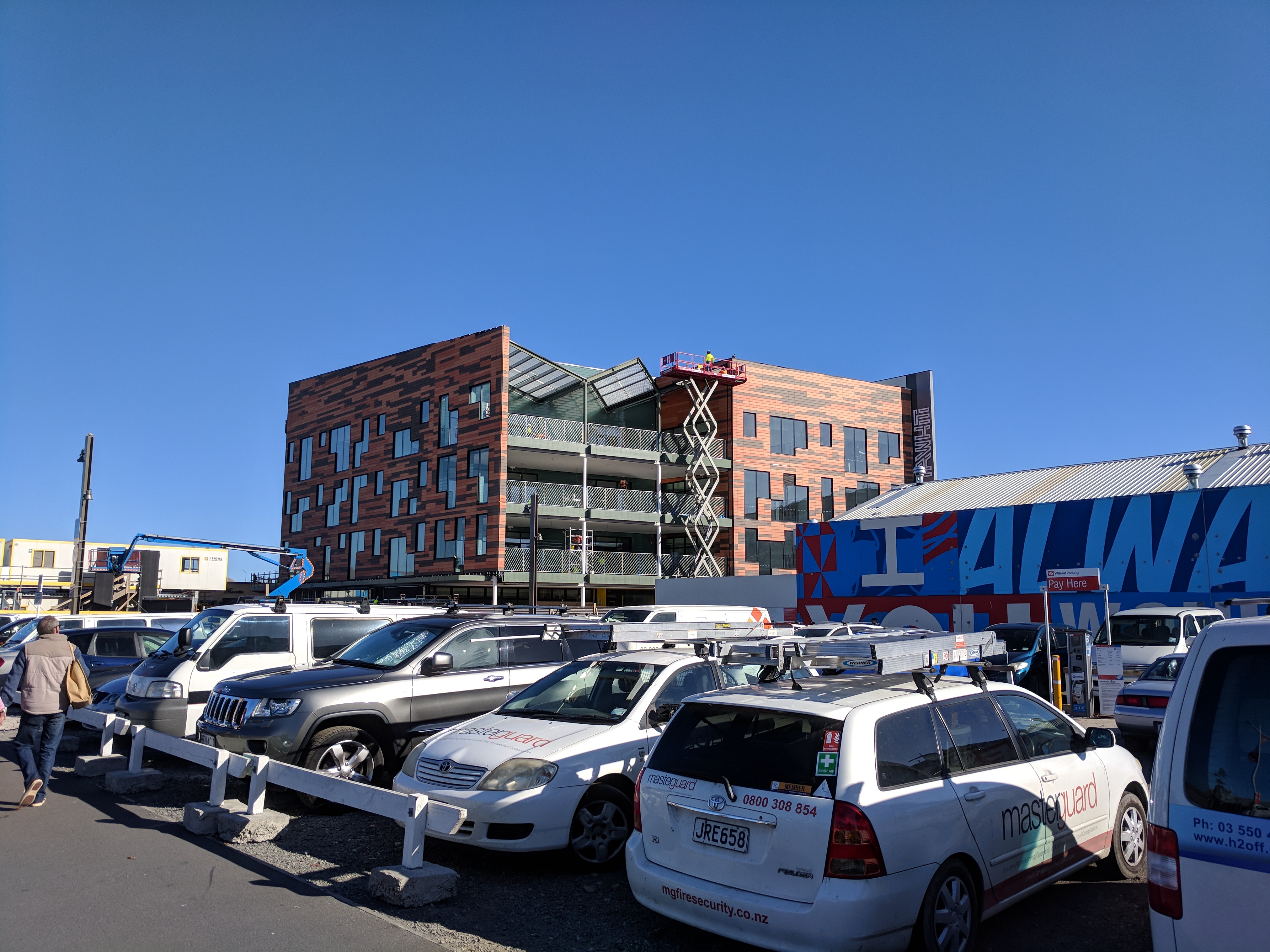 Thank you
What an awesome community we are. I am so incredibly grateful for the support so many of you gave us to pack up and move from the Unlimited Campus to the Discovery Campus. It was a massive effort made easier by the time and energy many of you put in.
The rest of this newsletter …
Most of the material in the rest off the newsletter was written at the end of the term. It might pay to read it with that in mind.
Steven Mustor
Message from Niki
Kia ora whānau,
Ngā mihi nui ki a tātou katoa.

What an end to an era! Thanks to everyone who helped us farewell our temporary sites last week, in particular thanks to Kay and the Y7-10 community for throwing a fantastic party at the Discovery campus. It was a night to remember with music and lights, ponies and a petting zoo, a bouncy castle, chalked messages all over the windows, not to mention a final hangi at the Halswell site, and lots and lots of food and good cheer.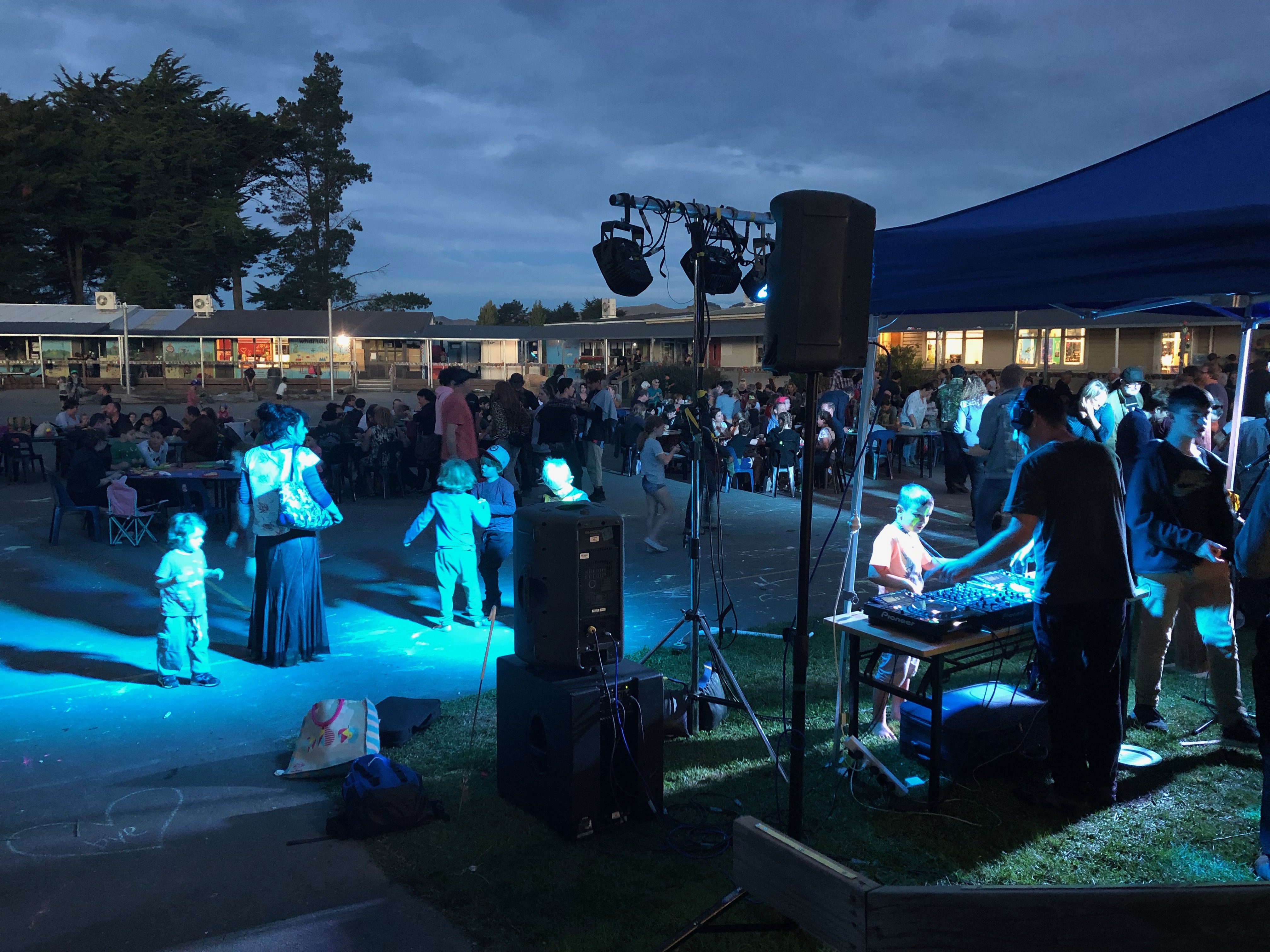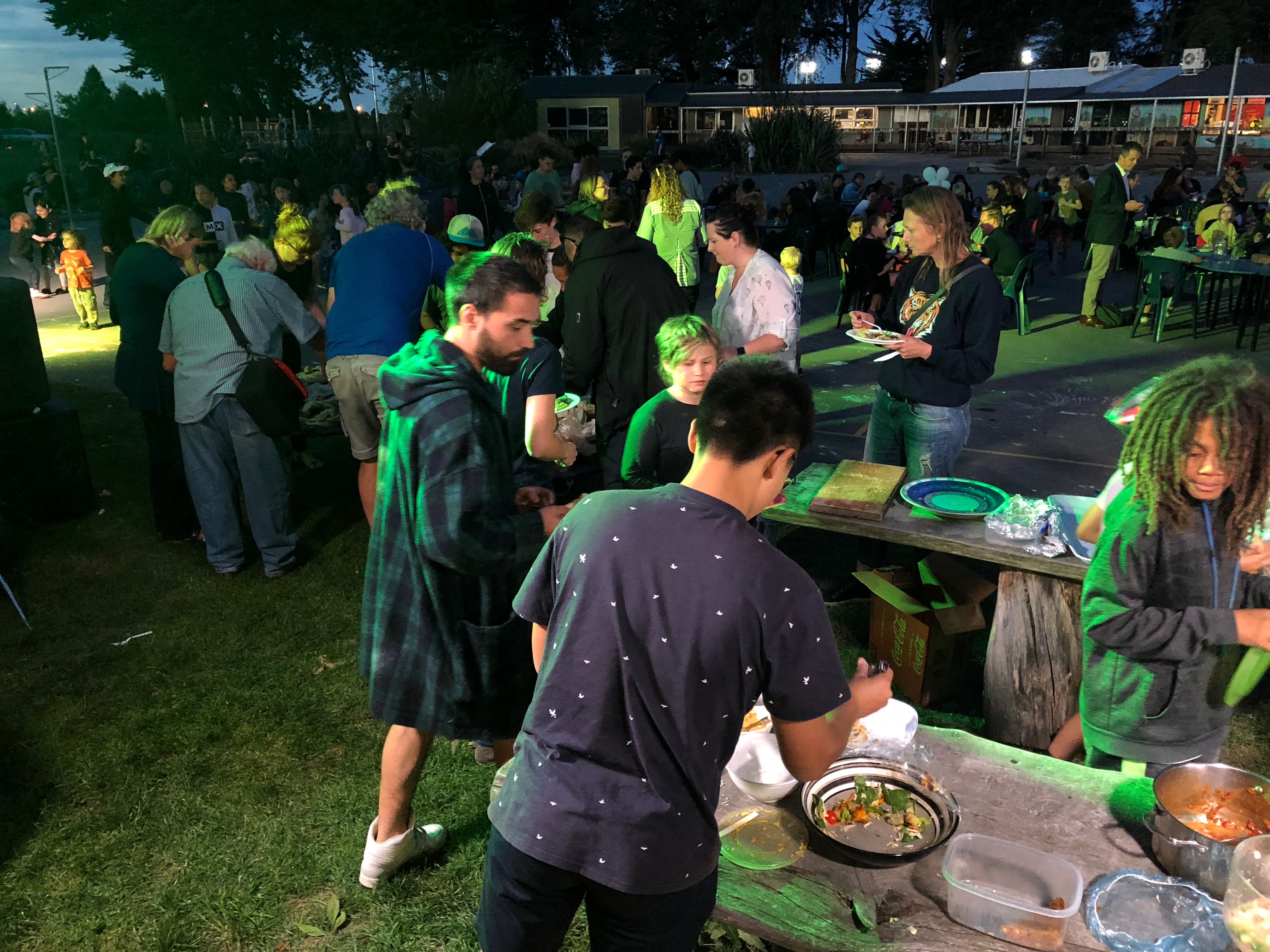 Also huge thanks to all you wonderful parents who have given up time, space in cars, trailers and muscle to shift, pack, clean, sort and remove. We could not have done it without you – at least, we'd still be doing it! Instead, the LAs are now on a well-deserved break and preparing for our exciting new beginnings.

It is finally here; after many years of displacement, frustration and hope, we're shifting into our 'forever home' in a very short time. I know I am not alone in being incredibly excited about the possibilities we have not even begun to consider about what it means to be in our permanent, city-based school.

I will be in touch later in the holiday with ideas about travelling/ carpooling/ walking buses etc to make our transition as smooth as possible. In the meantime, have a wonderful holiday with your tamariki, and we will see you all for IEMs and a grand tour on the 2 and 3 May.
Niki Stephenson – Deputy Director
Message from Ian
Well that's the end of an era…thanks to everyone who has been part of the journey over the last 8 years!
IEMs
Next Terms IEMS are scheduled for Thursday and Friday of Week 1…the 2nd and 3rd of May.
In an attempt to streamline our IEM booking process we have moved to a new platform…schoolInterviews.co.nz.
To use this new system follow the following link to the booking website…
https://www.schoolinterviews.co.nz/code?z=B00OpI
The whole process is pretty user friendly but I have created a guide to support your use of the process should you need some support. Use the following link to access the guide.
https://drive.google.com/file/d/1sNqSrYGhavgzDd4TnI6rfk1ZZiNkbCtT/view?usp=sharing
PLEASE NOTE…Each term you will need a new code to access the Ao Tawhiti booking system… this term's code is fsdhv
Ian Hayes – Deputy Director
Message from Duncan
PINS
In 1.2 on Wednesday's we ran PINS. 45 unique workshops from strength training to pizza cooking allowed our year 7 -10 students to participate in fantastic learning opportunities. These workshops delivered by our community (parents, students, alumni, staff) created a stunning atmosphere on campus. It was certainly one of the highlights of my week to get around and see all that was on offer.
To those who ran workshops, thank you so much. It was generous contribution that served to show just how fantastic our school is.
We're already underway with planning for our next iteration of PINS (you can find all the information you need here). If you want to get involved we'd love to have you on board!
8 years later…
It was strange feeling to leave work on Friday knowing that our time on the Unlimited Campus had finally concluded. After 8 years of surviving on temporary sites in less than ideal environments I felt a sense of closure as we're finally moving back to the CBD.
In the early days post the earthquake there was uncertainty about how long we'd be away for. Initially I assumed 6 – 8 weeks! In those first few weeks Our boards and school leaders worked long and hard to secure us somewhere to work from. There resolve and determination was phenomenal. Despite the situation we found ourselves in they found a way for us to continue to deliver an education to our students that was consistent with our special character.
Over the past 8 years the collective resilience of our school community has been outstanding. Our students have continued drive to their leaning from the passions and interests, our parents have contributed in endless ways to support them and our staff have found a way to keep being awesome!
For me, having been here through this entire time I'm grateful to all those who have worked so hard to get us back. This school has been and continues to be a huge part of my life and I am super excited for the next stage of the journey. So from me a huge thank you to you all. I cant wait to see you all next term back where we belong!

Duncan Woods – Deputy Director
Schoolwide Notices

**WANTED** 1-2 students who want a free Personal Trainer for six weeks in May and June!
Details:
As part of his Certificate of Exercise (Personal Training) at New Zealand Institute of Sport, Jeremy is required to train a person or people within a Special Population group. Special Populations are groups of people who need special care and consideration when developing a fitness programme, for example, aged, preadolescent, diabetic, arthritic, cardiovascular disease sufferers etc.
As a father of three Ao Tawhiti students, Jeremy has a special interest in developing good fitness habits at an early age, and would like to focus on the preadolescent group (10-12 yo) for his programme. He is looking for 1-2 students who have a specific training or fitness goal – two friends may enjoy participating in this together, as opposed to a single student doing it on their own, but he's open to either.
He will develop a six-week programme based on their goals, for them to work though together throughout May and June.
Goals could be as broad as being fitter, or as specific as becoming more proficient in a particular movement/sport, anything from rugby to netball to dancing. Or it could be that they want to train for an event coming up later in the year.
The participants would receive a professional fitness assessment both before and after the programme, a tailored regime to achieve their goals, plus plenty of motivation and guidance! It would be completely free and participants would have access to the NZIS gym facilities (accompanied by Jeremy) for the duration of the programme.
Participants would be expected to have a minimum of two sessions per week with Jeremy outside school hours. These would be between 30-60mins each and could be at NZIS (transport may be required) or at a suitable and convenient venue, such as a public park.
If anyone is interested, please contact Jeremy directly for more details: jeremygeorgemarks@hotmail.com or 027 818 0957. Note for any fitness programme, parental consent would be need to be sought.
Jeremy Marks – Parent
1-6 News
Fundraising for Camp Tarākona in Dunedin Oct 22nd -25th
Hi there
As you know the senior community is organising a camp to Dunedin in October. To help keep the cost down fundraising is a good way to help.
Last year I organised quite a few fundraisers (and am coordinating the Entertainment Book this year) so am keen to help towards the Dunedin trip.
I'm writing to say … over the holidays start thinking of ideas, are you interested in being part of a team?, just an ideas person or just an action person?, what does your young person wish to do to help?
I'm offering my time if anyone would like to be involved.
The goal is $1000s rather than $100s this time and we want to pay for all activities and then accommodation if possible.

Thank you. Catch up in the new building and Happy Easter, enjoy the holidays.
If you'd love to support my guys school fundraiser and get over $20,000 worth of savings take a look at the below link, thank you
https://www.entertainmentbook.co.nz/orderbooks/13427z1

Claire Cameron (Oliver's mum)
Nadine's Community Newsletter
https://drive.google.com/file/d/1VuyfdpCj4vicZAf031yLH7oQyA8TPdJW/view?usp=sharing
Nadine Walmisley – Community Leader
7-13 News

Youth America Grand Prix finals
Sonia (Y9) and Ashley (Y7) Woods make their first performances at the Youth America Grand Prix finals in New York on Friday (NY time, Saturday NZ [ this was two weeks ago now … apologies Steven]). Both girls will perform two pieces, a variation and contemporary dance, and will participate in an adjudicated class, before results are decided later this week.
The competition is world championship, and one of the World's biggest dance events, with company directors from all over the world attending to offer scholarships and company positions. Over 10,000 dancers competed in the preliminary rounds, and only three hundred have made it through to the final.
Here are some videos of the girls final rehearsal at the Canterbury Ballet studio before they left for New York:
Natalie Woods – Learning Advisor
Sheilah Winn
Ao Tawhiti entered three scenes in the ever-popular SGCNZ (Sheilah Winn Regional Shakespeare Festival) on Saturday 6 April. It was a full, and thrilling day at Middleton Grange School. The scenes (all student directed) were five minutes long, and taken from Othello (directed by Ellie Stephenson and Nadia Smetanina), The Taming of the Shrew (directed by Ngaire North ) and a The Merchant of Venice performed in Te Reo Maori by Rangimarie Te'evale-Hunt and Hinepounamu Lambert. Apart from all the rich learning that took place, in regard to the discipline of learning lines, the courage it takes to stand in front of an audience with an 'offer', the added expectations and hopes that surround a competition, the ability to be a leader (Director) and have flexibility of body, heart and mind within the act of being Directed (being an actor), our Learners came away with four awards:
Grace Opie for best actress
Ngaire North, Jasmine Wilde, and Nick MacLagan for best connection
Rangiemarie Te-evale-Hunt and Hinepounamu Lambert for best commitment
Rose Hubble, Grace Opie, Nic Chappell, Celeste Gardiner, and Abigail Maclean for best death.
It was also inspiring and humbling to experience the mahi and creativity of other Schools and Creative Teams.
Kia ora, special thanks to the Learning Advisors, Parents, Whanau and Fellow-Learners who supported the casts.
Will we 'take out' Best 'Actor' again in 2020? It seems to be a bit of a tradition!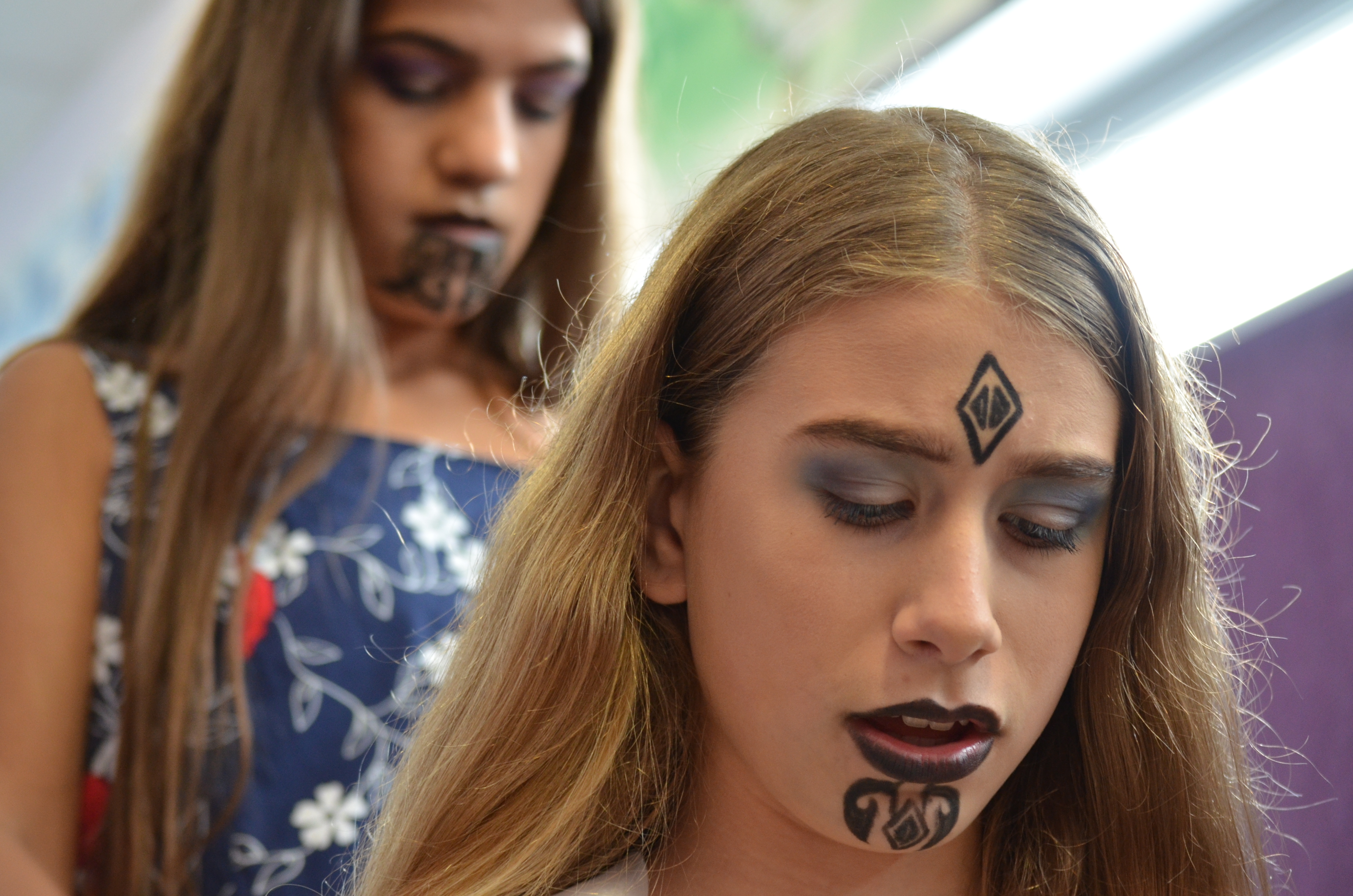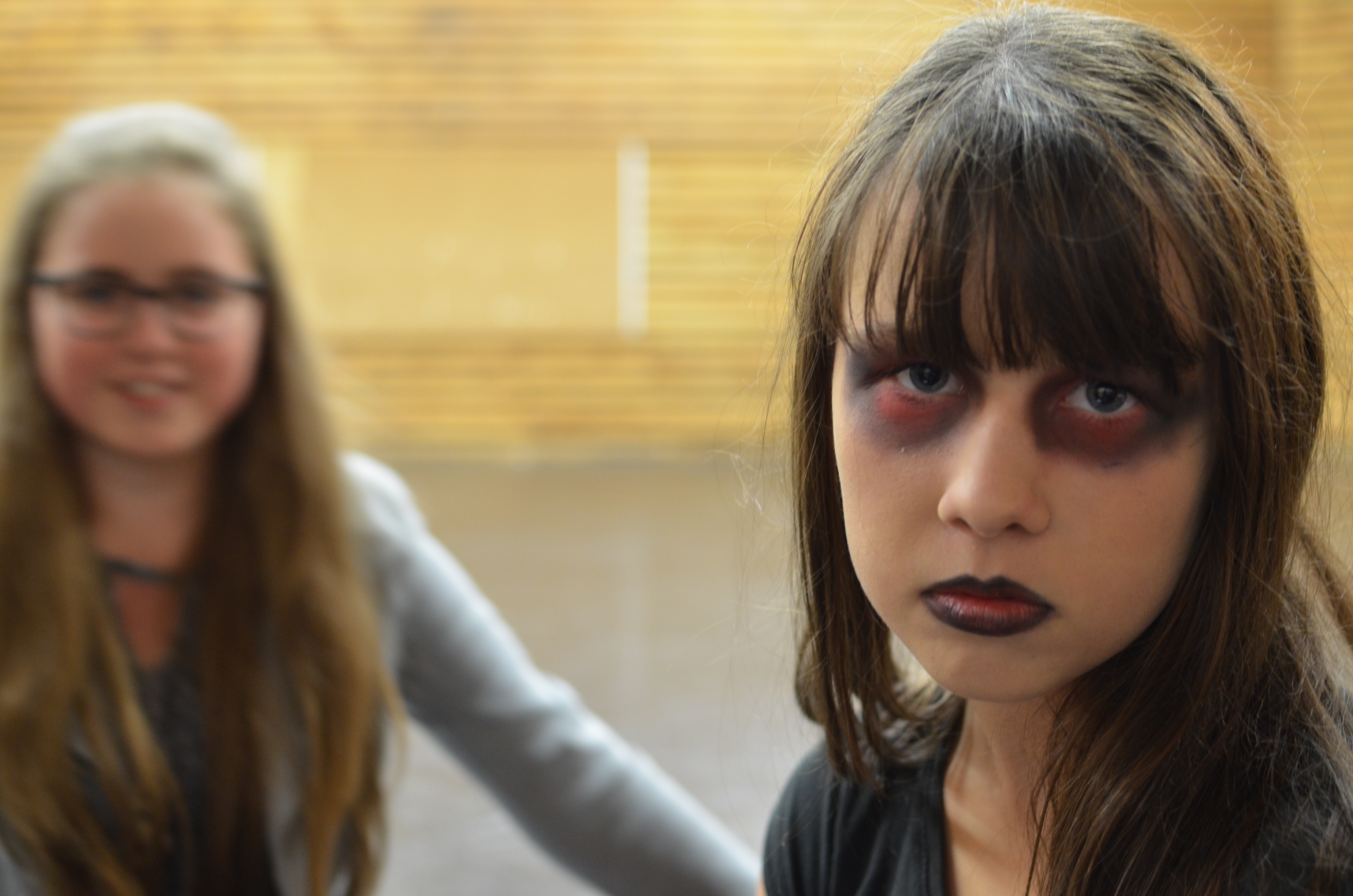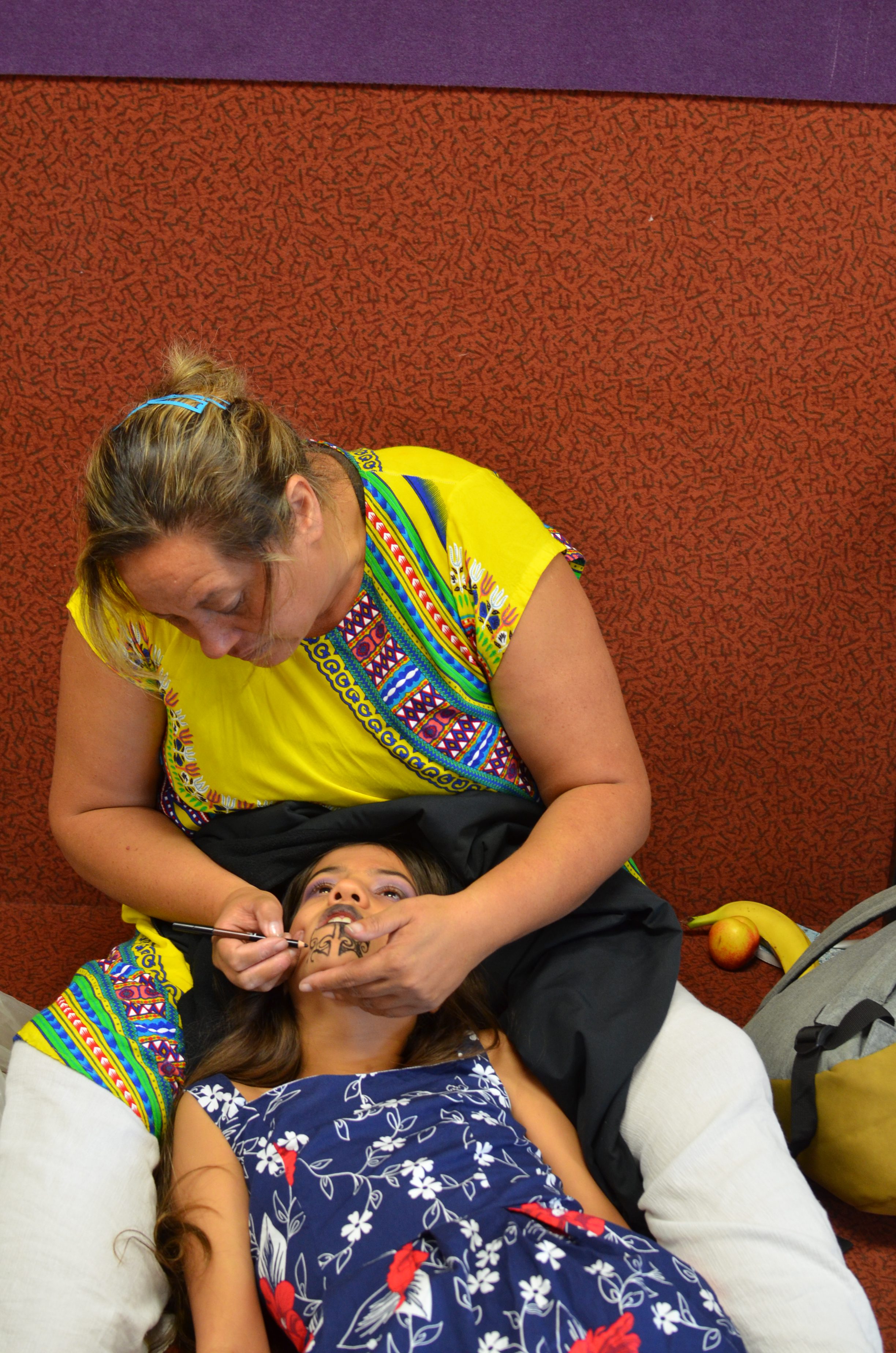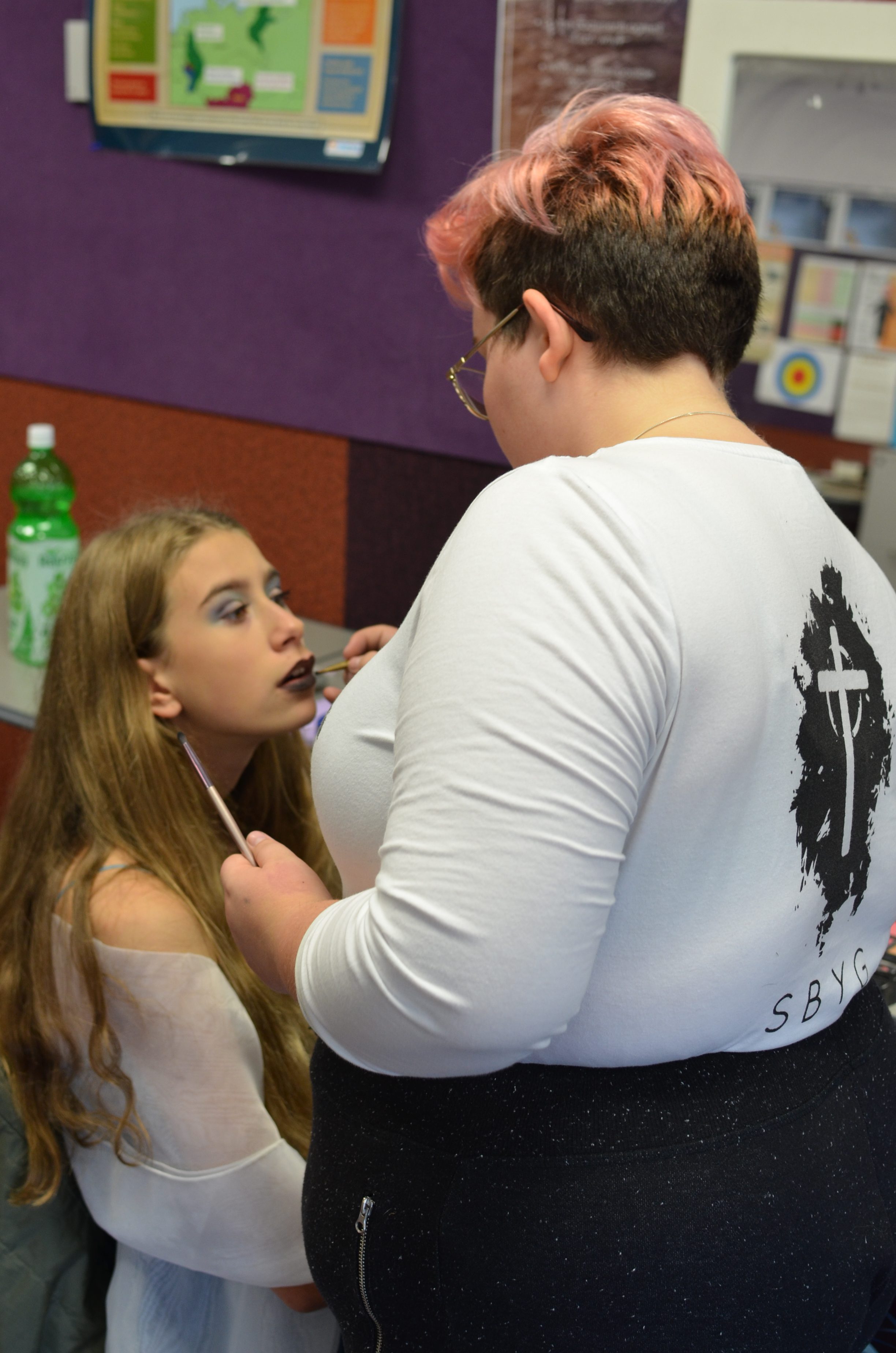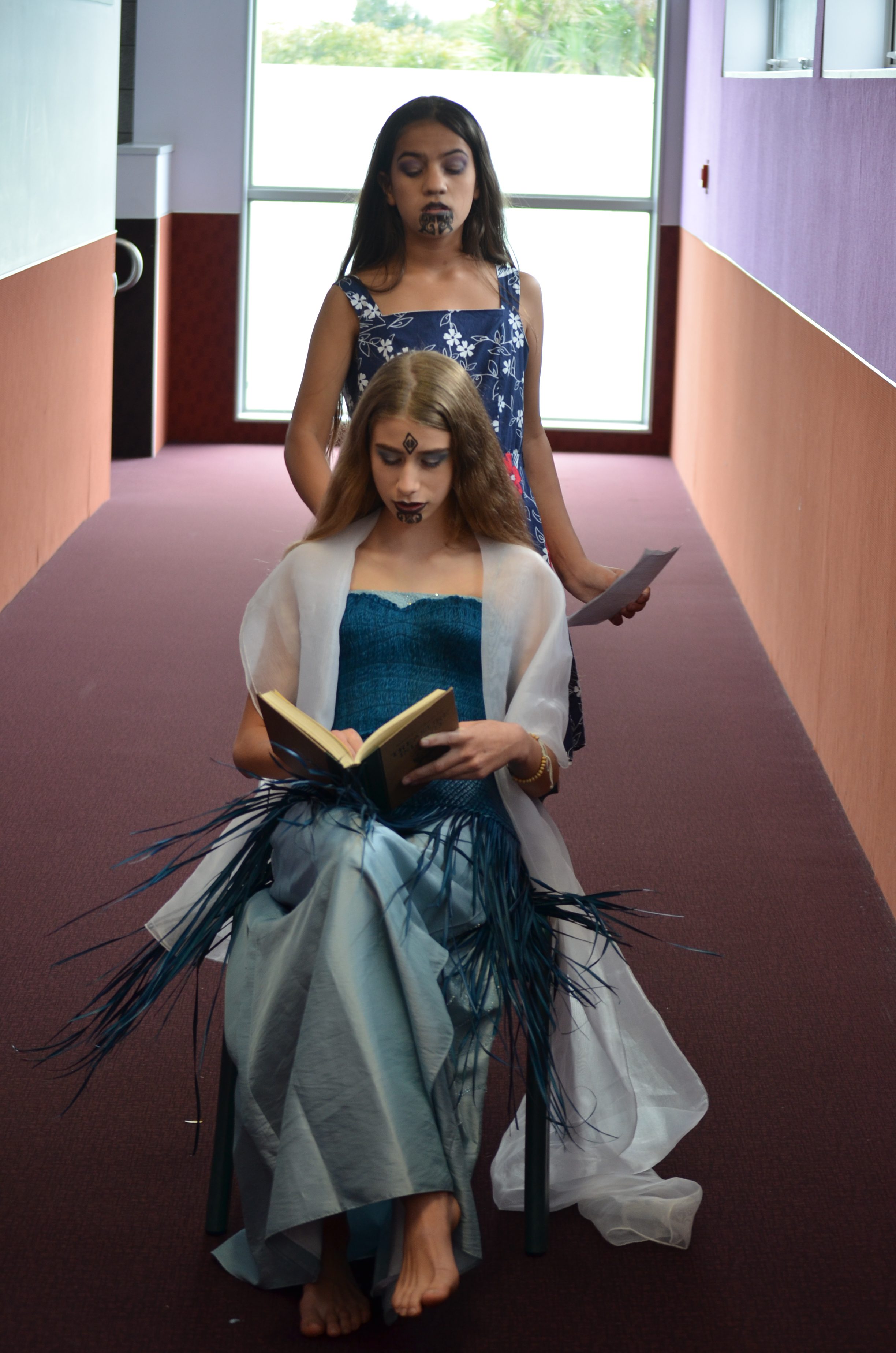 Emily Mowbray – Learning Advisor
Downtown Digital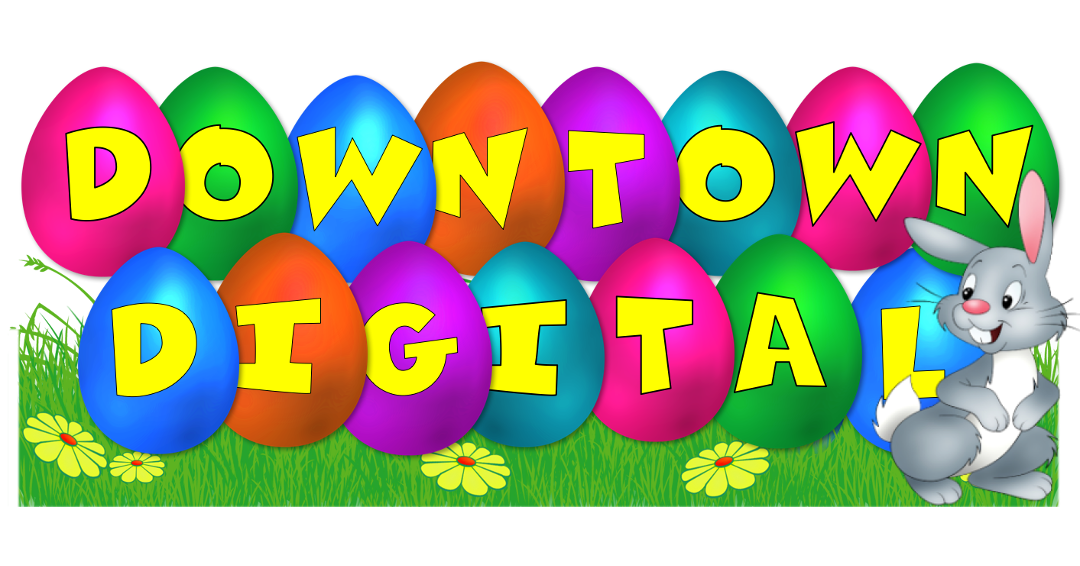 We have had an amazing first term in Downtown Digital. There has been so much creativity bubbling out of our wee room. Now we look forward to setting up in the new campus, ready to make lots of cool digital products during Term 2.
Our main project in Term 1 was the development of an 80s themed 8-bit game. Not quite complete (still working on animation for the robot), this is for the Superstreet arcade system. You can try it online here:
http://def-logic.com/_canvas/zeros_zone/
Use arrow keys to move, S to fire, A to drop bombs.
All graphics and music are original productions by Downtown Digital students Laouena, Isabella, Trinity, Baxter, and the coding is by Brent (Learning Advisor). The game design itself was a team effort, based an many discussions, play testing, and iterative development. We follow the fun to where it leads.
Like us on Facebook: https://www.facebook.com/ATDowntownDigital/
Follow us on Instagram: @downtown.digital
See you in Term 2.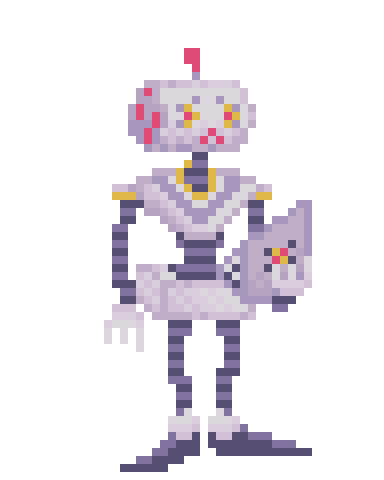 Brent Silby – Learning Advisor
Year 7-10 Communities
Ao Tawhiti Projects – Years 7-10
This week has had a fantastic feel about it as project after project comes to fruition. We have kicked of this part of our L2L time with a short LA led Project. Students had the choice of at least 5 group projects or starting there own project. This term the LA's took the lead in the initial stages but quite clearly by the end, many students had taken agency and were leading the projects. Hopefully I can give a brief update of these projects:
A group of students are in the process of sending a letter to NZ Police and the Police Minister requesting that they stop police chases to save young peoples lives. The letter was collaborative and each person contributed after completing their personal research. Here's hoping the letter has some impact. It will be interesting to read any replies they receive.
A number of students had been working on Mindfulness and Chi this term and have been exploring how to use these techniques for their personal benefit as well as thinking about the possibility of teaching others what they have learnt. Some may decide to continue this next term on their own or as part of a new group.
On Wednesday night we saw the amazing results of the Farewell Party Project. This was put together by about 20 year 7-10 students but impacted on hundreds of people. The experience was hugely rewarding for those involved, as well as those who came along. Lots of memories were relived and new ones made.
Today we had a really enjoyable fun filled Celebration of Learning. Once again this was organised by a team of year 7-10 students. We saw many students bravely share their learning and experiences and the aroha was clearly felt in the room. I think it was one of the happiest COL's we have had recently.
Several AT Project groups shared at COL what they had been doing so I will try to give a brief explanation based on their sharing.
There are a couple of projects that will be finished off once we move into the new building. There are a number of items being made to support movement and physical activity in or outside the building and a window garden that needs to find a place to live. The garden will have it's own irrigation and once installed should mean we can grow some plants or vegetables. A few students have also been working on how to improve fitness and students enjoyment and involvement. They have carried out surveys and will be continuing next term by planning and running a fitness option.
The projects have often over lapped over the term, with one group supporting part of another and without the support of each other they couldn't have been as successful. Making the need to complete tasks and finish what you have committed to, crucial for all groups. This is a difference I guess that a real world setting can provide.
Alongside COL and the Farewell Party we had a team of students who were organising the tech needed for the events. Both events had sleek and amazing tech support that included sound and lighting which really made a difference to everyones experience. Once again this was student led and LA supported.
Another group that wanted to make things, had asked LA's if they had any items they wanted to be made for our new building. They made a supporting bracket for the window garden as well as another piece of equipment for Science. I'm sure there may have been more that I didn't get to hear or see yet.

Taking agency in your learning is such a special part of who we are – STUDENTS ARE AT THE CENTRE OF THEIR LEARNING –and can result in small or huge rewards which were clearly evident this week.
Next term students will begin their own Ao Tawhiti Projects either individually or in groups. We have already been supporting them to brainstorm their passions and interests and how these could be turned into a special project. Project based learning is super exciting and challenging so let the challenge begin.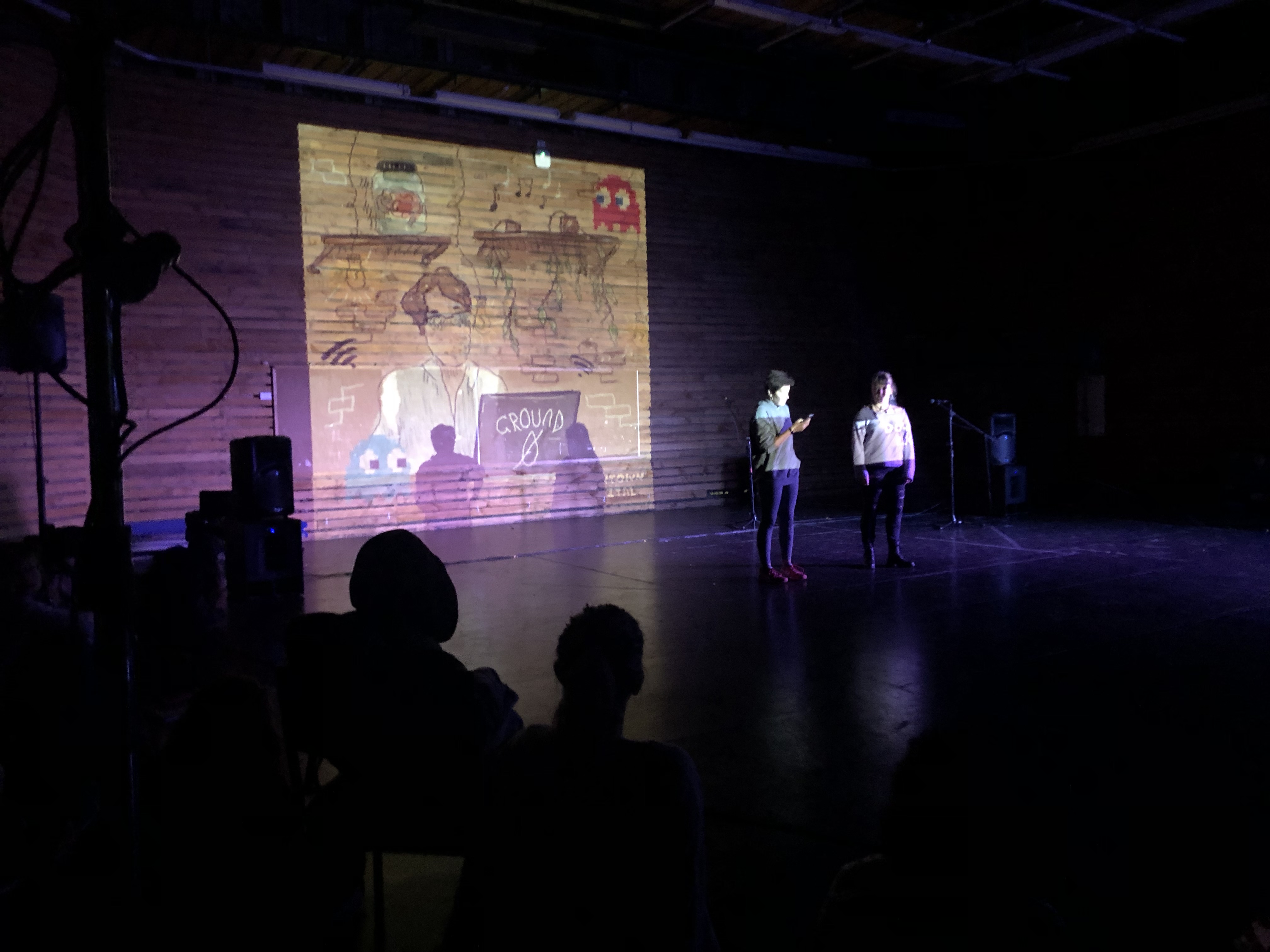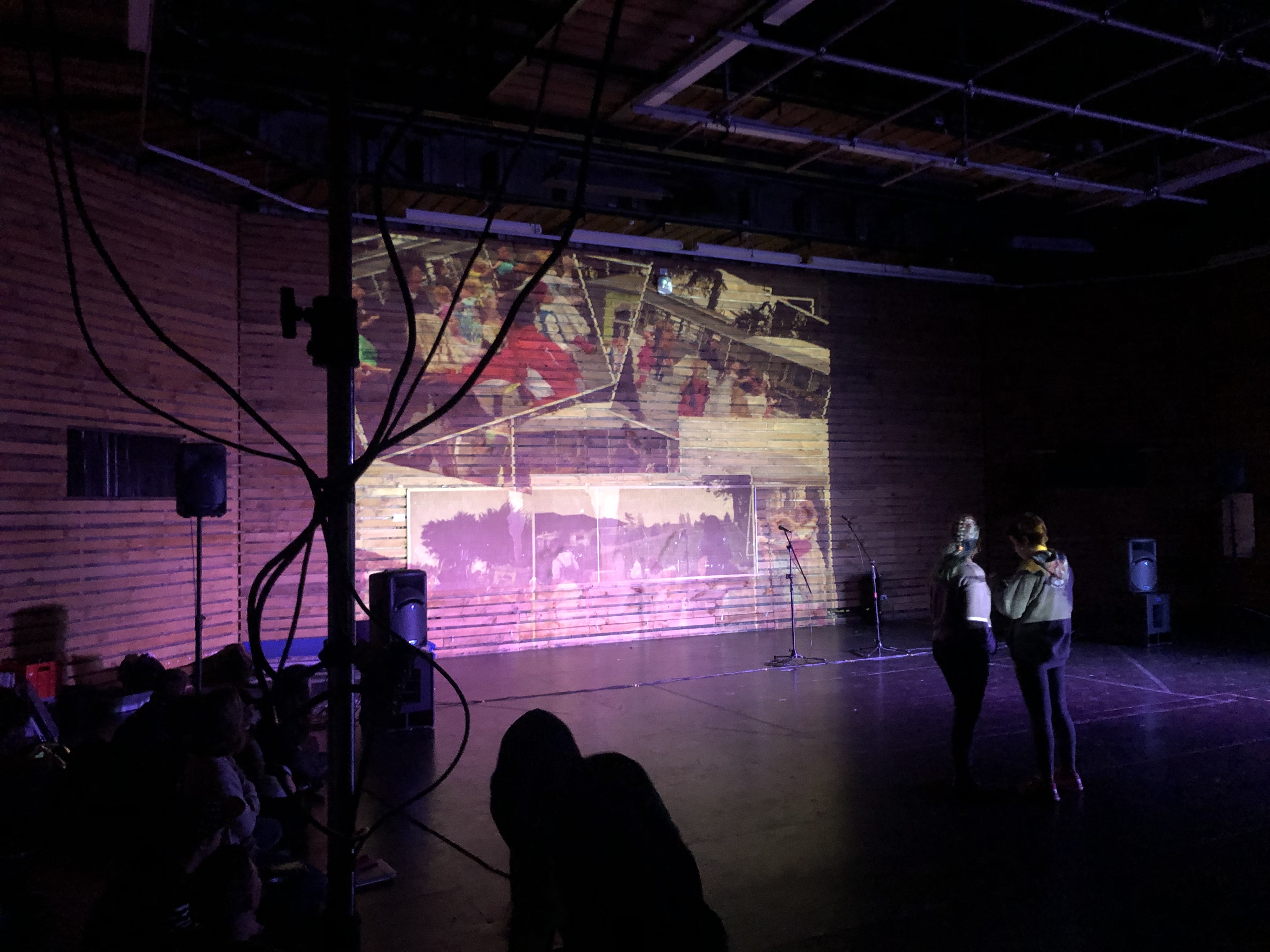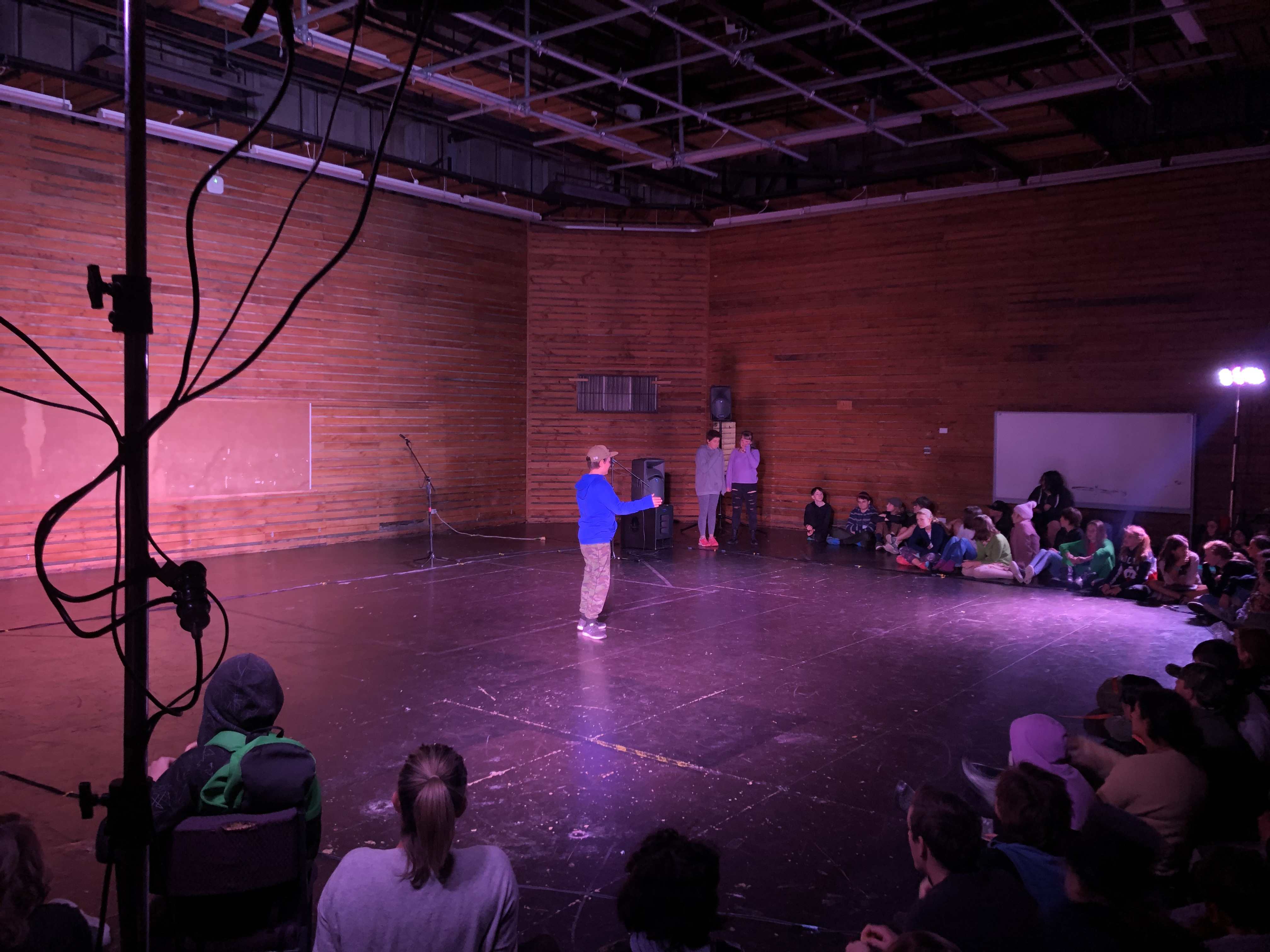 Kay Hayes – Community Leader
Other Notices