In this newsletter
Our latest newsletter has requests for parental help with Outdoor Ed, reminders about Matariki, an update from the latest BOT meeting and a couple of cool updates from our CLs about the learning that's happening in their community.
Upcoming Events
Term 2, Week 5: Starting Monday 29 May 2017
Monday 29 May – Wednesday 31 May: Dental Van, Discovery Campus
Monday 29 May, 7pm: Open Night, Unlimited Campus
Wednesday 31 May, 8.15am-8.45am: Breakfast Club, Kitchen, Unlimited Campus
Wednesday 31 May: Arbour Day, Discovery Campus
Wednesday 31 May, 11.45am-12.30pm: Kapahaka, Unlimited Campus, DW2
Friday, 2 June, 1:30pm: Matariki Meeting, Discovery campus
Term 2, Week 4: Starting Monday 5 June 2017
Monday 5 June: Queen's Birthday [SCHOOL CLOSED]
Tuesday 6 June: Term 2.2 Begins, Unlimited Campus
Wednesday 6 June, 8.15am-8.45am: Breakfast Club, Kitchen, Unlimited Campus
Wednesday 6 June, 11.45am-12.30pm: Kapahaka, Unlimited Campus, DW2
Sunday 10 June: Newsletter Published
Messages
Message from BOT
Last Tuesday the BOT had its first meeting of term 2.
Evan Kidd elected as new Board Chair: Our first action was to elect a new chair following Suze Keys' resignation from the role at the end of Term 1.  Evan Kidd was elected to the position.  The Board would like acknowledge Suze's considerable contribution to the school while she was in this role. Evan has been the Deputy Chair for the past year.
2017-2019 Charter – Matariki Drop-in: As a BOT we're always interested in hearing your thoughts on our schoolwide vision.  A good way to do this is to come and have a chat with us about the charter at the Matariki celebrations on Friday 16 June at the Discovery Campus.
Our current charter was extensively updated from the 2014-2016 charters and we are eager to hear from you about it, as well as your thoughts about our future direction as we move closer to our return to the CBD.
The charter can be found here.
Whanau Trustee Vacancy: The board has a vacancy for a co-opted whanau trustee. The whanau group is working to identify who this will be.  We are look forward to having this vacancy filled in the future and will update you as soon as this position has been filled.
Ngā mihi
Ao Tawhiti Unlimited Discovery Board of Trustees
Message from Steven
Stage Challenge
I had the awesome privilege of watching our students perform at Stage Challenge again this year.  For the second year in a row our students were the last to perform.  They received very positive feedback from the judges for their performance but were unable to take home one of the first three places.  I may be biased (and completely unaware of how these things are judged), but I honestly felt that our performance was extremely engaging, highly relevant and therefore deserving of a placing.
It was clear to see that the students really bonded across the many weeks that they have put into their performance.  It was also super impressive to see the school haka performed repetitively as a response and challenge to the other schools. It's an extremely long day for the students, the staff and the parents that support them as they rehearse, practice, wait, perform and then, just for good measure, wait some more.
Special thanks to Josiah, Madi and Immy for their leadership of Stage Challenge.  It's a massive commitment and you can all be proud of the impressive end result.
Open Night
We had good interest at our first open night of the year.  As is to be expected the Y7-10 community was packed full of interested parents and students, while the Y1-6 and 11-13 communities had only a couple of families.  The students, parents and learning advisors that attended did an excellent job of telling their stories and outlining how Ao Tawhiti Unlimited Discovery works for them.  The addition of some classes in actions, allowed a glimpse of what it could be like.  The evening must have been a success, as the tour that followed the open night was packed with families that had been to the open night and were now interested in furthering their enrolments for 2018 (or sooner).
We have our final open night tomorrow night (Monday 29 May).  If you're keen to come along and take part, please contact Ian or Duncan.
Property Update
It feels like every fortnight, I get to write about things still being on track for the building. While this is a little boring for me when writing it up, it's extremely good for the project as a whole (and of course for our move in date of Term 1 2019).
The demolition and remediation phase is almost complete (actually it could be complete by the time I publish this). Detailed design is almost complete too. I will be able to share with you the floor plans and images of the building hopefully in the next newsletter.  Much of my work with the design team in the past couple of weeks has been finalising the hard materials space, and establishing the location of the electrical and security services.  I am hoping that once the design phase is done, I will be able to run another presentation / discussion evening for families to talk through the design and start the conversation about what the interiors may look like.
An interesting aside is that Stephenson and Turner / Hayball were winners at the 2017 Canterbury Architects Awards held last week for their work on Marshlands School. Stephenson and Turner / Hayball are of course our architects and designers.
Steven Mustor – Director
Schoolwide Notices
Open Night Monday 29 May 2017
We will be holding our final Open Night for prospective students and their families on Monday, 29th May, 7pm at our Unlimited campus. It would be great if you could encourage any family you know may be interested in joining our school to come to our Open Night or take a tour.
Edith Goesmann – Marketing Manager
Matariki 2017
This year our whole-school Matariki celebration takes place at the Discovery campus on Friday, June 16 from 4pm-8pm
Free drop-in activities throughout the school from 4pm-6pm
Hot soup and bread rolls from 3:30pm – 5:00pm
Shared dinner from 6:00pm
A hangi will be cooked onsite throughout the day and will be available as part of the dinner.
Please bring something to share for dinner that's easy to serve and preferably doesn't need heating (the school will provide bread).  Meals in crock pots work well.  We'd be grateful if you can bring a serving utensil for your meal too.
Please bring enough plates/crockery/cups for your family to use and take home to wash at the end of the night – the kitchen space at Discovery is quite small and hard to wash up large amounts of dishes.  It also cuts down on the waste we would generate by providing disposable dishes.
Matariki is also a time for remembering people who have passed away.  Kelly always does a beautiful job of creating a space for you to bring photos and/or write memories or a dedication to honour someone in your whanau.
Thanks to all those people who have filled in the Google form.  It's great to see all the offers of help coming in.  If you haven't filled it in yet and have an idea of how'd you like to contribute, the link is below.  Or come along to the planning meeting.
Matariki planning meeting will be held on the Discovery campus on Friday, June 2nd at 1:30pm.  If you can't make it but would like to be involved please send me your details emmaphilp@hotmail.com
https://docs.google.com/forms/d/e/1FAIpQLSeXrpYi-QF7af_d1UuUxYaF8H0cidqaYmDhAEzC31fOO6hShg/viewform?usp=sf_link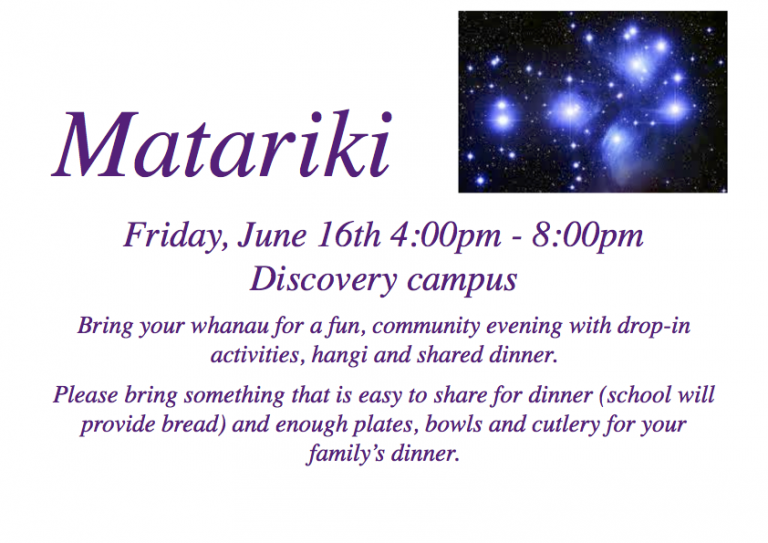 Emma Woods – Parent
Connection with nature
Beth Adams is an Ara student doing a paper on how a connection with nature helped people manage after the earthquakes.  Beth has put together the following questionnaire and would really appreciate any responses.  Although the questionnaire is catered towards the school garden on the Discovery site (particularly in the first few years of the development), if you have any other thoughts or ways that aren't related to that garden then she would appreciate them too.  She'd love to hear from student and parents.
You can fill out the google form here
Emma Woods – Parent
1-6 News
1-3 Community Update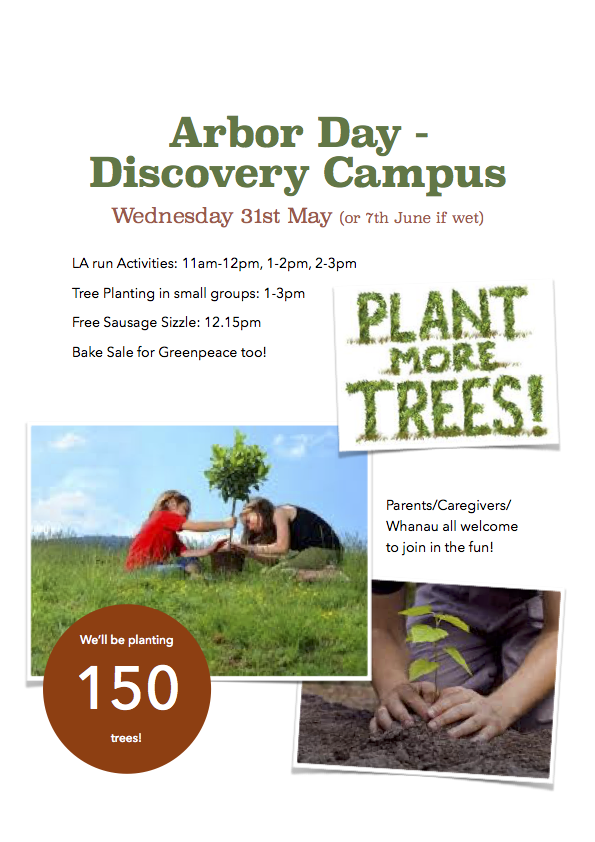 Nadine Walmisley – Community Leader
Autumn Feast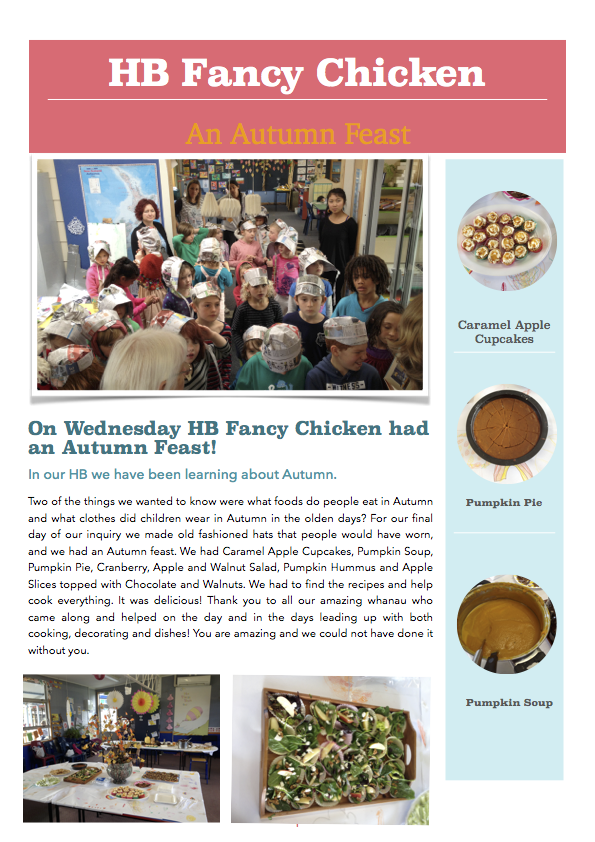 Gina Harrison – Learning Advisor
7-13 News
Book Exchange
We are operating a free book exchange for students, staff, and parents in S4. Please come and check it out! It'd also be great to receive more books if you have some to donate. For more information please contact George Mackenzie.
George Mackenzie – Learning Advisor
Primary Cross Country Zones
Earlier week Ao Tawhiti had two students from the Unlimited site compete at the Primary Schools cross country zones. Both Alex Hunt and Jessica Gillies represented the school in the year 8 girls 3km race where they finished 2nd and 3rd. Their placing's and times qualified both of them into the Canterbury Primary Schools cross country competition. Both girls challenged each other and pushed themselves through the whole race.
We also had two senior students; Rebecca Perrett and Olivia Sutherland-Leech, provide assistance on the day. They helped direct students around the course and more importantly supported and cheered for every runner in each race.
All four girls demonstrated great sportsmanship and represented Ao Tawhiti Unlimited DIscovery in a fantastic manner.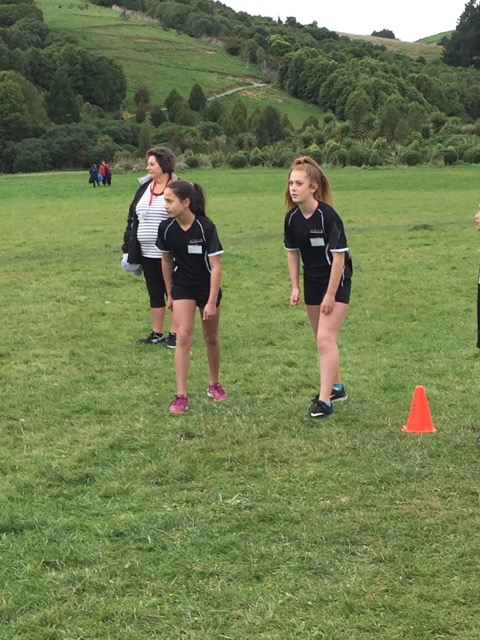 Kelsey Berryman – Sports Coordinator
Social Studies classes are getting Socially Active
Senior Social Studies are engaging in a range of social actions to support people in need, charitable organisations, and advocating policy changes as part of their assessment process. They are endeavouring to address issues of social justice and rights and responsibilities.
Some of the social actions being adopted are: the 40hour Famine which is occurring June 9-11 this year, the issue of homelessness, and ensuring ongoing support and effectiveness of the school health nurse.
The students supporting the 40hour Famine would like support from the school community either through joining them in the 40hour Famine, sponsoring a participant, or making a donation. This year's Famine is supporting children affected by the war in Syria.
The other groups will also be seeking support for a variety of different actions and initiatives.
Please support these students to make a positive difference in the world.
Ngā mihi
Peter Brailsford – Community Leader
Mud Run
Forms and information our out now for the 2017 MUD RUN!!!!
A 5km run through the mud, teams of 4, prizes including best dressed and a whole lot of fun.
Come and collect the from the office any time. Return Date: Wednesday June 7th.
Students in years 9-13 ONLY.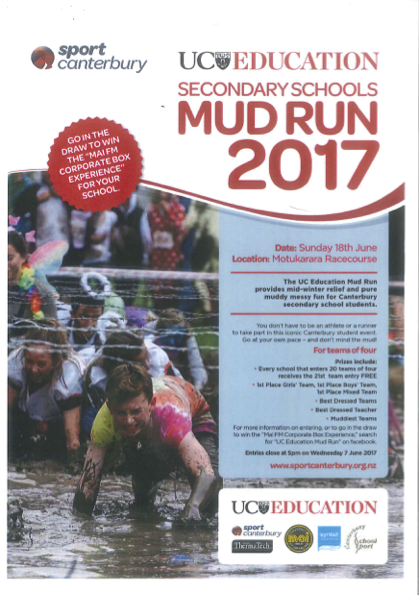 Kelsey Berryman – Sports Coordinator
Tekapo information
Information and health/ consent form for the planned trip to Tekapo at the end of June is now available on the school website under student notices.
Matt Parkes – Community Leader
Kay's Community News
Impact Projects Update and Parent Support Requests
This week we have had many groups and students pitching their ideas. We estimate that 70% of students have pitched their idea and are starting their projects.
This is where the real work starts. Many of these students are going to need heaps of support. We have started to give the groups a mentor from the LA's in our community but we would love some help from our parent group as well. Some students may contact parents directly so please look out for emails from them but it would be great if we could start to build the parent involvement on a weekly basis. We run Impact Projects in purple block so 9.00 – 10.00 every Tuesday, Wednesday and Thursday. We would love it if any parents could come along at this time and get alongside our students. Work with individuals or groups to get tasks done or just encourage them along. If you think you could come in please either just turn up or email one of us and we can help connect you with some students.
Matariki celebration 2017
Matariki is often one of our most attended whole school events. It is a great chance to meet families and students from within our community and beyond. I would fully encourage every family to come along. Below is a breakdown of the usual events and I have seen many people come for the whole night and many just for a couple of hours. This year our community will have set up some stones for people to decorate and write a dream  / wish for the year. 
Missing Macpac Jacket
We have a student who has lost their expensive black Macpac puffer jacket. It is black size 14 and is named. Please could you check at home that you don't have two by accident or the wrong one.
Kay Hayes – Community Leader
Impact Project – Homemade Sandwich Wraps
Tessa's has an Impact Project that she would love your support with. I have attached a poster with photos to the bottom of this newsletter.
Have you considered doing things differently? 
Many people use sticky or plastic wrap to keep their sandwiches fresh or to cover dishes. Plastic wrap pollutes our world because it can only be used once and then it never biodegrades. This means that every piece you use will stay on earth for ever and ever! 
I want to reduce the amount of plastic wrap going into land fill and I hope to achieve this by selling homemade sandwich wraps. My sandwich wraps are natural and reusable and are made out of cotton fabric and beeswax with a bit of tree resin and jojoba oil to make them sticky. 
The sandwich wraps I am selling are just as easy to use as plastic wrap, and to clean them, all you need to do is wipe o the dirt with cool water. They cost $9 for a large sandwich wrap and $7 for a medium sized snak pax. I am not selling these to make money, only to help reduce the amount of disposable sandwich wrap being used on our campus. 
Visit https://cma2104.wixsite.com/happywraps to check out the different patterns and colours you could buy and email me at Tessa.happywraps@gmail.com to purchase your wraps. 
Tessa Marshall – Student
11-13 Parkes and recreation community update
"No such thing as a free lunch"
Congratulations to the students that recently enjoyed their "free" lunch. We recently took a moment to celebrate the students in our community that had ZERO unjustified absences in 1.2 (ie. they turned up to all their classes, pre-arranged off-site learning and their parents contacted school to inform us when they were sick). Fortunately (for them) they ate very well, as the food budget was not spread too thinly – we're hoping that a few more students will qualify for our next lunch
Matt Parkes – Community Leader
78OUT update and cry for help!
Students are still enjoying getting their feet wet, even now the temperature is dropping (or at least they are not complaining TOO much). We are hoping to do some more river-crossing and also go on an overnight survival camp in the coming weeks.
Unfortunately student numbers have now grown to the extent that we cannot transport them all, which has resulted in students having to take turns coming on excursions. We therefore urgently need someone (or several people) over 25 with police check and have full driving licence to drive one of the school vans (manual gearbox) on Wednesday mornings and/ or Friday afternoons. Several new students have indicated that they would like to join the class in 2.2, which means that the problem is only going to get worse next block if we cannot find an additional driver.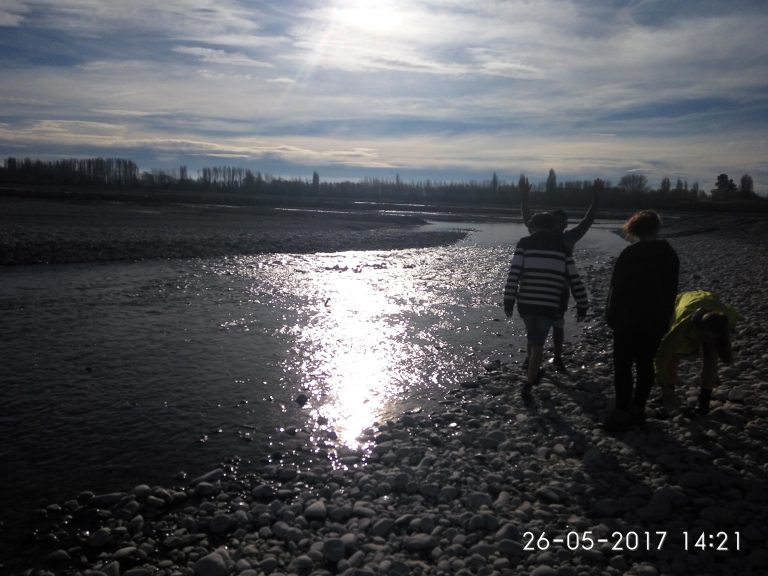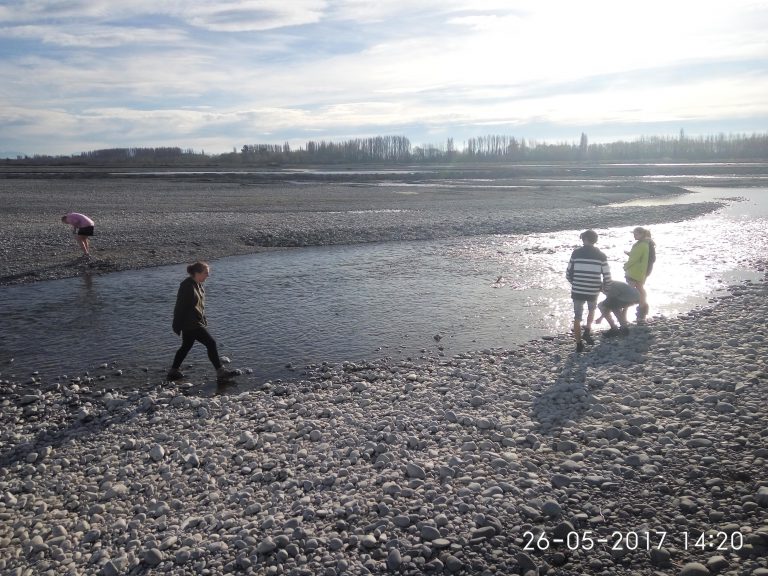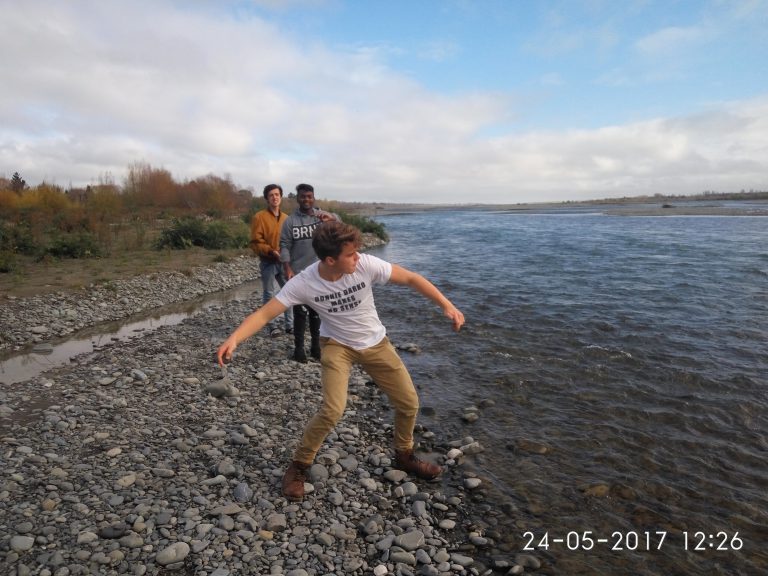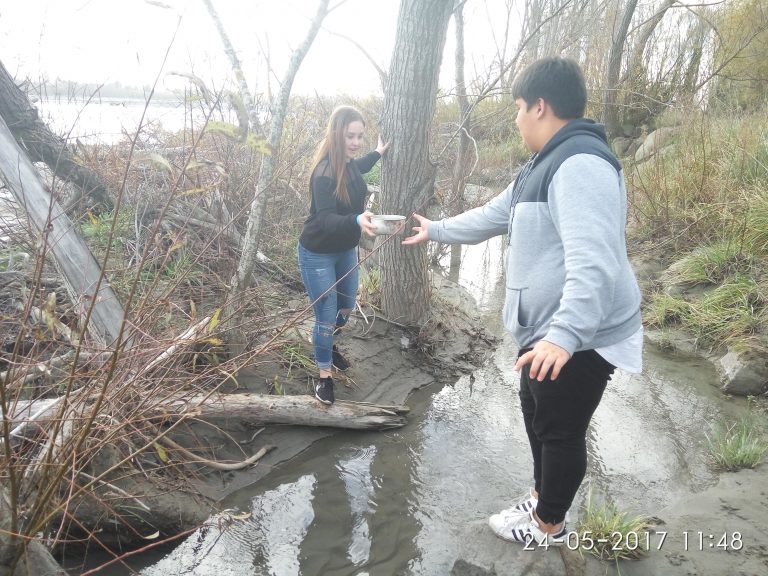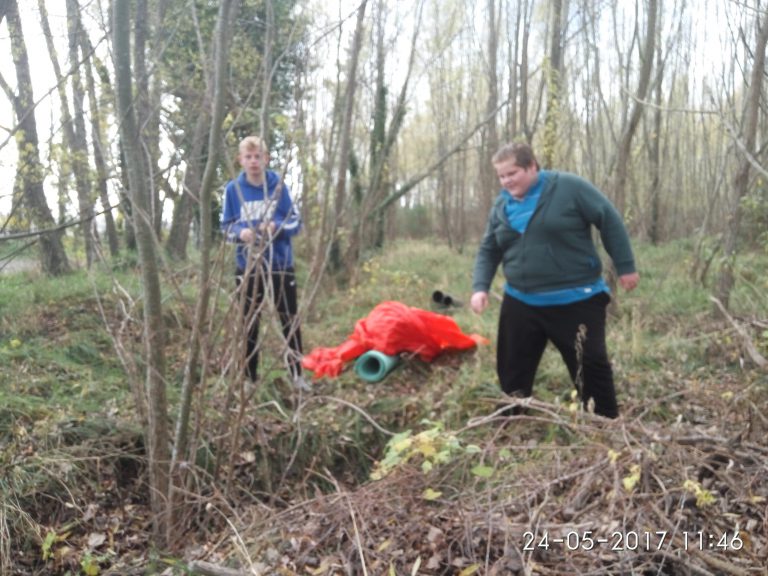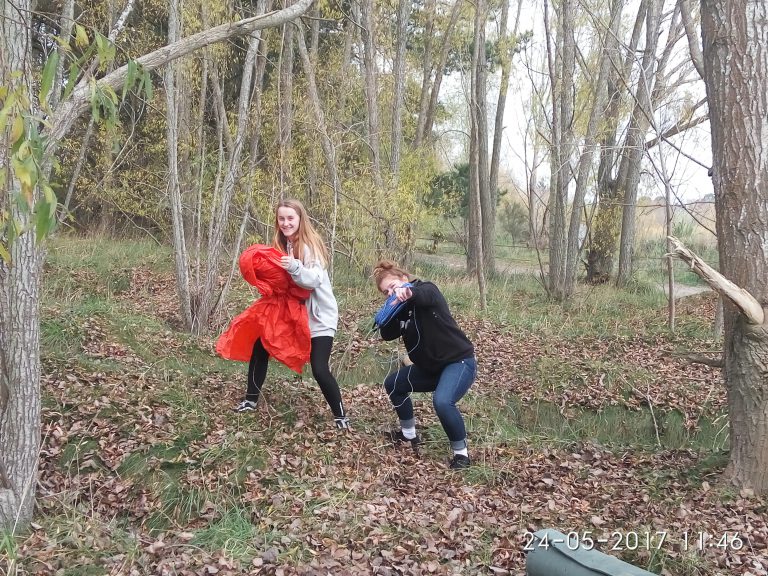 Matt Parkes  – Community Leader
Kohknowco Lab Updates
How Far Can We Go?
Kohknowco Like Home: Life in the Lab
This week in Kohknowco Lab:
Cameron Lowe has been working diligently at learning Javascript.  I'm very proud of him.  If he doesn't understand something, he asks for help and hasn't given up when it gets difficult but persisted and is making great progress!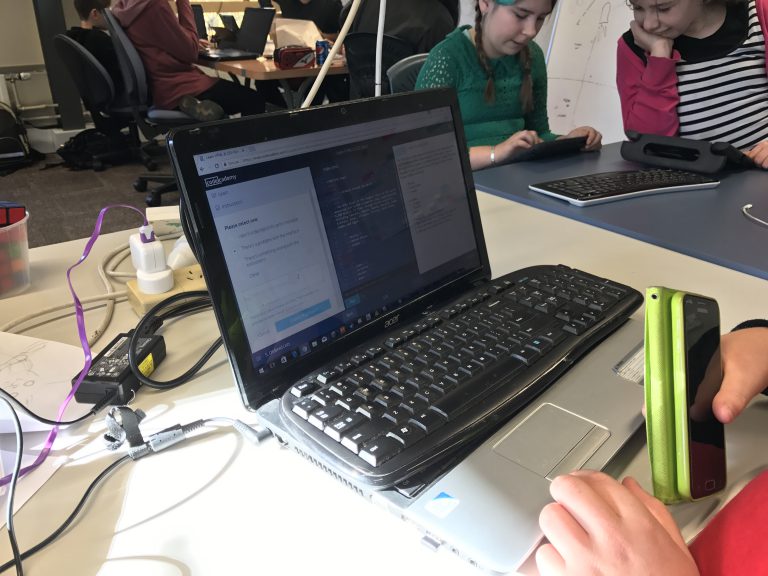 Evan Ritchie finished his first HTML and CSS tutorial this week and got started on the next one.  Keep going guys!  Great stuff!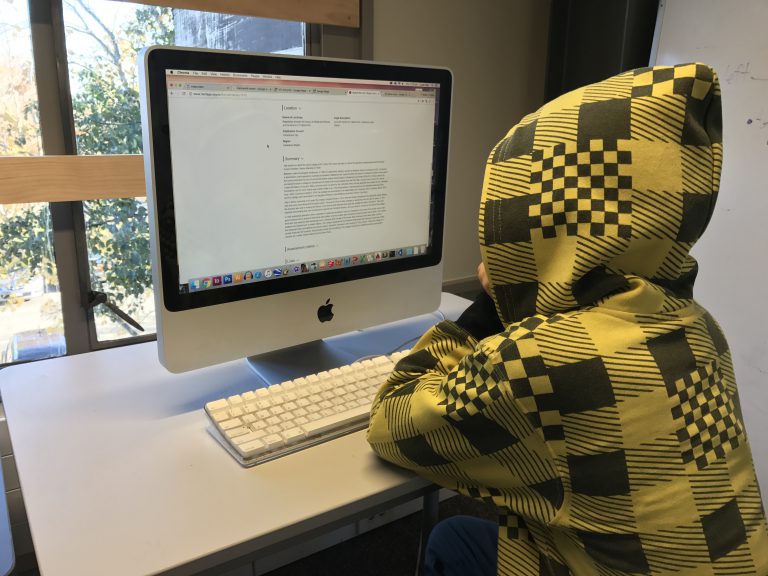 And another persister!  Hugo Cunninghym has made awesome progress with learning HTML and CSS and is putting his skills into practice.  Hugo made his first webpage from scratch and is researching information about a heritage building in Christchurch so he can make a website about it.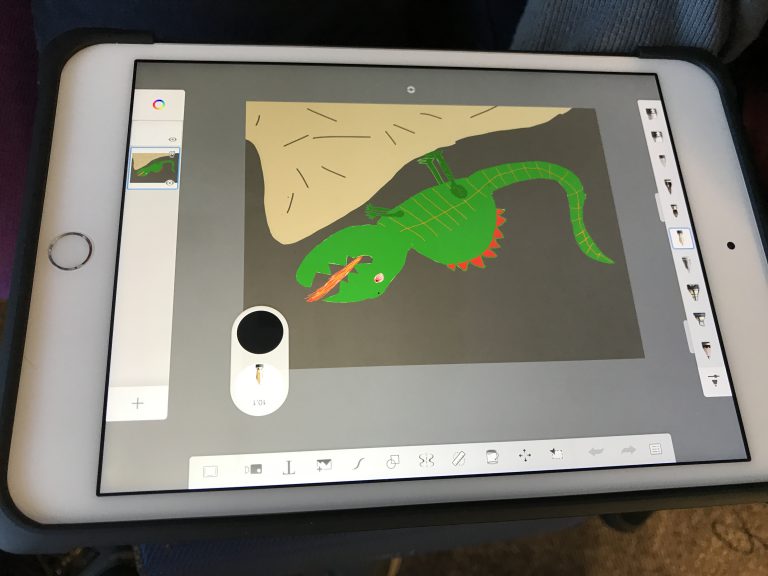 Oscar Henderson is learning to use SketchBookPro and designed this cool character!  It's a Leafosaurus!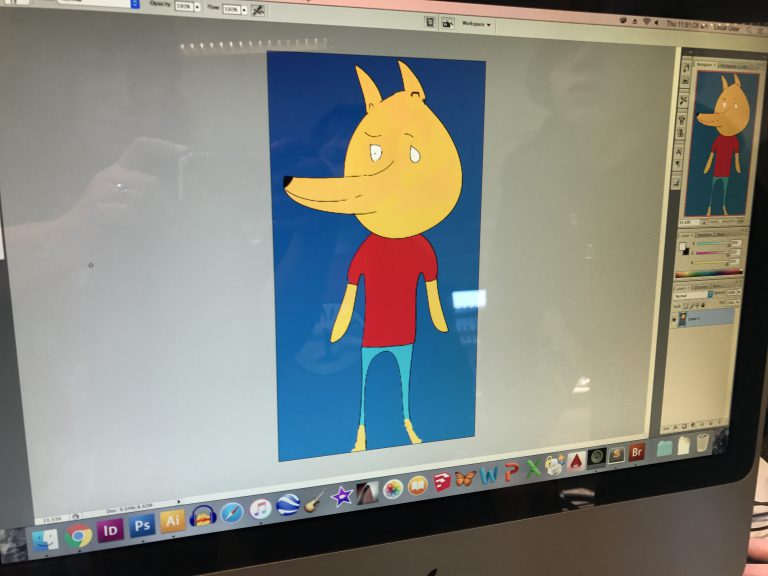 Jake is learning to use Adobe Illustrator, Photoshop and Autodesk SketchBookPro. His goal is to create his own original characters and animate them.  Love this fox!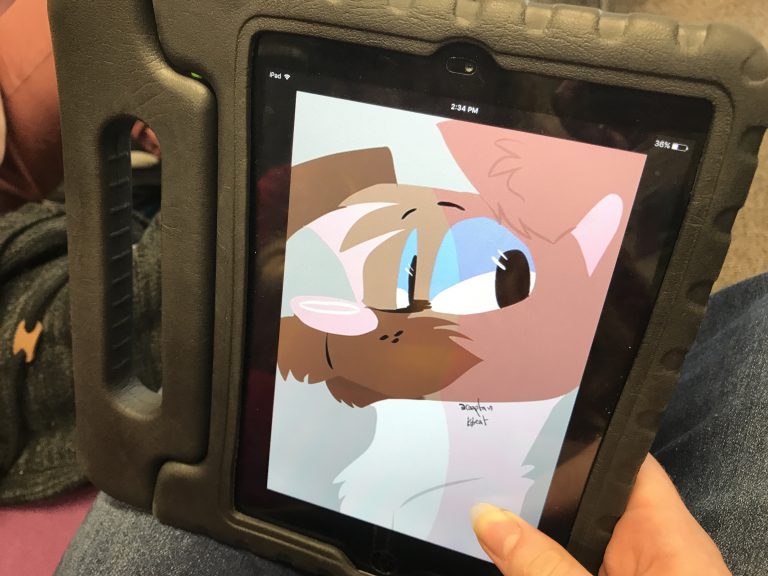 Kitty continues to impress with her drawings and yes, they just keep getting better and better!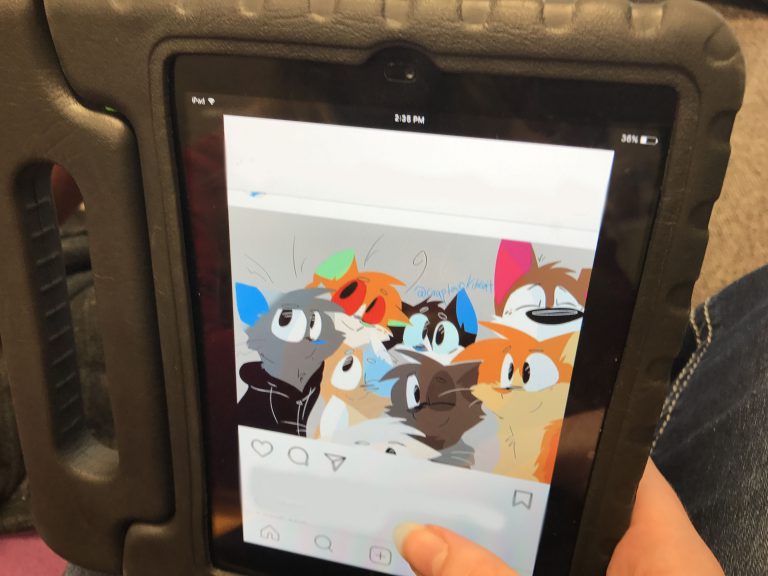 This is sooooo cool.  Kitty has drawn all her friends in Kohknowco Lab, as cats.  Very cool.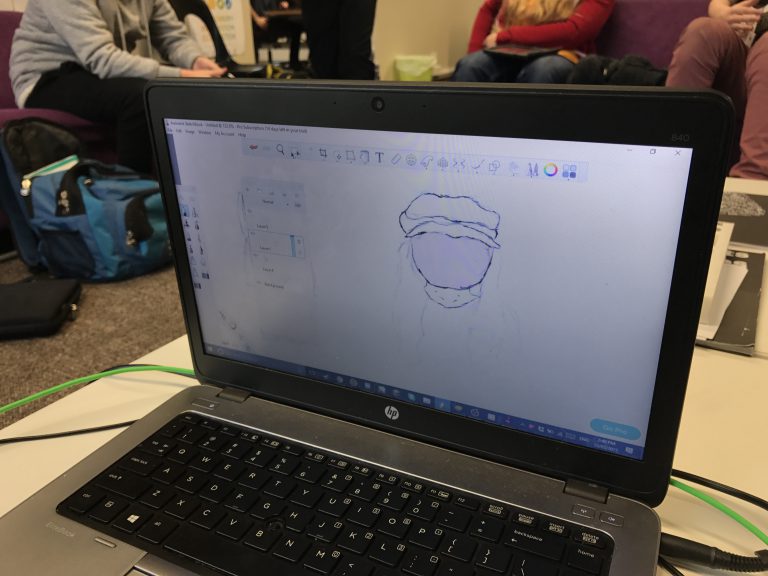 Silas has been working on his artistic skills using AutoDesk SketchBookPro.  I'm loving his work and it's great to see him developing his own style.  He has also been helping others with asset tips and Educational License downloads.  Thanks Silas!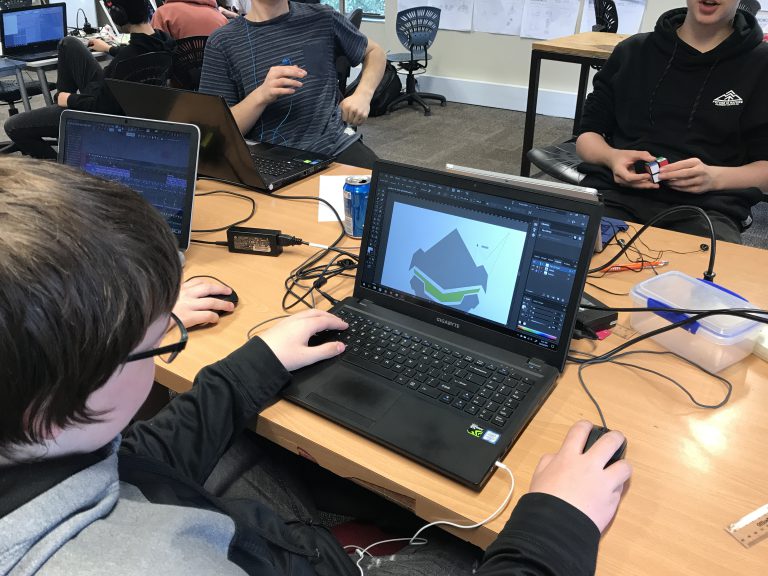 Tobiah is learning how to use Adobe Illustrator to design his own stencyls.  He's going a fantastic job so far!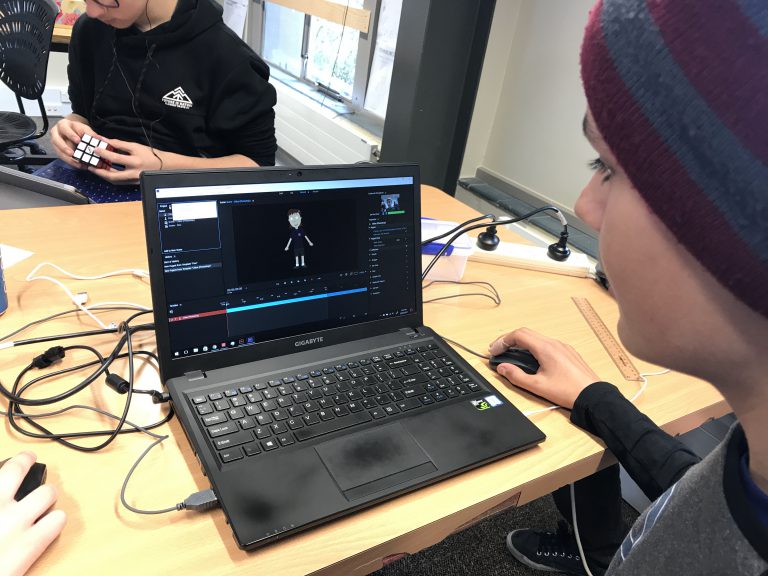 We decided to try out one of Adobe's new offerings – Character Animator.  Looks like a lot of fun!  It didn't run very well on our old school iMacs so Tobiah put it on his laptop and Wiremu took it for a spin.  Character Animator can track your facial movements through the camera and assign the data to your character drawings, making animating a whole lot easier!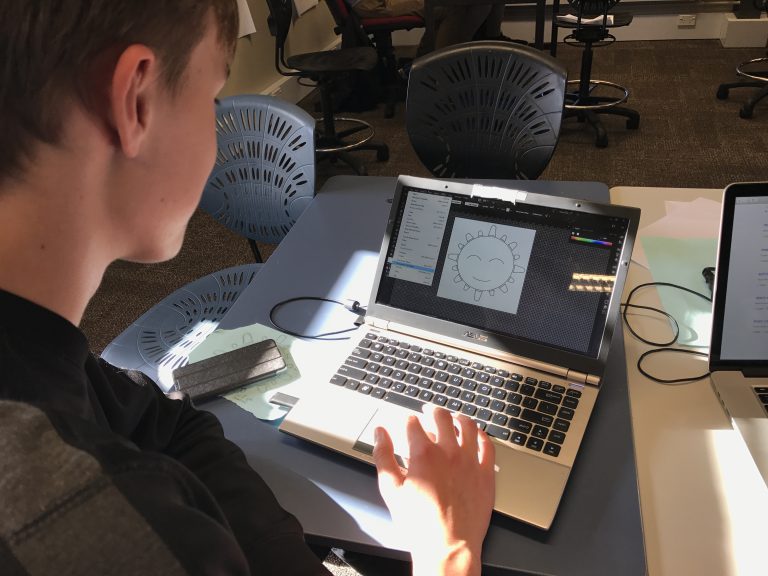 Here's Ben working on a vector image for the Sunny App.
Kaleb O'Donnell and Ashlin Inwood are making progress with our server and managed to get authentication working – yay!  Kaleb tested the feature for Ashlin and didn't manage to hack in so all is good!  Ashlin has also created a file sharing program and Kaleb is building a 3D file sharing tool.
Events
TECH STARS // STARTUP WEEKEND CHCH ::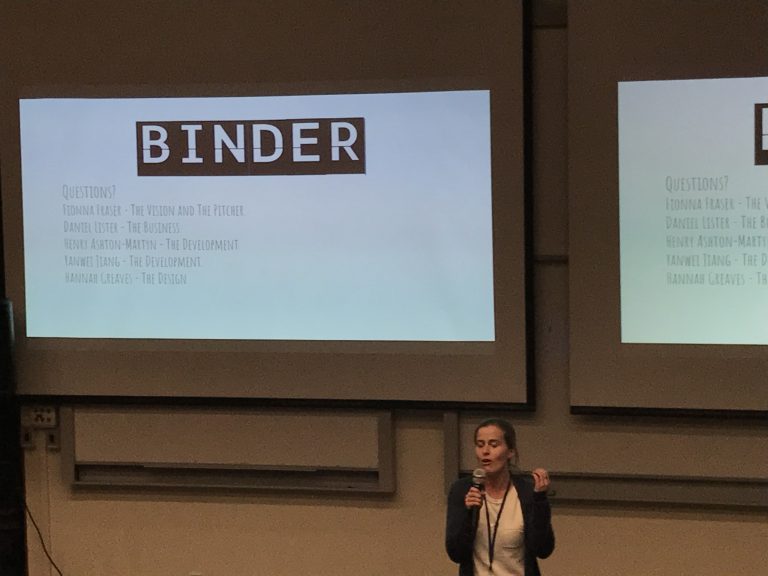 Last weekend I attended Startup Weekend Christchurch with a sponsor company.  Startup Weekend runs from Friday night through to Sunday night.  Participants sign up under the skill title of "Developer", "Designer" or "Business" and on the Friday night, anyone can pitch an idea for a problem they would like to solve.  The ideas are then written up on A3 sheets of paper and people vote on the ideas they'd like to work on.  Once the teams are formed, everyone spends the weekend developing the ideas, validating, designing, coming up with a business model and financial projections and creating a final pitch that is presented on Sunday night in front of the participants, mentors, members of the public and a panel of judges.
This year's winner was "Binder" – a website/app that aggregates all the services you need to plan a wedding.  Runners up were Buzz Keeper (security for Beehives) and Freeze Your Glass Off (windscreen defrosting device). One of the teams that caught my interest was "iwan2be" who were pitching an AR/VR experience app for students to experience different careers.  Wouldn't that be cool?!
Guess who I caught up with at SWCHCH?  None other than ex-Unlimited students Stefan Hoffman and Ashley Stanbridge!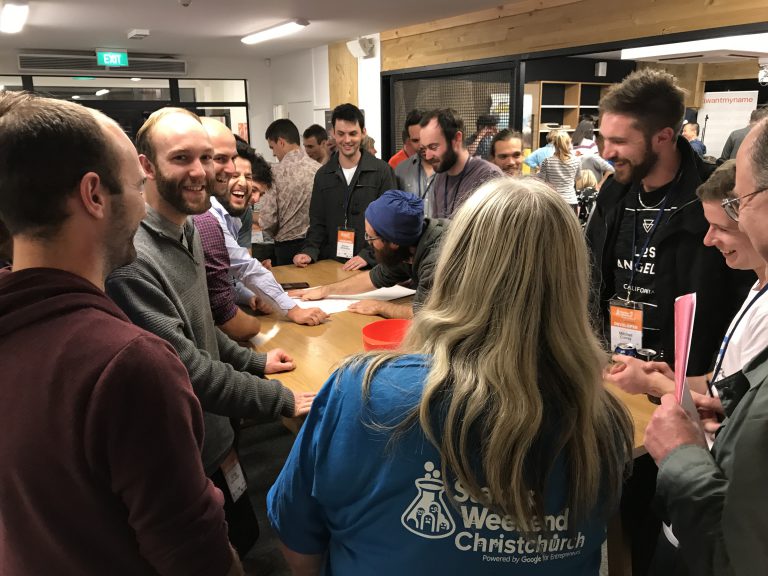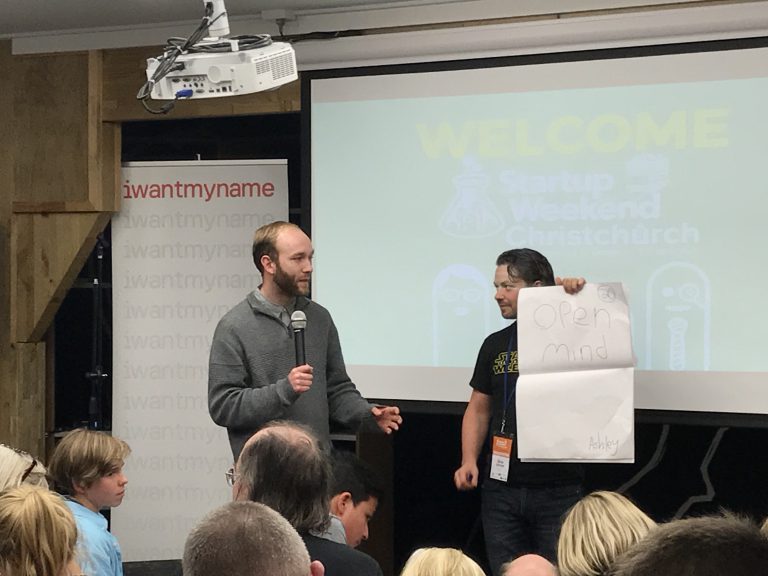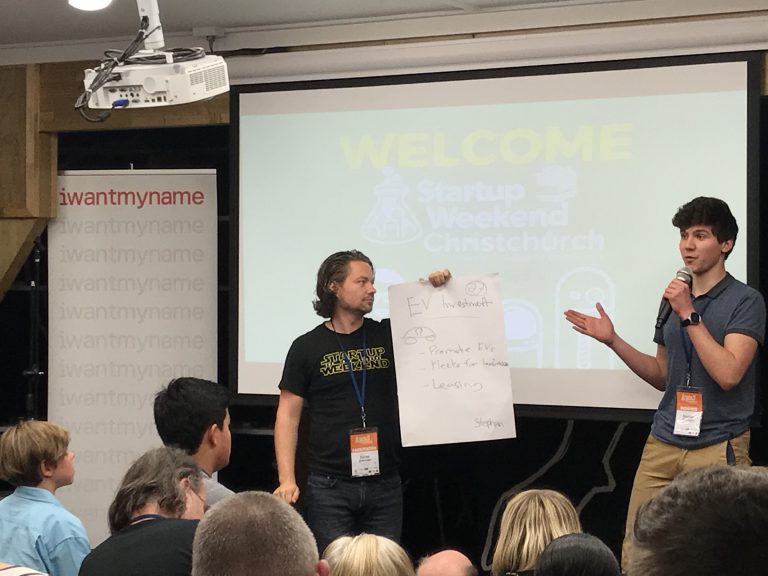 Visitors
TOM WILLIAMSON // INDIE GAME DEVELOPER ::
This week, we had a visit from artist and budding indie game developer, Tom Williamson.  Tom is learning to make his first 2D game to highlight his design and artist skills.  We had a sneak peak at his first prototype and will be testing the game as he progresses!
Renea Mackie – Kohknowco Lab  
Prosillio Updates
The Jungle Queen Production
On June 20 – 21 at 7pm, at the Elmwood Theatre, Prosillio students will bring you their production of The Jungle Queen. The Jungle Queen is a thought provoking, gender bending stage adaptation of Disney's animated film, The Lion King. It includes some amazing song and dance performances too. The Jungle Queen is directed and produced by year 12 student, Anna Menzies. Further information on how to purchase tickets will be advertised soon.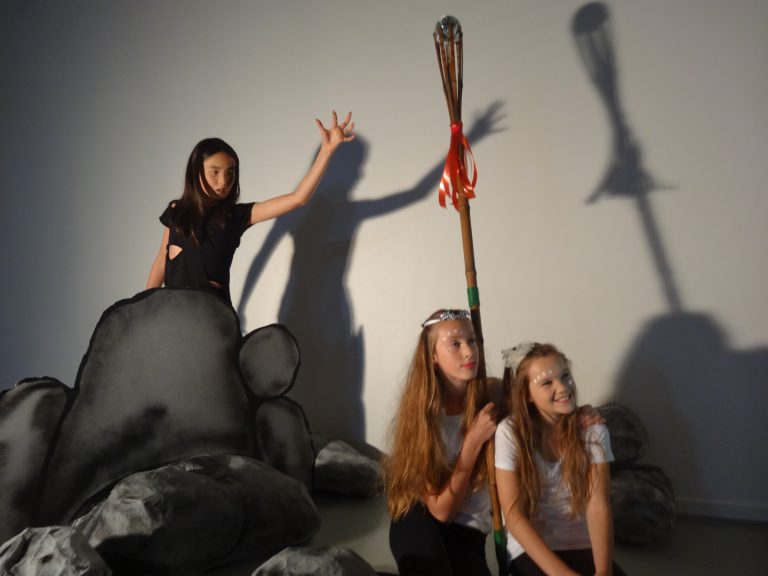 Women's Rights Inquiry Project
A group of five students in the Prosillio program have designed an inquiry project on the topic of women's rights. They are investigating women's rights within some key contexts, such as education, sport, income, etc. They hope to compare and contrast men's and women's opportunities within these contexts, and identify historical reasons for any significant differences. As part of their project, the group designed and carried out a survey with other Prosillio students. They read out the various occupations, and then asked the students to draw what they imagined when they thought of those occupations. They analyzed the students pictures, categorizing them into three groups: representing women, representing men, or not clear which gender represented.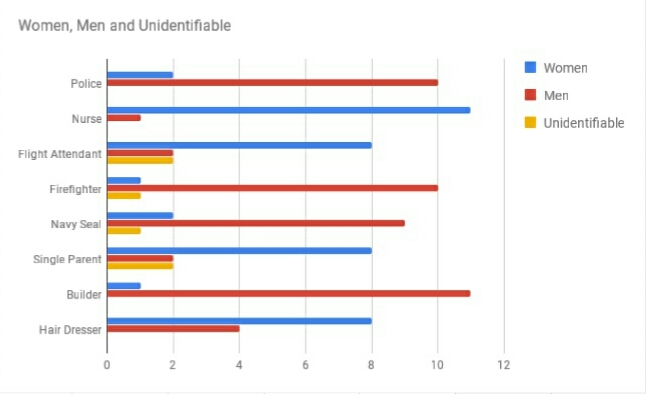 Make Up Art Project
Prosillio student, Lucy Worley (year 8), has been working on a make-up artistry project. Every two weeks she produces a new design (inspired by online make up art tutorials), plans, sketches and colours the design, before producing it on a live model. So far she has completed two designs, Cracked Doll, and Classic Doll. Lucy is videoing and photographing all of her work and writing reviews as she goes, so she will be able to make a presentation at the end of term 2.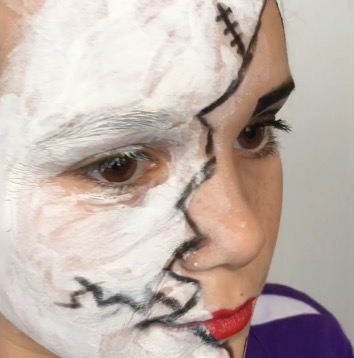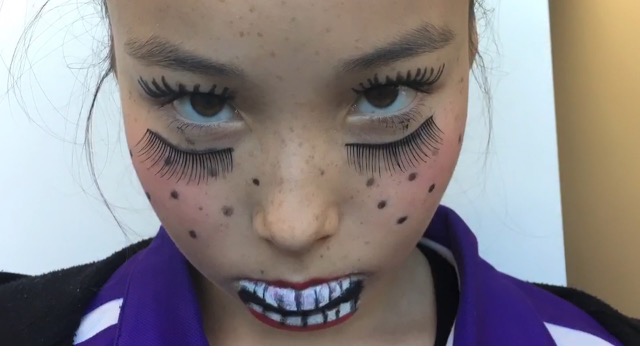 Nat Woods – Learning Advisor
Other Notices