---
Upcoming Events
Term 3, Week 3: Starting Monday 5 August 2019
Wednesday 7 August, 8.15am: Breakfast Club
Friday 9 August, 11:15am: Attitude presentation to year 11-13
Term 3, Week 4: Starting Monday 12 August 2019
Tuesday 13 August, 5.30pm: BoT Meeting, Level 1 Meeting Room
Wednesday 14 August 8.15am: Breakfast Club
---
Messages
Message from Duncan
Welcome to term 3
I hope you all had a fantastic break over the holidays and that you have now settled back in for a new term. With Steven on sabbatical for all of term 3 there is a slight shuffle and new look to the leadership team.
I will be Acting Director for the term, Kay will move into the 11-13 Deputy Director position and Sarah Marshall and Kate Armour will take on the 7-10 community leader role.
I'm looking forward to the opportunity to fill this role for a term. I'll be based on the ground floor and I'm always up for a chat if you're in the neighbourhood.
Car Parks
Please be mindful that the parking outside the school is designed for delivery, and disability purposes. We have had a growing number cars parked in and around the school and at one stage last week caused Mollet street to be blocked. This is a public road and provides access for our neighbours.
Interviews
In the first week of term we interviewed new families for places in years 7 – 13 for 2020. We had a huge number of interviews with some amazing families who really want to be a part of our community. Even with roll growth occurring we have been forced to ballot at most year levels. It's terribly sad to have to let young people know that we don't have a space for them. It's a real reminder of just how privileged we are to be part of such an amazing community.
Managing National Assessment Review
On Wednesday we had our Managing National Assessment review (MNA). This review is conducted by NZQA as part of their process for ensuring that we deliver robust and quality assessment opportunities.

We have a couple of small things to work on, but the general feedback we received was incredibly positive. The most pleasing for me was how evident it was to our reviewer that our assessment practices are a reflection of our special character. The strength of relationships and the quality of our learning advisors practice were repeatedly referenced in the verbal feedback we received.

Thanks to everyone who supported this review, particularly Brent for your superb work in leading and developing high quality assessment processes in our school.
Kapa Haka
I was blown away by the Kapa Haka team this week. I got to see them perform a beautiful and very moving full dress rehearsal on Friday. The effort they have put in to being ready for Saturday's performance has been immense. A huge thanks to Marz for all her work on this. Look out for further information in the next newsletter!
Duncan Woods
Message from Ian
Just wanted to share some thinking about attendance and the impact that not attending potentially has on our students and your son/daughter.
I don't want to be preachy about this, it's more some good information for us all to consider about the impact that being late to class or taking the odd day off here and there has on a students overall ability to connect with the curriculum.
I also want to recognise that we are more flexible about the way we want students to interact with their learning, so we do encourage Off Site learning days, but they are for the purpose of learning.
So here's some facts and figures to consider..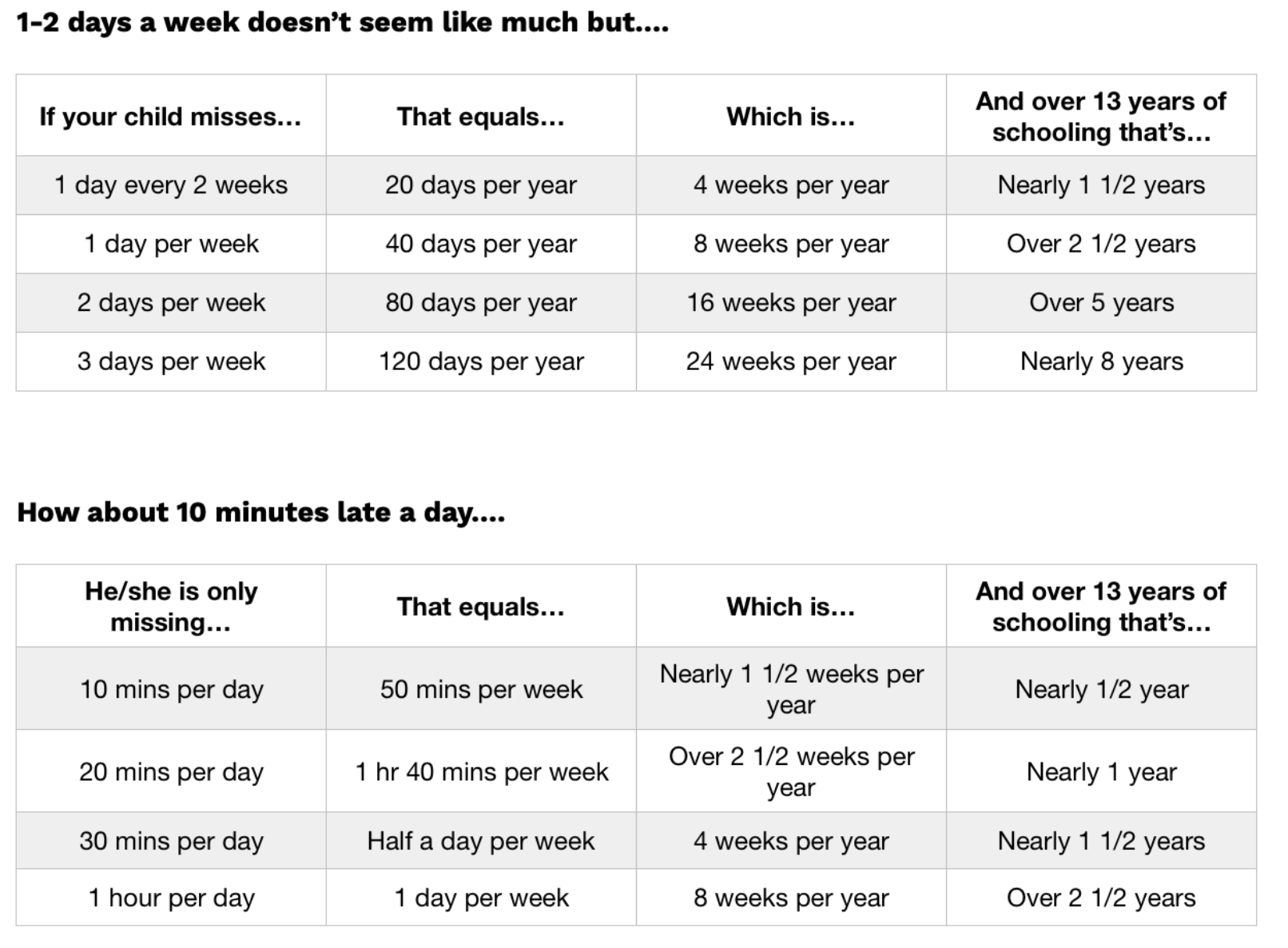 Ian Hayes – Deputy Director
Message from Niki
Kia ora whānau,
Ngā mihi nui ki a tātou katoa,

Welcome back! I hope you've had a restful and enjoyable winter break and feel ready for the term ahead. It is going to be busy and lots of fun.
Thank you all SO much for the help, words of encouragement and laughter during what was a pretty crazy term last term! Two shifts in a short space of time was never going to be easy, but we did it and just love being in our new space. We also thank you for your patience while we figured things out and for your flexibility in going with the flow.
We have all had a wonderful break, and are excited to be back in term 3 recharged and ready for a whole new set of crazy! This term as well as Mindful Movers and Music Mary, we have Flips 'n' Tumbles, Boogie Wonderland, Marrzipan, nature play, winter sport, out and about AND some awesome learning programmes happening. There will be some Celebrations of Learning and other community events too, look out for those invitations.

Matariki
Thank you to everyone who helped out before, during and after matariki. It was awesome to celebrate together in our new home for the first time, and the meaning of new beginnings was evident.
The school looked beautiful with its lights and decorations and it was fantastic to offer families a whole range of workshops. There was face painting, card making, lanterns, poi, god's eye and kite making, harakeke weaving, biscuit decorating, star gazing, lego robots, ukulele and a beautiful play space to take refuge in. Thank you to those who brought soup and kai and those brave people who performed. Thanks to Ethan for organising the sound for the performers, to Emily for organising the Green Room and Matt for supporting student performers. Huge thanks to Liz from Distant Sea Photography for recording the night, and of course, a special thanks to Emma for organising the whole event!
The links to the photos of the night are here:
https://www.distantseaphotography.co.nz/atudmatariki2019 – The password for the main gallery is Matariki (capital M)

Apologies if I have missed anyone out! We are all grateful for the work everyone committed to make the night a success.
As with any event like this, Emma and I have already begun discussing next year's matariki celebration! We are keen to create a committee of parents and students who will take this celebration and run with it. Watch out early next year for invitations to be part of organising this cool school celebration in 2020.
Cans for Good
We are collecting cans again this year, to restock the Salvation Army's foodbanks with tins of food. This year, we'd love to fill the metal 'storage' area on level 1 from the bottom to the top with cans to help out this worthy cause. Please bring in your tins (and stack them safely) over the next couple of weeks. We'll send regular reports home of how we are going.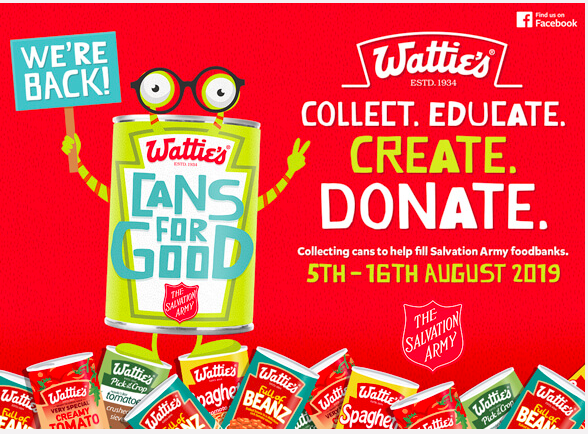 Nature Play
Began on Friday 2 August at Kimihia Guide camp at the Groynes. Thanks to Nadine, Gina, Suze and Mel for organising these days and for parents who support them. We all know the value of kids being in nature, and I love that we can take advantage of facilities such as Kimihia. Kate and I are looking forward to spending the day out there next Friday while the Y0-3 team are on release.
Community notice

"Guess what? Marrzipan Drama are running awesome self-confidence building sessions at your school!
Marrzipan have gained a huge reputation in New Zealand for the development of shy children, especially those with anxiety, autism and selective mutism. Saying that, this is a class for the super crazy and dramatic types too as we focus on positive leadership and social skills.Our classes focus on inner and outer self-confidence, and are super fun and exciting for children. Parents are kept up to date with weekly emails about what's been covered in class and why, as well as what you can work on at home. We have two awesome showcases at the end of every term too, so you can see your child's development first hand as they perform in one of our termly productions.
Get in touch via our website to secure your child's space for a no-obligation trial class, or call our superstar Office Team to give you the lowdown on why your child simply MUST give it a go. Head to www.marrzipandrama.co.nz and click REGISTER, or call 027 521 7352. See you there!"
Niki Stephenson – Deputy Director
Message from Kay
Hey guys. In case anyone is not aware I am currently working as the year 11-13 Deputy Director for one term whilst Duncan is the Director. I just wanted to introduce myself and let people know I am available if needed. If you need support beyond your HBLA and Community Leader then I am around to help. My contact details are kay.hayes@aotawhiti.school.nz or 021778778.
Years 7-13 – Floor 2 and Floor 3 – 3.1 PINs
Over the last two weeks students and LA's have been working together across both senior floors to create and design some learning opportunities for each other. This week was the first week the workshops took place and I believe we had 32 different options available. The majority being student led. This is the first time we have supported student led workshops across the two floors and the atmosphere was very positive. Over the next couple of weeks I have asked a couple of staff members to capture some of the learning that is happening in these with the purpose of sharing this on our website and in the newsletter. Hopefully we will have some photos and learning stories ready for the next newsletter.
Practice exams
These are in week 6 of term 3, August 26 – 30. During this week year 11 – 13 students will only be required to be at school if they have an exam. It is very important that these are taken seriously as these are used if a derived grade is needed. Students should now have a study plan in place to be as well prepared as possible. Every year we have to submit a derived grade for 1 or 2 students.
Kay Hayes – Deputy Director
Schoolwide Notices
Minecraft – Ao Tawhiti Unlimited discovery
Ryan Bottling has done an awesome job of building our school in minecraft!
Ski Trips
Hi all,
Sign up via the links embedded in the dates below for our upcoming ski/snowboard trips.
We need to confirm numbers in advance of the trip, so students who sign up but fail to show up will be charged $10 to their student accounts to cover non-refundable fees.
We are running trips to Mount Hutt on the following dates:
Thursday the 22nd of August (with lessons at 9AM)

sign-ups close Thurs August 8th
payment due Thurs August 15th
departure at 6:45am.
Early lesson time makes this ideal for first-timers.

Thursday the 12th of September (with lessons at 11AM)

sign-ups close Thurs August 29th
payment due Thurs September 5th
departure at 7am

Thursday the 19th of September (with lessons at 9AM)

sign-ups close Thurs September 5th
payment due Thurs September 12th
departure at 6:45am
Any student, no matter their prior level of experience or skill, is welcome to sign up. Students will be required to participate in a 1.5 hour lesson at their level, whether they are a complete beginner or experienced. Students must be on-site, ready to go at least 10 minutes prior to the above departure times. We will leave Mt Hutt at approximately 4:00pm and arrive back at about 5:45pm.

Students should have with them warm clothing, including: waterproof snow jacket and snow pants, gloves/mitts, toque/beanie that fits comfortably under a helmet, and warm base layers (preferably some polypropylene or wool material; cotton layers are not recommended). They will also need eye protection, either sunglasses or ski goggles, and some sunscreen (even in winter, you can get burned). Plenty of water, food and snacks and/or money to purchase food is also recommended. Beware it is very expensive on the mountain!

The cost of the trip is $90, which covers the cost of a day lift pass, rental equipment, a lesson pitched at your child's skill level, plus bus transport. There is a $30 option for students with their own gear and lift pass, but this does not include the cost of a lesson! If students have their own gear and lift pass, they still must pay $90 if they want a lesson. This does work out to be cheaper than buying a lesson at the regular price.
Zack Williams – Learning Advisor
Message from Jasper
Hello. My name is Jasper.I have a goal to make the learning environment around the school more comfortable using plants.The plants will help keep the air fresher and breathable, make the learning environment look nicer, and also help people focus on their work. I am looking for plants that are easy care, need little water, are ok in low light, and look really nice in a building but any donations will be appreciated. If you think you could help us by donating some plants please contact one of my LA's Kate Armour or Kay Hayes at school. Thanks
Steve's Homebase: Sports Academy
This term our Homebase has had a focus on Mental Skills. One of the elements of this unit is well worth sharing. We contacted elite sports people and asked them three questions about their approach to mental skills. Their responses were gold to us and we wanted to do more with them so they weren't forever sitting in an inbox somewhere. We decided to create a web-site to share these, and I am pleased to say the web-site is now live! Please visit the following URL to check it out.
https://stevehunt898b.myportfolio.com
Unfortunately, not all of the Homebase has had a response yet but I will add these responses as they arrive. In the mean time, I thought it was time to share what we have. Enjoy!
Message from Music Department
Hey there, I was just wondering if we could get this message put in the next newsletter? Also when that letter will be released? Thanks.

Hey everybody! Just a quick message from the music department here. Now that we're settled into the new building, we're going to start setting up lots of performance opportunities and events. These will include weekly open mic style lunchtime concerts, monthly performance nights at school and monthly performance nights around the corner at A Rolling Stone, who are very excited to have us. To keep up to date with all things Ao Tawhiti Music, head over to our Facebook page and give it a like, this is where we will be posting the details for events, along with photos and videos of music in action.

If you have any questions please don't hesitate to ask, either via our Facebook or you can email me, courtneyrose.allison@aotawhiti.school.nz

Thanks everyone,
Courtney Allison
Variety Kiwi Kids sponsorship
I am the Ao Tawhiti KKS (Kiwi Kids Sponsorship) champion which means I help students and their families to apply for funding from Variety.
Kiwi Kid Sponsorship matches a financially disadvantaged child with a sponsor to provide funding each year for basic essentials, school related costs and extra-curricular activities. Each child gets an average of $405 per year.

I have a few students with KKS sponsorship, but there may be more students who could benefit from sponsorship, so please make an on-line application, or ask me for more information or for help to make an application.
The criteria for applications are that students should be aged 4½ to 15 years old, NZ residents or citizens, and the family will be financially disadvantaged (have a community services card or equivalent income).
Please check out their website https://heartlink.variety.org.nz/ or contact me on 021795309 or at miriam.denney@aotawhiti.school.nz
Sports Coordinator News
Kia ora Team,
Please see below the links to a couple of ski & snowboard opportunities coming up. If you have any questions or would like to enter please send me an email. Please note entries close on August 9th.Thanks.
Nga mihi
Clint Williams – Sports Coordinator

Canterbury Secondary School Ski & Snowboard Championship-2019_Information_2 (2) (2).pdf(131K)
Canterbury Primary & Intermediate Schools Ski Race Championship-https://www.mtcheeseman.co.nz/newsevents/p-and-i-school-ski-race/
1-6 News
Learning through play
Community Pekapeka is loving our learning through play sessions in the morning and afternoon while maths and reading workshops are happening.
This week we were super lucky to have a family play area set up by three of our parents – Michelle, Lisa and Kate. The children have used the area for a variety of games – cafes, houses, cruise ships, bakeries.
Lego – one of our favourites! Many children have worked throughout the week in the lego space, revisiting and adding to their creations.
We have also had the box creation area for a couple of days, which was used so much we ran out of boxes so if you have any, we would love them. Level 4!
Nadine Walmisley – Community Leader
Kids Market Pins
The Kid's Market PINS was a huge success. The twelve year 1-6 students worked hard at making and promoting their products. They sold almost all of the items they made making a total profit of $21.80 each.
Additional to the new skills they learnt from making the products (craft, sewing, baking, planting, painting etc), they learnt about product quality and presentation, cost price vs sale price, total sales – expenses = profit.
Some of the children also sold items they made outside the PINS to earn additional pocket money.
We also had a stalls for children selling pet toys and activity booklets to raise money for animal care. The customer turnout was outstanding and really blew us all away. Many of our budding entrepreneurs naturally stepped-up as cashiers.
We are incredibly grateful to the Ao Tawhiti community for supporting this PINS. It made all the work worth it and left us buzzing for weeks afterwards.
This is a great example of how cooperation role modelled by parents and engaged enthusiastic respectful children supported by our community can make something spectacular happen.
Barbara Williman – parent of Eve in Y2
7-13 News
PRACTICE EXAMS
The week of 26th August is practice exam week. No NCEA classes run during practice exam weeks. Year 11, 12, 13 students are on study leave during the week and only come to school for their exams.
Year 9s and 10s who are sitting exams are allowed 2 days study leave prior to each of their exams.
Our exam conditions replicate the conditions for the end of year external exams. Therefore, during practice exams, Level 2 is off limits too all students who are not sitting an exam (with the exception of the Art room).
Please direct any questions to brent.silby@aotawhiti.school.nz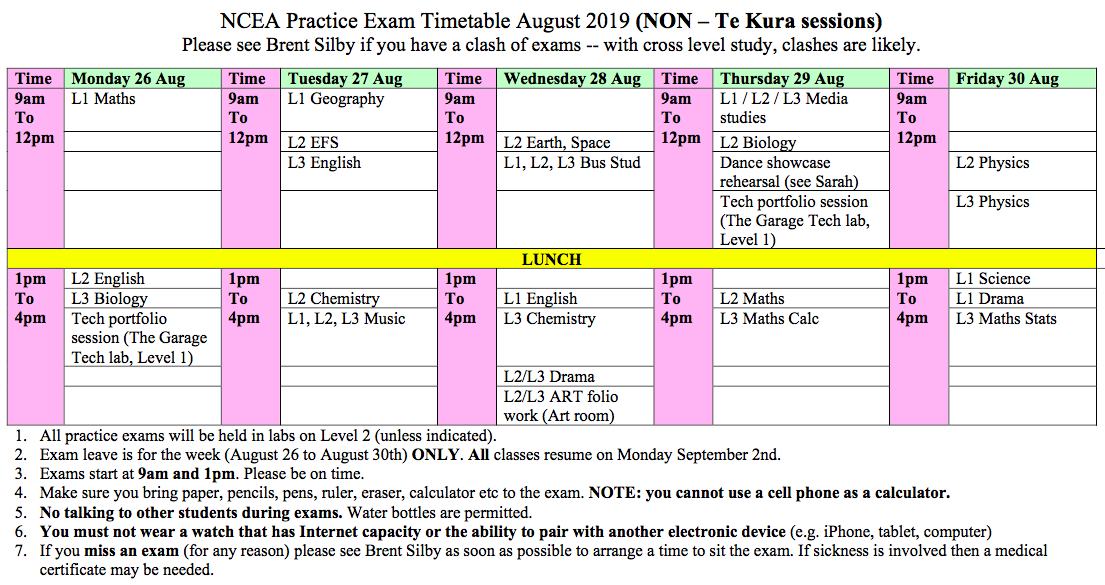 7-10 Floor News
Well we are underway for term three. Thank you for your attendance at the IEM's. These are a key part of our special character and how we create personalised learning programmes for our students.

With Kay taking on Duncan's DD role this term, Sarah Marshall and Kate Armour are job sharing Kay's 7 -10 Community Leader role. Sarah will be supporting Greg's, Emily's and Kate's Homebases and Kate will support Zack's, Holly's and Kay's. One event they are especially keen to organise is a family social evening for 7-10 families. At this stage a quiz night is looking like a popular option. However, we would welcome your ideas on anything else you would like included or discussed.

Last week we sought feedback from our 7-10 student community about their self directed learning and what we offer during our structured L2L time each day (in particular what we do on Fridays). As a result we now have workshops to support writing, yoga, financial literacy, 3D printing, sewing, turanga visits and SDL.

Sarah, Kate & Craig
Light up the city
Congratulations to Pippa Marshall! Pippa won a competition run by the Council to design an image to be projected onto the pavement in the city over winter. It is now up for viewing.
It can be found from 6.30pm outside the museum/entrance to the gardens.
There are quite a few other designs to spot around the city and it might make a fun winter evening walk for our families around the city.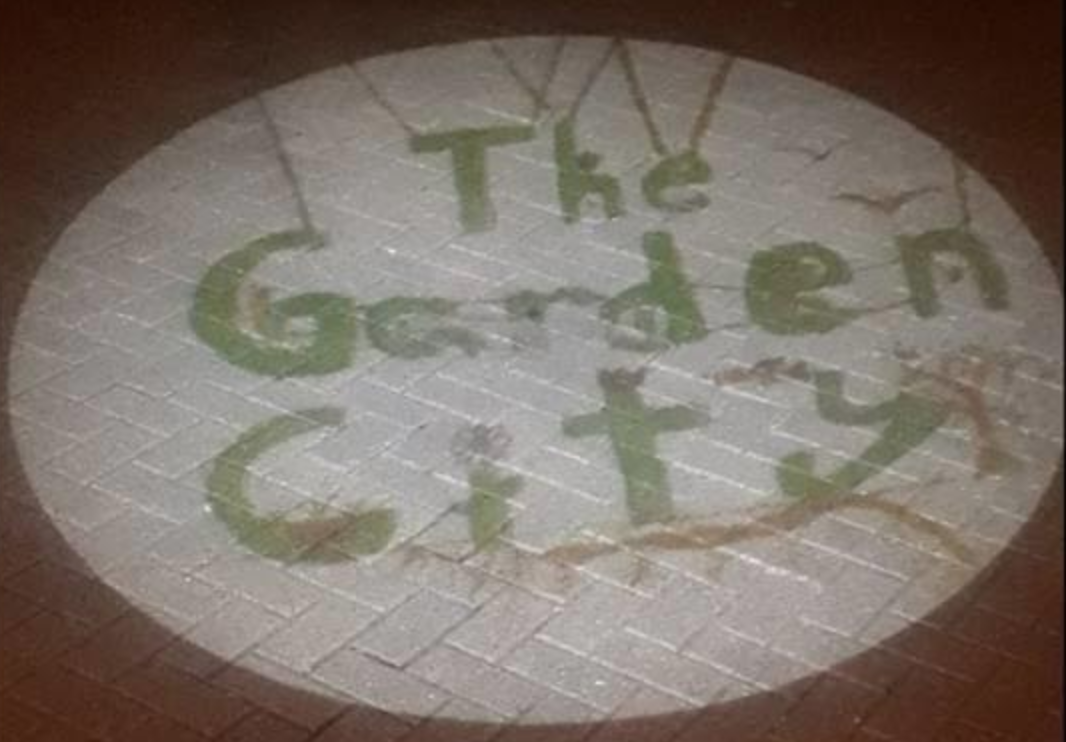 Other Notices
Facebook group
Did you know there is a parent's facebook page?
https://www.facebook.com/groups/137705816295819/
It's a "closed group", which means you have to answer a couple of questions to join.
The page is moderated by Administrators who are parents of tamariki in our kura.
The group's stated purpose is:
Purpose: The Discussion group is a place to share ideas and information, plan activities and events for the school, and to connect with one another. This group is run by parents and is primarily for parents of students currently enrolled at Ao Tawhiti Unlimited Discovery school, and the school's faculty and administrative staff. Notices about school events are shared on here by parents. Not all school events will always be shared so please ensure you are also on the official school page to keep up to date with what is shared there. When using the Discussion group, please remember to be respectful, discreet and post only on topics associated with the school. The keys to success in social media are being honest about who you are, being thoughtful before you post, and respecting the purpose of the community and every other member. The Discussion group is run by parents and is primarily for parents of students currently enrolled at Ao Tawhiti Unlimited Discovery school, and the school's faculty and administrative staff. This page is for the use of adults only. Please ensure that your children do not have access to or post on this page.
TEDxYouth
We're proud to invite your students to New Zealand's biggest TEDxYouth event: TEDxYouth@Christchurch 2019: Tūrangawaewae, taking place on Saturday, 24 August at the Christchurch Town Hall.
This event is produced by youth and is specifically for youth—those 25 and under—so the speaker lineup and topics are carefully curated to be particularly relevant to people in the 13-24 age bracket.
TEDx events are all about ideas worth spreading. Attendees will hear from comedian Ray Shipley, Crimson Education founder Jamie Beaton, orator Takunda Muzondiwa, and many more.
Please do share this opportunity with your students. Tickets are selling fast and we want to make sure Canterbury students don't miss out!
Tickets and more info available at: www.tedxyouthchristchurch.com
Ngā mihi mahana,
Hannah and the TEDxYouth@Christchurch team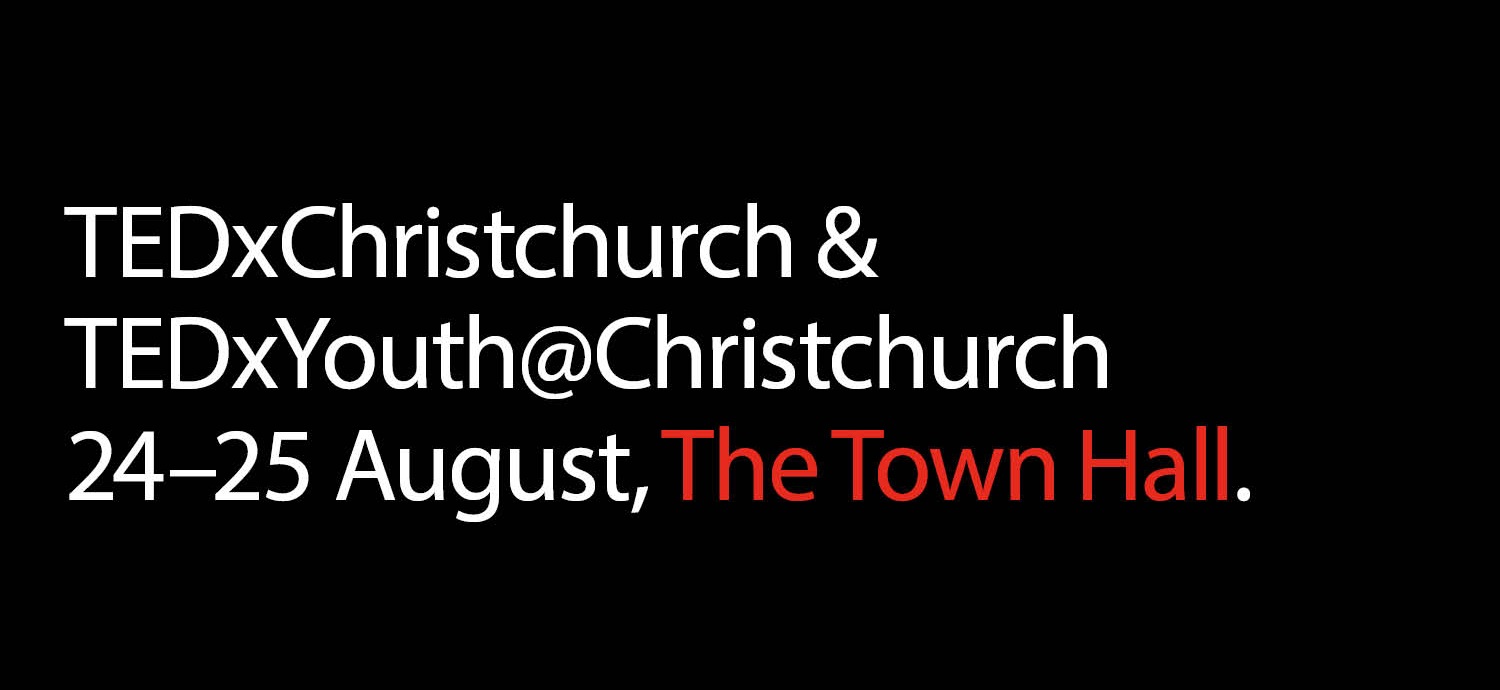 Photography opportunity
One-day photography courses with Diamond Harbour Camera Club
Learn to use your camera phone to tell a story, with Christchurch photographer Neil Macbeth
Based in Lyttelton and incorporating a visit to Whakaraupō Carving Centre
Saturday 17 August: for adults Saturday 31 August: for young people aged 13 to 18 Time: 10:15 am to 4:15 pm
Open to residents of Whakaraupō, Lyttelton Harbour: Lyttelton, Rāpaki, Cass Bay, Governors Bay, Charteris Bay, Church Bay, Diamond Harbour, Purau and Port Levy
Cost only $5, thanks to funding from Christchurch City Council's Strengthening Communities Fund
Bookings essential – contact Camera Club Chair Joan Gladwyn jgladwynnz@gmail.com, 021 213 6511, 329 4255, or find us on Facebook: @CameraClubDH
Winter Wander Saturday 3 August – Sunday 11 August
Glitterbox Pursuits is excited to be bringing a free, week long art event to the central city. Winter Wanderbrings together an art exhibition, pop up installations, an art trail and sketch clubs with fabulous models and free art supplies to liven up your lunchtimes.
From Saturday 3 August to Sunday 11 August, rug up and take a wander! Shops and vacant spaces in The Crossing, The Terraces, BNZ Centre and around Cashel Mall will be host to all sorts of artworks and things to feast your eyes on.
Take part in the Art trail by tagging #winterwanderchch in your posts and be in to win prizes!
Keep an eye out for posters and flyers or follow Winter Wander on Facebook and our website.
Children in the Screen Age
We are pleased to have the privilege of inviting you, your colleagues, family and friends, to a presentation covering one of the most pressing issues of our time: 'Screens' and their effect on human health, wellbeing and behaviour.
Friday, 9 August, 2019 7.00 – 8.30 pm, Chritchurch Rudolf Steiner School Hall
Presentation by : Dr. Mary Redmayne
PhD, PG Dip.Teach., PG Dip Env. Stud., BA, Adjunct Research Associate, Victoria University, Wellington and Monash University Melbourne, Independent Researcher,
Consultant, Wellington

Abstract:
Media reporting on mobile phone safety is generally either alarmist or 'no worries'. So what is a person to believe?
Several areas of risk when using screens and how to handle them.
A beginners guide will be given as to how devices work (transmitting microwave), and some negative effects research has shown they can have.
5G and the difference it is likely to make will also be briefly considered.
Personal and environmental microwave exposure sources and basics of what increases/reduces the energy output of those devices and your level of exposure.
Gaming and social networking are ringing alarm bells internationally, in light of links between heavy use and its impact on mental health, wellbeing and behaviour. The likely paths of effect will be explained and ways to minimize risk for young people (and their parents!).
The talk aims to equip parents, teachers and others caring for infants through to teens for informed decision-making on staying healthy in the screen age. A guide on developing good user habits and family rules for screen devices will be presented.
Thirty minutes for Questions and Answers will follow the talk.
Looking forward to seeing you there!
Hosted by: EMR Health & Safety, Christchurch
Contact and enquiries to: diedericr@tutanota.com