---
Upcoming Events
Term 4, Week 9: Starting Monday 9 December 2019
Friday 13 December: Picnic in the Gardens
Friday 13 December: Last day of 2019
School Holidays: Saturday 14 December 2019 – Thursday 30 January 2020
Term 1, Week 1: Starting Friday 31 January 2020
Friday 31 January: Term 1 Begins
Friday 31 January: Homebase selection day
Term 1, Week 2: Starting Monday 3 February 2020
Monday 3 February: Teacher Only Day [School Closed]
Tuesday 4 February: IEMs
Monday 5 February: IEMs
Monday 6 February: Waitangi Day [School Closed]
Monday 7 February: Teacher Only Day [School Closed]
Term 1, Week 3: Starting Monday 10 February 2020
Monday 10 February: Term 1.1 Begins
---
Messages
Message from Steven
Thanks
It's been an incredible year. I still find it hard to believe that we started the year in ancient prefabs on separate sites in the suburbs. To have a brand new school in the centre of the CBD and all of us together has been an astonishing achievement. I just wanted to thank all of you for making the year such an unforgettable one. Your commitment to our special character has helped our students achieve so many great things (just check out the previous newsletters). Enjoy the last week of term and I hope you all have a fantastic holiday.
School Donations 2020
Just a quick note that we will not be asking for a "donation" next year. The Government's plan to provide schools with funding should they not ask for a donation is a welcome policy.
Appointments update
It's been a busy few weeks of appointments, but we now have a full compliment of staff for 2020.
Senior Leader: Megan Taylor
CL 1-6: Gina Thompson (Fixed Term)
1-6 LA Appointments: Sarah French (Fixed Term), Beth Love-Smit (Fixed Term)
Steven Mustor
Message from Ian
PINS 2019
Over this year we have had a massive amount of people support the student with the PINs programme that we run. The success of the programme is absolutely down to the input that students, staff and parents put into the workshops offered.
We recognise that for some of you this is a massive undertaking, some people are old hats and some of you have offered a workshop for the first time. No matter how experienced you are, working with students is always a challenge.
I feel it's important to say thanks to all of you who made PINs work in 2019. I have listed all of the people who have given up their time to do this below. As you can see it's a lot of people! Over 130! Thanks!
| | | | |
| --- | --- | --- | --- |
| Abigail | Phil Ross | Larissa | Ethan Majendie |
| Alex Ross | Philippa Porter | Laura Borrowdale | Ethan Rowbotham |
| Alisha Siddique | Phoenix | Lauren Scott | Gaku Sato |
| amelia wilson | Rachael Taylor | Liana Malloch | Geni McCallum |
| Andrew dean | Rebecca Dent | Libby Boyd | George Bayley |
| Anna | Regina Dean | Lindsay Greene | George Henderson-Walshe |
| Annabel Brown | Richard McCance | Lindsey MacDonald | Gina Harrison |
| Anne Taiatini | Rob Miceli | Lisa Rae | Grace Schischka |
| Anne-Marie Beach | Rose Hubble | Livy Silby | Harmony |
| Ants | Rose Putwain Harris | Louise Wilson | Inga Currey |
| Avery Dean | Rosie Gibbs | Lucy Webster | Isaac O'Donnell |
| Ben Watkins | Ruby Hunt | M J Davis | Jaine |
| Benjy | Sahni | Marlene Te'evale-Hunt | Jasper Kibblewhite |
| Bethany Manders | Sally White | Maryam Sadeghi | Jess |
| Brent Silby | Sam Bishop | Matt Parkes | Jillene England |
| Brooke Coburn | Sam Teulon | Matthew Walker | Jo Bennet |
| Bryn Lewis | Sarah Aarts | Mattias Wieland | Jo Campbell |
| Ceri Hosking | Sarah Carson | Mel Fisk | Joachim Bannister |
| Chontelle | Sarah Marshall | Melanie Opie | Johanna Borella |
| Claire Cameron | Steve Hunt | Melva Gill | John Schischka |
| Claire Miller | Sue Beach | Mick Stephenson | Julie Burgess-Manning |
| Claudia Steinz | Susan Singley | Mitarina Tipene | Karen Grant |
| Courtney Allison | Suze Keys | Nadine | Karen Wylaars |
| Craig | Thomas MacLean | Kirsty McMillan | Kate Armour |
| Crispin Hitchings-Anstice | Vanessa Seath | Natalie Absalom | Kate Griffith |
| Dan Southworth | Vaughan Luckman | Ness Arps | Kate Horn |
| Daniel Hunt | Virginia Murphy | Ness Arps | Katie |
| Dean Harris | Vivienne Lee | Nic Chappell | Katie Cambridge |
| Debz Dunlop | Willie MacDonald | Nissa | Katrina Gardiner |
| Derek Thatcher | Zack Williams | Paige Stewart | Katrina Greenslade |
| Emilie Herruel | Zavier Keys | Kieren Guard | Kay Hayes |
| Emma Fairs | Zita Joyce | Kelly Dombroski | Keli Manson |
| Krystal Shih | | | |
Duncan Woods
Message from Niki
Kia ora whānau,
Ngā mihi nui ki a tātou katoa.
Welcome to the final newsletter for 2019! What an amazing year it has been… I have loved being in the city, exploring the possibilities and watching how our tamariki adapted to their new normal. 3 terms in and it feels like we have always been here! I am very much looking forward to 2020, the changes to communities, collaborative teaching partners and tamariki getting to use the specialist spaces in our amazing kura.
I hope you all have a great break with your awesome kids, see you next year!
Lost property
So while the lost property has been removed every 2 weeks, I have kept it somewhere safe. It felt wrong getting rid of it, even though there was so much of it. It is now, as you can see, all displayed on level 4. Please take it away! It will go to charity/ the rubbish on Friday 13th December, so come and have a look, reclaim that lost item – and put a name on it!
Parent volunteer thank you lunch
This was meant to be last Wednesday but because so many of you were helping out with PINs, I thought it best to postpone our thank you lunch so you could attend! Wednesday 11th December from 11.50 on level 1. Please come along and let the LAs show their appreciation for all you do for us, our tamariki and kura.
Surfing PINs
The surfing PINS has been a huge success with everyone being able to stand up & ride the waves in.  The students (and parents) have enjoyed it that much we are offering it again when we come back in February.
6 wks of lessonsStarting Friday 14th February and each Friday for the following 6wks SumnerWetsuit, tuition and board provided@29/ wkBack to school by lunchtime 
It's great getting into the water to cool down or just to feel the sand between the toes so if you are interested please get in touch.  Claire Cameron parent yr1-6  fluffie.claire@yahoo.co.nz
A Nice Video About Play
Emma posted this to her facebook page and I love it. Especially this bit "If you look at children all over the world they know how to play…anything that's that universal must be really essential for human development."
So if you've got 5 minutes…
https://vimeo.com/366806783?fbclid=IwAR0dbQLXHl0nZeB35qNoXatGGJuR43tibUhEDY-M77dkQc1PfzO01FTemSE
Niki Stephenson
Notices
News
Tarākona News
Kia ora Tarākona Community and Whānau
What a privilege to work with you this year! We are looking forward to celebrating our growth, success and increased resilience during a year that did feature some change and challenges! We wish to acknowledge your awhi (support) and contribution to our school and students. Here is our plan for the last week of the year:
Monday we have a 10am performance with Music Mary's student showcase, the recorder group and drama delight. Following this Community Tarākona will farewell the Y6 students moving to the Y7-13 community in 2020. Please come along to both of these events!  
Following this the Year 6's will leave with Libby, Melva and Debz to go to Burger Burger for lunch. The Year 4 and 5 students will be with Dean and Niki for a Christmas Decoration workshop or attend their regular big Project session.
Tuesday will be Inquiry presentations for those that wish to present. This term has been a busy one and we understand that time for Inquiry has been limited. 
Wednesday we plan to be out and about. We will be visiting some of our favorite places since arriving in the city CBD. Groups will visit the library, the art centre, Canterbury Museum, Gap Filler. On Wednesday afternoon Steven, Ian, Duncan and Niki will supervise the children at Margaret Mahy Playground so us LAs can finalise a few things for 2019. 
Thursday is our Community Day. We will leave the school at 9.30am to walk next door to Hoyts. The movie begins at 10.00am. Parents joining us after the movie can meet us at Margaret Mahy. We will arrive there after 11.45am. Groups will go with Libby to choose their gelato during our visit (on us). Students will need to have their own lunch and drinks, a sunhat and a spare set of clothes in case they get wet at the playground. We will provide sunblock.
Friday we will see you at the Botanical Gardens for our end of year picnic.
7-10 Community News
The year 7-10 communities are humming along nicely at the moment. We have been asked to remind students and families that they still need to bring their own tools for learning like pens and paper or devices if they have them. This is especially so for the morning classes. 
One of the new classes that we are running in 4.2 is "Tools for Learning". This class runs on a Wednesday morning with a team of 10 LAs who are each exploring different tools and strategies for learning as they rotate around the different classes. Topics include:
How to hack your brain for learning
When do you know that you know something – levels of knowing
Intelligent habits for learning
Expanding Questions
Building relationships with external providers such as the Library
Sharing digital skills
Goal setting and planning
Projects are continuing in the afternoons and progressing well. The climbing wall is getting further populated now that students have collected the knowledge and skills to start designing and creating their own climbing holds. The junior production is shaping up with lines now learnt and rehearsals going ahead. There are a heap of bicycles in 1.1 that are being tinkered with and revived, Rock Bands are forming, sculptures are forming, a Christmas market is in the planning and much more.
Finally, planning for our 7-10 Community day on the 12th December (second to last day of school) is moving ahead. Details to come but we are thinking of a small celebration at school and some shared kai before heading off to a pool for the afternoon. Then the next day, there is the whole school day at Hagley Park.
Christmas is coming!
This week Community Pekapeka have begun to feel a little bit Christmassy. We loved joining with Community Tarakona for carols led by Emily.
We also walked to Turanga to see Ao Tawhiti tamariki perform.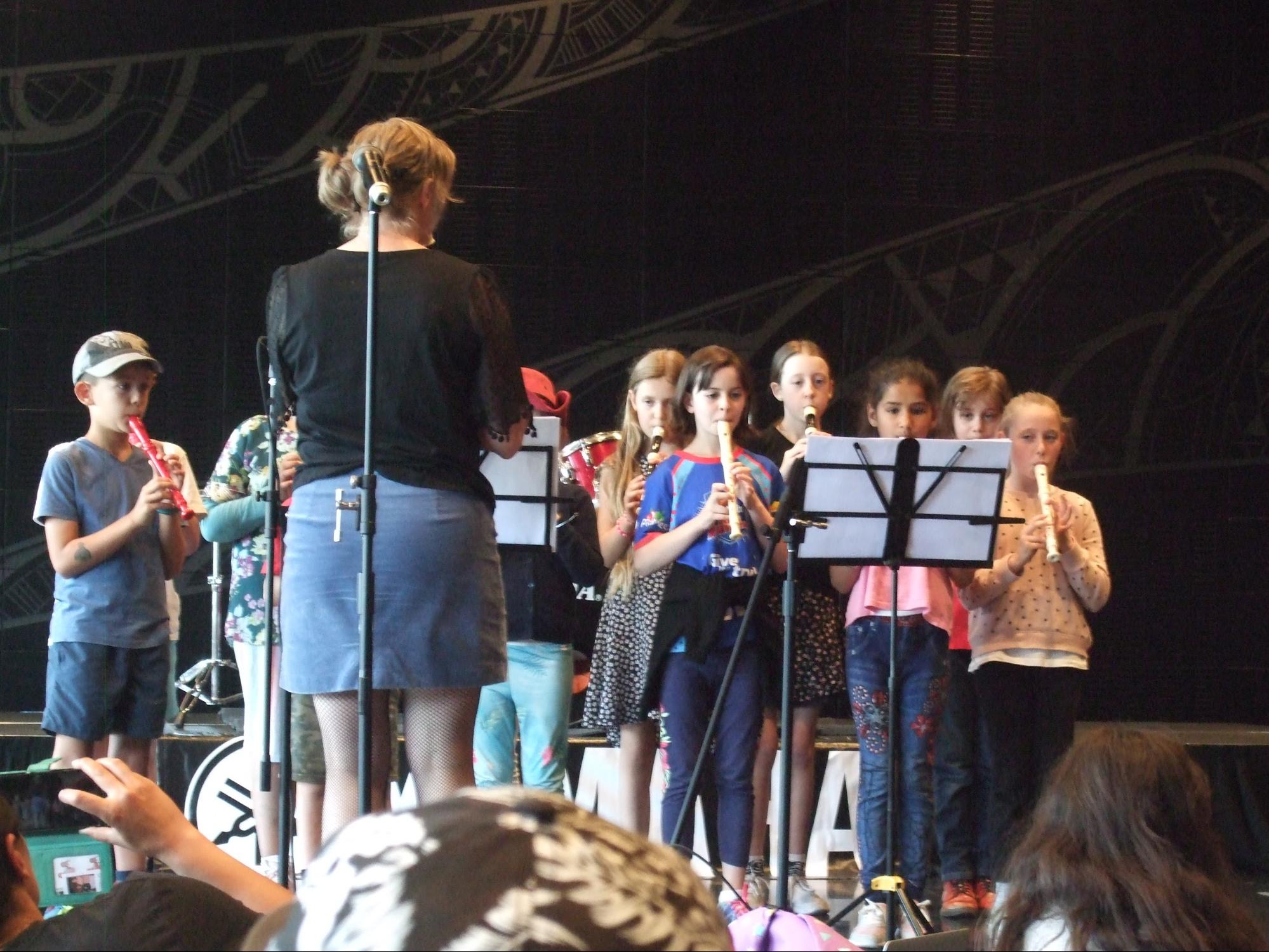 And you can't have a Christchurch Christmas without visiting the Ballantynes windows. It's so great being in town all together and having the ability to access all these great opportunities!
Profiterole Waffle
The culmination of our collaboration with Maison de Crepes has arrived! The Profiterole Waffle by Ao Tawhiti is now on the menu! It will be on the specials menu for a week or more, so please get along and give it a try. This was the winning entry from Steve's Homebase Masterchef challenge and it's amazing! Congratulations to Logan White, Dylan Dopleach and Lachlan Jansen for their stunning creation.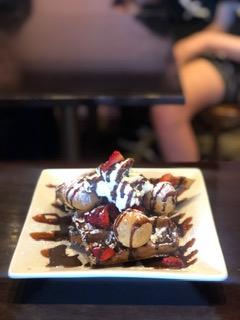 Steve Hunt
Sports Coordinator News
Kia ora Team,
It's that time where we reflect upon the year that has been & also cast an eye to the future. Over the past year we've had around 120 students representing our school in sport, when you consider our role size & the fact that sport is not compulsory, these are pretty good numbers. I can honestly say it's been a privilege to be our school sports coordinator for the past three terms, but that doesn't mean to say it's always been easy & without its challenges. Obviously the goal for next year is to build on these numbers but not just because that's part of the role, I truly believe there are so many benefits to playing a sport. 
Undoubtedly the highlight of the year for me was the manner is which our students conducted themselves whilst representing our school. The way they upheld our schools core values was inspiring! I would quit often have a tear of pride in my eye when watching our students compete. 
There have been so many people that have helped support sport in our school this year. To many to list. I believe there are no small contributions, so If you have helped in anyway please know I'm truly grateful for the support! I look forward to catching up with you all next year.
Merry Christmas Team, have a safe & happy holidays. 
Clint Williams – Sports Coordinator 
Tessa Story Book
Tessa created a picture book this year. She worked with the 1-6 community to get her 'story book order' and worked hard over the course of ten weeks to write and illustrate her book. Although the drawing of tiger after tiger tested Tessa's sanity, she did an awesome job and has a book that she'll be able to keep forever!
Beth Manders
Debate
Here are the year 7/8 debate team of Cammie, Logan and Whatuariki preparing for their second and last debate at Beckenham School on Tuesday.  In the affirmative, they argued "modern technology is lowering our intelligence." The Beckenham opposition put up some great points. However, our team put it in the bag with their research and rebuttals. Ka rawe koutou!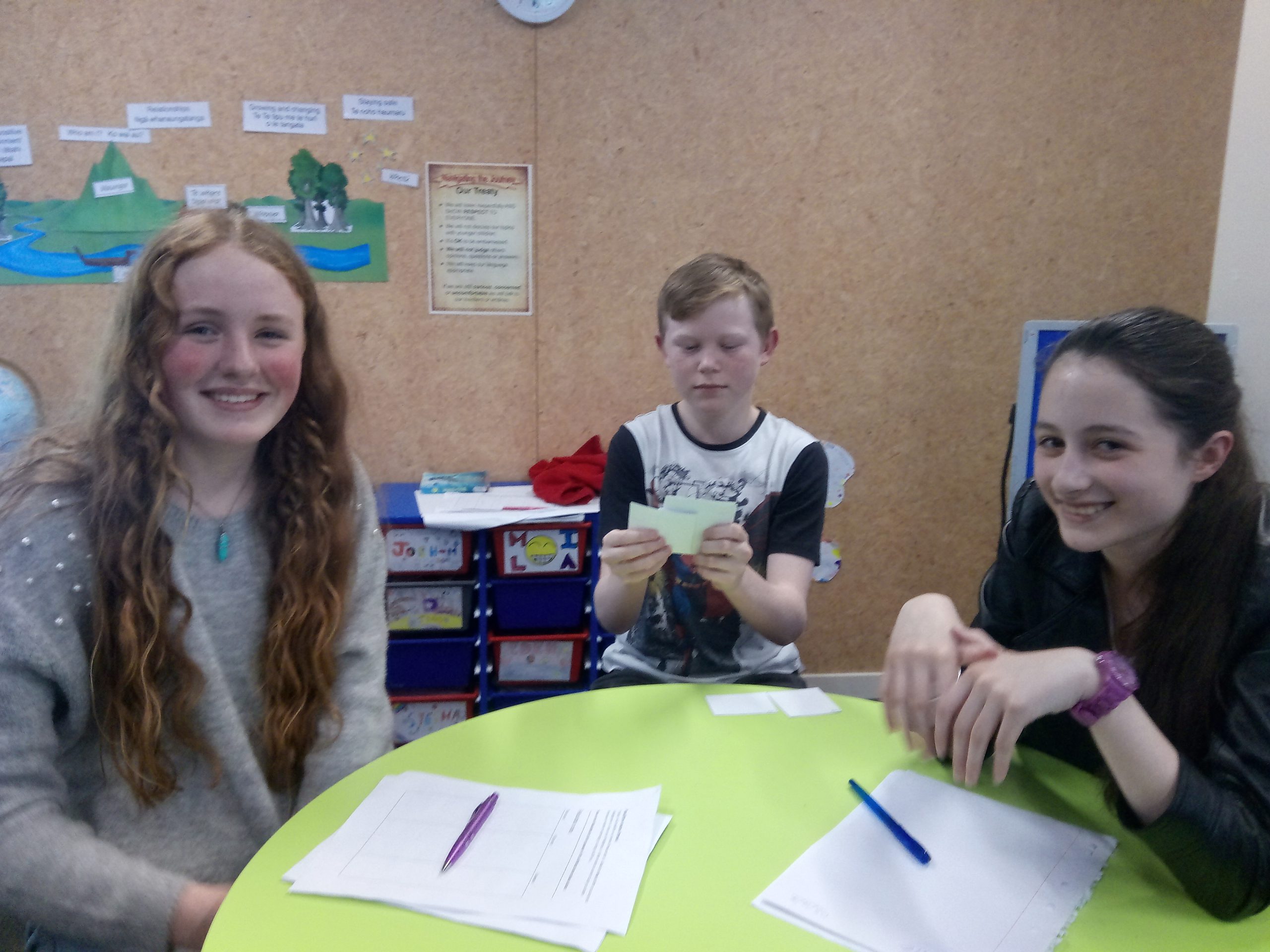 Kate Armour
AT Sustainable Christmas Market
In our afternoon project, we identified a sustainable Christmas issue such as packaging, waste, or unwanted presents and created gifts to sell in response. The result was Friday's market after school.  Students had two main aims: to sell a product which will contribute to a sustainable future and to break even (pay back their costs.) Parents paid start up costs and they will hopefully get some of their money back…we cash up on Monday.
Kate Armour
Winnies
Great end of year Homebase lunch
Steve's Hombase enjoyed a great end of year lunch together on Friday. A big thanks to Sarah and her team at Winniebagoes for the great deal they put together for us. A great way to finish the year as a homebase, great pizza with good friends.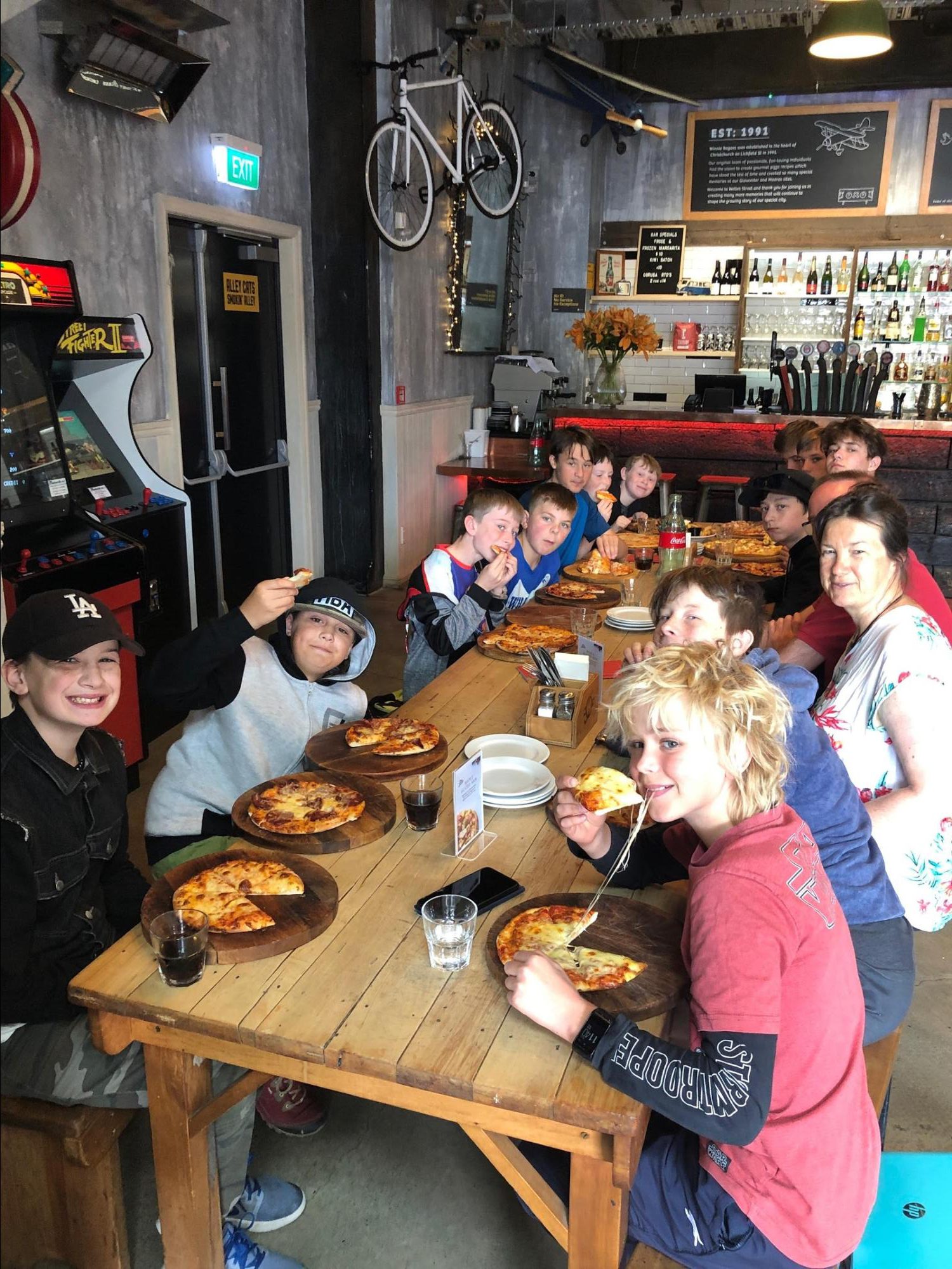 Steve Hunt
Other Notices