---
Upcoming Events
Term 4, Week 9: Starting Monday 10 December 2018
Tuesday 11 December, 5.30pm: BoT Meeting, Unlimited Campus, P12.
Wednesday 15 November, 8.30am: Breakfast Club, Unlimited Campus, Kitchen
End of year Picnic, 9am-1pm: Christchurch Botanical Gardens
School Holidays [School Closed] – Saturday 14 December 2018 – Wednesday 30 January 2019
Term 1, Week 1: Starting Monday 28 January 2019
Monday 28 January: Teacher only day [School closed]
Tuesday 29 January: Teacher only day [School closed]
Wednesday 30 January: Teacher only day [School closed]
Thursday 31 January: Term 1 Begins
Thursday 31 January: IEMs
Friday 1 February: IEMs
---
Messages
Message from Steven
Appointments update
Emily Mowbray has accepted the position of 7-13 LA (homebase / Drama). Emily is moving from Tauranga with her family. She's really excited to be joining our special character school.
Deborah Dunlop is back with us for Term 1 2019. Debs will step into the vacancy made following the recent departure of La Decouverte, having a Y4-6 homebase. Suze shifts from 4-6 in 2019 back to 1-3.
Interviews 7-13
58 interviews done. We're processing the ballot and finalising the offers. Just to put this task into perspective, we've interviewed about 270 students this year for 2019. I expect to have made about 170 offers by the end of it (and yes we have said "no" to some families for not meeting our special character). This is a massive task and I hope that the work the staff have put in here ensures that the new families are well aware of what it means to be a student and parent at Ao Tawhiti Unlimited Discovery.
Property Update – Speed limit changes to St Asaph St
Some good news for us from the council. It looks like we're one step closer to getting a 30km/h zone on St Asaph! I wasn't hopeful when basically all the submissions except mine (mild exaggeration) were opposed to lowering the speed limit on St Asaph. Here's the email.
After considering submissions from the public and hearing from the authors of an independent safety and functionality review of St Asaph Street, the Hearings Panel believes a lower speed limit would better support road safety than the existing 50 km/h speed limit.

The Panel also took into account the expected increase in people walking and cycling on these streets following the opening of the new Ao Tawhiti Unlimited Discovery School in early 2019. Further developments in the South Frame, the planned opening of the Metro Sports Facility and other new developments in the streets south of St Asaph Street in the next few years will see even more people and activity in this area and the Panel concluded a slower speed will mean a safer and more attractive street environment for everyone.The recommendation also includes introducing a 10 km/h speed limit on Oxford Terrace and Antigua Street alongside the new Outpatients building.

The Panel did not support a speed limit change on Riccarton Avenue westwards beyond Hospital Corner and the associated speed limit threshold proposed there.

The Hearing Panel's recommendation will go to the Council in January 2019 for its decision.

Jennie Hamilton, Senior Engagement Advisor, Public Information and Participation Unit, Christchurch City Council
Celebration of learning
Thanks to all the staff who got our students prepared and ready to show off their learning. Big thanks to the staff who came along to support too.
Here's a link to some of the photos / videos I managed to capture
Farewell to La Decouverte
2 years ago Sonia from FRENZ developed a plan with Ian and I to establish a french bilingual classroom at the Discovery Campus.  It was an exciting time … creating something new … in fact creating something that had not been done in the South Island before.  This is however La Decouverte's final week at Ao Tawhiti Unlimited Discovery.  Our roll and our enrolment scheme have contributed to making it difficult for La Decouverte to keep growing.  From 2019 the programme will move to Burnside Primary.  Most of the students in La Decouverte will go with them.   Please make sure that you wish them well and thank them for all that they have contributed to our school over the past 2 years.  I particularly want to thank Marie-Eve and Jean who have been the amazing LAs working with our La Decouverte students. Jean will join the students at Burnside, as they continue their journey in bilingual education.
Thanks
It's been an amazing year.  The DDs have taken the time to point out in their messages some of the highlights for them.  For me the year has been one challenge. I set myself the expectation at the start of the year that I would keep pushing us closer towards our stated special character. I feel that the entire staff has worked incredibly hard this year to create meaningful, engaging and personalised learning experiences for our students this year. It's been awesome to see at celebrations of learning, graduation and in the newsletter so many amazing stories of just what's possible when you give students the opportunity to be the centre of their learning. I'm really excited about 2019 and not just because we'll finally be "one school" in the CBD.  I'm mostly excited about where our students can take us.  I've no doubt that next year will be a continuation of the effort put in by all of you to make every day a meaningful step towards the pathway each student is on.
Allan Henderson
Most of you will already be aware that Allan has made the decision to finish up at the end of this year. Allan has worked at the school since 2007. During his time here, Allan has worked as the Specialist Teacher, a homebase Learning Advisor and, as a teacher of Legal Studies, Sociology and Psychology.

I want to thank Allan for the contribution he has made to our school, its staff and its students.  Enjoy your retirement and the opportunities it will bring.

Steven Mustor – Director
Message from Duncan
2018
It is hard to believe we're at the end of another year. It seems like just yesterday we were welcoming new families in and existing ones back. In many ways it's been a year that's felt quite different. The experience of seeing our new school building rise from the ground and command a presence in the CBD has created an excitement and anticipation that we're finally on our way home.
While school has continued as normal in many ways, behind the scenes there's been a lot of work going on as we get ready to inhabit our new spaces. After 5 years we're close to being able to operate out of the CBD on one campus. It's been a long time waiting but it's now just around the corner.
My top 10 highlights of 2018
As exciting as it is too look forward there have been a number of amazing things happen this year. Here's my top 10.
(1) Mihi Whakatau
There is always a joy that comes with seeing the excitement and nervousness as new students join our school. The possibilities that sit before them as they begin their journey with us are great to imagine.
(2) Athletics Day
This is always an amazing day. I usually find myself on Discuss and Javelin. It's such a great way to get to spend time with our students in a different setting. Plus it's always nice watching the LA team win the relay! (or coming close – at least)
(3) Homebase
I had an amazing homebase of year 7 – 13 students. We worked closely with another HB and enjoyed some great times. From clip n climb, HB breakfasts and mini COLs I've enjoyed every second of it.
(4) A4LE
In June Ian and I went to the Association for Learning Environments Conference. The conference is a mix of keynote speakers and site visits. We got to see some great spaces and speak to school leaders about how they're being used. Not to. mention an amazing presentation by Jordan Nguyen.
(5) Open Nights
These are great fun and always serve to highlight the difference we offer at Ao Tawhiti. It's a great opportunity to share with potential new families who we are and what we do.
(6) ERO
As a community we've worked hard for 5 years to make our merged school an awesome place. It was really nice to see that recognised by ERO during their visit this year. Something, I think, we can all feel proud of.
(7) Maths
I had an amazing maths class this year. We had heaps of fun (well I did). It was great getting to co-teach with Cameron, Florian and Greg. The students were an stunning group of young people who brought great energy to each class.
(8) Graduation
As anyone who has ever been to a graduation will tell you, it is a simply awe inspiring. Hearing the journeys our learners have been on and where they're going is on heck of an emotional ride. And then there was Amy and Kye's speeches…
(9) 4.2
It's such a cool time of year as the sun (supposedly) comes out, the year 6 students join the program and lot's a super cool opportunities arise. The campus always has a great feel this time of year.
(10) Colleagues
Finally a huge acknowledgement to all my colleagues, your dedication to this place is inspiring. I feel privileged to not only work in an amazing place but to be surrounded by such phenomenal people is truly wonderful.
Take care everyone – enjoy your summer. I look forward to seeing you all again in the new year!
Duncan Woods – Deputy Director
Message from Ian
Hi everyone.
Well, that's another year over! I think that's my 24th of teaching completed…which means that some of the kids in my second year of teaching who were 12 are now 35…that makes me feel incredibly old! Not as old as Steve though who turns 50 this weekend!
7-10 Orientation
On Thursday this week we had our Year 7-10 2019 student orientation morning. It was great to see so many new faces and for our current students and staff to be able to mix and mingle, work with their new Homebases and hopefully start to build some relationships. We are hoping that doing this before the year finishes takes away some of the stress over the holidays around "I wonder what my homebase is going to be like". The feedback we got from lots of the new families is that they are super excited about joining our community and they are looking forward to what this experience holds for them. One of the things I also wanted to achieve was to give our new families and students a really strong understanding of what our Special Character and Core values are and what they aren't. I spent a good hour clarifying this with them, this was supported by Kye and Oliver a couple of our recently graduated students. Hopefully this means that there is no confusion about what it means to be a student and a family here at Ao Tawhiti.
CoL
Thanks to everyone who made it along to the COL on Friday night. It was great to see so many of you there to support our students. It was also fantastic to see the range of experiences that our students have been involving themselves in over the year. I have added a link to the slideshow that a lot of the COL was presented in, obviously the live performances on the night are not included in this slideshow. 
Thanks
Finally…I really just want to say a huge thanks to everyone for their efforts in 2018. To the students, who continue to push the boundaries and challenge themselves to be the best that they can be. Who look to ask questions and develop themselves as great learners and great people that we can all be proud of. To the parents, who support the individual and diverse pathways of their children, who come in to support other people's children, and who continue to live out our Special Character. Finally to all of the staff who have an impact on our students every day, whether you are teaching them each day in class or looking after their pastoral needs as a Homebase LA. Or you are supporting them as an admin staff member…with first aid or questions about just about anything. Or you're in our Learning Support team and working closely with the individual needs of many of our students each day. Thanks again to you all, this place is a community and it takes all of us to make this happen as best it can for all of us.
Hopefully you all have a safe and relaxing Christmas! See you all next year.
Ian Hayes – Deputy Director
Message from Niki
Thank you everyone for my birthday surprise! I had a feeling something was afoot, but had no idea the magnitude of the event or the secret keeping that was going on involving the whole of the Discovery campus community! Thank you to the wonderful LAs and LS for the organisation and flowers, to the kids for singing and the cards that made me cry, and to you parents for contributing to the feast, your kind words and wishes. I felt truly spoilt.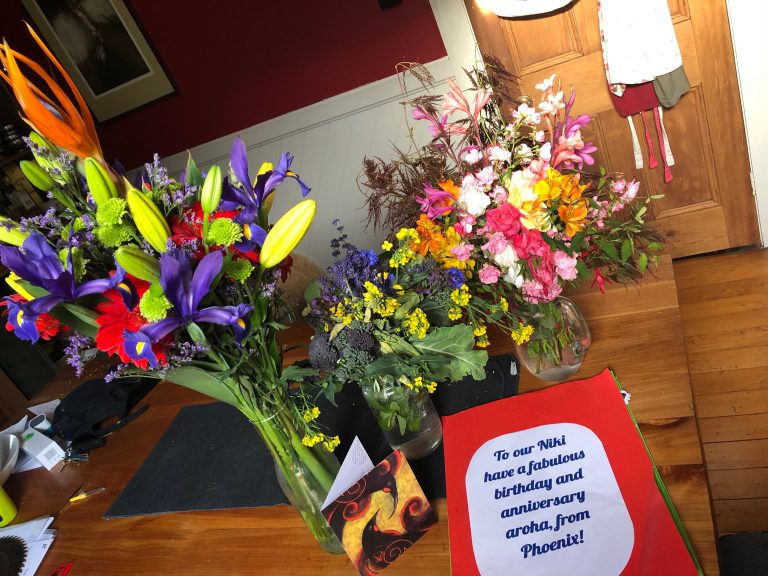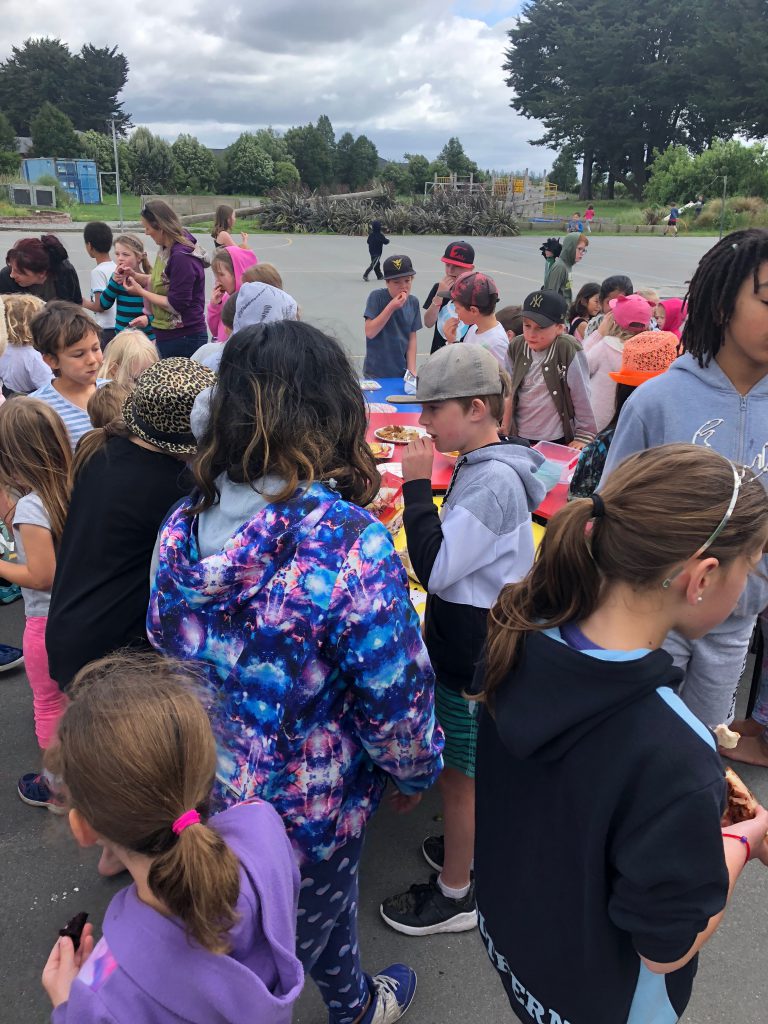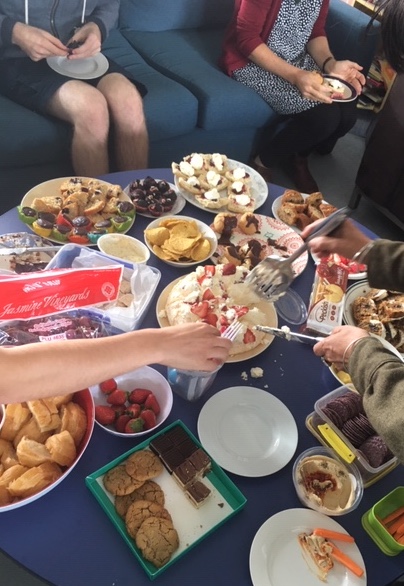 Last town day, market
Thank you all so much for your help on our town days, from getting the kids there and picking them up to taking groups and walking, walking, walking! The Mollett Street market on Friday was a great success. Walking towards Mollett Street, seeing all the colour and hearing the chatter of the kids was exciting to say the least! It is very cool to begin to think about the possibilities when we are in town permanently.
As a thank you to Penny and the staff at St Michael's, we shouted them a morning tea. Having the hall as a base has been amazing, and we are grateful to have good relationships in the community we are shortly going to be a huge part of.
Parent helper thank you lunch
To say thank you to our wonderful parent, grandparent & whānau helpers, without whom we could not do what we say we do, we invite you to lunch on Tuesday. There will be salads, savouries & slices and we would love to see you there. From 12.30, just before the….
Garage sale and skip
On Tuesday 11 December from 2.30pm the courtyard at the Halswell site will be converted into a Garage Sale. Come and buy some books/ craft items/ furniture etc and help us begin our shifting process.
We are getting a skip on Wednesday. If you'd like to come and help us chuck stuff (from school…) into it, please do!
New communities
Thank you once again for going with the flow as we made our last-minute changes again this year. We are so grateful to Suze for being flexible. She was very torn as she wanted to work with Y4-6 but is relishing the thought of being able to consolidate what she has learnt this year in Y0-3.
Please make your child's HBLA selection by the end of today, or I will place them where I think… Students will know who their HBLA is by mid-week.
Te Taura minutes
Te Taura held their final meeting for 2018 on Friday 30 November. Here are the minutes summarised:
Big Cook Up – fantastic! Thanks so much to everyone for pitching in, our freezer is well stocked now. Next year Miriam would like to have a Soup kitchen; we envision holding regular Big Cook Ups to fill the freezer full of soup to heat up every day for children who don't have lunch.
Families in need – very appreciative. Still quite a lot in the freezer. If anyone knows of anyone who needs some food, please email tetaura@aotawhiti.school.nz
Breakfast Club – going really well. Next year maybe do a roster for term 1, and from term 2 onwards for whole school. Thinking Wednesday. People are still needed to help for Unlimited campus Breakfast Club, Tuesdays. Head along if you can.
Flip Out – Thanks Vanessa, we made $75 for baking. Great night. Vanessa keen to organise other 1-13 community events, need a team. Anyone interested? We will put the call out when we know when/ what.
2019 – friendship lists/ carpooling. Liaising with Jade Arnold/ Vanessa Seath to sort these, hopefully early next year.
Invite others in to talk with us eg, Miriam (counsellor), Jill (accountant)
Fundraising. 2 events upcoming, Mollet St Fair 7 Dec, Ferrymead Christmas Village 8 Dec, opportunities to sell our eco wares.
Garage Sale at school, Tues 11 December, 2-3.30, any help gratefully received!
Finally, as the holiday season looms, and with it the threat of too much screen time, here is an article about the risks/ benefits of playing Fortnite one of our parents, Sarah Campagnolo, found. Make sure the kids get outside and have some balance:-)
Thank you for the most amazing year. I really have loved every moment and a year along still have to pinch myself at how lucky I am to be here, in this role, with you wonderful people. I'm so excited for the year ahead. Have a wonderful break, rest, recuperate, process. See you all in 2019!
Niki Stephenson – Deputy Director
Schoolwide Notices
Last day of term…PICNIC in the PARK
On the last day of term, Friday the 14th of December 2018, we are intending on having our annual picnic at the playground/paddling pool in the Botanical Gardens. This will begin at 9am and finish at 1pm. Please can you arrange to have your son/daughter picked up by 1pm from the gardens.
We will have a staff member walking from the Bus Exchange at 9am to the park and then returning to the Bus Exchange by 1pm.
Your child will need to sign in and sign out with their LA at the park. If the weather is looking shaky, we will make a final call at 7.30am about whether the day at the Park is on or not.
If we do cancel the picnic we will email out, put it on the school website and put it on Facebook. This would mean that school would be open as usual at both sites if this was to occur.
If we do cancel, the bus will be available at 8.35 am for the kids to come to the Discovery campus as usual for the day, 9am-3pm.
Ian Hayes – Deputy Director
Tiny House Project
Hi all my name is Luca Parrett and for my school project, I'm building a tiny house built out of mostly recycled materials so if any of you had any unwanted wood/timber lying around please contact me on 021 254 1185 Thanks!
Luca Parrett – Student
Cookie Time Cookies
We have ordered 93 sets of Cookie Time Christmas Cookies. These should arrive no later than Monday or Tuesday and will be available for collection from both campus' offices. I will let CL's know when they have arrived.
Kay Hayes – Community Leader
1-6 News
Homebase Tuatara News
Tuatara wordcloud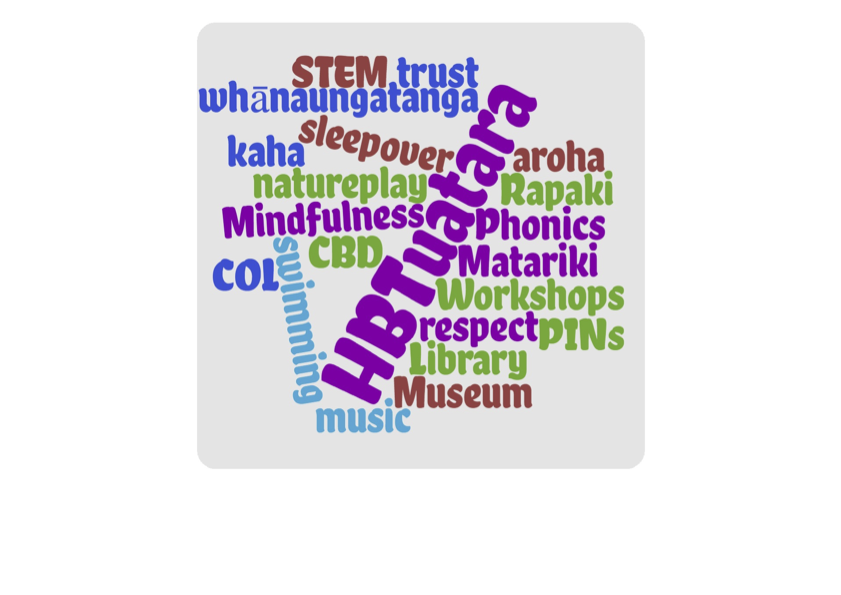 Community Transition Days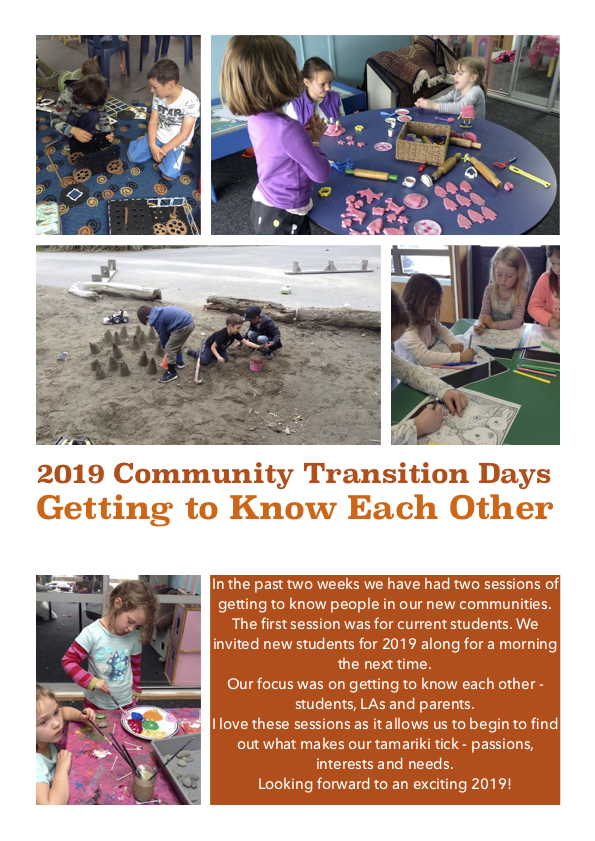 Nadine Walmisley – Community Leader
7-13 News
Mollett St Clean Up
Prosillio students, Maddie, Charlotte, and Sonia, organized a clean up as part of a sustainability project they have been working on in term 4. Thank you to Linda Keall, Manager of Keep Christchurch Beautiful, for helping out with the clean up.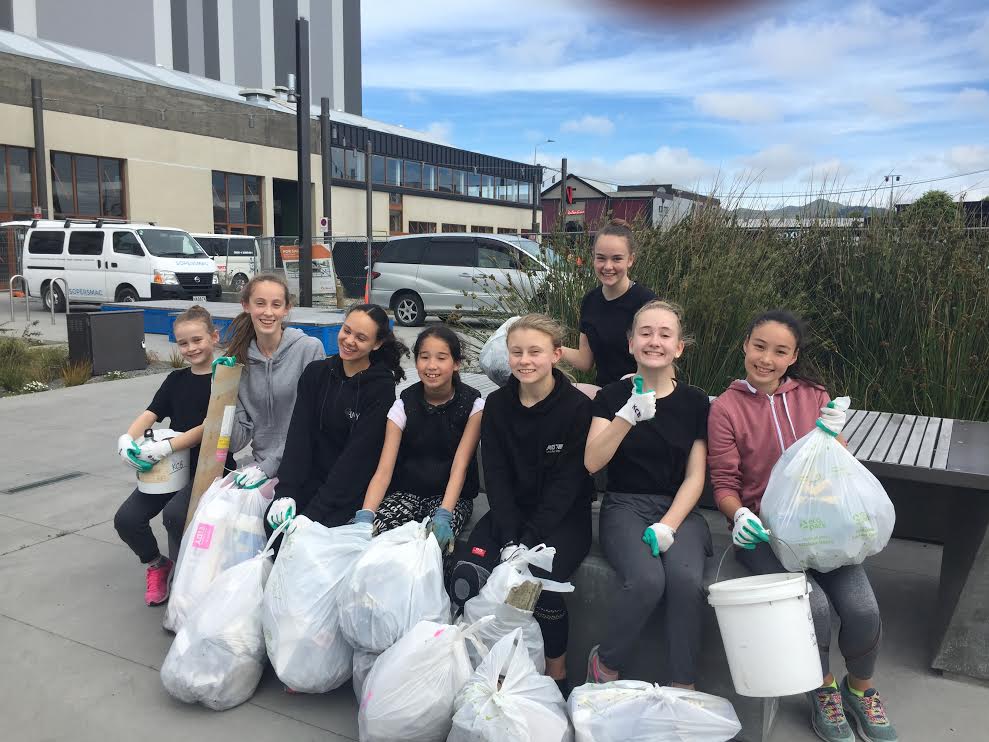 Natalie Woods – Learning Advisor
The Ultimate STEM Challenge! (4SCI)

Students in the Ultimate STEM Challenge class in Term 4.2 have been devising clever solutions using common materials and STEM principles (STEM stands for science, technology, engineering, and maths) to complex problems. See below: teams competing to fit the most group members inside the largest free-standing geodesic dome they could make, a structure that NASA has been trialing in a year-long experiment in Hawaii as a potential habitat design when humans colonise Mars.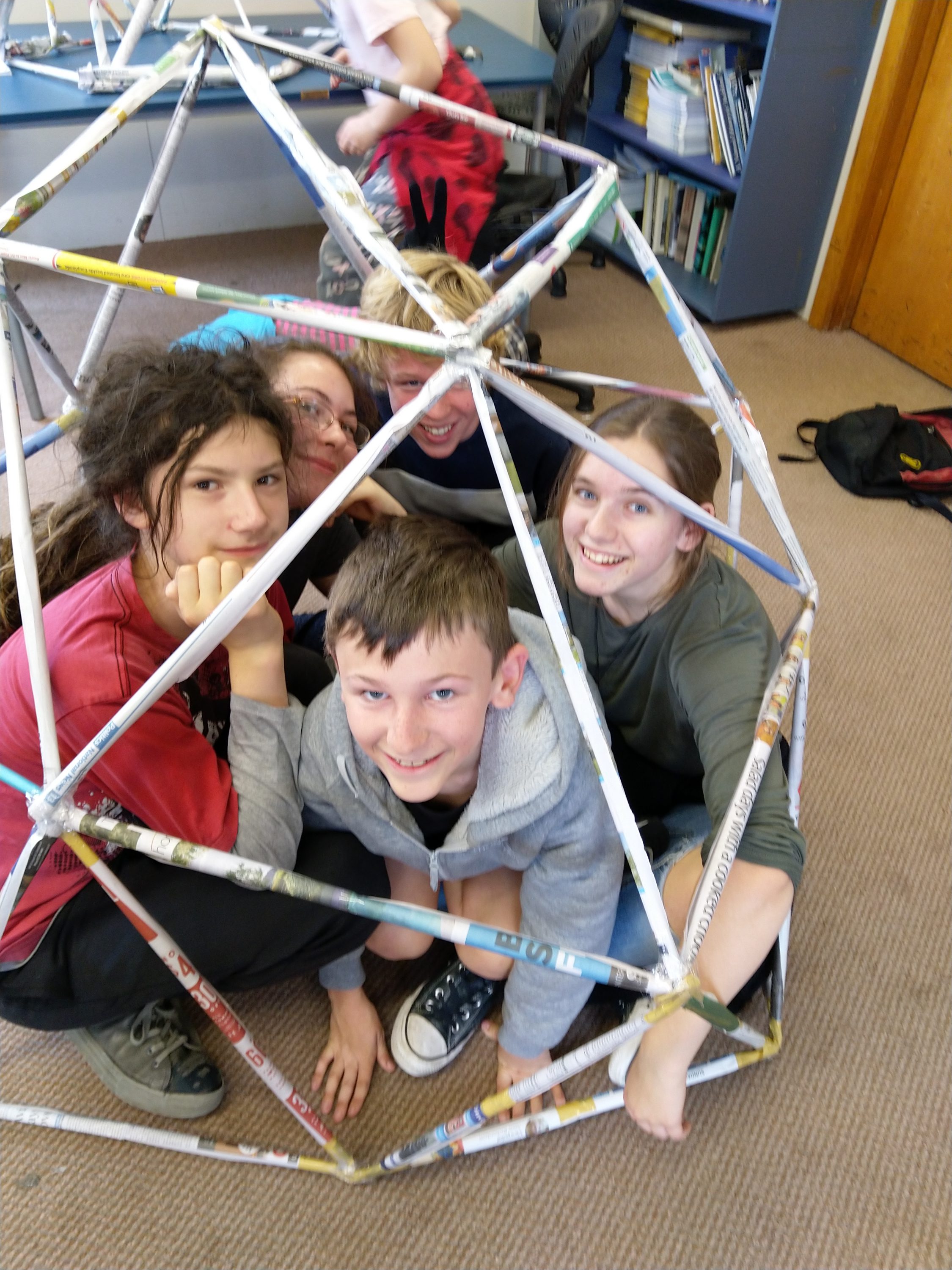 This past week, students have been investigating and designing a STEM-based solution to world issues, and getting presentations ready to pitch their idea. Whatever it is they've designed, they need to define the issue they're tackling, explain how their solution will help people, explain the STEM concepts behind it, and ensure their presentation stands out. Pitches will happen in our final class this week!
Zack Williams – Learning Advisor
Kay's Community Newsletter
One week and it's all over for the year! I think I only have two things left to remind you about. One is the community day on Thursday which is being held in town and our last day in the park.
Community Day Thursday 13th Dec
Meet at the bus exchange at 9.00am. Students will go off in groups around the city with a parent help. The aim is to score as many points as you can in the time available. Then we will meet in Matai Common for lunch before going to watch Fantastic Beast 2 – The Crimes of Grindlewald.
Students will need to bring some food with them and $5 cash. They may also need a Metro Card with money on or cash for the bus if there group chooses to use the bus rather than walk.
Friday in the Botanic Gardens
This is our traditional end of year get together which involves the whole school. On the last day of term, Friday the 14th of December 2018, we are intending on having our annual picnic at the playground/paddling pool in the Botanical Gardens. This will begin at 9am and finish at 1pm. Please can you arrange to have your son/daughter picked up or make their own way home by 1pm from the gardens.
We will have a staff member walking from the Bus Exchange at 9am to the park and then returning to the Bus Exchange by 1pm.
Your child will need to sign in and sign out with their LA at the park. If the weather is looking shaky, we will make a final call at 7.30am about whether the day at the Park is on or not.
If we do cancel the picnic we will email out, put it on the school website and put it on Facebook. This would mean that school would be open as usual at both sites if this was to occur.
If we do cancel the picnic we will email out, put it on the school website and put it on Facebook. This would mean that school would be open as usual at both sites if this was to occur.
Kay Hayes – Community Leader
Matai Common Mini MarketThank you to all the families and LA's who supported the mini market on Friday afternoon. It was fabulous weather and the atmosphere was lovely. It was nice to leave a mark on our new home and begin to take ownership of the space.
I heard that you could hear and feel the atmosphere walking up the South Frame.
Once again thanks to Laura Taylor from Otakaro Ltd who helped connect us with CCC and gain permission as well as lending us the trestle tables.
We had lots of things happening including, face painting, signing, circo arts, chalk drawing, as well as lots of stalls. 
Here's hoping this is that start of many street parties and markets run by our students.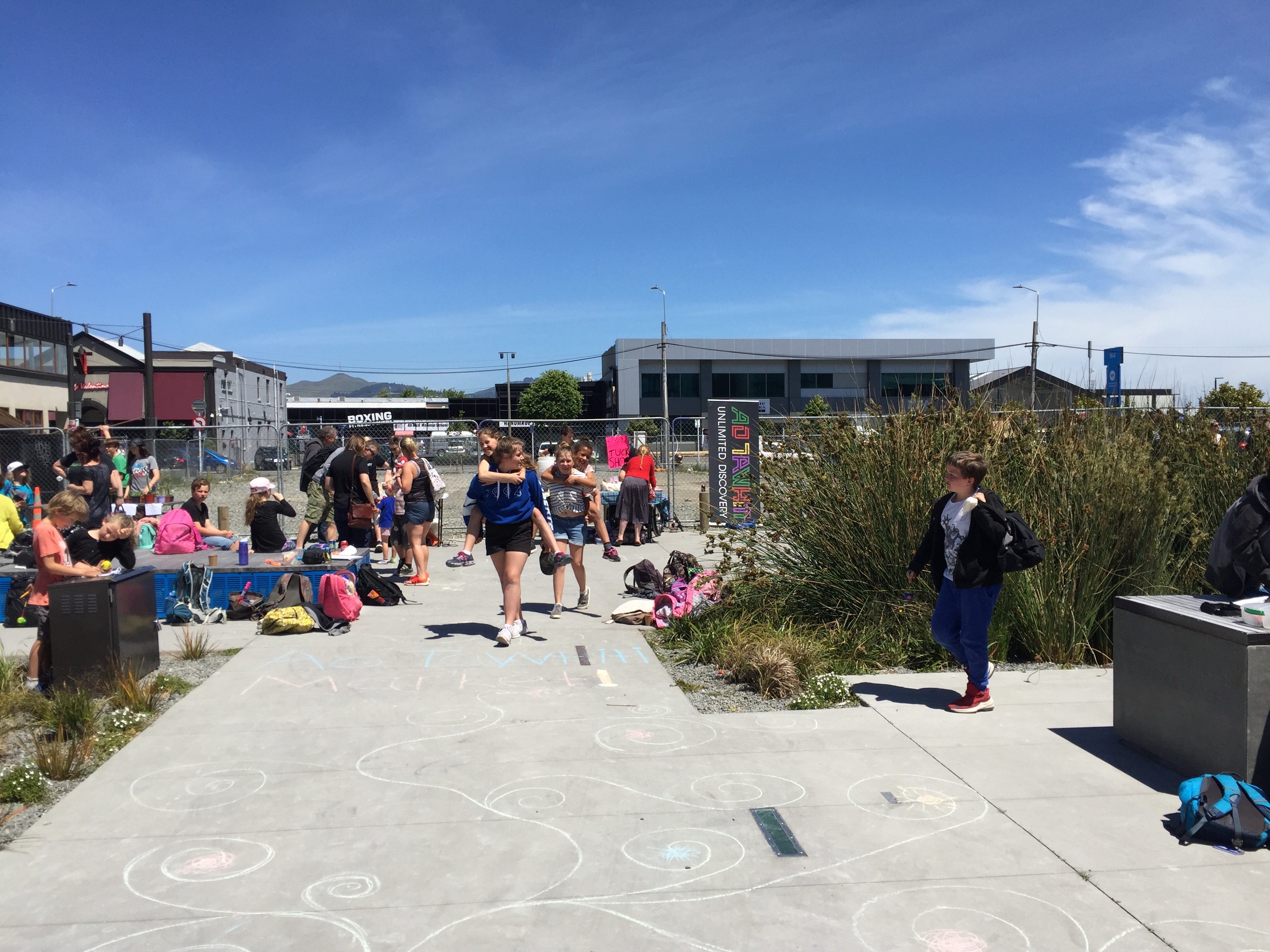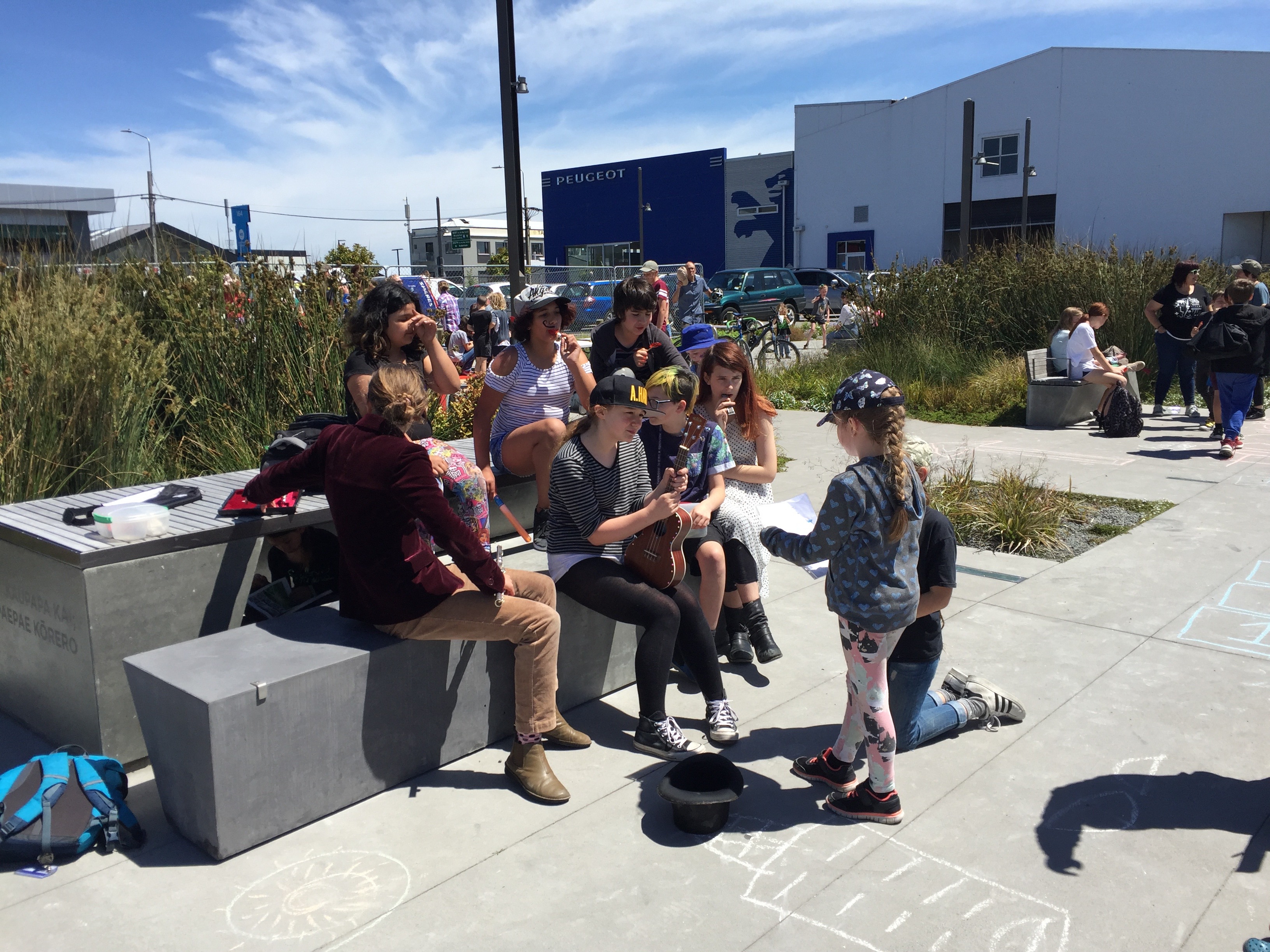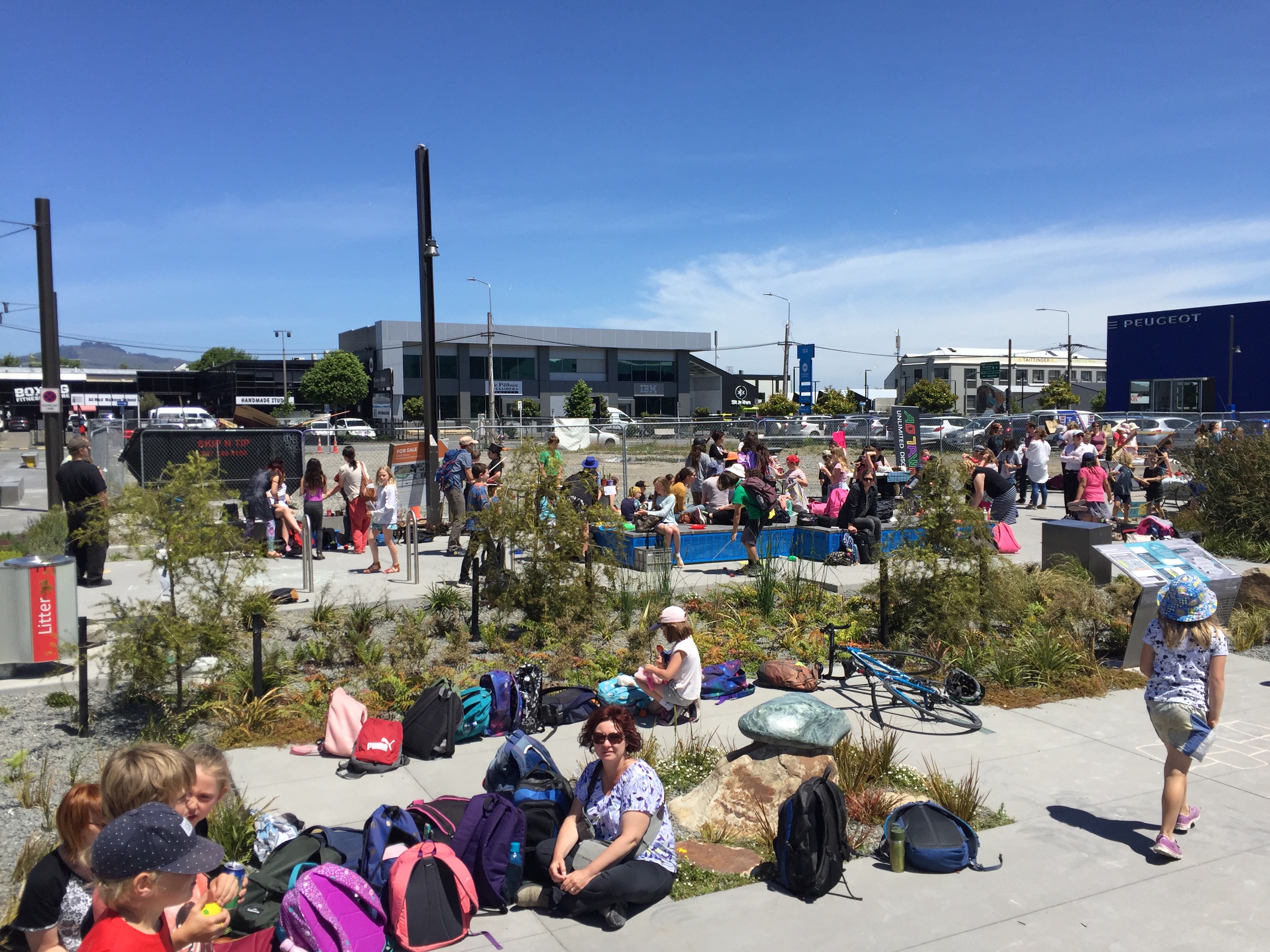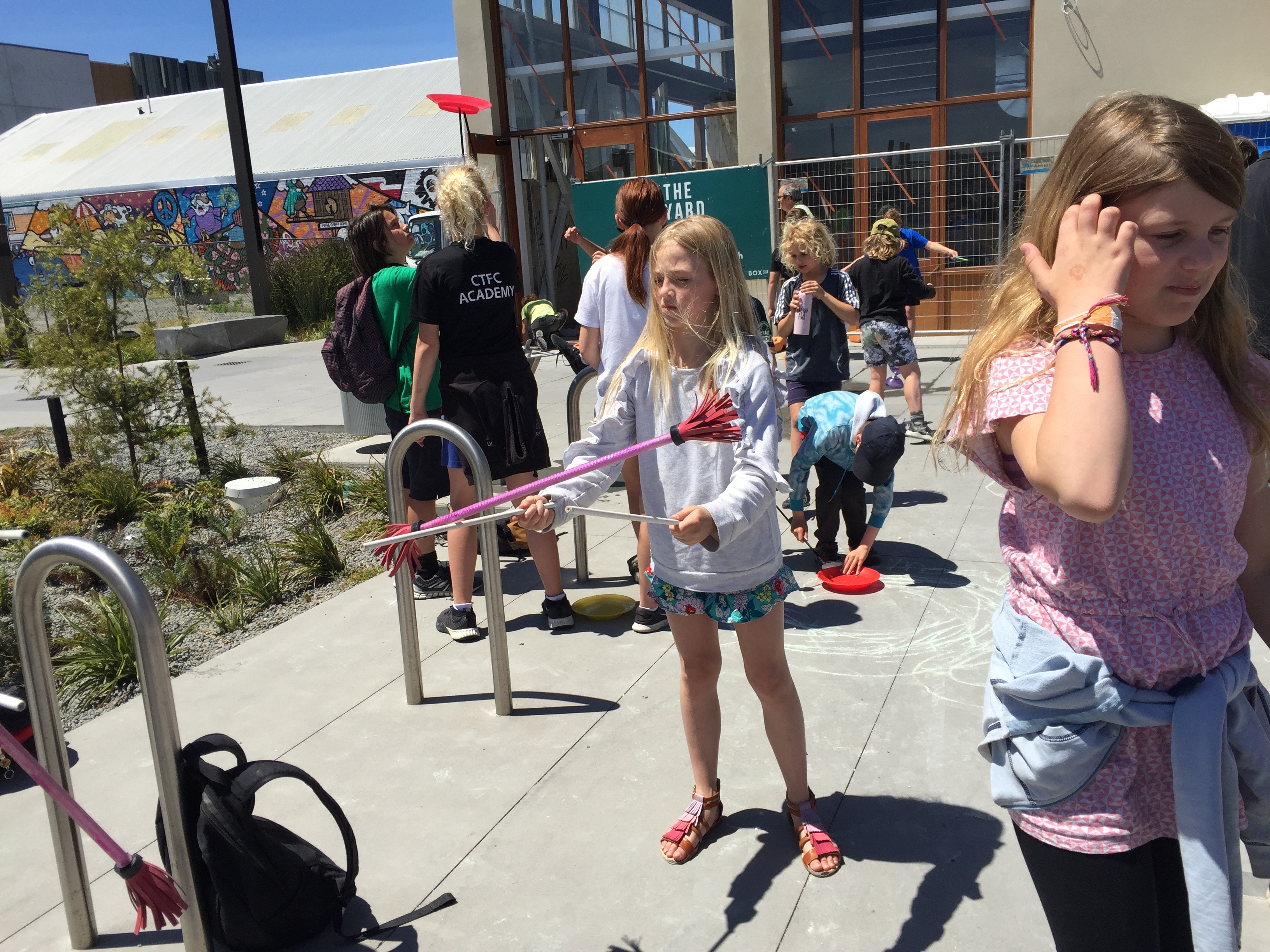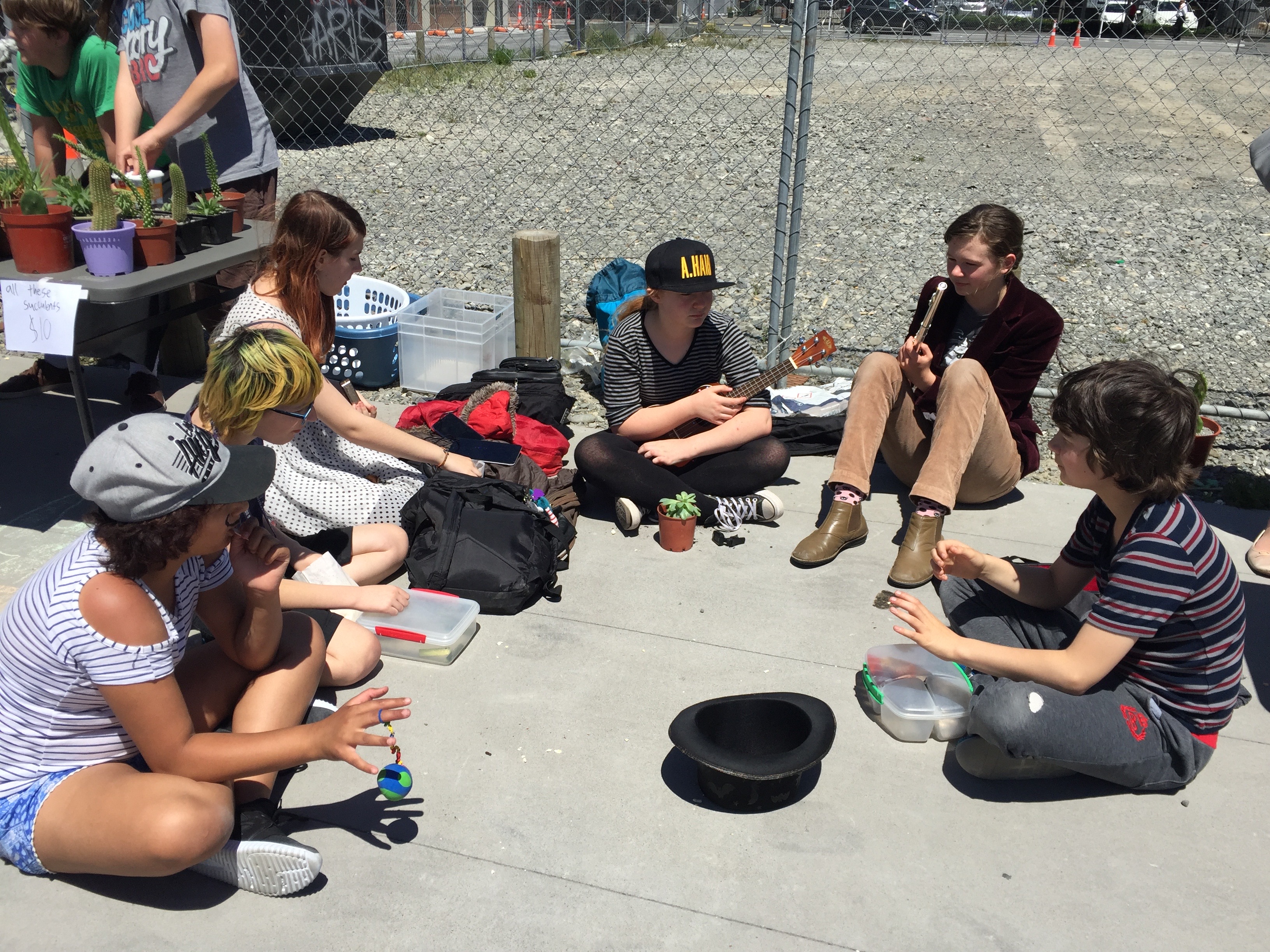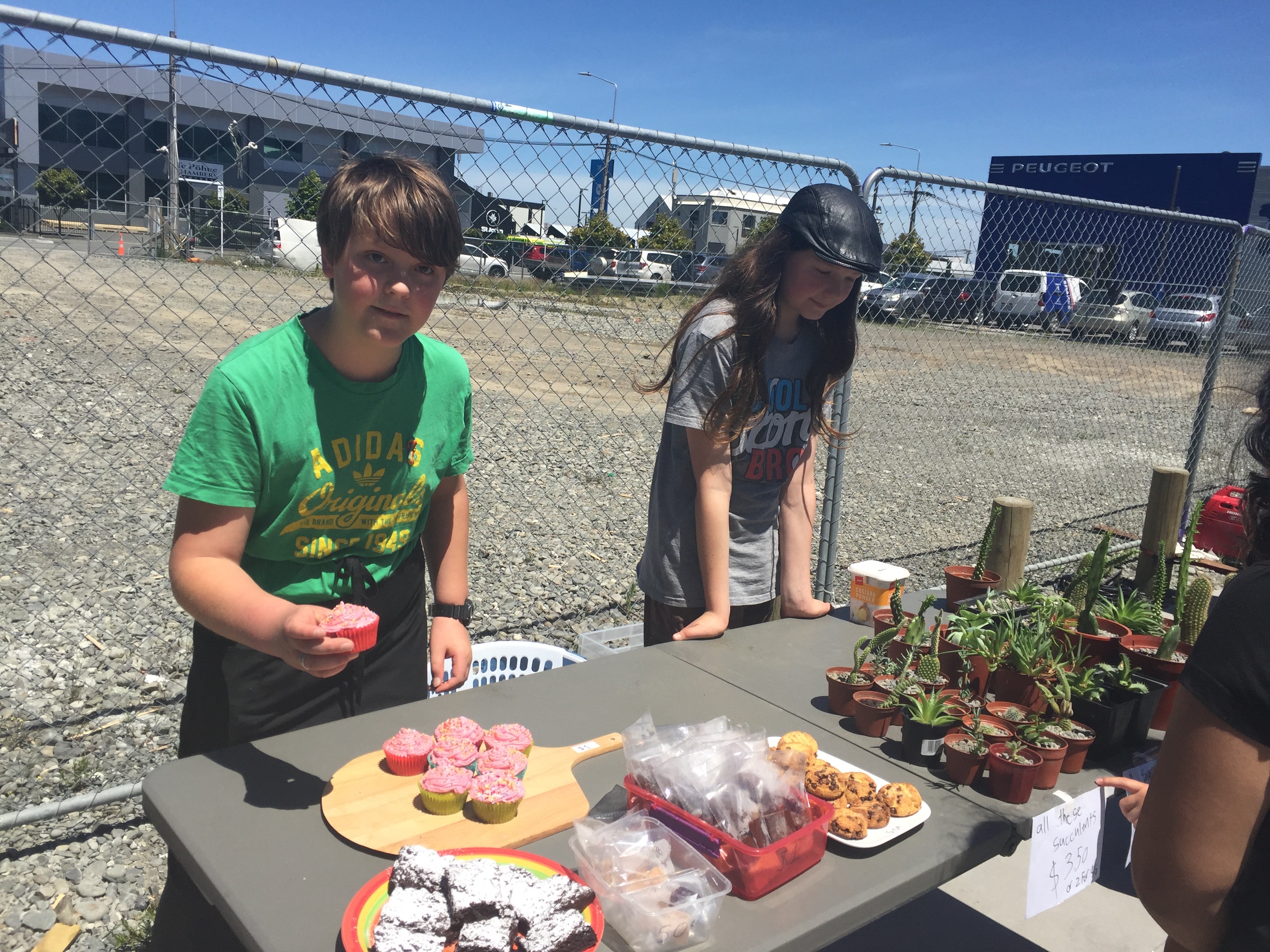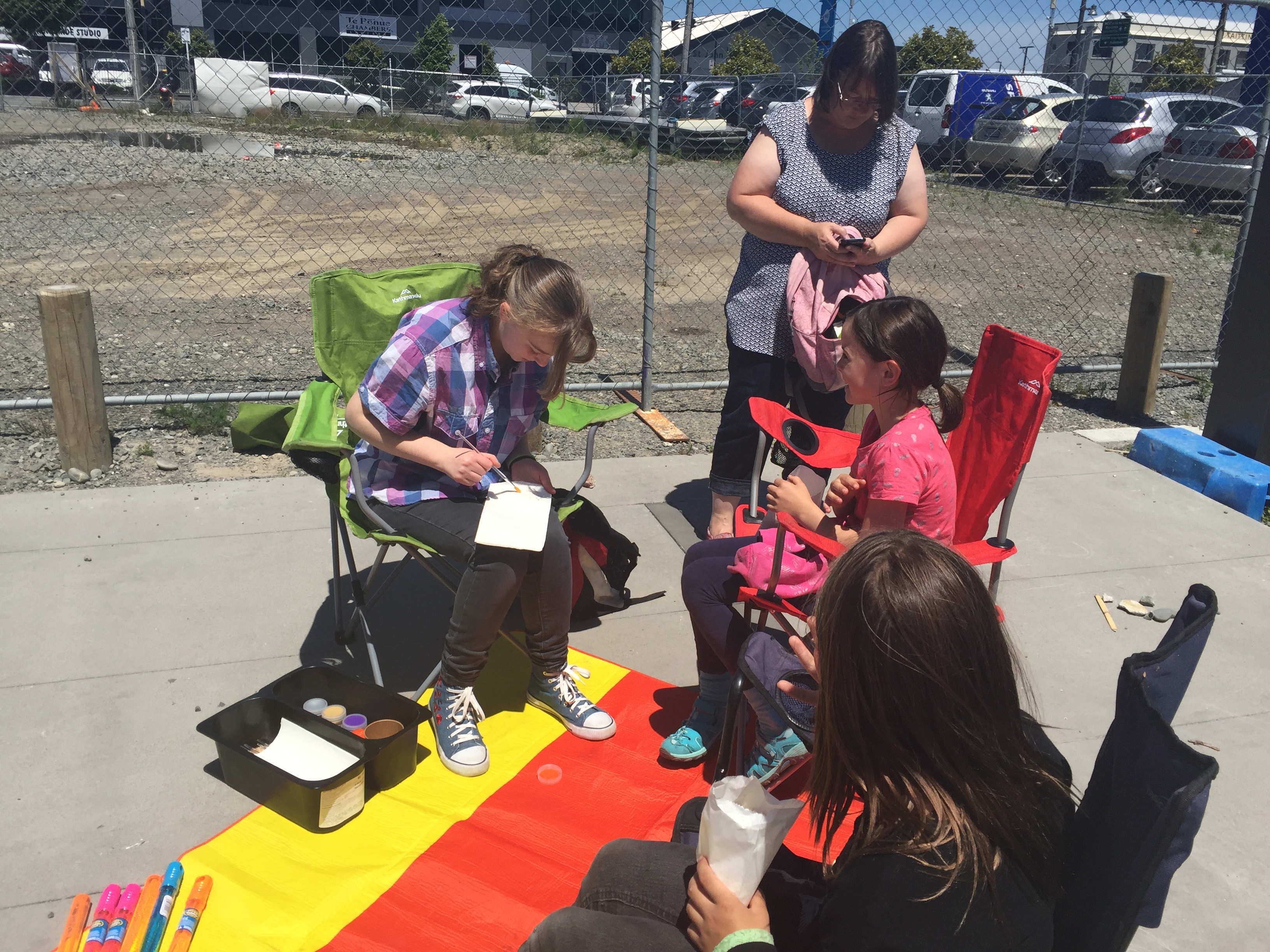 Kay Hayes – Community Leader
Other Notices
Brand new 4 bedroom townhouse available to rent one block from our new school
Available February 1st. This property is one block from school in the new Atlas Quarter in Welles St but is not yet being advertised. It is very rare for a property like this to come available right in the city centre so sharing this with ATUD community fyi.  Contact Braziers www.braziers.co.nzand ask for Mike McCormick Mike@braziers.co.nz to ask questions and/or to express your interest.
You can see more about the property here https://www.fletcherliving.co.nz/find-your-home/canterbury/central-christchurch/atlas-quarter/2636-welles-street/ but please do not contact the Harcourts agents on this listing as they are not handling the letting and really don't want to be contacted about it.
Yolanda Soryl – Reading Recovery LA
Convergence family friendly festival
The Convergence Festival is being held again this year December 28th to January 3rd at Journey's End Campground, in the country-side just north of Christchurch. Convergence has evolved into a co-created event, meaning that all attendees are encouraged to participate in the smooth running of the event. Convergence is an inclusive gathering open to people of all ages, beliefs, and backgrounds. The event is GE free, alcohol and drug free, dog free and eco-friendly.  The food provided is vegetarian and vegan. The site has two large grassed camp sites, for tenting, campervans, house trucks, a marquee for communal sleeping, showers, toilets, facilities for hot water & washing dishes. No money changes hands during the event and lunches, dinners and all educational/kids workshops are included in the ticket price. In addition to the workshops Convergence offers swimming holes in the river, moonlit baths, sauna, music, jamming, drumming, cabaret, New Year celebration, arts and crafts, nurture space, creative kids' space, spirituality, candle light sharing, support and community. https://convergence.net.nz/
Yolanda Soryl – Reading Recovery LA