---
Upcoming Events
Term 2, Week 7: Starting Monday 10 June 2019
Wednesday 12 June, 8.15am: Breakfast Club
Thursday 13 June: Tarākona at South Brighton Domain
Term 2, Week 8: Starting Monday 17 June 2019
Wednesday 19 June, 8.15am: Breakfast Club
Thursday 20 June: Tarākona at South Brighton Domain
---
Messages
Message from Steven
CPU – Level 4
Friday afternoon saw a very happy Eugene from Leighs walk into our Senior Leadership Meeting with a laminated piece of paper from the council. That document (a certificate of public use) means that we now have access to the entire building. Niki and the LAs from 1-6 will work across the week to get the space ready for our students. We're planning around a move in date of 17 June. We would appreciate it if you could continue to support us by not using this space until that date.
Discovery Learning Trust Visit
I had the pleasure of showing some of the members of the Discovery Learning Trust around our new facilities last Friday. The Trust are the reason our students are able to learn within our special character. Their vision and hard work all those years ago provided the basis for learning in the city, learning that places the student at the centre and also learning that doesn't have to look the way the Ministry of Education says it must. Vicki, Cheryl, Jane, Paul and Gill had a great time remembering all the hard work that they put in almost 20 years ago, as well as being stunned by the quality of the spaces and facilities that we have now. The old buildings in the CBD were retrofitted retail spaces, with even the purpose built northern tower being designed as office space (just in case we failed). It was awesome for me to show many of the people who first interviewed me way back in November 2003, around the spaces that I've helped make happen. I hope that they could see that their vision is safe with us for at least another 20 years.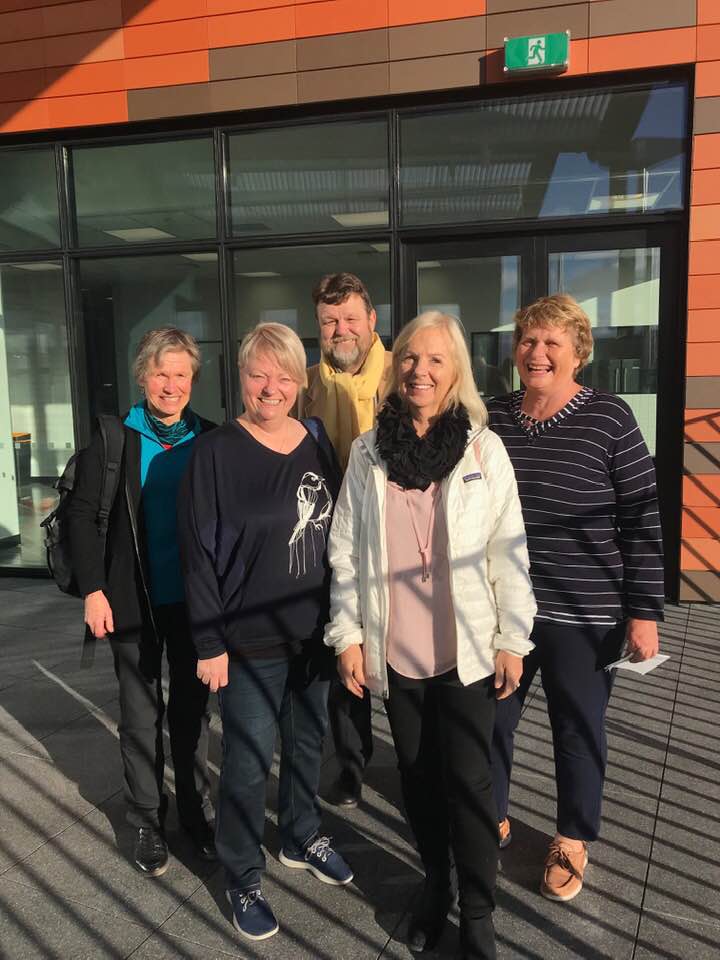 Enrolments for 2020 – Second reminder
With Term 2 flying by, it's important to remember that all new enrolments for 2020, even those from existing families must follow our enrolment scheme. We will be opening our Y7-13 enrolments for 2020 towards the end of this term. Y1-6 enrolments will take place in Term 4.
You should register your interest by visiting the enrol page on the school's website.
We are experiencing massive interest in the school at present. I have taken 7 tours of the school this year (6 in the new building) and all of them have been massive.
Steven Mustor
Message from Ian
PINs
I just wanted to pass on a huge thanks to everyone who offered or supported a PINs workshops this week and for the next 4 weeks. It was great to wander around and see all of the amazing learning opportunities on offer. I had a number of people ,who were on the tour during PINs, comment on how fantastic an opportunity it is for kids to be able to do this and also to be able to mix and mingle across Years 1-13. I think we had nearly 60 workshops offered to students and that is a massive selection to be able to choose from. So thanks again, it doesn't work without you all getting involved.
The only problem with PINs is that we have had to timetable to make it work across Year 1-13. I know this means that it restricts some families getting involved because they have commitments on Wednesday. Please don't let the timetabling of PINs limit your commitment to getting involved and offering something of interest to the kids. I'm 100% sure that if you have something that would be interesting for our students and you have a different time in the week that you are available we will make it work for you.
Ian Hayes – Deputy Director
Message from Niki
Kia ora whānau
Ngā mihi nui ki a tātou kātoa
Level 4
Well we are in! I can't tell you how cool it is to have the Certificate for Public Use and to be able to get the Y1-6 community upstairs on to Level 4. Staff and Leighs workers christened it on Friday in a most suitable manner. It has been great to have the Leighs guys around, and I enjoyed hearing some of their stories and about where they're off to next. It's going to be quiet not having them around.
In terms of logistics, there are still some cupboards to be built. I'd like to thank Liam and Pat for bringing over the boxes of resources from Halswell. Staff will begin to unpack these and move what the HBs have even operating with over the course of next week. Be on the lookout for requests for help.
We all really appreciate our counterparts from the Y7-13 community for allowing the Y1-6 community to -in effect – take over level 1 while we waiting for level 4 and paperwork to be completed. You guys have been great, and will not know yourselves when we go! Thank you.
Two community events this month
The wonderful people at Hoyts Entx have organised for us to have cheap tickets ($11) to go and see 'The Secret Life of Pets' on the extreme screen on Thursday 20 June after school.
We'd love you to join us at this community event, and support Hoyts who are being very generous (tickets are usually $19).
You are welcome to come along, invite family members, bring preschoolers, friends etc. If you cannot make it (I realise the time is tricky for people who work) you may be able to find another family to 'adopt' your child so they can attend.
And don't forget our special matariki celebration on Friday 28 June from 3.30 at school. Please fill in the link below of you can offer a workshop or help in another way.
https://docs.google.com/forms/d/e/1FAIpQLSc-u1X0AB8CV2xBgN7JKs78VB2SE2L6V_cfLPFq6vtrrbN6sg/viewform?usp=sf_link
Looking forward to seeing you at these fun community events.
Free Parking at South City for our parent community
Kylie and Steve, the new managers of South City are offering free parking for our parent community for drop off and pick up. from Monday 10 June, parents can park on the south side of South City, the Bath St side of the complex opposite Rebel Sport. Kylie and Steve hope that families will make use of this opportunity and are welcoming families to walk through the centre to keep out of the cold weather. The parking monitors will not operate in the area outlined on the map. We would appreciate it if parents taking up this opportunity use it to hang around and help out for a few hours. All day parking is not being offered but Kylie and Steve want to support our parent community to come in, run PINs, help students and take kids out for some fresh air, as well as with drop off and pick up.The offer will be reviewed in a few weeks, and we are grateful to the management of South City for their support.
Niki Stephenson – Deputy Director
Message from Duncan
Prosillio
On Friday members of our prosillio program showcased their talents in our performance space on the first floor. It was great to see the stairs in action as seating and just how well they served this purpose.
The students who performed were fantastic. Clearly their dedication to dance is phenomenal. Their performances were superb and served to highlight the value of young people driving their learning through their passions.
PINS
Thanks to everyone who was involved in PINS on Wednesday. It was so impressive being able to walk through the building and see the incredible range of options on offer. From self directed study groups, crochet, RPGs, disc golf to kapa haka and so on the opportunities just seemed endless. It was amazing to see and higlighted the essence of our special character. Students were indeed central in directing their learning, learning was a partnership and there many learners and teachers all working together to create a wonderful experience.
Before we know it we'll be getting ready for term 3 PINS so if you missed out this time around but would love to offer something next term keep an eye out on the website and Facebook page for your chance to be part of this great part of the Ao Tawhiti program.
Duncan Woods – Deputy Director
Schoolwide Notices
Matariki 2019
On Friday, June 28th we'll have our first Matariki celebration in our new building.
Matariki is the Maori new year, signalled by the reappearance of the Matariki star cluster in the night sky. This star cluster is also known as the Pleiades and Subaru and is significant for many cultures around the world and is a marker of the new season in many cultures. Matariki is a time for reflecting on the past year, planning for the future one and a time for gathering as a community, sharing kai and celebrating being together.
The event will run from 3:30-8pm. Parents are responsible for the supervision of their children – if you're unable to be there for the whole time please arrange another parent to supervise (or have another family member bring your child).
From 3:30-5:30 there will be free, drop-in workshops throughout the school. Please see the link to the google doc below if you are able to offer a workshop (workshops should be linked or relevant to Matariki).
We won't be having a hangi this year but are keen to hear ideas on how we can ensure we have one in the following years. There will be shared kai from 6pm. As the kitchen space is still getting established, we will run dinner slightly differently this year. Please bring finger food that doesn't need to be heated up (clearly labelled if it is for a specific dietary requirement). You are also welcome to bring your own meals or takeaways if it is easier for your family but please note that we will eat together at 6pm after karakia kai. There will be paper plates available but we encourage you to bring your own plates to be taken home and washed at the end of the evening. This year there won't be enough tables and chairs or space for everyone to sit together but we encourage you to bring a picnic blanket. There will be hot soup and bread rolls from 3:30-4:30 (please see Google doc below if you are able to make soup).
We will also be gathering ideas for future Matariki celebrations so please share your thoughts.
As Matariki is a time for remembering loved ones who have passed away. We will have a quiet area for remembering and you're welcome to bring a photo and/or use the materials available to write a message to someone you're missing.
From 6:45 we'll have performances, entertainment and a lantern walk. Please fill in the Google doc below if you have an idea of something you could share for this.
https://forms.gle/r6NAhjfJFfCcnsUs8
Hope to see people at the planning meeting on Wednesday 5 June. Matariki in the city! So much to celebrate and reflect back on. Did you know that our community only started celebrating Matariki when we moved out of the city? The first one was organised as a last minute effort in 2011. It was a way to bring people together after all the changes we'd experienced – as a way of reflecting on what had happened, celebrating we were together and making our new site feel like 'home'. It's exciting to bring this community tradition back to the city. We're keen to find out what people want to retain from the past celebrations and what new traditions we can create in the coming years at our permanent site.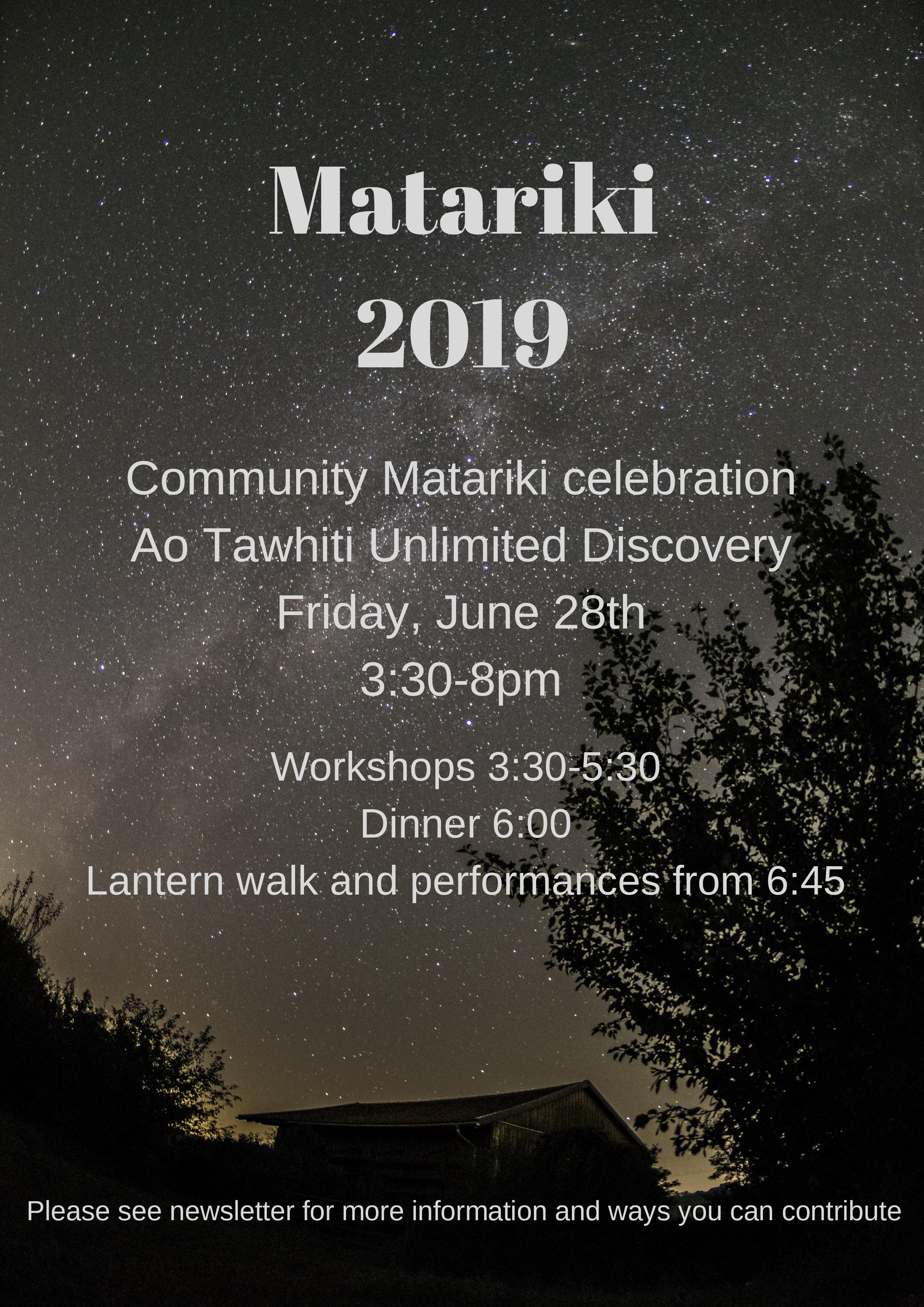 Emma Woods – Parent
Fundraising – Labels
Reunited and it feels so good. That's what labelling lost items can do for you! It's so easy to keep your things in check at school and out-and-about with some labels and other items sold at Stuck on You. Ao Tawhiti is running a fundraiser through them where you can label your belongings and earn money for the school. There is a school and kindy label pack which does both stickers and iron-on labels. There are also handy labels for allergies too! Click the link below, and make sure that the code for fundraising says ATUD (it stands for "Ao Tawhiti Unlimited Discovery"). 20% of the purchase goes toward our school. It's a win-win! Here is the link:https://www.stuckonyou.nz/affiliate/fundraiser/ATUD
Niki Stephenson – Deputy Director
Counsellor News
Welcome to our new school nurse and the Student Health Team
We have a new school nurse called Katie and a new system for booking to see her!Katie works in the Student Health Team across several schools, so sometimes we will see other nurses come in for appointments, especially if its urgent.
To book an appointment, for students in years 9-13, please text 021 580 443, or email studenthealth@cdhb.health.nz. Please include your name, year and school, and if possible, the urgency of your concern/issue. If the issue is urgent, text is best!
For younger students, parents and carers may also txt or email for advice and information.
The Student Health Team provide a free and confidential service to us, so 'use it or lose it' – please use this amazing and convenient service to support student health!
Miriam Denney – Counsellor
Follow Our Instagram
Want to keep up to date with the daily happenings at school? If so, follow our Instagram. We have a team of students dedicated to sharing Ao Tawhiti life with you. Follow @ao.tawhiti.unlimited.discovery to watch our story and enjoy our regular posts.
For more information, contact brent.silby@aotawhiti.school.nz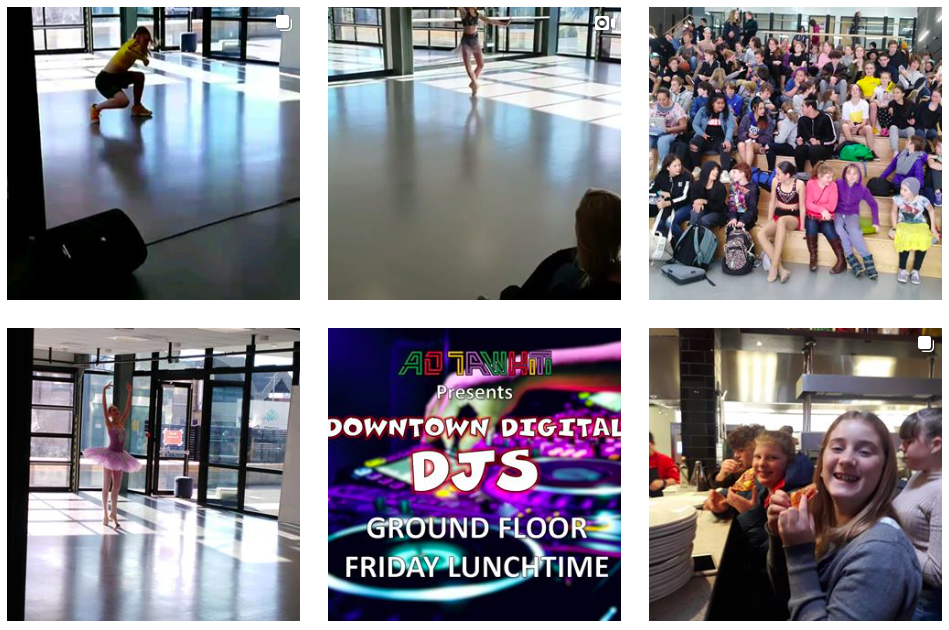 Brent Silby – Learning Advisor
1-6 News
Nadine's Community News
Nadine Walmisley – Community Leader
Tarakona Community News
Forms you need to do
Important dates
South Brighton 13th, 20th June
Kia ora Tarākona Community,
A quick recap on the past two weeks as we continue to diversify our learning in the new environment with workshops for kids being run in dance, gymnastics, maths, graphic design and drama by older students, mentors and LA's throughout the building. It's been great to see this grow every day as kids create or take advantage of new learning opportunities.
So far we have had tamariki visiting experts out in the community in their inquiry field for interviews with the City Mission, library and elite car dealerships, with future interviews planned with animal experts, book authors and comedians. We would appreciate your support in helping your tamariki identify a place or person they could visit out in the community in the next three weeks to support this terms inquiry focus for them.
There are also upcoming workshops at the library and more details about these will follow shortly. We continue to have parents taking art lessons, popping in to support inquiry, literacy or maths, taking kids to the library during the week for inquiry work, to sports twice a week and running sports workshops, or taking kids for walks around the city, all of which we appreciate immensely. Thank you for your help in supervising play during lunch time too. We always appreciate you being in and welcome you to be here even more often in the future.
Pins on Wed in the middle block.
Pins was a great opportunity to see older kids mentoring and working alongside our younger kids throughout the building and in the wider community. Hopefully, the newsletter carries some photos that captured this. Our workshop in paper crafts was split almost 50/50 between under 9's and over 15's and watching the older boys mentor younger kids was inspiring and very natural.
Photos
We have a myriad of photos from the days at South Brighton. I'm trying to devise a way to share them with you that is helpful, maybe google drive? Dropbox might be a bit complicated. Any ideas would be appreciated. 🙂
Winning a book of his choice.
At the beginning of the year Paikea won a competition run by Robinne Weiss the author to create the best sand dragon. She met with him and he was able to choose a book of his choice from her published work.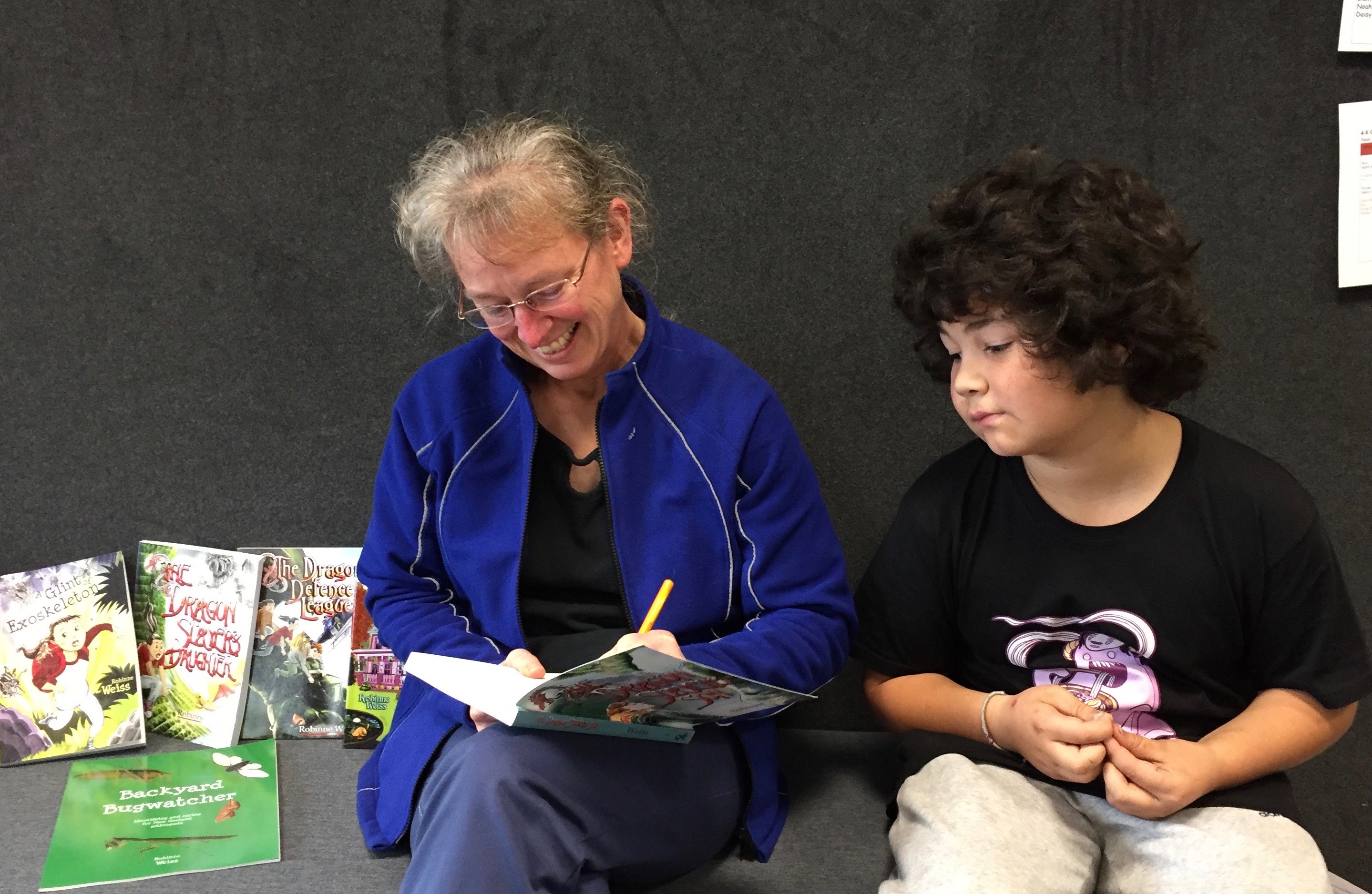 South Brighton Domain
Thursday 13th June at South Brighton Domain Beatty Street. This is our second to last workshop here. Thank you, everyone, for helping by ensuring all the bus cards had money again, dropping kids to South Brighton and staying to supervise the workshops and staying to supervise the workshops.
Last week we spent the morning with the City Council Education program learning about the importance of dune systems and the native or exotic plants and animals that call them home. There was lots of interactive, action learning taking place as kids created environments and subjected them to storm surges and erosion. The tamariki were also asked to explain their decisions in their choice of design and then the impact those decisions continued to have on their evolving landscapes. It was great to see the deeper learning coming through with their discussions and teamwork. The other half of our community participates in this program on the 20th.
Thank you for taking the time to help make this happen.
Ngā mihi nui,
Melva Gill – Community Leader
7-13 News
Steve's Community
We are still highly excited about being back in the CBD! It has been my privilege to hand out 44 trust licenses to students in our community and it's great to see students beginning to use these for a multitude of purposes. There have already been lots of Learning Advisor led trips into town as we start to show our students what is possible. Personally, I have been enjoying taking groups of students to the Ara Institute on Wednesdays. While there we have been visiting the Journalism students at their Radio Station and then touring around the design centre (Architecture, engineering and interior design), before finishing up in the Stadium for a game. I'm looking forward to seeing more and more of these opportunities crop up in the coming months.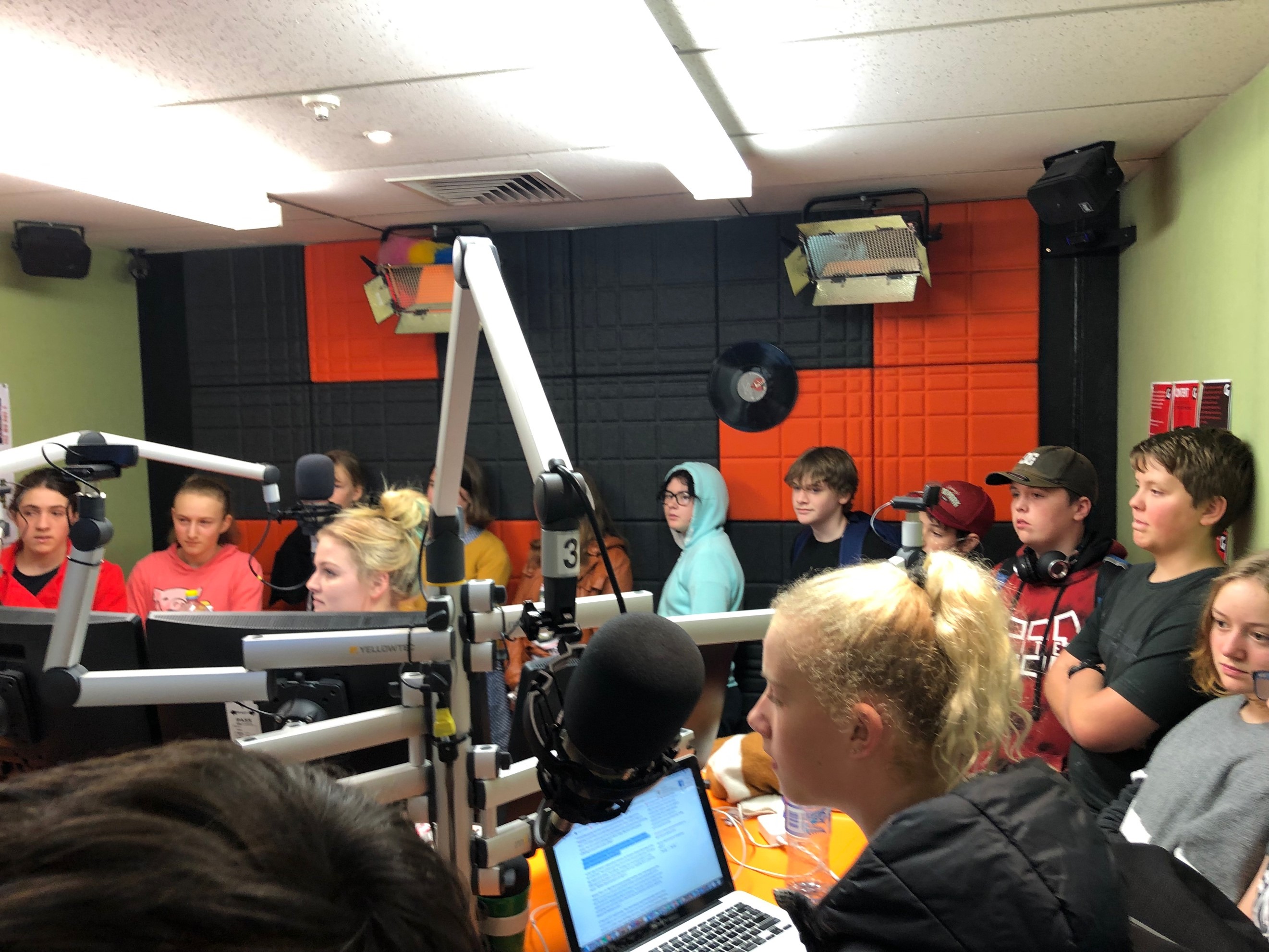 Steve Hunt – Community Leader
2019 World Scholars' Cup Team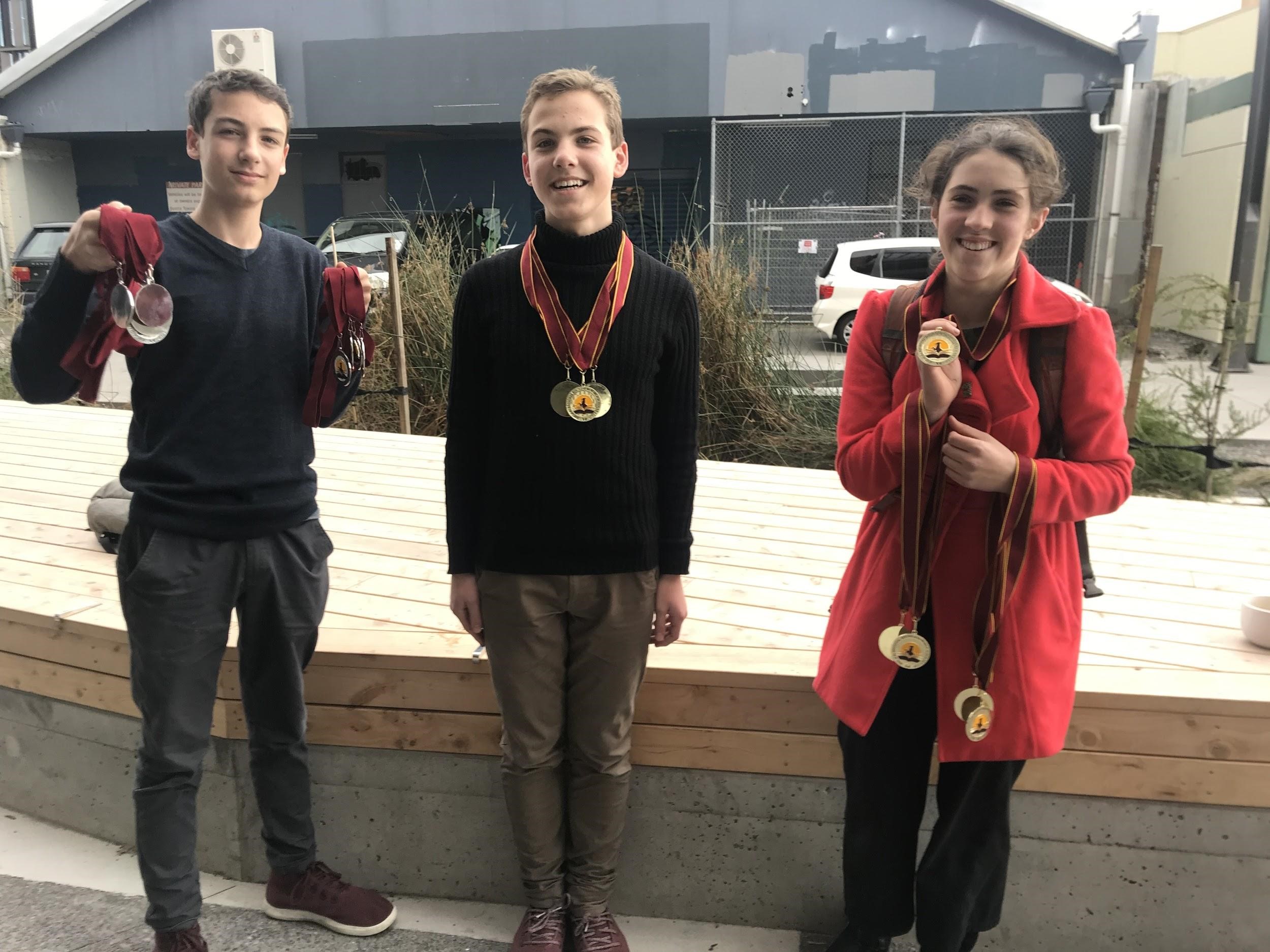 The three of us (bar Oscar, on the first day) have been competing in various academic challenges including debating, writing, team writing, an exam, and a team quiz. Considering there were only 2.2 of our students at any given challenge, the smallest delegation of any school, we were one of the best performing schools at the competition; probably the best for first time scholars. Our ratio of gold medals to participants was 3.18; we received seven gold medals, too many silvers to count, four alpacas, and I was one of eight students to debate in front of the entire collection of scholars. Having gained more experience, next year I plan to run a PINs course to coach students on the syllabus, debating, and essay writing, for which I am confident we will qualify to go a global round. Besides some communication issues, a migraine, mispronunciation of our school's name, and even worse mispronunciation of Ngaire's name (by the alpaca in chief, no less), the experience was a positive one.
George Henderson Walshe – Student
7-10 Community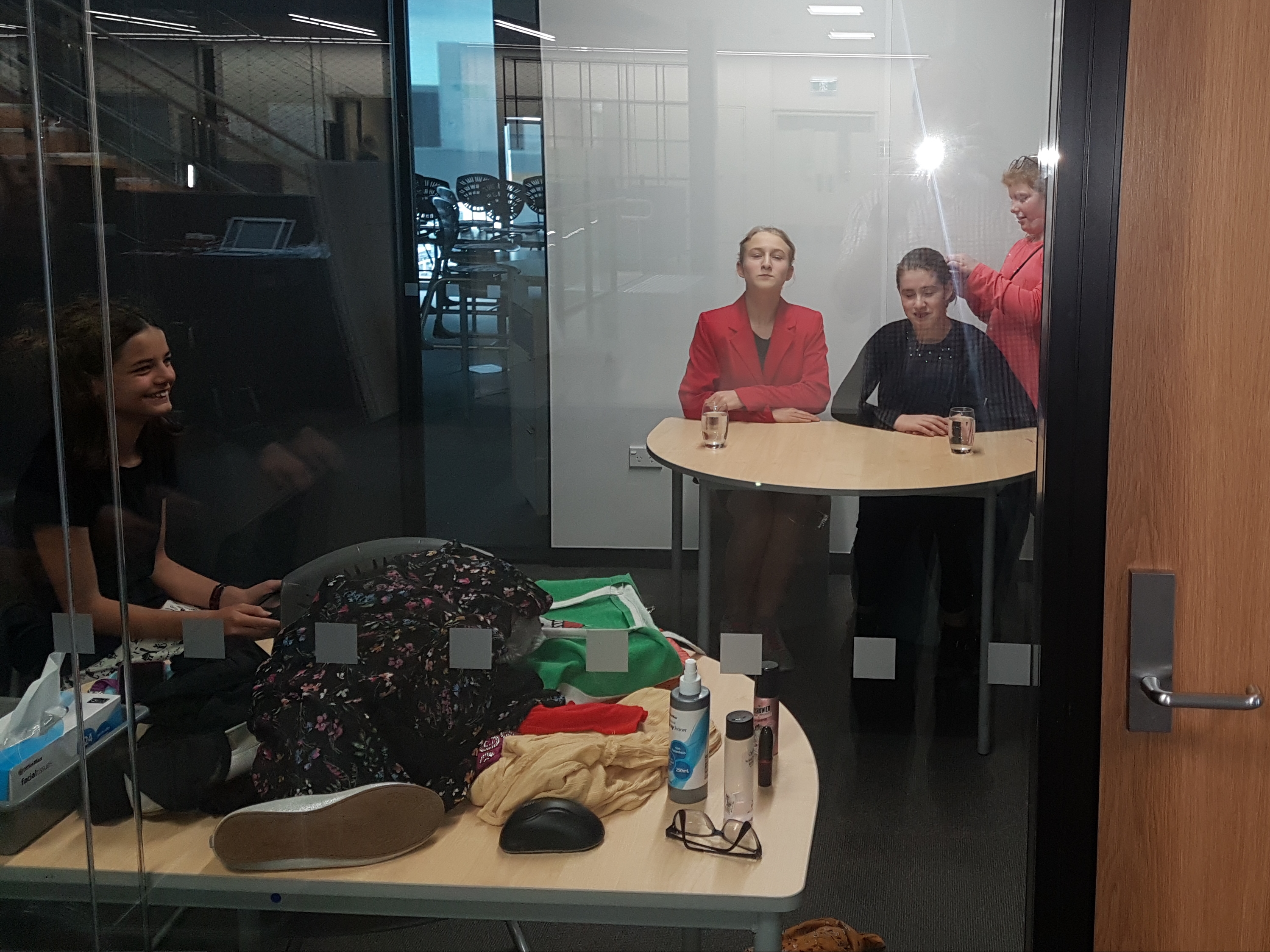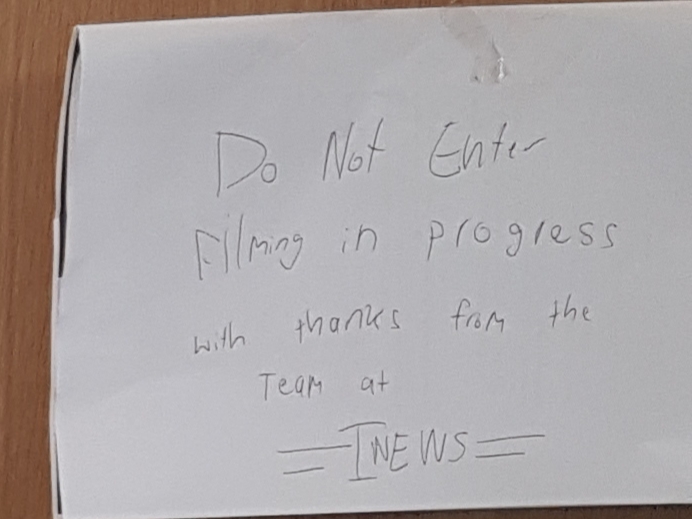 Firstly, a big thank you to Dean and Jo who have helped out in our community while staff have been away and a welcome back to Kay this week. Our 7-10 community floor continues to be an awesome place to work and learn. As I write this (after school on Friday), there is a group of our students rearranging one of our learning spaces as a news room so that they can film their own project "INews". It is great to see students taking initiative and ownership of our learning spaces.
During L2L time, we are establishing routines of Community meetings on Monday followed by AT Projects. We now have a huge number of student led projects on the go with some students tidying up their focus early next week. Tuesdays are Home Base time followed by Wellness/Fitness where students have had the opportunity to lead their own activity, join in with a yoga session or head down to the public basketball court and climbing boulders on Manchester street (with an LA). Wednesday is PIN's, Thursday is AT Projects and wellness/fitness again and Friday's offer some flexibility where we kick off with a brief floor meeting (both 7-10 communities together) before either offering workshops or other opportunities that present. Two Fridays ago, LA's offered workshops on Growth Mindset, Identity and general wellbeing topics and this week, we were treated to a dance performance by Procillio. Thanks to Ethan and his AT Project "AV club" for managing the sound.
Craig & Kay – Community Leaders
Speak 4 the Planet
This afternoon, Ngaire, Ciara and I (Noah McKay) went down to the library where the Speak 4 the Planet event was being hosted. Before anyone went on stage to speak we had a leisurely amount of time to sign in, check out the freebies we had gotten (bio-friendly toothbrush and soap) and of course look at the amazing artwork.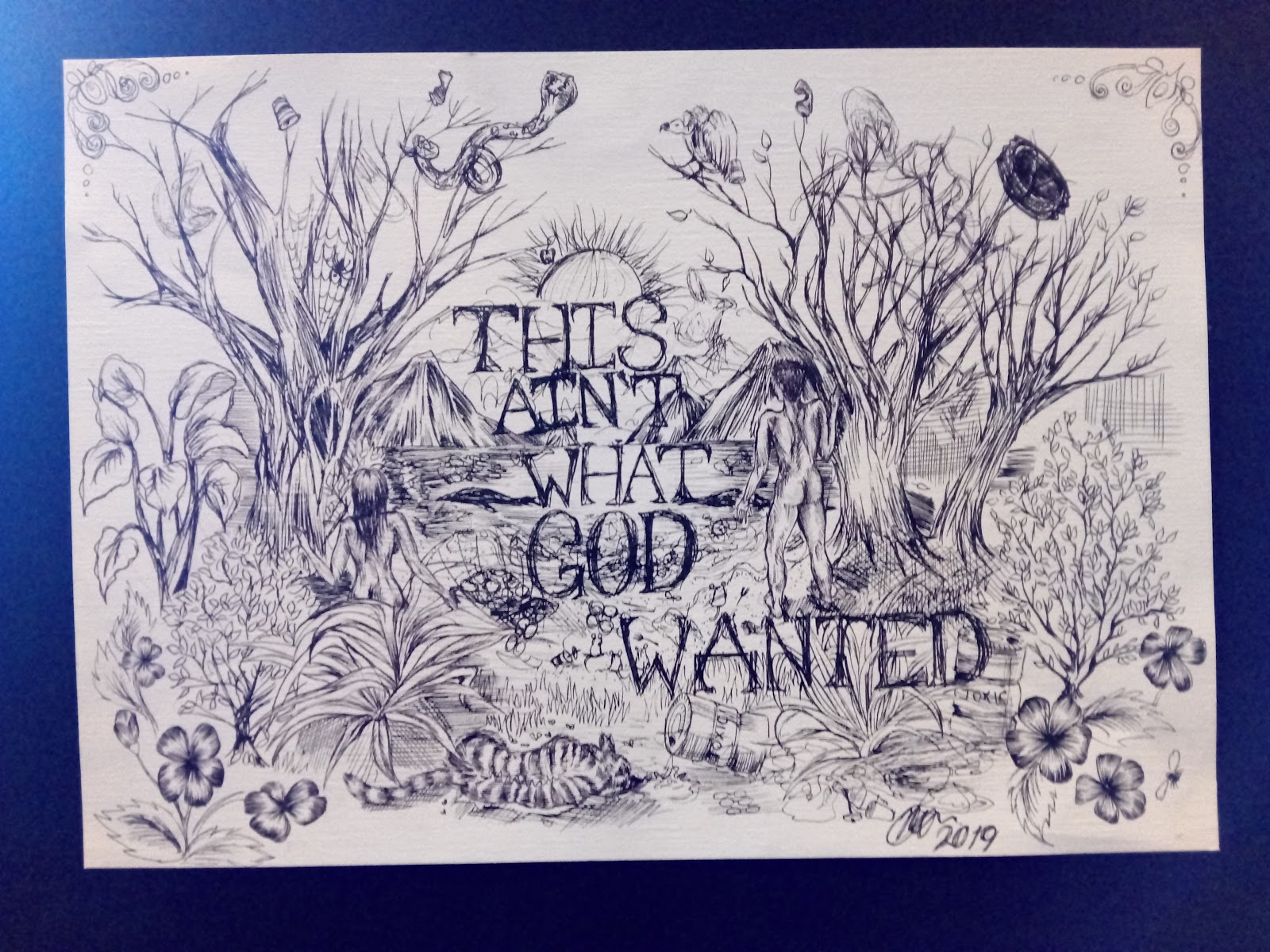 Next we had the prepared speeches where Ciara presented her passionate piece that she ended up winning with!
Words from Ciara: The plastic crisis we face is quickly spiralling out of our control. However the speakers who participated today, are a cause for hope. Each giving strong and passionate messages around air pollution and plastic pollution. With a resounding call to action, for the change that we must see in our society. We must realise that all our actions have a price, the question is how much are we willing to pay?
Earlier in the day, during the junior presentation, Whatuariki did a prepared speech of her own. She did this speech purely for the goal of presenting one in front of people, which is very brave!
There were a few other prepared speeches before the impromptu speeches were up. Here is how the impromptu speeches work: The participants are given topics related to the issue of climate change and have about an hour to write their speech. I can't say for myself, but I think that they spent most of the time just writing notes and such. Ben ended up doing so well that he came first!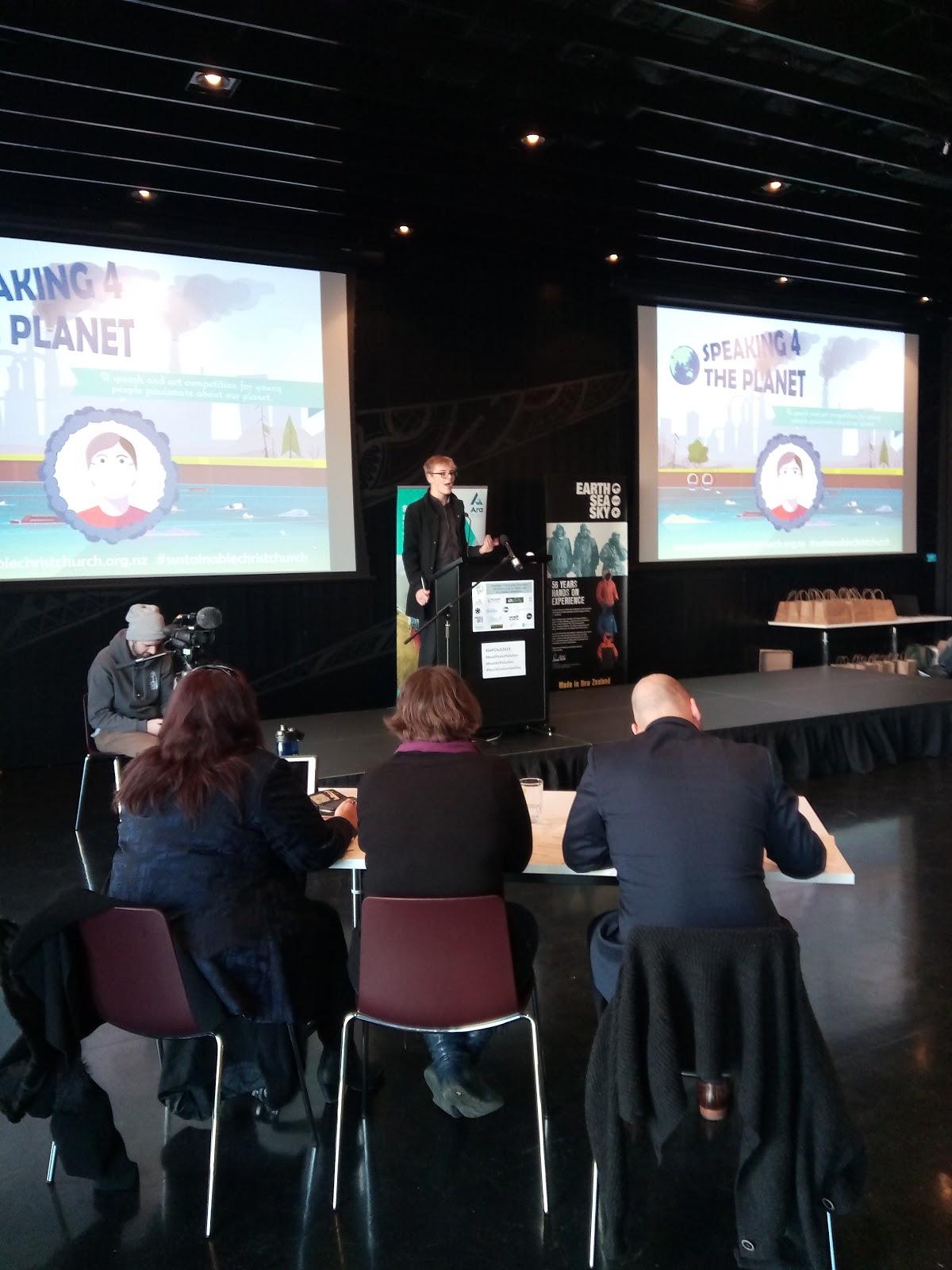 Shortly after that (in fact so shortly that I hadn't realised that I didn't have enough time to go to the toilet, surprising everyone as I walked out of the room) we had the stand up poetry. I was the first on stage, and I didn't feel very prepared. To be honest I felt rather under pressure during my performance, although there were some parts that I really enjoyed. I met someone new there who said that although my performance wasn't as polished as the other contestants, I still had a lot of passion and talent. I found that quite inspiring.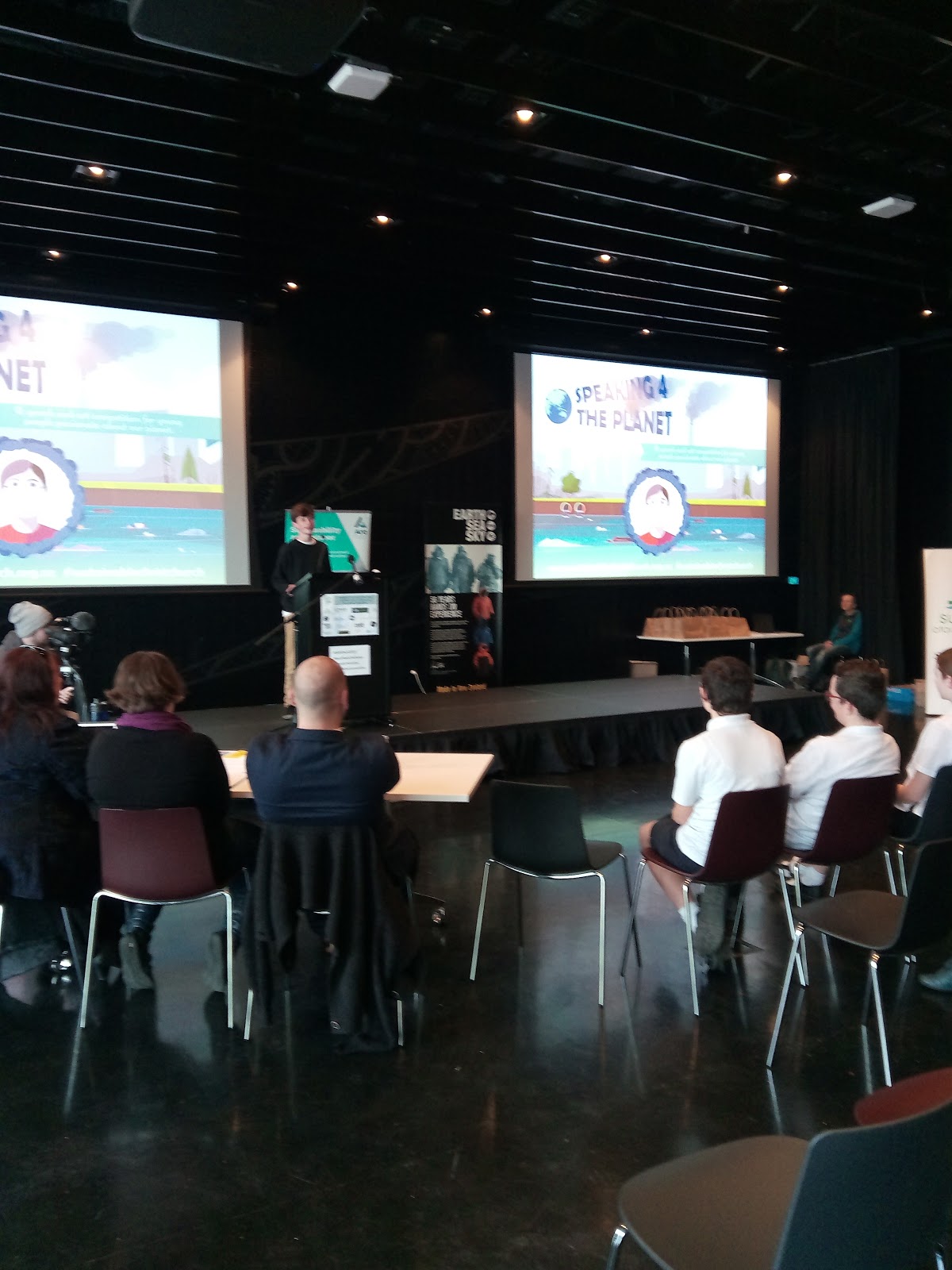 Next we had Ngaire with her second place stunner, and then our winner Holly.
Would you like to know what I won? A participation award. Jokes aside, I did get a few very valuable things from this event. One of these was the experience itself. It never hurts to be more experienced at performing in front of others. I also learnt a good tip from Holly, who in preparation looked at many other spoken word poets to get inspiration from. I also got direct feedback from the judges. They said not to apologize during a performance, and that if you're stuck on what to say next then you can be resourceful and use this opportunity for a dramatic pause. I made up a phrase to remember this by: "if you get it wrong, then carry on."
Noah McKay – Student
DJ Performances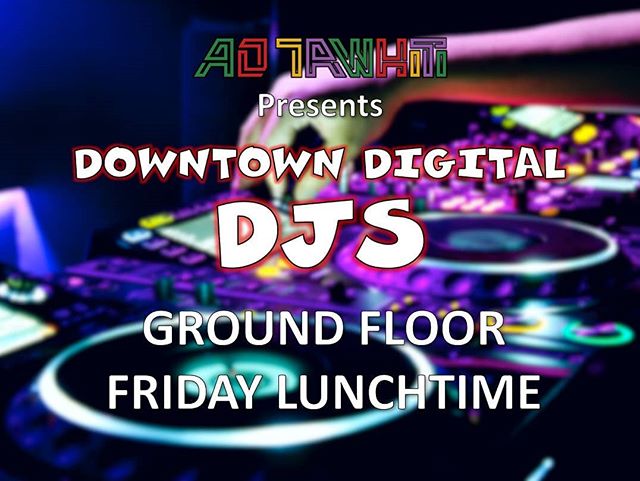 Our new student DJs are providing the lunchtime soundtrack every Friday on Level 1. Come along to end the week in style.
Brent Silby – Learning Advisor
Prosillio Presentation
On Friday we had the pleasure of watching some of our dance students perform, and listen to them talk about what it takes to be such a dedicated dancer.If this presentation inspired you, and you are interested in dancing, please contact sarah.marshall@aotawhiti.school.nz.
Sarah Marshall – Learning Advisor
Other Notices
UBS Matariki