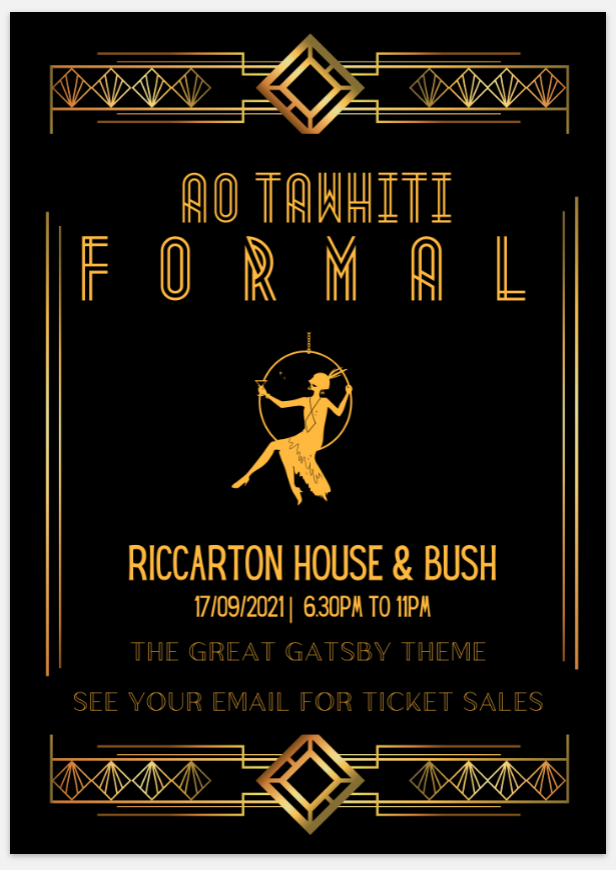 The 2021 Formal Committee is pleased to announce that Formal tickets for 2021 have now been released.
You can register for tickets at this link here: https://forms.gle/m92789gCLLaB8qbDA

Theme: The Great Gatsby (1920's)
Location: Riccarton House and Bush
Date: 17th of September
Time: Doors Open – 6.30pm, Event Finish – 11pm
Ticket Price: $70 per person
Supper, beverages, good vibes, and photos all provided
Year 10, 11, 12, and 13 Students are welcome to buy tickets. Year 9 students are allowed to attend if they are a plus one of a Year 10+ student.
Once you have filled out the form, if you have an external guest you'll be emailed a contract for your guest to fill out, sign, and bring back when you pay for your tickets. 

Once registered, please see Jill to complete an eftpos payment or if you would like to pay over bank transfer please click so on the form and the instructions will be emailed through to you.

This form will be open for tickets until Thursday the 2nd of September at midday, payment will also be due at this time.  

The Formal committee will base themselves at the Floor 1 staircase over the next few weeks to help with registering, more information on these times will be announced next week.  

Please feel free to get in touch with dom.wilson@aotawhiti.school.nz with any questions