---
Upcoming Events
Term 3, Week 3:Starting Monday 3rd August
Term 3, Week 4:Starting Monday 10th August
Term 3, Week 5: Starting Monday 17th August
Term 3, Week 6: Starting Monday 24th August
SCHOOL HOLIDAYS: Saturday 26th September2020 – Sunday 11th October
IEMs 12th October
IEMs 25th September
---
Messages From Steven
Students in the building after school
All students should have left the building by 3.15pm unless they have a learning purpose, in which case they can remain until 4pm (or later with prearranged Learning Advisor supervision). The building is not a place to use as a playground or meeting point after school. The LAs have been asked to move all students to the first floor. Doing this allows us to easily account for all students still in the building, should we need to evacuate.
SDL
I spent a large part of a recent senior leadership meeting working with the SLT on our curriculum review.
Part of this was an acknowledgement that SDL is an area of our curriculum that needs additional resourcing, development and understanding at all levels of the school.
For a school with a stated special character that places students at the centre of their learning, I feel a little disillusioned that I've not yet led the school to a place where passions can be genuinely supported and fulfilled. Our course and instruction heavy curriculum provides awesome possibilities for our students to engage with but unfortunately this style of learning has a focus on "just in case" learning and choices. SDL is often treated as an afterthought.
I hope that we are able to use this review process to provide a genuine opportunity for those students who want SDL, to be completely absorbed in their genuine passion.
Messages from Senior Leaders
WARNING! Sensitive content
Some of the LAs are having professional development from an outside provider, Emma Planicka, on getting the most out of iPads in the classroom.
She recently shared a fascinating, frank and somewhat confronting TED talk by a therapist called Jo Robertson about discussing porn with our teenagers. I don't know about you all, but I was one of those parents who made the assumption that my kids had not seen porn, so I was brave and had the conversation…
I highly recommend watching Jo's talk https://www.tedxchristchurch.com/jo-robertson and having a look at her website https://thelightproject.co.nz/ to inform yourselves on this important topic.
Niki
Message from Duncan
In a couple of weeks time we Kylie from Massey University will be spending some time with us as she undertakes research towads her PHD. Have a read of her note below and if you're interested feel free to contact her.
Kia ora koutou, my name is Kylie and I am a PhD student studying student choice, voice and participation in school decision making, and democratic schooling in Aotearoa NZ. I will be visiting Ao Tawhiti in late August to chat to any students and staff who would be keen to share their experiences at Ao Tawhiti. I am hoping to talk to students in small groups to help me get an understanding of what student voice, student decision-making or similar initiatives are happening within the school and what you enjoy about these processes. I am also keen to find out how you define concepts like democracy and community. I'm really keen to visit Ao Tawhiti as the special character of your school gives you unique experiences that a lot of other students around NZ don't get. If you're happy to participate, please email me at the address below or you can come and find me when I'm in the school in late August. Anyone participating will need to sign a consent form and students under the age of 16 will need parent consent. Anything you share with me will be confidential. If you want any further information feel free to email me any time at Kylie.Smith.16@uni.massey.ac.nz. I'm really looking forward to meeting you guys and seeing your amazing school.
Duncan
Celebration Day for Girls
Alice runs celebration days for girls who are just about to start or who have recently begun menstruating. See her flyer for further information and contact details.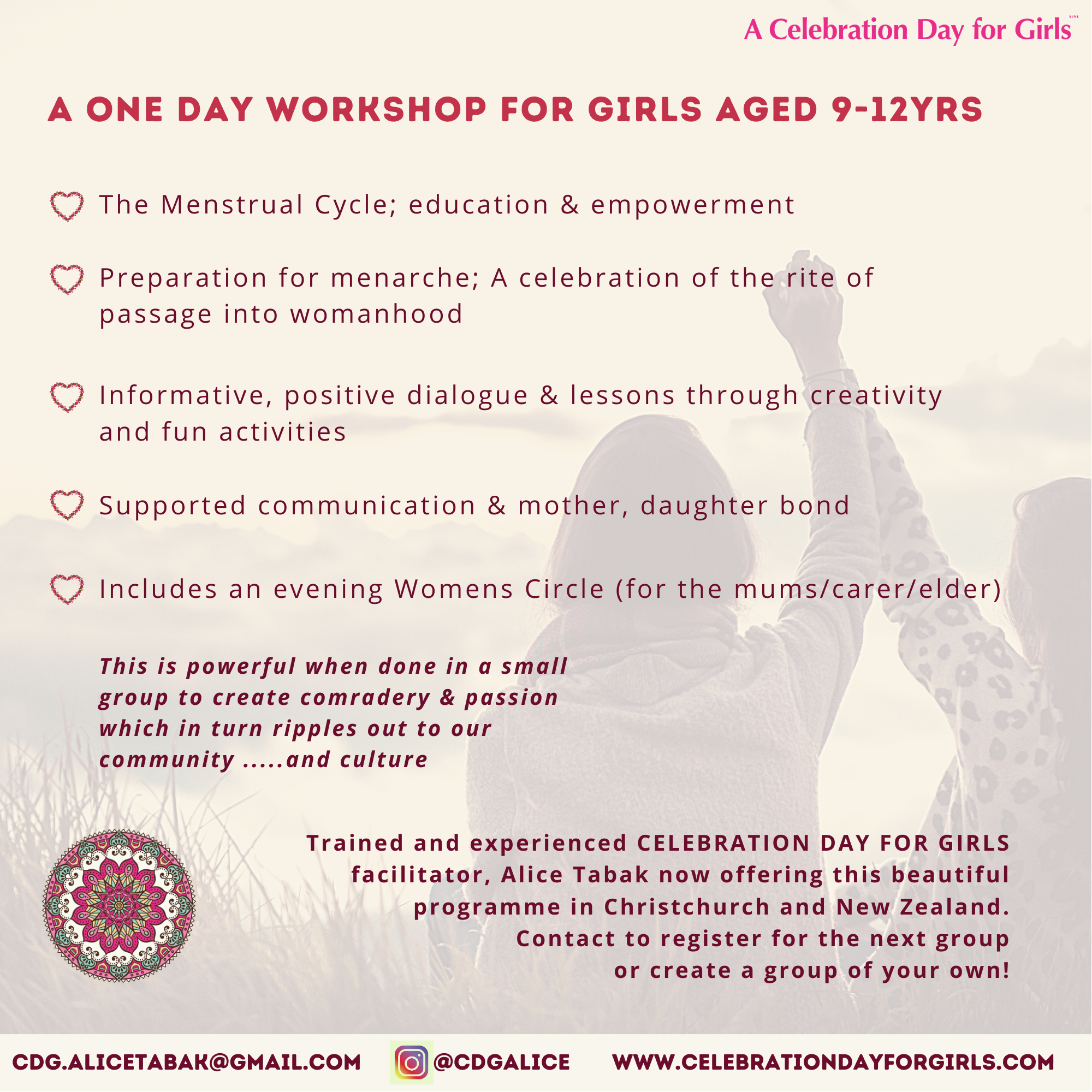 Niki
PINs
PINs stands for Passions, Interests and Needs. For me, it also stands for People IN school, and we could not be more thrilled at the selection of workshops on offer from parents, LAs, alumni and students.
Usually, for PINs choices we ask students to select their top 3 workshops and then the Senior Leadership team spend a week or two trying to give every student their first choice. We feel this is not the best use of our time, and so this time around we have tried something different in that we are removing the options to select workshops as soon as they reach capacity.
We understand that each system has its shortcomings and students can be disappointed. Sometimes the numbers are a guide and there can be some wriggle room. So if a child is desperate to do a particular workshop but the option to choose it has disappeared, we might be able to help them get their first choice. Please get in touch with us if this has happened to your child/ren, or if you have any suggestions about how our system could change.
Niki
News / Notices
Sarah M's Community
Two Fridays ago, a small group from my community walked down to outside H & M and had a go at some ice skating. The students enjoyed the opportunity to get out of the building and spend some time with students they might not always work with when back at school. Thanks for coming along, team. 🙂
This coming Friday we are wrapping up our SVA (Student Volunteer Army) work, with hopefully some outcomes we are happy with. Even if they are different from what we initially planned.
Starting in week 5 on Fridays, we will have Mates and Dates for years 9 and 10. Also, we will be offering subject-specific tutoring for years 11-13 in preparation for practice exams or upcoming assessments. So well worth coming in.
Sarah Marshall
HB Piwakawaka out and Abouts
https://drive.google.com/open?id=1igEQfmAuB0GOGznrcfDTCgd19p6dj-Co
Suze Keys
Field Trip to Zealandia
Recently a group of students with an interest in plants and gardening, were fortunate enough to have a guided tour around Zealandia. It's quite incredible scale of production and high level of automation, makes it a thoroughly fascinating place to visit. A big thanks goes to Paul Wylaars for taking more than an hour out of his busy day to give us the VIP guided experience! Thanks also to Jhett who doubles up as our official photographer!
Steve Hunt
Students at Gateway Boyle River Work Experience
Hadley Freeman, Marco Pollisco-Lopez, Martus Botha, Macka Wylaars, Noah Tumataroa, Mario Wylaars at the Gateway Boyle River Outdoor Education Centre Work Experience Camp July 20 to 24.
John Schischka
Dance NZ Made 2020
On the 28th and 29th of July 10 students took part in Dance NZ Made. This event tours over NZ and we competed in the Canterbury region. Students can compete in solos, duos, trios and teams. During the second day students get the opportunity to take part in two workshops. Everyone did soo very well, I am extremely proud. We came away with two seconds and a first place. Imke will also be travelling to Palmerston North at the end of September to compete at Nationals. As a school, we demonstrated some amazing choreography and dance.
Sarah Marshall
Kay's Community Update
Level 3 has been working together on some shared projects as a response to the Covid Lockdown. For example connecting with the elderly who have been isolated more in recent times. We created a Student Volunteer Army and have been working hard.
Next we will be asking students to identify an issue that they would like to have an impact / work on and to design a project of their own.
Recently in Kay's community we have been doing group challenges and asking students what rolls they assume in the group and what rolls others assume. We are supporting their understanding of collaboration and communication and will continue to look at these skills this term. The challenges have been super fun and students have asked us to continue with this style of learning.
Friday / Learning to Lead time is a significant part of the week where students are asked to look at and use the kind of skills required in their future. Students are challenged to be adaptable, to communicate with others, to work with others, to take risks, to personalise their learning and much much more. We are really looking forward to where the students take their projects.
Kay Hayes
NCEA Practice Exam Week
This year our Practice Exams for Derived Grades will be help on the week of 14th September. Please be aware that as there are no senior classes running during exam week, Year 11, 12, 13 students will NOT attend school during exam week. They will only come in for their specific exam sessions. Senior students are not permitted to come to school to "hang around" during exam week.
Year 9 and 10 students who sit NCEA exams will be given 2 days study leave prior to each of their exam sessions. Otherwise, they must be at school.
Te Kura Correspondence School practice exams happen at a different time, dates to be arranged with those students.
Brent
3 Ski Trips Left!!
Number 3 26th August 2020 – bus leaves South City 8.00
Number 4 9th Sept 2020 – bus leaves South City 8.00 am:
Number 5 23rd Sept 2020 – bus leaves South City 8.00 am:
The full package includes ski or snowboard equipment, lesson and travel to the mountain. Cost $92. Beginners – Advanced
Kay Hayes
Fresh cupcakes for sale on Friday 14th Aug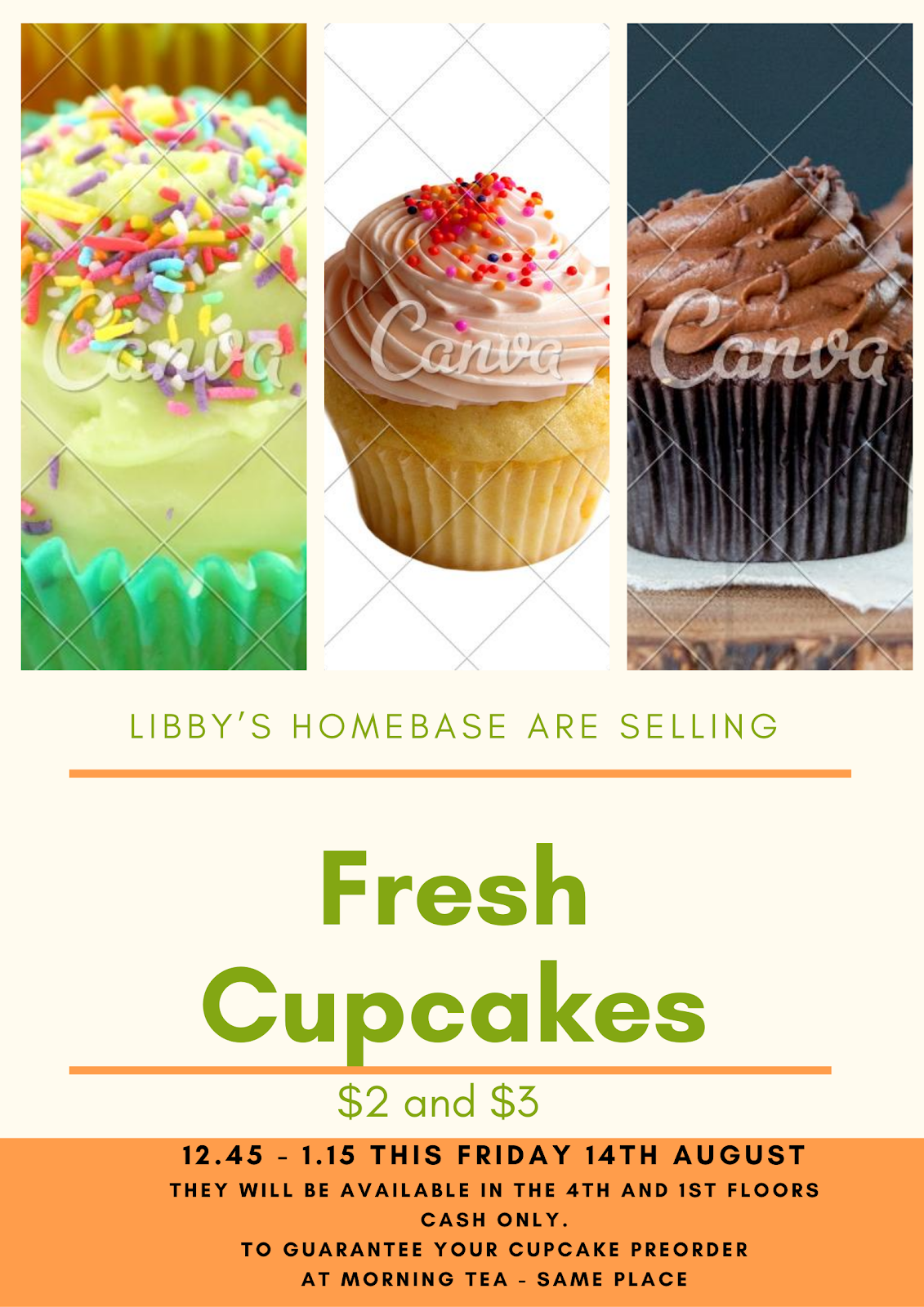 Homebase Jammers
4Science – digestion
4 Science have been learning about food and digestion. Last week we worked out where in our bodies our digestive organs are and how big they are – you should definitely ask students how long their 'small' intestine actually is!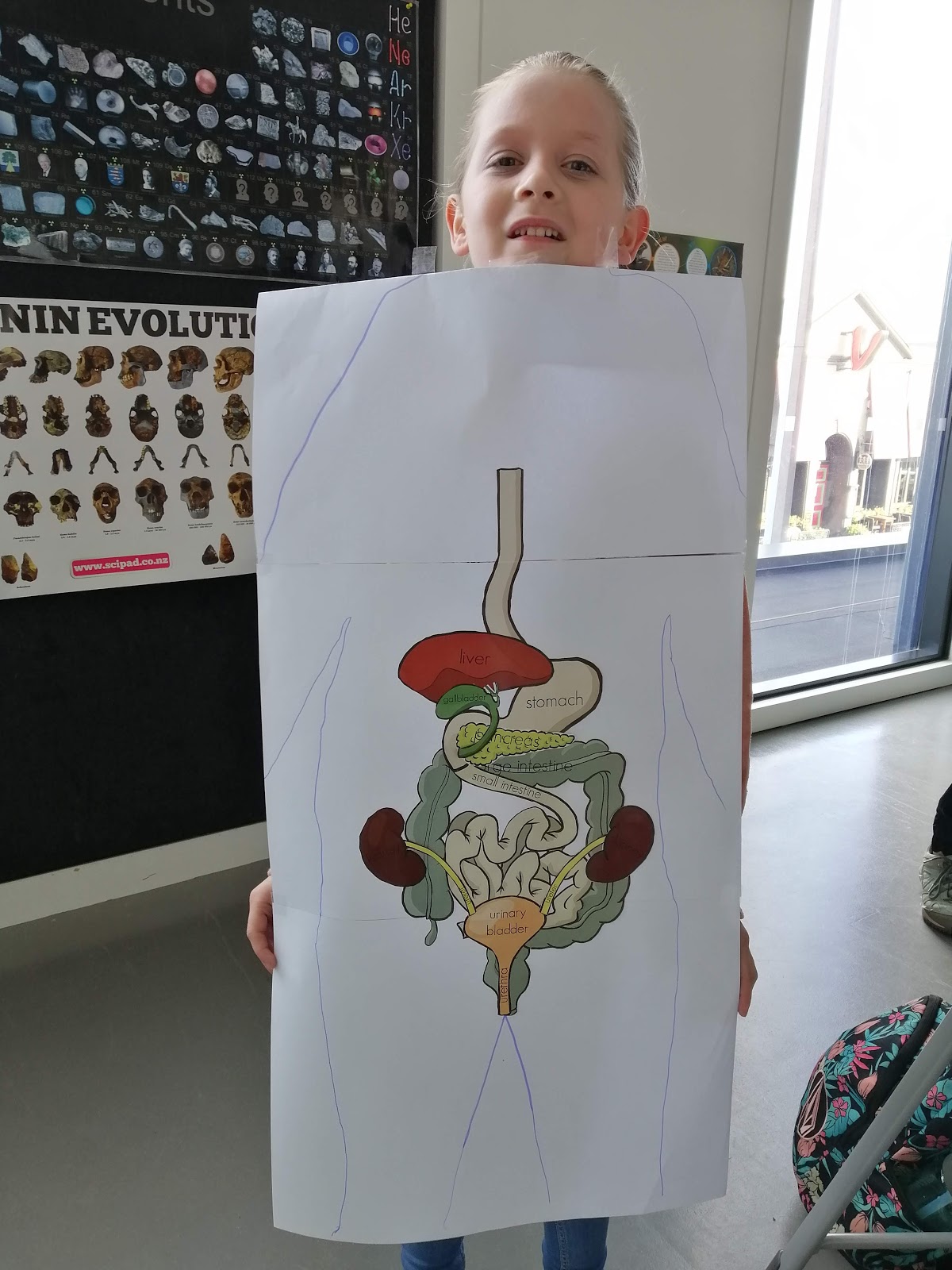 Matt P
BMX Open day
BMX Open Day is on Sunday 16 August. Come down to one of our local tracks and have a ride. Any questions ask Greg or Courtney (from Bonnie's Homebase).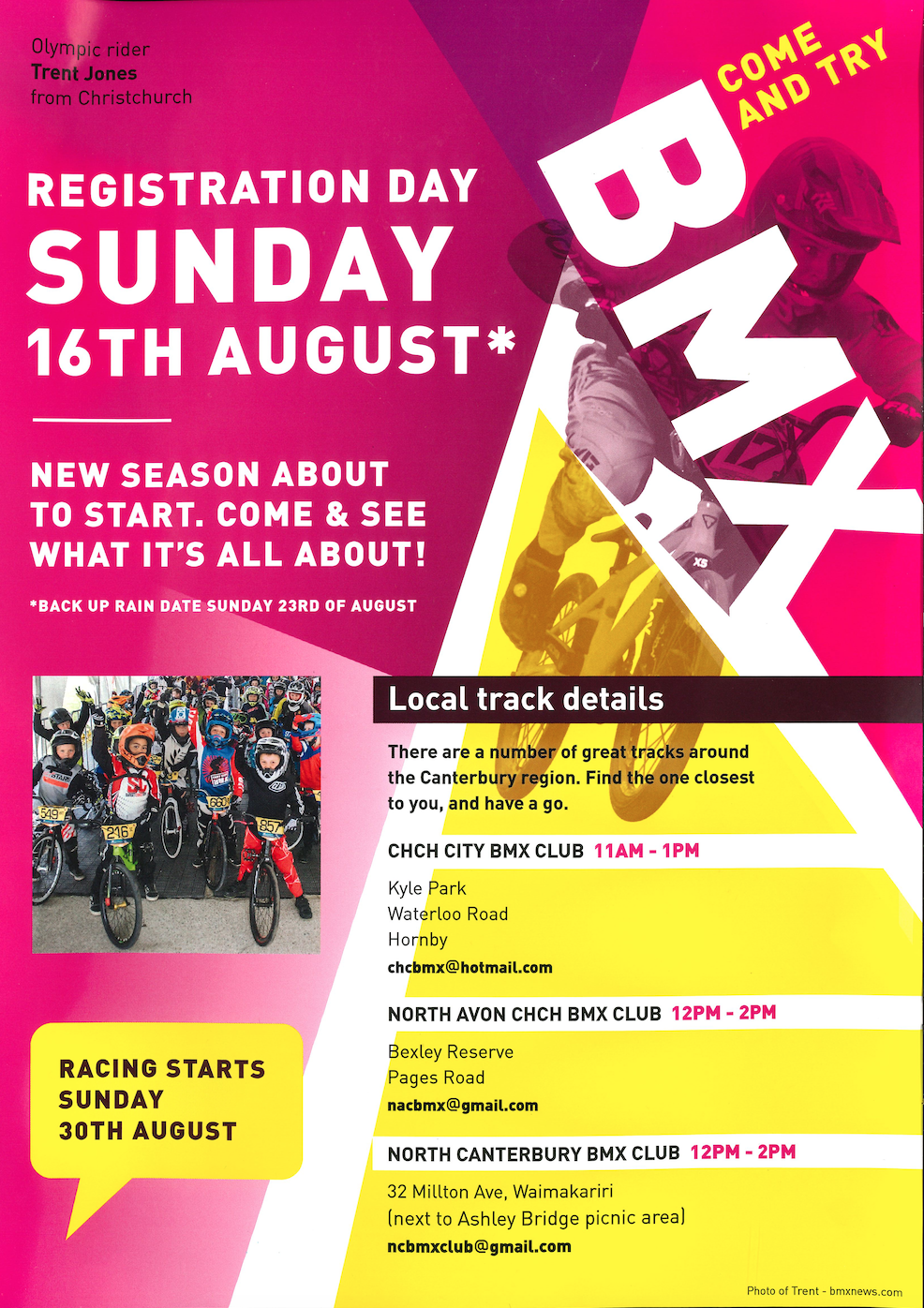 Greg
Other Notices
Headlice have been found at school this week. So please pay extra attention to your student's heads.
Check regularly at home as a general practise and where live lice are found a proper treatment must be completed before the student returns to school. Students with live lice (seen by an LA) will be sent home to be dealt with. Students may return as soon as the treatment has been done.
A Public Health Nurse reminder on how to treat Headlice is attached.
Calling all Horse People
I'm not sure if this is of any interest, but my loveable old horse Minty has just lost her best friend Willy who came down with Collic and sadly has passed away. Knowing how many children love horses but have no access to them, I thought I would reach out to see if she could find any new friends there
Minty is now really lonely and would love someone to give her cuddles and groom her. She might even give short rides once her feet have been trimmed. Minty is a 32-year-old standardbred who would be great for beginners to gain confidence around horses. My main requirement is that those interested come with a parent who is familiar with horses because I'm not so strong or balanced these days. Perhaps there are a few who would like to share or bring the odd group?
Please let me know if there's any interest.
Warm Regards,
Eve Newton. (Shae Newton and Dominic Madden's Nana.)