---
Upcoming Events
Term 3, Week 6 Starting 24th August 2020
Term 3, Week 7 Starting 31st August 2020
Term 3, Week 8 Starting 7th September 2020
Term 3, Week 9 Starting 14th September 2020
SCHOOL HOLIDAYS: Saturday 26th September 2020 – Sunday 11th October
IEMs 12th October
IEMs 25th September
---
Messages From Steven
Following your passions
In late 2003 I accepted a learning advisor position at Unlimited Paenga Tawhiti. It wasn't an easy decision to move from the school I was working at as I loved being a Y7-8 teacher. What sold me was the promise that the school's special character enshrined – that students could follow their passions … all day if they really wanted.
Over the years we've morphed into a place that reflects the needs of our ever-changing community (as we should, the world is very different to 2003). While it's still possible to follow your passion, we don't seem to support it as effectively as we do our class-based learning opportunities.
I am eager to see us providing more support for all of our students who wish to follow their passion during school. I regularly pushed at the tours that for some of our students, they could just do one thing for 25 hours a week. I'd love that to be a reality. Our school shouldn't just be a place where following your passion is limited to making choices from a schedule. If you love drawing, you should be able to develop, track and engage with a programme of learning that allows you to do that without fear.
Some of you may be reading this and thinking, "That's fine, but what about 'real' learning' … you know the just in case stuff". I not suggesting that all students need to be engaged in full-time passion-based learning. I'm more interested in making sure that should a student make a decision to use our school to follow their passion, that they have the same level of support that is prioritised to those students who made a decision to choose class-based learning.
I am hoping that over the next few months, we start to develop better systems to support this style of learning.
Alert Level 2
Just a reminder that the school is currently operating under Alert Level 2 conditions. In short this the key messages for us all at Alert Level 2 are
* to minimise risk through maintaining distance where practical
* practice safe hygiene habits like handwashing and coughing into your elbow.
* stay home when you are sick.
* get a test if you are symptomatic
At Ao Tawhiti Alert Level 2 means:
* Good hygiene practices and regular cleaning are in place at school.
* All people (including parents) entering the building will need to be signed in.
* You can sign in using SchoolApps or manually at reception. If you are unsure about how to set up schoolapps, click here
* There are several QR code posters for the NZ COVID Tracer App on display at school that you can use for your own contact tracing.
*As a staff we will encourage physical distancing between students
The school will be open from 8am to 3.15pm. No students will be allowed in the building outside these times. Students should not be at school unless they are engaged in learning.
* Y1-6 students will continue to work in homebases.
* Y7-13 students will continue to work on the courses they are currently engaged with.
* Devices will continue to be issued at reception (for now). They will be cleaned after each use. We would love that all students who can to bring a suitable device do so.
* Students who need to self isolate, can request work from their Learning Advisor(s)
* Children and staff who are at higher-risk of severe illness are encouraged to take additional precautions when leaving home.
* The Ministry of Education has advised all schools that you do not have to wear a mask at school at either Alert Level 2 or 3. You may of course do so. This advice may change based on future government decisions.
Steven
Messages from Senior Leaders
Breakfast Club
For many years, Miriam our counsellor has organised and run our Wednesday breakfast club. Such is her workload at the moment that she is looking to pass on the responsibility of organising breakfast club. We are really keen to have a parent or a group of parents take on the organisation of this together with a group of students.
It would involve making sure there is enough food for breakfast on Wednesdays, organising the students to do shopping, cooking and tidying up and supervising the cooking of pancakes.
George's Business Studies class who run the cafe are offering cereal and fruit throughout the week. Wednesdays are a bit more special because we offer pancakes, Grizzly bread and spreads.
If you'd like to be involved in our awesome breakfast club, I'd love to hear from you.
niki.stephenson@aotawhiti.school.nz
Niki Stephenson
News / Notices
Resources for the kitchen
Up in the fourth-floor kitchen, we are running low on supplies for baking delicious goods to sell. If you have any old or spare items such as; chopping boards, knives, measuring cups, saucepans etc. and would like to loan or donate them, please bring them to the fourth-floor cafe. If no one is there, please just leave the items on the bench. We would really appreciate some supplies to help keep this business running.
Thanks.
5HOL Class
Hand Made Masks for Sale – Pay it Forward!!
With the upcoming mask mandate when using public transport, we have a group of Level 3 students who have become very good at making masks. We are now selling them for $5 each and turning all the money into food vouchers.
All the proceeds will go towards food vouchers for families in need within our community.
At the beginning of next term, we will be hosting a market (details to come) where we will be selling a selection of masks for $5 each and much much more. Again all the money taken will be turned into food vouchers.
To order please contact kay.hayes@aotawhiti.school.nz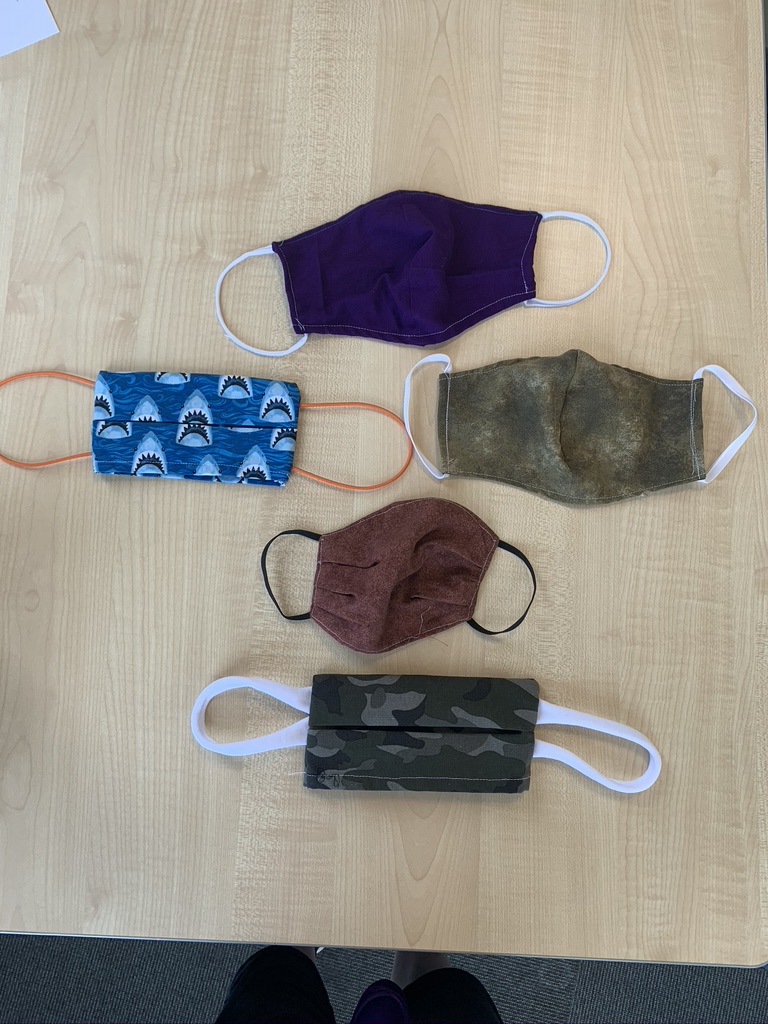 Otis Jorgensen
Problem Based Learning on Level 3
Last week we moved from our Student Volunteer Army projects into Problem Based Projects. Over the last few weeks students have explored their personal strengths and values and we have had community wide challenges to test their collaboration and communication skills.
This week we worked together with students to identify some problems or issues in their society, country, world, that they felt passionate about. We worked through a process where students thought about issues that they felt an emotional attachment to and identified up to three each. We then worked in smaller groups to share this thinking and see if others identified any similar issues. We ended up with a huge working piece that had around ten major themes and another twenty smaller themes.
LA's then supported students to think about the multiple ways they could have an impact on a particular problem or issue. We discussed three areas for change, educating themselves and others, raising awareness and advocating for change. This created a wash of ideas which were shared and developed by students.
Ultimately each student is designing a project that addresses an issue that they feel passionate about. They can choose to work with others and collaborate which could help to have a greater impact .The projects are varied and very exciting to see unfold.
LA's have decided to support students by helping to organise a Kindness / Pay it Forward market where students can raise awareness for their cause as well as selling small items. All money raised in the market will be turned into food vouchers for members of our Ao Tawhiti community that could benefit from a little support.
This is a very exciting space to be working in at the moment and we are looking forward to supporting students work. Here is a very small snapshot of some of the ideas we have heard of so far:
Selling twin friendship bracelets, one to be given to someone as a symbol of checking in on them and their wellbeing by the other wearer.
Making masks for sale.
A fun egg fair game to raise awareness of the costs of battery farming.
Black Lives Matter cup cakes.
Kay Hayes
Dance Showcase 2020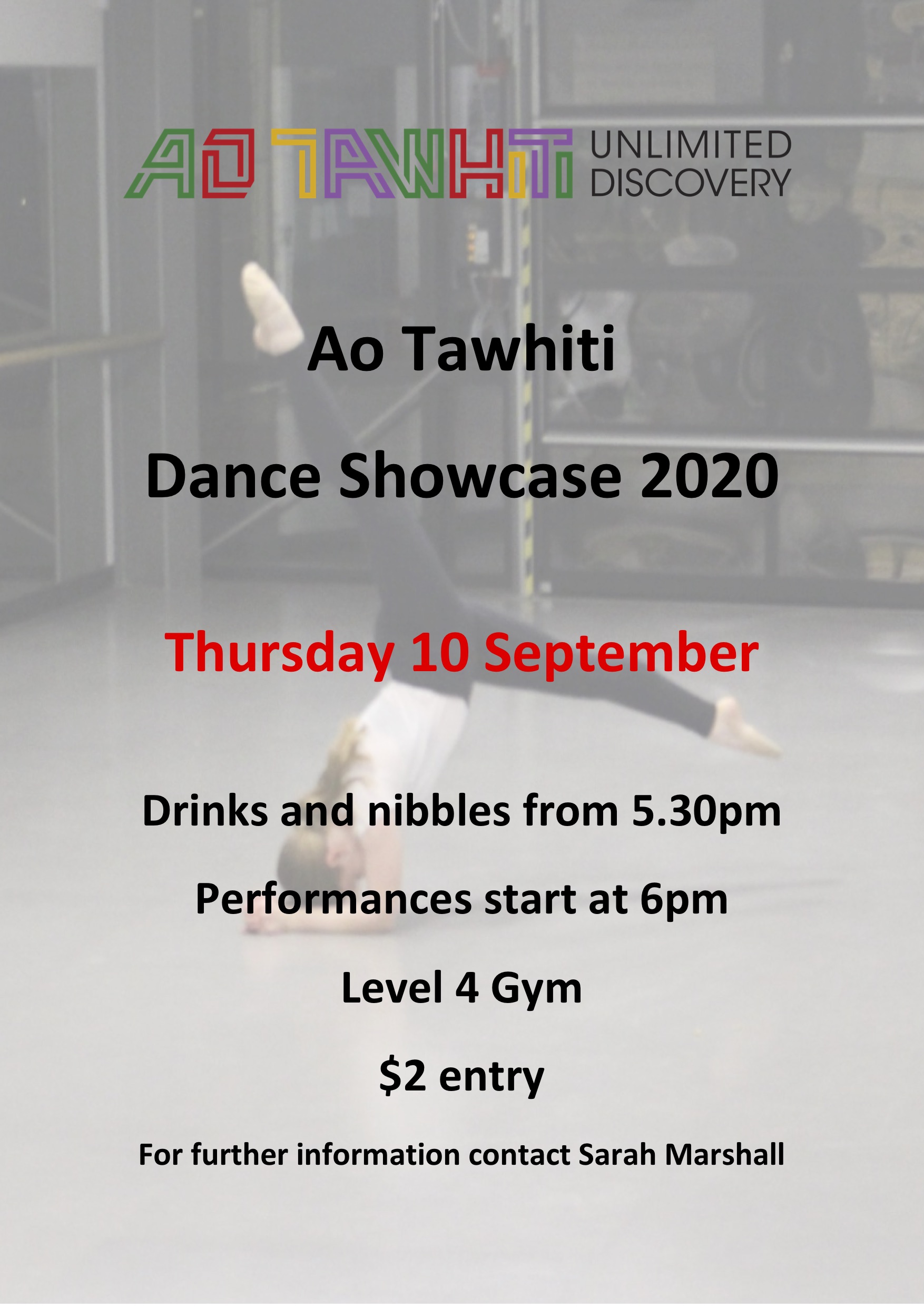 Sarah Marshall
Wig Wednesday
Hi, I'm Caleb from Craig's Homebase. Wig Wednesday is a day organised by the Child Cancer Foundation to raise awareness about kids living with cancer in New Zealand. Wig Wednesday is on September 9th this year, so please try to come to school wearing a wig on that day to show your support! If you want, you can also bring a gold coin donation with you – but it's totally optional. I'll also be coming to each community to chat with you about my experience living with cancer, and to talk to you about Wig Wednesday a little bit more. Thank you!
Caleb
Practice Exams
Please take note of this years' practice exam schedule. During Practice Exam week all Year 11, 12, 13 students will be on study leave and no NCEA classes will run. Year 11, 12, 13 should not be at school unless they are coming in for an exam. They must not be onsite hanging around with friends.
Year 9 and 10s who have exams are allowed two days study leave prior to each of their exam sessions. Otherwise, they must be at school.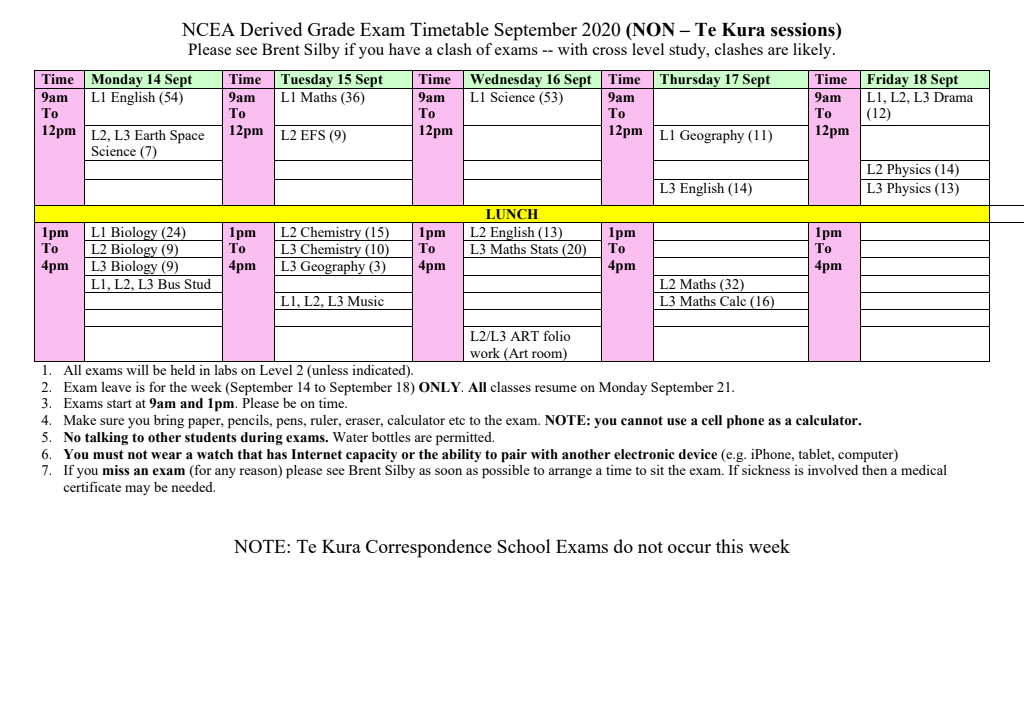 Brent Silby – Qualifications Coordinator
Greetings from the 4th Floor!
Hello everybody! I have such a delightful time in my teaching role where I get to be in a different HB on the 4th floor each day. It's been amazing getting to know the students, parents and whanau. I wanted to take this chance to share a few wee gems of teaching and learning happenings over the past couple of weeks.
In Piwakawaka and Pukeko, there has been a focus on Space, especially after having an awesome experience of Space School being held here for a day. The students have been inspired by the space theme and have had the chance to learn and explore this during their writing, art/creativity/wall displays and free play opportunities. The students have shown an interest to learn more about the planets in our solar system, including the dwarf planets. There's even a couple of fantastic visual songs that are being enjoyed too. Maybe some of you have heard these sung around the HB's or even at home!
In Ruru, there has been a flurry of awesome SLW ideas for students to take on a leading role, share interests, fully participate in and play and explore. Some that I have noticed include the use of cardboard to create unique suits of armour/weapons, fun nail polish designs, cheerleader pyramids, board/card games, collaborative google doc writing, using creative drawing skills and exploring Scratch on the laptops.
Hut Life!
In Pouakai it's a Hut Life take over – cardboard creativity, collaboration and construction!
It all started a couple of weeks ago, as a small idea by a handful of students, to use a couple of spare boxes to create a hut by the kitchen space. Then the idea and people involved grew and grew…. It's been fantastic to have this interest gain momentum, to see the incredible benefits of Play in action that has given the students the opportunity to fully explore their ideas, promote teamwork and communication, trial and error, perseverance, problem-solving and construction skills. There has also been additional support/guidance from Kate (to ensure set up of student success with workshops and resourcing) and great parent and local business involvement too. The students have shown a sense of pride, involvement, respect, accomplishment, friendship and excitement!
Handmade Costume Goals
During Level 3 lockdown, I started constructing a Mandalorian (Star Wars character) costume with my friend Eli. Over the next 16 weeks, I continued to work on developing and constructing my costume. During my T3 IEM, I decided to create a goal to complete my costume and to also run some workshops to teach other people how to make their own costume armour.
I used cardboard, hot glue and duct tape to make the armour panels and helmet, and fabric to make the cape and holster. I researched and found templates that looked similar to my vision online and then adapted them to fit me.
I have almost completed my costume and am really proud because I have had a goal to make a costume for nearly 6years and I'VE FINALLY DONE IT!!!
In the future, I'm planning to make a jet pack.
By Oscar Griffith age 11.
Sarah French
Ski Instructors Certificate
Congratulations to Wiremu Mario and Macka on achieving their Ski Level 1 Certificate this week.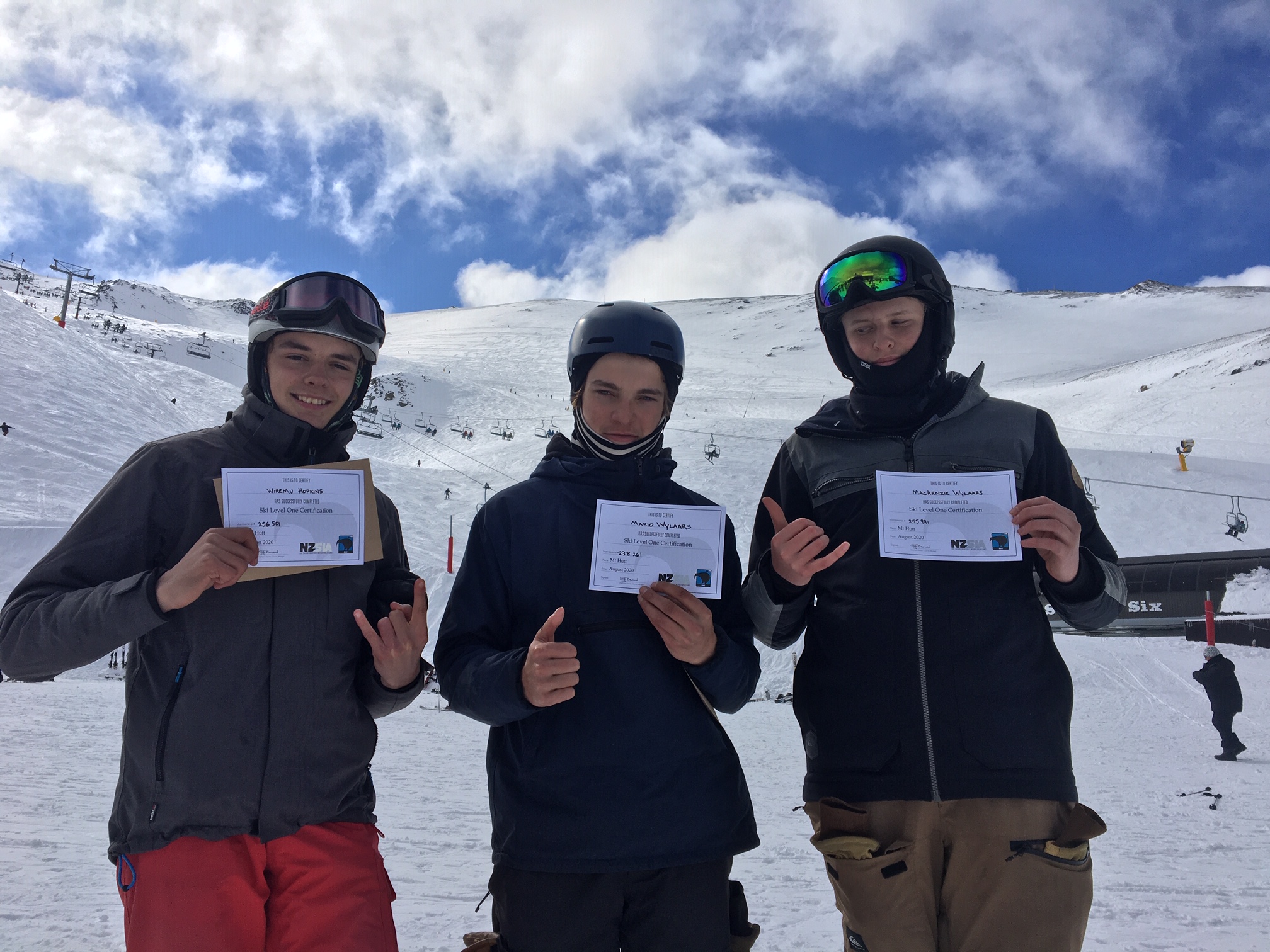 Liam Paulsen
Senior students on Gateway Work Experience
Senior students are continuing with their Gateway Work Placements despite the challenges of COVID 19. Here are Frewen Watts and Josh Walker at Countdown Upper Riccarton and Acacia Dunbar-Ogston at Willowbank Wildlife Reserve.
John Schischka
Te Kura Correspondence Practice Exams
As in past years, we are offering our school as a practice exam centre for Ao Tawhiti students who are dual-enrolled at Te Kura Correspondence School. Te Kura Practice exams will take place over several days. Please check for your times on the schedule (pdf). We are not running the audio exams for languages due to room and staffing constraints.
https://drive.google.com/open?id=1CAwroPgJ5mcLY1re-iYIPZNS5JXKrg8V
Ao Tawhiti Comedy Club
Snap from Christchurch's Good Times Comedy Club is coming in to explore opportunities to support and mentor comedy. The idea is to run workshops that lead to students writing and performing. If you have experience in this field, or would like to participate, then contact Braden. More information to follow.
Braden Fa'avae
Other Notices