---
Upcoming Events
IEMs – Friday 8th July (school not open for instruction)
School holidays – Saturday 9th July – Sunday 24th July
IEMs – Monday 25th July (school not open for instruction)
First day of term 3 – Tuesday 26th July
NCEA Professional Learning – Monday 22nd August (students in years 9-13 will learn at home on the day, school is open for years 8 and under)
Staff only day – Thursday 1st September (school not open for instruction)
Staff only day – Friday 2nd September (school not open for instruction)
Last day of term 3 – Thursday 29th September
IEMs– Friday 30th September (school not open for instruction)
School holidays – Saturday 1st October – Sunday 16th October
---
Message From Anita
Thank you to everyone for their contribution to keeping our school safe and open for the whole term. Covid has impacted us, as have other winter germs, however people's willingness to follow public health guidelines has meant that we have been able to stay open all term and there have been opportunities galore for our rangatahi and tamariki. I also have to thank our staff who gave up non-contact and release time to supervise unstaffed classes so we didn't have to roster students home. I am encouraging all our staff to have a break over the holidays, so hopefully you will see a lot of 'I am on leave' automated responses on staff emails. I don't know what is going to happen next term with Covid, but I will continue to keep you updated regularly as we navigate flexibly through whatever happens next.
I would like to acknowledge the hard work of our existing Board who have had the responsibility of overseeing the shift into our new kura, navigating the pandemic and the employment of a new Director. Our existing Board is Board Chair Danette Wereta and Deputy Andrew Dean. They are supported by Evan Kidd who has been on the Board for ten years, Karen Grant, Moana Barr and Tim McKay. Roisin Scott is the student representative and Sarah Marshall is the staff representative.
Next term we have the Board elections. These happen every three years. The Board is made up of elected representatives from the school's community. They have overall responsibility and accountability for the kura and the responsibilities are legislated within The Education and Training Action 2020.
Responsibilities include:
· Setting the strategic direction of the kura.
· Ensuring the kura is reaching its responsibilities under Te Tiriti o Waitangi
· Protecting the school's Special Character
· Protecting the school's values.
· Monitoring and evaluating student learning outcomes
· Approving policies
· Financial stewardship
This is very much a governance role and it is important to note that the Board doesn't get involved in the day-to-day management of school operations.
I would like to encourage whānau to keep an eye out early next term as we will send out information and nomination forms. Please feel free to be in touch if you are interested or have any questions in the meantime. The election will be held on September 7th and all caregivers will be given the opportunity to vote.
I hope that everyone has a relaxing holiday break. If you are travelling then please travel safe and we are looking forward to seeing everyone back on site, refreshed for term three.
Ngā mihi nui
Anita
Messages from Senior Leaders
One Schools' Network
One Schools' Network is a student-led initiative. It is a network of school leaders from across schools in Õtautahi Christchurch. They come together to break down the barriers between schools, support one another and look at how they can make a contribution to supporting students in schools. Ao Tawhiti hosted the first meeting for 2022. This was initiated by Roisin Scott and she was supported by Georgina Burkin and Hannah Crisp. Dom Wilson and Rosa Opie also returned – as ex-members of the One School Network to support this initiative.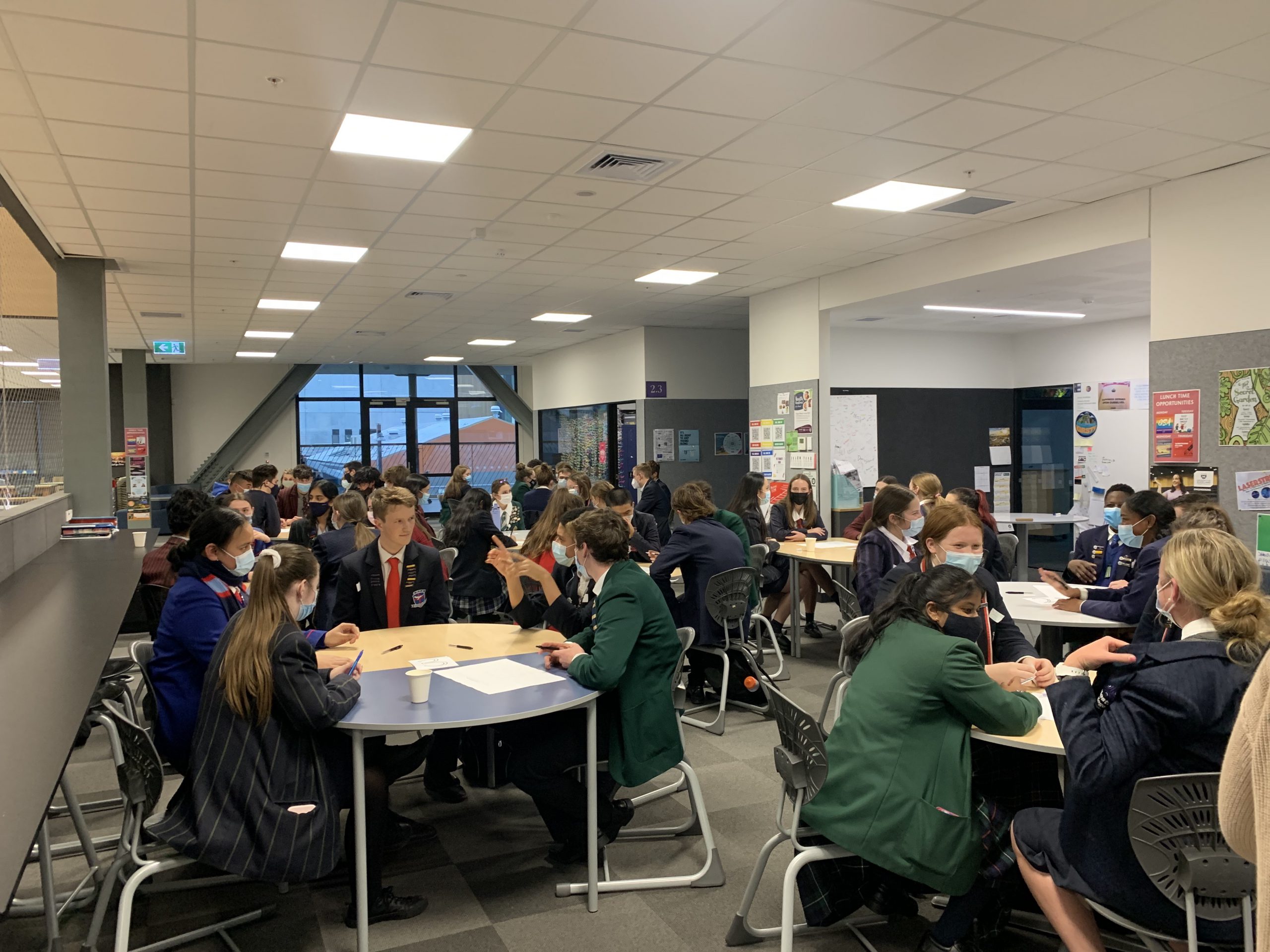 Anita
MoE Academic Awards Ceremony
Earlier in the term, Lyra Sato (Y13) was recognised at a regional academic award ceremony held by the Ministry of Education. The ceremony celebrated success in NCEA by Christchurch students from diverse ethnic backgrounds. Lyra completed Level 3 NCEA with a merit endorsement and gained University Entrance as a Year 12 student last year – a year ahead of schedule. Tino pai, Lyra! It's great to see your achievements recognised at this level.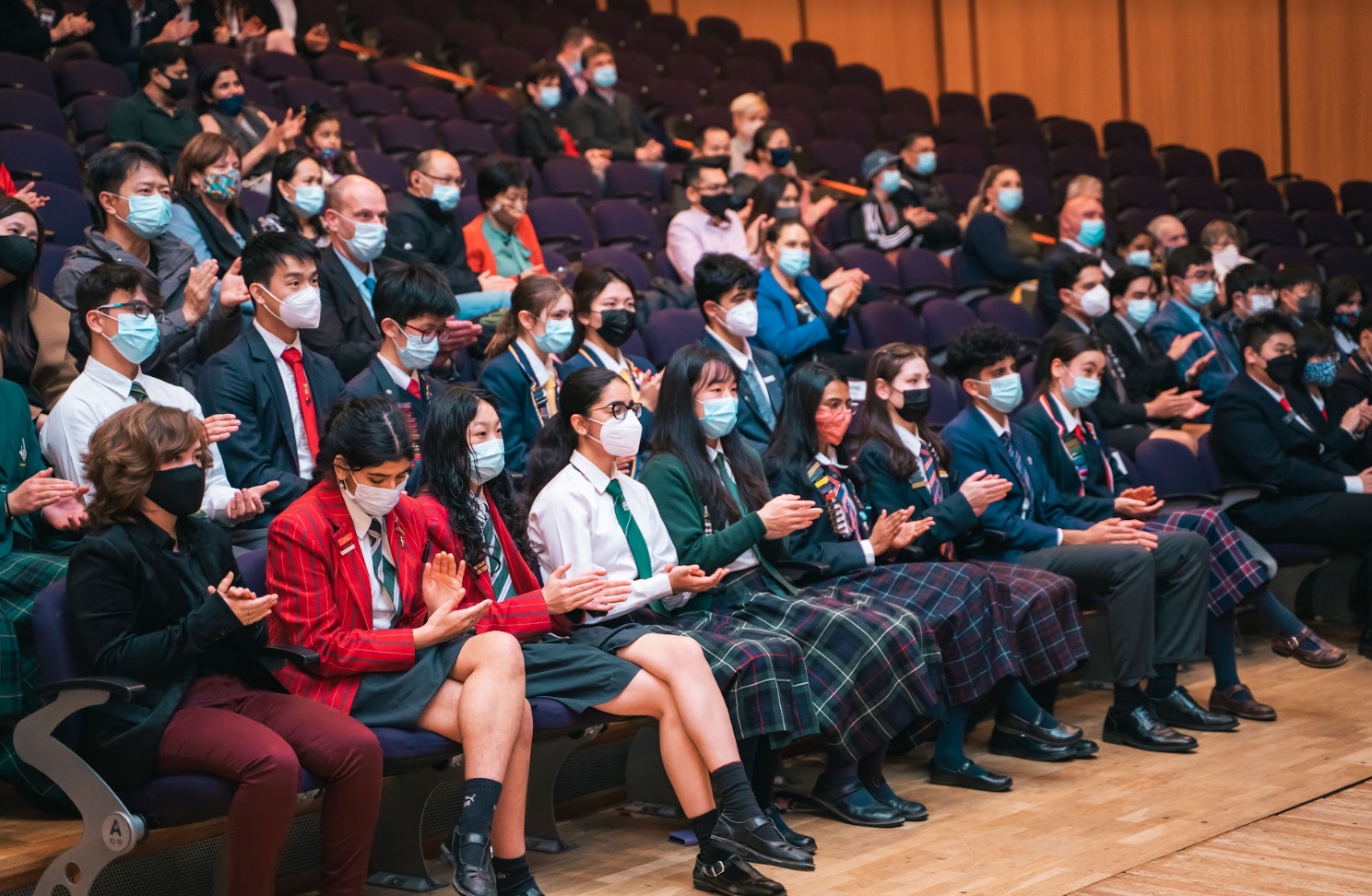 Megan Taylor
Hapori update
Hapori continues to be a space in the timetable where we see students engaging in a huge variety of activities, both in the building and beyond it. We love seeing the curriculum expanded through hapori along with the broad range of skills and capabilities students are developing. Highlights this term have included a tree planting event, a mid-winter ocean swim and a Showquest performance. Our Hapori website is updated regularly with photos and information. You can check it out here: https://sites.google.com/aotawhiti.school.nz/haporiataotawhiti/home
Megan Taylor
Maker Market – E Commerce Opportunity
Maker Market is an eCommerce website where Ao Tawhiti students can make and sell their own products. Students keep 100% of their profits and are responsible for managing all aspects of their business. This includes product design, marketing, customer service, budgeting, packaging, and shipping to customers. We have an emphasis on handmade products and original designs, and any student with a product is welcome to talk to Courtney about opening a store.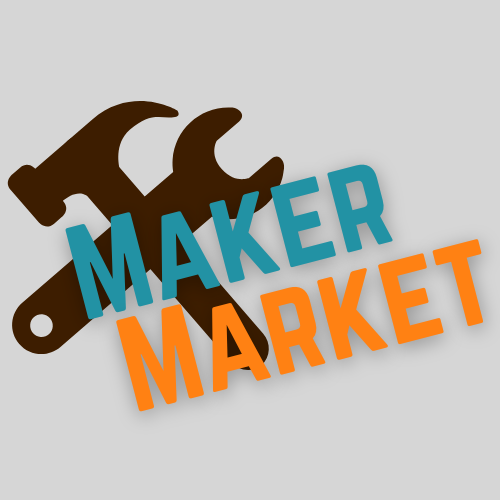 Anita
Matariki
What a wonderful Matariki celebration this year. Thank you so much for your contributions, whether you supplied lights or time to decorate the school, soup for afternoon tea or kai for the hangi, ran or supported a workshop or activity, or cheered our performers. The turnout this year was impressive and lent a wonderful festival atmosphere to our celebration. Thanks to everyone who helped prepare the hangi, from the kai preparation to the students who helped Clint dig the pit and with the fire. Unfortunately, the meat needed a little more cooking, but the atmosphere in the kitchen as people pitched in was magic.
Thanks to those of you who stayed to enjoy some hangi kai, and thanks to the hospitality classes who served students and staff with the leftovers! We hope you and your whānau enjoyed the opportunity to hang out with our awesome community, in the spirit of Matariki and looking forward, we can't wait for next year's celebration!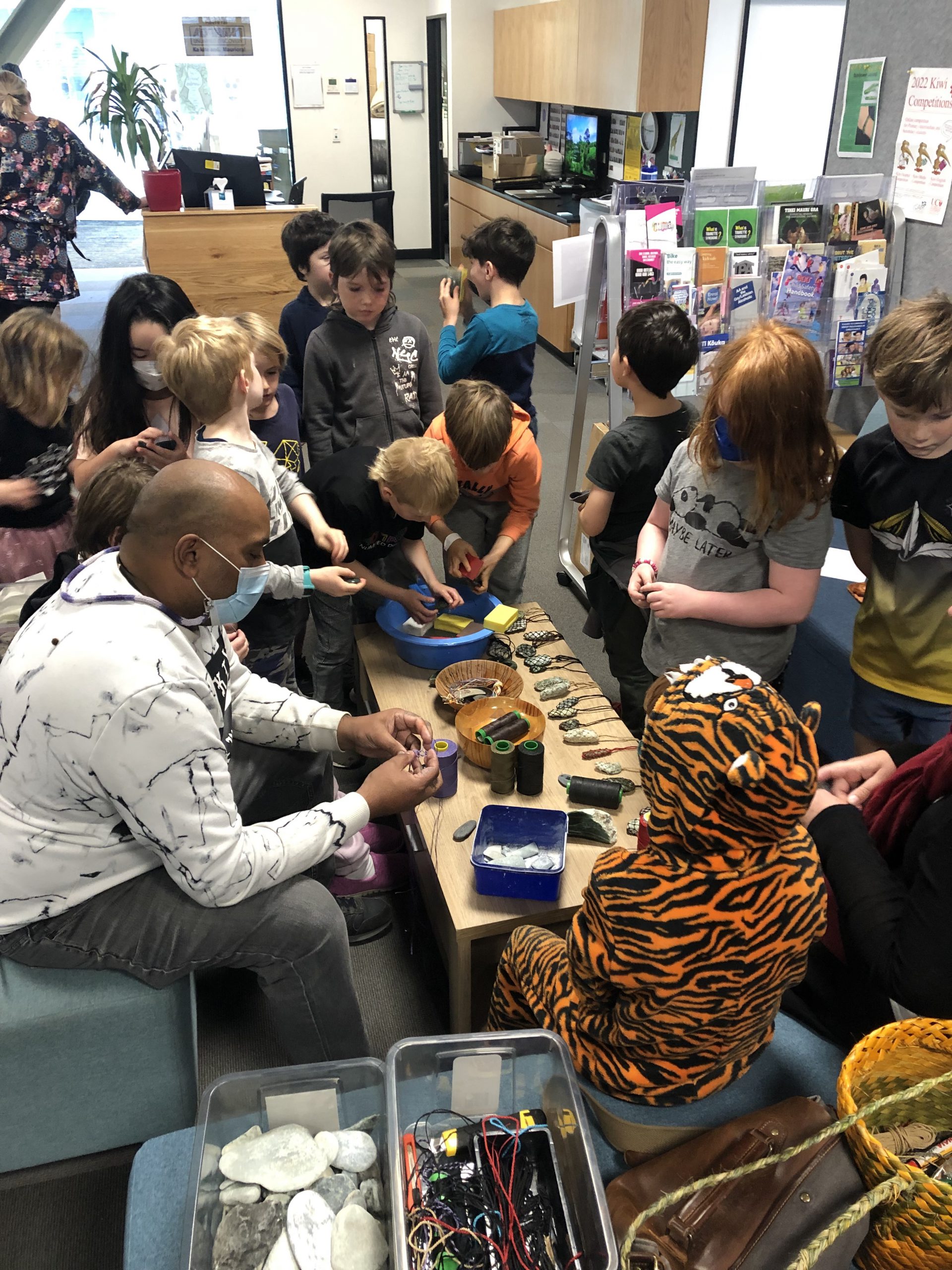 Niki Stephenson
News / Notices
Supporting our rangatahi with Online Safety
A few weeks back, we had Paula from Netsafe come and speak to the staff and then whānau about how we can best support our rangatahi while they explore the online world. Within the PARENT TOOLKIT (https://www.netsafe.org.nz/parenttoolkit/) there are 7 steps we can work through as we navigate this journey with our youth.
1. Understand: Read about the potential online risks, challenges and sometimes illegal behaviour young people face to understand what may happen.
2. Learn: Ask your child about what they do, how they use devices and who they talk to to learn about their activities. Check in regularly to see what has changed.
3. Explore: Take the time yourself to explore the sites, apps and technologies your child uses to improve your knowledge and understand their experience
4. Agree: Create a family code with your child to agree on what they can do online including sites to visit, appropriate behaviours, privacy settings and limits.
5. Teach: Recognise each child has unique needs, but some online safety concepts are universal. Start by teaching yours the Five tips to help your child thrive.
6. Model: Be a good example to your child. Make sure you role model the sort of behaviours you want to see your child use online and offline.
7. Plan: Make a plan so everybody knows what to do if something goes wrong and where you will be able to get advice and support in challenging times.
https://www.netsafe.org.nz/online-safety-for-parents
Sarah Marshall
7 Physics Trip to Air New Zealand Engineering
On Wednesday 29 July our 7 Physics class visited Air New Zealand Engineering Services as part of our studies on the forces of flight toward the applied context standard. There we got to tour their learning centre where they train pilots for new aircraft and air hosts and train engineers. We got to learn how the flight controls work using their static training aircraft and then got to tour their main engineering hangar where a C-130 Hercules from the US air force was being worked on so it could fly to and land in Antarctica during the summer. We also saw two Air New Zealand A320s being maintained.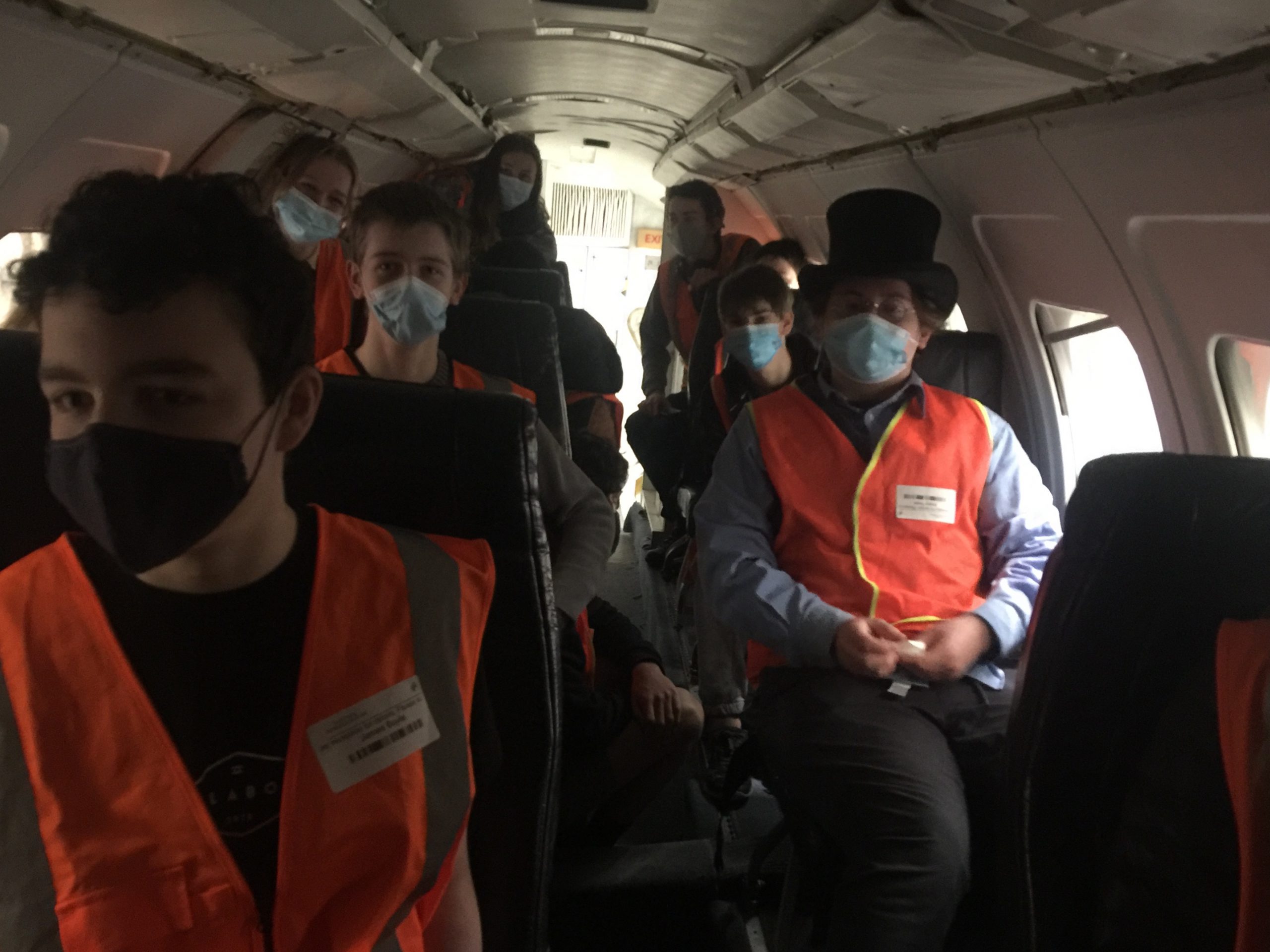 Greg O'Neill
Ski Trip Friday September 9th
This is a whole school Ski Trip for 2022. Any Ao Tawhiti student can attend (some will need an adult helper).
Beginners through to advanced students are welcome. Mount Hutt has a package deal for school students so all you need is the clothing and accessories. The bus leaves around 8.00am and returns around 6.00pm. Students need to be at the bus stop at least 10 minutes before departure. I will pass on more information closer to each trip. The instructor lessons begin at 11.00am on the snow.
The cost of the trip is estimated at $100 (for a day lift pass, rental equipment, and a lesson pitched at your child's skill level and for bus transport). Payment must be made in advance via accounts@aotawhiti.school.nz. Financial assistance forms are available through the office. The exact cost will be confirmed once quotes have been received.
Students under the age of ten and who are not at least novice or experienced on the snow will need adult support for the day. Adults will need to pay a transport fee for the bus. Parents who want to ski will be charged the full rate (less 10%) by Mount Hutt.
We need to submit a student list two weeks before the trip. Changes made after this will incur charges. Parents and caregivers can sign students up using this form: https://docs.google.com/forms/d/e/1FAIpQLSfMShBMpos43CV9E9b_hgcRTJn1Q-eZ98fQKINCYTb3Rks2fA/viewform
Kay Hayes
Glub
We've had a fantastic start to Glub this year, thanks everyone for making it so awesome! It's been fantastic having our original Glubbers come back, as well as welcoming new students in!
We've had a bustling two terms full of eco-printing, string making and basket weaving with Rekindle, mindful movement sessions, cooking and baking challenges, growing mushrooms, topical discussions around mental health and wellbeing, and of course- more DnD, games and socials!!
We're continuing on with new plans as well as repeats of our favourites every Tuesday and Thursday and hope to see some new faces!
See you next term 😀
Glub glub!
*Glub is a safe space for students (14+). We meet in 4.C every Tuesday & Thursday, 3-5 pm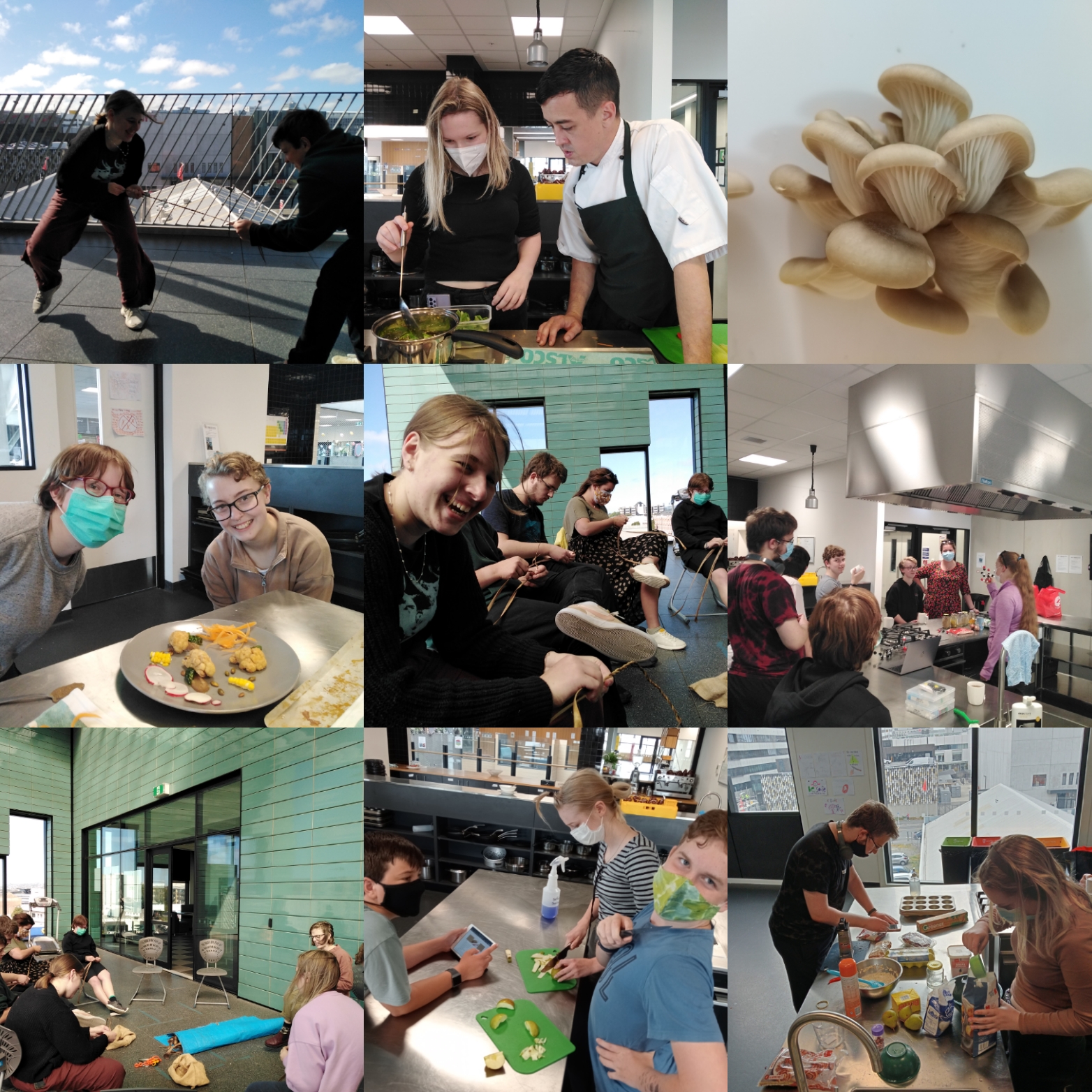 Green Party Visit
During Pride Week, Green MP Dr Elizabeth Kerekere visited our Kura. We love what she had to say about our community:
"Ao Tawhiti Secondary School in Ōtautahi Christchurch. For Pride Week, they invited my colleague Jan Logie and me to speak to their students. In an art class! Questions included how we deal with 'casual' homophobia, ways of changing tikanga in Māori culture to embrace takatāpui participation at every level, and what Green change looks like in Parliament.
Thanks to Jess Dewhurst who organised this and gave us a mini-tour of this special character school. I was fully jealous of the amazing opportunities the students have to learn there."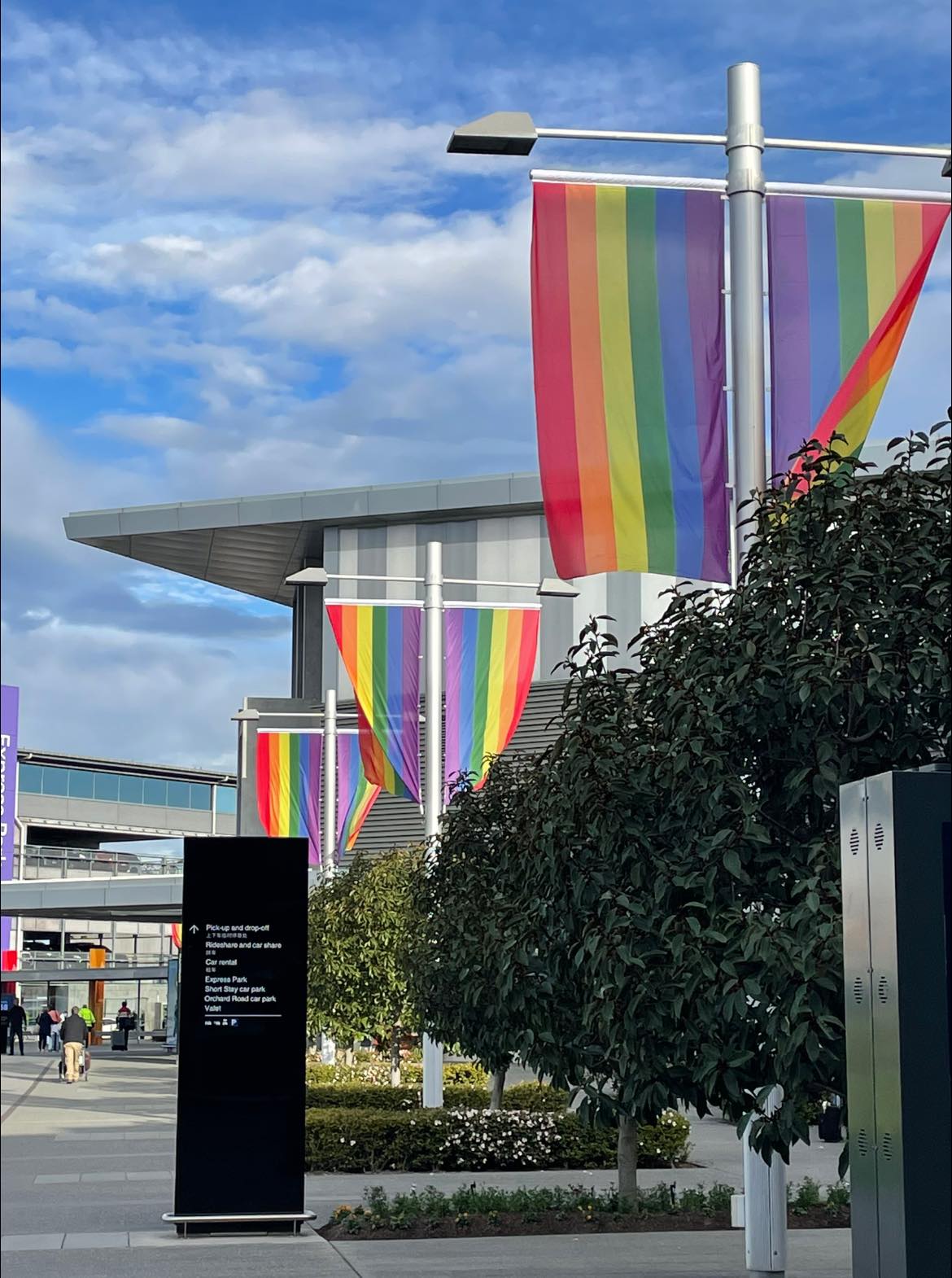 Cross Country
In the inter-schools cross country competition, students in years 0 through 4 all performed amazingly well and had a wonderful time.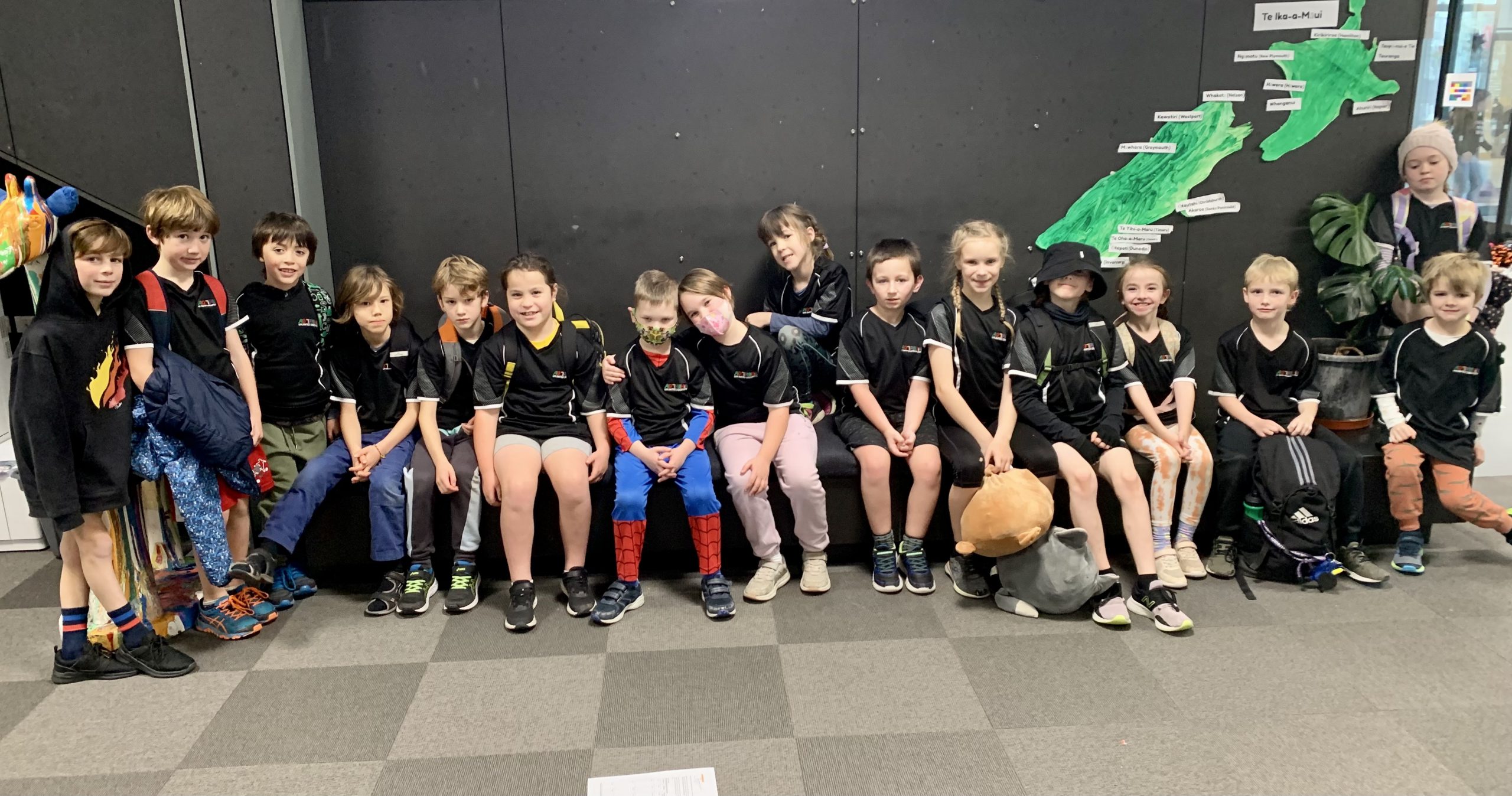 Megan Gould
SDL in Ōtākaro
Kia ora e te whānau o Ao Tawhiti,
In our home base Ōtākaro we have been focussing on developing our understanding of self-directed learning (SDL). We have explored the skills and strategies needed to set and achieve our goals. The children selected topics/themes they are passionate about or are interested in. It has been a learning curve for all of the students. We are beginning to give feedback, and to feedforward and reflect.
Below are some examples of our wonderful learning.
Caspar and Madden created photo stories using lego and Minecraft figures. This process involved taking stills (photos) and developing a simple storyline. From this learning, both boys have developed an interest in stop motion.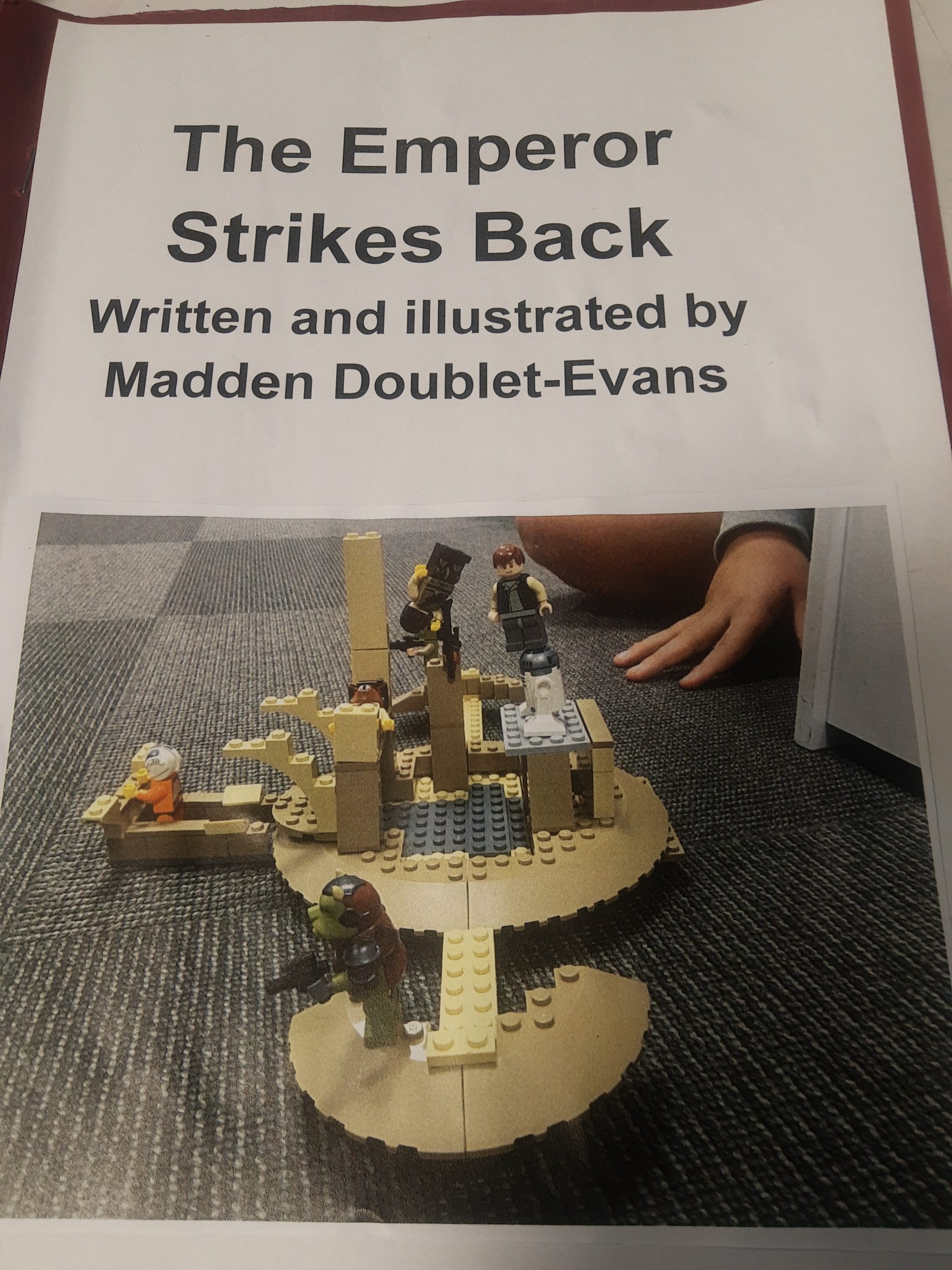 James and Dannika organised our trip to QE2. They rang the CCC to find out the costs, they also did a survey on transportation to the pool. There were many different projects and ideas.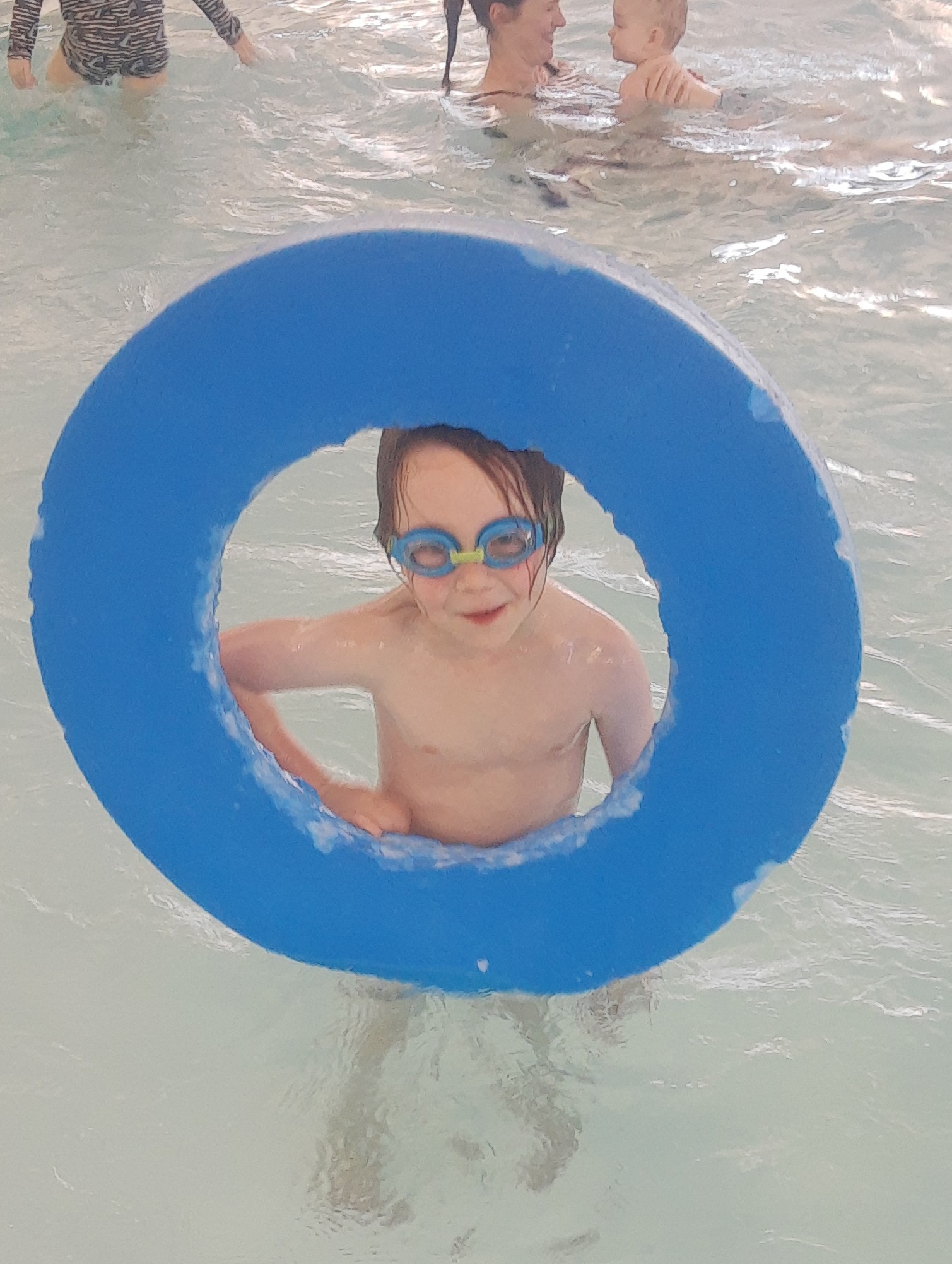 We also created this little movie to share: This is the link below.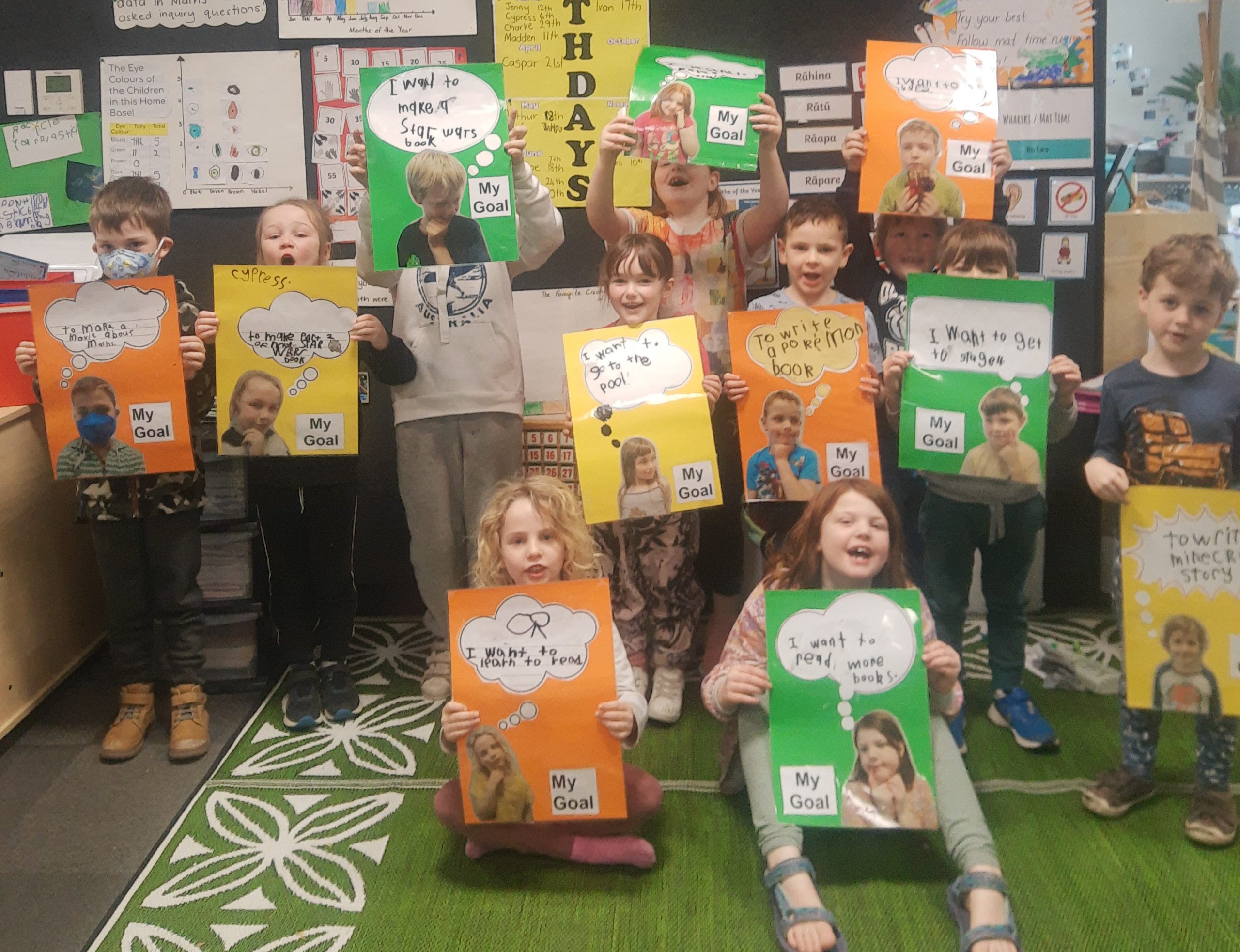 Jenny Ward
Let's Get Active – Floor 3
This term we provided students with the opportunity to take part in different activities on a Friday morning. We finished our last Friday with ice skating at Alpine Ice.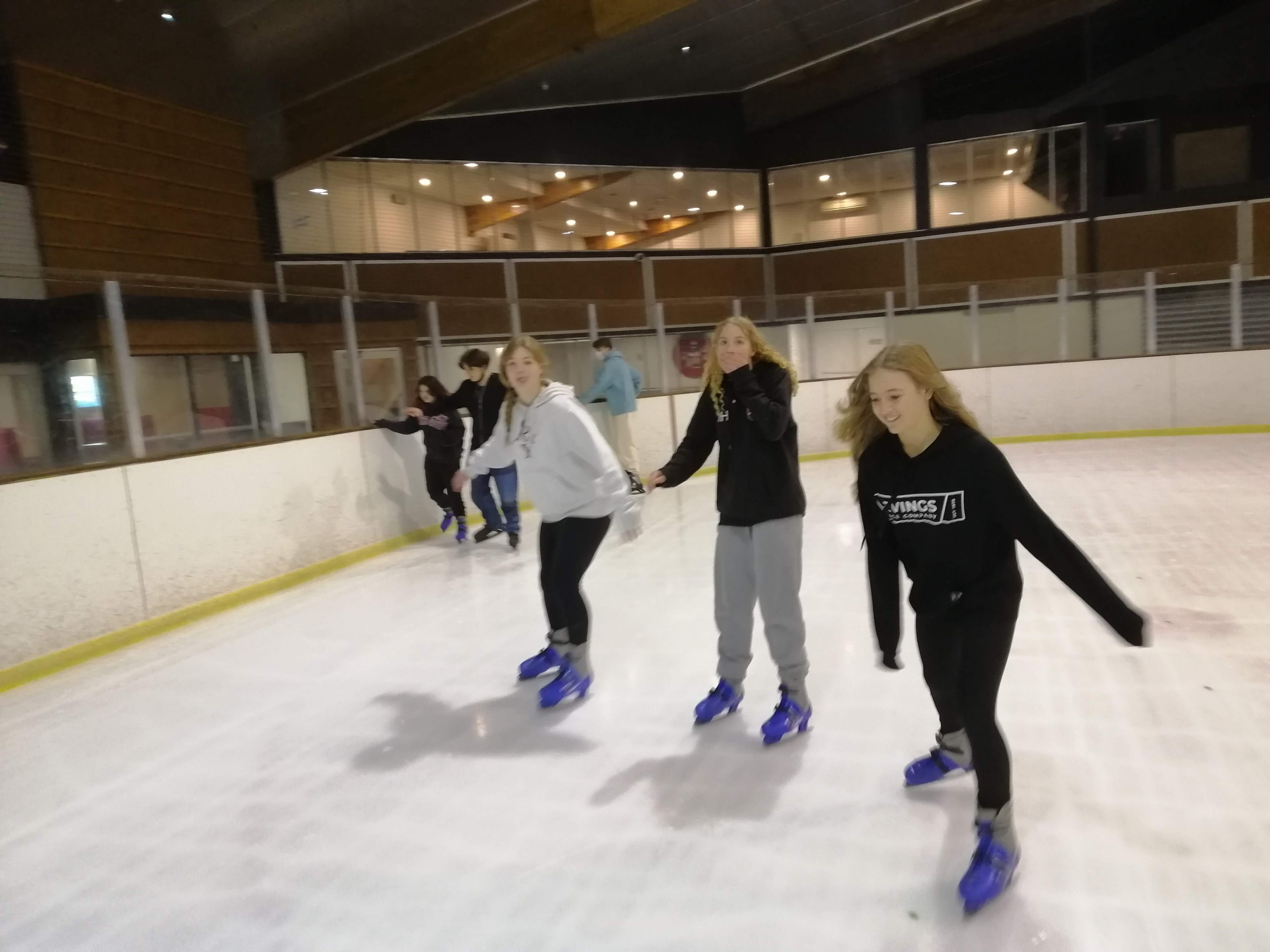 Sarah and Craig
School Pride Week
Pride Week at Ao Tawhiti Unlimited Discovery was a jam-packed week filled with a wide range of activities to celebrate. We started the week off with rainbow face painting, followed by arts and crafts, a dance party, Pride Flags scavenger hunt and a Q&A session with Rainbow MPs Dr Elizabeth Kerekere and Jan Logie. To round things off we held the Ultimate Pride Week Quiz which tested the students' general knowledge and NZ Pride Knowledge, thanks to questions from Insideout.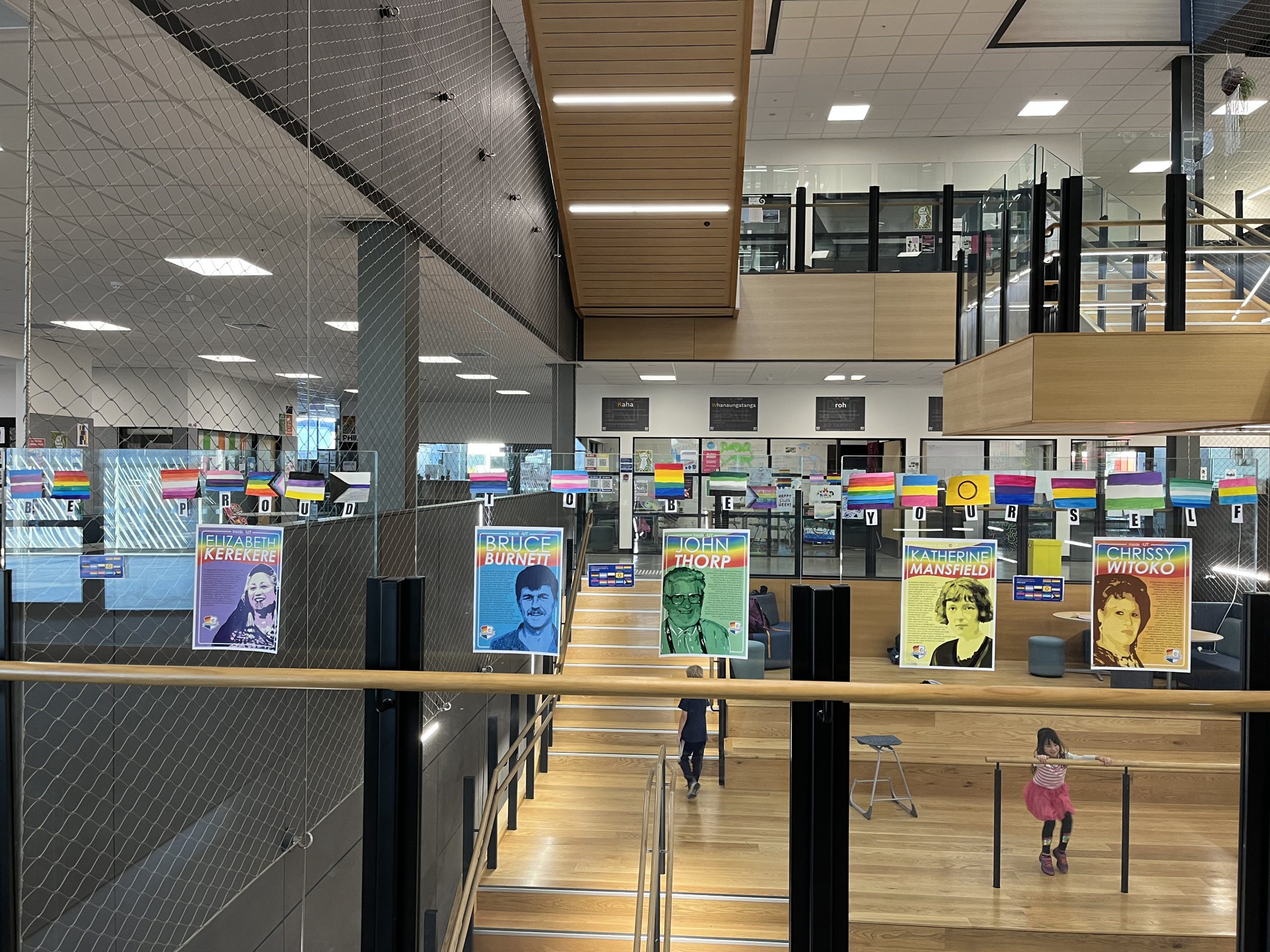 Jess Dewhurst
NZSIA Level one ski instructors qualification
One of the cool things that our kura can help facilitate is learning beyond our building. Thanks to Kirsty, our Careers Advisor, Hazel Saunders was able to spend a week recently up at Mt Hutt gaining her NZSIA Level one ski instructors qualification. This is an internationally recognised qualification that Hazel is hoping to use in the years to come as she follows one of her passions and travels the world. Evan Richie was going to do this as well but caught Covid the night before which was a major disappointment for him – we are hoping he can have another go in September.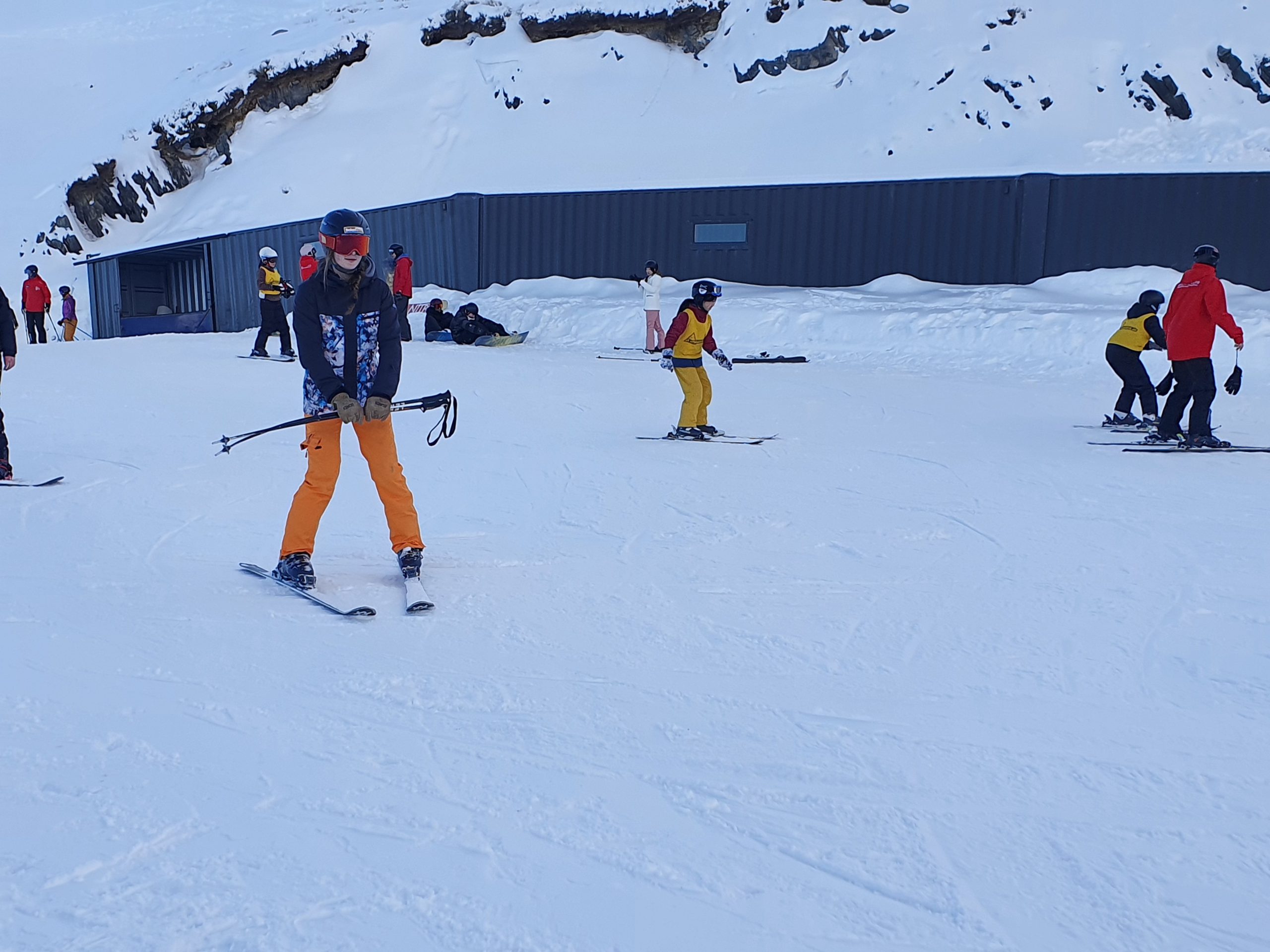 Craig Perry
Congratulations to Showquest and Toi Team
On the 17th of June, we had a great group take part in Showquest. It was slightly different this year, with no live audience and the stage performance being filmed. We also had Willow enter the Toi wearable arts section – well done! All students did a great job and should be very proud. Congratulations on gaining a lighting award.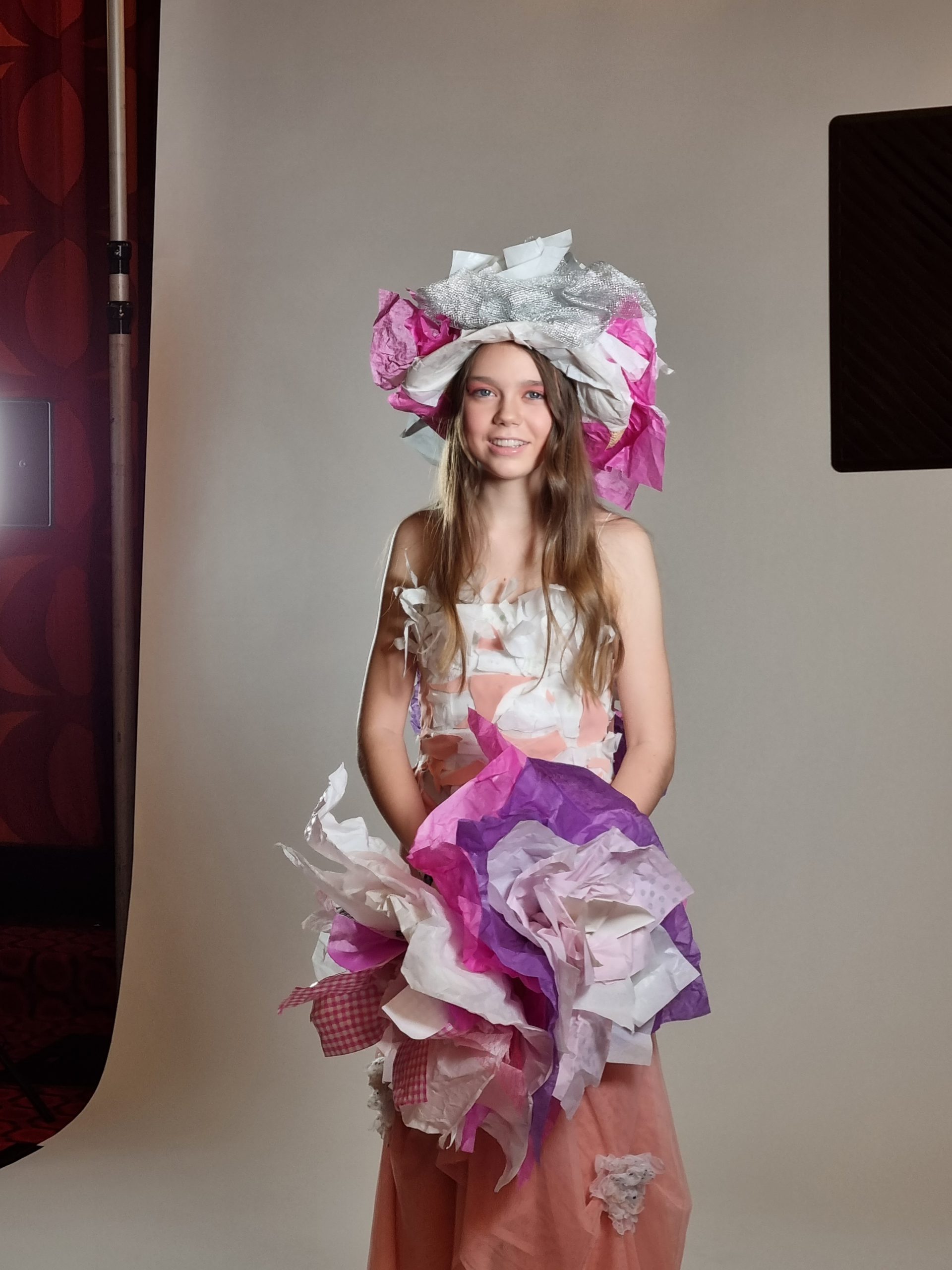 Sarah Marshall
Floor 4 Our People Project – Staff Midwinter Lunch
Our People is a project group of Level Four students whose goal is to support the people who make up our community. Manaakitanga. Today we teamed up with two hospitality classes to provide a lovely Midwinter Christmas Lunch for staff. Students decorated the room, made all the food, served the food, cleaned the dishes and much more, all in the spirit of giving and caring for others.
They created a beautiful, lovely atmosphere and really gave it their all to make staff feel appreciated. Throughout the day we involved over 50 different students who all did their part as a gift to others.
The Our People students were really buzzing and the sense of community and memories made will stick with them. Everyone involved deserved a big clap and they should feel very proud of their mahi today. Thank you to Steph and Evan and all the hospitality students for mucking in and for helping to make it happen.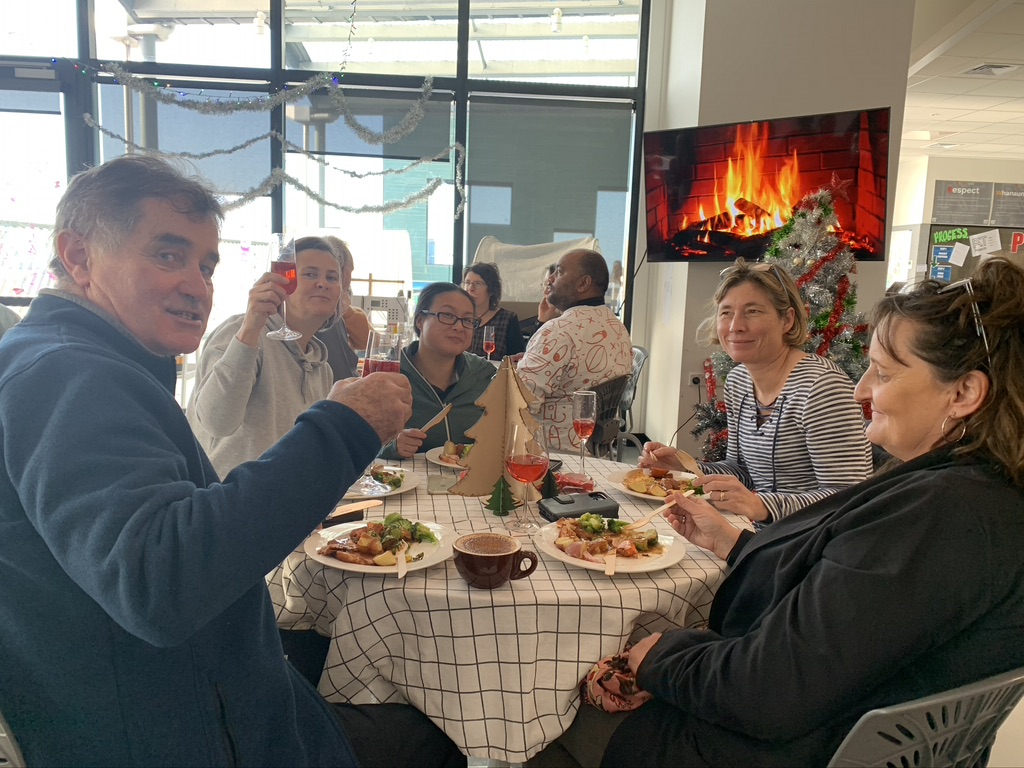 Kay Hayes and Suze Lambert
Tākaro Hapori
To finish the term, our Hapori group went to Arcadia for our last session for an "all you can play" retro arcade experience. The group seemed to have heaps of fun and it was a great way to end the term. This term we have also had members of our Hapori representing the school on Tuesday and Wednesday afternoons in the National High School ESports League. For most, this is the first time they have represented or been in a school team and they are largely self organised so well done to them.
Another standout for the term is the efforts of Nate Cooley who has embraced our kaupapa of moving from being consumers to being creators and innovators by creating an original table top game called Pandamonium. His game has been in development for most of the year and in term two, he test played it with a group in our Hapori.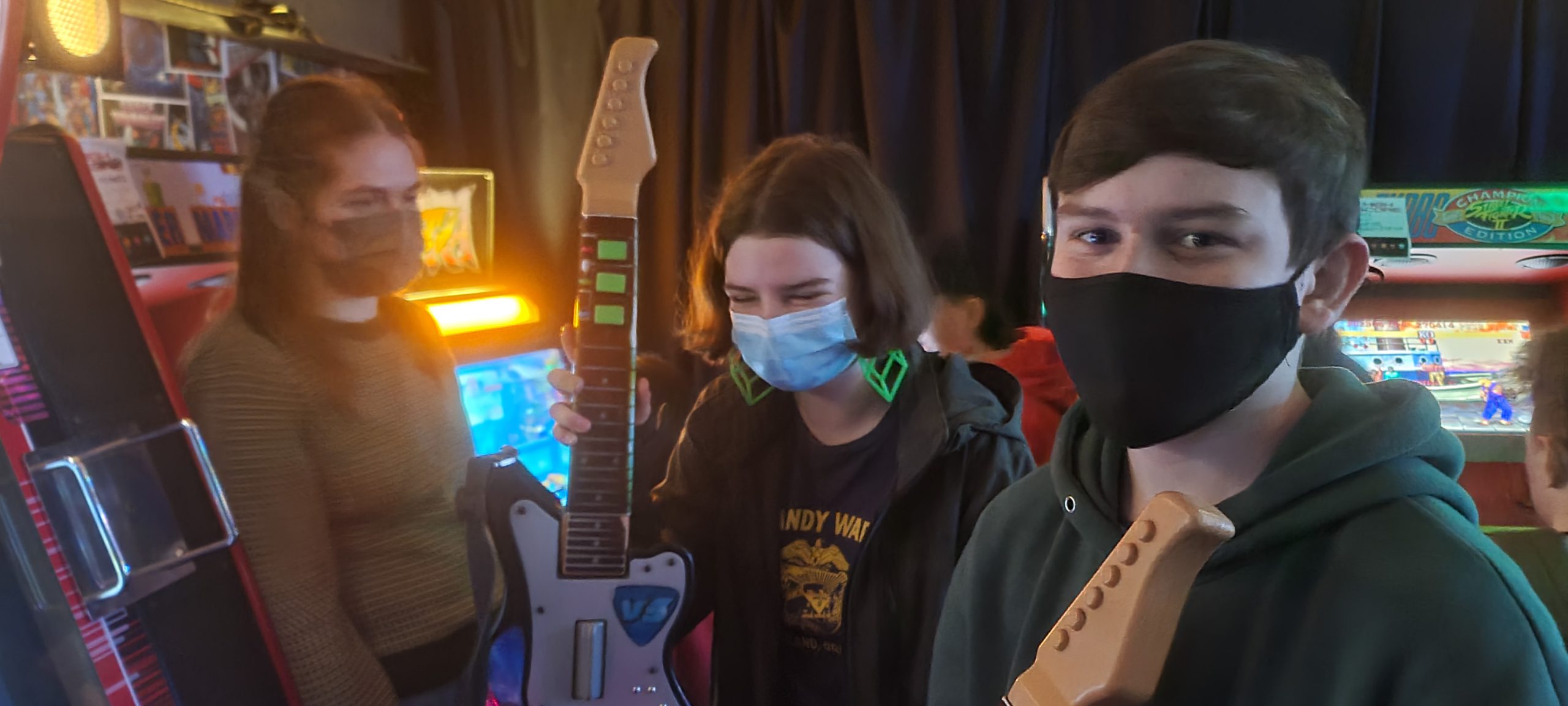 Craig and the team
Flashmob for the Long Finned Eel – Tiakina ngā tuna
HBAotearoa has been working hard this term preparing a flashmob dance to raise awareness of the plight of our native long finned eels. The tamariki made some fantastic pamphlets to hand out to the crowd, highlighting why the tuna are special, why they are threatened, and what we can do to help. The CCC sent a photographer to the performance on Cashel St on July 1st. Here are some of the best shots featuring t-shirts screen printed with our design by Jess Dewhurst. We bought the t-shirts with money raised through bake sales at school. Such a fantastic event!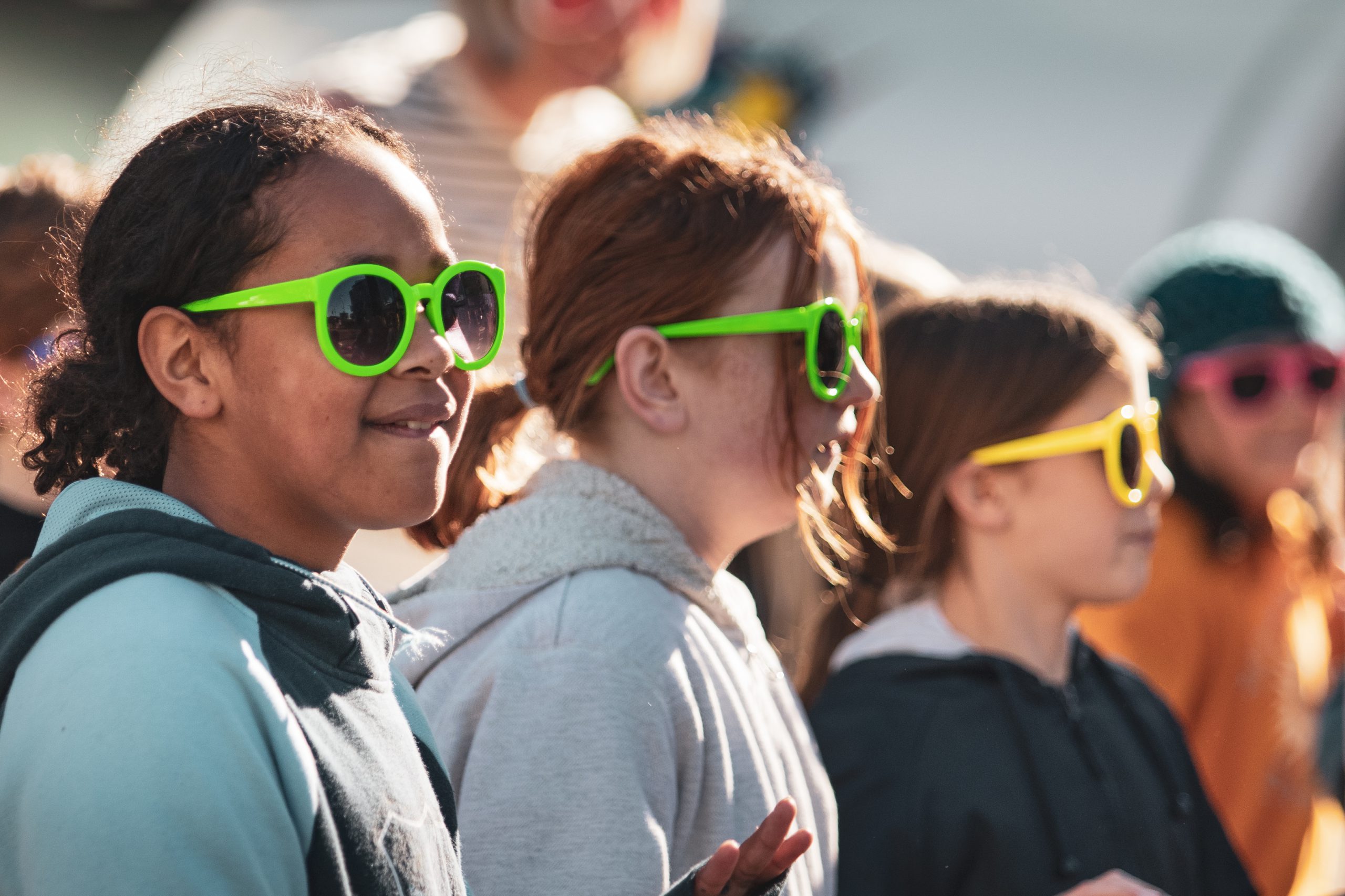 Katherine Bauer
Scholastic Book Club
Brand new books from as little as $3 AND every order, no matter how small or large, earns 20% back to school. Preschoolers through to early teens there 's something for everyone and it's not just books: puzzles, crystals, spy kits, walkie talkies …. 8 issues a year with 2/ term. Keep an eye out by reception for the latest catalogue or take a look online. Updates will be on Facebook: Ao Tawhiti Parents Discussion page. https://www.scholastic.co.nz/parents/lucky-book-club/
Claire Cameron yr 6 & 7 parent
Ella Harris Poster
Ella helped out with students sitting science and maths exams in 2021.
She went through D1, Unlimited, and Ao Tawhiti.
Kirsty McMillan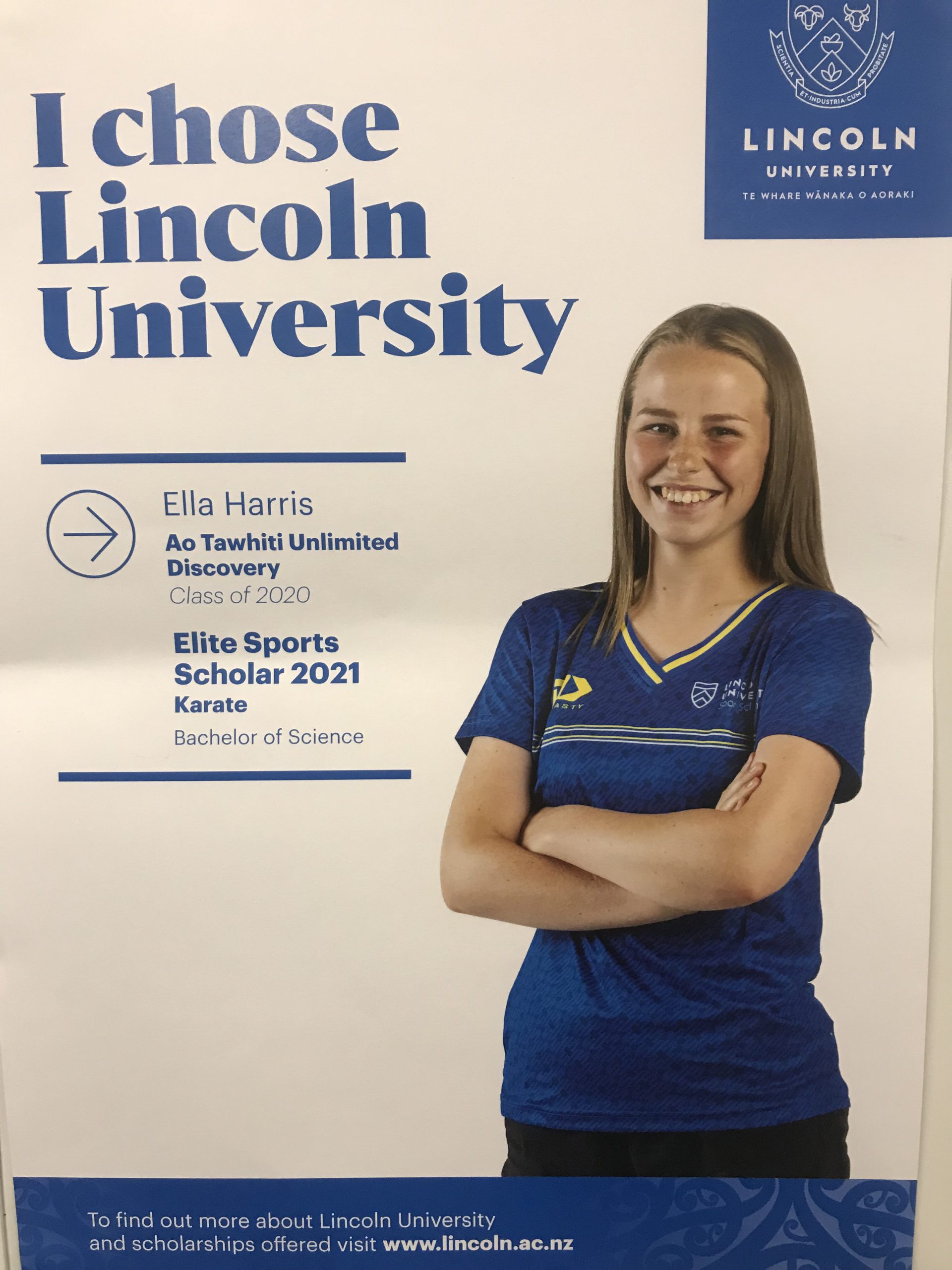 School holiday savings with Entertainment Book
We are fundraising with Entertainment where you get the savings!!! Every order received means school gets 20% Save money on activities like golf, swimming, Willowbank, Lord of the Rings Tours, karting, bellydancing, Cheapskates, tram, karate, clip n climb, movies …. then there's the dining and takeaways, the hotels and car hire, the carpet and window cleaning & dry cleaning. The list is endless. Support local shop local.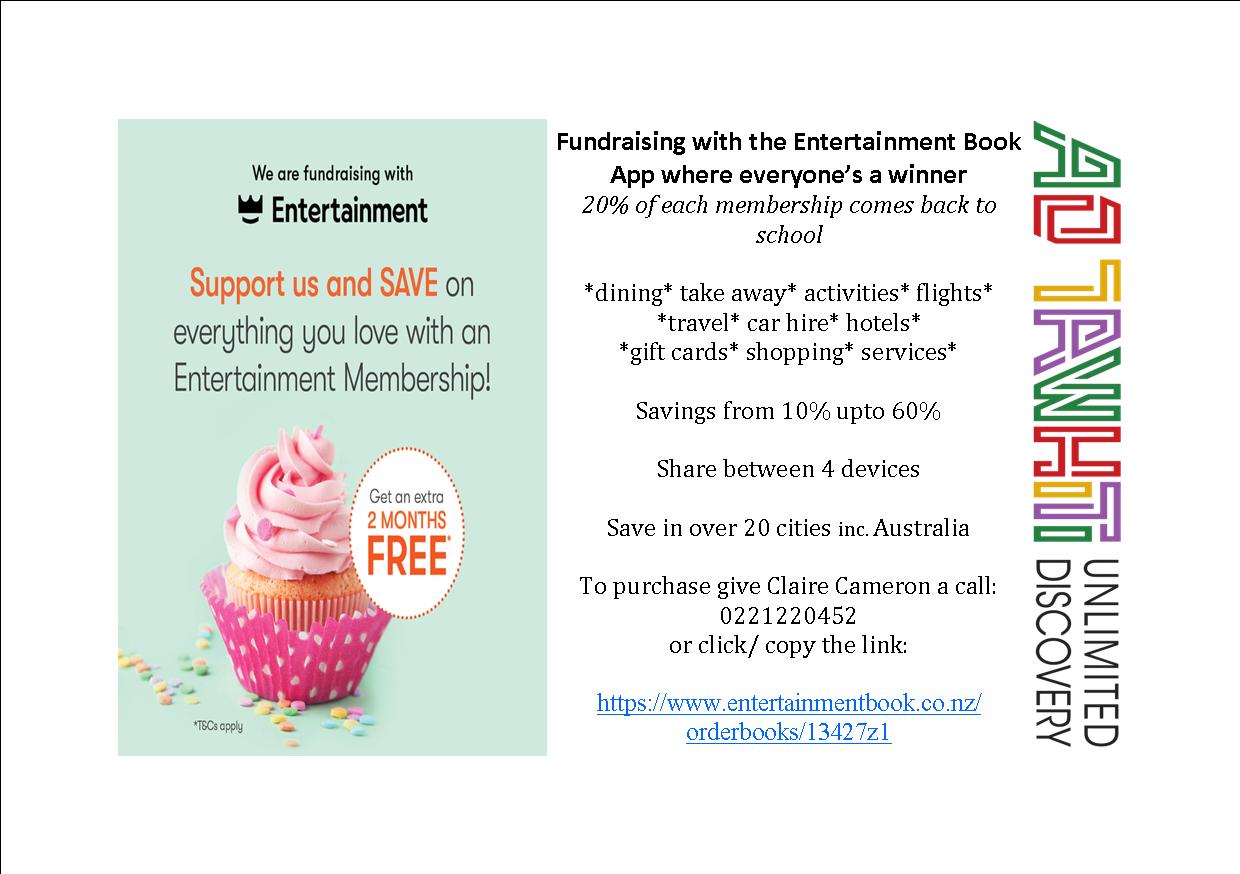 Claire Cameron
Piano to Donate
We have a keyboard to donate to a good home. If you are interested please contact Beth at reception who will forward your enquiry to Lisa Rae and family who are our kind donators.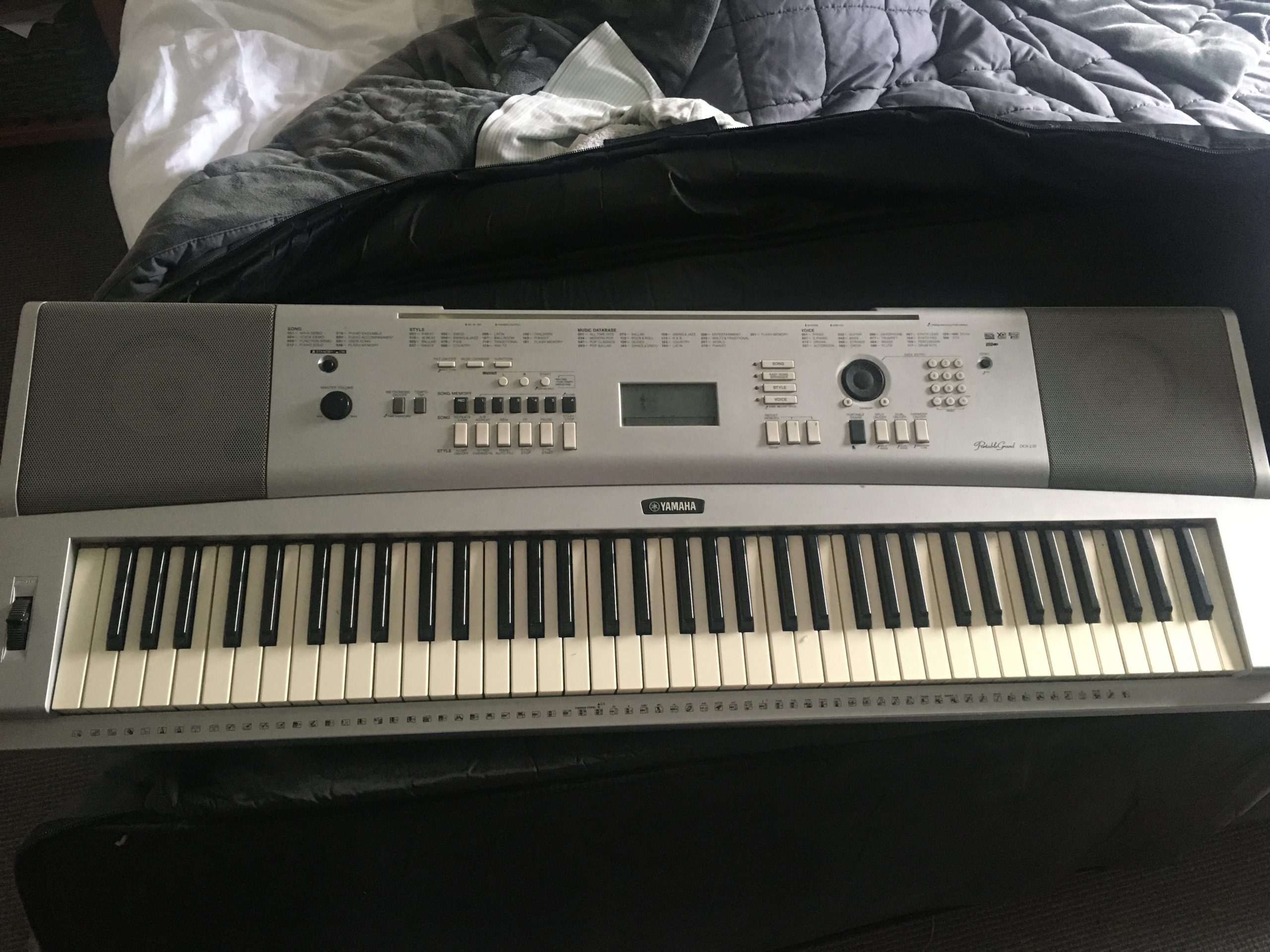 Other Notices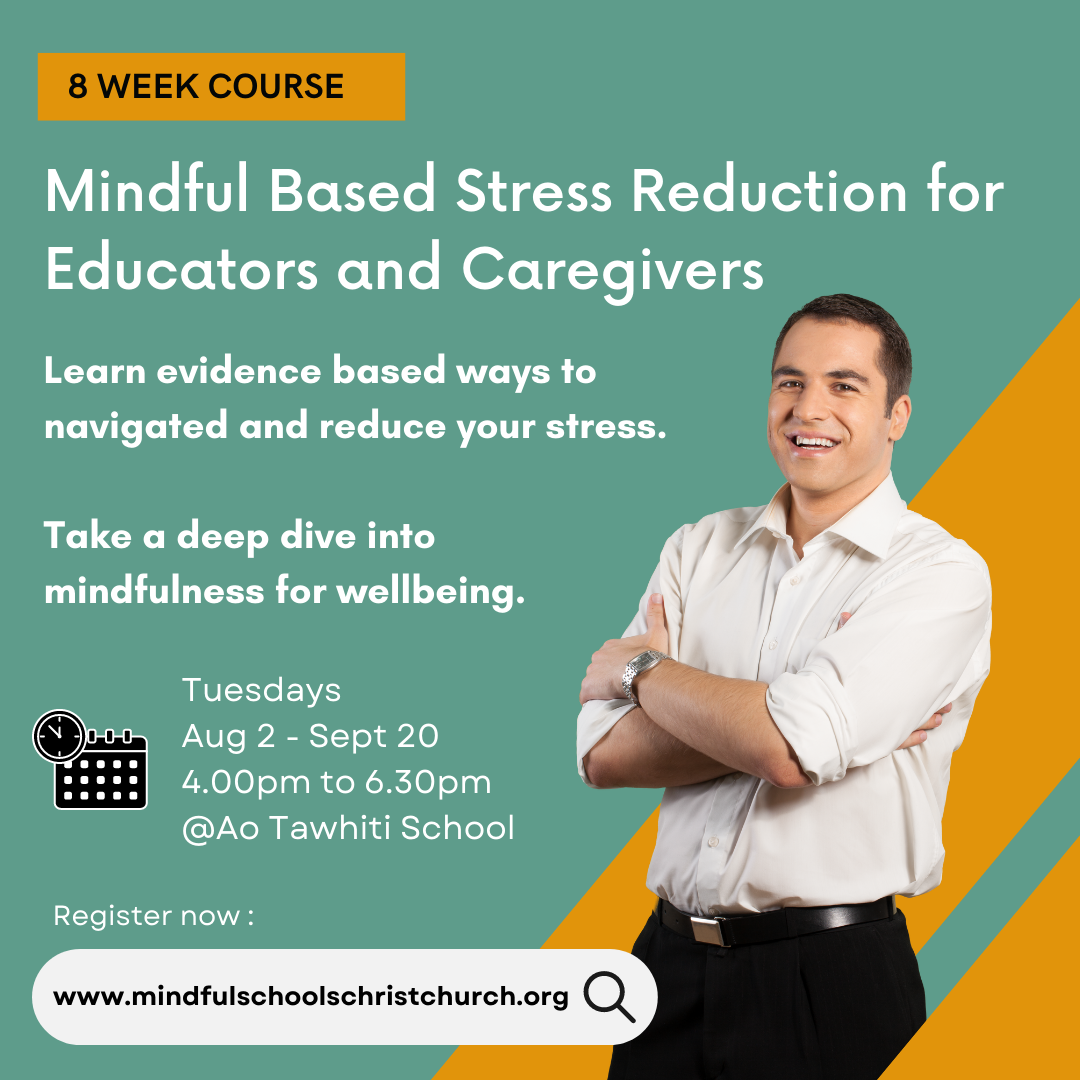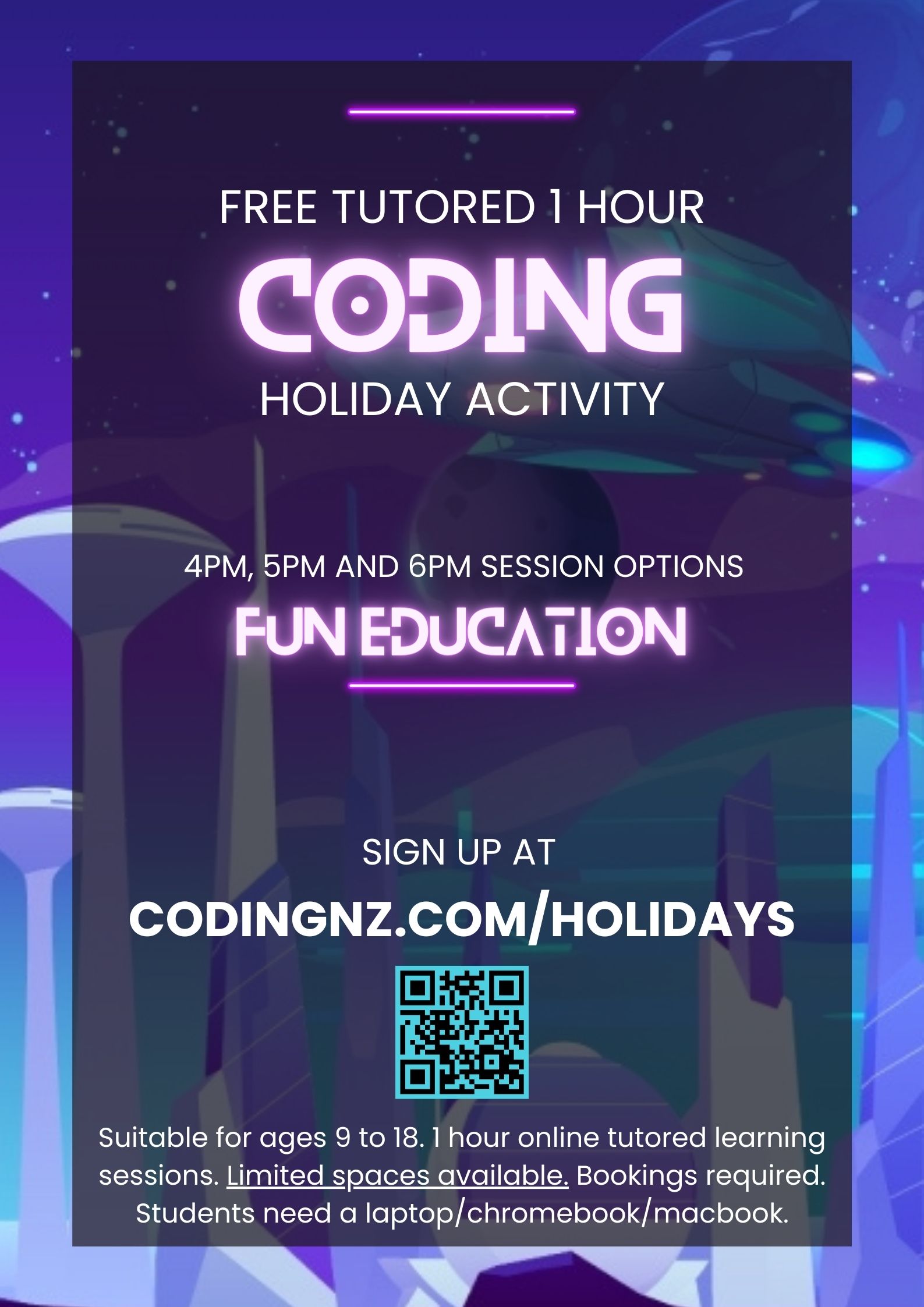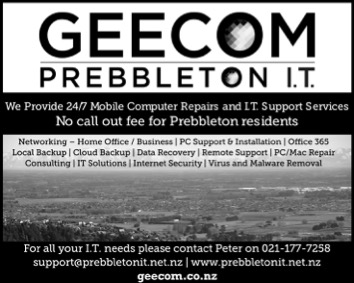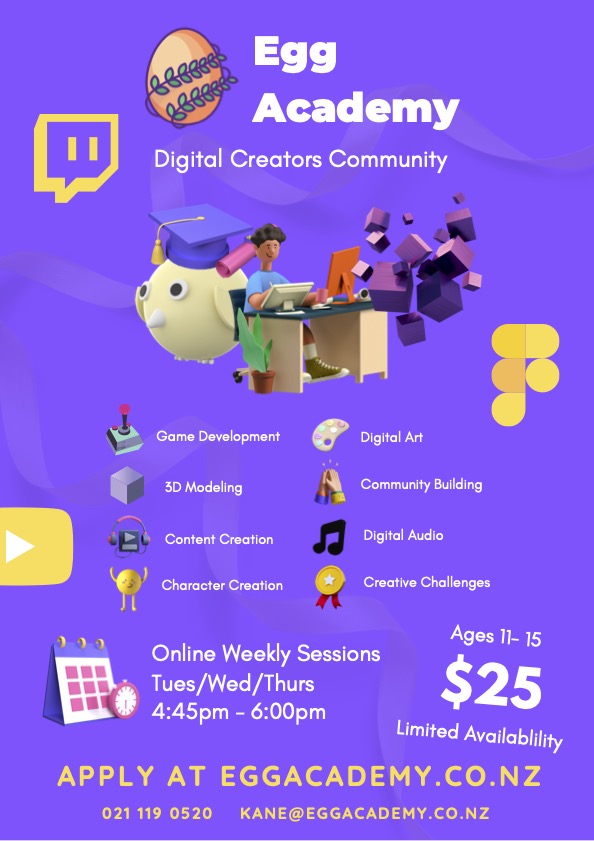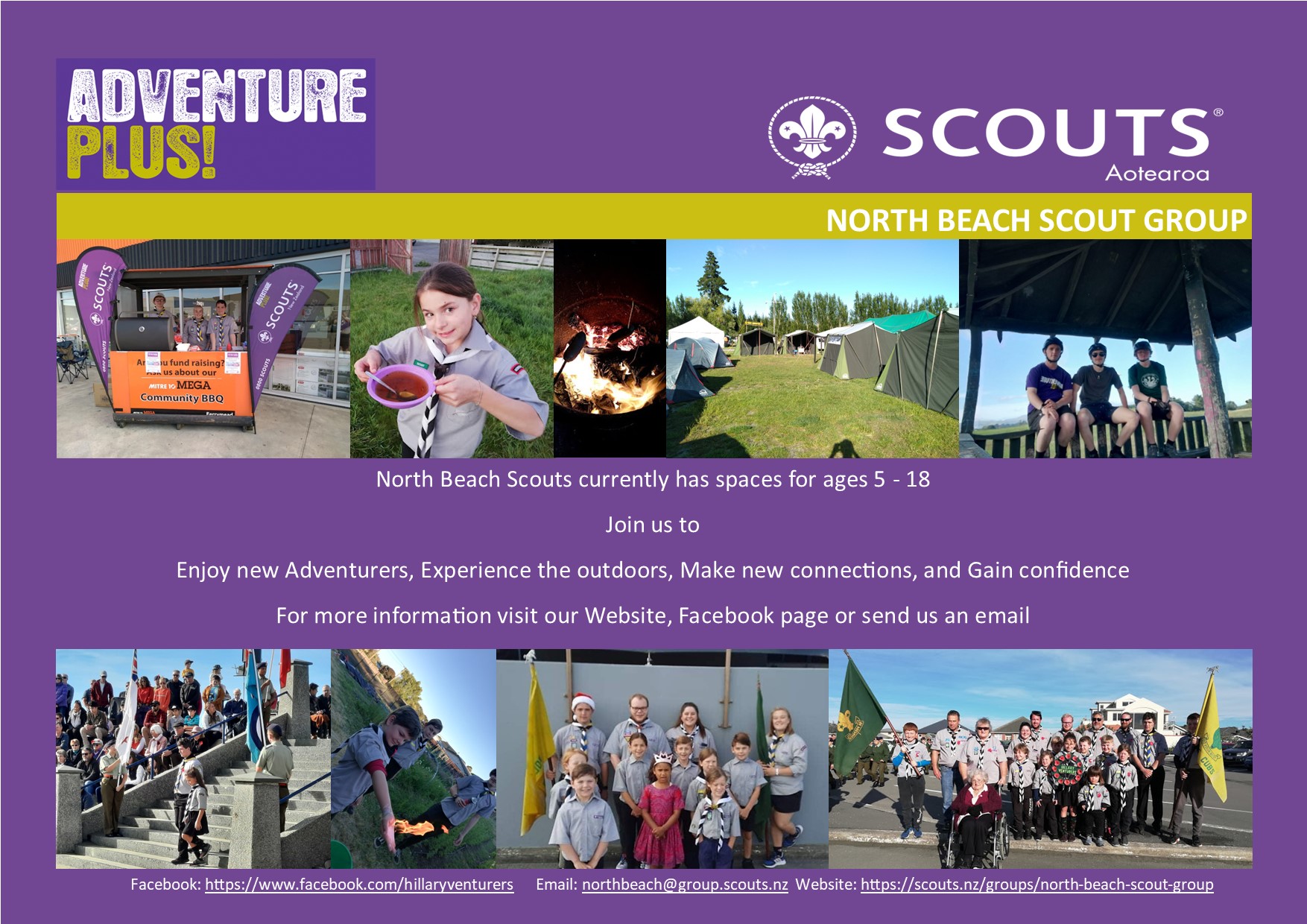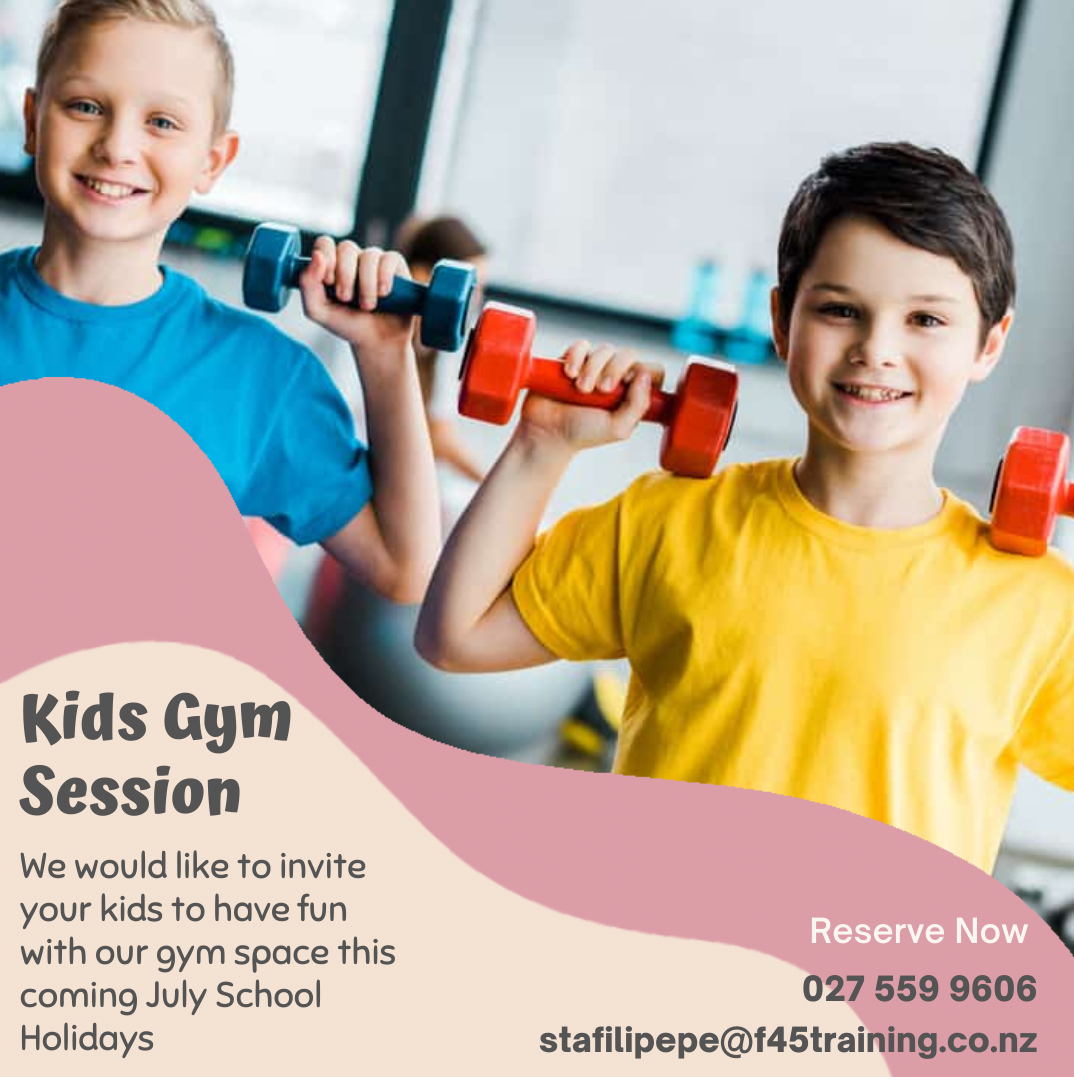 ROWING
Union Rowing Club, based at Kerrs Reach, will host an open day on the 31st July. This is an opportunity for students to give rowing a go, and find out what is involved. High school students and their support people welcome.
For more information contact Susan Ayson 021 916067, susan.ayson@aotawhiti.school.nz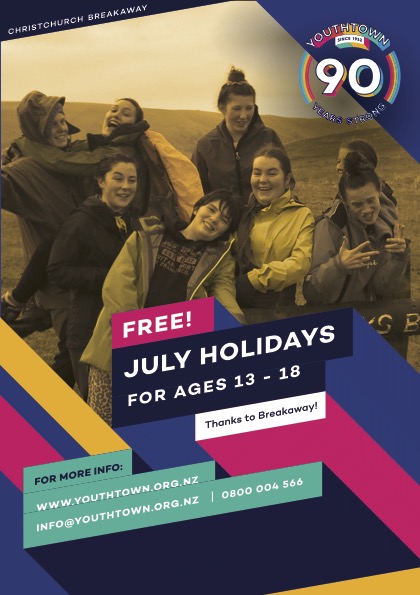 Teece Museum Everyday Heroes
Everyday Heroes are busy all over Ōtautahi Christchurch, keeping us safe and looking after our families, schools, roads, hospitals, and pets.
These July school holidays come in and see if you can find our mini marvelous Everyday Heroes hiding in the Museum. Complete the activity sheet and go into the draw to win an awesome LEGO set!