---
Upcoming Events
Term 3, Week 5: Starting Monday 19 August 2019
Wednesday 21 August, 8.15am: Breakfast Club
Wednesday 21 August A4LE Tour
Friday 23 August, end of 3.1
Term 3, Week 6: Starting Monday 12 August 2019
Monday 26 August, 3.2 begins
Monday 26 August, Derived grade exam week begins
Wednesday 14 August 8.15am: Breakfast Club
Friday 30 August, Alumni event day
---
Messages
Message from Duncan
It's hard to believe that we're close to half-way through another term! I always feel that once we hit this point the year just races by. Perhaps it's the slightly increasing daylight and the glimpse of spring on the horizon…
We are continuing to receive huge amounts of interest in the school. There are always good numbers on the tours and we are often being contacted by other schools and organisations to come and have look at what we're doing. It's pretty humbling to be in the position to show people around and to get to witness the response to the many amazing things we have to offer.
Association for Learning Environments
On that note on Wednesday we are hosting an evening for the Association for Learning Environments. This is an international association that brings together educators, designers, architects, leading education thinkers and scientists for the purposes of improvement in education. The evening will involve sharing how we deliver curriculum and include a tour of the building.
Medicine at school
Just a reminder that students who require medicine at school need to have informed the office. Medication stored in the sick bay must include.
Name of Child
Name of drug
Dosage, including instructions for repeats
Method of administration
Some explanation of the child's condition
Any known side effects, existing allergies
Name and phone number of prescribing physician
Signed consent of parent/caregiver
Storage
All medications will be stored securely
All medications must be labelled with the pharmacists instructions
All medications must be kept in original packet until immediately prior to administration
Medications that have not been prescribed for a particular child ie cough medicine or paracetamol should not be kept at school
Paracetamol will not be given without parental consent
Congratulations
Congratulations to Natalie who this week was granted a Study Award scholarship for 2020. This is a prestigious award that will allow Natalie to study full time on salary for all of next year. Natalie has been working towards an Education Doctorate since 2015. Her ambition is to use the award to complete the qualification.
Unsung Hero – Pat "Pemimeter Pat" Barry
In 2011 not long after the earthquakes and Unlimited Paenga Tawhiti's relocation to Halswell Residential College our community had its first introduction to Pat. At the time UPT had some security issues and Pat (former policeman) was employed to do the job. Affectionately known as "Perimeter Pat", at that time, Pat's association with the school was about to begin.
As the security work came to an end Pat's connection to the school did not. Each and every week since Pat has volunteered time, come into school and contributed in ways to frequent to count.
Quietly going about things, with little fanfare Pat has given hours and hours of time to make a difference not only to our school but as volunteer and contributor to the community in many different ways.
A humble and caring Man Pat has been and continues to be an unsung hero of the Ao Tawhiti community.
Duncan Woods
Message from Ian
PINs
Here's the information you need to sign up for this term's PINs workshops.

This link will take you to all of the workshop descriptions. It also outlines the maximum numbers in the workshop and any cost that may be associated with the workshop. Please take note of the year level of the workshops that you are interested in, some are only applicable to certain year levels.
Once you have read through these workshops use this link to make your selections. This is a first in, first served process, as the workshops reach their maximum number they will disappear from the available workshops to select from. If you do not get your first choice we will try our hardest to at least get you your second or third choice.
Student Learning

I've recently started to put together a site that hosts some of the amazing examples of student learning here at Ao Tawhiti. I'm really keen to get this really going and would love to get as many examples on it as possible. I think that we have some superb things happening around the place and I would love to be able to share these with the world. It's great to be able to share with current and prospective families/staff etc the types of things that we're proud of and that we want our students to be achieving.
As a parent if you've been offering something, or your son/daughter is doing something that you think is worth sharing please feel free to fill it out.

I've added this link to the Google Form to fill out, this asks for the details of the learning….
Here's the site so far… https://sites.google.com/aotawhiti.school.nz/learningat
IEMs
Please make sure you put half an hour aside for the upcoming IEMs on the last two days of the term, Thursday the 26th and Friday the 27th of September.I will send out the School Interviews code late next week so you can start making your bookings.
Ian Hayes – Deputy Director
Message from Niki
Kia ora whānau,
Ngā mihi nui ki a tātou katoa

We are well into the swing of term now, and I have really been enjoying the craziness that is level 4. Added to the usual busyness over the past 2 weeks, I decided to wage a war on lost property. Effecting a change in culture is slow, but change is needed and we all have a role to play. I talked to the ākonga about keeping our space tidy, looking after our stuff, putting things back in their homes and making our floor a place we all want to be. The 0-3 LAs have created a 'tidy-up song' to encourage tamariki to work as a team to organise their space at the end of their sessions, and clothing and lunch boxes have been on display all week for claiming.
I'd love you parents to take a vivid this weekend and name all of the items of clothing etc that are important to your whānau. Every item with a name on it was returned to its owner but not all clothing made it home… We do not have space to store lost property, and so every 2 weeks there will be a clear out. Let's all play our part and please help keep our space wonderful!

Celebration of Learning
There will be a whole school COL on the evening of Wednesday 25 September at school. There will be static displays of student work and some performances. Look out for further details coming soon. If you have something you'd like to share, please email me: niki.stephenson@aotawhiti.school.nz

Watties Cans for Good
Was a bit of a flop this year… Rather than fill the whole of the structure, we filled one cube. Thanks to those of you who contributed cans to this cause. Perhaps we need to drive things like this in a different way. If you have any suggestions how this could have been more successful, please get in touch: niki.stephenson@aotawhiti.school.nz
Niki Stephenson – Deputy Director
Message from Kay
Formal Tickets
I spoke to Molly and Liana last week who said that the formal tickets have been selling slowly. It would really help them with numbers if students bought their tickets sooner rather than later.
Major Production
Students are working hard to get ready for this years Major Production. I believe that there will be two evening shows and a matinee in week nine.
Celebration of Learning
We are starting to gather interest in another whole school COL on the Wednesday of week 10. We are hoping to have a number of static displays and some performances. We would love to have a mixture of students from across the school so look out for the information on how to sign up.
Derived Grade Exams
In just over a week senior students will be sitting their practice exams. These exams are significant as they determine any grades a students gets if the grade is needed to be derived. This means it is important that students see them as serious and treat them with the same significance as the actual exams.
Kay Hayes – Deputy Director
Schoolwide Notices
Ski Trip
Last week Liam and I took about 25 students to Mount Hutt for the first Ski Trip this year. The weather was great except for a little wind.

Next Thursday we are taking over 50 people which is very exciting. It is great to see students from all years giving this a go for the first time as well as some students who have been coming for a while.

We have worked on a really nice supportive culture and last week the students excelled at both Kaha and Aroha. Students young and old were supporting each other and encouraging growth. It is always a pleasure to see our students use these special core values in such a positive way.

I myself took a fall and a students skied next to me the whole way given positive support and helping me feel safe. I also saw other students taking beginners on the chair lift and skiing down new runs with them. Using really supportive and encourage words so that everyone had a sense of growth and fun from the day.
Thanks to all the students and adults who went last week and let us hope next week is just as great.
Kay Hayes – Deputy Director
Steve's Homebase: Sports Academy
2019 has seen the introduction of a Sports Academy Homebase at Ao Tawhiti. Students in this Homebase still select classes in all of their colour blocks, but they use their Learning to Lead to come together and and develop this passion.

Last term our focus was Mental Skills in sport and as the term progressed we realised that we were gaining some really interesting insights through our contacts with some elite level New Zealand athletes. These insights seemed worth collating and sharing so we created a web-site for this purpose. We have kept this web-site alive this term as we have moved into our study of a variety of Fitness and Conditioning options in Christchurch.
If you are interested in having a look, please follow the link below…
https://stevehunt898b.myportfolio.com
If you are interested in getting involved in anyway, or would like to know more about what we do, please drop me a line.
Steve Huntsteve.hunt@aotawhiti.school.nz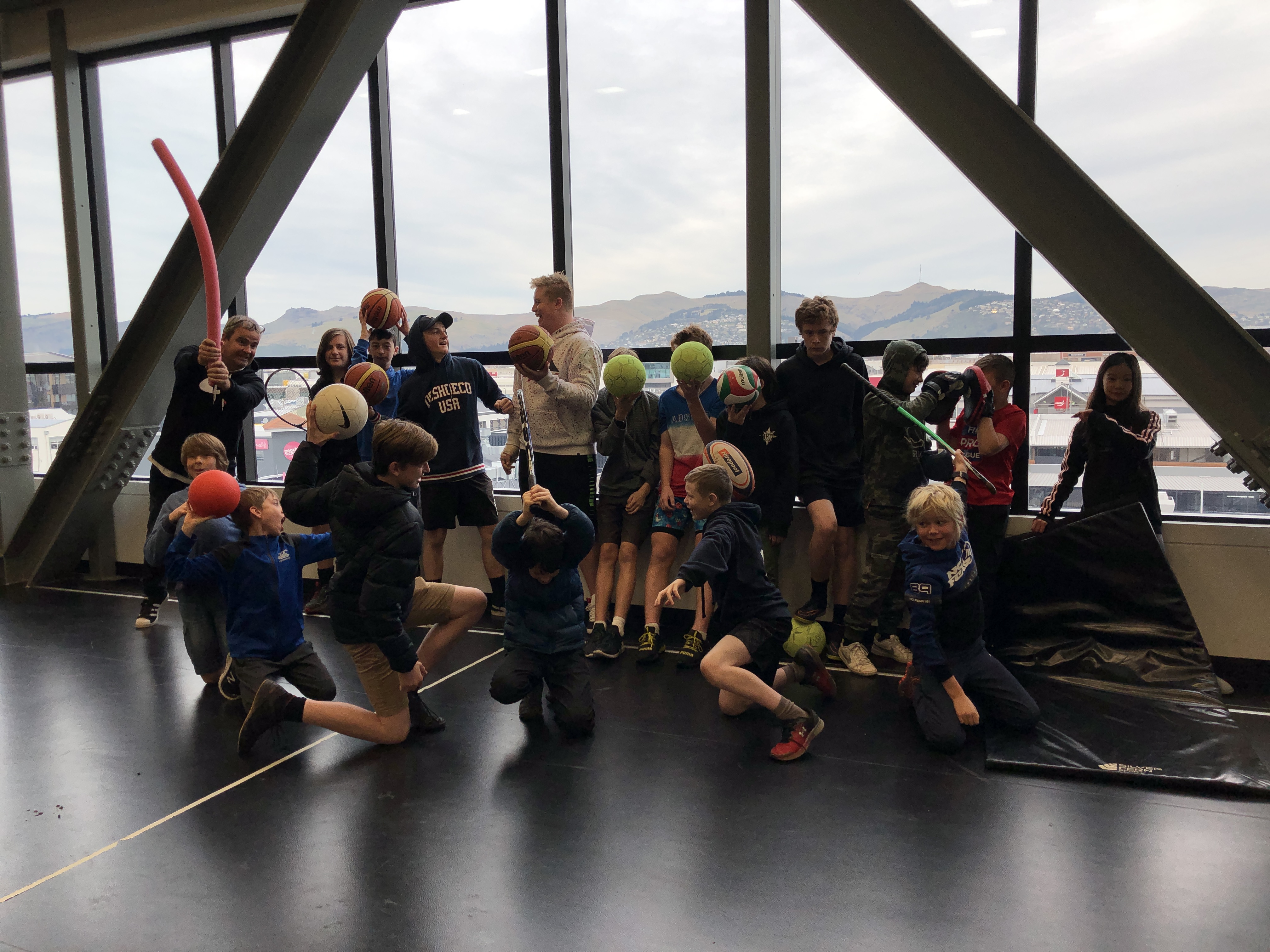 Performance Night
It's a Tuesday night downtown Otautahi.
The winter sky is alive with potential, as whanau, young people, music enthusiasts, members of the general public, and keen LAs sashay beneath it, then through Colombo Street's heavy doors of Rolling Stone Irish Pub.
Ethan's all set up with sound.
Families and friends are sitting at round tables.
Courtney is red skirt and red lips ready to open this first 'Open Mic Night' for 2019.
All of this is bubbling away thanks to saxophone-blowing Matt Davis (Music LA and Musician with the most-est).
The evening is filled with music from many eras including what sounds like Mozart, other times Violent Femmes and Eminem, and perhaps the most stand out are the soloists' originals written by Louena, Courtney and Lucy.
Lucy's keyboard accompanied song ('Yesterday'?), sung calmly and tenderly a tribute to a family member, brings tears to eyes.
Another stand out moment (apart from Louena's Emcee-ed banter) is Sebastien 's show stopper joke involving a corgi, and some Internationals. (what goes on tour stays on tour).
Apart from soloists, Courtney's band plays a tight set, one where the band members are smiling and looking across at one another, as if there's nowhere better in the world they'd wanna be, before The Ao Tawhiti Jazz Band (featuring two year 7-10 Ao Tawhiti Community drummers) sends us home.
Here's the full list of performers:
Courtney Allison (with Liam and Heath Leitch)Laouena Le Louer Punahikoia BrazierMike BrookerTali'ah Mohd RashdiNoah McKayBrie ArnoldLucy Webster Sebastian De MediciEmily MowbrayAo Tawhiti Jazz Band
Massive ups (gratitude) to Matt Davis, The Ao Tawhiti Music Department, Ethan, Rolling Stone Pub, Courtney & Emily (for filming stills & video), The LAs Parents & Friends who came to watch, the Musicians (for being brave – who felt the fear and did it anyway) and all those who helped set up and pack down.
I leave feeling full of aroha, joy sandwiching other emotions, connection and with a feeling of magic – that only live performance brings. You had to be there. See you next time – ka kite.
Emily Mowbray-Marks – Learning advisor
1-6 News
4 – 6 Newsletter
Kids Market Pins
Kia ora Tarākona Community, it's been a frenetic fortnight as our tamariki are off exploring the city, away on ski trips, connecting with the team at the library and working with senior students as mentors or being mentors themselves most days.

Monday Art Gallery Trip
Niki and Kate have organised for our tamariki to participate in a 90 minute Bill Hammond workshop on Monday at the Christchurch Art Gallery. They will look at Bill's 'Playing the Drums' exhibition and then create their own mythical world. There are 2 workshops, one at 10.00 and one at 12.30, capable of accommodating 30 students.
We're excited about offering this workshop looking at the work of a Lyttelton artist. Please encourage your child to come along! We also need parents to help us walk there and back, so if you are interested, please let Niki or Kate know via email asap.
Using Seesaw and connecting with your child's SDL (self directed learning) plan.
We know that the best learning happens for our children when they have strong communication with everyone, especially about their daily learning journey.

As part of this LA's see and chat with your child about their plans for SDL. As part of our shared approach, we are asking you as parents and caregivers to also connect with your child's SDL plans each day.

Have a look at what your child has planned when the seesaw email pops up in your inbox and chat with your tamariki about how their intentions for the day went. What worked, what didn't and why?

We would also appreciate you chatting with your tamariki about what they are going to be tackling this week/ each day. What can be supported from home, or may need support from you at school? Do they know how to work on their next goal?

These ongoing conversations you have make a significant difference to how successful our tamariki are at using their SDL to meet or make new goals for their learning journey.
Kimihia
Nature Play Day was a blast last week! It was a beautiful, sunny day with the AT whanau in an amazing environment. Our adventures involved hut building, tree climbing and crafts to name but a few. The fire pit was a favourite with tasty treats like baked potatoes and roast marshmallows. What's not to love about a day in nature! It's all the wonderful benefits of camp in a day. Debz
These children are using magnifying glasses to identify invertebrates from the stream. Thanks Phil for your expertise! We look forward to another brilliant day at Kimihia on Friday!
Child led workshops.
Our children led their learning in workshops again on Friday.
They shared their passions and worked collaboratively together to investigate and experience everything and anything from coding through to art or sport.

3d Printing at the library
In supporting inquiries Mel Costin organised a trip to work with the team at the library on Thursday to help our children create 3d masterpieces. They loved working from design through to creation.
Explore the City
Explore continues to grow and be more successful as more parents give up their time to help us live out our Special Character in the community.
This week we had Hannah take a group to Hagley Park, Susan to the Botanical Gardens, Claire G to the Mummy, Claire C to the museum, Kate to the library, and Debz to the Tech centre at the library.
We didn't have enough support to get all of our tamariki to be out and about for Explore so everyone who remained in school were able to mentor our younger students in their writing time.

Tech Hub at the Library
During Explore on Wednesday a group went to visit Kim at the PB Technology Hub at Turanga. The group thoroughly enjoyed it! We experienced VR, a driving simulator, coding and robotics. A highlight was meeting Cosmo the AI robot! We look forward to returning again. Debz
Wetlands, waders and boatmen workshop.
On Monday a team of our writers was able to have an awesome afternoon visiting Travis Wetlands and work with the City rangers to explore the ecosystems in this special place. It's generating some fab writing back here at base. Thanks to parents Zoe D (with her team Bridget ) who was able to organise transport for everyone and meet Nige there so we could spend the day critter hunting and bird watching.
Lenka's Art workshop.Lenka would like to offer a small art workshop, Making Dream-Catchers – using traditional macrame knots pattern to a small group of children on Wednesday mornings from 10-11am This project will take 2 to 3 classes to complete – with cost 10$ cash for the whole project (to buy the hoops, leather, strings, beads,feather etc ). If you are keen to participate from week 7 on please email me at melva.gill@aotawhiti.school.nz and I'll help coordinate tamariki for Lenka.

Camp in Dunedin
Thanks for your feedback after invoices have gone out recently, please double-check them to ensure they meet your family's plans and the due date for payment. Be on the lookout this coming week for a specific camp email that will include confirmations, itinerary, and all of the forms required by the Board of Trustees for every individual that is going on camp.
We will also be sending out more info looking for help for the food organization team and of course, the fundraising team is still looking for keen people to help.
Thanks to people who have already volunteered prizes and to parents like Mallik who have been seeking business support for your fundraising night.
Thanks, everyone for supporting the learning for our fab tamariki.
We look forward to seeing you in the homebases soon.
Ngā mihi nui,
Melva, Debz, Kate and Libby – Learning Advisors
7-13 News
Derived Grade Exams
Next week is the derived grade exam week. Here's a few tips for managing study stress!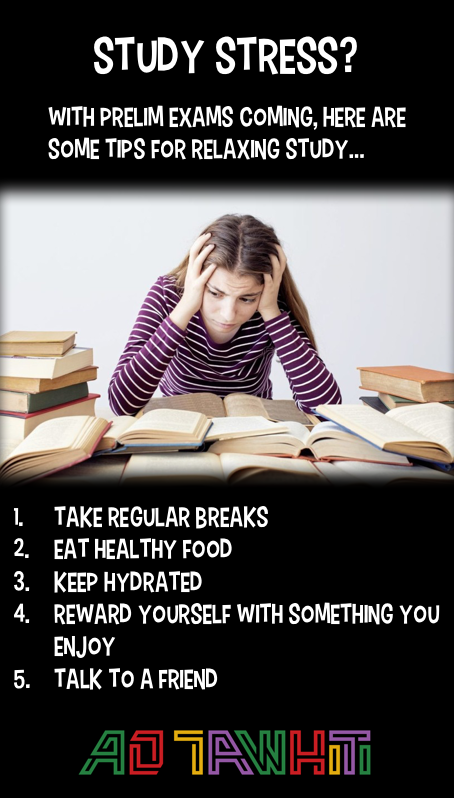 Brent Silby – Qualifications Manager
7-10 Floor News
There has been a lot going on in the 7-10 Community over the last two weeks. On Friday week 3, we were fortunate to have a guest speaker come and talk to our third floor community. He was Isaac Giesen, aka "the blue rower" Issac had positive messages about persistence and riding life's waves with their ups and downs. At the end, there were heaps of questions from our students and we were able to go and check out his boat. If you want to get a better sense of the blue rower, his website is https://thebluerower.com/

In other news, students have been advancing their AT Projects. On Thursday Evan and Jake saw through their project of organising and trip for 10 students and 2 staff to visit the Christchurch Adventure Park for some mountain biking. Romane and Molly organised the inaugural playing of the "Poachers and Park Rangers" board game in homebase last week. A great success following lots of hard work!
Upcoming events:
Quiz night – On Thursday 22nd of August 5:30pm – 7:30pm our 7-10 community is looking forward to mixing with family and students over BYO kai and a fun quiz. They'll also be a Q and A to answer your queries on anything (NCEA? AT Projects?…)
Sarah, Kate & Craig – Community Leaders
Speaking for the planet
Other Notices
Marrzipan Class
Good news! We still have a couple of spaces in our Marrzipan Class on Wednesday at the School! This is a great opportunity for your child to come and give it a go! Marrzipan is a New Zealand renowned self-confidence programme aimed at bringing out the absolute best in students. This term we are working on a play called "Monster Ball" and we'll be performing it at the end of term! If you would like your child to come along for a non-obligatory Trial Lesson and experience Marrzipan first, please send an email to info@marrzipandrama.co.nz or call us on 0275217352. See you there!