---
Upcoming Events
Term 2, Week 11: Starting Monday 22 June 2020
Term 2, Week 12: Starting Monday 29 June 2020
SCHOOL HOLIDAYS: Saturday 4 July 2020 – Sunday 19 July
Term 3, Week 1: Starting Monday 20 July
Y7-13 timetable returns to pre-lockdown version
Monday 20 July: IEMs
---
Messages
Message from Steven
Returning to School – Attendance expectations
In the last newsletter, I mentioned that there is now an expectation that all students need to attend school each day. It is incredibly important that you work with your Homebase LA to develop an offsite learning plan for any learning that is best done at home. It is no longer acceptable to simply call the office leaving a message saying that you will be "doing at home learning". The one exception to this is that you have been directed to self-isolate, either due to returning to NZ or because you are awaiting the results of a COVID test. You can expect Homebase LAs and Community Leaders to follow up with you regarding any attendance concerns that we have.
Signing in / making yourself known
As you will already be aware, we are back to our normal signing in process. These means that as a parent we do not require you to sign in. We do however ask that you expect to be challenged by LAs who may not now who you are. We feel that this is a reasonable way to make coming into school easy for families, while still maintaining a degree of certainly that those in the building are meant to be there. Please treat being challenged as a positive. We are only doing so to ensure that our community remains a safe place to be. If you feel that the reception staff might not know you, please make yourself known to them. I promise that they will be kind and supportive.
Car Parking
A quick word on parking. The school only has 3 car parks. 2 are accessibility parking spaces and 1 is for the van. There are no parking spaces in front of the school. We are now in a situation where I have noticed that several parents are parking out the front of the school or using it as a drop-off / pick up space. In brief, you must not park in front of the school. Doing so places our students who are leaving school on foot at significant risk. It is also in breach of our traffic management agreement with the council. I appreciate that for some families finding a park in the inner city can be challenging. It is however vitally important that you do not place our students and the school at risk by using the front of the school as a pick-up and drop off point.
2021 Enrolments
We will be starting our 2021 enrolment processes next month. It is important for existing families who are interested in 2021 new enrolments (including new entrants) that you read the information on our website, https://aotawhiti.school.nz/join/ and complete step 2 of the process by registering your interest. The cut off dates to do this are on the website. Every year we need to ballot and once the ballot is pulled and waiting lists are generated, we have to follow these so please register your interest now.
Holidays
It's strange to say this but it feels like both a really long and really short time since we last had a holiday. For some, the holiday in lockdown was anything but a holiday and was then followed by an extremely long 12-week term. For others, the lockdown was a great opportunity to reset and the term has probably felt really short. Regardless of where you sit on this continuum, it's important to recognise the value of disconnecting from school for a period of time. Learning is an extremely intensive and sometimes even stressful experience. Assessment deadlines, behavioural expectations and following an institutions routines all distract us from the other amazing opportunities to learn other things about or for ourselves. My suggestion is that you use the holidays to try something you've not tried before, visit a place locally or nationally that you've not seen before, or even just hang out in your home and recreate the awesomeness of lockdown again. If you can, just let school wait until we return on 20 July
Newsletter
Over the last 5 years or so I've had the job of putting together the newsletter together every couple of weeks. It's a great chance for me to read about some of the amazing things that our students and staff are engaging with. It's also a rather thankless task where you are regularly challenged for the grammar, spelling, mistypes, cut and paste errors and contracting dates in articles. With that in mind, I want to thank Jonelle for adding the newsletter to her job list. We have made a couple of changes to when we expect information from people. We now need newsletter items by the Monday before the newsletter is published. If you have an item that you'd like considered for the newsletter, you can email newsletter@aotawhiti.school.nz
Steven
Messages from Senior Leaders
Matariki
Kia ora koutou,Ngā mihi nui ki a tātou katoa.
I am delighted to be able to give you all further information about Matariki.
Our whole school celebration will be held at school on Friday 24 July between 3.30 and 8 pm.
As usual, we will kick off the event with soup for afternoon tea and decorating the school, followed by parent and student-led workshops between 4.30 and 5.30. These are always really popular, and feedback from previous years has been really positive. Libby's HB have offered to do face paints and are keen on some support, particularly with face painting moko. Other workshop suggestions are lantern-making, stars (drawing, folding, painting, gazing if the weather is good), storytelling, weaving, rakau, clay, the list goes on.
At 6.00 we will say a karakia kai, and families can eat their shared/ whānau kai.
We will have performances in both performance spaces during the event. Please complete this form if you or your child would like to perform something.
This year we are hoping to have the kapa haka group from Hagley College perform for us and we are exploring the possibility of having a hangi/ umu nearby too.
We would love you to be involved! Please complete this form if you want to run a workshop or help in any way.
Niki
IEMs
Term 3 IEMS (Individual Education Meetings) are scheduled for Friday 3.7 & Monday 20.7. The IEM is the most important element of a student's Learning Journey and it is vital that you book one.
For our IEM booking process we are using the "School Interviews" system.
To use this system use the following link to find the booking website… this link should take you straight to the booking page.
https://www.schoolinterviews.co.nz/code?code=nunym
The whole process is pretty user friendly but I have created a guide to support your use of the process should you need some support.
Use the following link to access the guide.
https://drive.google.com/file/d/1sNqSrYGhavgzDd4TnI6rfk1ZZiNkbCtT/view?usp=sharing
Ian
IEM Supervision
Supervision (for Y1-6 students only) is available during IEMs on Friday 3 and Monday 20 July by Dean.
If your child requires supervision over these days, please complete this form.
Unfortunately, Dean is unable to supervise siblings during IEM appointments, please bring something for them to entertain themselves for the half-hour of their siblings' appointment or make other arrangements for them.
If you are able to cater for your child off-site during IEM days, you don't need to do anything!
We are aware of the need to keep numbers to a minimum. Space is at a premium as all learning spaces and breakout spaces will be used by LAs running IEMs. We would appreciate it if you could run LAH during the IEM days OR offer to support the need for supervision by running trips using the school as a base.
Niki
EOTC RAMS training
With the city on our doorstep, there are rich opportunities for our students to learn outside the classroom. Sometimes these trips are only possible thanks to whānau members generously helping out and we are hugely grateful when you do! Parents often accompany Learning Advisors as parent-helpers on trips and are also able to lead trips if they have completed risk management, or RAMs, training. The next RAMs training session for parents interested in leading EOTC trips will take place at 3pm on Wednesday, July 1st. If you are interested in attending the session, please RSVP to Megan: megan.taylor@aotawhiti.school.nz
Megan
3.1 & 3.2 Descriptors
The descriptors for 3.1 & 3.2 classes are now available for the students to browse and choose from.
https://lms.aotawhiti.school.nz/?q=timetable&field_year_tid=7386&field_term_tid=68&term_node_tid_depth=All
We do want students to make selections next week with their HBLA for both 3.1 and 3.2 classes. These will be collected by HBLAs next week so please come prepared with your classes.
Ian
Cross Country
We want to extend a massive thank you to Dean and Clint for organising this year's cross country event. It was held in cold and wet conditions on Friday 19 June, just in time to select our top contenders for the South Zones event on Monday. A huge amount of time and forethought is needed to orchestrate these events, which provide such fabulous opportunities for our ākonga. A big thanks too, to all of those family and friends who supported our students at these events.
Megan
News / Notices
Speaking for the Planet Competition
We had several students enter this year's online Speaking for the Planet Competition on the theme of biodiversity. These students did really well. Myro McKee won first prize in her age group for her prepared speech. Madison Foster-Rogers won first prize for the year 9-11 meme category and Ciara Foley received a highly commended for her speech in the young adult open section. Ka rawe to all these students for putting their hats in the ring and seeing where it took them!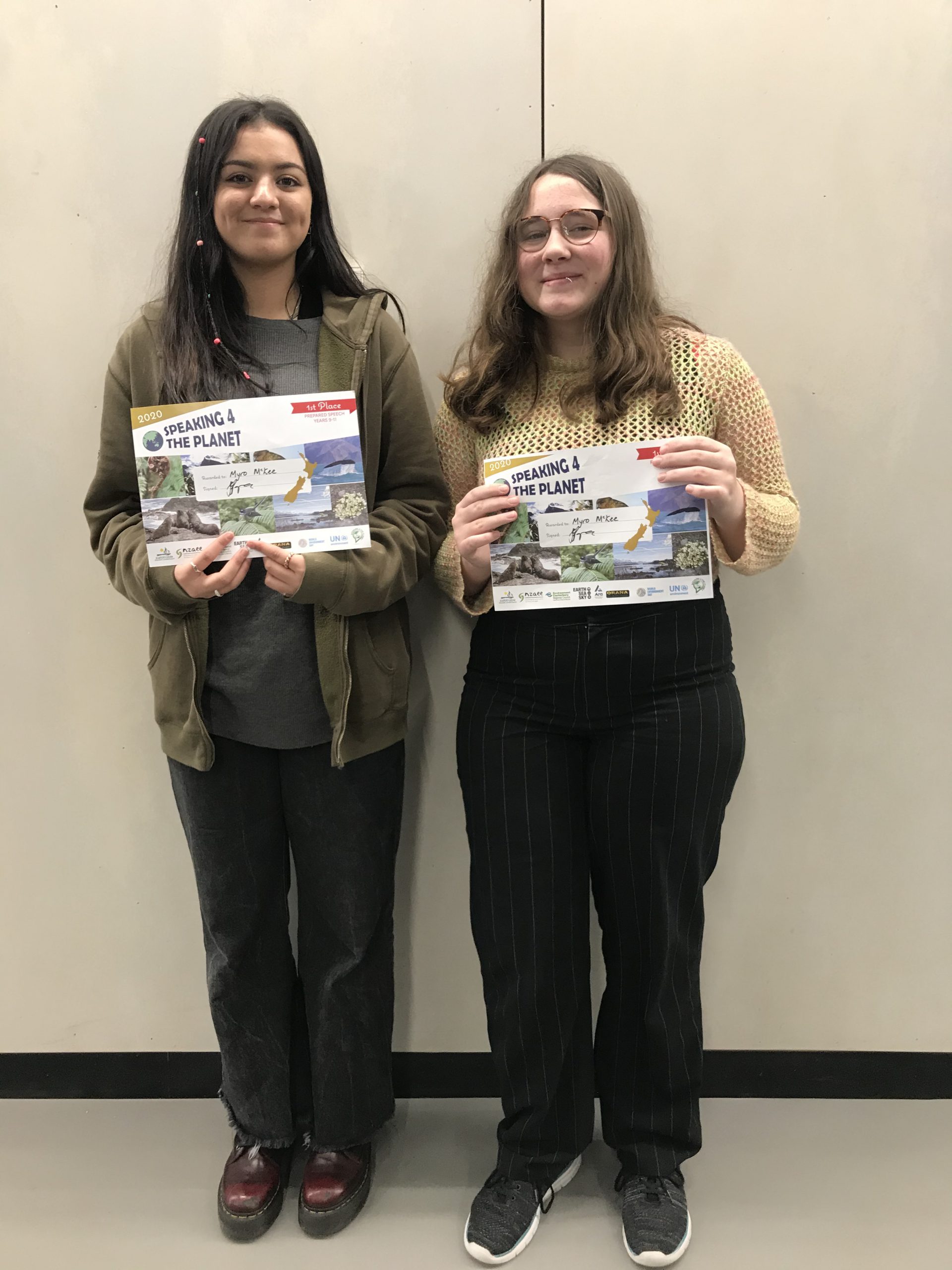 Ski Trips
After a long wait we have finally had confirmation from Mount Hutt that our school booking can go ahead. Zack Williams and myself, Kay Hayes, are organising these trips again this year. This year we have 5 days confirmed for ski trips:
The following bookings have been confirmed and entered into our reservations system:
DATE: Wednesday 29th July, Wednesday 26th August, Wednesday 9th September, Wednesday 23rd September
CHECK-IN TIME (RENTALS): 10.00AM
LESSON TIME (ON SNOW): 11.00AM
# OF STUDENTS: 30
DATE: Wednesday 12th August
CHECK-IN TIME (RENTALS): 8.15AM
LESSON TIME (ON SNOW): 9.00AM
# OF STUDENTS: 30
Numbers are limited so please complete the booking sheets earlier rather than later.
Any Ao Tawhiti student can attend (some will need an adult helper).
Beginners to advanced students are welcome. Mount Hutt has a package deal for school students so all you need is the clothing and accessories. Bus leaves around 8.00am and returns around 6.00pm. Students need to be at the bus stop 10 minutes before departure. I will pass on more information closer to each trip.
The cost of the trip is $92 ($62 for a day lift pass, rental equipment, and a lesson pitched at your child's skill level, plus $30 for bus transport). Payment must be made in advance through Jill at accounts@aotawhiti.school.nz. Don't pay yet though as we won't be ready!! Financial assistance forms are available through Jill.
Students under the age of ten and who are not at least intermediate or experienced on the snow will need adult support for the day. Adults will need to pay a $30 transport fee for the bus. Parents who want to ski will be charged full rate less 10% by Mount Hutt. It is unlikely we will have any cheap parent passes this year, sorry but I will try my best!
Mount Hutt charges a cancellation fee for any student booked that doesn't go. We need to submit a student list two weeks before the trip. Changes made after this will incur charges.
Ski Trip Number 1 – Wednesday July 29th
Ski Trip Number 1 – Weds 29th July
Ski Trip Number 2 – Weds 12th August
Ski Trip Number 3 – Weds 26th August
Ski Trip Number 4 – Weds 9th Sept
Ski Trip Number 5 – Weds 23rd Sept
kay.hayes@aotawhiti.school.nz. zack.williams@aotawhiti.school.nz
Kay
Visual Arts
Bi-annual art exhibition – Our first exhibition of the year at the Central Christchurch City Council Buildings this month was curated by our level one art students. Exciting to see student work up on the main foyer wall. We are doing this again in September and anyone in the wider school community who would like to hang with our end of Term 3, please don't hesitate to join on. We can only exhibit 2D work at this stage.
General vis.art business – Is great to see the huge numbers doing ceramics this term. Seniors doing NCEA art projects need to now get a serious wriggle on!
Holly
First Aid Assesments
Anyone who has completed the free online First Aid course can turn this into a full First Aid certificate by completing a short practical course. There is a public course coming up on July 18th. Please see below for more details. There is a cost associated with the practical course. Email kay.hayes@aotawhiti.school.nz for information on how to register for the course.
Kay
Monstera and Men Market Days and EveryFine Friday
Braden
First Aid
Kay
Sports Coordinator News
Kia ora team,
It's really exciting to have some sport news to report on after what seems like a really long period of uncertainty for us all!
Please see below a link to the weekly sports on offer for the years 7 & 8 in term three. There is also a sports permission slip, I'm happy to receive an email with the sports options & the required permission.
Year 7-8 Weekly Sport Permission Slip (1).docx
Senior Basketball Team Last Friday night was the start of the school basketball competition. Our team is made up of mixed year levels, ranging from years 9-13. This means we have some younger students playing in the senior grade. It's awesome that they have stepped up to help us form a team. Our first game was against Christ College, we started with an early lead only for Christ's to come back & win 30-24. It was a really even contest, the team gave it a hundred per cent and it's a result they should be proud of! A special thanks to Sarah & Todd for supporting the team, also a shout out to all of the other parents that got along to watch, keep up the good work.
Zones school Cross Country Monday 22nd June was the running of our primary school zones cross country event. The races were held at Halswell Quarry & there were over 200 students competing from year levels 5-8. The weather played it's part & put on great racing conditions. We had 15 students running, there was a mixture of nerves & excitement but once the starting gun went that all faded & it was business time. So cool to see our students giving it their all, doing themselves & us as a school proud. Thanks heaps to Dean for organising the year 5 & 6 crew & once again, a massive thanks to all of the parents involved. It's great to have your support.
Clint
Other Notices
POPO Foundation Programme Scholarship Applications 2021
Warm Pacific Greetings, We would like to advise that the POPO Foundation Programme Scholarship 2021 will open for applications on 1 July 2020.
The POPO Foundation Programme is for Pacific students intending to study Health Sciences at University. Foundation Year offers a university entrance qualification recognised by all New Zealand universities and the qualification prepares students academically for their first year of study.
What does the Scholarship provide?
– A guaranteed place in a University of Otago Residential College
– A subsidy towards the accommodation fees at a University of Otago Residential College
– Private tutorials for Physics, Chemistry, Biology and Maths
– A dedicated, full-time Programme Coordinator
– Progress and attendance monitored to keep students on track
– Mentoring with senior students to aid in adjusting to life at Otago
Further information to follow but please contact pfp@otago.ac.nz if you have any questions in the meantime.
Kirsty
First Aid
Kay