---
Upcoming Events
Term 1, Week 7: Starting Monday 9 March 2020
Monday 9 March: Term 1.2 Begins
Monday 9 March: Mana Ake Parent Talk, 6pm-8pm
Wednesday 11 March: Breakfast Club
Term 1, Week 8: Starting Monday 16 March 2020
Wednesday 18 March: Breakfast Club
---
Messages
Message from Steven
Information and updates
We've had a few queries about where you can find this piece of info or that upcoming event. In general the answer is, "It's on the website". Here are a few ways that you can take ownership for knowing what's coming up.
You can also contact your HBLA / Community Leader via email. All of our LA have their email details (and roles) listed at
COVID-19
The MOE is putting out almost daily updates to support schools around this every changing event. I've been adding the relevant updates from the MOE to the website.
It's worth noting that the current message from the MOE is to
be informed – keep checking the information on the Health website and the MOE website for education-specific information
wash your hands for at least 20 seconds and dry thoroughly
avoid touching your eyes, nose, and mouth with unwashed hands
avoid sharing anything that has come in contact with saliva, whether in your living or social environments
stay home when you are sick and seek medical attention
cover your cough or sneeze with a tissue, then throw the tissue in the rubbish
get adequate sleep and eat well-balanced meals to ensure a healthy immune system.
You can feel assured that I will communicate directly with families via email / website with any important updates.
Leadership 2020
I've been asked to give a bit of background to why I've made changes to the Leadership team in 2020. In short the decision came to shift from Leaders with management over year levels / curriculum levels in the school, to looking at schoolwide areas of the school that required leadership. The previous 1-6, 7-10 and 11-13 delegations served the purpose of ensuring that we were able to manage our split sites effectively. The negative to this was an inability to easily develop schoolwide (1-13) systems and practices. Megan, Duncan, Niki and Ian are now tasked with leading four key areas of the school – Leading for learning, Teaching for learning, Relationships for learning, and Behaviours for learning (respectively).
They have been in these roles for 6 weeks. I have currently asked them to establish their roles through working with staff, students and parents to get a sense of what's working, what's not and what might need to happen next. They are at the very beginning of this process.
What I hope to achieve through this change, is a clear understanding from Y1-13 of how and what we do to support our students in these key areas.
I've been asked a couple of times this year, "Who do I talk to now that you've changed the leadership group?", and the answer is likely to be, start with your HBLA. If you feel that you need to speak with someone about matters regarding your community then it's the community leader. If it's about schoolwide structures and systems, you are welcome to email / call / meet with me directly.
I strongly encourage you to have these conversations rather than hold on to them. If you're not sure about something, the only way to find out sometimes is to ask someone. 9 times out of 10 your child's homebase LA should be able to answer your query, and if they can't, they are likely to know who might be best to speak with next.
Courses 7-13
Most of will be aware that course entry for 2.1 and 2.2 was completed last week. We are trying to move this earlier so we can better manage our class sizes. Some of you will have had children taken out of courses due to over enrolment. This is the challenge with having such a flexible and responsive curriculum. The negative to this is that on the morning of a class there was the potential for someone to ask a student to leave the class. This has never sat well with us – hence the desire to move the data entry for courses to at least 6 weeks before the courses begin. This decision also brings challenges but we hope that it will support students in choosing a new course or begin an awesome planned SDL, without feeling anxious about being "kicked out" of a course.
Friday Swapping (7-13)
Two weeks ago we trialled moving our Thursday timetable to Friday to accommodate the Athletics, without affecting the amount of time Y7-13 students have in courses.
We're going to give this another shot in Term 2, which means that you can expect the following Fridays in Term 2, to have courses running instead of L2L
Term 2, Week 1 (Monday Timetable to run)
Term 2, Week 2 (Tuesday Timetable to run)
Term 2 Week 6 (Monday Timetable to run)
End of school day – Y7-13 students in the building past 4pm
We could really use your support in helping us close up the school at the end of the day. Currently it is not unusual for some students to still be in the building at 7pm. Many of them they just wait for a Learning Advisor (actually it's usually me) to ask them to leave. It's getting to the point where we are supervising 20-30 students until 5pm. I do not have an expectation that my staff are at school supervising that late. It's also challenging for staff to meet (which we do every Tuesday and Thursday as a full staff) and supervise students.
We are more than happy for Y7-13 students to be at school LEARNING until 4pm each day. Beyond this will require prior arrangement and approval from your child's HBLA.
For 1-6 students, the expectation remains that all students are collected by 3.30pm (before the doors lock).
Message from Niki
Kia ora koutou, ngā mihi nui ki tātou katoa,
Thank you to those of you who came to the LMS 101 workshop last Monday. If anyone has any questions about how to access LMS, or if anyone is keen to do some EOTC training, please get in touch with me with some times that you are available and I will run a few further sessions.
We have another very exciting event occurring tomorrow, Monday 9 March.
Seth Johnston from Mana Ake and our own Sarah Higginson will present a workshop about anxiety; what it is, how it can affect us & our children and a few practical ideas to help manage this normal part of life.
'So often we label a person as anxious, when what is being experienced is a normal physical reaction to preparing to do something. Our purpose behind this workshop is to offer some understanding of anxiety and how it can be reframed'.
There will be drinks and nibbles from 6pm and our workshop will begin at 6.30. There will be opportunities for discussion and questions too. Level 1, Monday 9 March, we'd love to see lots of you there.
A couple of weeks ago I ran a staff meeting around my new role of relationships. The LAs looked at photos of our students and marked on a sheet whether they knew them by face or by name, knew something about them/ their families and where they sit academically. It was so cool to see everyone busy and chatting about students as they came across their photos. The purpose of this activity was to notice those students who 'slip under the radar' and who perhaps don't have a strong connection with LAs or the school. I'm delighted to say it was only the extramural students who we don't know well! There are a few of the newer faces we know less well, but as they've only been with us a few weeks this was to be expected. I'll repeat the activity with the students who had fewer marks on their sheets to see if relationships are deeper in a few weeks time.
And finally, huge thanks to Dean for organising the Y1-6 Swimming Sports Day on Thursday, many congratulations to those students who will enter the Zones competition on 2 April.
Anxiety Talk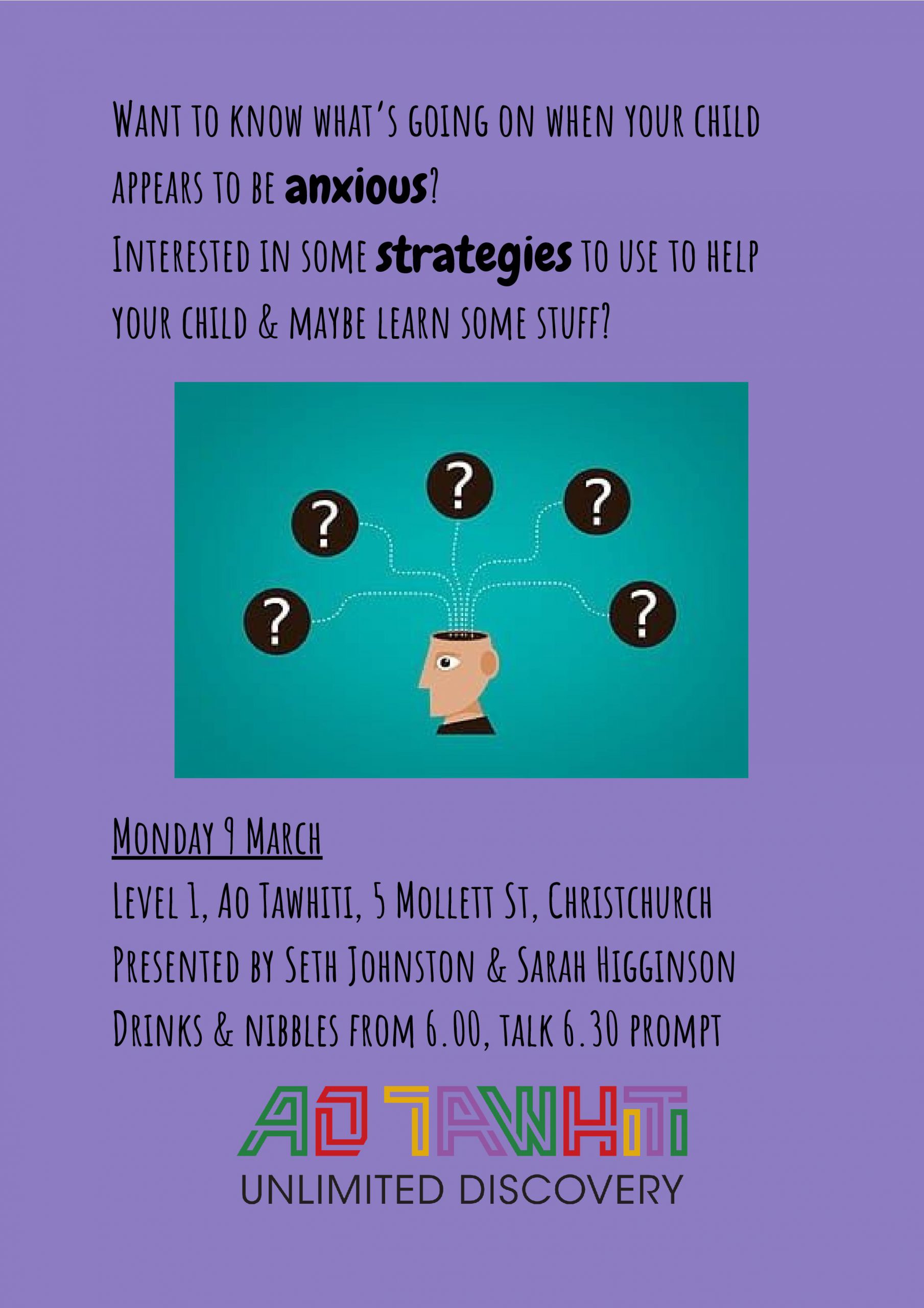 Message from Ian
Steven has asked that we do a bit of an introduction of ourselves and our new roles in the school.
So here we go… my name is Ian Hayes I am one of the Deputy Directors here at Ao Tawhiti. My wife, Kay, is one of our Community Leaders in Year 7-13. I also have 3 children attending Ao Tawhiti. Millie in Year 8, Archie in Year 6 and Charlie in Year 1. So this place is a massive part of my families life and it's of absolute importance to me that it works as well as it can because it not only has a huge impact on your families but as you can see it has a massive impact on mine.
I started at Discovery 1 in 2001 as one of the foundation staff members and have stayed through all of the changes, and challenges, that we have faced as a community. It's a great place to work, with fantastic people across the whole of our community. No day is ever the same and you are constantly having to lift your game to make the place the best it can be.
This year Steven has challenged the Deputy Directors to take on a new leadership role. We are no longer solely responsible for some Year Levels in the school. Steven has asked me to develop a long term plan around "Behaviours for Learning" here at Ao Tawhiti. From my perspective, at this stage, these Behaviours sit in 2 main categories… Social Behaviours and Learning Behaviours. My role is to help our community understand these better, to develop systems to improve them and to embed them into the school community. I'm sure over the year there will be opportunities for you, as families, to share your thinking and to be able to input into our direction and thinking. At this stage I am working on modifications to the current process, I need to do this because we need to have systems in place right now. These will change over the next couple of years.
Finally, I do have some other management roles to work with. So if you need to speak to anyone about Attendance, Individual Education Meetings, Staff Appraisal, ICT systems or some of the Year 7-10 organisation I'm the person.
Well, that's me. We have a busy year ahead, feel free to touch base if you have any questions.
News / Notices
Parents Yoga
Are you interested in taking a yoga class? We are looking at having a professional tutor come in to take a yoga class each week one day after school.The price would be $10 per person however we will need a minimum of 10 people to run the sessions.If you are keen – please email me.
sarah.marshall@aotawhiti.school.nz
Sarah
First Aid For All
We have free online First Aid course available to anyone connected to Ao Tawhiti. The online course takes around 4 hrs. If after completion of the course, you want to achieve a certificate in Basic First Aid, we can arrange for you to attend a 2hr workshop. This has a small cost associated with it. See the below poster for details.
Any questions please email kay.hayes@aotawhiti.school.nz
Kay
Crash Bash
Many students from our school were entertained by a great presentation from the team at Crash Bash last Friday.
Crash Bash is a joint initiative between Christchurch City Council, Court Theatre and the New Zealand Police. The focus this year was "What's the rush" and covered key safety messages like speed, seatbelts and driver distraction. Big 'Ups' go to Storm and Sam for getting on stage and being a part of the show!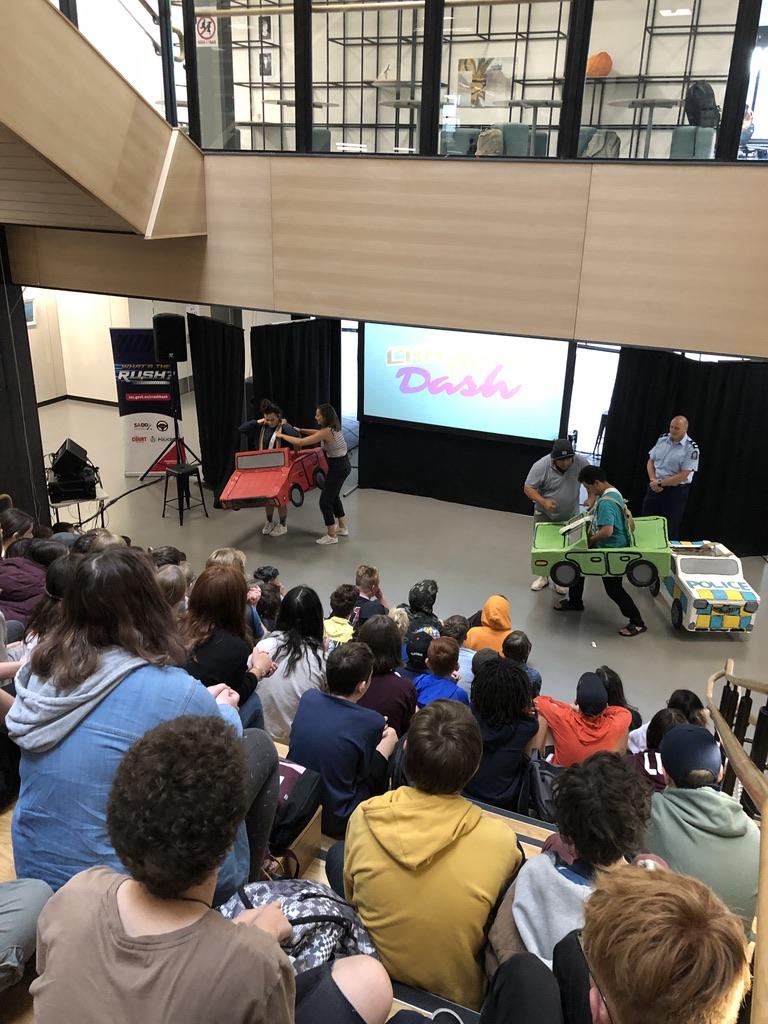 Steve
Students Who Struggle With Writing
Speech to Text TRIAL (STT) March 16 – April 3rd GREEN BLOCK
Does your child struggle to produce written or typed text? If so then they may benefit from participating in a speech to text trial occurring here in two weeks.
We will have up to 10 students who are training to become more proficient in Dragon technology. The trial, run with support from Assistive Technology in Auckland, will compare their current writing to that of STT after three weeks of tuition and training.
Students in the trial will need to have green block available for 1.2. I will be running the training, as well as learning with them.
If you would like your son/daughter to take part in this trial, or would like more information then please contact me:
braden.faavae@aotawhiti.school.nz
Braden
Kay Community Newsletter
First Aid Certificate
Free first Aid course for students, parents and staff. First Aid For All is an online course free to all members of Ao Tawhiti. There are 3 main modules and it takes approx 4hrs to complete. It does not need to be completed in one go, so you can spread the course over several days or weeks. If you would like to turn the online course into a First Aid Certificate we can arrange a 2hr practical for a small fee (approx $60) for you. This is not compulsory and can involve NCEA credits as well.
Please see the poster in the Newsletter for our login code and more information. Email kay.hayes@aotawhiti.school.nz if you have any questions.
Parent Led Workshops
We would love to have some parents come in on a Friday and work with a small number of students in a workshop setting. The workshop could be on anything at all. We have a number of students interested in all things arts and crafts, PE, cooking, animals and much more. Basically a workshop can be on anything that you feel you can offer. The workshops run Friday afternoons from 1.30pm – 3.00pm. There will be staff nearby to support with behaviour if needed. Please can you email your HBLA or kay.hayes@aotawhiti.school.nz if you think you could help.
Camp – Spencer Park 6th / 7th April
We are busy working away on camp. There are a number of activities available led by students from the University of Canterbury, our senior students and staff. It should be a fun, challenging and social experience for everyone.
Next we will be asking families to let us know their transport arrangements. We will need a some families to make there own way there and back but we can transport approx 40 students to and from school by charter bus.
Today we have started to organise the cabins and dinner with those students staying the night. We have decided to make dinner a mini Master Chef challenge. Students will be in their cabin or tent groups and organising their own dinner. They will need to bring the ingredients with them which is part of the challenge!! Who forgets what? The first day students will need a packed lunch but we will provide food for the Tuesday. This will be cereals toast and fruit for breakfast followed by sausage sizzle lunch after Adrenalin Forrest. Students can leave camp at 2pm and the rest will return to school by bus for 3pm.
Community Service Day – April 8th
On the last day of term we are looking for a community activity that the whole floor could support. We would like to help out and offer our services to the wider community. There are about 150 of us so we could really make a difference. If you know of any projects that might be able to use our help please can you let either Sarah Marshall or Kay Hayes know.
Kay
Gateway News
CDHB Health Careers EXPO
To help with career decisions, Canterbury DHB, along with key stakeholders, are hosting a careers expo to help raise awareness of the
large range of careers available in health. The 'Explore your Career with us' expo will showcase job opportunities in the wider health system, including business, hospitality, trades, IT, corporate, and community, as well as more well-known clinical roles, such as nurses, doctors and midwives.
Date: Friday 3 April
Time: 9:30am -3:00pm
Venue: Manawa Building.
276 Antigua Street, Christchurch.
If you are interested in attending let me know by Friday March 20
john.schischka@aotawhiti.co.nz
Wanted – Workplaces for motivated Ao Tawhiti Gateway students
The Gateway Programme places senior students in businesses and organisations they are interested in.We currently have motivated senior students looking for work placements in:
Building and Construction
Welding
Beauty Therapy
Electrical
If you know of anyone who would be willing to host one of our awesome and motivated senior students in any of these areas please contact John Schischka Gateway Coordinator at john.schischka@aotawhiti.school.nz or 0273096237.
Lots of support and information provided. We also have more students wanting to do Gateway Work experience in other areas so please let John know  if you are aware of organisations and businesses in other areas who might be able to host our students. 
Jack Biggs with Cor Vink and Johnathan Ridden and tarantulas at Museum of Canterbury
John – Gateway Coordinator
Sports Coordinator News
Kia ora Team,
I just want to say a massive thank you very much to everyone involved in our school's athletics day!! It was awesome to see our whole community come together at a super cool venue like Nga Puna Wai. Watching staff, students & whanau having fun, competing in the events, supporting each other, was most definitely the highlight me. I'm so proud of us as a community!
Clint
Junior Choir
Hi everyone!
Starting Wednesday the 11th, I will be running a junior choir. It'll run Wednesday lunchtimes in 3.8. Students are welcome to bring their lunch. We'll choose songs as a group, so make sure to come with a few suggestions!
Senior students are more than welcome to join us, if there is enough interest we can look into a dedicated senior choir.
I'm very keen to look at the Christchurch Music Festival later in the year as well, so if you'd be interested in competing in that definitely come along and try it out.I'm thinking for a first song to get us started, we could do 'Just Can't Wait To Be King' from The Lion King, so if you could learn the lyrics to that one, we could use it to warm up in the first session.
Thanks
Courtney
Laura's Community
Laura's community have been enjoying exploring our place to be in the city and establishing a community garden project in Avonside.
Laura
Easter Fundraising
Hi everyone
Easter is almost upon us so it's time to get those hot cross buns. There is a fundraiser for school from The Naked Baker in New Brighton with every sale earning $2.
Please feel free to take an order form (collect from school) to work, post on Facebook, social groups, family etc…..
Orders in by Thursday 19 March
Delivery – week before Good Friday, 2nd April.
Traditional or Chocolate.
Sorry not GF or Dairy free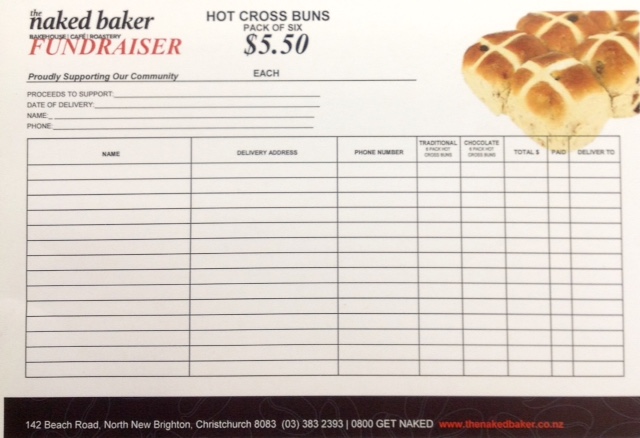 fluffie.claire@yahoo.co.nz
Claire
Pamper Night
Support our school and have an amazing evening out!!
We are in the planning stages of a "Pamper Night" for Term 2 and are looking for expressions of interest for those who want to have a stall and donate for goody bags on the night. Tables will be $20 We are happy to consider anything that might work on the night: oils, makeup, gourmet foods, Tupperware, giftware etc.
There will possibly be a Fashion Show, Body image and wardrobe consultant and Pre-loved clothing sale, and coffee/ tea/ cake will be included in the ticket price so there are many ways (including baking) that you will be able to help
Get in touch with Claire C, Rachael Graham or Lisa Arona in the first instance
Claire
Level One Community update (Craig's Community)
There has been lots going on in our community. In particular, Friday L2L time is starting to take shape. We have moved through a purposeful process of collecting loose ideas, students connecting with which ideas they like and now students are creating their own individual plans around their chosen project or passion. My hope is to be able to share/celebrate some of these projects over the coming weeks.
As a start, it is well worth noting the efforts of Silas, Ben, Ferdinand and Josh who have been using their enterprise skills to provide a coffee service on the 4th Floor. If you are around before school, during breaks or between 3:00 and 3:30pm, they are open for business and do a great coffee.
This week we started a community art project that will be interesting to see where it goes and we have a couple of students learning how to plan and run offsite trips to places like the bike park or Ice skating. We also have another student who is keen to involve others in a costume design project if there are any parents who might like to help out with this. Our goal is for each student to feel connected to something purposeful on their Fridays whether it is a project, a workshop, or some other event that places students at the centre of their learning.
Craig
Homebase Pukeko Inquiry into Prehistoric Animals
Homebase Pukeko have spent the last few weeks inquiring into prehistoric animals. We have been to the Museum to see the exhibition on the types of creatures that lived in NZ 65,000,000 years ago. We have been doing lots of exploration and play around dinosaurs and fossils. On Wednesday we made salt dough fossils and used fractions when we measured the ingredients. We also measured dinosaurs using blocks and drew dinosaurs using tangrams. Some made dinosaur claws with origami. Next week we are doing a fossil 'dig' to find our salt dough fossils and excavate some dinosaurs from ice!
Gina
Play – the why and How?
Play has always been a part of learning at ao tawhiti and as with all good things it is evolving and extending. Last year we saw the year 1-3 community embrace play in our new building and through nature play. The logical next step for us this year was to extend the idea of learning through play up to year 6. Last year Five of our staff members attended courses with Longworth education and this year as a staff we have a professional development goal of creating robust systems to facilitate learning in a play context.
So Why?
Learning through play is based on a significant body of peer reviewed research and supported by the Ministry of Education. Here are a couple of links to get you started. We have many more if you are interested.
https://nzcurriculum.tki.org.nz/Curriculum-resources/NZC-Online-blog/Learning-through-play-What-s-it-all-about
https://www.kqed.org/mindshift/38260/whats-going-on-inside-the-brain-of-a-curious-child
And how?
Introducing play can look a little messy to start with. At Ao Tawhiti for an inquiry/SDL model we use Collect – Connect – Create.
Over the last two weeks HB Pouakai have Been discovering what constitutes play – that's the Collect phase. Kate has worked with the students in the last couple of days to draw together the ideas the students have "collected."
Many students have also created personal goals based in Learning through play.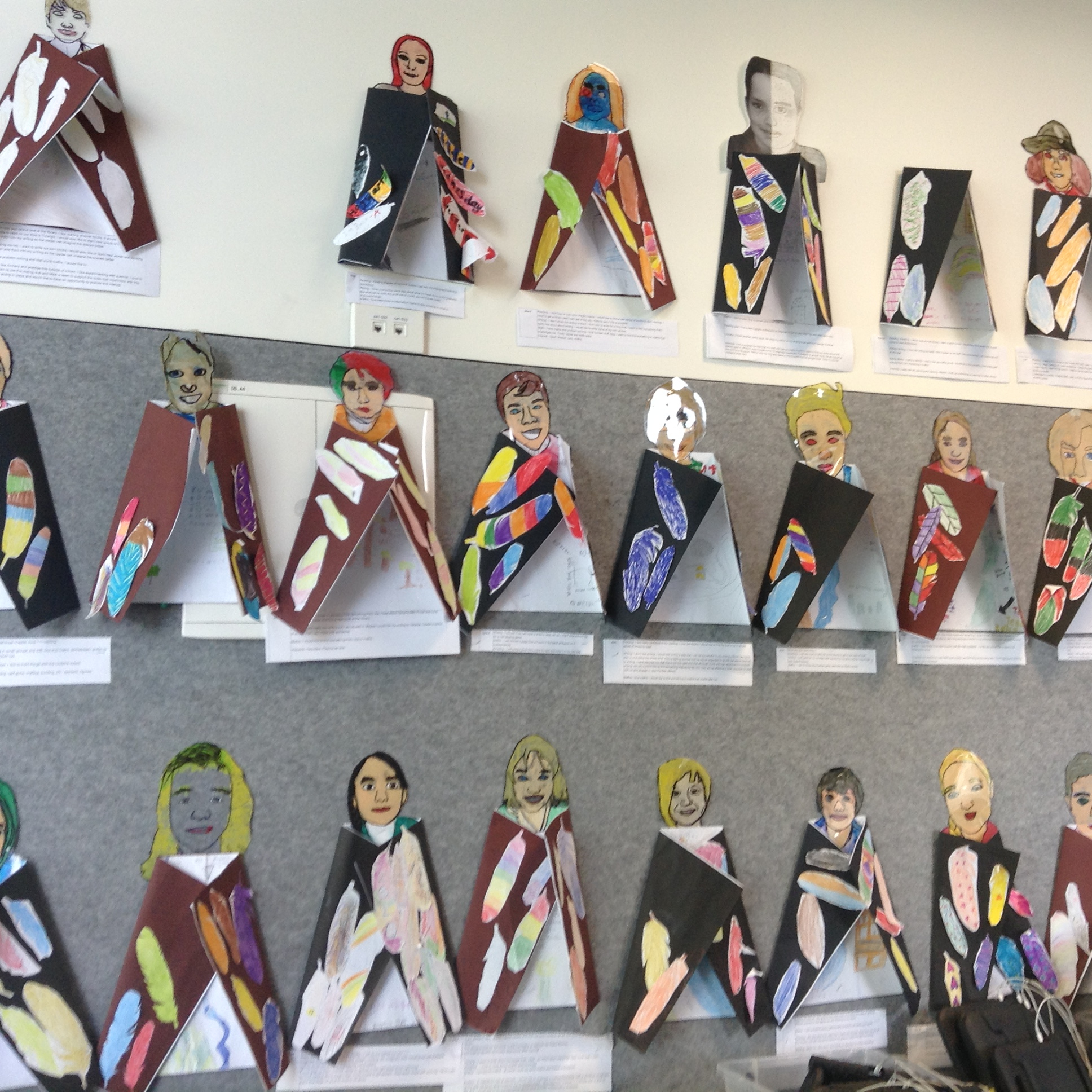 Connect – in this phase students request resourcing and staff provide provocations based on observations of students interests and passions (also known as schemas).
Some of the students are about to launch into a Create phase. Look out for examples of this soon.
The collect – connect – create model is continual and necessarily linear. Students will dip in and out of each phase as meets their needs for their learning.
Theo" I am enjoying play-based literacy time. It's more fun and we are encouraged to learn. We learn strategies while playing games. Our next step is to make our own version of the game."
Tesla " Tabitha and I have made a fast food business. We've made a menu which we published on Picsart. We've started using Banqer. I have worked out how to do the wages for people who work for us."
Nadine
Thumbs up for Philosophy, or an experiment in perception?
Students in 4Philosophy have been learning about epistemology. Key questions: Is there a difference between belief and knowledge? How much do we really know about the world? How reliable is knowledge gained from our senses? Here are our young philosophers, looking for the blindspot in their visual fields. Turns out we all have quite a large blindspot, but we aren't normally aware of it because our brain cleverly fills in the gap. Next week we will be talking about dreams, delusions, and Descartes' evil demon thought experiment.
For more information about philosophy, or if you want to get involved, contact Brent Silby.
Brent
Usability Testing (aka Game Play Testing)
On Friday, 12 students worked with our friends at Cerebral Fix to test three new games that are in development. This opportunity gave our students an insight into an end of the game development industry that is often overlooked. Their feedback will help shape the development of these games. We are looking forward to doing more work with Cerebral Fix in the near future.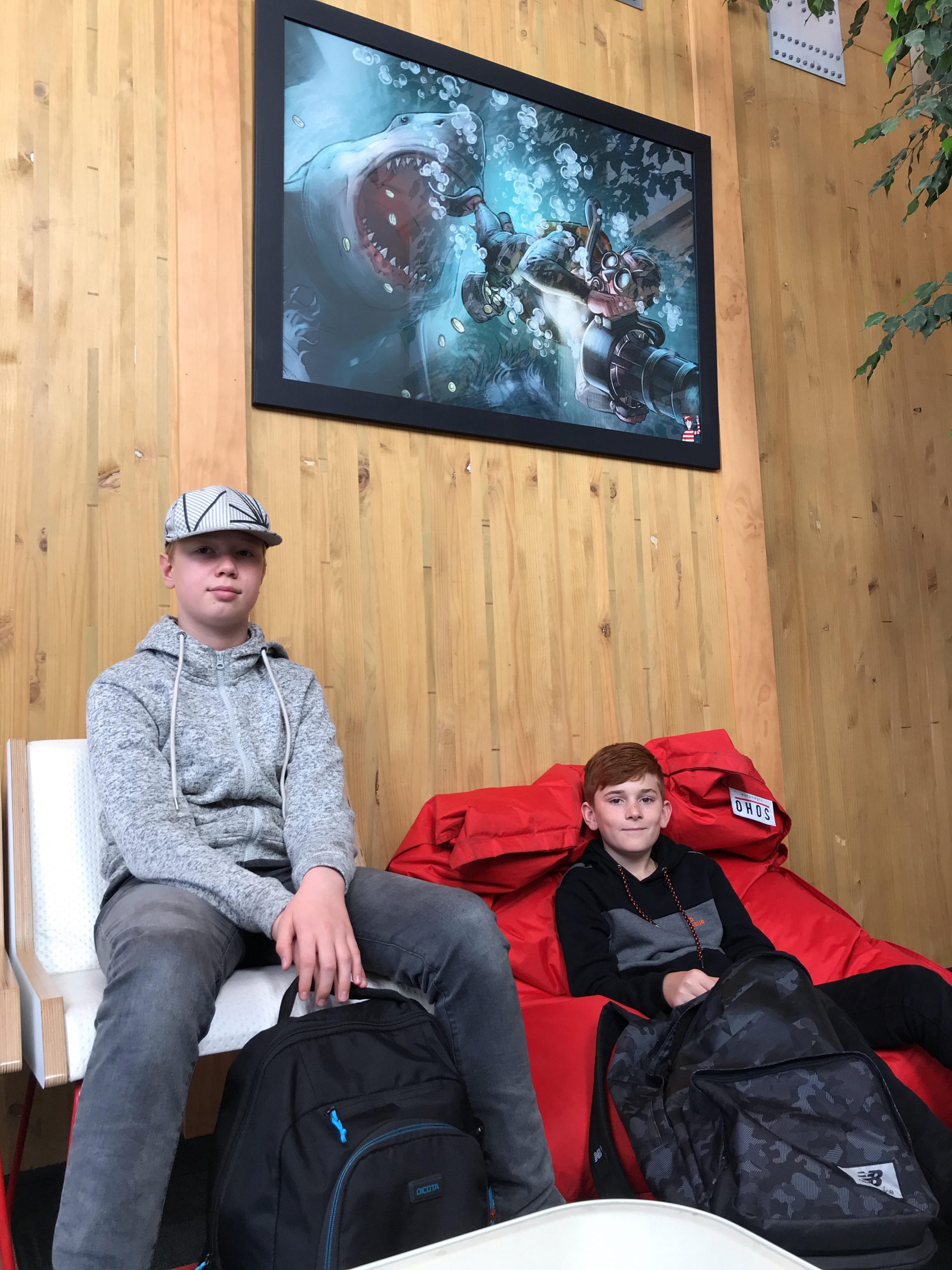 Students interested in videogame design and coding should make themselves known to our resident game designer, Brent Silby. He can support SDL game design projects.
Brent
Sarah's Community News
Community BBQ
Thanks to all of those that came along to your Community BBQ on Thursday. Apart from the cold wind on the balcony, it was a great night. I really enjoyed chatting with some new families and seeing parents put names to faces. Let's plan another get-together for later in the year, and make it bigger and better. Any constructive feedback welcome.
2 day episode
In week 11 the whole school is taking a break from our normal routine, and each community is providing different experiences for their communities. We have confirmed the first two days and are well on the way to confirming the third day as a community service day.Please complete the attached permission form, if you haven't already. If students are planning on using this time to work towards something else, they will need to complete the form and state what it is in the "other" section.
Friday L2L in our community
This week was our first week of getting into our 4 week programme. It was fantastic to see the students leading their own learning, or taking up opportunities that were offered to them in a slightly different structure. Our day looks a bit like this:We start with a community meeting.Followed by homebase time OR Mates and Dates for year 11's.After morning tea there are various workshops or inspiration sessions run by the LA's OR Mates and Dates for the year 12 and 13's.And then after lunch we have student led PINs.If there are times during the day the students have a plan and want to lead their own independent learning this is also encouraged and supported by the LA's and our Community Assistant, Courtney.
As a parent/caregiver, if you have a passion or interest that you might like to share with our students on a Friday or another time during the week, please contact me. We would love to have you involved.
Banqer
Last newsletter I talked about Banqer being an option for our community. We have now purchased 30 login's so if you think your students would like to take part in this awesome online opportunity, please contact me.
School Values
This fortnight I'm going to talk about Trust. Students are trusted to make decisions and follow them through with integrity, and to behave in ways that positively promote Ao Tawhiti Unlimited Discovery.
On Friday I ran a workshop for those that were wanting to get their Trust Licence. It was great to see students share with me all the ways they are trusted and were looking forward to taking ownership of promoting our school with pride within the community. Trust and integrity are things we value very highly in our school, and is what makes us have a point of difference.
My email if you have any question – sarah.marshall@aotawhiti.school.nz
Sarah
Other Notices